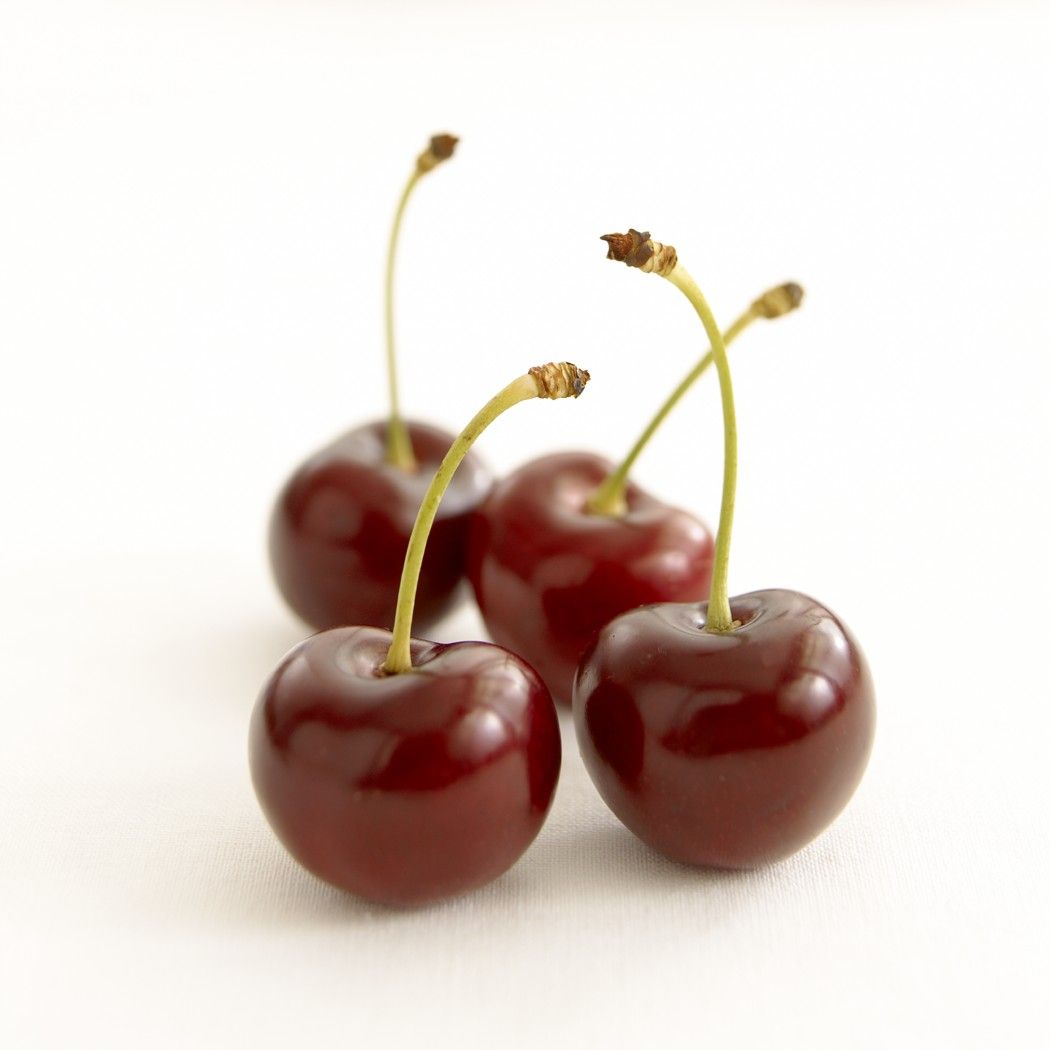 As you probably already know, I just love, Love, LOVE cherries! During cherry season I could eat them until they come out my ears . . . and it doesn't matter how much they cost. I just can't get enough of them!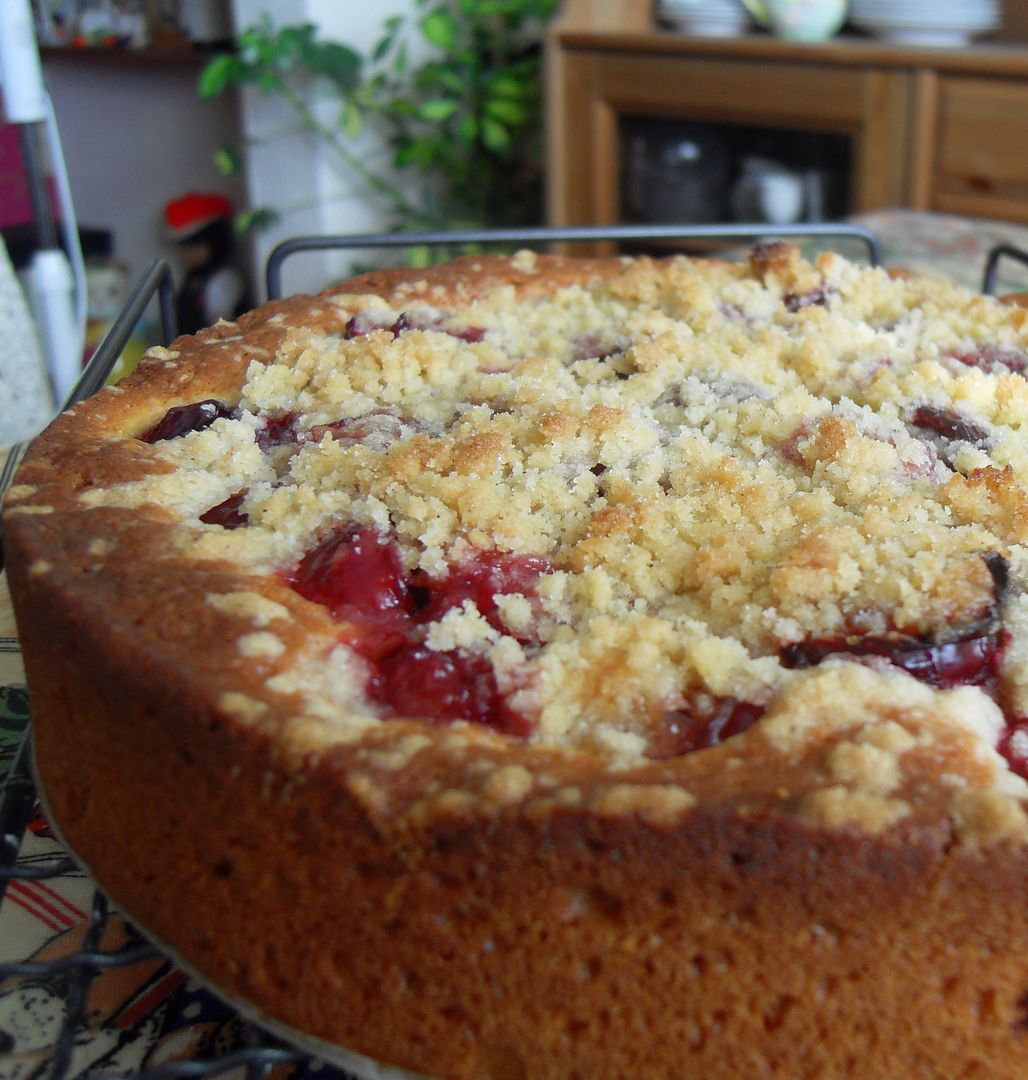 I eat my fill of them fresh and then when I have had enough of them that way, I like to bake with them . . .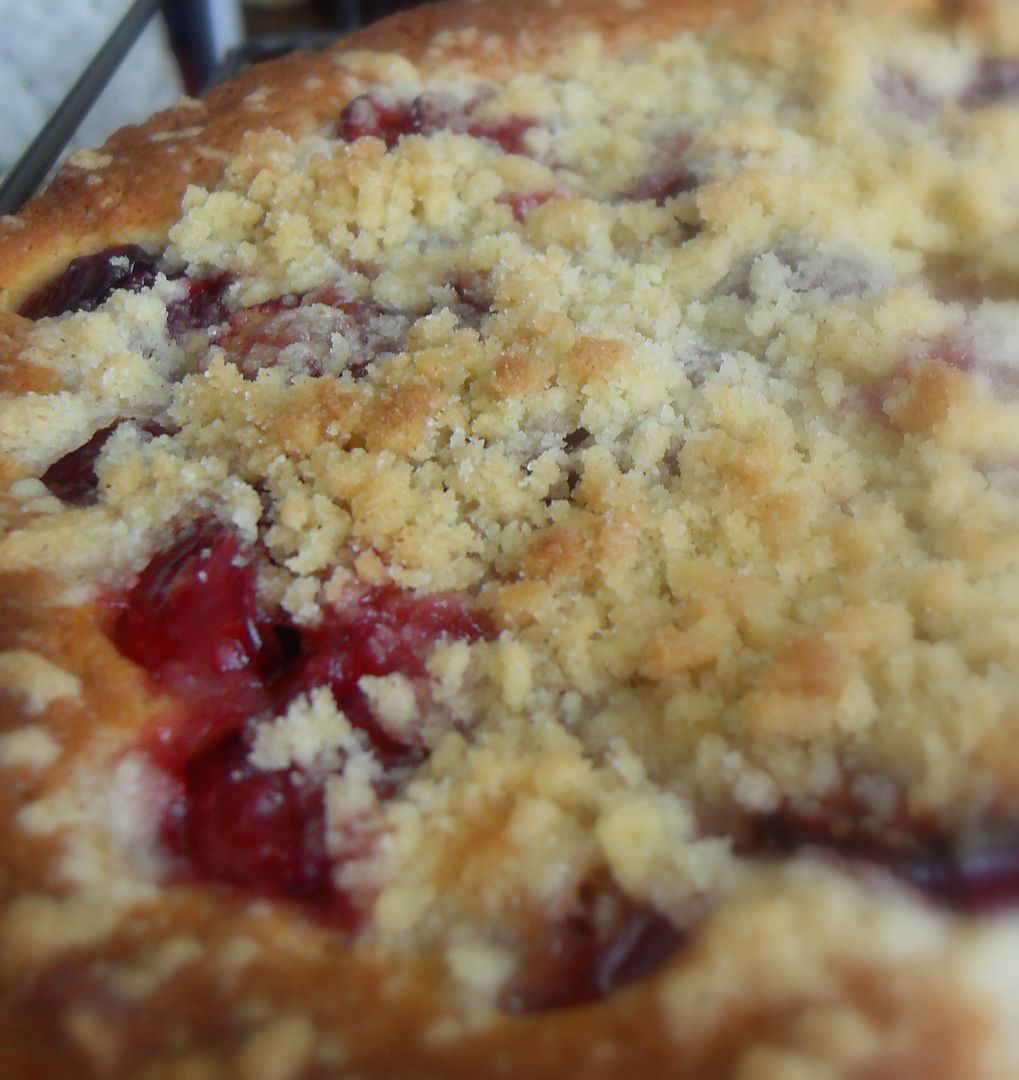 Crumbles, pies . . . cakes. Mmmm . . . there is nothing like fresh cherries for baking with.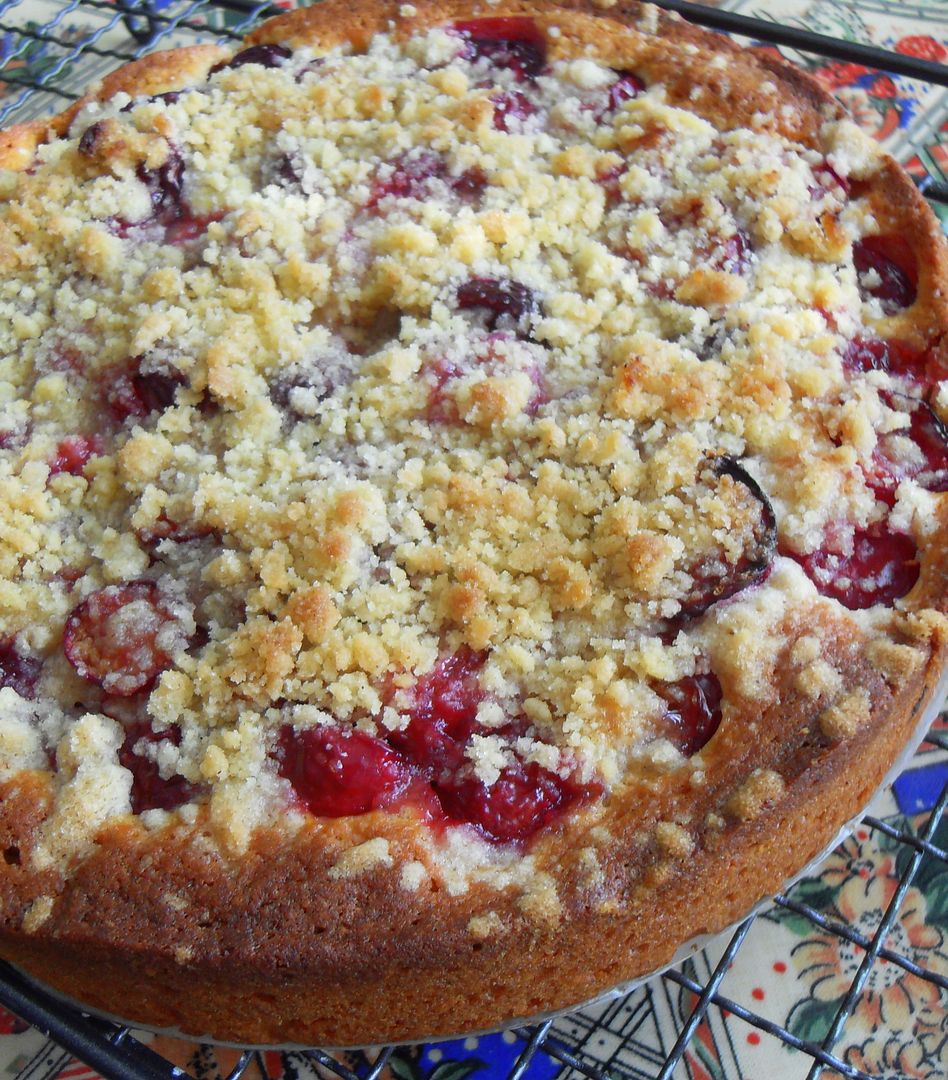 The sour ones make fabulous pies. Until you have tasted a cherry pie made with fresh cherries, you have just not tasted a real cherry pie!!
There is just no comparison to the ones made with fresh cherries and the ones made with tinned cherry pie filling . . . trust me, however delicious both might be.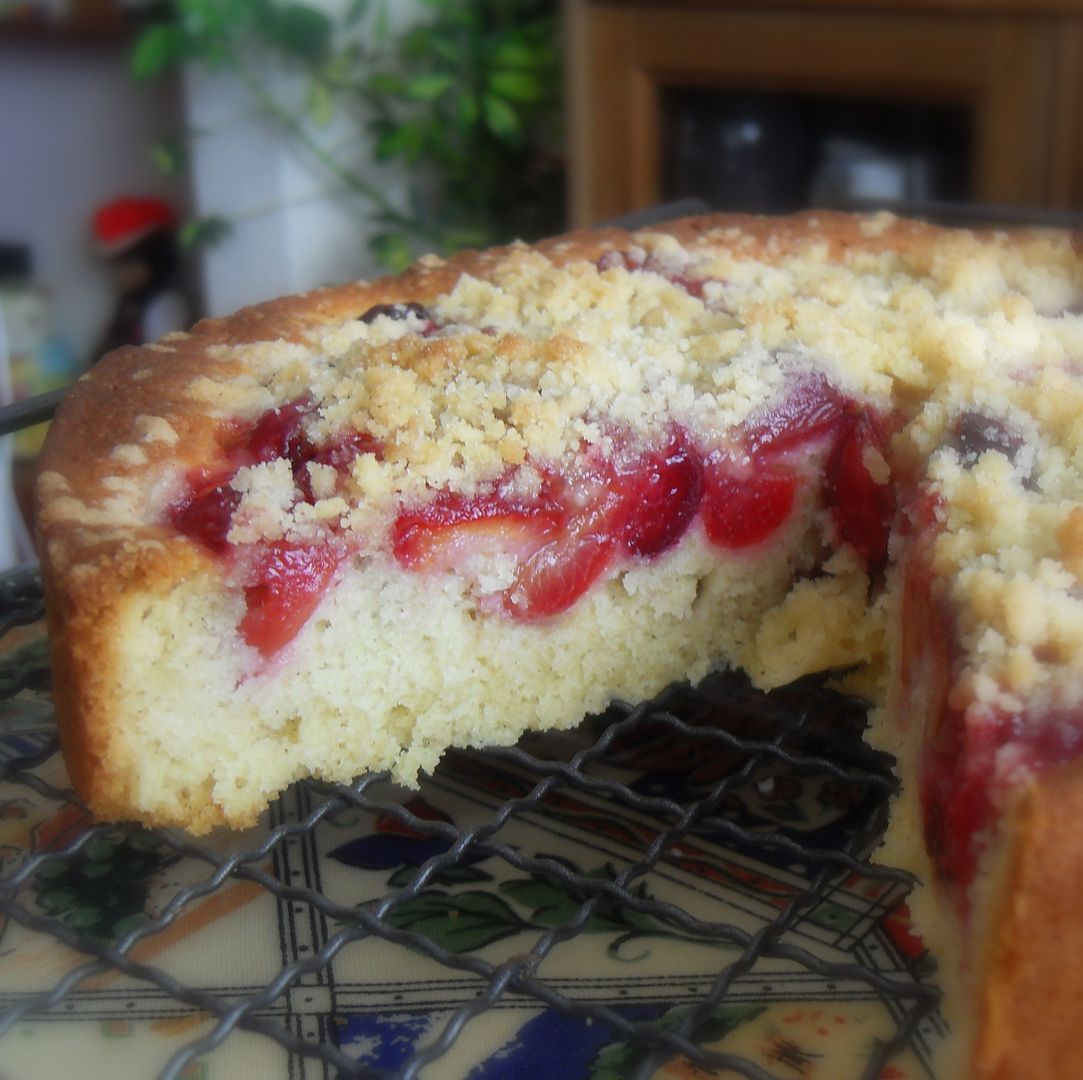 The sweet ones are perfect in cakes and muffins . . . and delicious muffin cakes such as this one.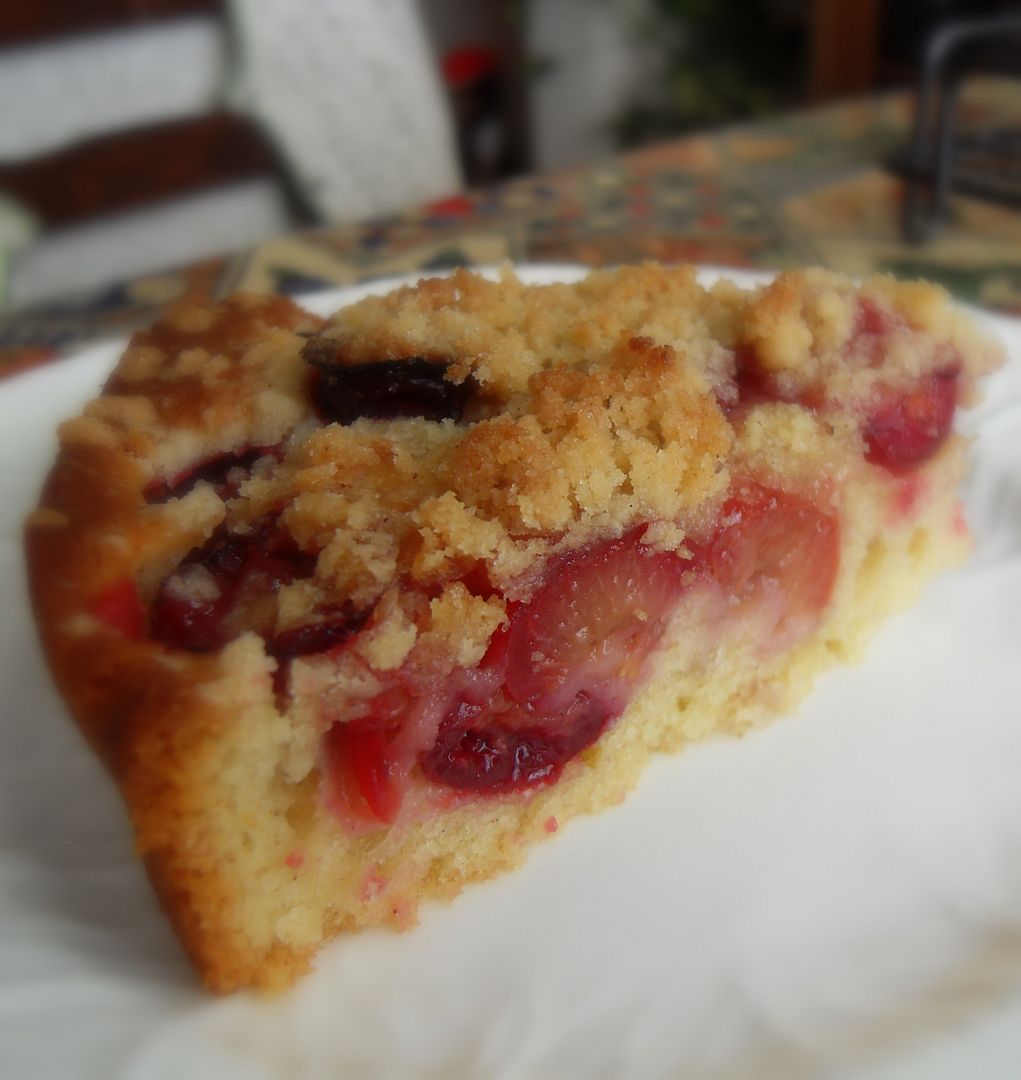 Scrummily buttery with a lovely crumble topping, this cake is one of our favourites.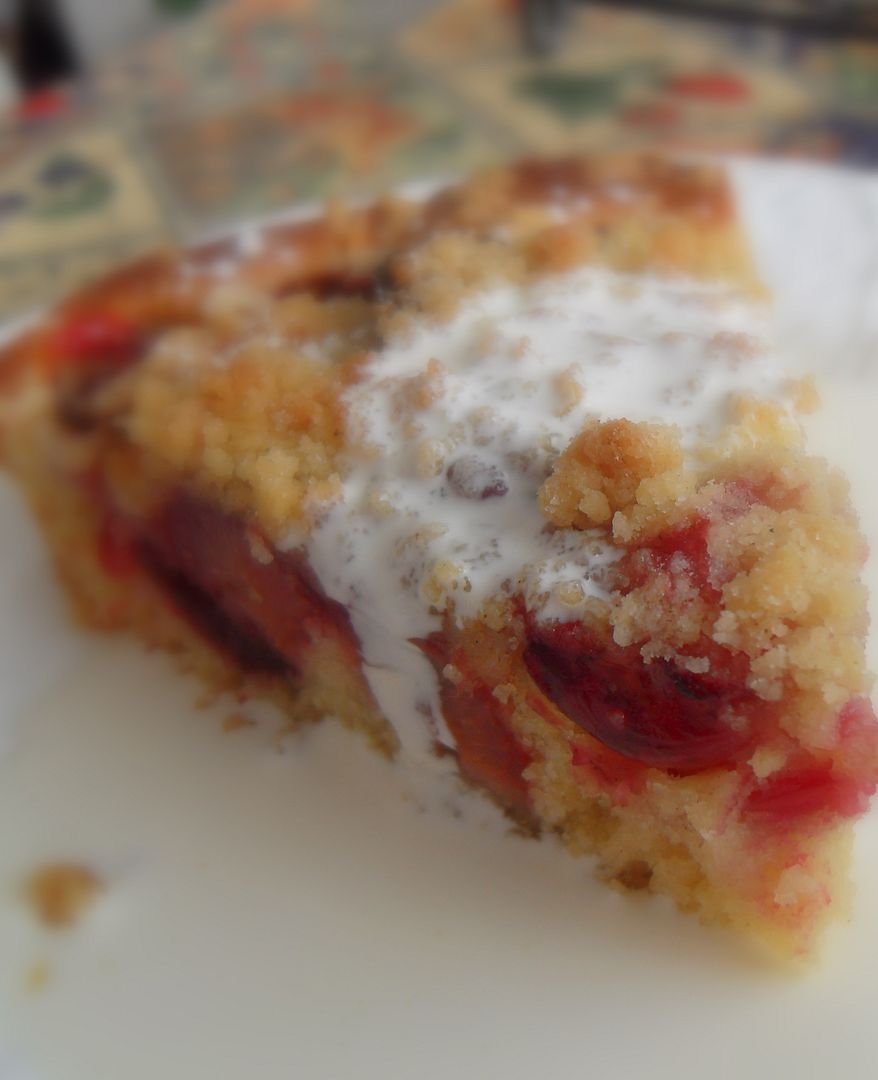 Served with lashings of cold cream this cake is sooooo good . . . each mouthful a buttery bite of sweet cherry bliss . . . I could just eat and eat this until it's all gone!!

But that's ok, coz then I get to bake another one . . . and of course . . .

Eat it all again!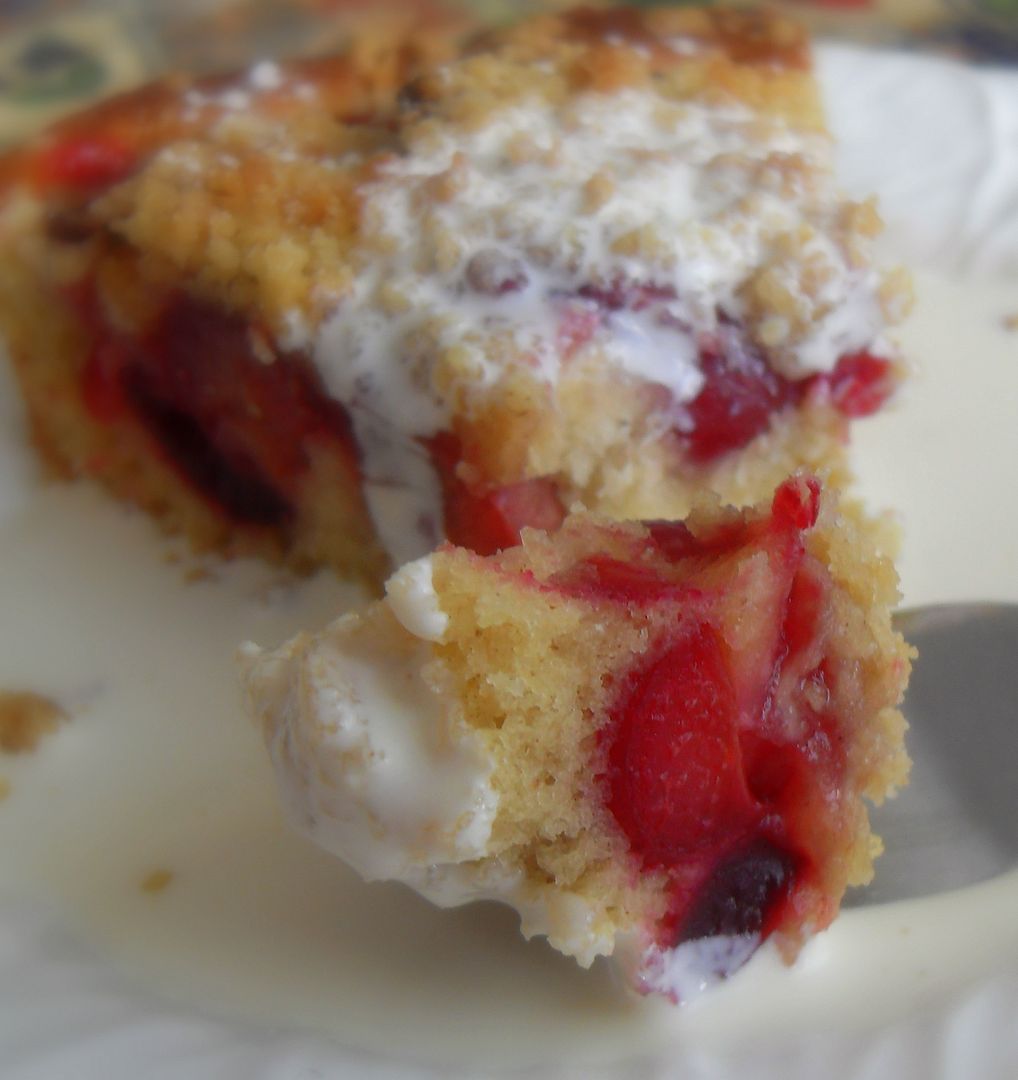 *Cherry Crumble Cake*
Makes one 8 inch cake
Printable Recipe
A deliciously moist cake, stogged full of sweet cherries and topped with a buttery crumble topping. Fabulous!
350g of pitted ripe fresh sweet cherries (3/4 pound)
150g of self raising flour (1 cup plus 1 TBS)
hefty pinch of ground cinnamon
50g of sugar (1/4 cup)
1 large free range egg
30ml of milk
(1/8th cup)
3 1/2 ounces melted butter (scant 1/2 cup)
For the crumble topping:
1 ounce flour (4 TBS)
1/4 tsp ground cinnamon
1 ounce sugar (2 TBS)
1 ounces butter, cubed (2 TBS)
Icing sugar for dusting
Cream for serving
Preheat the oven to 180*C/350*F/ gas mark 4. Butter an 8 inch cake tin with a removable bottom and line with parchment paper on the bottom.
Whisk the melted butter together with the milk and the egg. Sift the flour, sugar and cinnamon into a bowl. Make a well in the middle and then add the liquid ingredients all at once. Mix together to make a smooth thick batter and then spread it into the prepared pan. Drop the cherries on top, pressing them down just slightly.
Whisk together the flour, cinnamon and sugar for the crumble topping. Rub in the butter with your fingertips until the mixture is all crumbly. Sprinkle this evernly over top of the cherries.
Bake in the preheated oven for 30 to 35 minutes, until well risen and golden brown. A toothpick inserted in the centre should come out clean. Remove from the oven and allow to stand for at least ten minutes before removing from the pan to a wire rack to finish cooling. Dust with icing sugar if you wish and serve, cut into wedges with some cream for pouring if desired.