Here we are into the month of August now and I am really hoping that we get a few fabulous grilling days before things start to cool down again. I love barbequing food in the summertime. Of course a great BBQ Sauce adds to the fun and the taste! This Honey and Balsamic BBQ Sauce is fantastic! I think you are going to love it. I used the Balsamic Vinegar that I received in my July Degustabox to make it! More often than not what I receive in my box is very seasonal and just what I need to use at the moment. I will tell you more about this fabulous sauce in a minute, but let me tell you about my July box first if I may!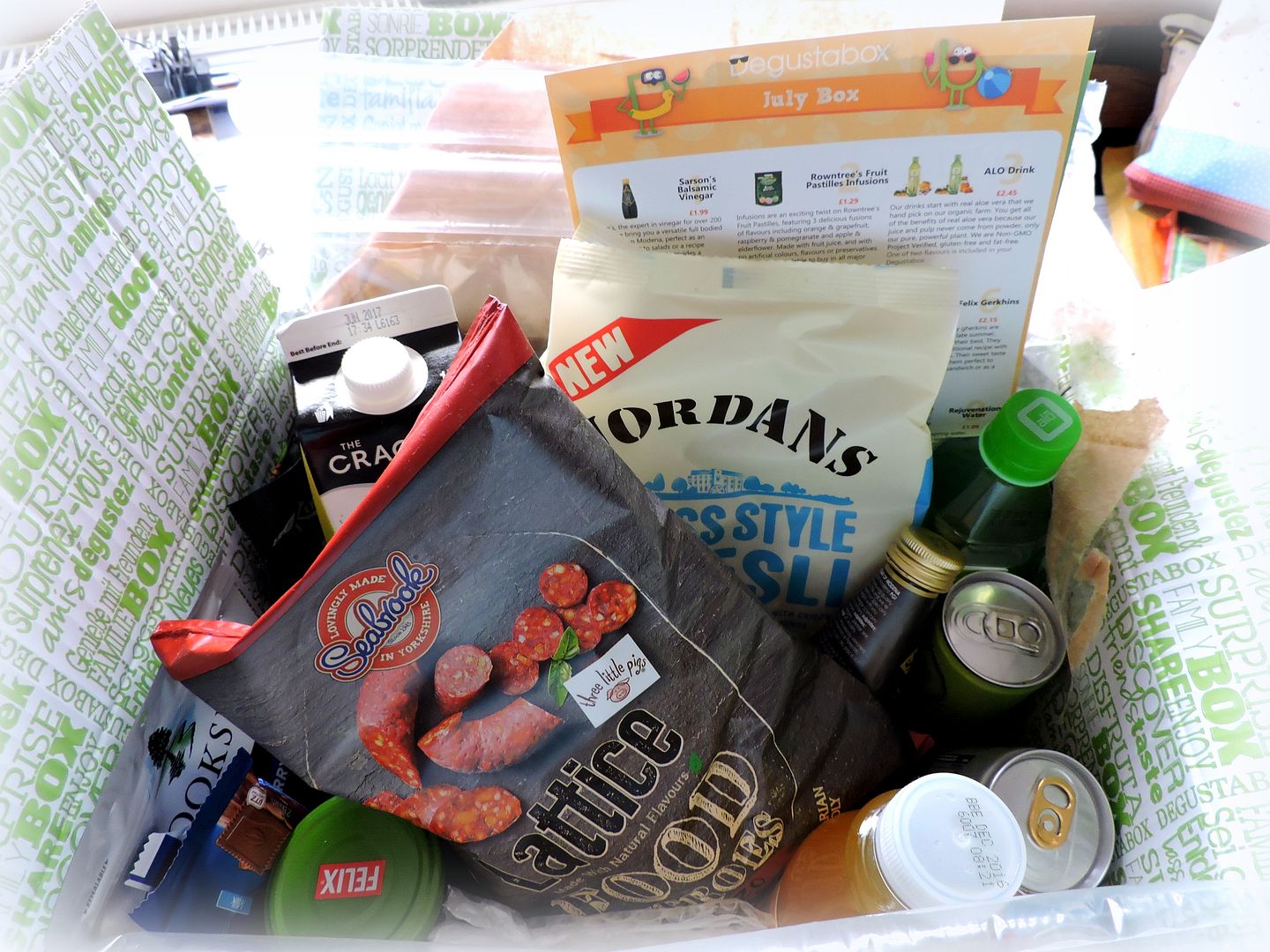 To those not in the know, if you sign up for it, once a month, every month . . .
Degustabox
will deliver to your home . . .
10
to
15
new, special or innovative food products for you to try in the comfort of your own home via a subscription service. A monthly subscription costs £12.99 with free shipping, or you can pay bi-annually for only £11.99 per box, an 8% saving on the full subscription price. You are also able to cancel your subscription at any time. What you receive can be tailored to the types of things that you like and would use. To me it's a bit like a foodie Christmas every month of the year! I really love them! This is what was in my latest box . . .
ALO
Alovera Drink 1 X £2.45
Our drinks start with real aloe vera that we hand pick on our organic farm. You get all of the benefits of real aloe vera because our juice and pulp never come from powder, only our pure, powerful plant.
• Pure Ingredients With No Excuses
Our taste is all about transparency. We are Non-GMO Project Verified, gluten-free and fat-free, and only use real aloe vera juice and pulp harvested straight from the leaf. We don't hide anything in our drinks, and you'll see and taste the difference.
• Flavors That Fit You
With 20 blends across four distinct lines, there is an ALO drink for everyone. From sports fans to fashionistas, we're the favorite accessory to every lifestyle and personality. Sip to suit your mood!
• Benefits For Your Body
We raise the bar for refreshment by giving back to your body with natural vitamins, minerals, and amino acids. Aloe vera does as much good on the inside as it does on your skin, promoting healthy digestion, reducing inflammation and supporting your joints and muscles. You don't have to wait for a sunburn to feel the soothing effects of ALO.
Surprisingly tasty and refreshingly delicious!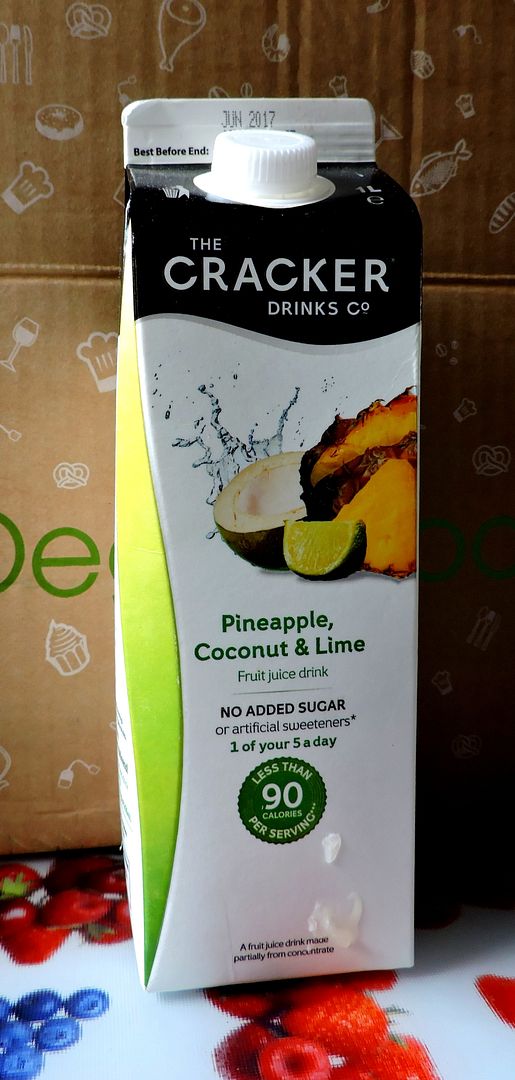 Cracker
Drinks Pineapple, Coconut and Lime Fruit Juice Drink 1 X ££1.50
Cracker Drinks Co. creates natural fruit juice drinks with no added sugar or artificial sweeteners. The drinks are also naturally lower in calories, averaging around 30% less calories per 100ml than 100% juice or added sugar juice drinks. However they remain high in fruit content offering 1 of your 5 a day. And there is no compromise on taste either. Each variant is carefully blended to ensure the distinctive flavour of each fruit shines through. The result is a range of unique, delicious and refreshing fruit juice drinks that are better for you. Cracker Drinks' Pineapple Coconut and Lime is the perfect example. It represents 1 of your 5 a day but is only 57 cals per serving.
Tasting notes:
Big pineapple flavours, cut with zesty lime and balanced to perfection with the wonderful taste of coconut. This is a refreshingly sunny drink with a smooth, light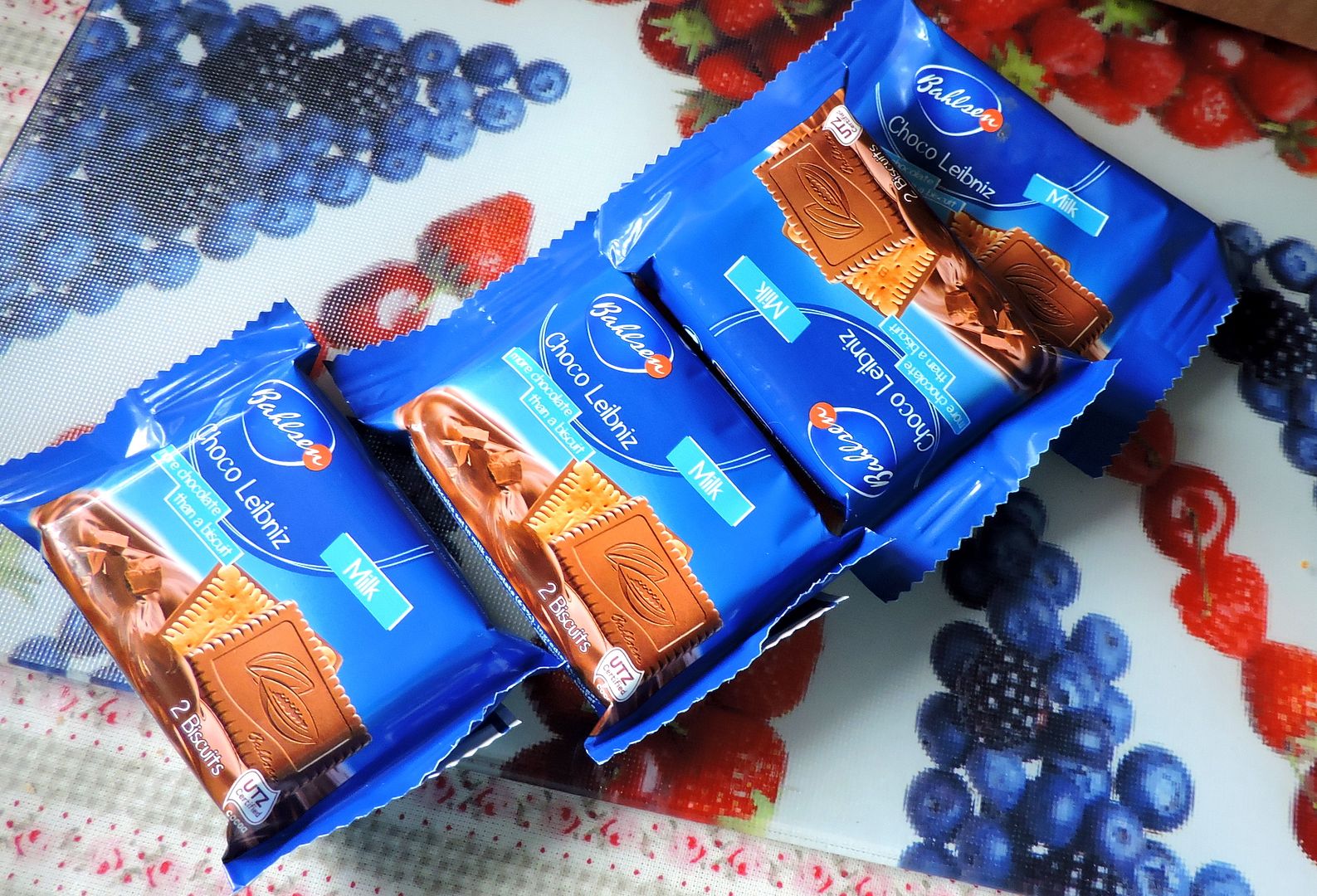 BAHLSEN UK
Choco Lebniz milk chocolate snack packs 4 X £0.40
Bahlsen's delicious milk chocolate Choco Leibniz are now available in handy portion packs of two biscuits to go. Our original crisp butter biscuit set into smooth continental milk chocolate. Perfect for picnics, packed lunches or even to pop into your handbag for a tasty snack under 150 calories. It's not just a biscuit, it's a Bahlsen.
These are my favourite chocolate coated biscuits, delicious with a great chocolate to biscuit ratio!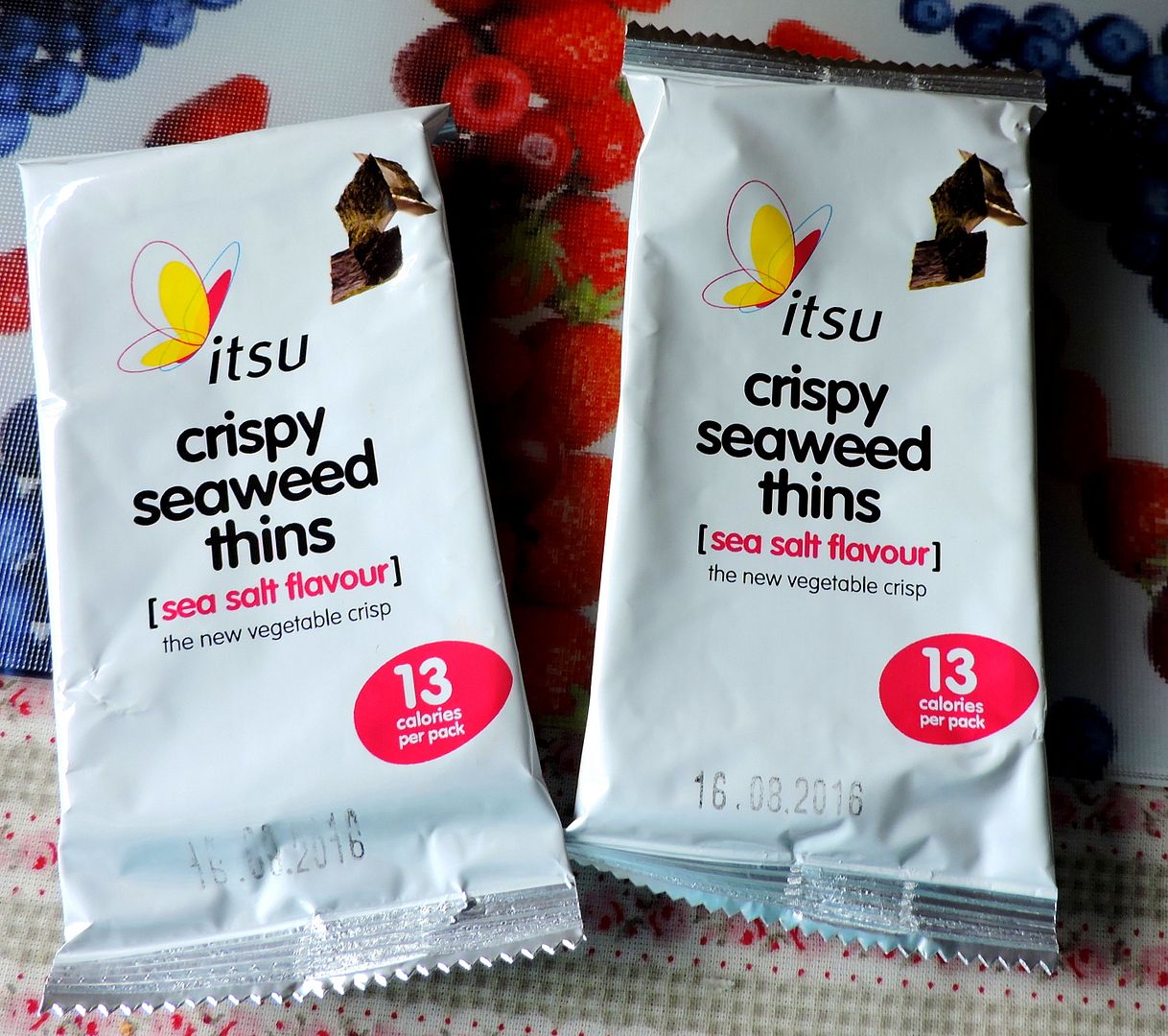 ITSU
Crispy Seaweed Thins 2 X £1.00
Edible seaweed is an Asian delicacy, heralded as the new vegetable crisp.The green superfood, seaweed is naturally packed with nutrients, zinc, iron & B vitamins. Seaweed's superpower is its great source of iodine, a nutrient missing in most other foods, critically important in regulating hormones.
itsu's best-selling crispy seaweed thins are harvested from the crystal clear seas around South Korea. Heralded as the new, butterfly light vegetable crisp, with only 24 calories per pack, they are the perfect eat beautiful seaweed snack.
You can also add itsu crispy seaweed thins to a variety of dishes or sprinkle it on a salad to add extra texture and flavour. itsu crispy seaweed thins are also available in wasabi and sweet soy & sea salt flavour.
I am not a great fan of Nori, but if you are you will undoubtedly enjoy these.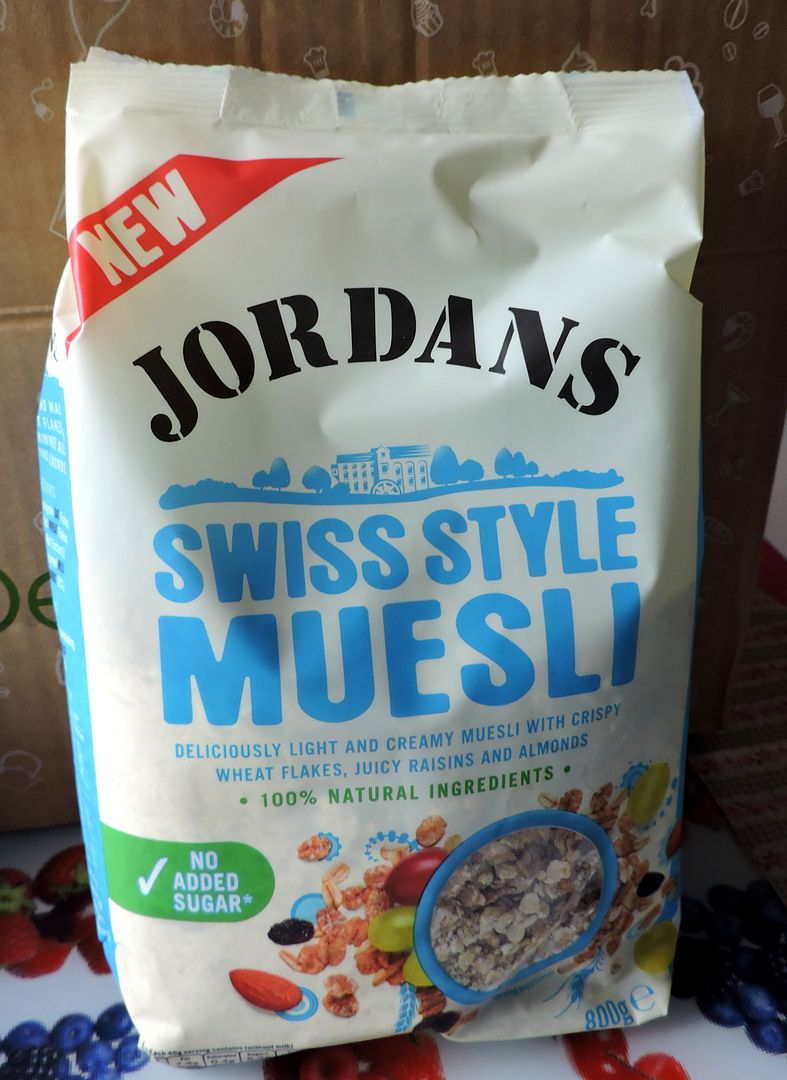 JORDANS
Cereals Swiss Style Meusli 1 X £2.79
Deliciously light in texture our Swiss Style muesli is a blend of crispy wheat flakes, creamy oats, juicy raisins and finely sliced almonds. A simple Classic and naturally with no added sugar: splendid.
This is very nice, especially with fresh berries added to satisfy the sweeter tooth. It works especially well when making overnight refrigerated oats.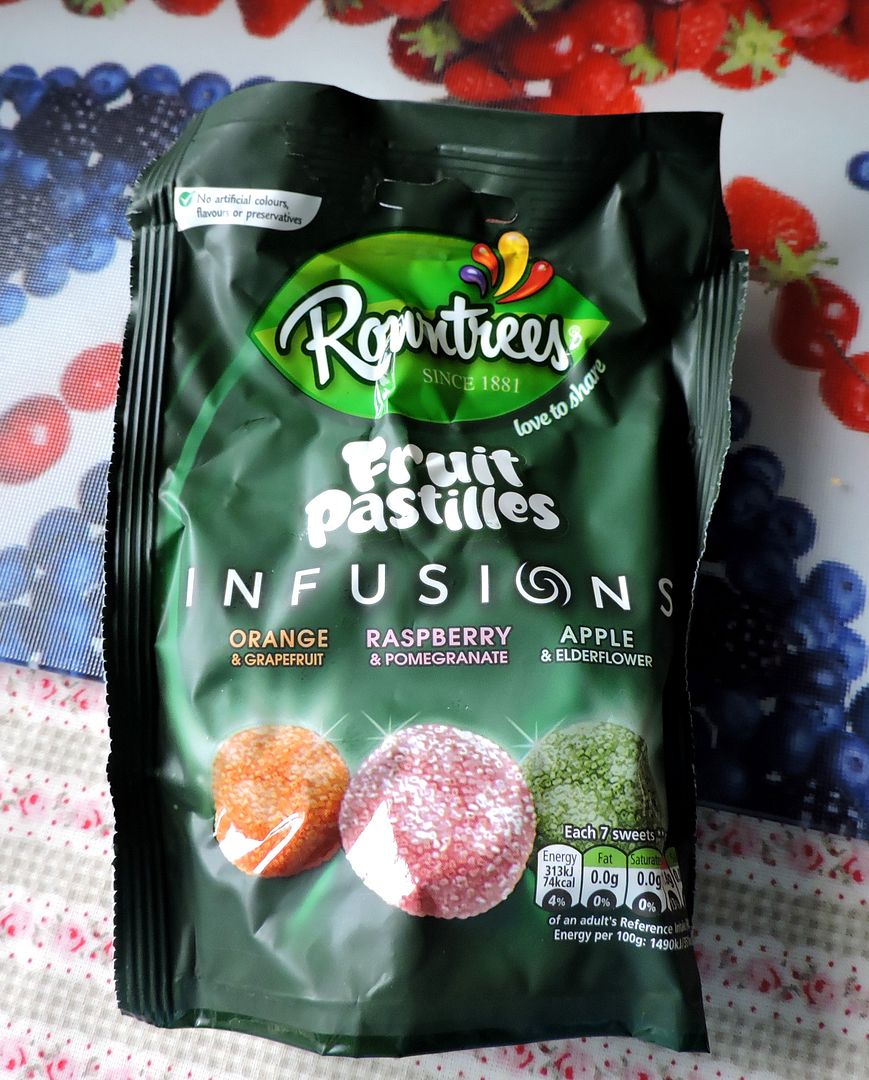 NESTLE
Rowntree's Fruit Pastilles Infusions 1 X £1.29
Infusions are an exciting twist on Rowntree's Fruit Pastilles, featuring 3 delicious fusions of flavours including orange & grapefruit, raspberry & pomegranate and apple & elderflower. Made with fruit juice, and with no artificial colours, flavours or preservatives. Infusions are available to buy in all major stores
I couldn't try these due to my diabetes, and Todd finds these types of things quite hard, but the kids at church really enjoyed.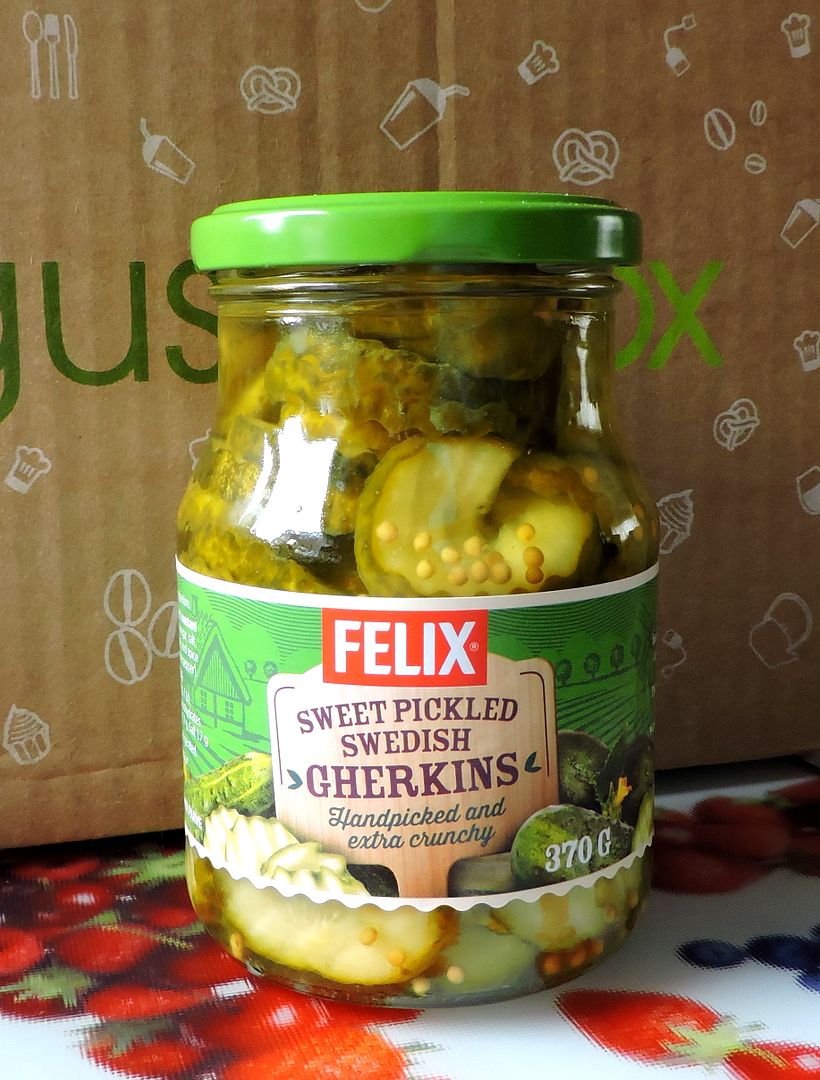 ORKLA
Foods Sweden, Sweet Pickled Gerkins 1 X £2.15
Our sweet pickled crunchy gherkins are handpicked in by our own growers in late summer, when the gherkins are at their best.
They are prepared using a traditional recipe with vinegar, sugar and spices. Their sweet taste and crunchiness makes them perfect to serve with your burger, in your sandwich or as a condiment.
Our Felix Sweet Pickled gherkins are a brilliant all-rounder and a must-have in every household.
The product is ready to serve, suitable for vegetarians and is Kosher Parve.
Produced in Sweden by market leaders Orkla Foods and brought to the UK by leading Scandinavian food distributor ScandiKitchen Ltd.
Crisp and crunchy with the right mix of sweet and tang. Great on burgers and sandwiches!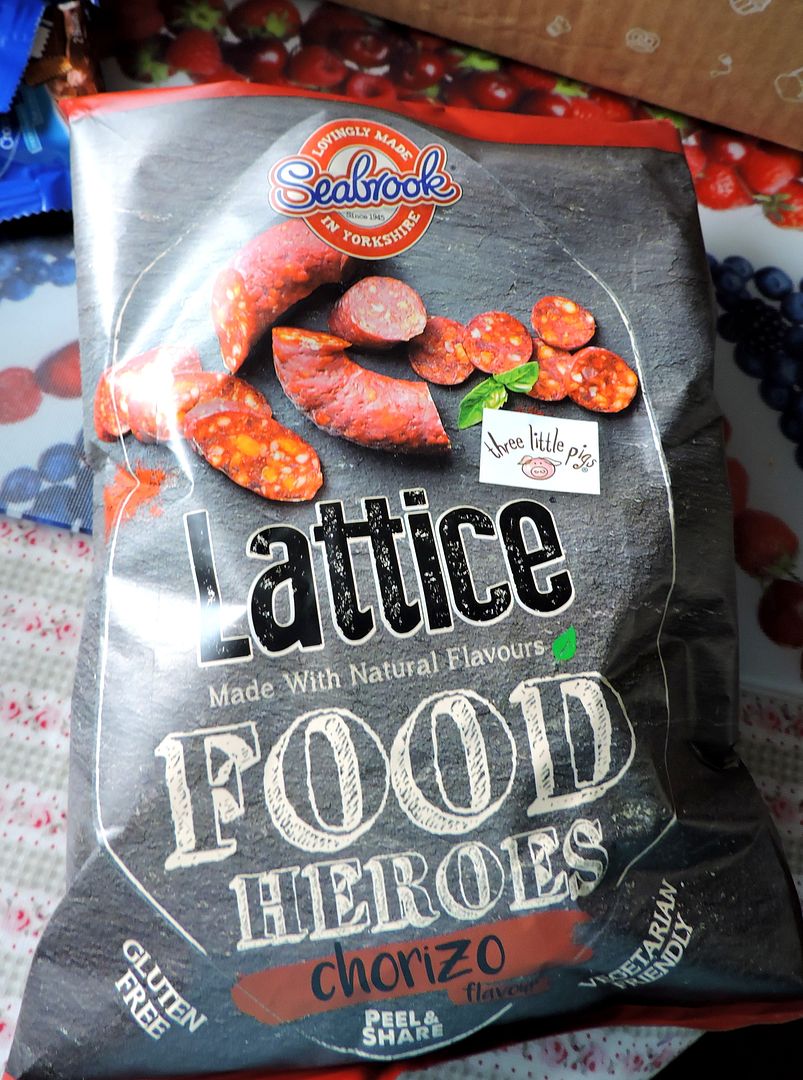 SEABROOK CRISPS
Lattice Food Heroes 1 x £1.99
Seabrook Lattice Food Heroes celebrate all that is good about British Food and Drink. This range champions award winning producers that focus on high quality and great flavour, just like us at Seabrook.
Three little pigs make an award-winning chorizo with a rich Yorkshire twist. Their story began when Charlotte and Jon were given a rare breed sow as a wedding gift. Today, Three Little Pigs remain a proud, artisan operation, fully committed to their happy, free range pigs and making food the slow way in the stunning Yorkshire countryside.
Akbar's - King of Curry - Established 20 years ago, can be found in most major UK cities and their restaurants consistently win accolades for great tasting Indian cuisine. Akbar's are currently 2015 UK Curry champions as a result for their passion for authentic South Indian flavours and attention to quality ingredients.
In a handy peel and share bag, these were very moreish!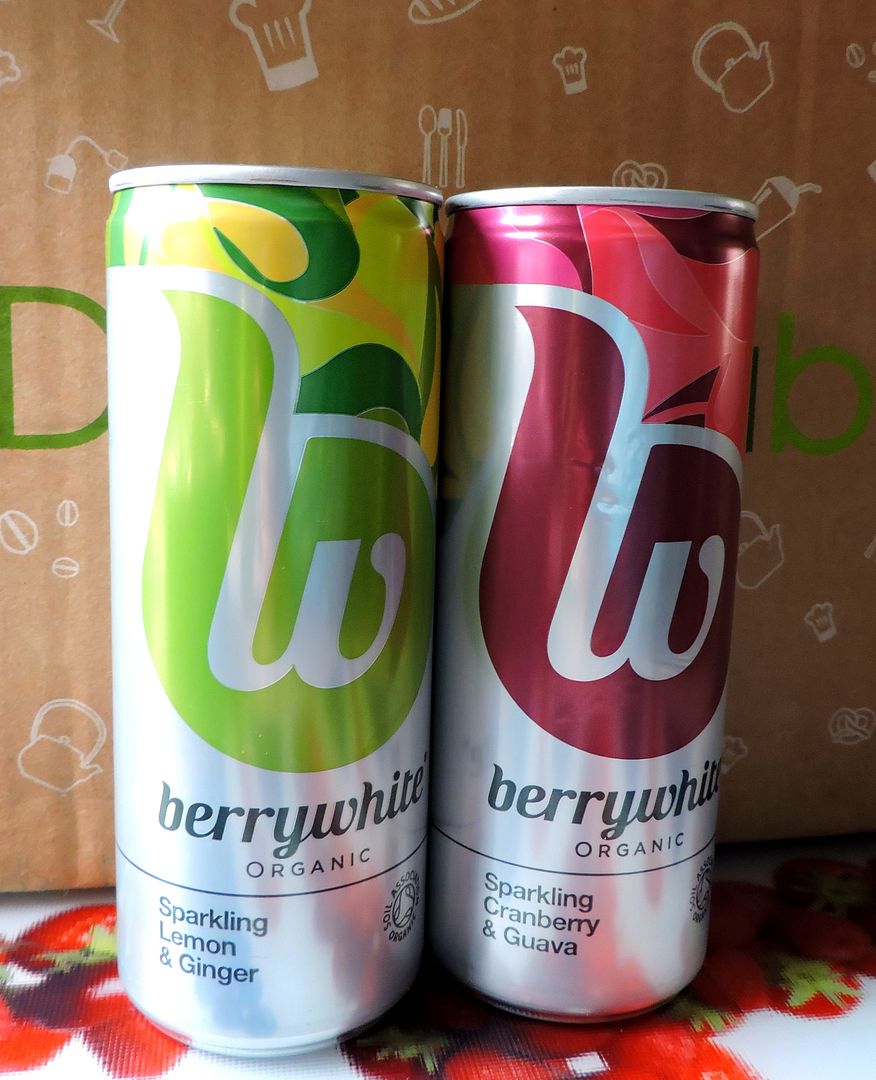 BERRYWHITE
Lemon & ginger and Cranberry & Guava drinks X 2
At BerryWhite® we like to enjoy what we eat and drink. Treats don't have to be naughty to be nice! All our drinks are certified organic and blended from natural non GM fruits. The exotic extracts, are also organic (naturally) with subtle flavour notes added to make drink combinations that appeal to every palate.
With such lovely ingredients we don't need to add any sugar, fruit extract or artificial preservatives. (Awesome!) Oh and each bottle is one of your five a day making BerryWhite® an even easier and delicious way for you and your family to stay healthy. Sharing the goodness benefits everyone.
That's why for every bottle you buy, we donate to charity, as we have done since the day we sold our very first bottle. BerryWhite® pledges to give 10% of profits. You help others every time you enjoy our drinks, and the funds we raise together go to support disadvantaged children and communities in Africa providing essential services such as good clean water, education and healthcare.
We work to donate to projects that are ultimately self-sustaining. Why? So the goodness keeps on going.
Deliciously refreshing chilled and served over ice!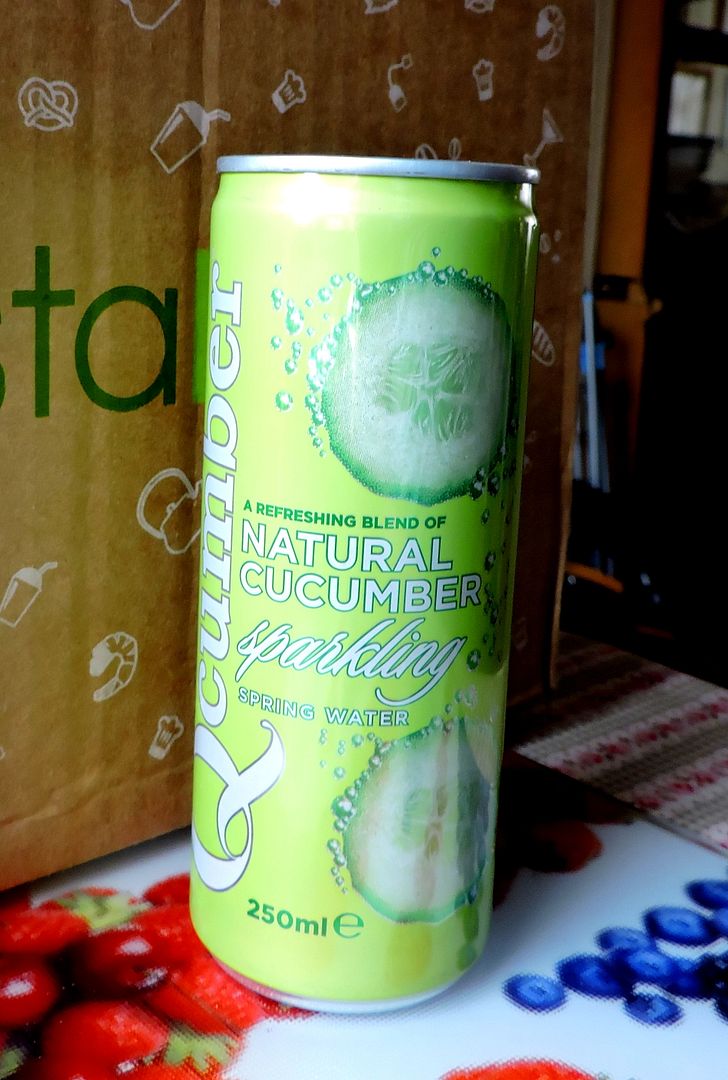 Q Cucumber
Sparkling Cucumber Drink X 1
Qcumber was born out of one of those rare 'eureka' moments. One summer's evening Graham Carr-Smith was enjoying a gin with slices of crisp cucumber and the thought came to him "this could be the next drink flavour" After a lot of hard work, Qcumber was born.
The quality of the water is fundamental to the taste of Qcumber. The source of the spring water lies in the old county of Radnorshire in Mid Wales. In this unspoilt rural area, the water is able to filter naturally through layers of rock to achieve its exceptional taste and purity.
Qcumber contains only natural ingredients and is free from artificial sweeteners, colours, preservatives and flavourings. The ingredients are: carbonated spring water, natural cucumber extract, beet sugar, citric acid.
Great on its own, Qcumber is also the perfect mixer with gin and vodka, or with Pimms.
I don't drink alcohol, so this was enjoyed on its own, chilled and over nice. Very refreshing. Both Todd and myself liked this!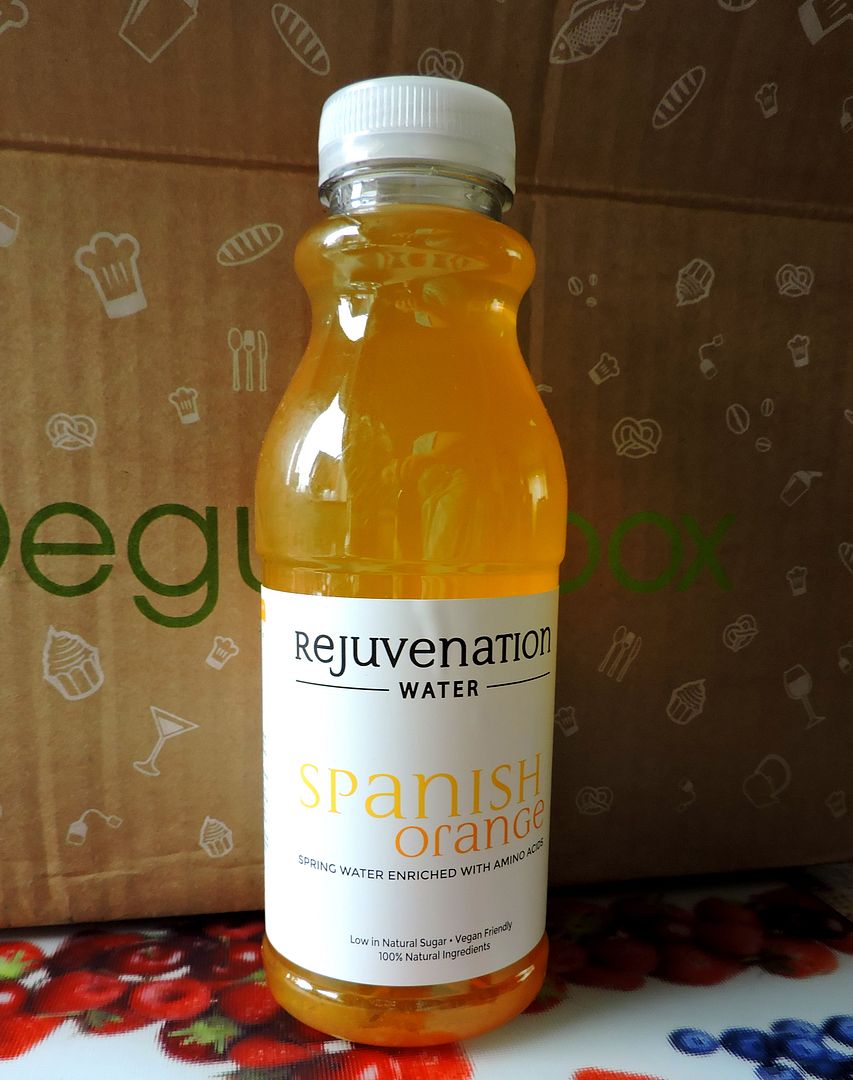 REJUVENATION
Water 1 X £1.99
Amino acid enriched spring water, Rejuvenation Water is specifically designed to deal with the rigours of modern life. Using Derbyshire spring water, natural fruit flavours and a unique amino acid profile, Rejuvenation Water fuels the immune system, builds a natural resilience to stress, depression and anxiety and aids protein digestion.
I received the Spanish Orange flavour and it was really delicious. Nice and refreshing and I was happy that I was putting something good into my body.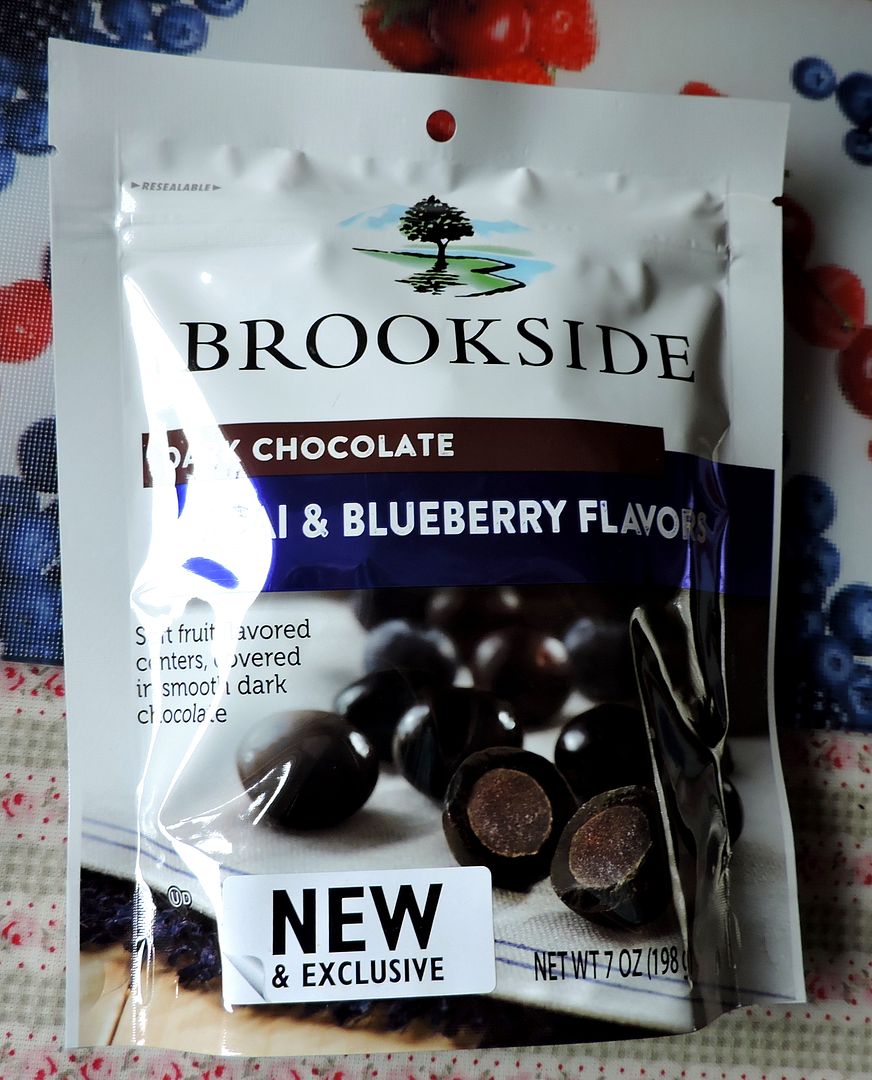 BROOKSIDE CHOCOLATES
Acai and Blueberry Flavours 1 X £3.40
Exotic fruit and berry flavors blend with smooth dark chocolate. Light and refreshing. Rich and rewarding. Wholesome and authentic. It's an extraordinary taste experience you can have anytime.
Also available in Pomegranate
I tasted only one, but I quite liked it! (Darned Diabetes!)
And finally . . .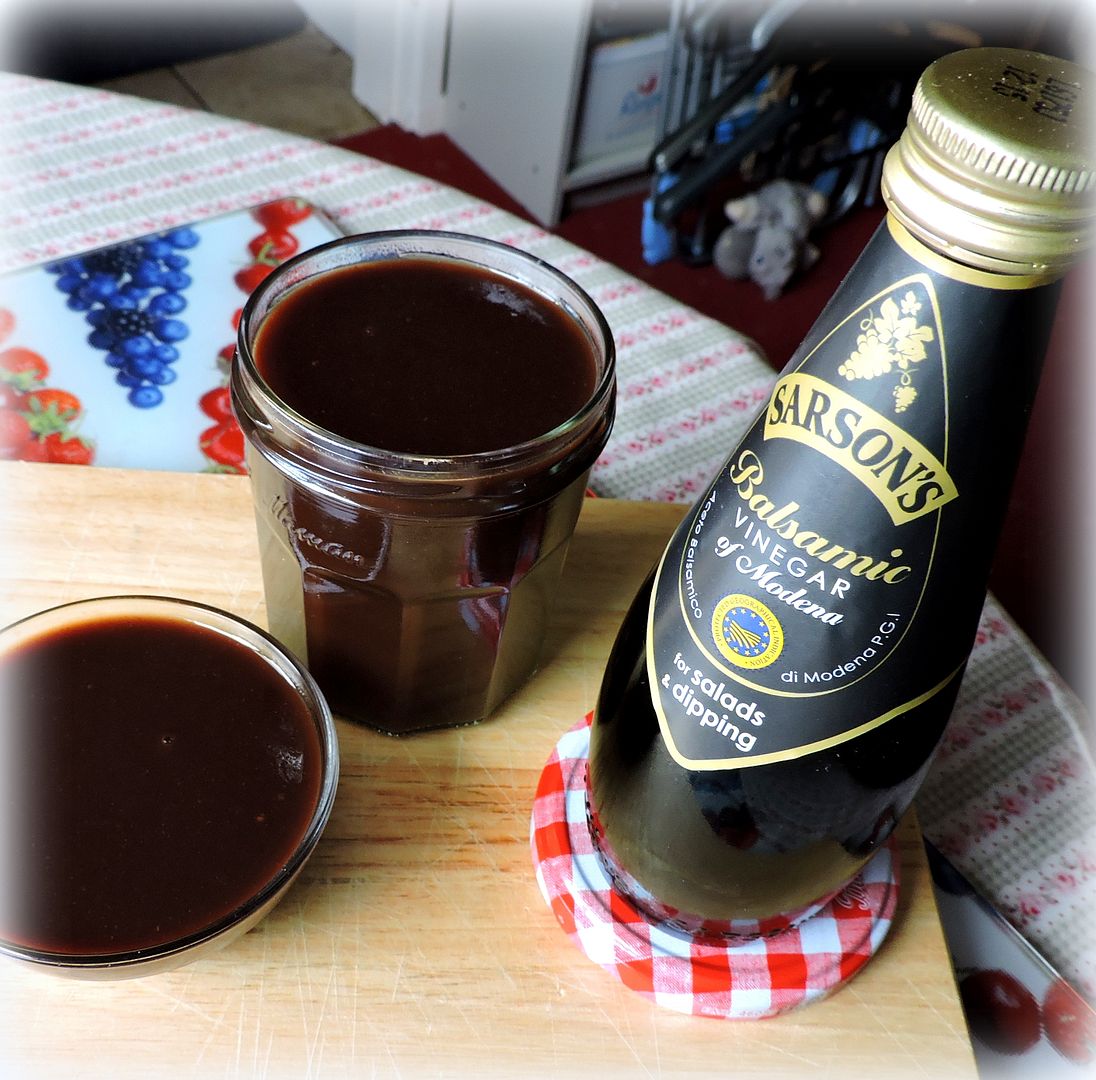 SARSON'S
Balsamic Vinegar of Modena 1 X £1.99
Sarson's, the expert in vinegar for over 200 years, now bring you a versatile full bodied balsamic from Modena, perfect as an accompaniment to salads or a recipe ingredient.
Our balsamic provides a distinctive gentle aroma with a tangy taste. Goes perfectly on a salad or in a homemade pesto.
This is the product I chose to highlight in a recipe and it worked perfectly in the BBQ Sauce. We have also been using some of it in our salad dressings. In all truth I already had a bottle of it in the house as this is the brand that I normally buy.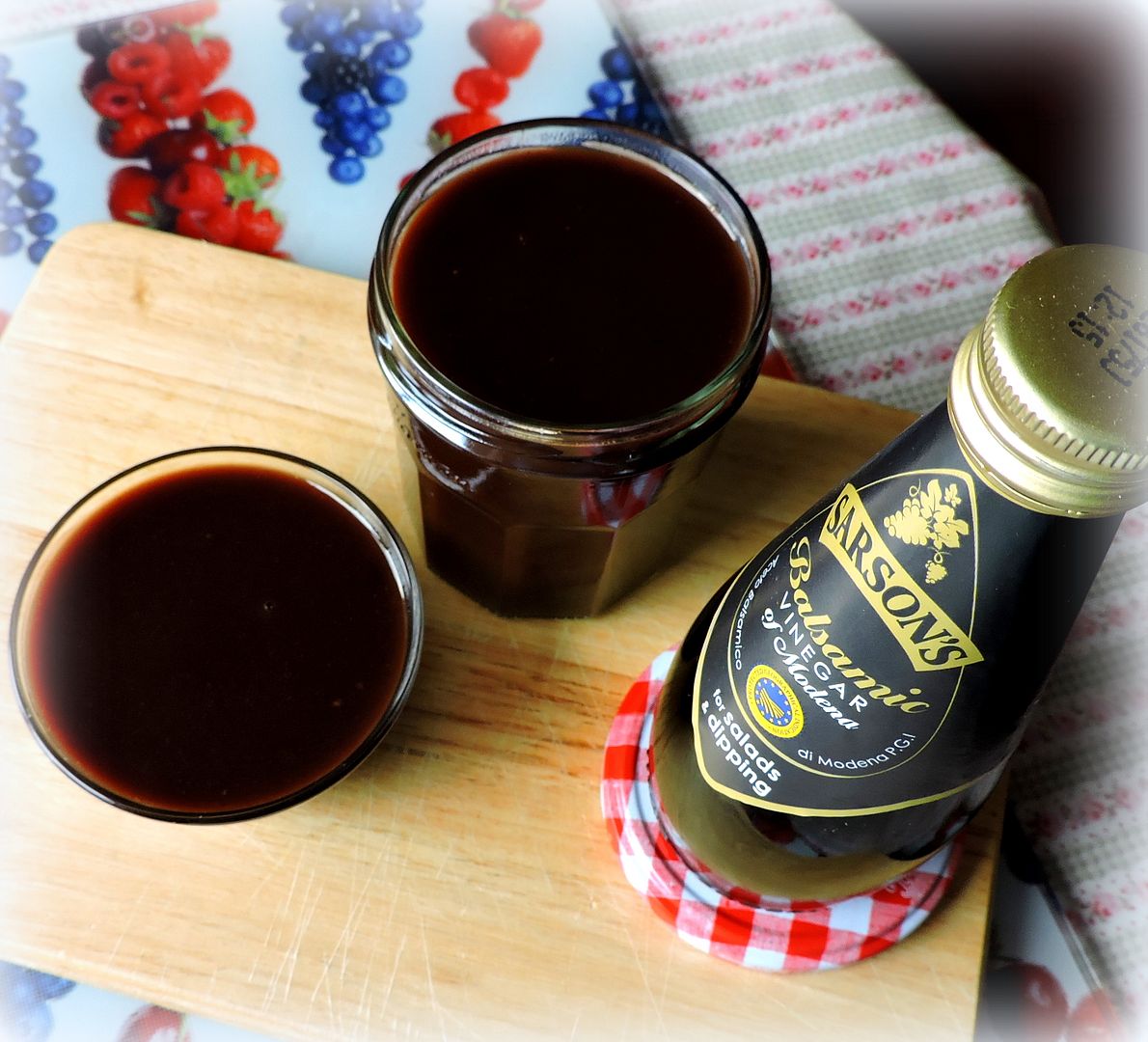 This is the best BBQ Sauce. You might think that with so much vinegar in it, it might end up overly sharp, but that just doesn't happen. Between the small amount of Brown Sugar that is in it and the Honey, it ends up being quite mellow and delicious, with just a light tanginess . . .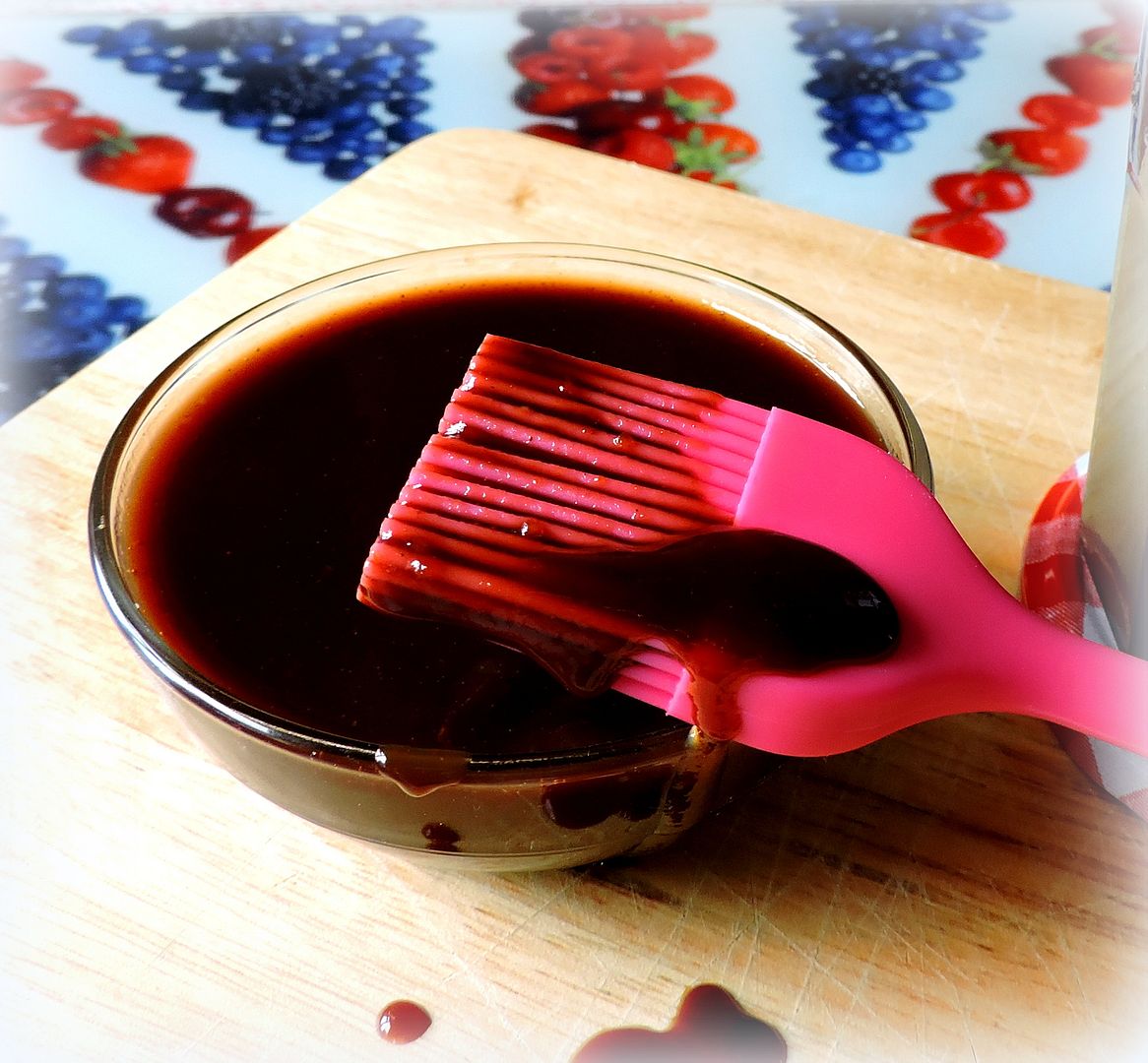 It's thick and delicious and perfect for brushing onto chicken or pork when you are BBQing them, and also goes great on Salmon. I have never tried it on beef or lamb, but I am betting it would be delicious on them as well. It's also pretty fabulous on sausages and we even enjoy it as an extra sauce on burgers . . . chicken, turkey, etc.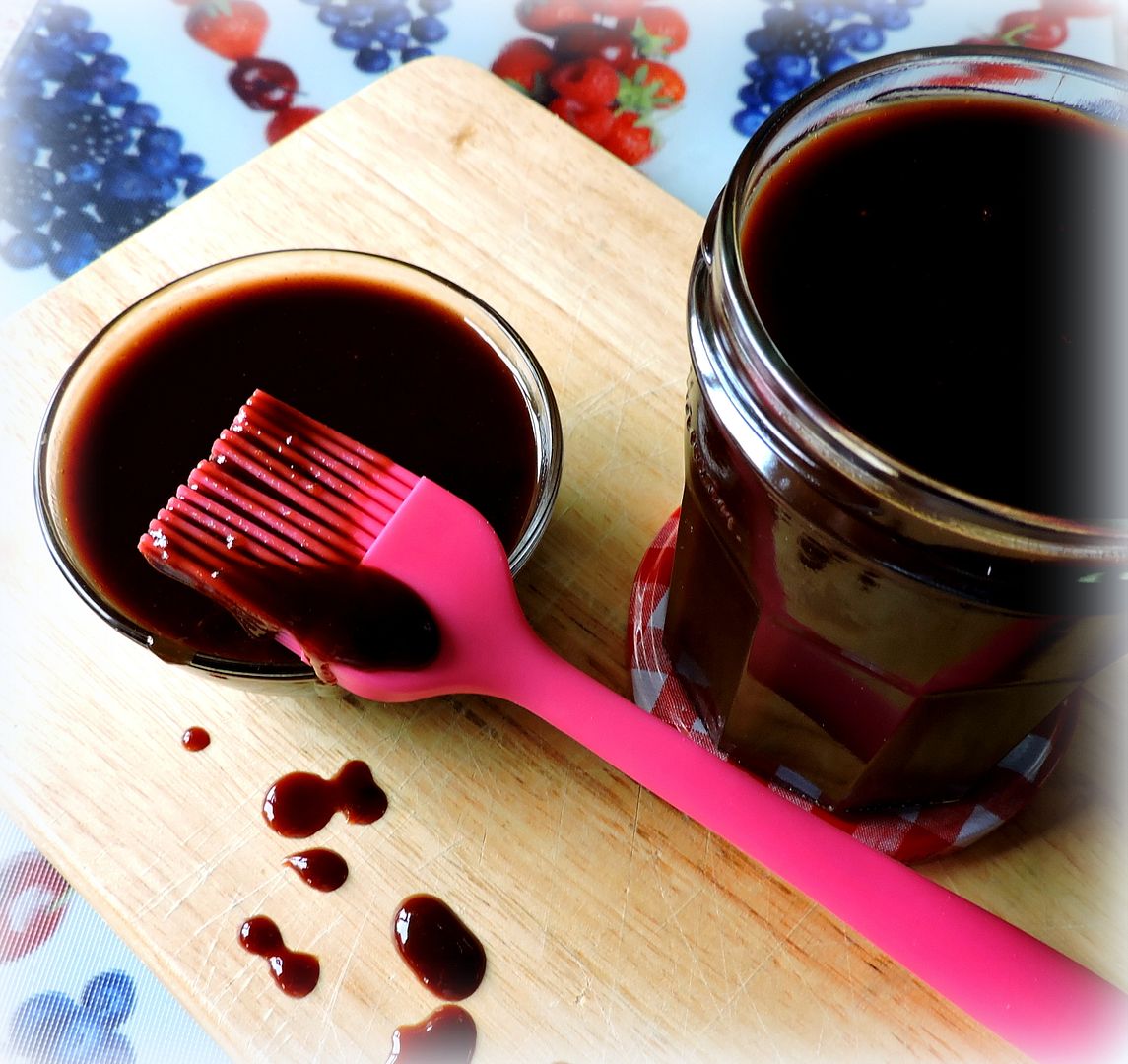 *Honey and Balsamic BBQ Sauce*
Makes about 2 cups
A delicious tangy and sweet BBQ Sauce for all your summer grilling needs. Particularly good with chicken, pork and salmon!
225ml Balsamic Vinegar (1 cup)
185g of tomato ketchup (3/4 cup)
2 TBS honey
75g of soft light brown sugar (1/3 cup packed)
1/2 tsp garlic powder
1/2 tsp onion powder
1 TBS Worcestershire Sauce
1 TBS Dijon mustard
1/4 tsp salt
1/4 tsp ground black pepper
Whisk all of the ingredients together in a heavy bottomed saucepan, making sure they are well combined. Bring to the boil, whisking constantly, then reduce the heat to very low and simmer for 15 to 20 minutes until thickened, stirring occasionally. Store in an airtight container in the refrigerator.
Delicious!
Its finger licking good!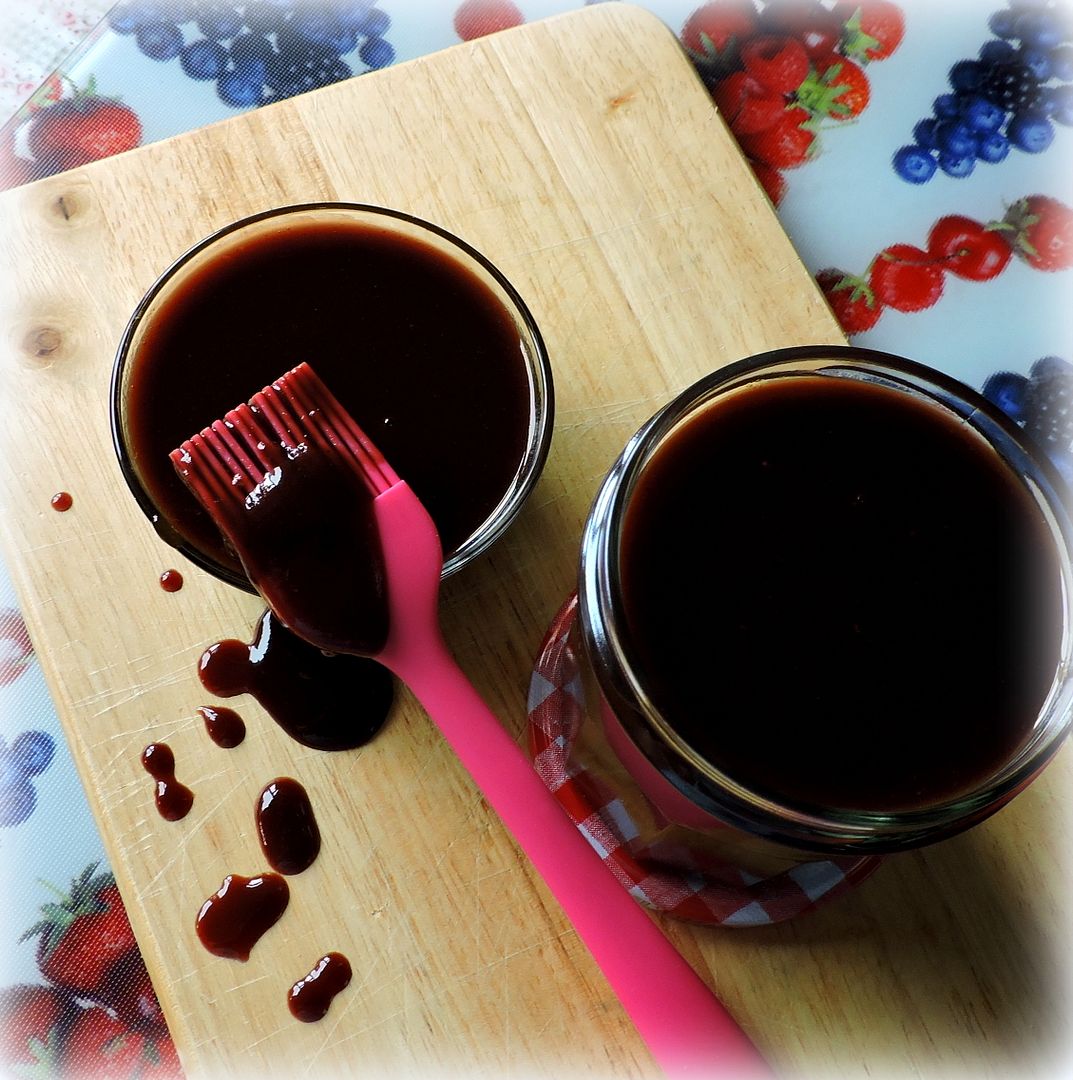 Many thanks to Degustabox for sending me this box. I have to say I really look forward to getting my box each month. There are always lots of things in it to enjoy and new products to try out. I highly recommend. You can also tailor the boxes to your own likes and dislikes by filling in your own Taste Profile. I also have a code which is worth a £7.00 discount off your first box when registering. Simply use the code:
BLDEG15
Do check out the
Degustabox web page
for more information and details.
Follow them on
Facebook
Follow them on
Twitter