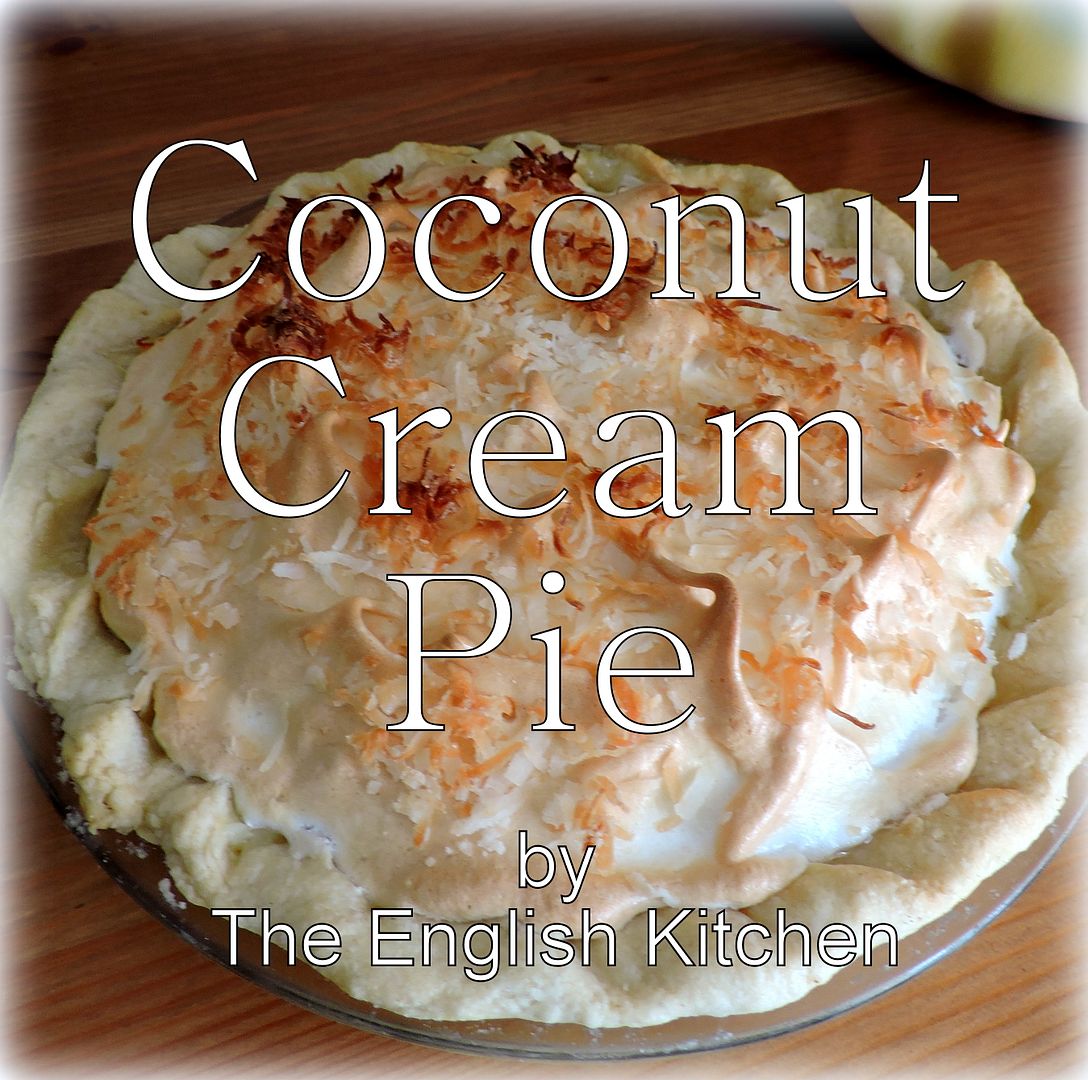 I haven't had a piece of coconut cream pie in years. I think the last time was when I was home for my mom's cancer operation and our Bruce brought us over each a piece of coconut cream pie as a treat after my mom got out of the hospital. It was from the Big Scoop and it was very good, but it wasn't homemade. All week I have had a hankering for Coconut Cream Pie and so today I made us one.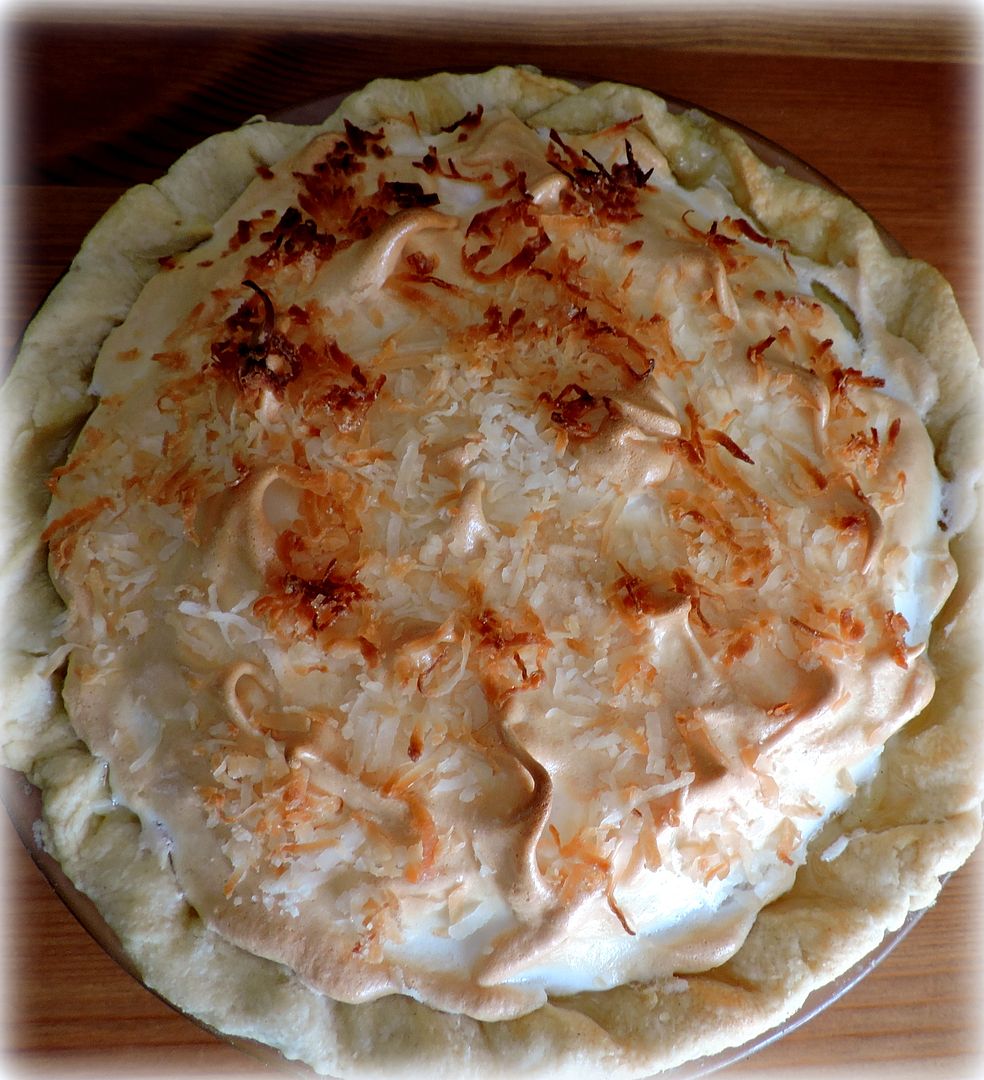 Sometimes you get a craving or an itch for something and a hankering that you just need to scratch. I don't think a piece of pie once every three years will kill me, especially if it is a delicious coconut cream pie, and if it does, well . . . what a tasty way to go! ☺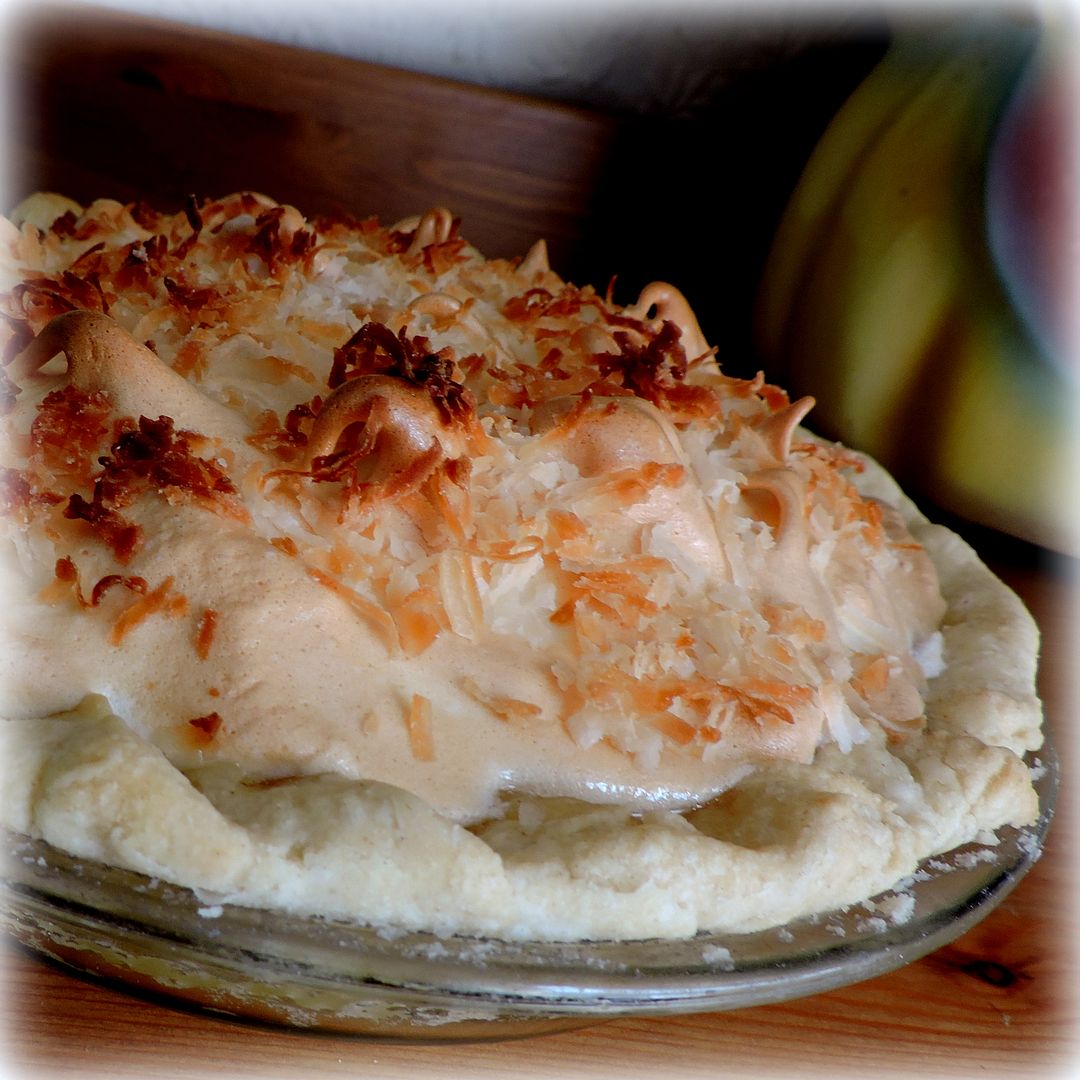 I used the recipe from my Purity Cookbook. It's a very old Canadian cookery book, from the people at Purity Flour, which has been pleasing Canadian Cooks for generations. If you want a good basic recipe, you can't go wrong!
Ideally yous should wait until it is completely chilled to cut into it, but I am such an impatient person. I couldn't wait. It was still slightly warm, but boy oh boy was it ever good!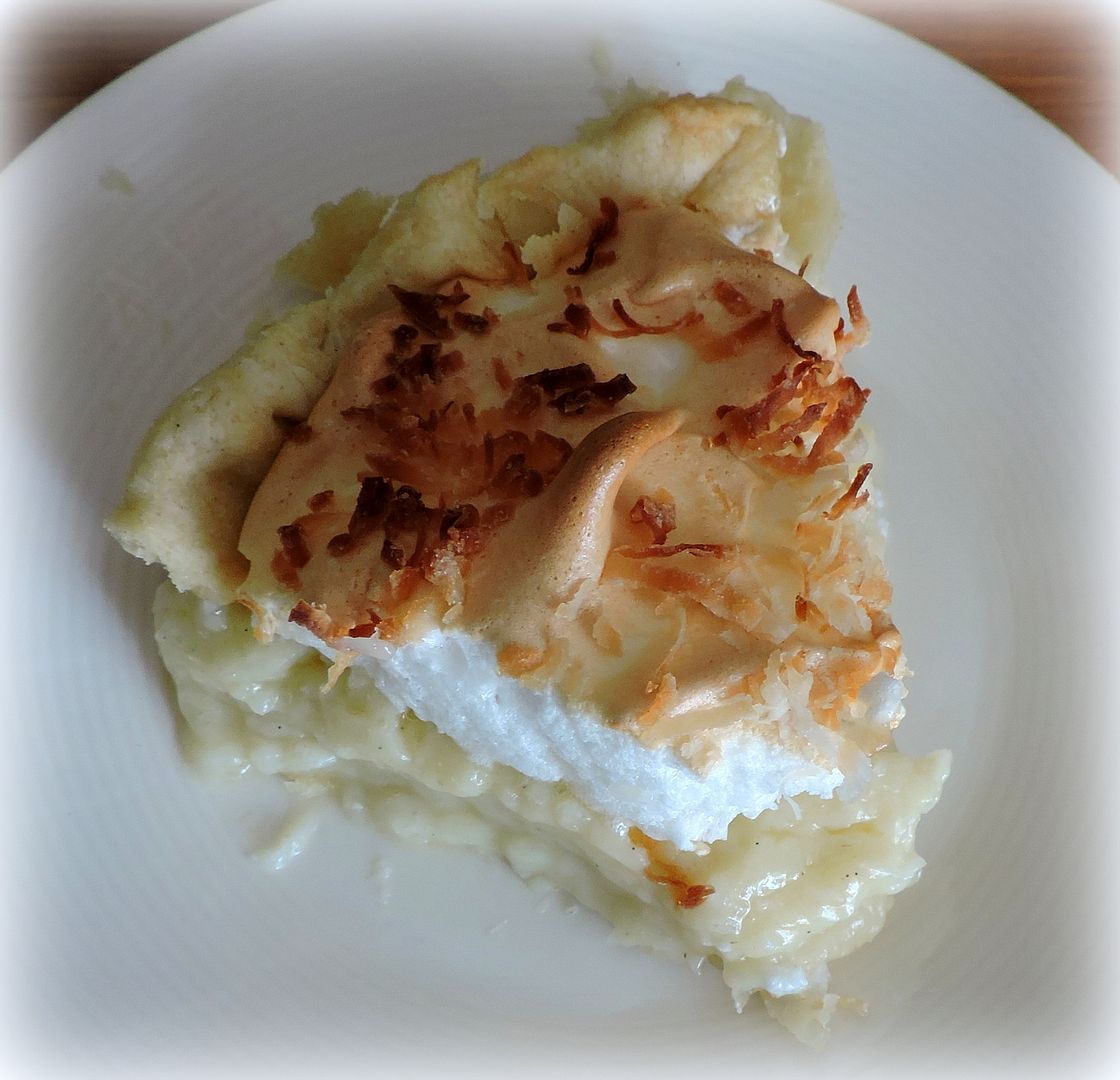 I used two kinds of coconut in it . . . dessicated in the filling and then shredded on the top of the meringue. You can find
my pastry recipe
here. It, too, is from the Purity book.
You can't beat these old recipes. Why change or fiddle with something which works beautifully is my motto. Don't fix what ain't broke!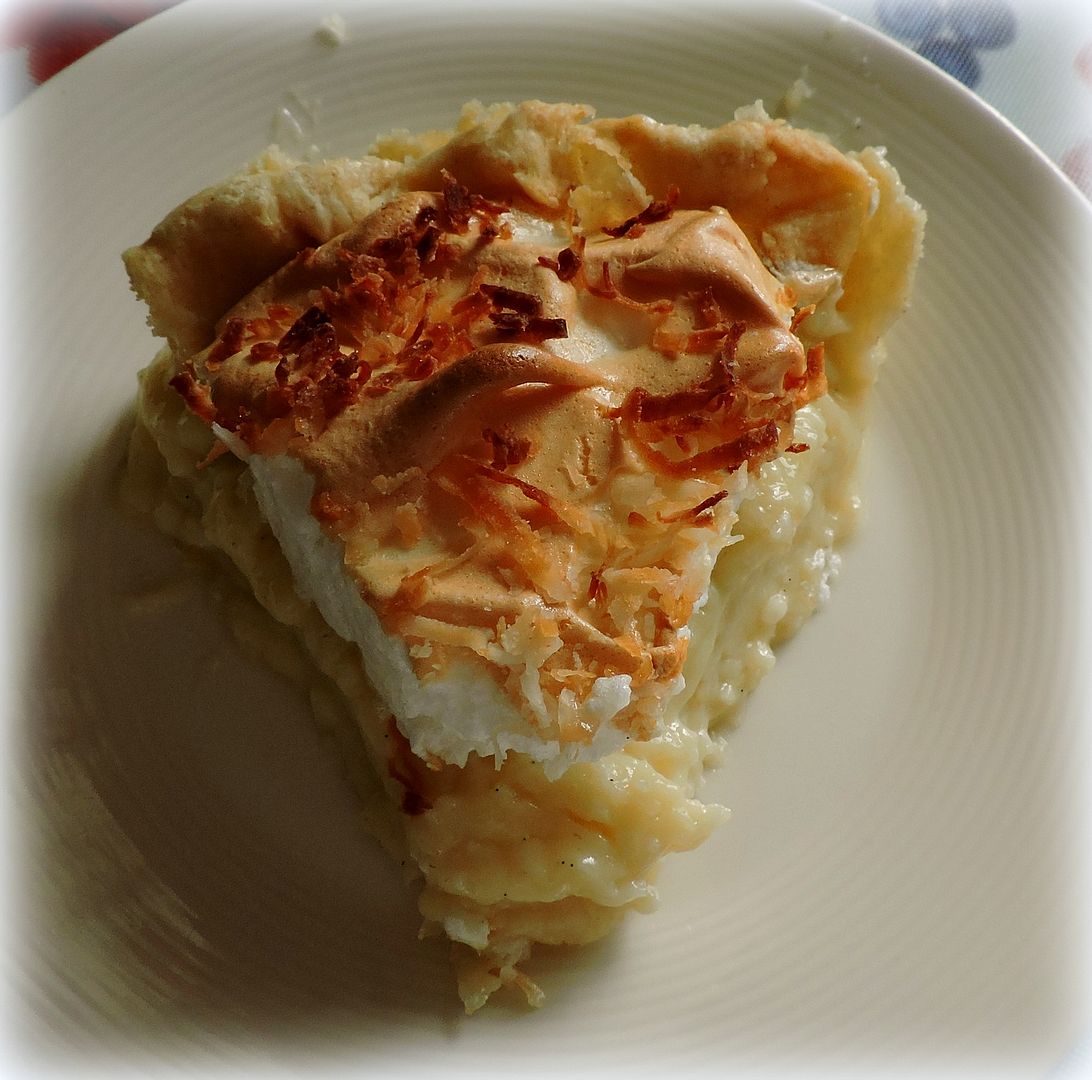 *Coconut Cream Pie*
makes one 9-inch pie
Everyone's favourite. Beautiful served ice cold, chilled from the refrigerator and cut into slices.
95g sugar (1/2 cup)
42g plain flour (1/3 cup)
1/2 tsp salt
500ml milk, divided
2 beaten large free range egg yolks
1 TBS butter
1 tsp vanilla extract or 1/2 tsp vanilla paste
1/2 tsp coconut extract (optional)
1 9-inch baked pie shell
75g dessicated coconut (1 cup
2 large free range egg whites to finish
2 TBS sugar to finish
3 TBS shredded coconut to finish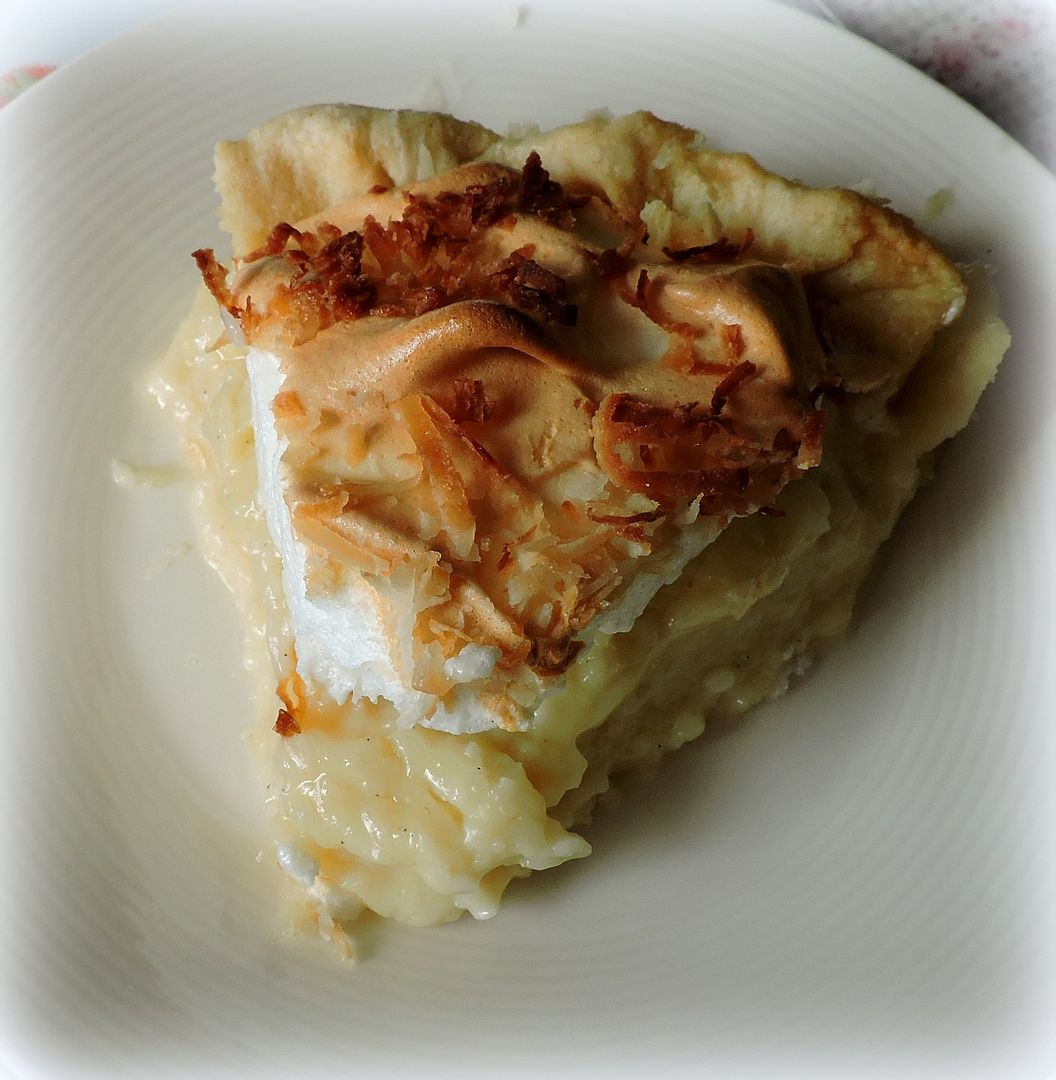 Combine the sugar, flour and salt in the top of a double boiler. Whisk well together. Whisk in 120ml of the milk (1/2 cup) until smooth. Scald the remaining milk and then whisk it into the flour/sugar/milk mixture. Place over boiling water and cook, stirring constantly until the mixture comes to the boil. Remove from the heat. Whisk some of the hot mixture into the beaten egg yolks. Whisk this warm mixture back into the hot mixture. Return to the heat and cook for a further 2 minutes, stirring constantly. Remove from the heat and stir in the butter, vanilla and coconut extract, if using. allow to cool. Spread the cooled mixture into the prebaked pie shell. Whip the egg whites along with the 2 TBS of sugar until thick, glossy and stiff peaks form. Spread over the cooled filling in the pie shell to cover the filling in a decorative manner. Sprinkle with the coconut shreds. Preheat the oven to 200*C/400*F/ gas mark 6. Bake the pie for 7 to 8 minutes until golden brown. Allow to cool to room temperature and then refrigerate until serving time.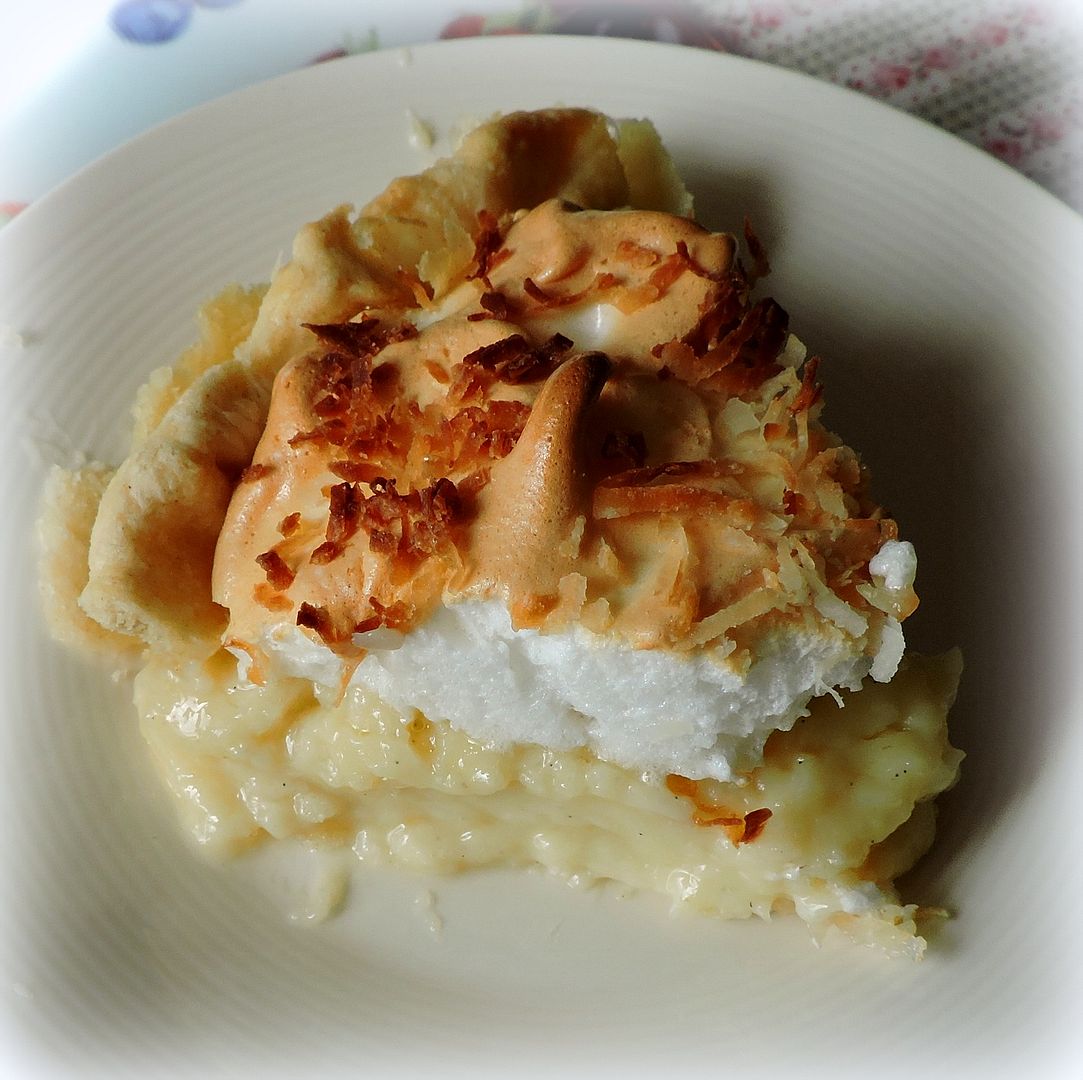 Enjoy! Its the weekend! Bon Appetit!