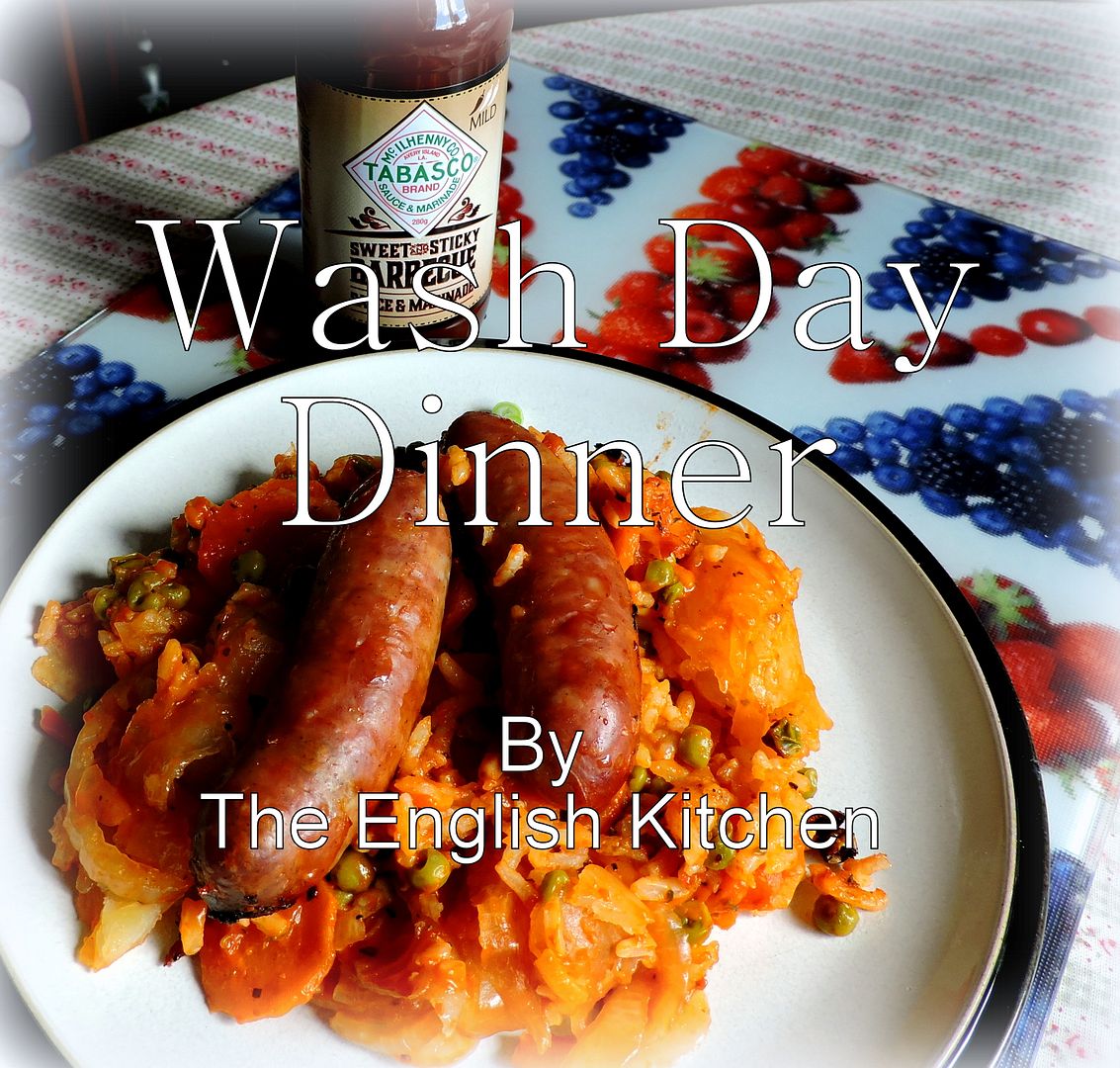 This is a recipe that is as old as the hills. Necessity being the mother of invention and all. In the old days wash day took up a considerable time and effort on the lady of the household's part. This was a dish that was not only easy to throw together, but pretty much cooked itself leaving your hands free to do the laundry! Practical and delicious! Two of my favourite things! Add economical to the mix and you have a hat trick of winning possibility!
When I saw the contents of this months Degustabox I knew that I would be able to use some of the contents to make this delicious dish.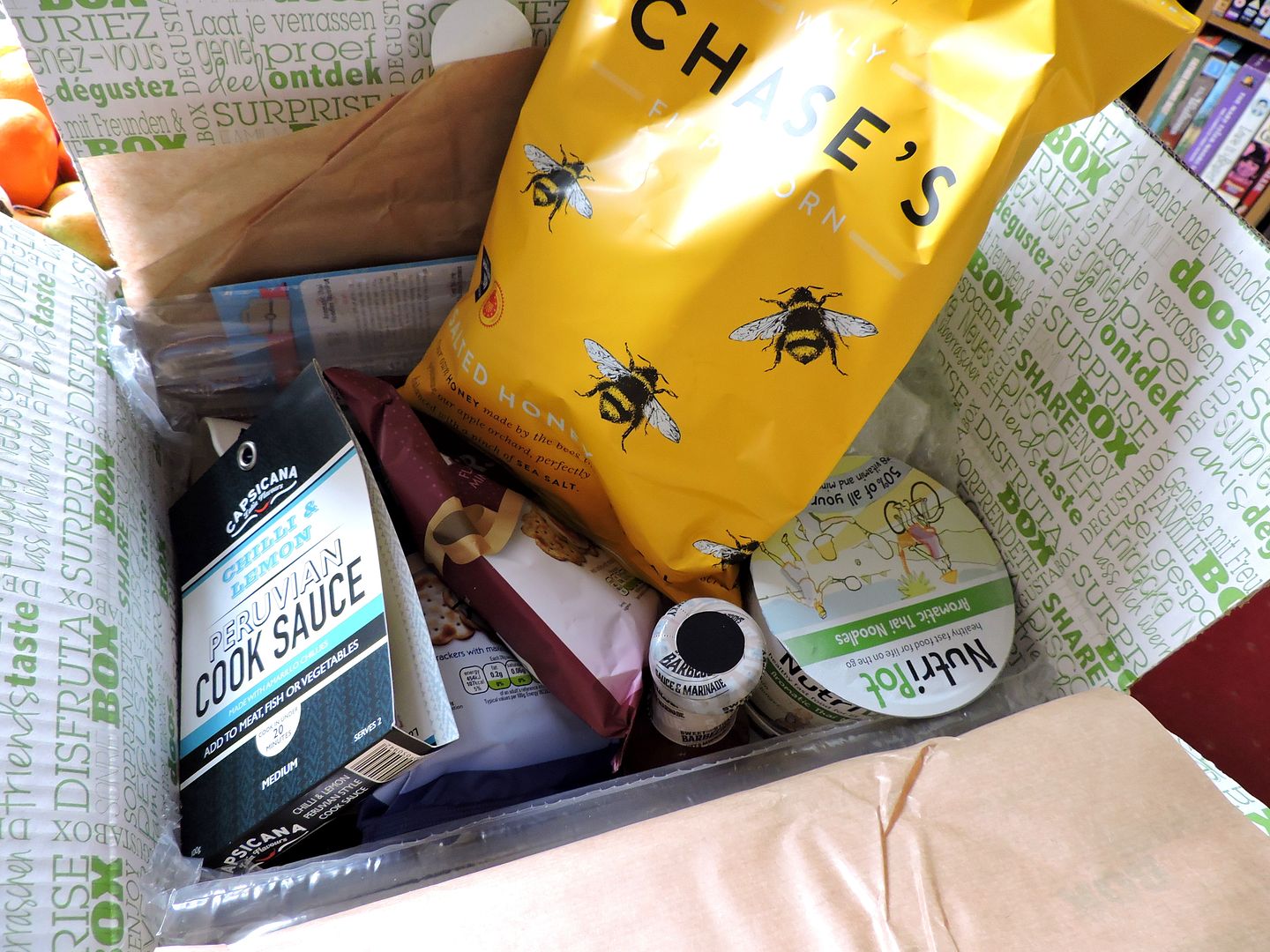 To those not in the know, if you sign up for it, once a month, every month . . .
Degustabox
will deliver to your home . . . 10 to 15 new, special or innovative food products for you to try in the comfort of your own home via a subscription service. A monthly subscription costs £12.99 with free shipping, or you can pay bi-annually for only £11.99 per box, an 8% saving on the full subscription price. You are also able to cancel your subscription at any time. What you receive can be tailored to the types of things that you like and would use. To me it's a bit like a foodie Christmas every month of the year! I really love them! This is what was in my latest box . . .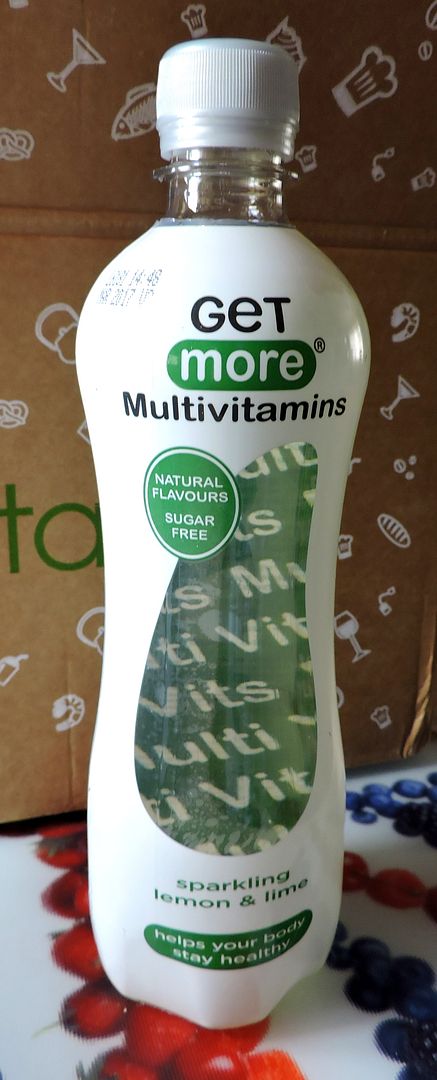 GET MORE
Vitamin Drinks 1 X £1.45
Popping pills not for you? Get More Vitamin Drinks provides a refreshing way to top up your vitamins, made with spring water, natural flavours and no added sugar.
Get More Multivitamins - Sparkling Lemon & Lime flavour, gives you a daily dose of vitamins. Biotin (Vitamin B7) and magnesium fire up for metabolism making you feel more energetic. Vitamins B6 and B12 support your immune system, and zinc helps you maintain healthy skin, hair and nails. Fortified with 100% of you daily dose of B1, B3, B5, B6, B7, B12, C and 25% of magnesium and zinc. With 6 varieties including Get More Multivitamins and Get More Vitamin D, the range is available in selected Tesco, Asda, Sainsbury's, WH Smith, Spar, Superdrug and Roadchef stores nationwide and on Ocado.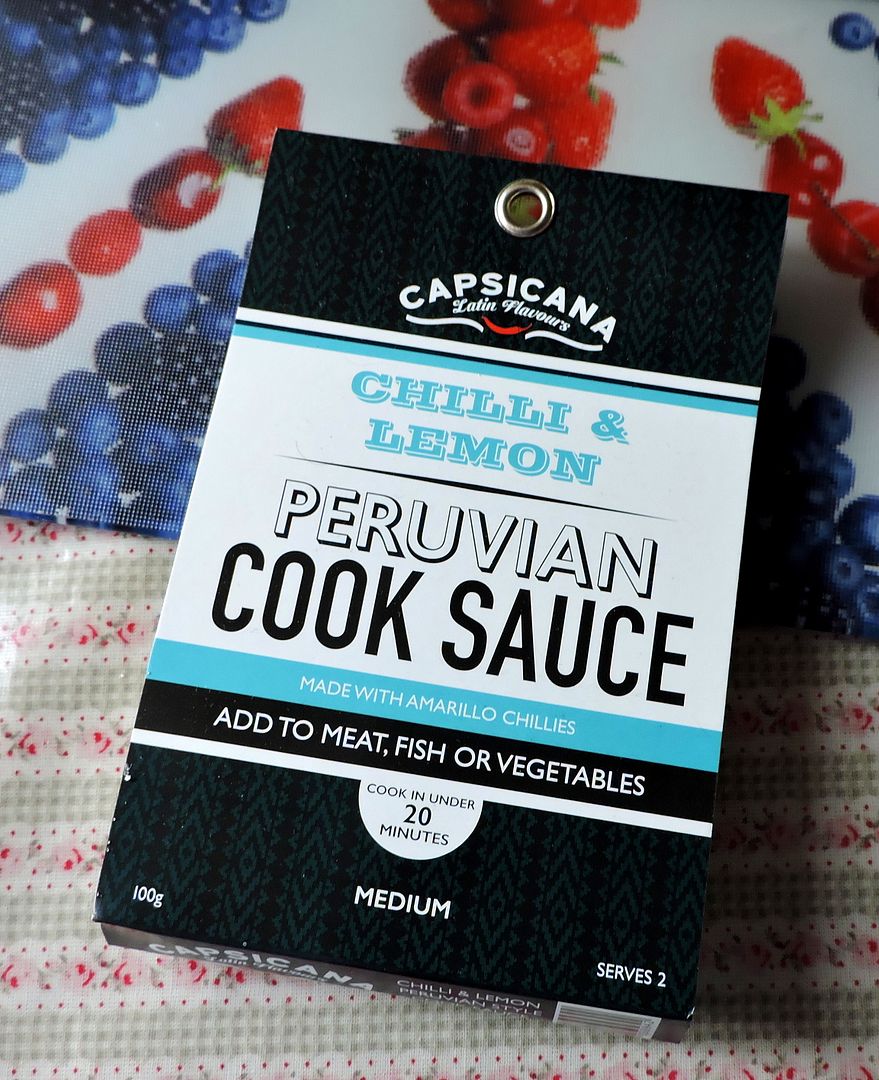 CAPSICANA LTD
Cook Sauce X 1
The Peruvian Chilli & Lemon Cook Sauce is based on Peru's 'Aji Verde' sauce – usually served with one of the country's most popular dishes, 'Pollo a la Brasa' (Peruvian roasted chicken – there's even a day named after it!). Capsicana use Peruvian-grown aji amarillo chilli peppers for 'kick', while the lemon provides a tangy citrus bite. So, follow the lead of the Peruvians and enjoy with chicken – though it works well with vegetables. It also comes in Brazillion Chili and Coconut, and Mexican Chilli and Honey.
FENTIMAN'S
Sparkling Lime and Jasmine X 1
Sparkling Lime and Jasmine is a sophisticated, complex and refreshing drink that is aimed at a growing group of consumers seeking a credible alternative to alcohol. In line with the Fentimans range of premium adult soft drinks. Sparkling Lime and Jasmine is made using the time-honoured botanical brewing technique to deliver real body, a unique depth of flavour and a liquid that delivers the cues of a sparkling wine.
A light but finely balanced liquid with a distinctive botanical aroma. The initial refreshing bitterness on the tongue is quickly balanced by the botanical sweetness of Hyssop, Lime Flower and Juniper Berries to leave a clean, dry citrus note. The aroma is created by a complex mix of botanical infusions including white jasmine flowers.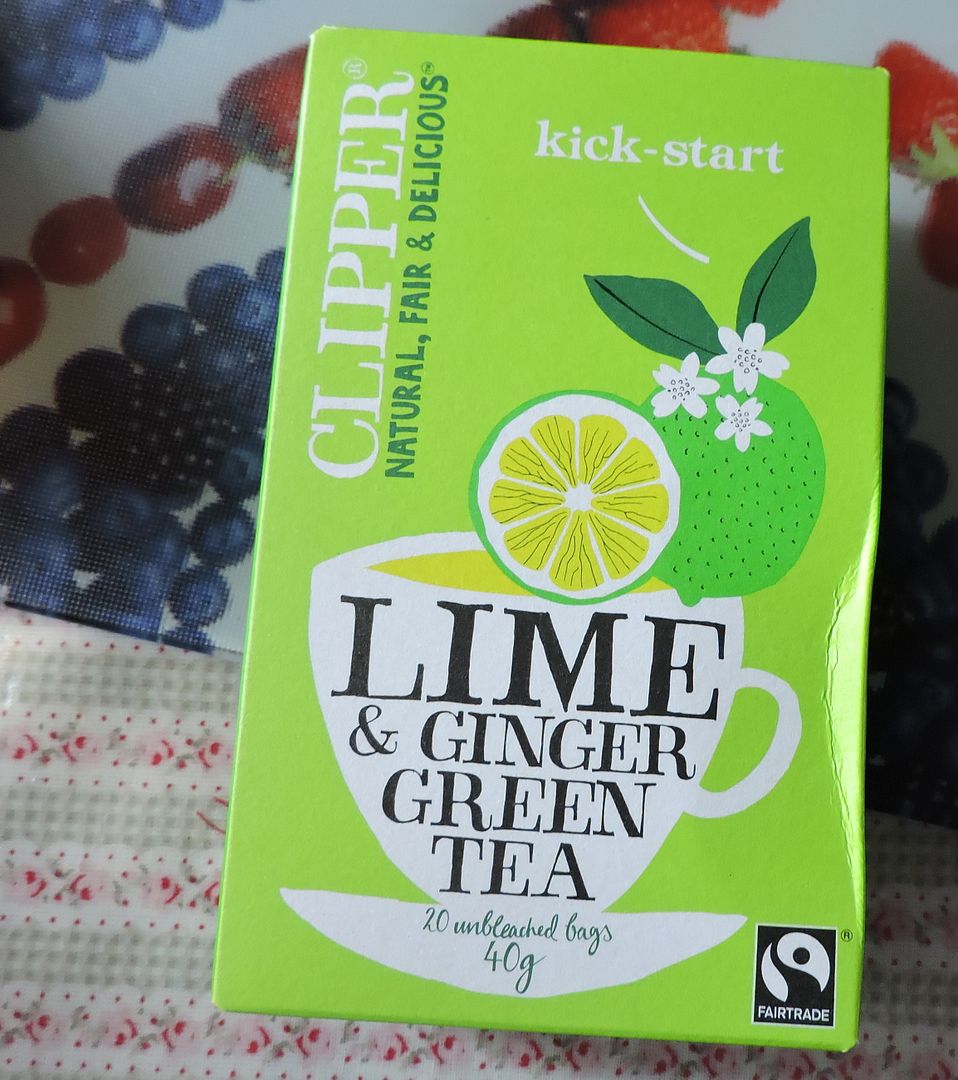 CLIPPER
Lime & Ginger Green Tea X 1 (£1.59)
Let your inner beauty bloom
Mirror, mirror, on the wall...
The Rejuvenating and refreshing properties of green tea, together with our Fairtrade story, makes clipper the fairest of them all...
Kick-start your tastebuds with this energising blend of green tea naturally flavoured with lime and ginger.
Clipper green tea is characteristically light and clear. With green tea, it is all about the quality of the leaves and the expertise in the production process, which gives us the distinct profile we are searching for. We only work with trusted estates to buy our green tea and often use southern Indian leaves as this delivers the delicately subtle taste we're looking for.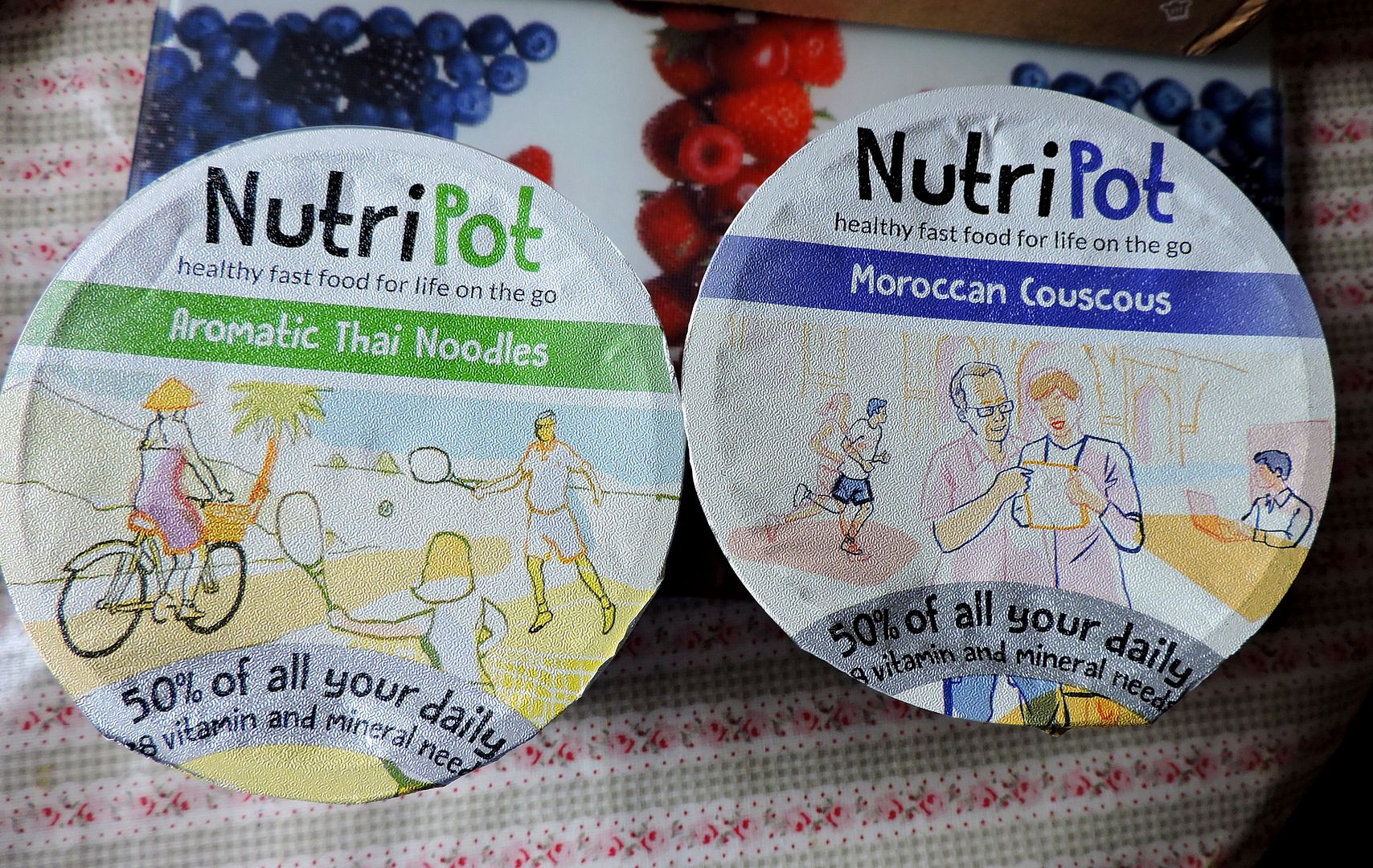 LighterLife Nutrition Limited
Aromatic Thai Noodles NutriPot & Moroccan Couscous NutriPot
2 X £2.49
Healthy fast food for life on the go. Introducing NutriPot; the healthy choice for lunch or a snack when you're looking for a convenient, nutritious, quality product. Each pot contains 50% of your daily vitamin and mineral needs; helping you to get through the day with a little more ease.
Put the kettle on and enjoy one of five flavours – Aromatic Thai Noodles, Chicken and Mushroom Noodles, Moroccan Couscous, Quatro Formaggi Pasta or Pasta Bolognese.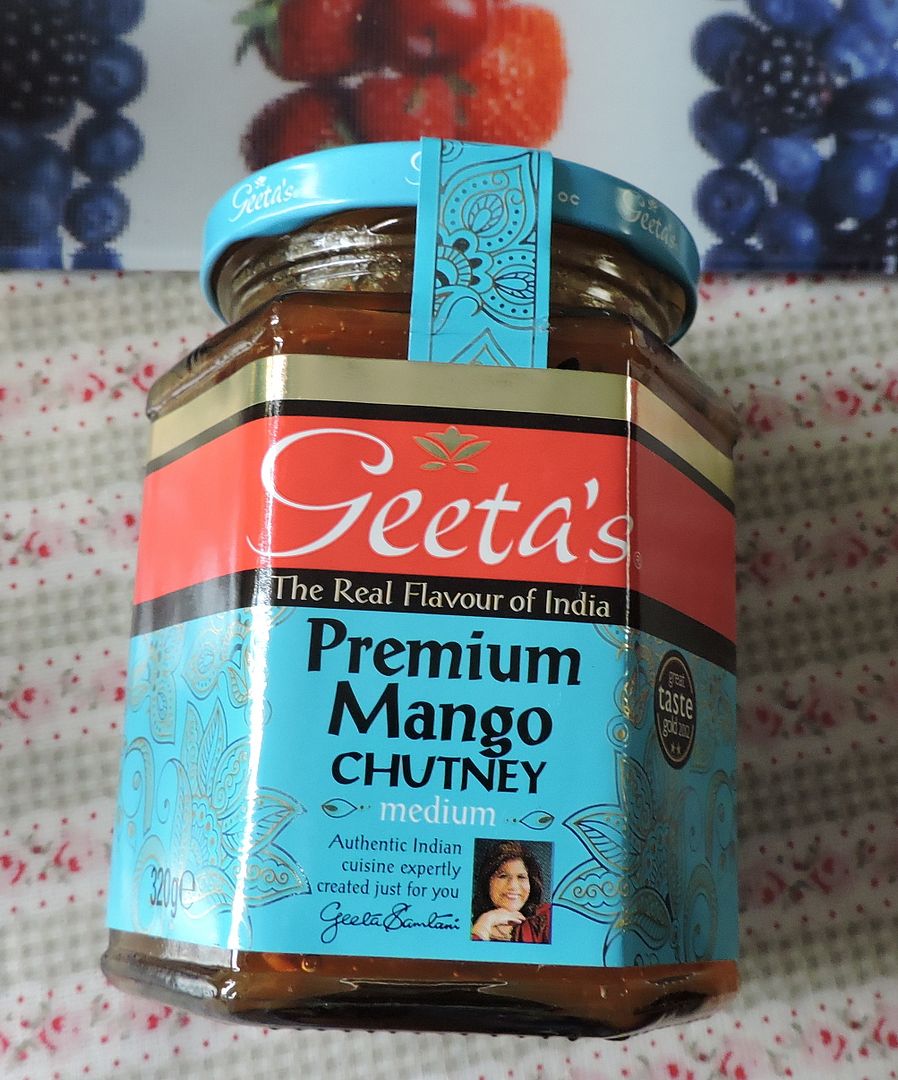 GEETA'S
PREMIUM MANGO CHUTNEY X 1
Premium Mango Chutney made with the finest mangoes, whole spices, and Geeta's secret blend of spices. Great with Sandwiches jacket potatoes, nachos, meals, and even whipped into some homemade Ice Cream. A versatile Sweet and spicy chutney, that will leave you wanting more.
This is my favourite Mango Chutney and something which I have in the house all the time.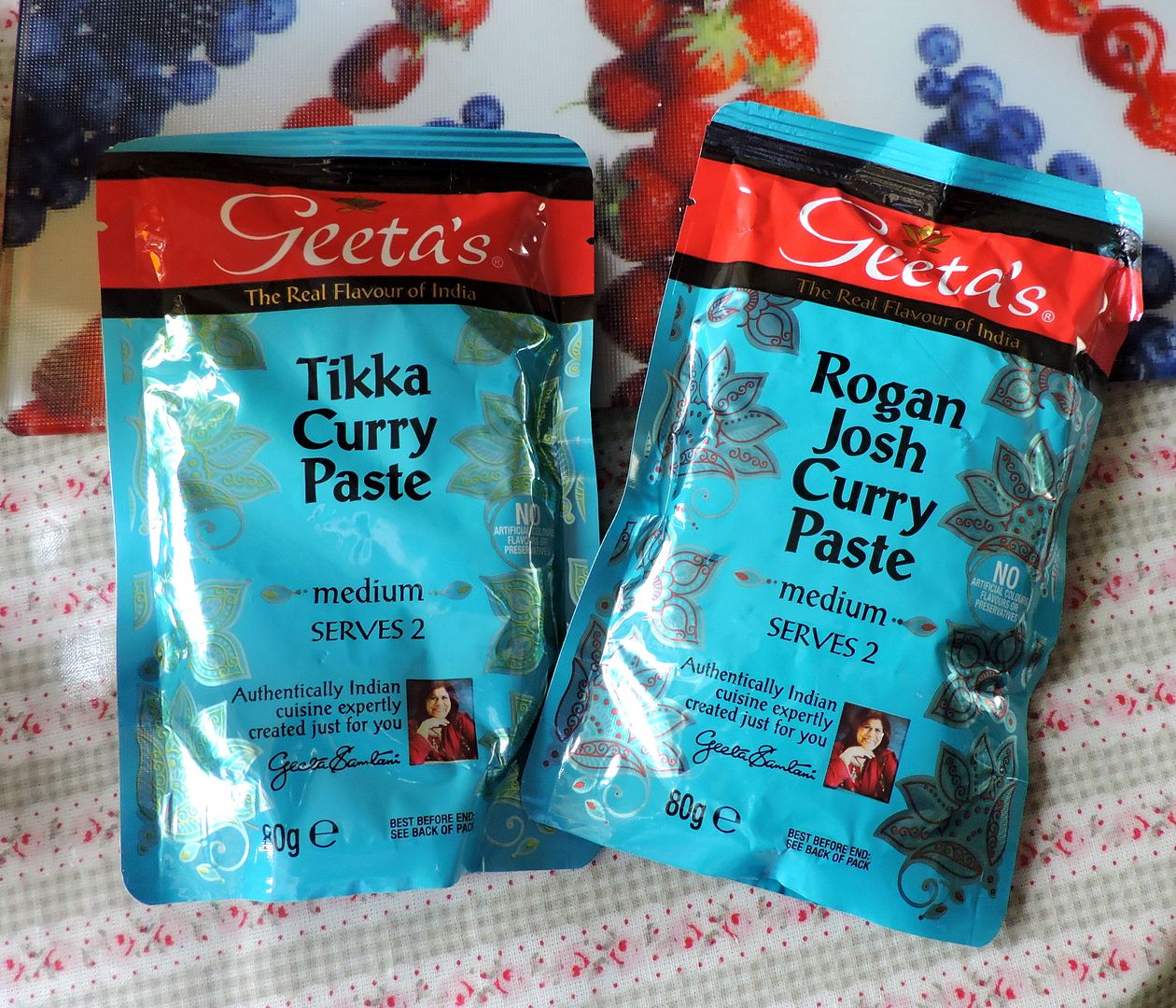 GEETA'S Curry Paste X 2
A medium Tikka curry paste with tomatoes, onions, and Geeta's own special blend of exotic spices, creates a delicious aromatic curry, perfect for two.
A medium Rogan Josh curry paste with tamarind, fennel, and Geeta's own special blend of exotic spices, creates a delicious aromatic curry, perfect for two.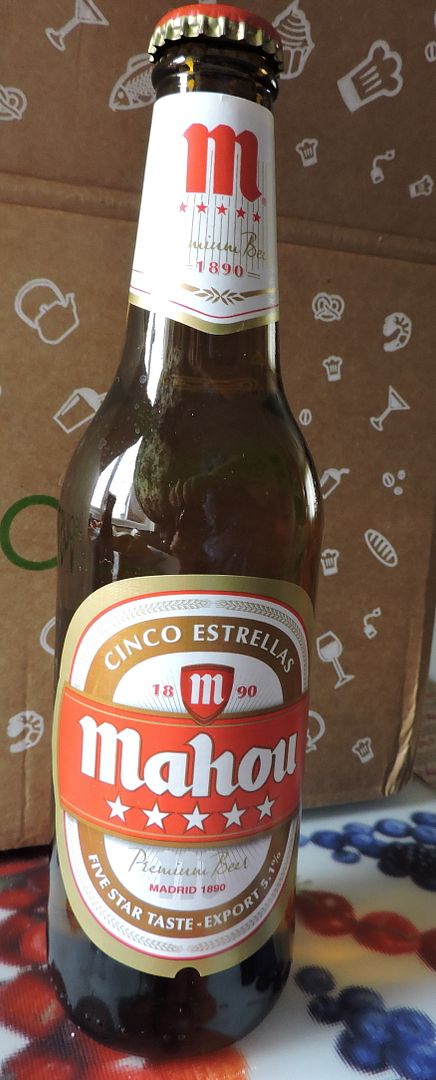 MAHOU CINCO ESTRELLAS
X 1 (£1.20)
Mahou Cinco Estrellas, the quintessential taste for beer lovers, has always been a byword for quality and authenticity. A beer created to satisfy the most discerning palates, made using the highest quality varieties of hops and yeast which shapes its characteristic body and flavour.
Its origins lie in Madrid, where in 1890 the family brewery and ice-making firm "Casimiro Mahou and Sons" was established. Ever since then the brand has shared with its consumers, wherever they may be, an authentic product which has maintained the same quality for more than 125 years.
Aroma: Intense fruity notes with floral hints from hops and freshness from the yeast.
Taste: Thin and moderate bitterness. Well balance between alcohol and acidity.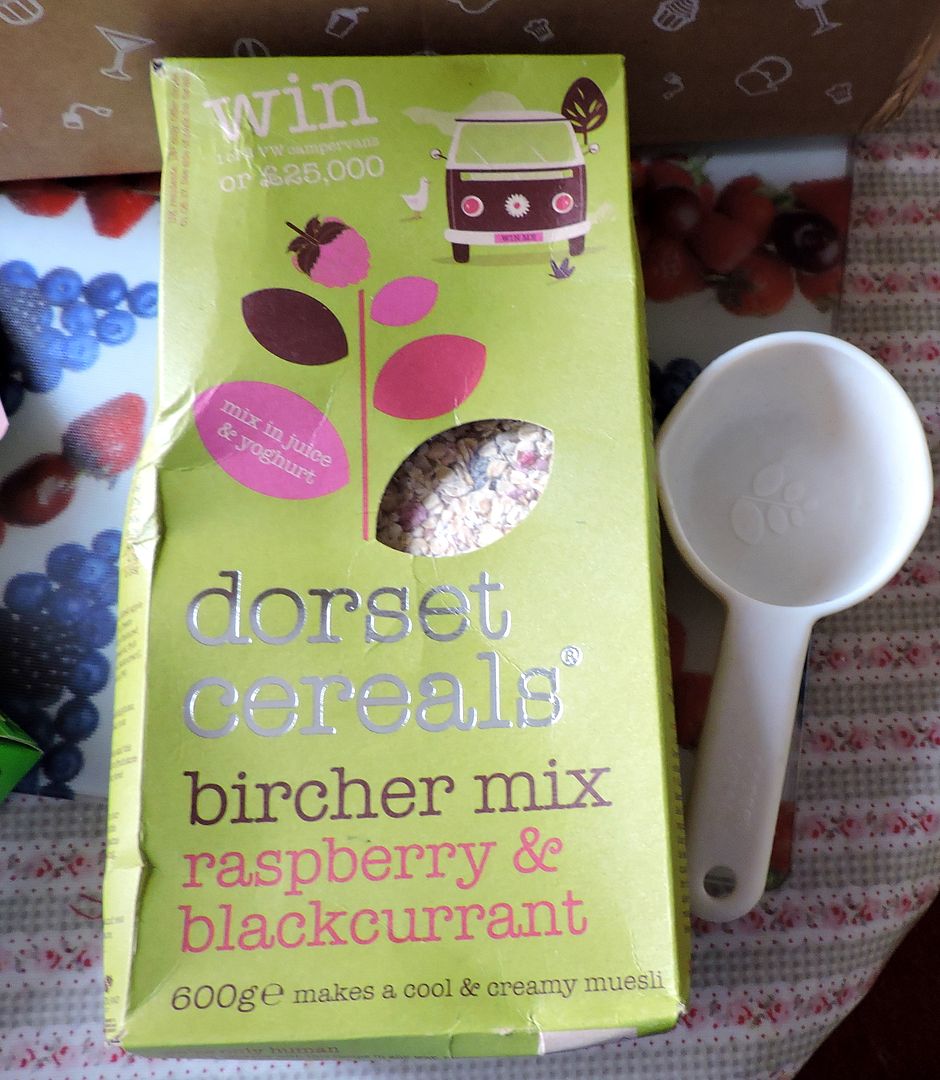 DORSET CEREALS BIRCHER MEUSLI
X 1 (£3.49)
Originating in Switzerland, bircher muesli is made by soaking oats overnight in juice and yoghurt, with a touch of grated fruit. We've simplified the method with our fruity bircher mixes, using finely milled oats and dried fruit which can be soaked in as little as 30 minutes, for a cooler, creamier muesli.
We love Dorset Cereals.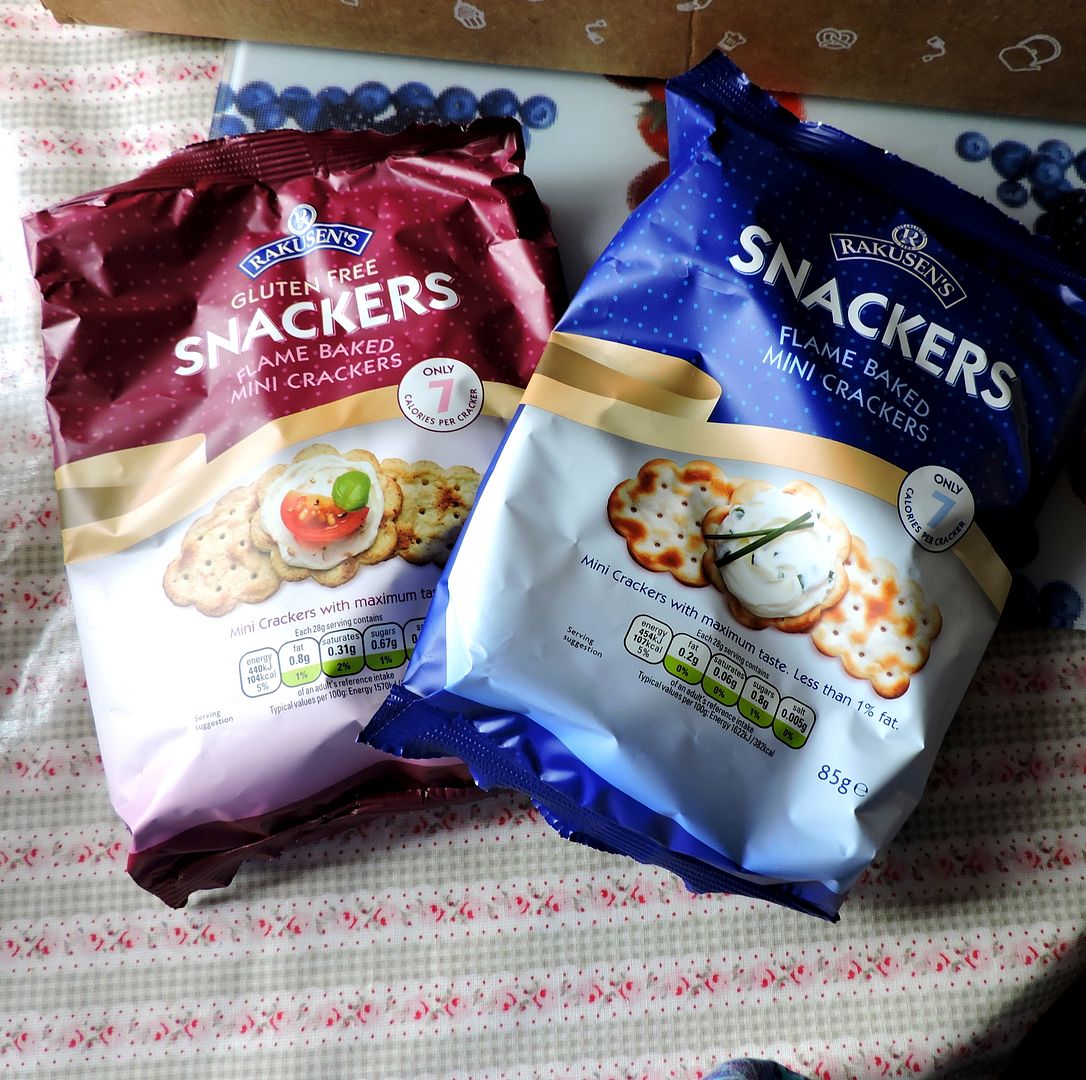 RAKUSEN'S SNACKERS
Flame Grilled Crackers X 2 (1 Plain (£1.29) and 1 Gluten Free (£1.49))
Rakusen's has been producing delicious, healthy crackers since 1900. In fact, we were the first manufacturer in the UK ever to do so. Our entire range of crackers & snackers is flame-baked to a traditional recipe, giving each bite a unique but subtle nutty flavour.
Rakusen's Plain & Gluten Free 85g Snackers
Snacking never felt so good...With less than 1% fat and only seven calories in every cracker, Rakusen's Snackers really do get better with every guilt-free bite.
Great with a topping or without, they are the perfect healthy lunchbox treat that can also serve as a low fat snack any time. Also available in Gluten Free!
· low in fat
· low in sugar and salt
· dairy free
· nut free
Available to buy from Tesco & Sainsbury's and online from Ocado!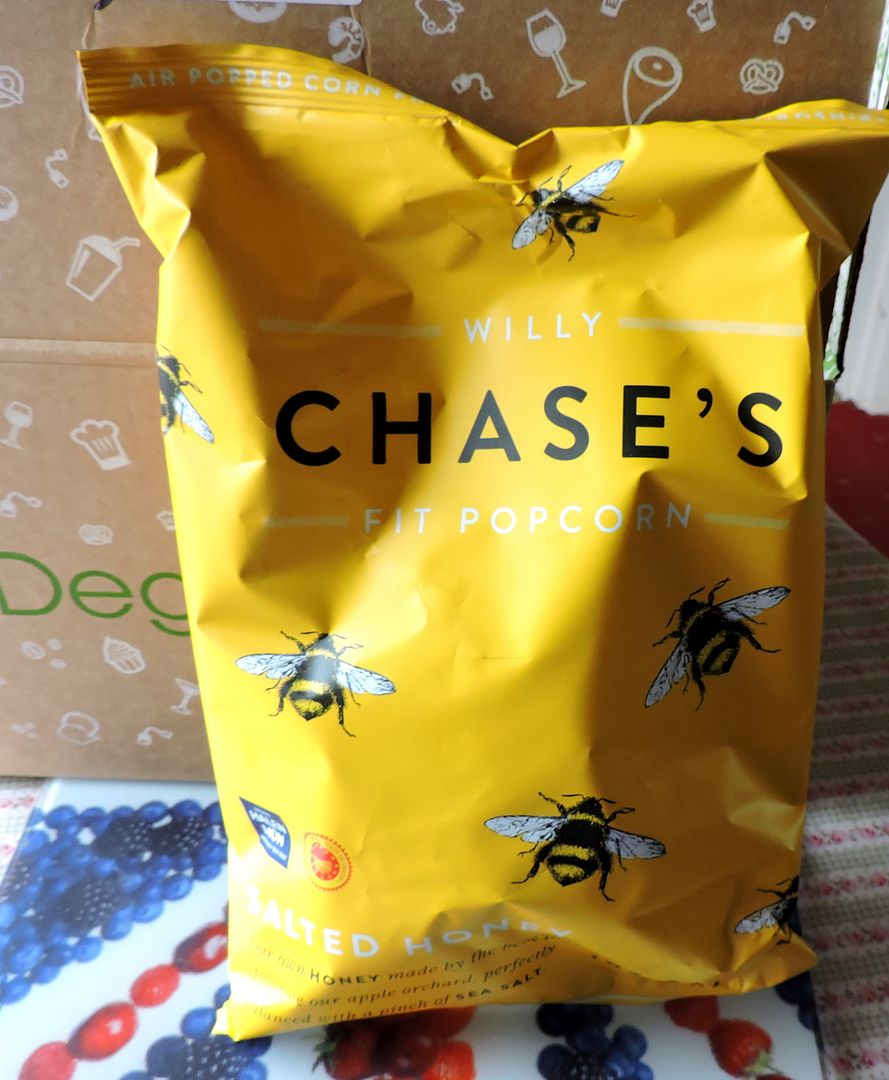 CHASE'S
Fit Corn X 1 ( £2.19)
Willy Chase's Fit popcorn begins and ends its journey at the Chase farm in rural Herefordshire. Our very own corn is air-popped by hand, for a deliciously light and crunchy popcorn. No fryers here! We cook our delicious flavours in our popcorn kitchen, using locally sourced ingredients. Each pack is popping with flavour, but without the guilt. It's popcorn with pedigree, because food tastes better fresh from the farm!
I received the Salted Honey. Three other flavours are available.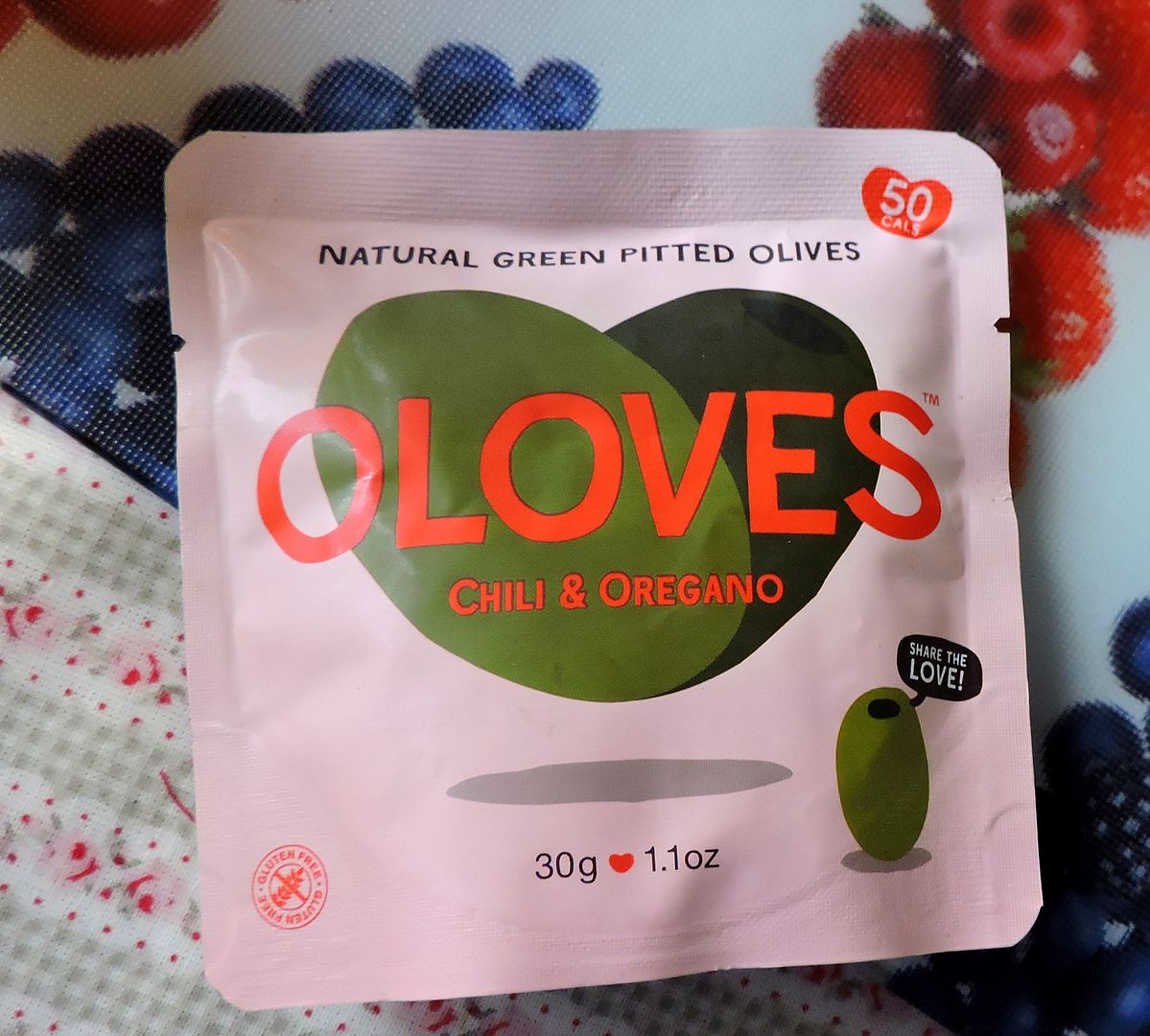 OLOVES
Chili & Oregano Olives X 1 (£1.00)
Oloves; bring you the tastiest olives, freshly packed and in a range of delicious flavours. Bursting with natural goodness, low in calories. No stones. No fuss. Just the best snack going.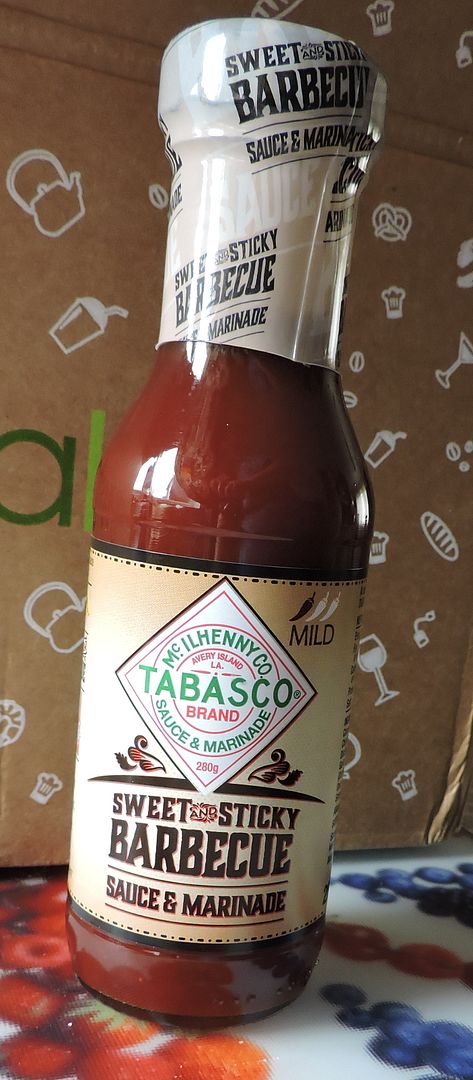 TABASCO
Sweet & Sticky BBQ Sauce and Marinade X 1 (£1.99)
TABASCO® Sweet & Sticky Barbecue Sauce & Marinade is a mild, Barbecue sauce enhanced by the rich and smoky flavours of TABASCO® Chipotle Sauce. Perfect for drizzling over pulled pork, marinating ribs and pouring on your burger. Available NOW in Tesco, ASDA & Ocado
This was the product that I chose to highlight with a recipe.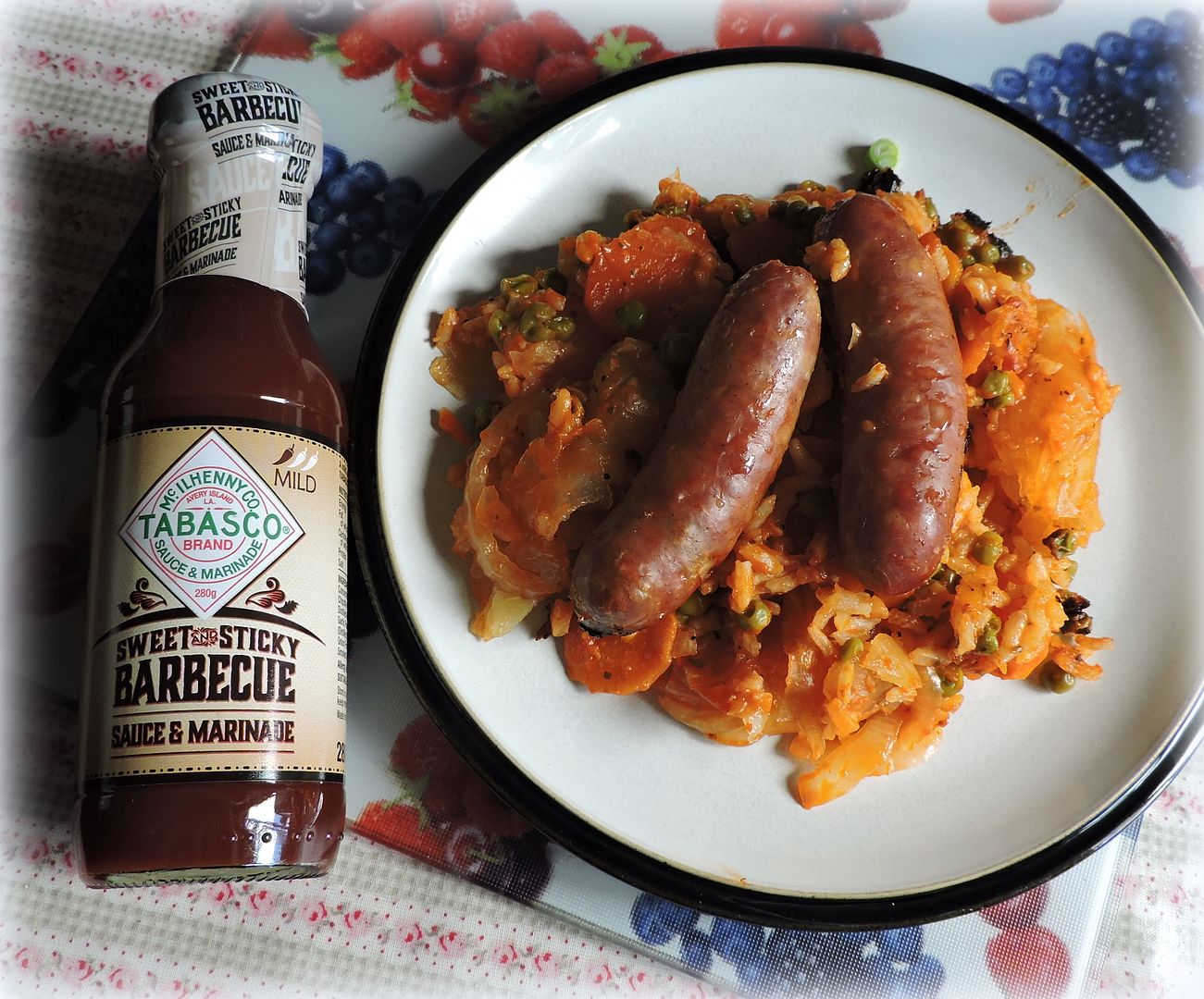 It worked beautifully in the Wash Day Dinner. You can make it of course without BBQ Sauce, but it really added a nice zip to the dish!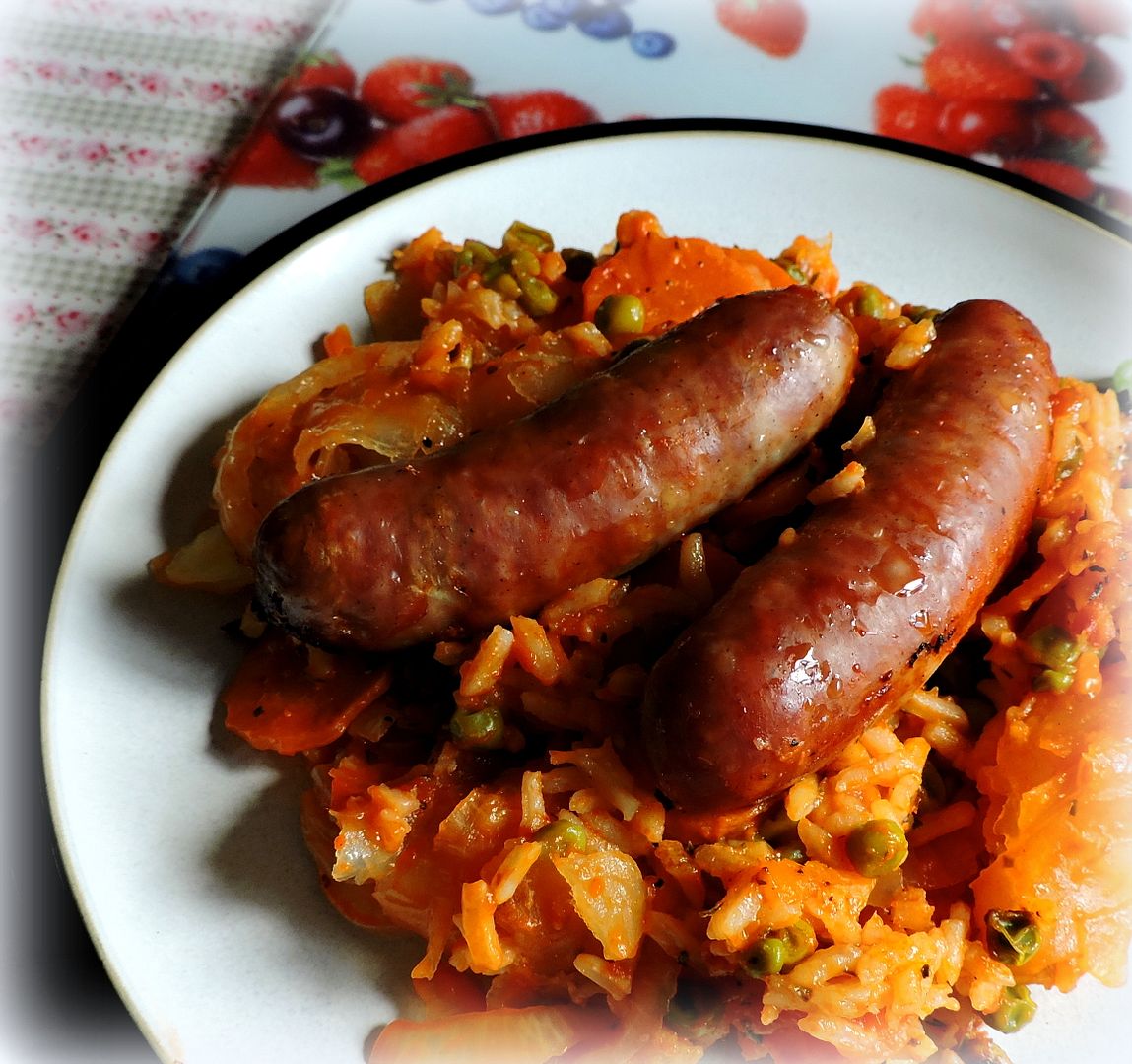 Basically an oven bake which involved layering vegetables, grains and meats into a casserole dish, covering with a liquid of some sort and then baking until everything is tender and flavourful. This is a real family pleaser, plain and simple.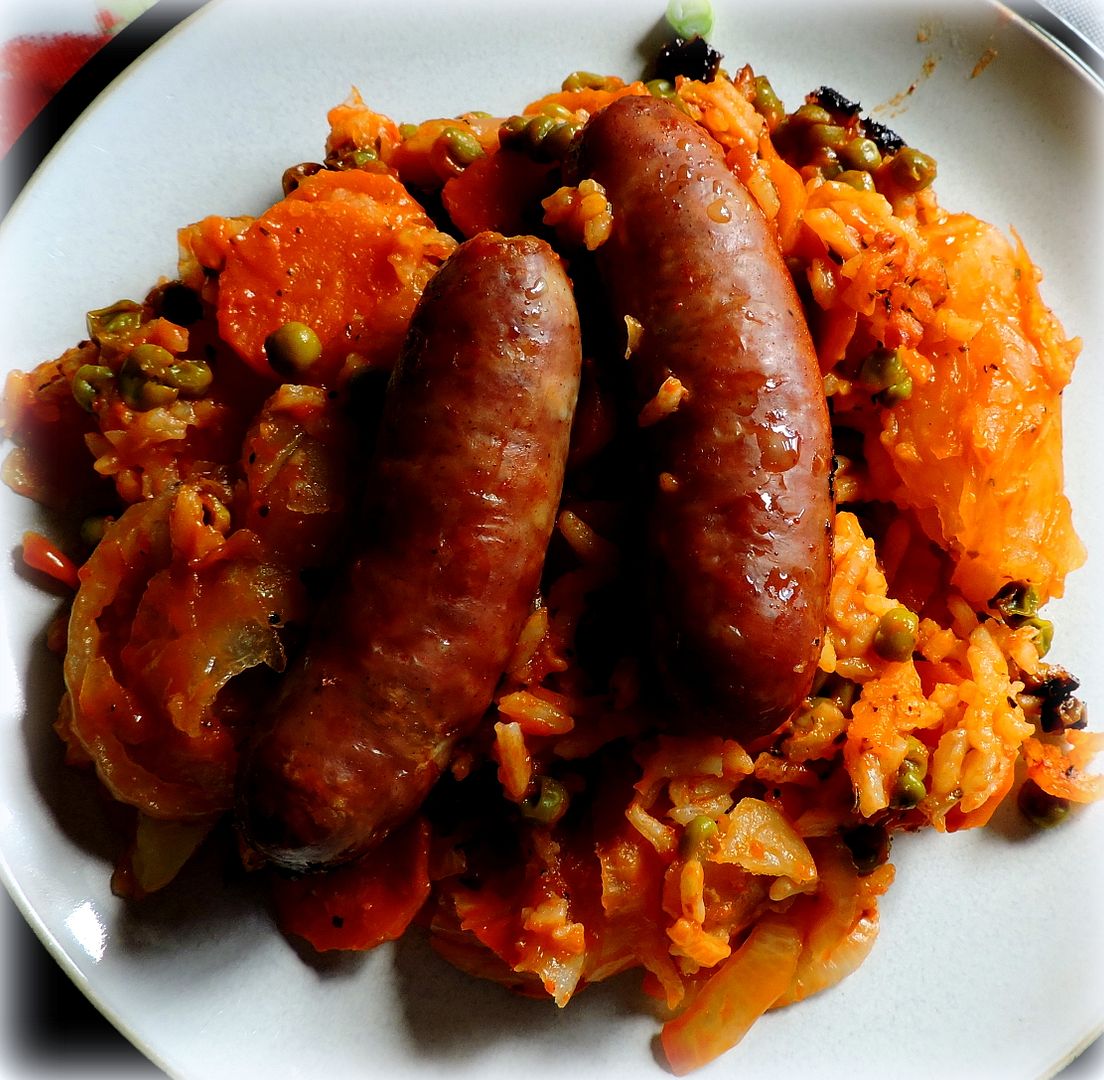 *Wash Day Dinner*
Serves 4


Easy to make, painless and so delicious.


3 medium potatoes, thinly sliced (peel or not as you wish)
1 medium onion, peeled and sliced into rings
3 medium carrots, peeled and thinly sliced
2 small handfuls of uncooked rice (or a rice,spelt and barley mix Nom Nom!)
2 mugs of frozen peas
1 pound of good quality pork sausages (you want a nice and spicy one)
1 tin of tomato soup
240ml of boiling water
salt and pepper to taste
1 tsp summer savoury


Preheat the oven to 180*C/350*F/ gas mark 4. Butter a deep casserole dish.


Layer the ingredients into the dish in the order given, beginning with potatoes and ending with sausages, and seasoning each layer lightly as you go. Whisk together the tomato soup, water and summer savoury and additional seasoning if desired. Pour this mixture over top of all. Cover and place into the oven. Bake for 2 hours, until all the vegetables are tender. If you like you can remove the lid for the last 15 minutes of cooking time to lightly brown the sausage.


Spoon out onto hot dinner plates to serve.
Optional Addition: I sometimes add 2 TBS of BBQ sauce to the soup mixture to give it a bit of extra zip. Today I used the Tabasco one. Lovely and spicy!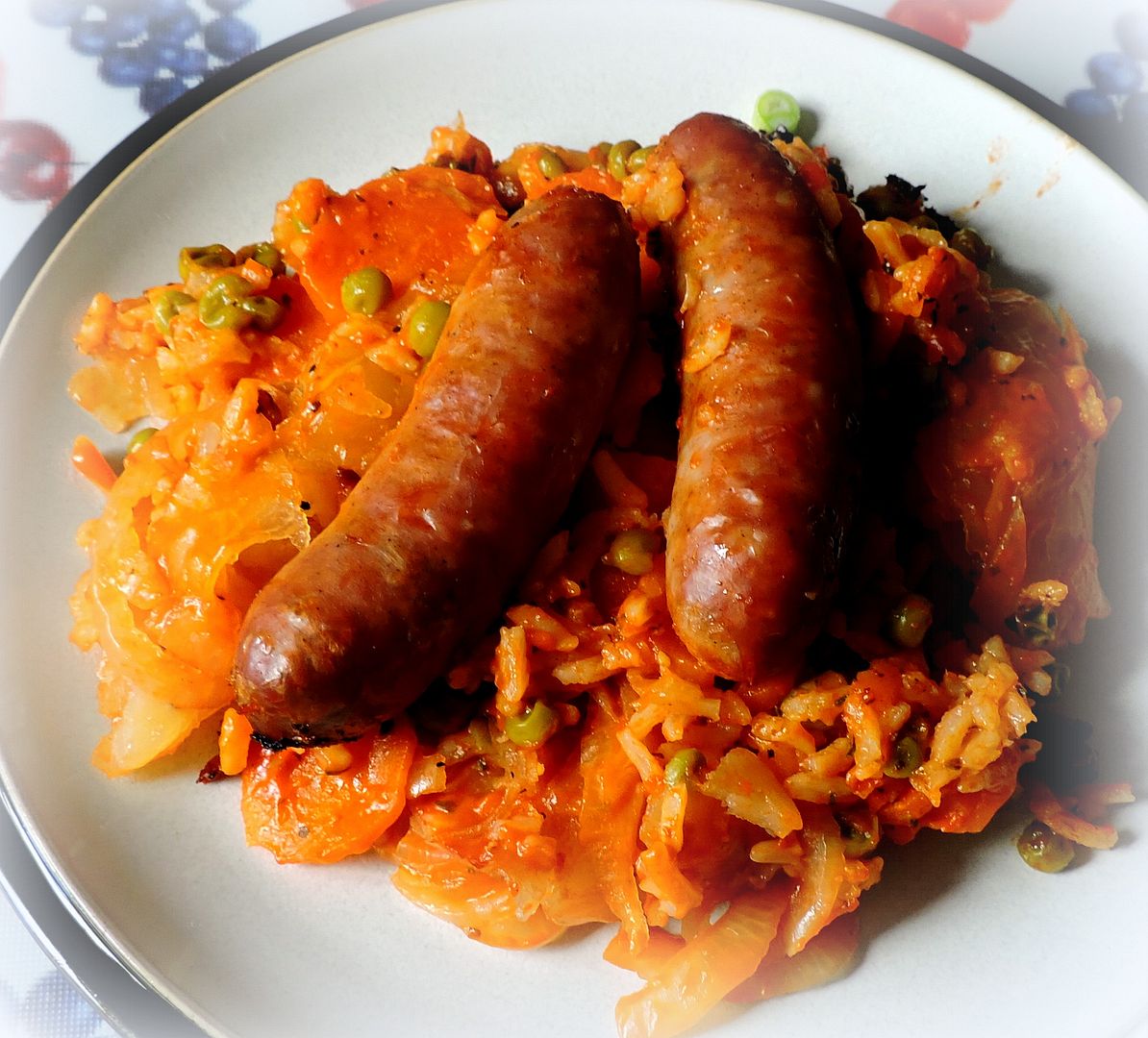 Many thanks to Degustabox for sending me this box. I have to say I really look forward to getting my box each month. There are always lots of things in it to enjoy and new products to try out. I highly recommend. You can also tailor the boxes to your own likes and dislikes by filling in your own Taste Profile. I also have a code which is worth a £7.00 discount off your first box when registering. Simply use the code: BLDEG15
Do check out the
Degustabox web page
for more information and details.
Follow them on
Facebook
Follow them on
Twitter