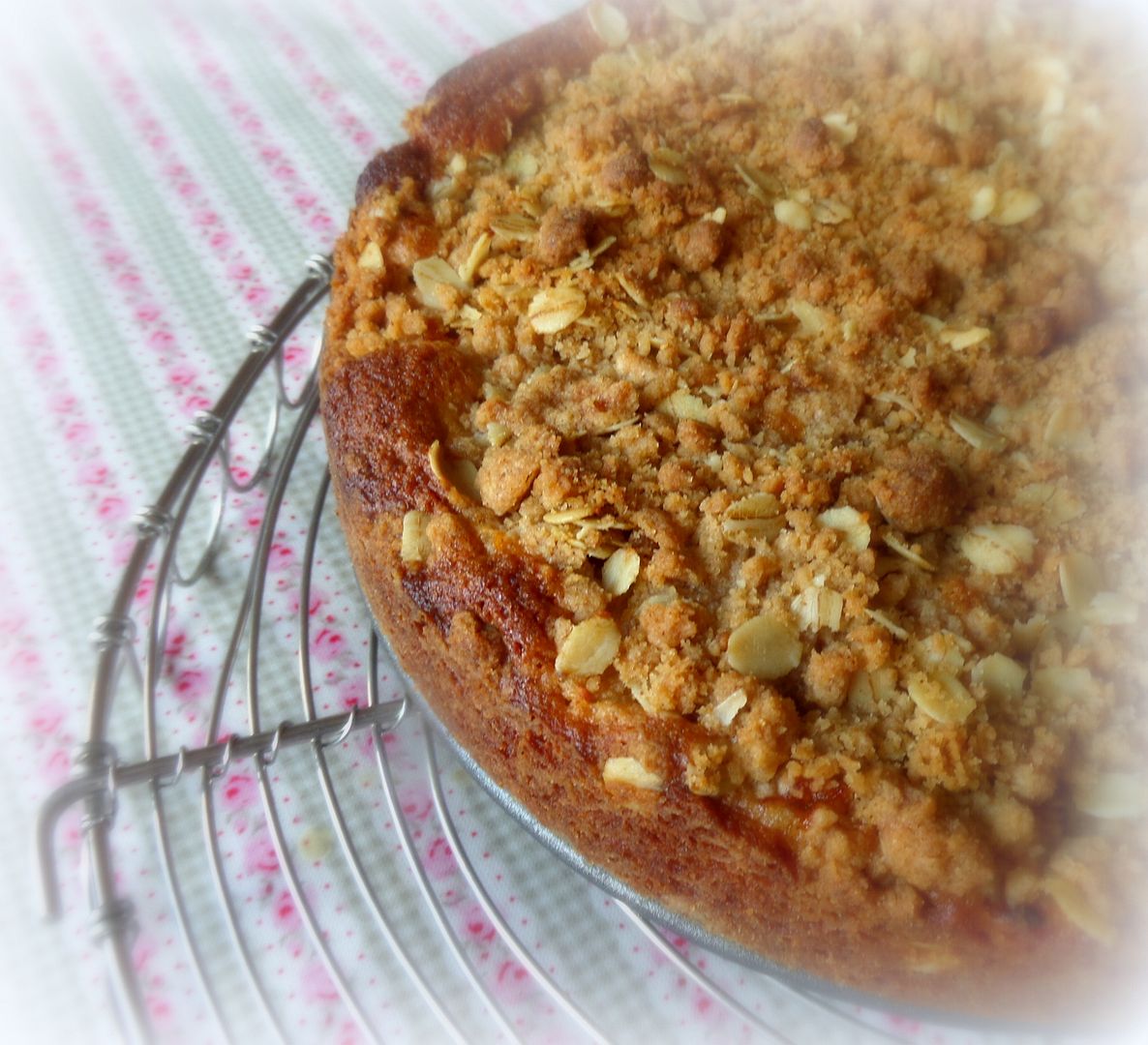 This is the perfect cake to make with the apples and pears that fall off your trees before they are totally ripe and is the perfect use for those hard ones you pick up at the Grocery store before they are ready to eat. In fact, I have had apples and pears that I bought in the shops that never quite ripen. Most annoying!
This is a really delicious cake. I like to call it Windfall Crumble Cake. I developed the recipe when we were living down south and were surrounded by pear and apple orchards. We were free to pick up and use the windfalls and this was a most delicious way of doing so!
This is a tasty cake that goes well with hot drinks . . . perfect for breaktime . . . with a buttery crumb which is not too sweet . . . topped with the chopped fruits . . . and then with a moreish oaty sweet and buttery crumble topping baked on top.
Kind of like a fruit crumble except it's not a fruit crumble. It's a cake. I added lots of spice to the crumble topping . . . ground ginger, cinnamon, cardamom and nutmeg. A bit of sweet from the brown sugar . . . and some nuttiness from old fashioned oats. A bit of butter and sugar and tis the perfect crumble.
You would be happy eating this one plain, with a hot cuppa . . . or warm from the oven with a nice scoop of cold vanilla ice cream melting down over the top, tucking itself into all that buttery crumble topping . . . dripping down the sides of that warm and buttery cake . . . highlighting the flavours of that lovely fruit.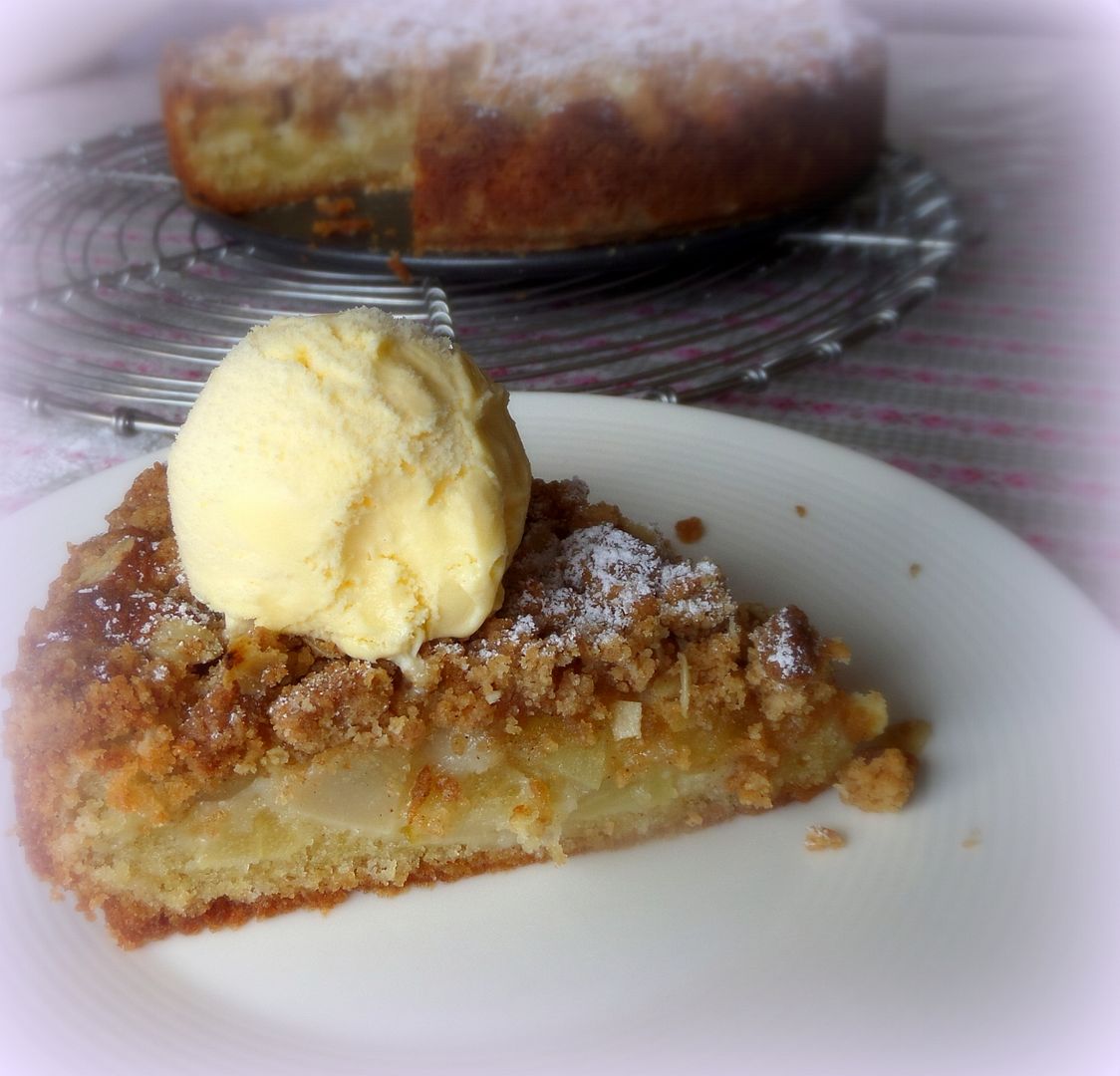 Mind you, a spot of cream would go down a real treat with it as well. That's quite British actually. They like a bit of cream with their puddings . . . or warm custard. It's quite a nice idea really, for what is vanilla icecream actually . . . but a bit of frozen vanilla custard . . .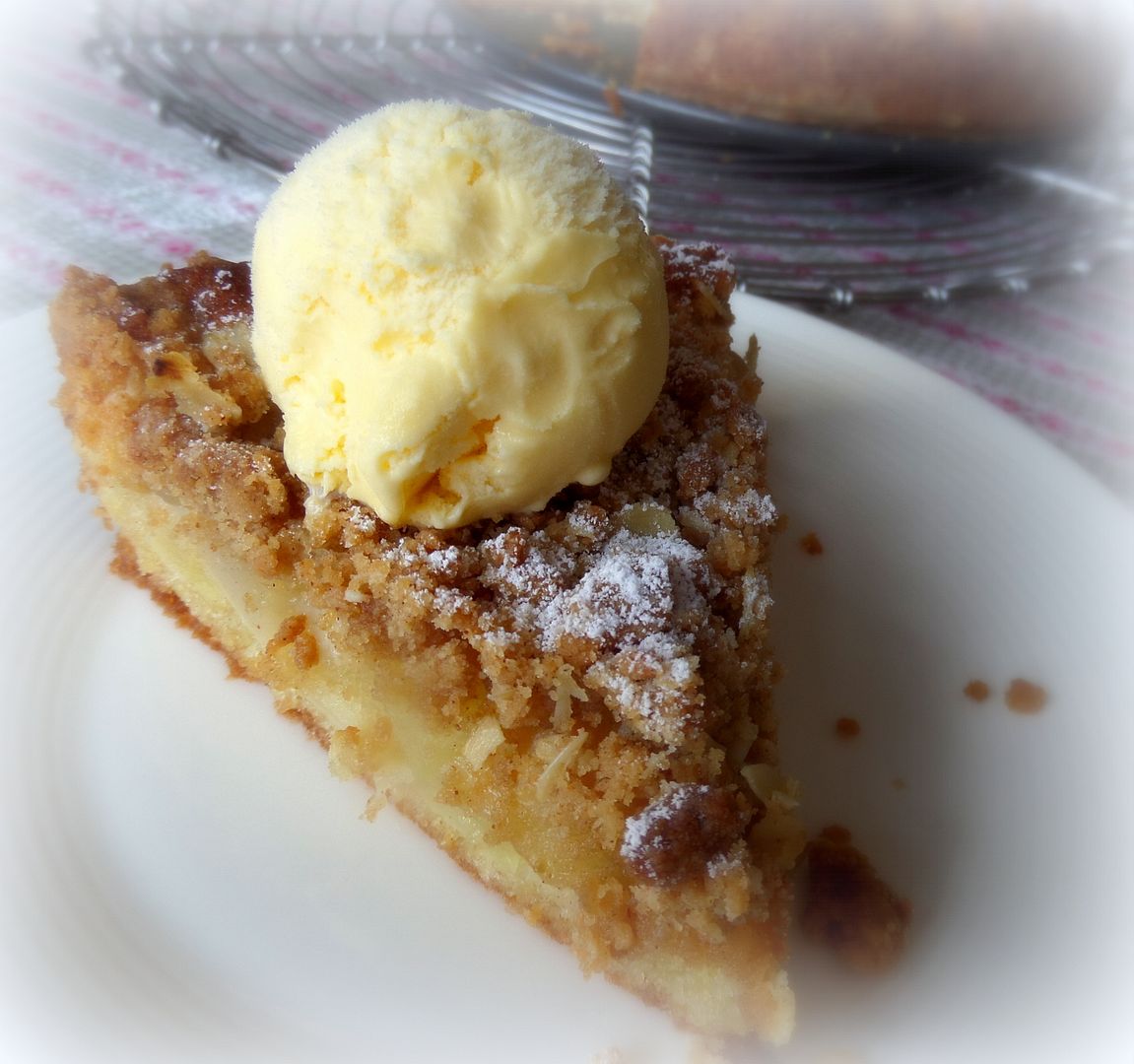 This was the perfect thing to do with the apples and pears from our trees. Then again, you don't need windfalls to make this, just apples and pears. I like that idea too . . .
*Windfall Crumble Cake*
Makes one 9 inch cake
For the cake:
125g unsalted butter, softened (8 1/2 TBS)
125g caster sugar (2/3 cup)
2 large free range eggs, at room temperature
125g plain flour (1 1/4 cup)
2 tsp baking powder
1 firm pear, peeled and chopped
1 firm apple, peeled and chopped
1 TBS freshly squeezed lemon juice
For the crumble topping:
60g plain flour (10 TBS)
1/4 tsp powdered ginger
1/4 tsp ground cardamom
1/4 tsp ground cinnamon
1/4 tsp ground nutmeg
3 TBS soft light brown suar
50g chilled butter, cut into cubes (3 1/2 TBS)
2 TBS old fashioned oats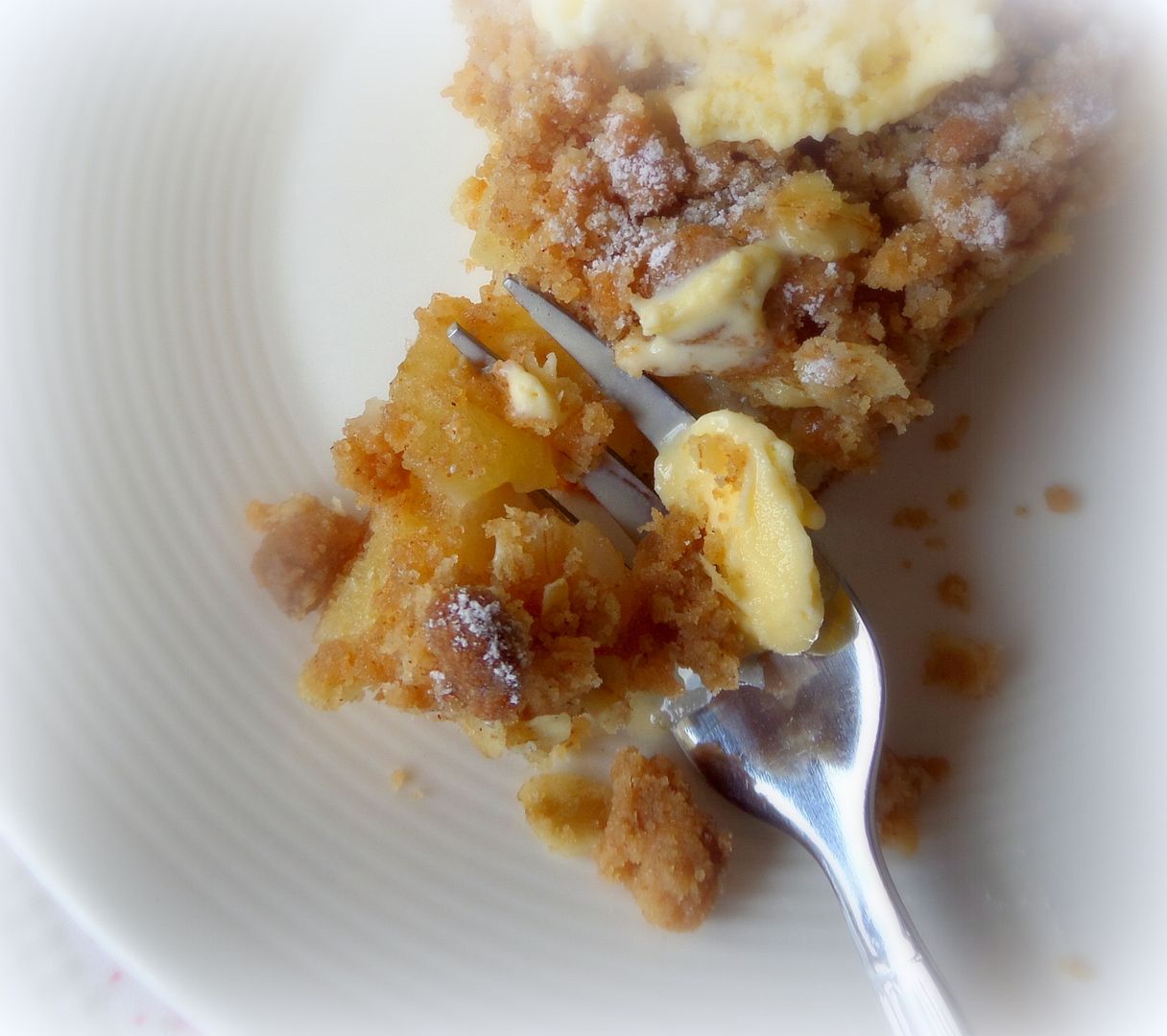 Preheat the oven to 180*C/350*F/ gas mark 4. Butter a 9 inch spring form pan and line the bottom with baking paper. Set aside.
Mix the chopped fruit with the lemon juice and set aside.


Stir together the flour, spices and sugar for the topping. Drop in the butter and rub it in until you get a crumbly mixture. Stir in the oats. Set aside.
Cream the butter and sugar for the cake together until pale and creamy. Beat in the eggs one at a time, beating well after each addition. Sift together the flour and baking powder. Stir this in, beating until smooth. Spread in the prepared pan, making a slight dip in the centre. Top with the cut up fruit. Sprinkle the crumble topping over all.
Bake for 40 to 45 minutes until the cake tests done and the cake is golden on top. Let coo slightly before removing from the pan. Serve warm, cut into wedges with some ice cream or lightly whipped cream.