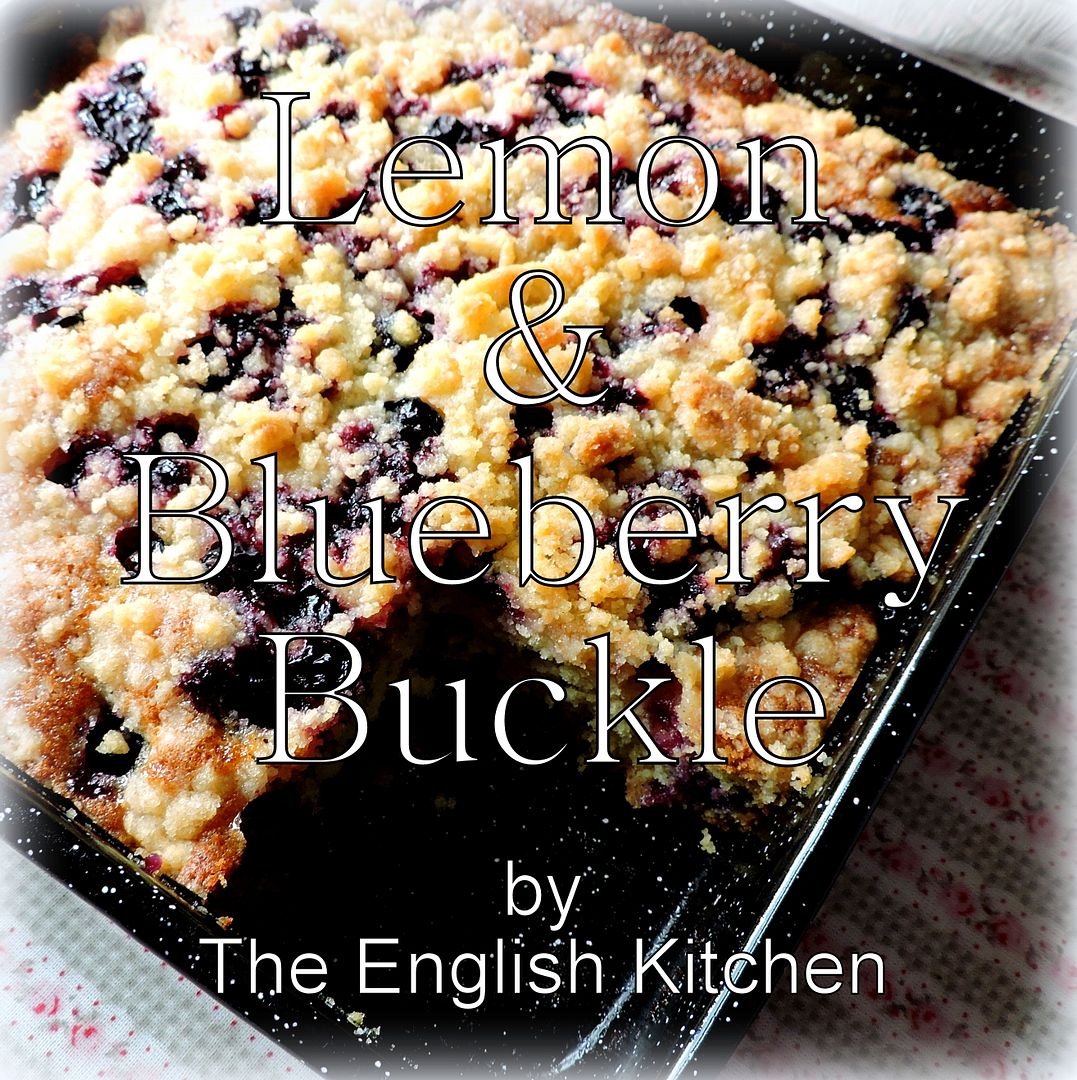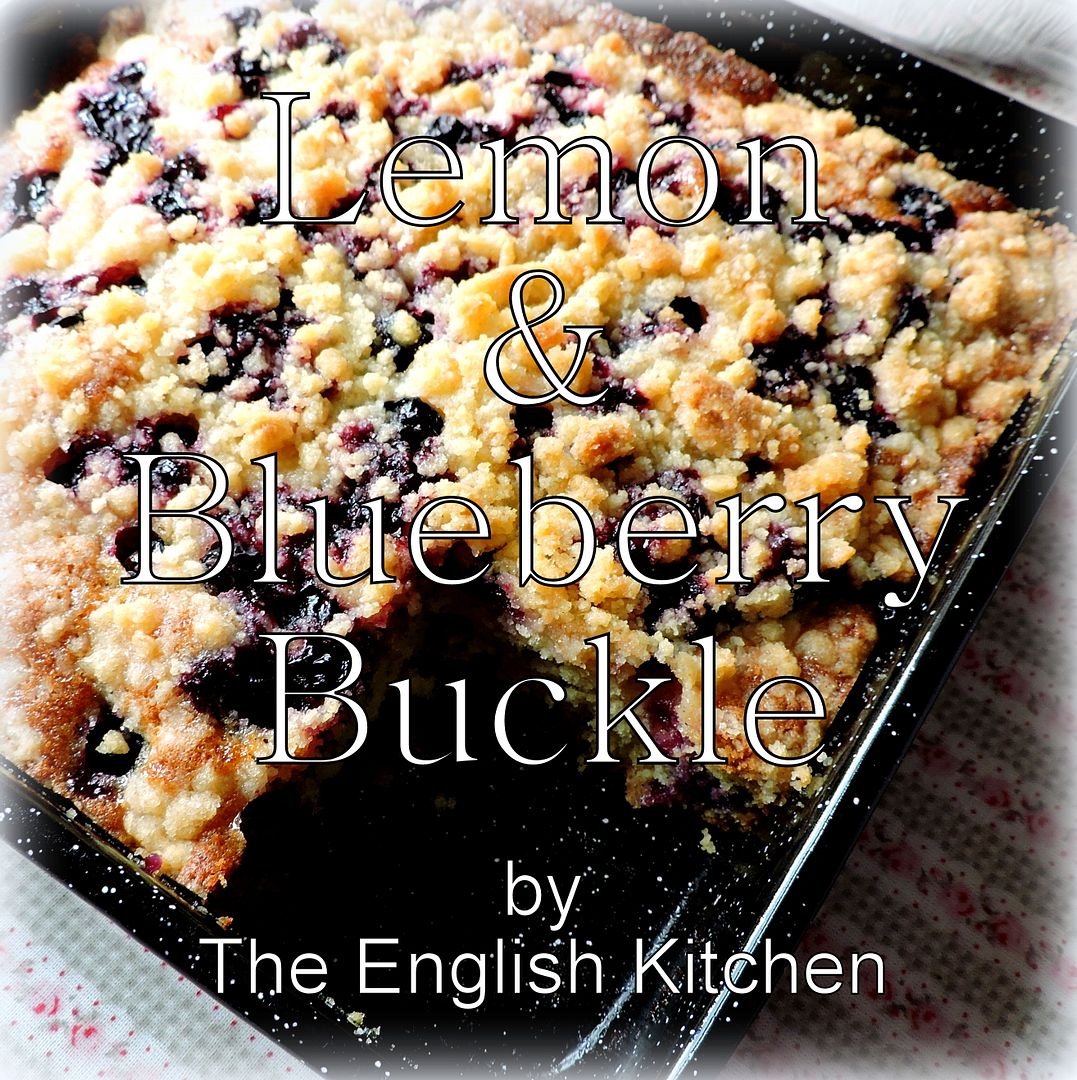 Lemon Blueberry Buckle. This is one of my alltime favourite blueberry dessert recipes.
I just love LOVE blueberry season. Its one of my favourite crops. I do eat them all year round, but nothing tastes better than a fresh blueberry picked off of one of your own bushes.
I do miss the wild blueberries that we used to pick in Canada, but one must do what one must do and so we grow our own cultivated berries here and dream of the wild . . .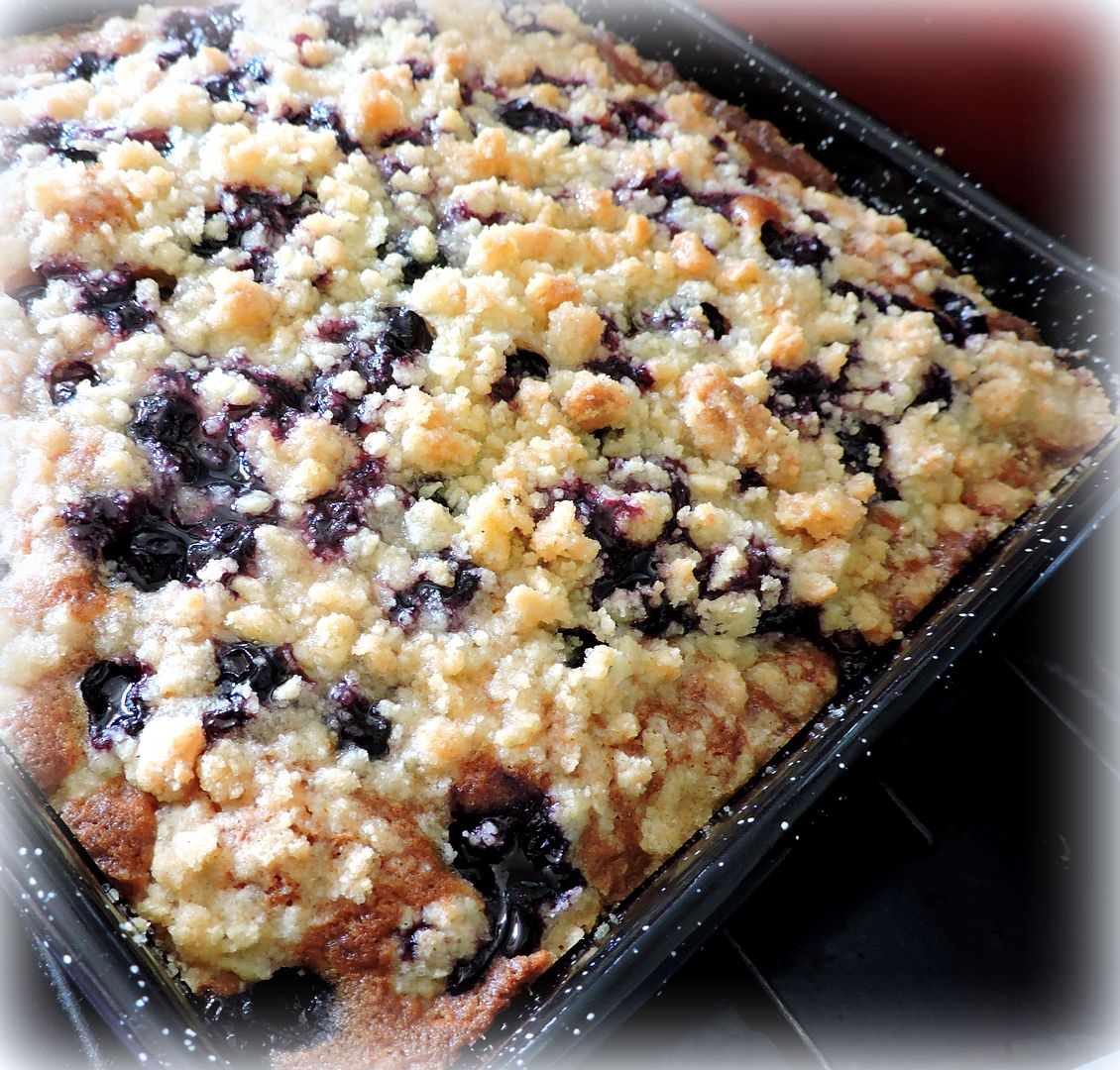 This is one of my favourite ways to serve them. Its a recipe I have adapted from a dessert book entitled "Rustic Fruit Desserts," by Cory Shreiber and Julie Richardson.
This is a great book. I've made just about every recipe in the book and each one has been a winner/winner!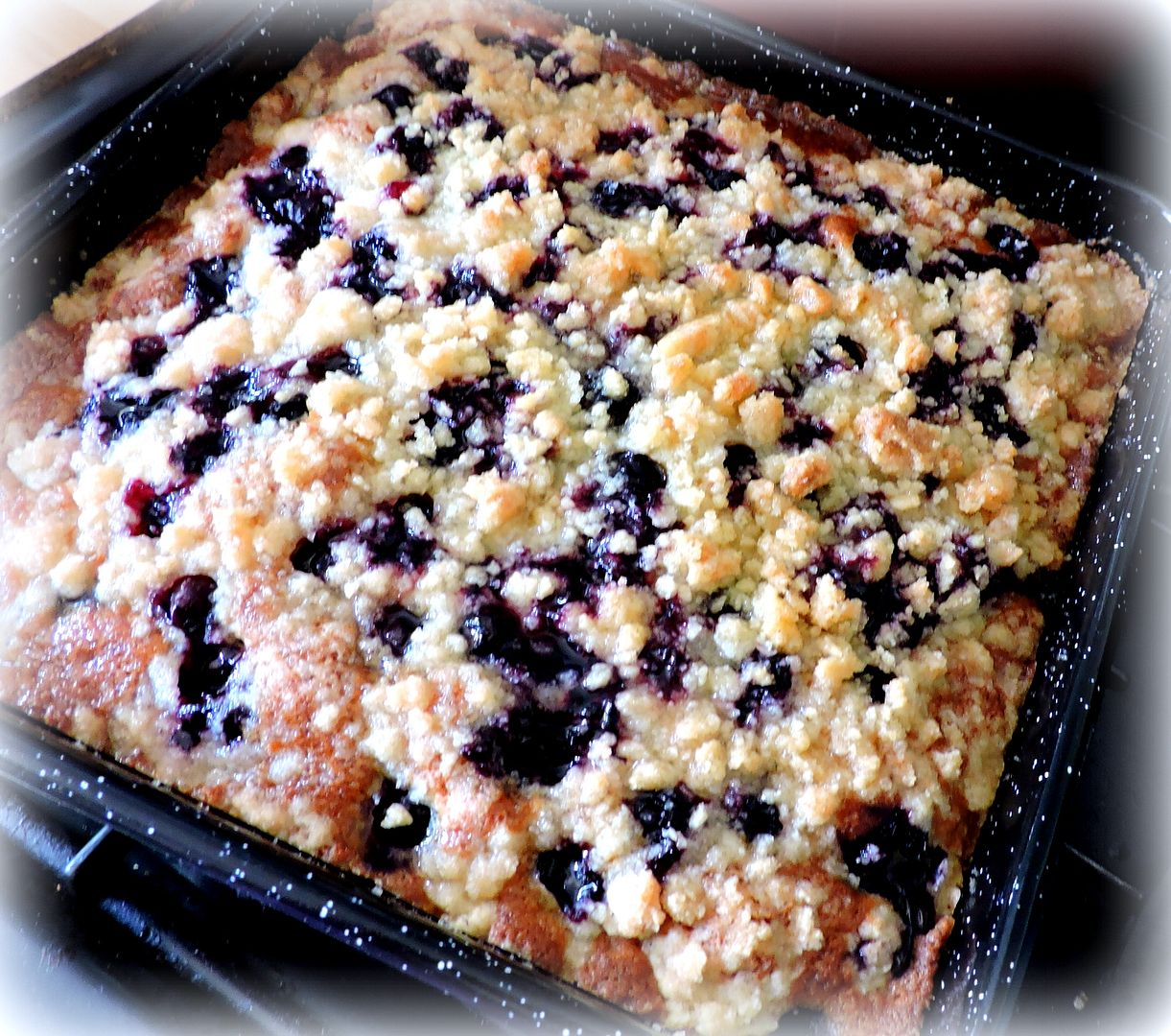 This blueberry dessert recipe consists of a lovely lemon flavoured cake batter, studded with lovely blueberries, topped with even more berries, and then sprinkled with a delicious lemon flavoured buttery streusal topping prior to baking!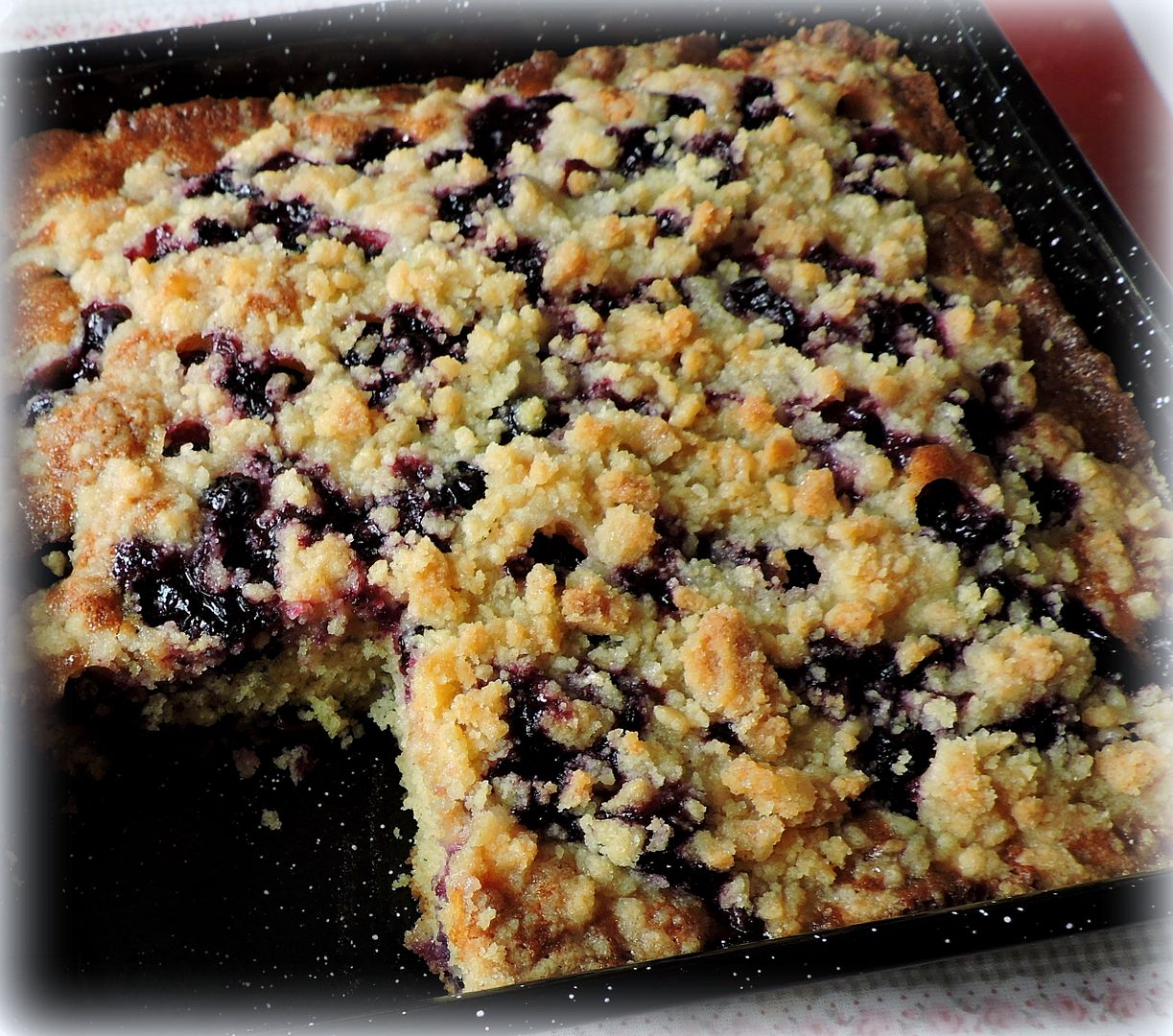 The end result is moist and totally delicious.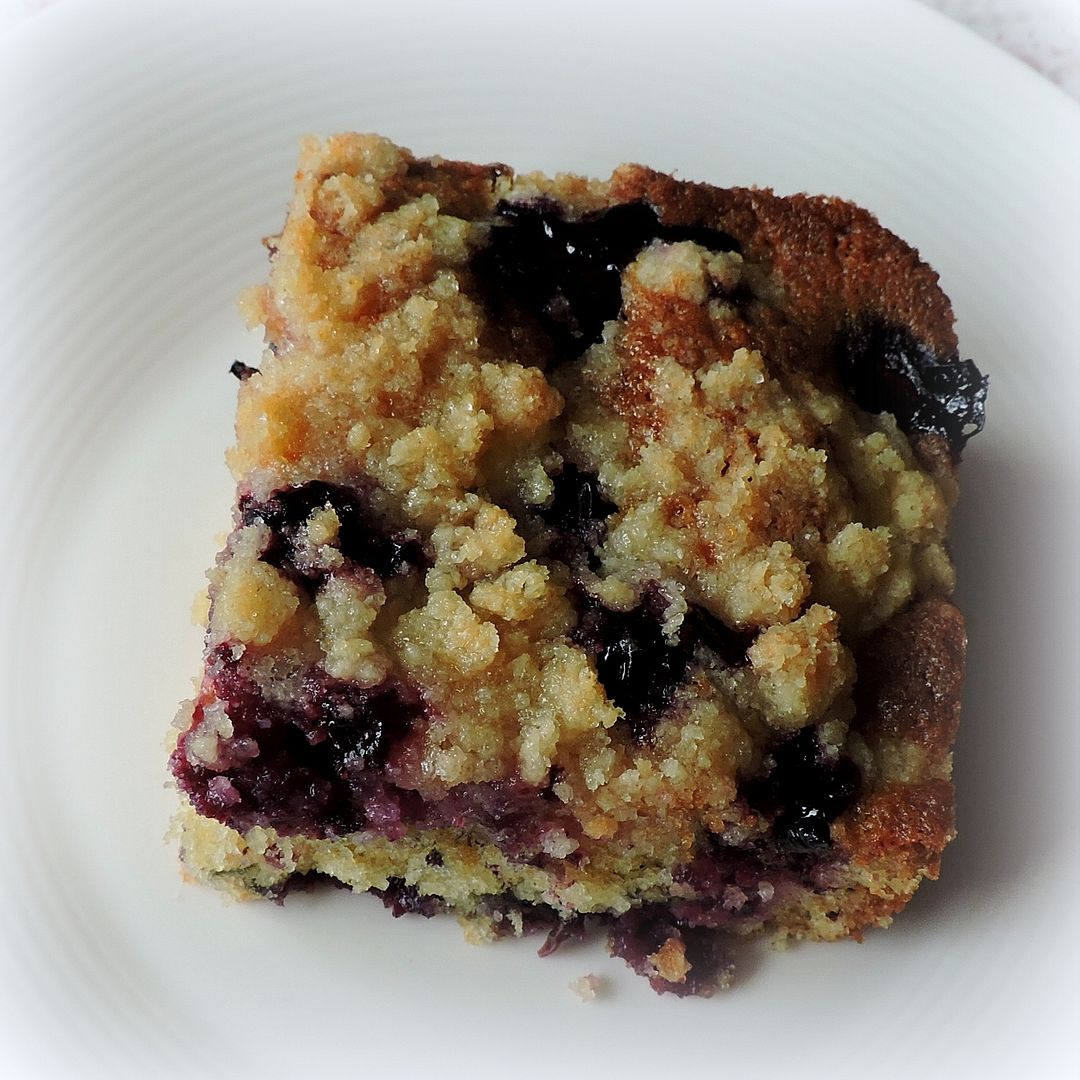 With just enough berries . . . and lemon flavour . . . and that buttery streusel topping is just to die for.
There is even more lemon flavour from a warm Lemon Syrup which gets poured over the cake as soon as it comes out of the oven, for full on lemony goodness! (It soaks into the cake and increases what is already moist and delicious!)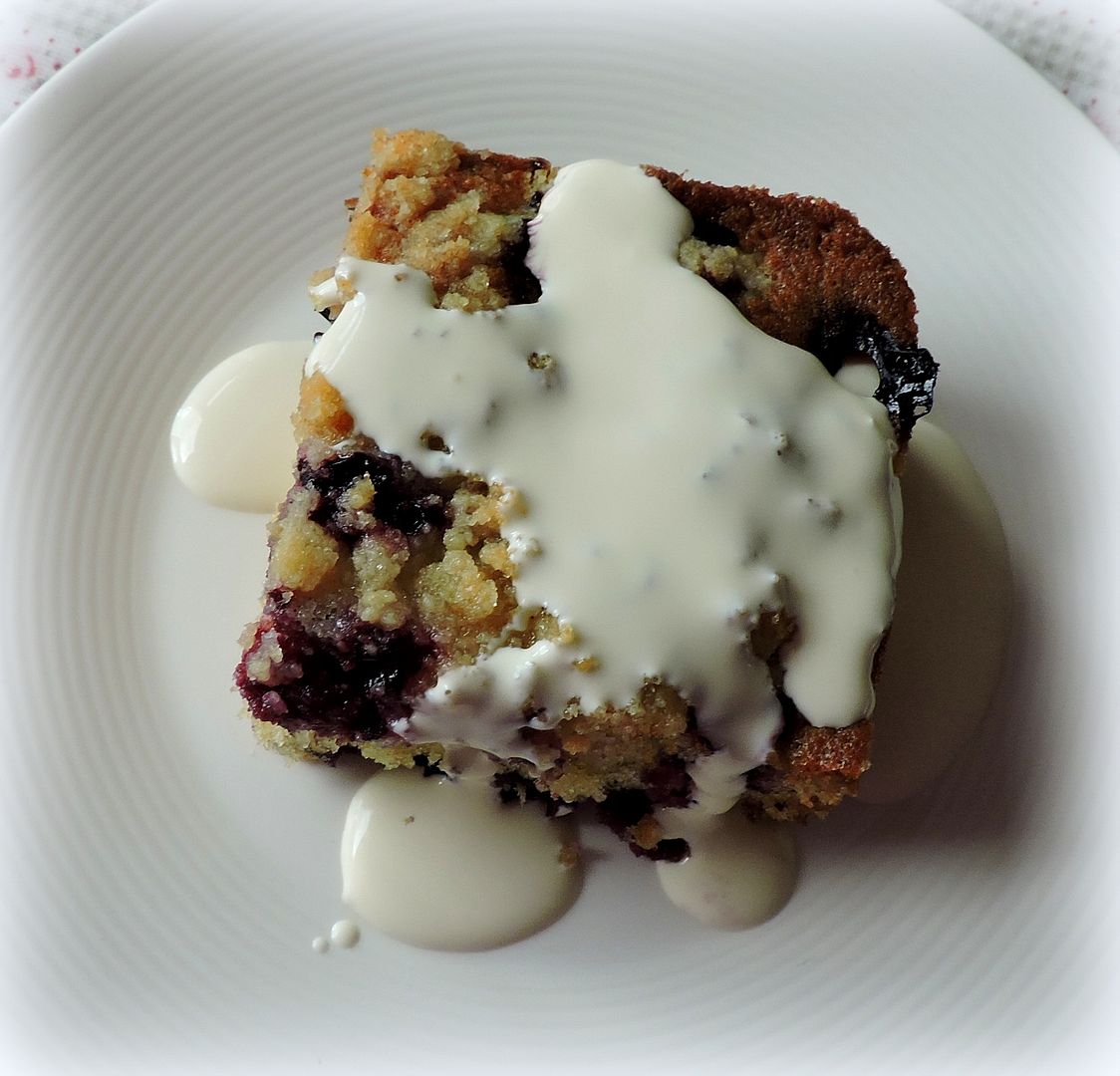 My husband enjoys his warm, with a bit of cream poured over top. Me . . . I'm an ice cream gal.
That mix of cold melting vanilla ice cream and that warm blueberry cake is a combination made in heaven. Pure Heavenly Bliss!
Prepare to fall in love . . .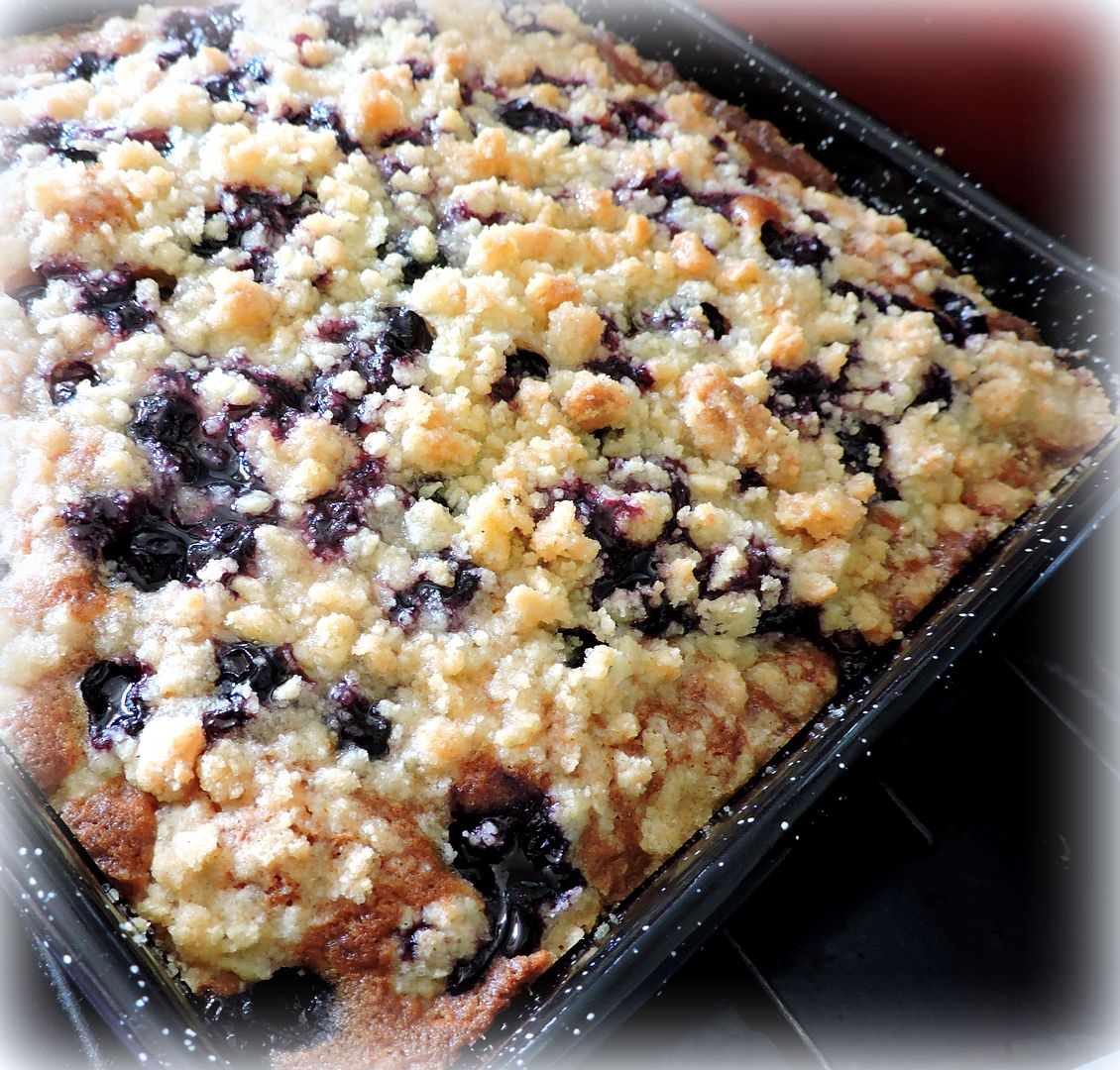 Lemon & Blueberry Buckle
Prep time: 15 Min
Cook time: 50 Min
Total time: 1 H & 5 M
A delicious family classic with a tender buttermilk cake, stogged full of lovely blueberries with a lemon flavoured streusel topping, glazed with a lemon syrup after baking.
Ingredients
For the topping:
70g plain flour (1/2 cup all purpose)
63g of granulated sugar (1/3 cup)
pinch salt
the zest of one lemon
60g butter (1/4 cup) chilled and cubed
For the cake:
225g plain flour (1 1/2 cups plus 2 TBS)
1 tsp baking powder
1/2 tsp baking soda
1/2 tsp fine sea salt
1/4 tsp fresh nutmeg
6 TBS butter, room temperature
145g of granulated sugar (3/4 cup)
the zest of one lemon
125ml buttermilk (1/2 cup)
2 large free range eggs, beaten
300g fresh or frozen blueberries (unthawed) 2 cups)
For the syrup glaze:
the juice of 2 lemons
63g of granulated sugar
Pouring cream or ice cream to serve (optional)
Instructions
Preheat the oven to 180*C/350*F/ gas mark 4. Butter a 9-inch square baking pan really well. Set aside.
Make the streusel by rubbing the lemon zest into the sugar until it becomes very fragrant. Stir in the flour and salt. Drop in the butter and then rub together until the mixture resembles a crumble mixture with bits the size of peas. Place in the refrigerator.
Make the cake by beating the sugar, lemon and butter together until light and fluffy. Beat in the eggs, one at a time.
Sift together the flour, baking powder and soda. Stir in the nutmeg and salt. Stir into the creamed mixture, alternating with the buttermilk, making three dry additions and two wet. Fold in half of the berries.
Spread into the prepared pan. Sprinkle the remaining berries over top.
Remove the steusel from the refrigerator and sprinkle it over the top of the berries. Bake for 45 to 50 minutes until the cake tests done and the cake is golden brown. It should be firm to the touch.
While the cake is baking make the syrup glaze. Put the sugar and lemon juice into a saucepan. Cook over low heat, stirring occasionally for about 10 minutes Once it begins to bubble watch closely and stir more often. It should be somewhat thickened. If you think it is thick enough, remove from the heat and keep warm. Pour this over the hot cake as soon as it is removed from the oven. Serve warm, cut into squares with some pouring cream or ice cream.
Did you make this recipe?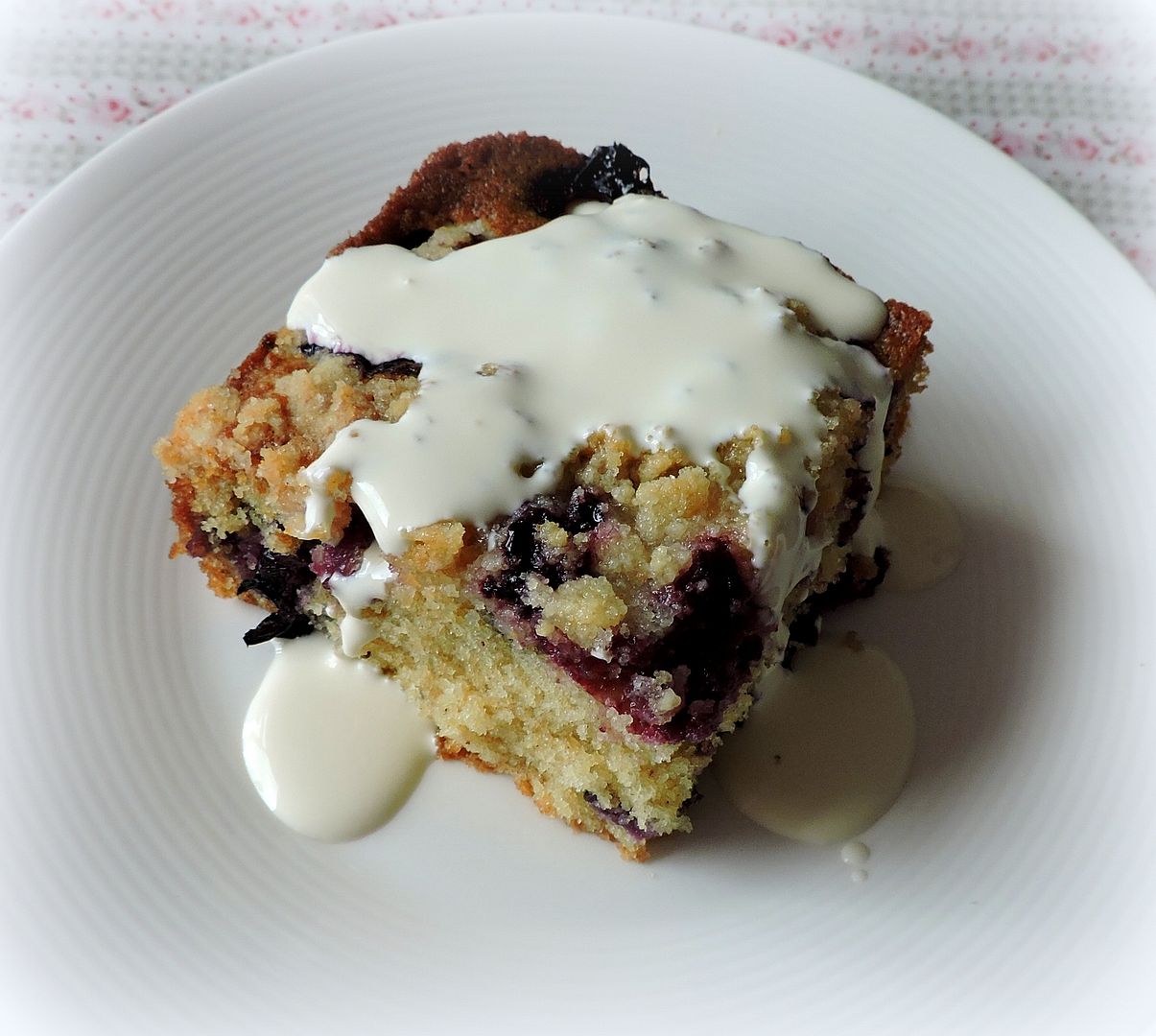 This keeps well at room temperature for up to three days.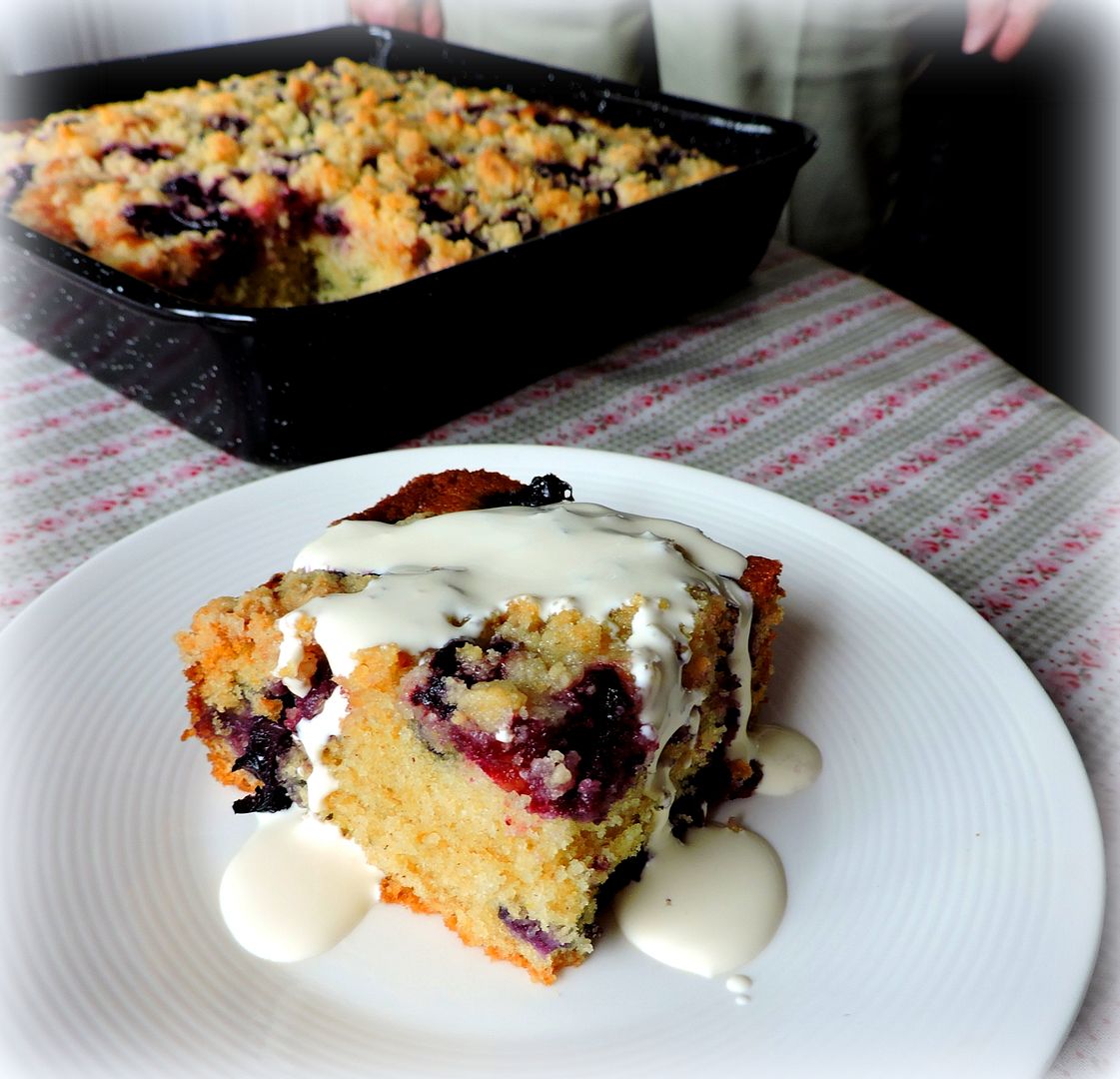 Bon Appetit!
This content (written and photography) is the sole property of The English Kitchen. Any reposting or misuse is not permitted. If you are reading this elsewhere, please know that it is stolen content and you may report it to me at: mariealicejoan at aol dot com
Thanks so much for visiting. Do come again!
Follow my blog with Bloglovin