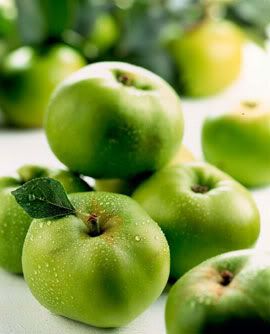 Surrounded by Orchards as we are, it is no surpise that one often finds apples on the menu here in my English Kitchen. In the autumn we are free to pick up as many windfalls as we can from off the ground and our freeze is soon filled with applesauce and other apple goodies. Fresh ones are stored in the cold room, wrapped in newspaper. They last a good long while this way.
One of our favourite apples to cook with are the Bramley apples. No surprise there really, as they are considered to be the best apple here in the UK for cooking with.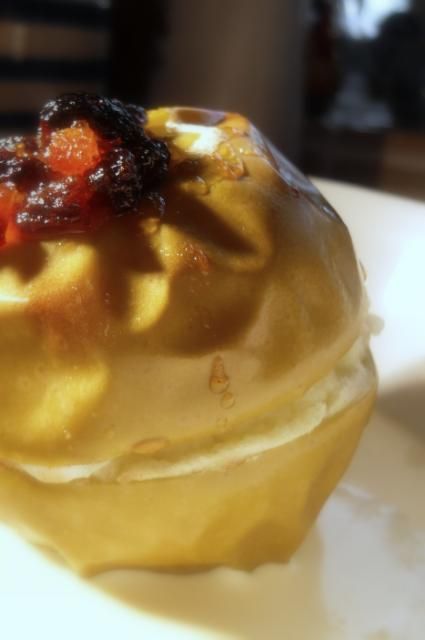 Found only here in the UK, the first Bramley tree grew from pips planted by a young girl named Mary Ann Brailsford, in her garden in Southwell, Nottinghamshire, England back in 1809. The rest is history and we've been loving them ever since.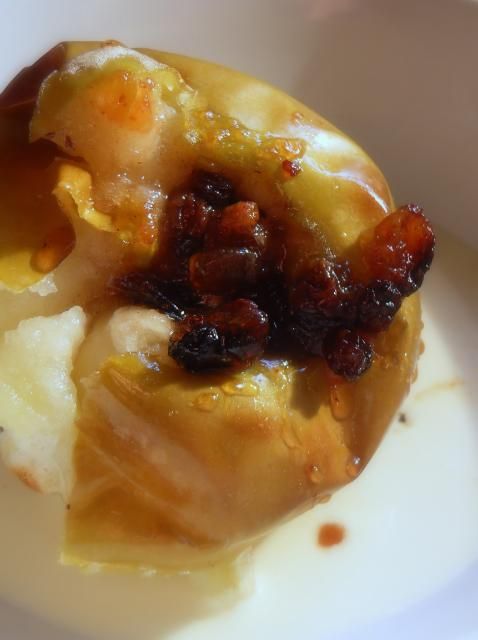 They are excellent in pies and tarts and crumbles. Bramley apples are rather unique in that they contain a higher acid content and lower sugar levels which makes for a stronger and tangier tasting apple whose flavour is retained when cooked. They also have the most wondeful texture when cooked . . . moist and melt in the mouth. Exceedingly delicious!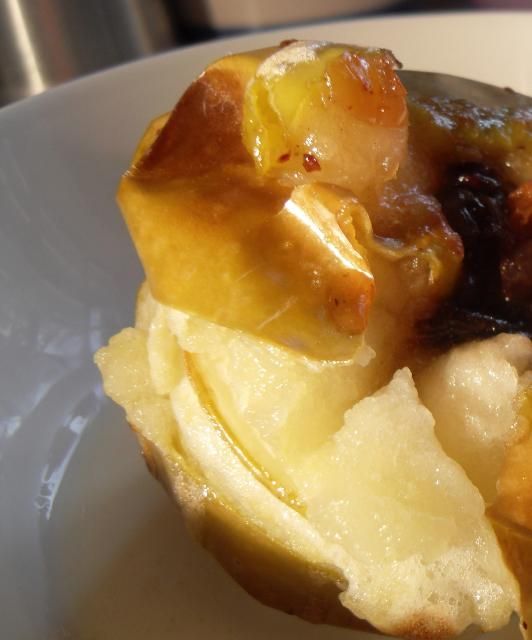 One of the ways I love to cook them most is as baked apples. A tasty little dessert in it's very own compact shell. Oh, they are so good, with those lovely moist insides, especially when accompanied with cream . . . the juices of that lovely cooked apple mingling with the cream is so very scrumptious.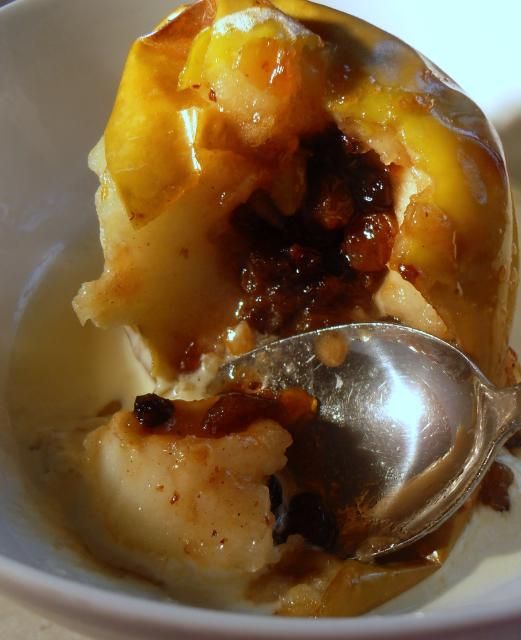 But what's even more scrumptious is when you stuff the insides with a tasty spicy fruity stuffing before you bake them. These are totally moreishly delicious!
Guaranteed to become a family favourite. It's also nice to know that if you don't want to go to all the trouble of making a filling, you can fill the juicy hollows with mincemeat and they are even more scrumptious, but for today . . . we have all the flavours of Eccles Cakes.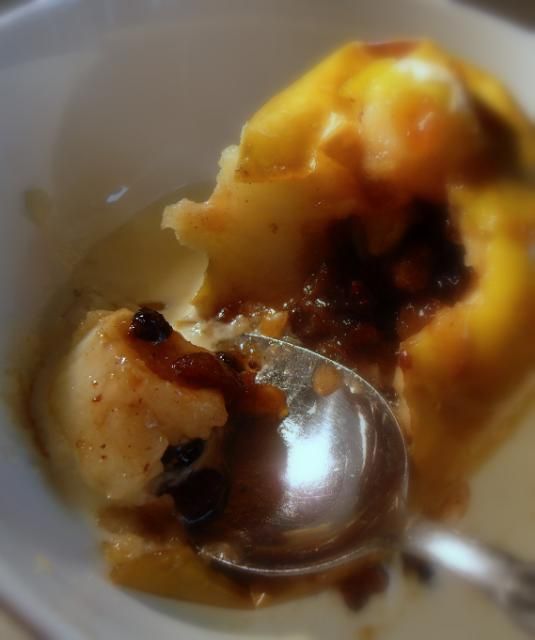 These are very good to say the least.
*Eccles Cake Baked Apples*
Serves 4
Printable Recipe
Beautiful baked apples with a spicy fruity filling. Yummo!!
4 large Bramley apples
Filling:
50g butter (3 1/2 TBS)
50g light muscovado sugar (1/4 cup)
50g dark muscovado sugar (1/4 cup)
250g currants (1 1/2 cups)
1 tsp ground all spice
1 tsp freshly grated nutmeg
1/2 tsp ground cinnamon
pinch of ground cloves
finely grated zest of 1 lemon and 1 TBS Juice
Melt the butter for the filling in a saucepan. Add both the sugars and stir to remove any lumps. Remove from the heat. Stir in the currants, spices, lemon zest and lemon juice. Set aside to cool.
Pre-heat the oven to 180*C/350*F. Using a sharp knife cut out the stem core of the apples, and then using a melon baller, hollow them out slightly , leaving the bottom totally intact. Score each apple lightly around the middle, horizontally. This will stop them from bursting in the oven. Place in a shallow buttered baking dish.
Fill the cavities in the apples with the currant filling, piling any excess on top. Spoon 2 TBS of water into the dish. Bake for 20 minutes. Remove from the oven, cover lightly with foil, and then return for a further 20 to 25 minutes, until the apples are soft right through. Serve immediately with the juices from the pan and some custard, thick cream or vanilla ice cream.
Note - These should be served immediately as they will collapse upon standing.