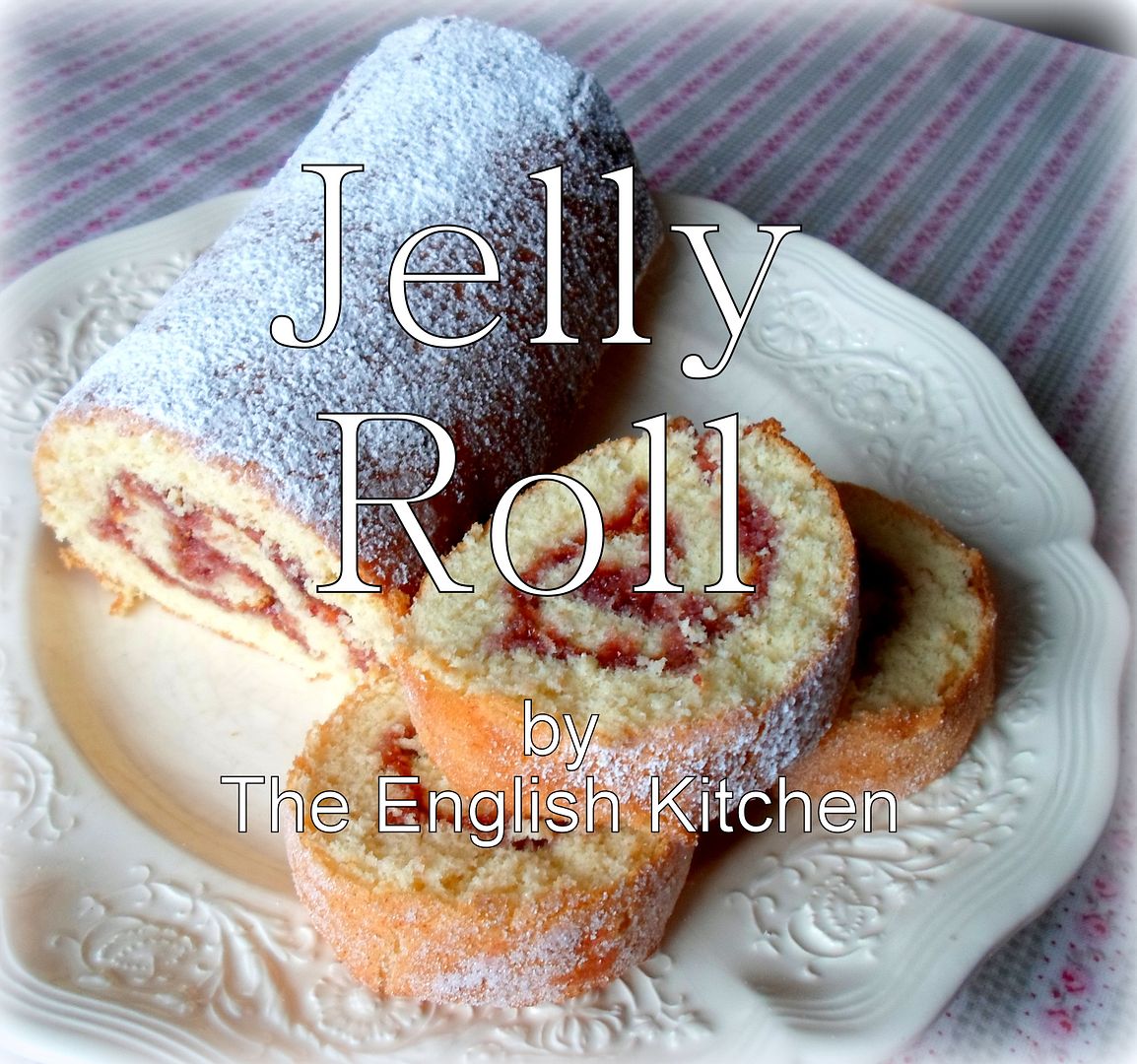 Jelly roll . . . this is a favourite cake of my childhood. We knew we were in for a real treat if we came home from school and a jelly roll was sitting on the counter waiting to be sliced. Also known as a Swiss Roll, I think this is a perennial favourite with a lot of people!
You really can't get much simpler than this . . . a basic fat free sponge, relying only on the beating of the eggs to give it volume . . . light and fluffy . . .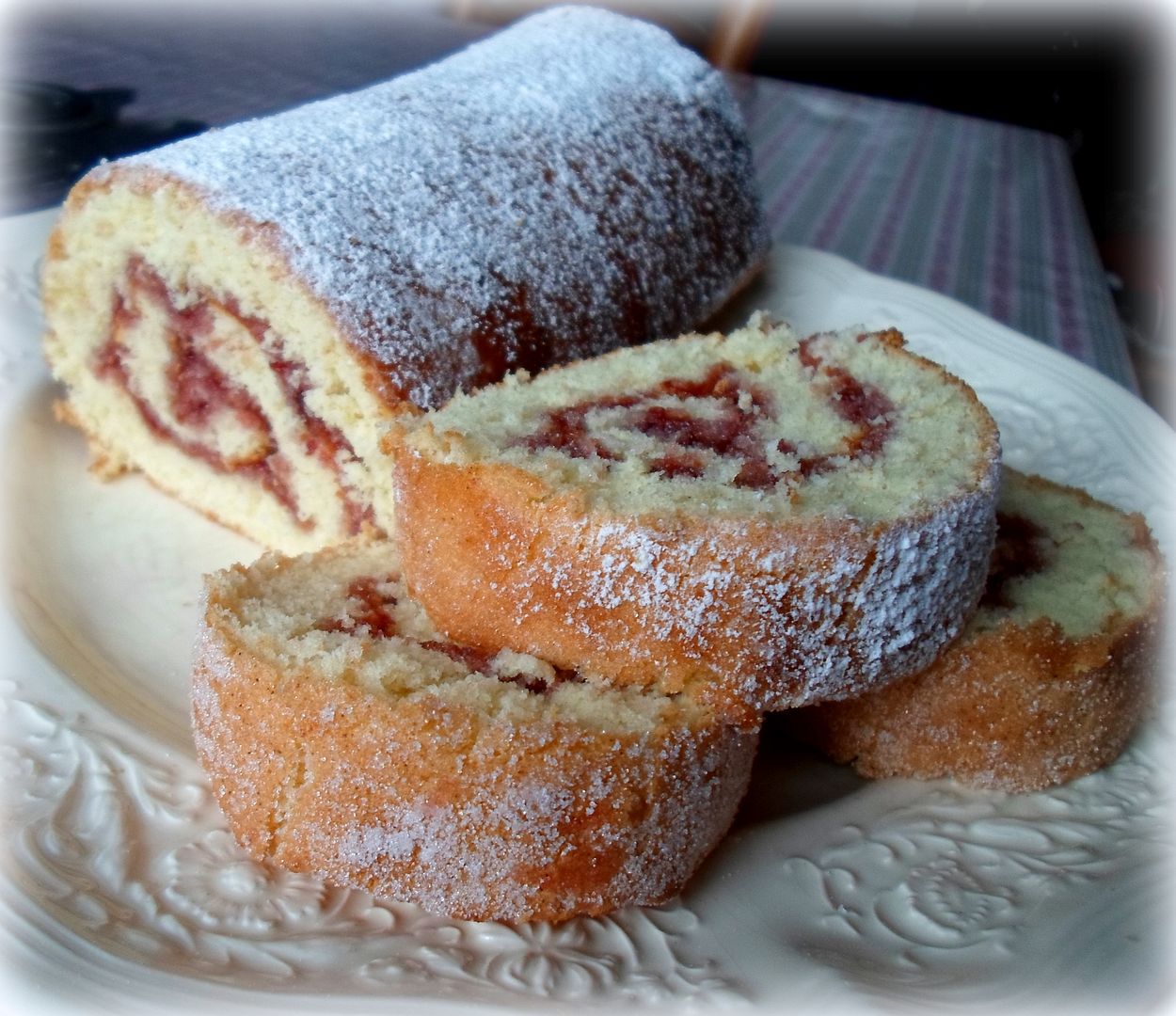 Tightly rolled up and filled with your favourite jam . . . I love strawberry myself, but seedless raspberry jam is also a favourite, and back home crabapple jelly would also have been used.
Liberally dusted with icing sugar and then sliced to serve . . . this goes down a real treat with an ice cold glass of milk, or a hot cuppa.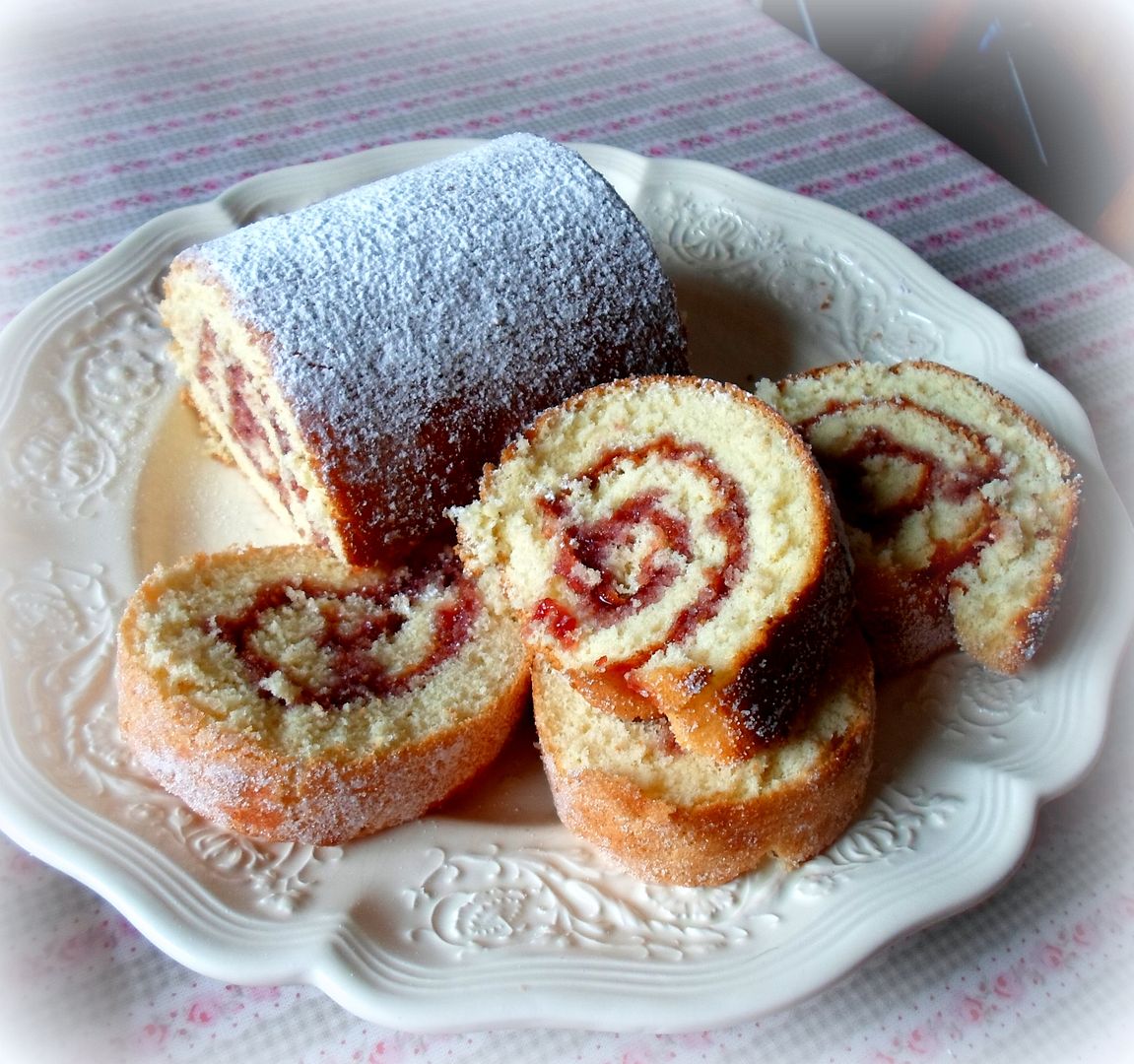 Its such a simple cake to make and even simpler to eat. ☺ One of my favourites and that is mostly because of its simplicity. There is no artiface here . . . just a very well made cake, filled with delicious jam.
*Jelly Roll*
serves 6 - 8


A fatless sponge, rolled up with a jam filling. You can of course get more creative and fill it with all sorts, such as whipped cream and fresh fruit, Lemon curd, etc. Quick and easy to do and makes a fabulously quick teatime treat!


5 large free range eggs, separated
1 tsp vanilla
1/2 tsp salt
65g of sugar (1/3 cup)
50g cornflour (1/3 cup, cornstarch)
50g of plain flour (1/3 cup)

To fill:
4 heaped tablespoons of strawberry or raspberry jam
(I go for the larger amount rather than the smaller)
Icing sugar (confectioners) to sprinkle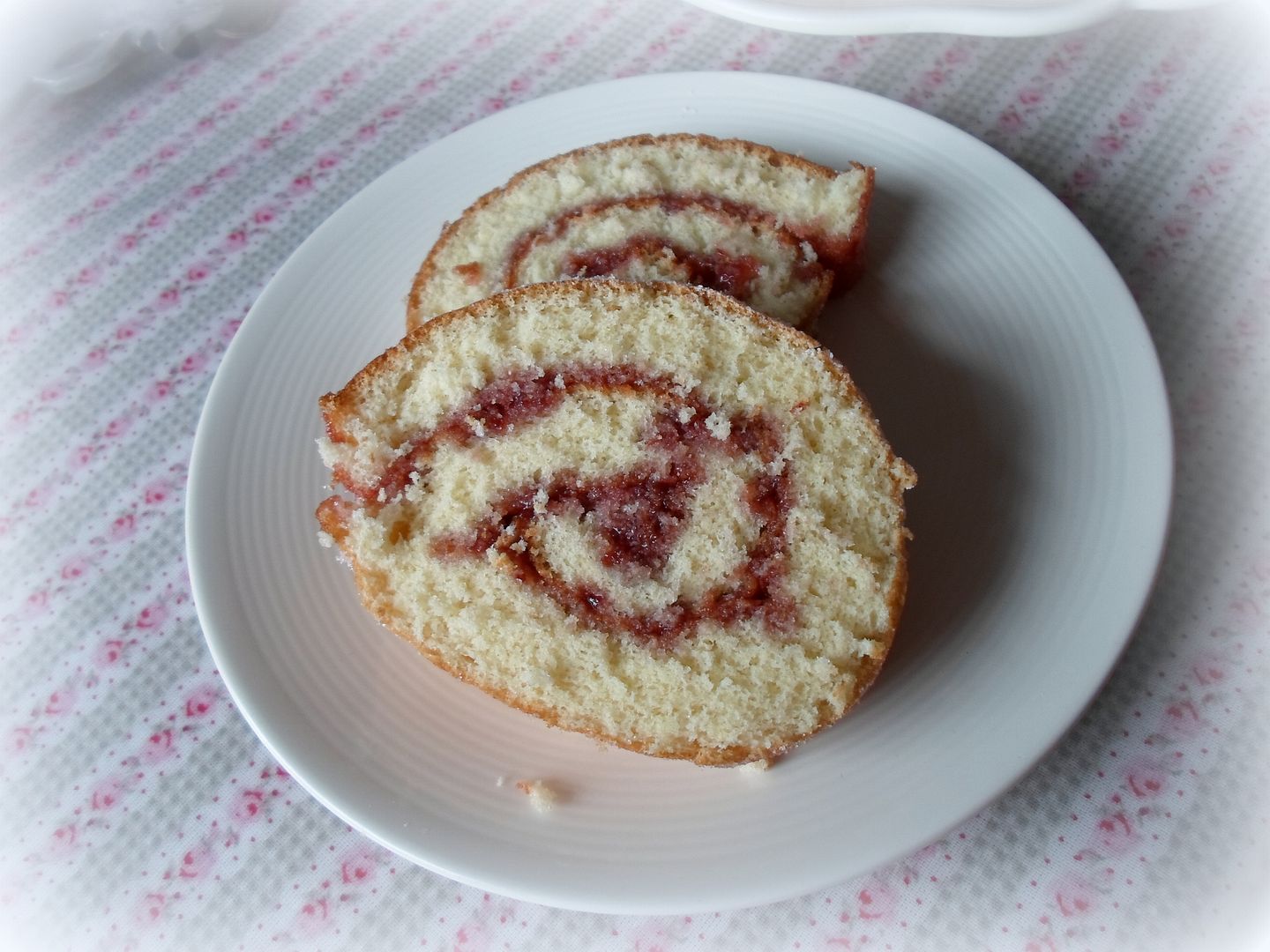 Preheat the oven to 190*C/375*F/Gas mark 5. Lightly butter a 13 by 9 inch jelly roll tin and then line with baking parchment. Butter and lightly flour the baking paper.



Beat the egg yolks and add the vanilla. Set aside. Beat the egg whites (using clean beaters) until foamy, add the salt and continue to beat until the whites form soft peaks. Slowly beat in the sugar, beating until stiff but not dry. Spoon the egg whites over the yolks and sprinkle the cornflour and flour on top. Fold gently until blended. Spread in the prepared baking tin and bake for about 12 minutes, until golden and a toothpick inserted in the centre comes out clean.


While the cake is cooking lay a piece of parchment paper on the counter top larger than the tin the cake is cooking in. Sprinkle evenly with several tablespoons of caster sugar.
Invert the baked cake onto the sugar covered parchment paper. Quickly loosen the paper on the bottom of the cake and carefully peel it off. Trim one short edge of the sponge with a sharp knife, about 1 inch in from the edge, making sure you do not cut it all the way through.
Allow to cool for several minutes and then spread the jam evenly over the cake. If the cake is too hot it will absorb too much of the jam. Roll the cake up firmly, starting at the scored edge. Allow to cool before slicing with a serrated knife. Delicious!
Note - This can be filled with more than just jam. Nutella is good, so is lemon curd, whipped cream and berries, dulce de leche caramel, etc.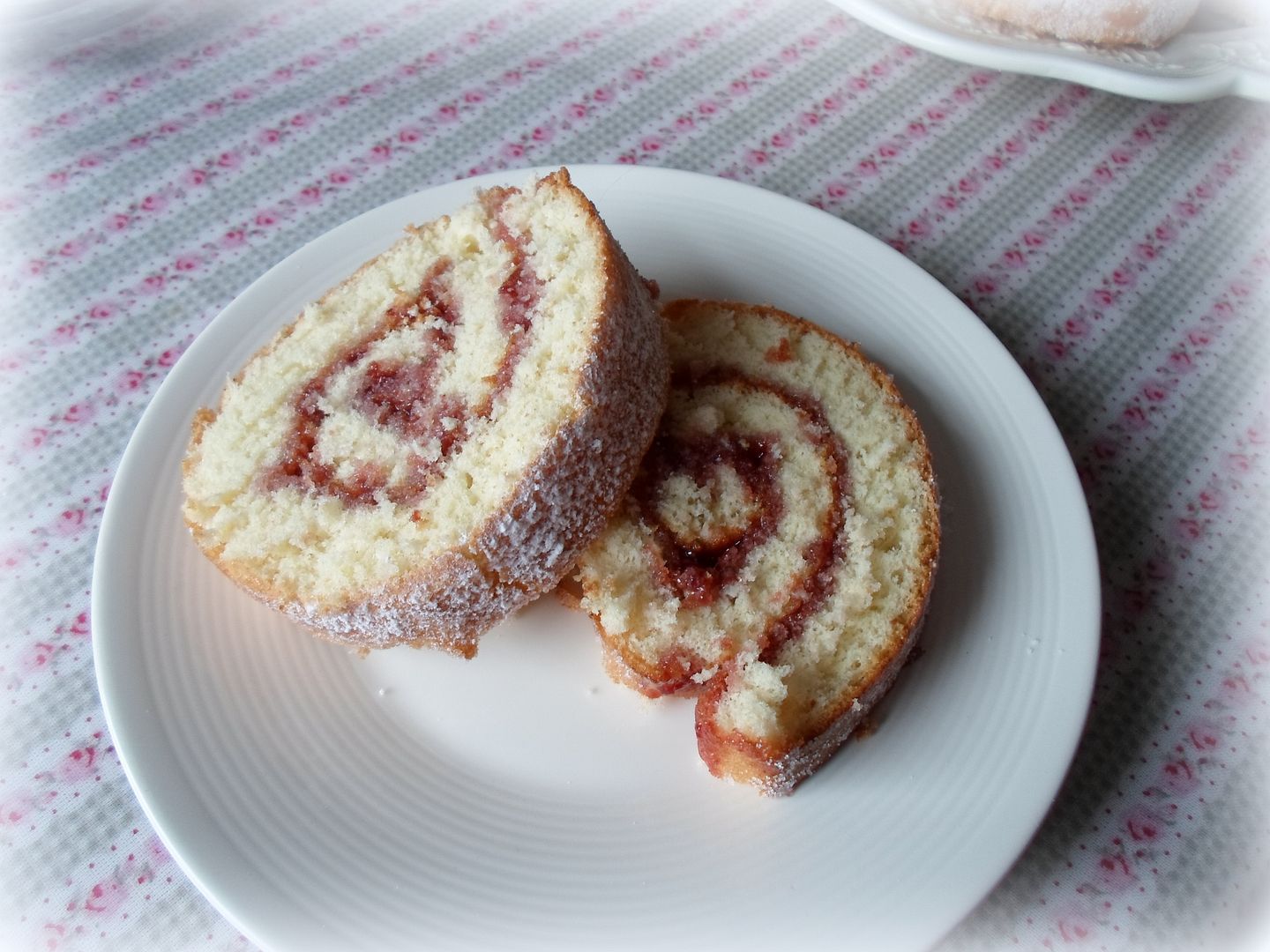 You can't get much tastier than this!
Bon Appetit!