I can still remember the first time I tasted Buttermilk. It was way back in the mid 1970's. I think I bought some to make a cake with or something.
Buttermilk in Canada, comes in one litre containers, so it wasn't long before I was scrambling to find something else I could make with it. Back in those days it was a lot harder.
There was no internet to seek advice from! You had to rely on word of mouth, friends and family.




Over here in the UK, you only get Buttermilk in small 284ml containers, each holding about 1 1/2 cups. This is good in a way, as you are only opening about as much as you need at any given time.
It is a pain in another way as you end up having to buy more containers and store them when you want to make something as delicious as this chicken here today.




This is an old favourite of ours from those early days. The chicken always turns out amazingly tender. A good soaking in buttermilk is the secret to that.
Sometimes I add herbs to the flour mixture, sometimes I don't. I am particularly fond of thyme, or symmer savoury in this. But its awfully good with no herbs as well.



It does use condensed cream soup. But I am not a snob that way, or pedantic about its use. I'm not pretentious either.
If something tastes good, it tastes good and I am not afraid to tell you that it uses cream soup. So there!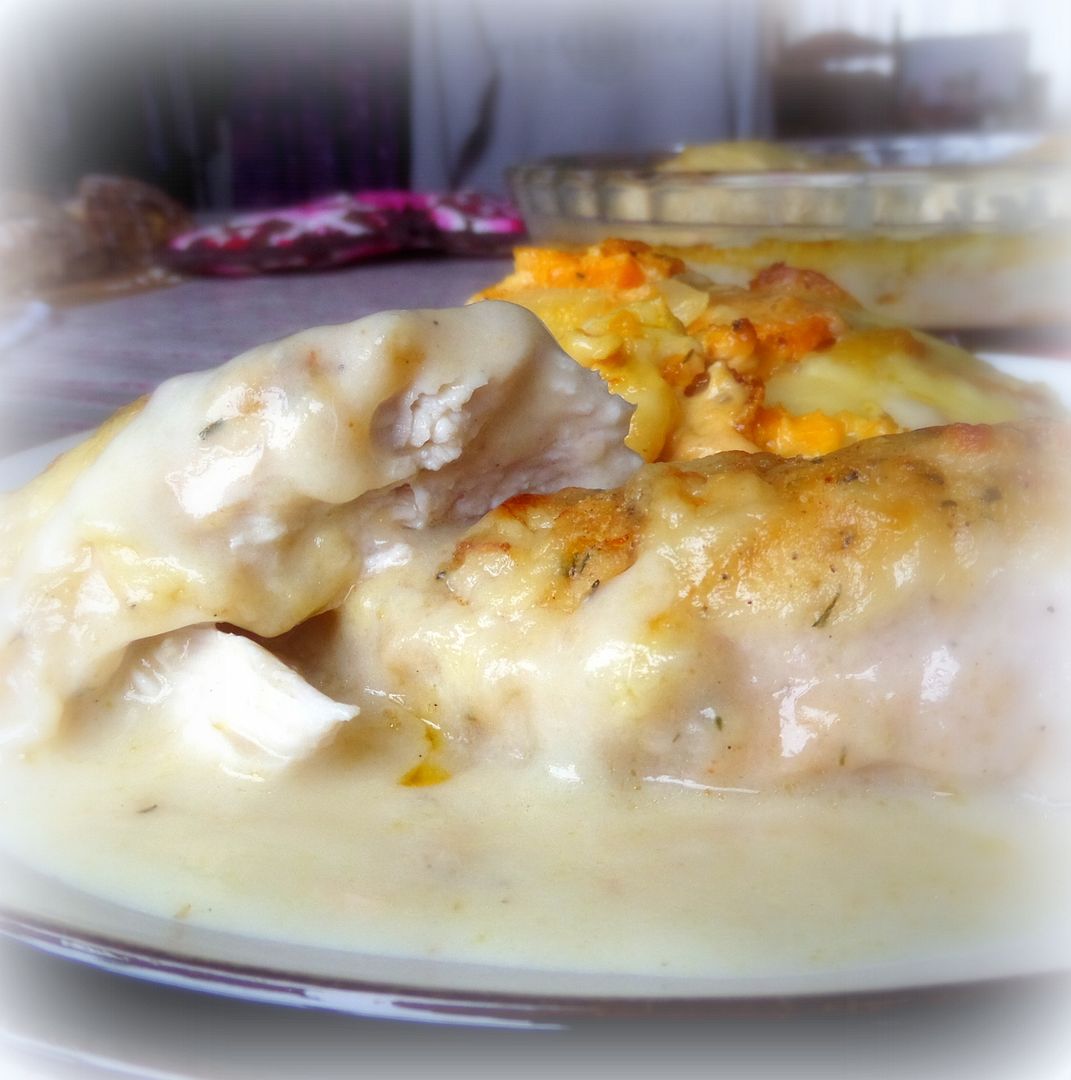 It has its uses and this is one of them and I'm not afraid to put my hand up and say, yes . . . on occasion I do use "cream of" soups.
Oh sure, I could take extra time and make a bechamel sauce, etc. . . . or homemade mushroom soup to use in this, but I don't.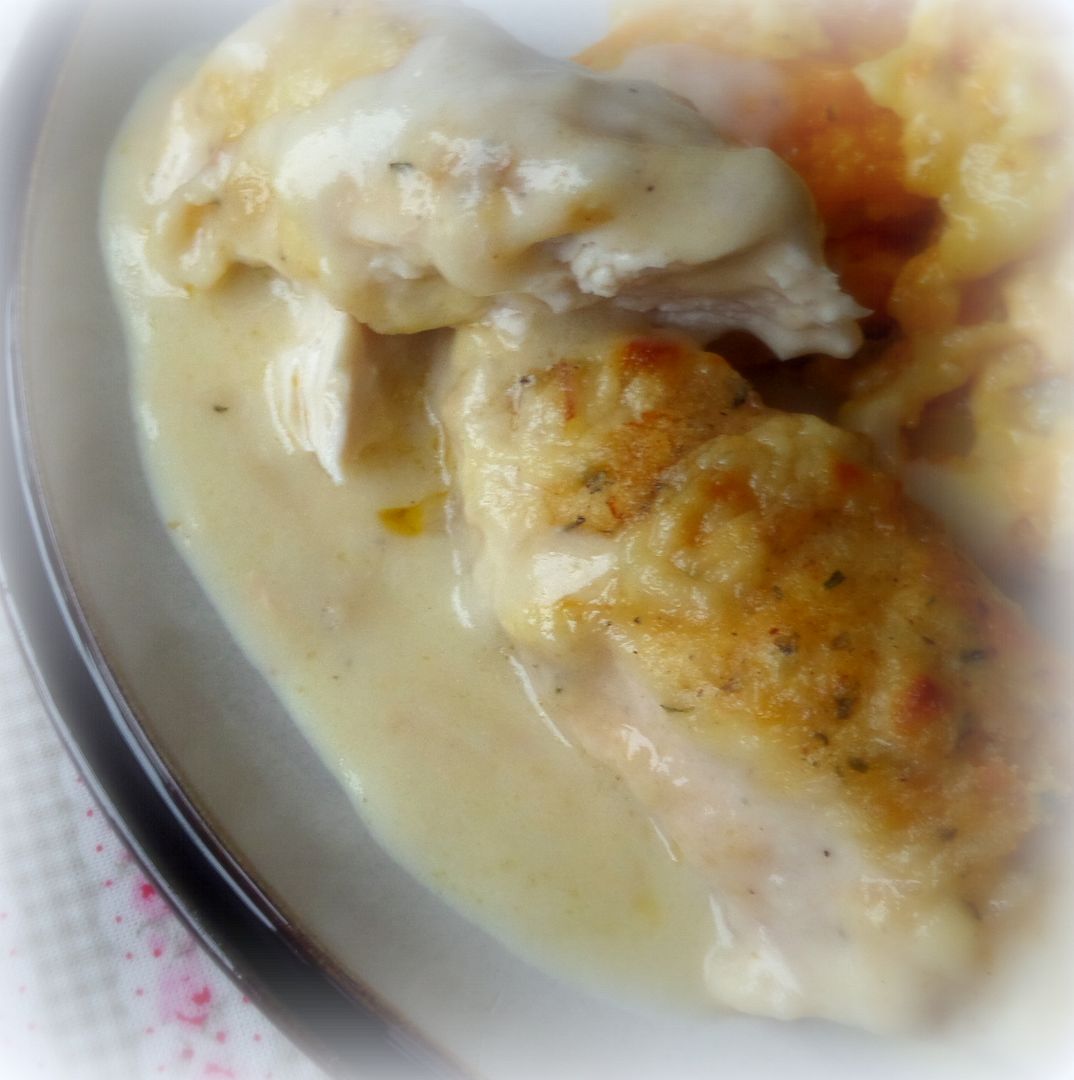 I'm also rather lazy at times. And this is one of those times. It tastes good. Its easy to make. Its a real family pleaser. You can't get much better than that.
I did share this on the blog way back in 2009, but some things are just so good they bear repeating on occasion.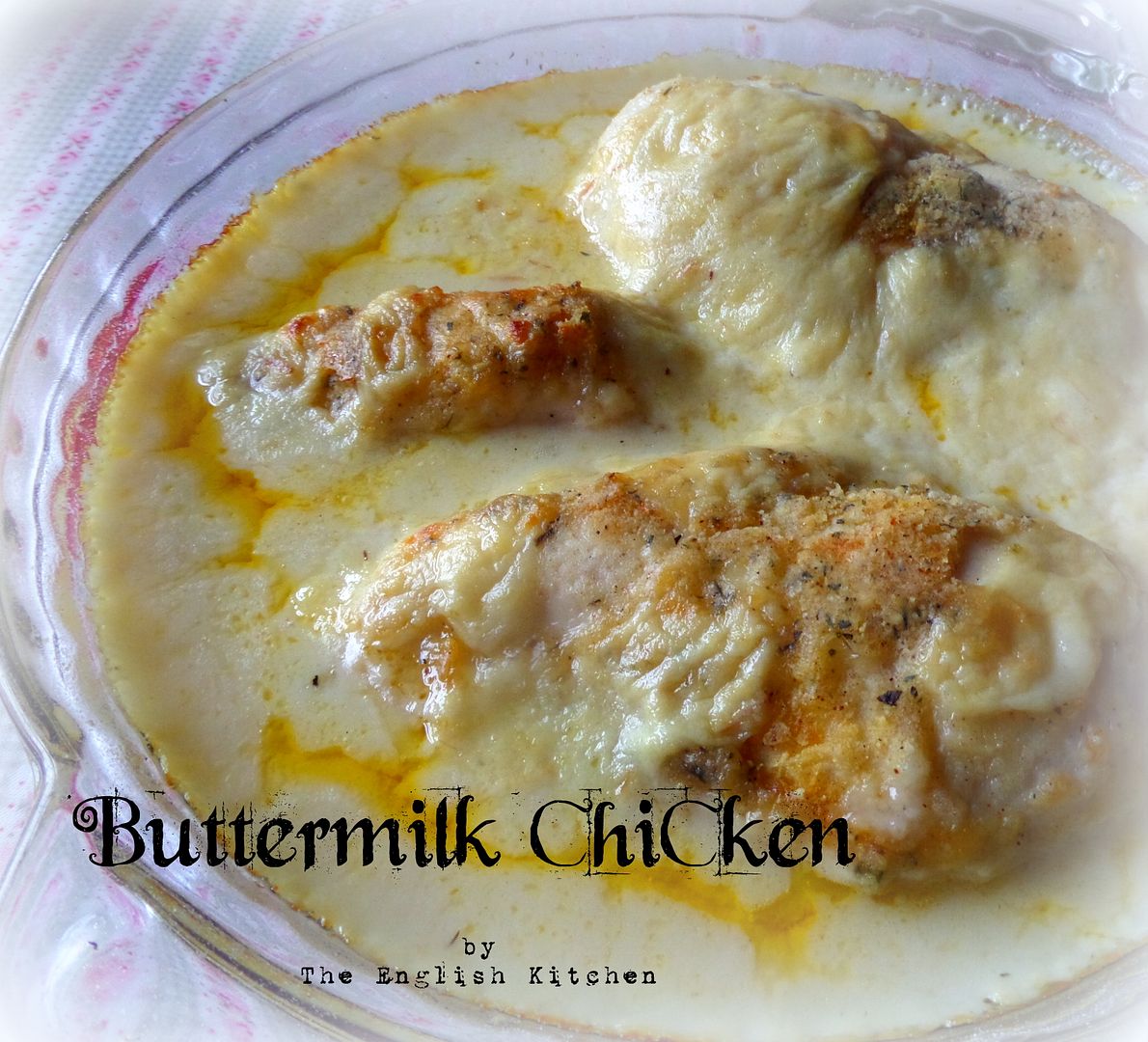 *Buttermilk Chicken*
Serves 4
Printable Recipe
I'm not sure how it works, but the buttermilk in this recipe helps to create chicken that is moist and very tender. This is delicious!
2 ounces butter (1/4 cup)
4 skinless, boneless chicken breasts
1/2 tsp salt
1/2 tsp freshly ground black pepper
1/4 tsp garlic powder
2 heaped TBS of plain flour
2 284ml containers of buttermilk (about 3 cups)
1 (285g) tin of Batchelors condensed cream of mushroom soup (Campbells) (10 1/4-oz tin)
chopped fresh flat leaf parsley to garnish
Pre-heat the oven to 205*C/425*F. Melt the butter in a 13 by 9 inch shallow baking dish. Set aside.
Sprinkle the chicken breasts on both sides with the salt, pepper and garlic powder. Place the flour in a shallow bowl and one container of the buttermilk in another shallow bowl.
Dip the breasts, one at a time, first into the buttermilk and then into the flour, shaking off any excess, but coating it well. Lay good side down in the melted butter in the baking dish. Repeat until all four have been coated.
Bake in the pre-heated oven for 15 minutes. Remove from the oven and flip over. Return to the oven and bake for 10 minutes longer.
While the chicken is baking whisk together the other container of buttermilk and the undiluted mushroom soup.
Remove the chicken from the oven and pour the soup mixture over top. Return to the oven and bake for an additional 10 to 15 minutes, until nicely browned. Remove the chicken pieces to four warmed plates. Stir the soup mixture in the pan and then spoon equally over top of the chicken pieces. Serve immediately with some parsley sprinkled over each.

Can I whine a bit here???? (Yes this is the same photo from above) I wanted to accentuate the small size of this "chicken breast" here.
I hate it when grocery shops try to dupe you into thinking you are buying a package of lets say CHICKEN BREAST for instance and one of the chick breasts is actually NOT a whole chicken breast but a chunk of chicken breast that they have managed to maneuver into the middle of the other breasts to make it look like you are getting four chicken breasts.
You aren't though. You are getting three and a half if you are lucky and I have even been tricked into buying a package which has one and two halves in it. Bad grocery stores.
They don't weigh what the package says either. Once you take off all the packaging and that little piece of squishy paper underneat the meat that absorbs all that liquid and who knows what water they have pumped into it, you usually are missing quite a substantial amount.
I am so tired of being lied to . . . aren't you? I'll get off my soap box now.
This content (written and photography) is the sole property of The English Kitchen. Any reposting or misuse is not permitted. If you are reading this elsewhere, please know that it is stolen content and you may report it to me at: mariealicejoan at aol dot com Thanks so much for visiting. Do come again!