Thi sandwich I am sharing with you today is not a supper dish for the faint of heart. It is loaded with fat and calories. Every once in a blue moon, however, it's nice to treat yourself to something special like a Croque Madame.
And just what is a Croque Madame? Well, to make a long story short, it's a Croque Monsieur with a fried egg on top.
A Croque Monsieur is a glorified ham and cheese toastie! Only the French could make a ham and cheese toastie more decadent and tastier than it is. Nobody can ever accuse the French of being bad cooks and they do sandwiches especially well.
For this version they have added a layer of rich bechamel to the top of the sandwich. Then they have sprinkled grated Parmesan over top. Finally they popped it under the grill until the bechamel is bubbling and gilded golden brown in spots.
Oooh la la!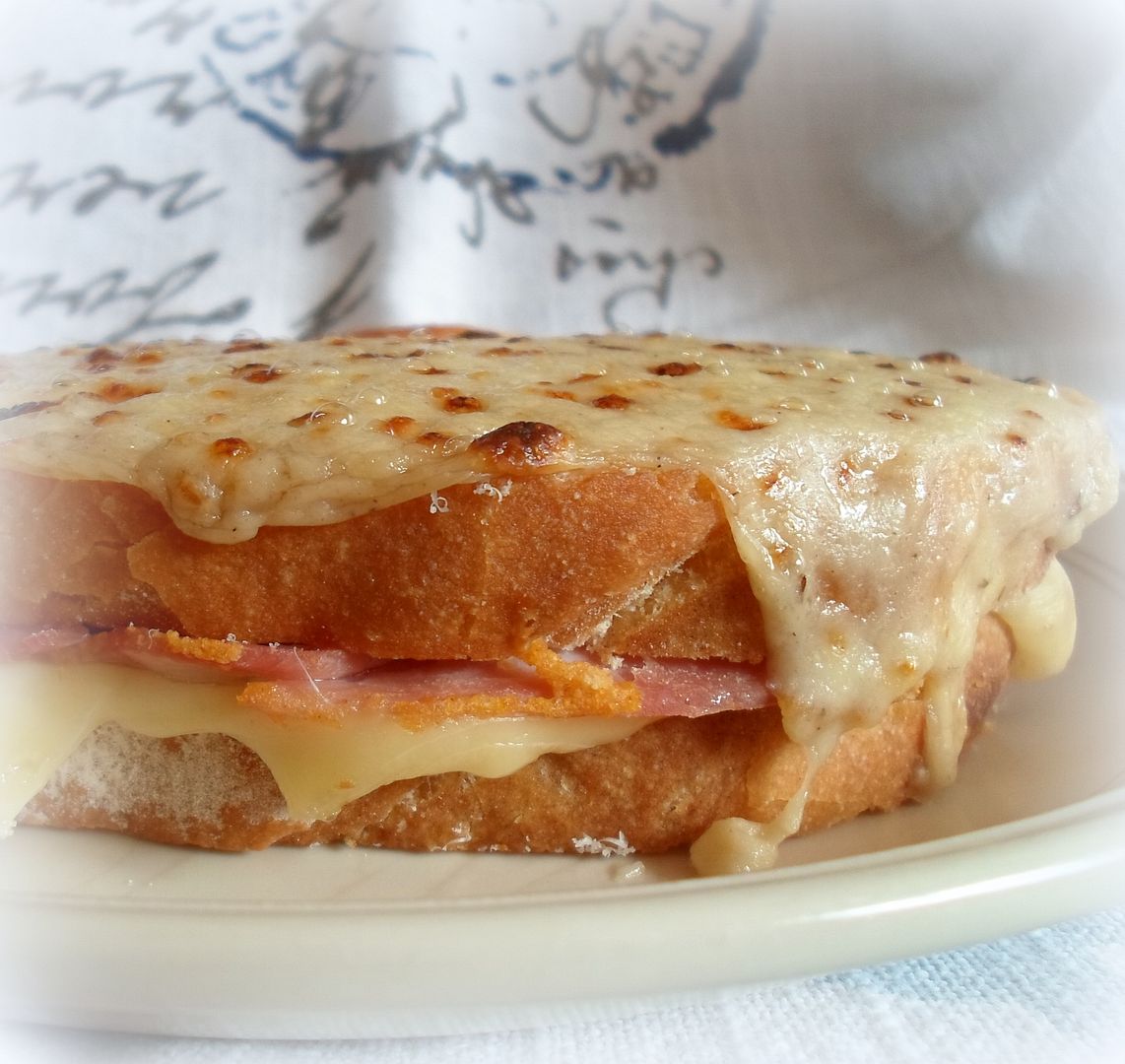 This cheese toastie is anything but an ordinary cheese toastie. There is a smattering of Dijon mustard inside, along with some thinly sliced ham. I adore Dijon mustard. It has forever spoiled me for liking any other kind.
Add to that gooey rich and nutty Gruyère cheese. This is very similar to Swiss cheese. It has a sweet almost nutty flavour. )
You toast that Ham and Cheese sandwich first in a skillet until it is all buttery and golden brown. Once it is the perfect colour, and the cheese has melted, you ladle the bechamel over top and pop the whole thing under a hot grill.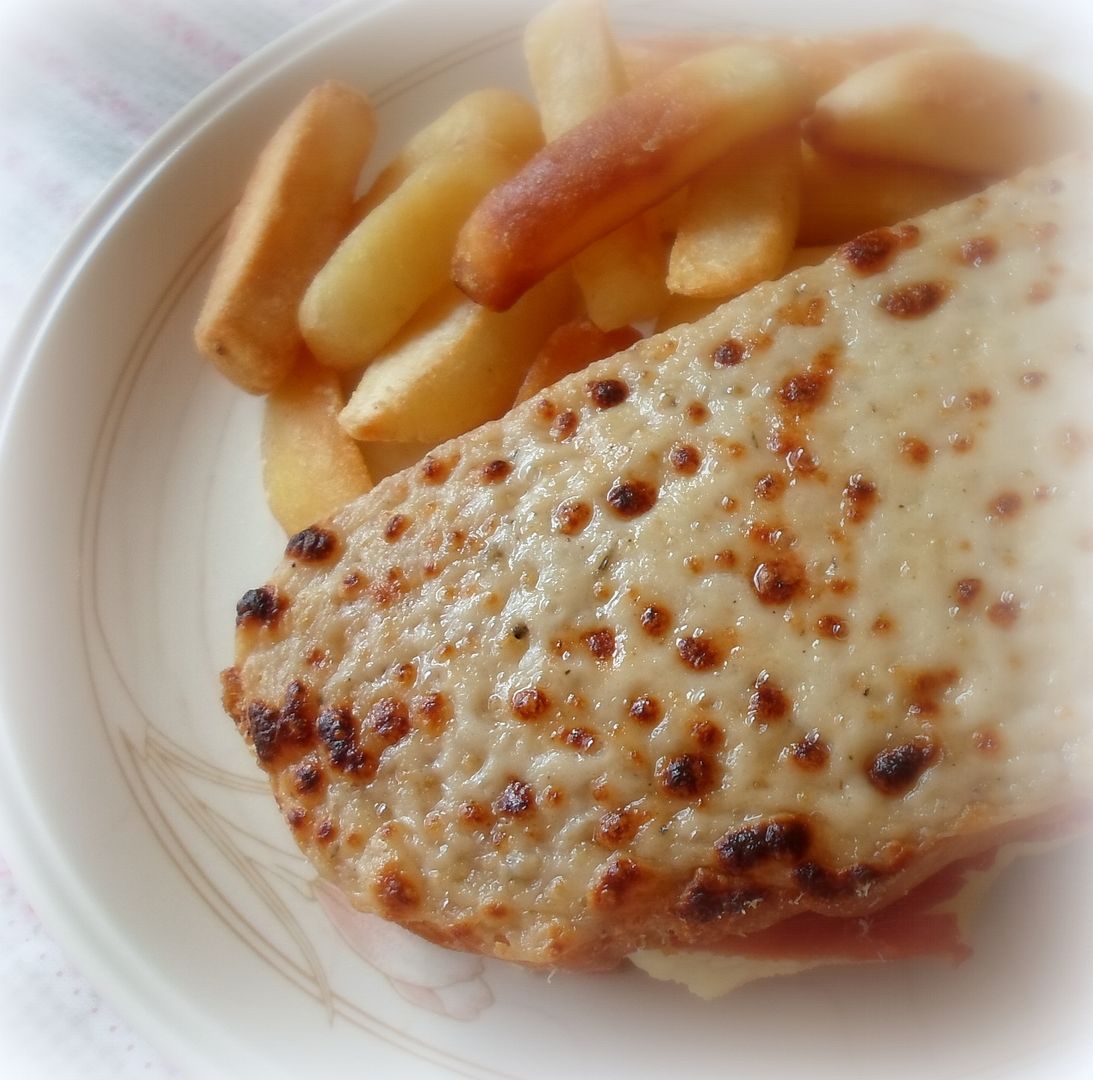 But it's not just any bechamel (which happens to be one of the easiest sauces to make and a base for many others). This bechamel is flavoured lightly with thyme, Worcestershire, nutmeg (traditional) and . . . wait for it . . . brandy.
Yep . . . there is just the merest tiniest hint of brandy which will have your eaters wondering just what that elusive flavour is . . . Its not enough to make anyone muddle their words or walk into walls. Just enough to give an extra special wonderful touch!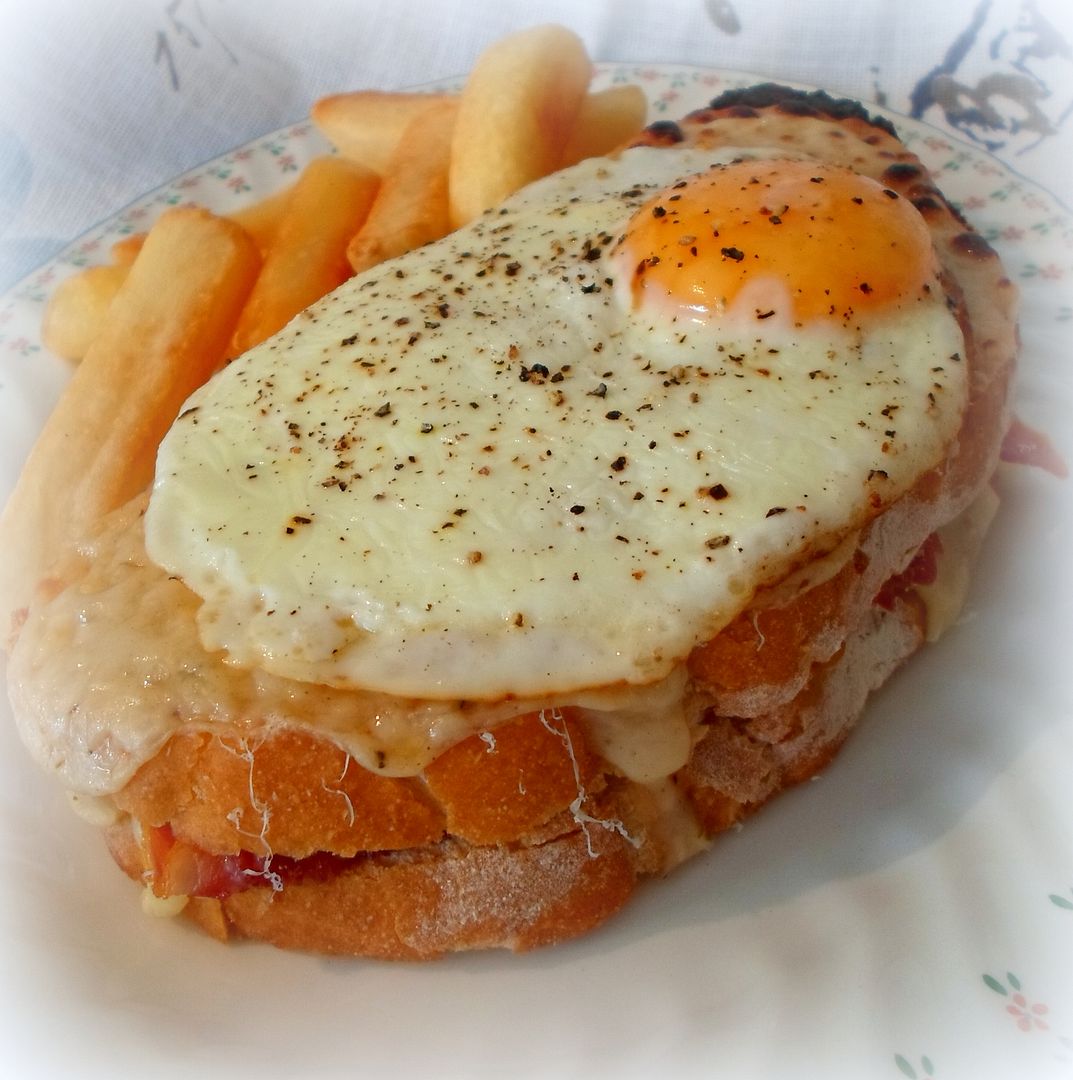 In France a Croque Monsieur is known as a bar snack . . . a quick bite. Hmmm... a quick bite? A bar snack? I wonder . . .
The name loosely translates to crunchy mister. hmm again . . . tasty no matter the origins . . .
Adding a fried egg to the top is said to help it resemble a ladies hat??? This is what makes it a croque Madame.
Well, I don't fancy wearing a hat that looks like a fried egg, but . . . I don't mind eating a Croque Madame, no matter what it is called.
Rich, crisp, salty, cheesy, butter, smokey. This sandwich has it all.
This is a hearty lunch for even the halest of eaters. I can't imagine it being a bar snack or a quick bite for anyone.
As a once in a blue moon indulgence . . . it went down a real treat. I served them with hot chips! That's what they call fries here in the U.K.!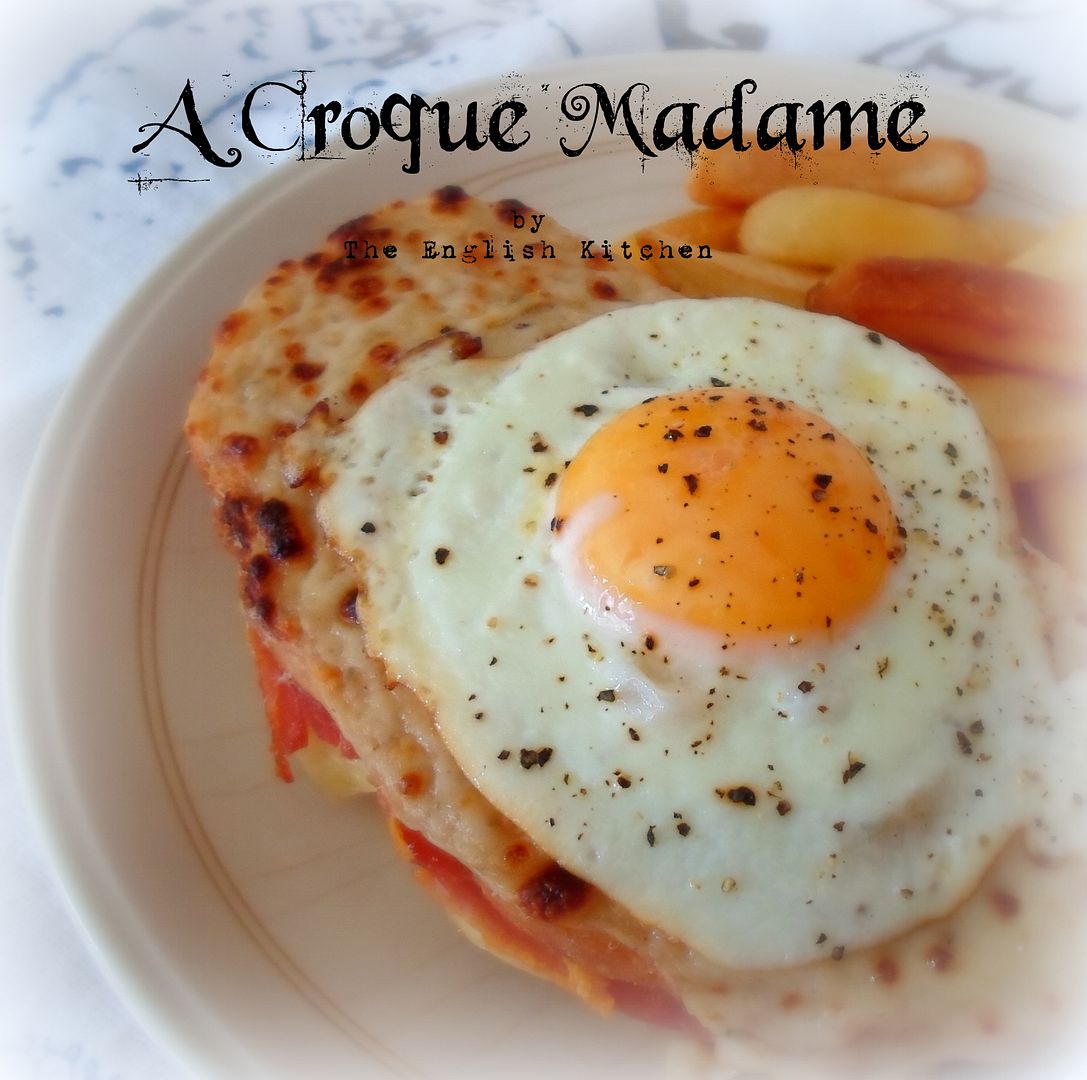 *Croque Madame*
serves 4
Printable Recipe
A traditional ham and cheese toastie, topped with bechemal sauce and a fried egg. Delicious!
5 TBSs butter
2 1/2 TBS flour
1 3/4 cup milk
1 TBS brandy
2 tsp worcestershire sauce
pinch thyme
pinch of grated nutmeg
sea salt and freshly ground black pepper to taste
8 slices of sturdy white sandwich type bread
4 tsp Dijon mustard
4 ounces of Gruyere cheese, grated
12 ounces of leftover ham, sliced
1/2 ounce of Parmegiano-Reggiano, finely grated
4 large free range eggs, at room temperature
Melt 2 TBS of the butter in a medium saucepan over medium low heat. Whisk in the flour, whisking constantly until it begins to turn beige in colour. Slowly whisk in the milk, iin a slow and steady stream. Cook and whisk constantly until it is smooth and thickened and slightly bubbling. Whisk iin the brandy, Worcestershire sauce, thyme, nutmeg and salt and pepper to taste. Remove from the heat and set aside, whisking now and then to help prevent a skin from forming.
Position your broiler rack 4 inches from the heat and heat the broiler to high. Spread 4 slices of the bread on one side each with 1 tsp of Dijon mustard. Top with the slices ham and then the cheese. Place the remaining 4 slices of bread on top.
Melt 1 TBS of the butter in a 12 inch non stick skillet over medium heat. Cook 2 of the sandwiches until brown and crisp, turning once, halfway through the cooking to brown the remaining side. Place on a rimmed baking sheet and repeat with another TBS of the butter and the remaining 2 sandwiches.
Melt 2 Tbs. of the butter in a medium saucepan over medium-low heat. Whisk in the flour and continue whisking just until it turns beige, about 20 seconds. Whisk in the milk in a slow, steady stream; continue whisking until smooth, thickened, and slightly bubbling, 2 to 3 minutes. Whisk in the brandy, Worcestershire sauce, thyme, nutmeg, 1/4 tsp. salt, and 1/4 tsp. pepper. Whisk for 30 seconds; then remove from the heat and set aside, whisking occasionally to prevent a skin from forming. Ladle the bechamel sauce over top of the sandwiches. (It will run down the sides, but that's ok.) Sprinkle with the Parmigiano Reggiano. Broil until bubbling and lightly browned.
Melt the remaining 1 TBS of butter in the skillet over medium heat. Crack in the eggs and fry them sunny side up until the whites are set, but the yolks are still runny.
Transfer the sandwiches to serving plates, placing a fried egg on top of each. Sprinkle with salt and a good grinding of black pepper and serve.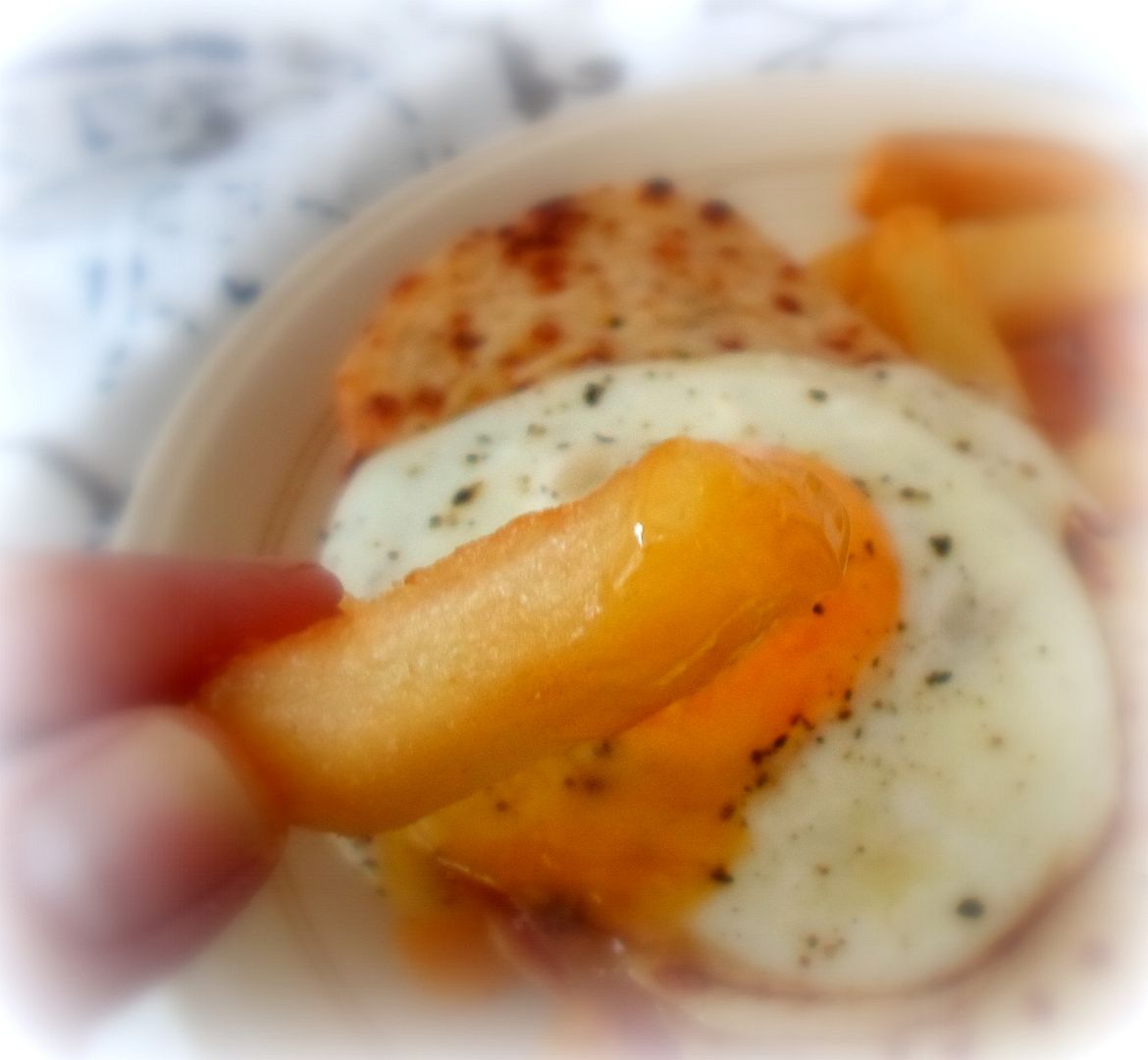 I suppose if you were a vegetarian you could leave out the ham altogether and it would still be delicious. But what would you call it then???? Any suggestions??? A Croque Infante??
Oh, and the purpose of the chips??? Why to dip into that gorgeous runny yolk. Oh yes, I am a naughty girl. ☺

Note - this is a repeat, but some things are just so good they need to be repeated.
This content (written and photography) is the sole property of The English Kitchen. Any reposting or misuse is not permitted. If you are reading this elsewhere, please know that it is stolen content and you may report it to me at: mariealicejoan at aol dot com Thanks so much for visiting. Do come again!