Todd loves cooked apples. If I bake anything with apples at all, my husband is one very happy camper.
He says his mother baked the best apple pies ever. I have never been able to make an apple pie quite like his mom's, but a gal can't be good at everything I guess!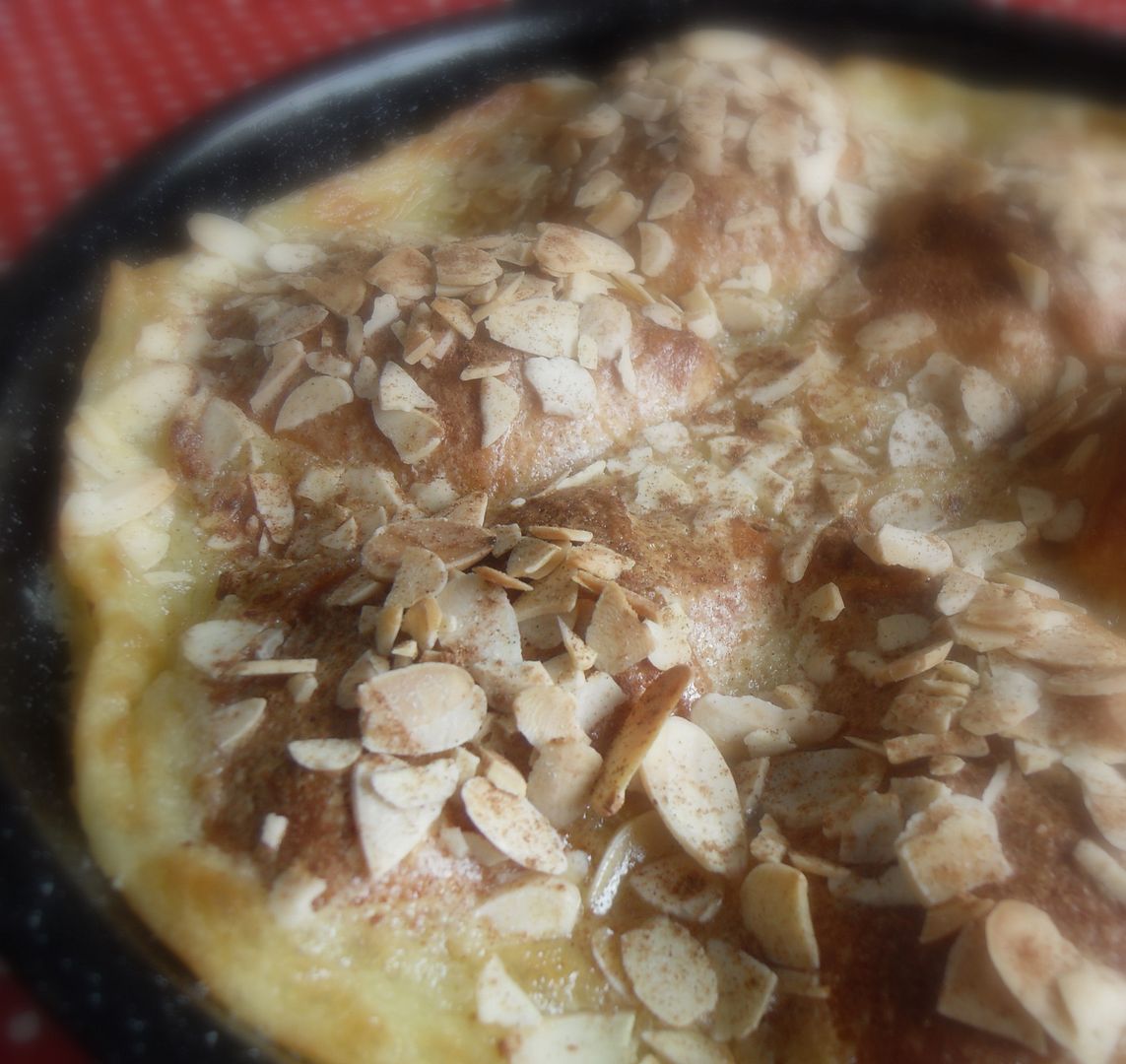 Even so, he enjoys the ones I do make, even if they are not quite as good . . . likewise the apple cakes, muffins, baked apples, applesauce, etc. that I make for him.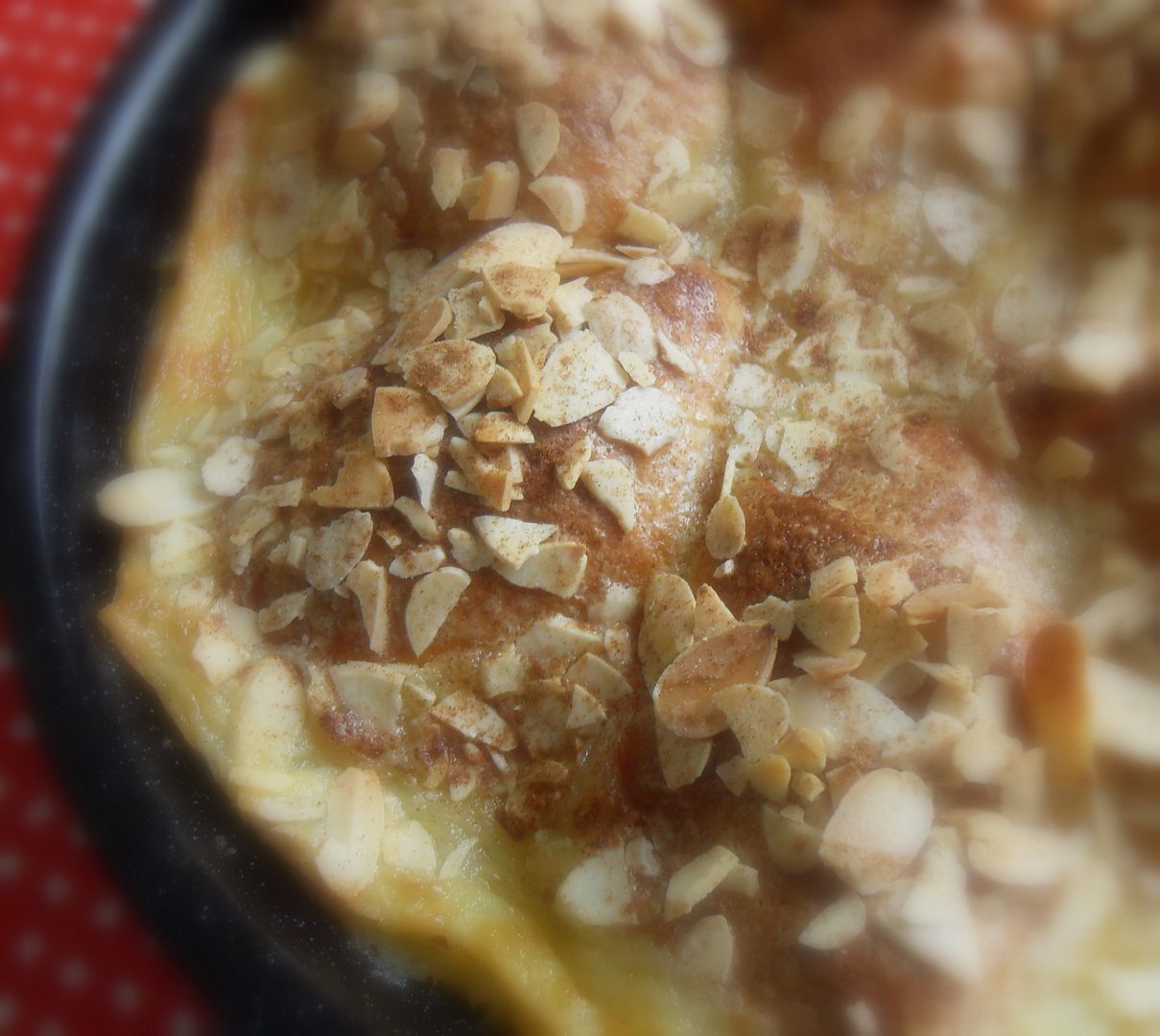 He
really
enjoyed these apple dumplings that I made this afternoon for afters.
If there's one thing that he enjoys almost as much as apple desserts, if not more, it's custard! This lovely recipe combines those two favourite things.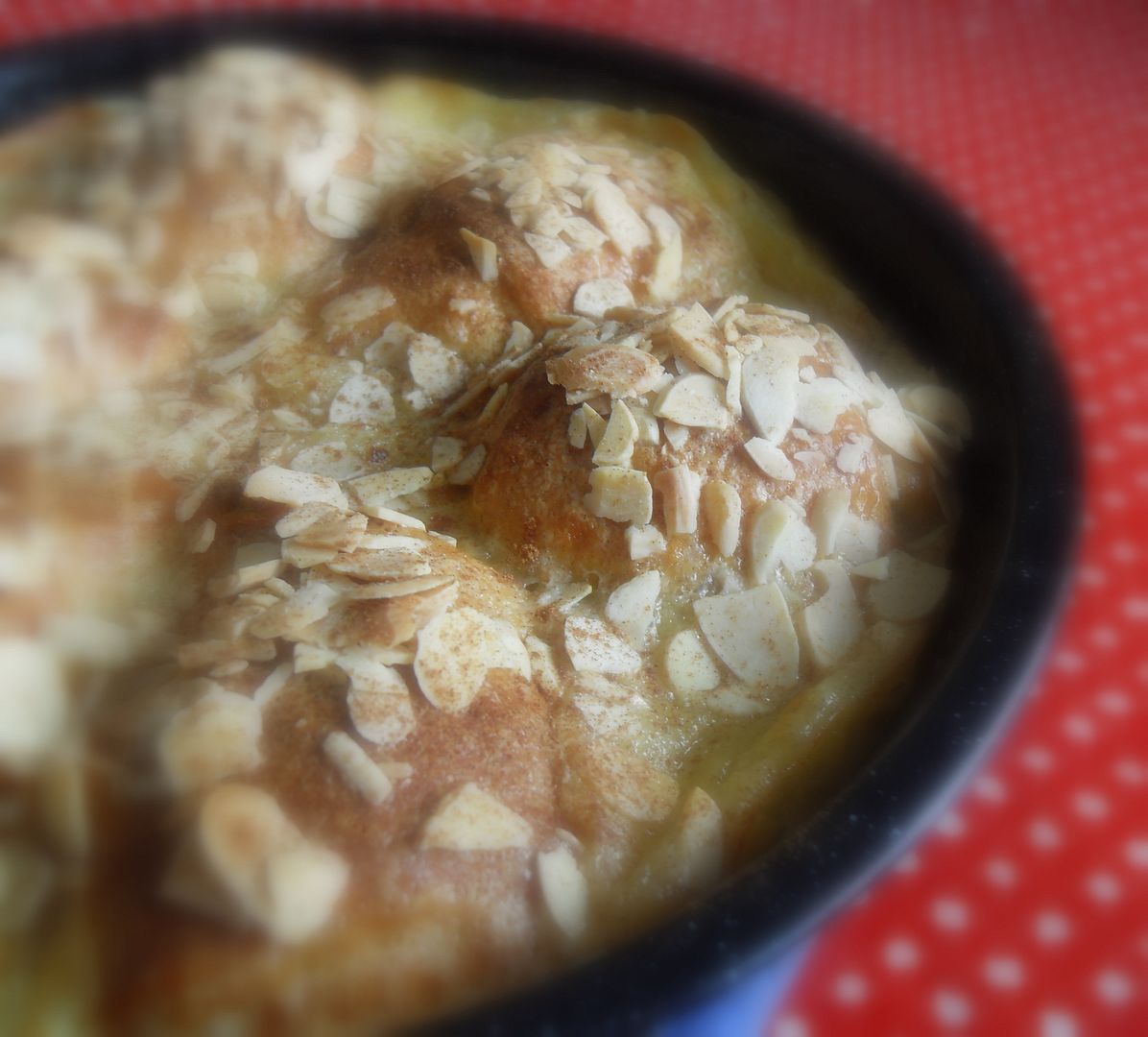 You get rich and flakey apple dumplings . . . a buttery crust spread with cinnamon sugar and wrapped around an apple quarter, then partially baked . . . but that's not all . . . no . . .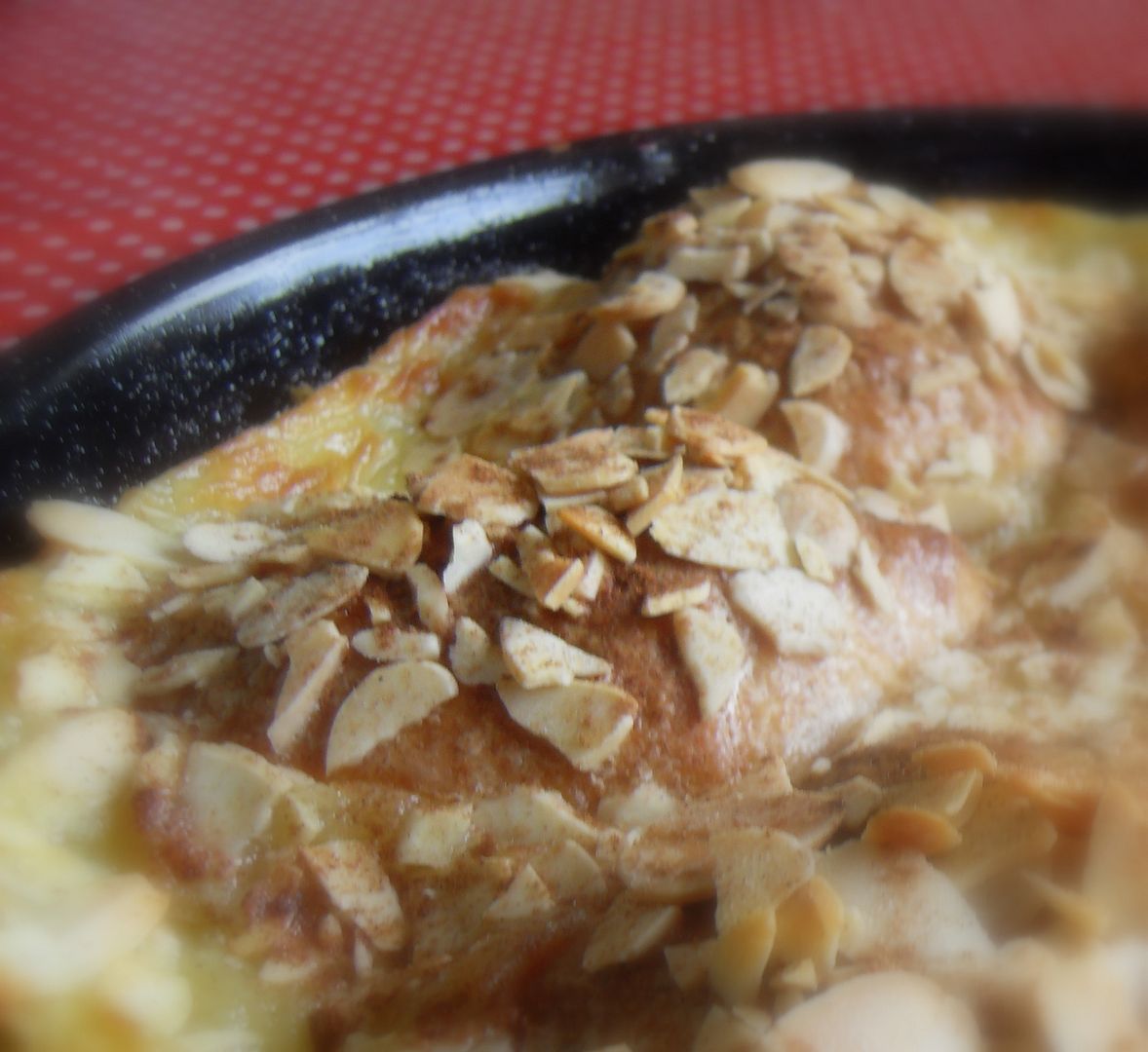 You then slather the partially baked dumplings with a rich and creamy almond custard, top them with some flaked almonds and some more cinnamon, and bake them until the dumplings are scrummily golden brown and the custard is puffed up all around them!!!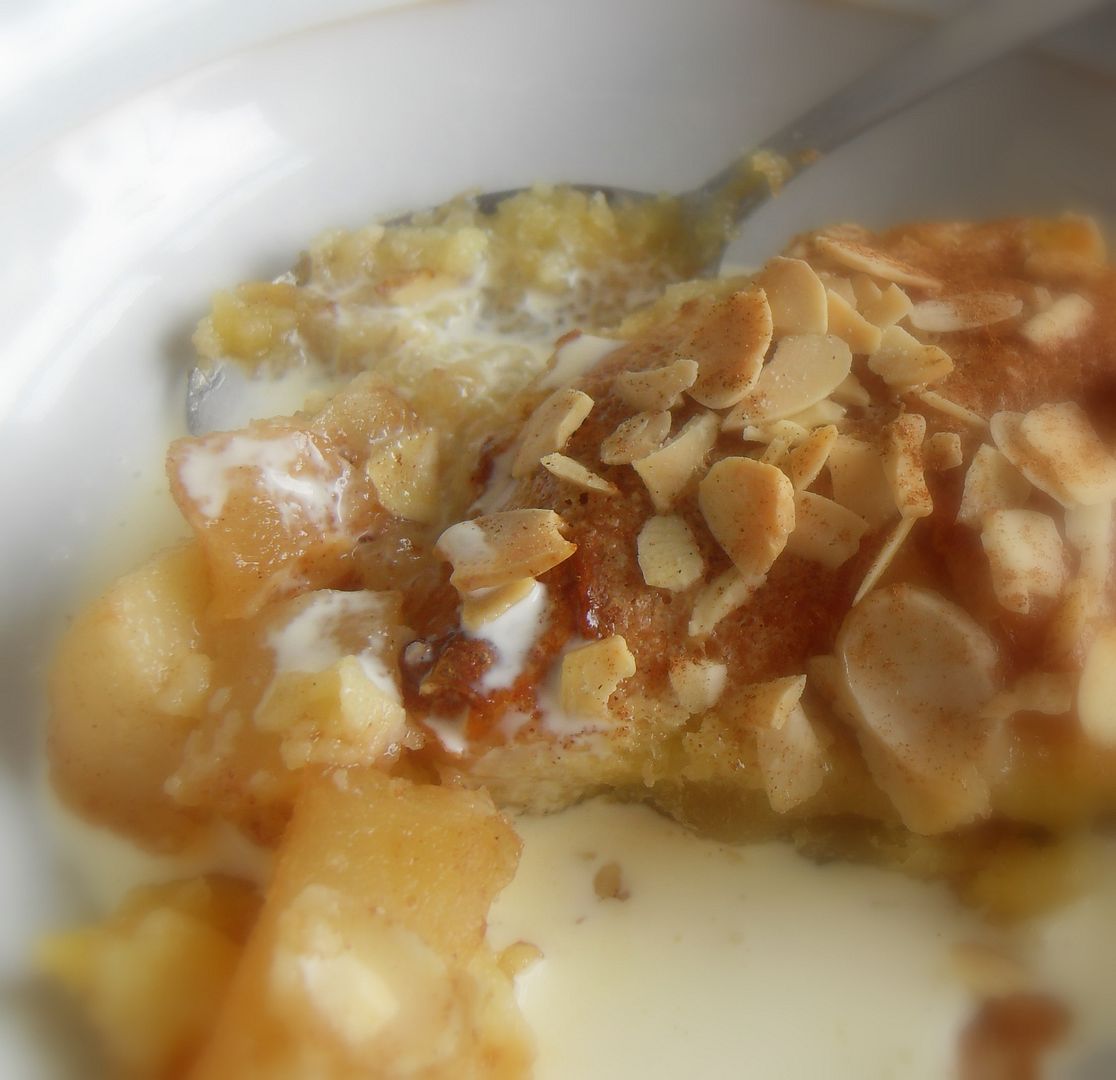 Oh my, but these did smell heavenly when they are baking and if the satisfied look on my husband's face was anything to go by while he was eating . . . they are also quite, quite decadently delicious to eat.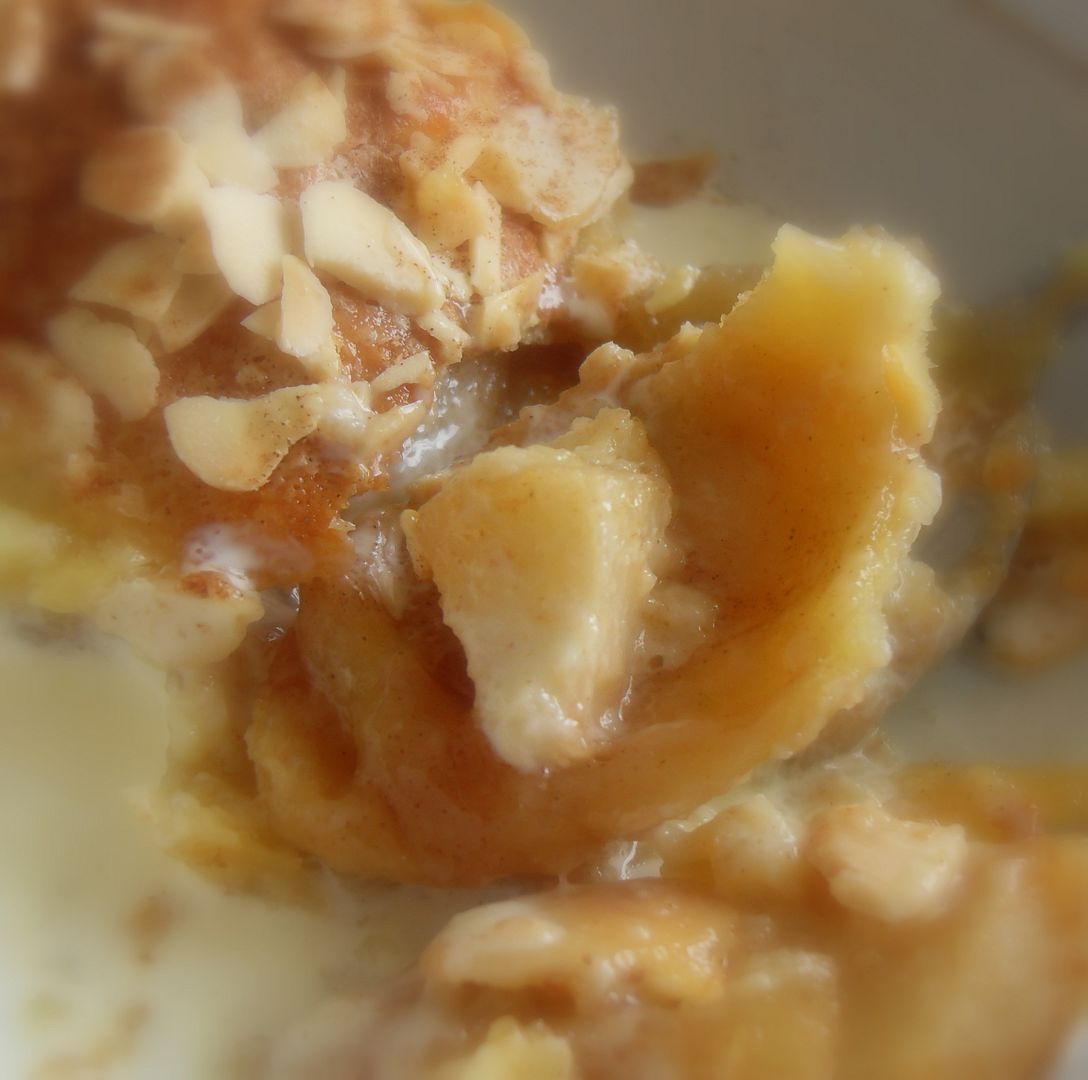 Of course he had his along with some pouring cream. It is
the
English way to do it, and why not!!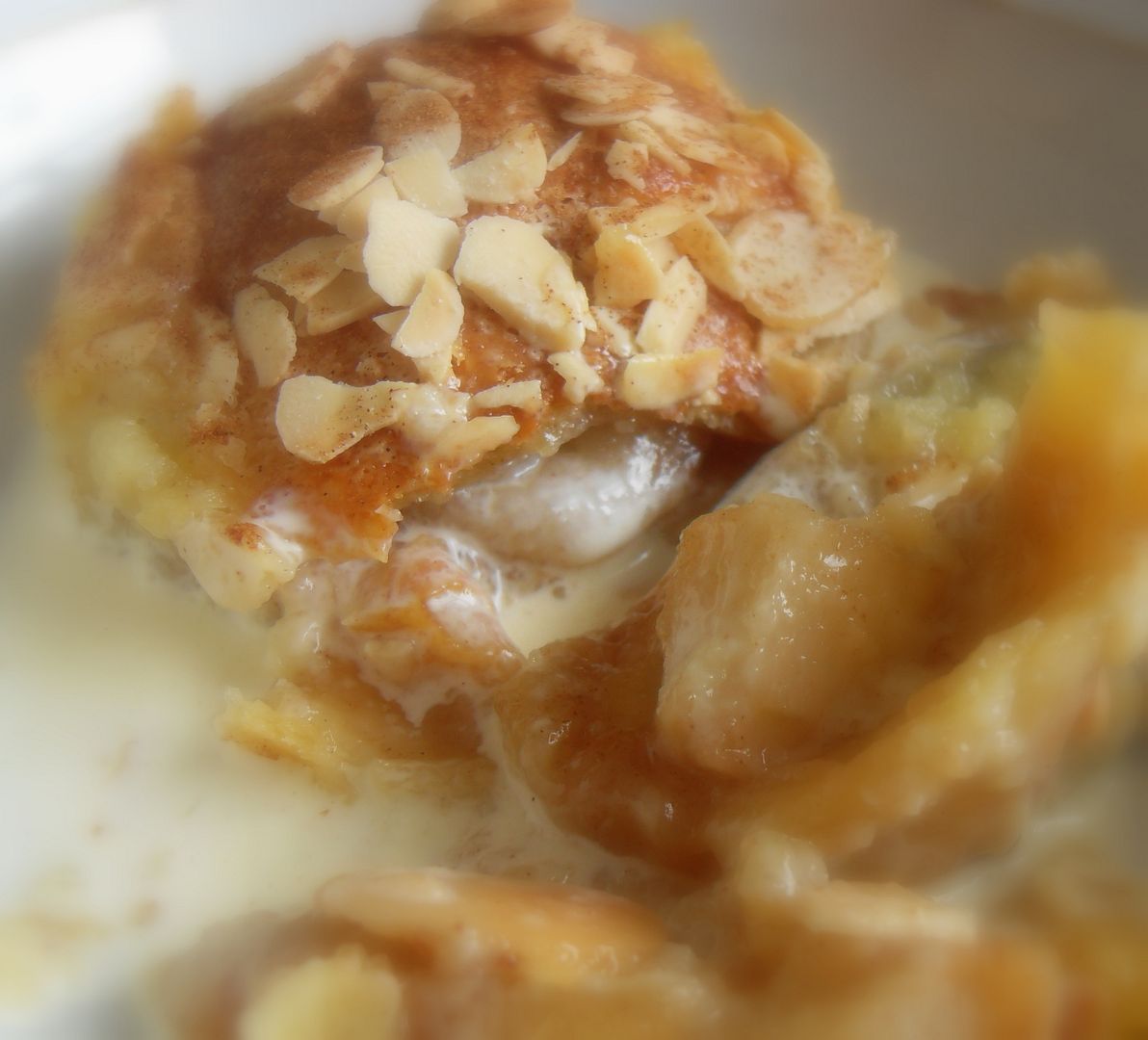 *Almond and Custard Apple Dumplings*
Serves 6
Printable Recipe
Delicious apple dumplings that bake in their very own almond custard. Easy and delicious!
For the Dumplings:
2 TBS golden caster sugar
1 tsp ground cinnamon
1 (250g) tin of refrigerated Croissant rolls dough
(separates into 6 rolls. Ready Roll makes them and the are in the
chiller section of the grocery store near the ready roll pastry)
2 Granny Smith apples, peeled and cored

For the Custard:
3.5 ounces golden caster sugar (1/2 vup)
4 fluid ounces of double cream (1/2 cup)
1 large free range egg
2 tsp almond essence

To top:
1.5 ounces flaked almonds (1/2 cup)
ground cinnamon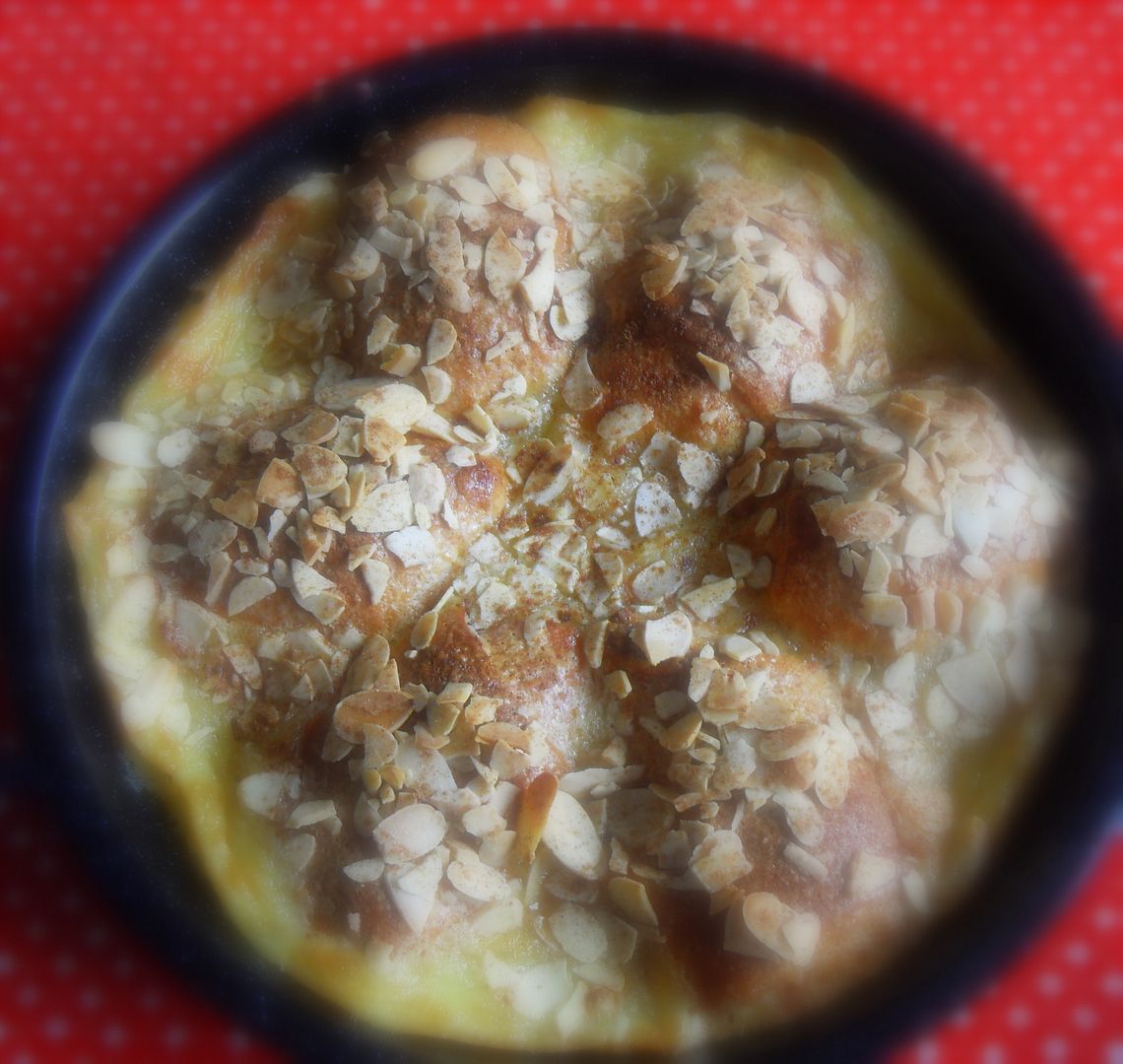 Preheat the oven to 190*C/375*F/ gas mark 5. Butter a 9 inch round baking dish. Set aside.
Cut the apples into quarters. Stir together the 2 TBS of caster sugar and the 1 tsp ground cinnamon. Unroll the croissant dough, separating it into 6 triangles. Flatten each one somewhat and then sprinkle with the cinnamon sugar, gently pressing it in, and holding back about 1 tsp of the mixture. Put an apple quarter onto the wide end of each triangle. (You will have two leftover, but don't worry about that yet.) Tuck in the edges around the apple and then begin to roll it up, starting at the wide end and rolling to the opposite point. Place into the prepared baking dish, tip side down, in a circle. There will be some space between and in the middle. Cut the remaining apple quarters into chunks. Toss with the remaining cinnamon sugar. Put a few of these into the centre and several in between each filled croissant.
Bake in the preheated oven for 15 to 20 minutes until golden brown.
In the meantime whisk together the egg, sugar, cream and almond essence for the custard, making sure it is well mixed and the sugar dissolves.
At the end of the first baking take the dish from the oven. Pour the custard mixture evenly over top of the partially baked rolls. Sprinkle the flaked almonds over top and then dust with more cinnamon. Return to the oven and bake for an additional 13 to 18 minutes, until a deep golden brown. If you feel it is browning too quickly you can cover it with some foil.
Serve warm and store any leftovers in the refrigerator.
These are just fabulous. Bon Appetit!