Two of my children had birthday's in December. One on the eighth and the other on the ninth. I always tried to make each of my children special cakes for their birthdays, and as you can imagine having two birthdays two days in a row, this sometimes presented a bit of a challenge. I used to bake this Ruby Slipper Cake for my youngest daughter's birthday (the ninth) each year. This was Amanda's cake. Some years I dressed it up to look like a wreath in honor of December. It was always a lovely cake that we all enjoyed very much.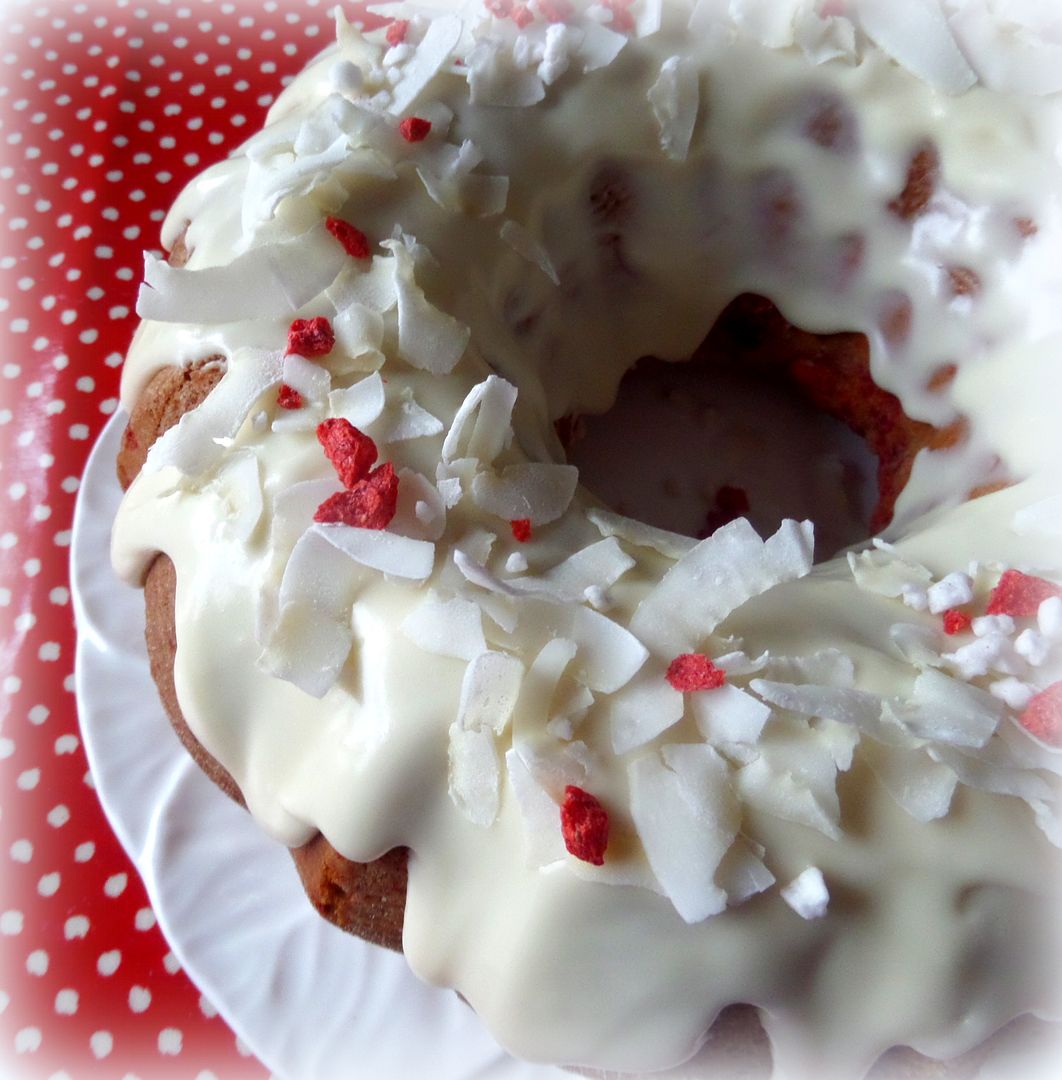 It kind of became a cake that we were used to having around in December. The original recipe used a cake mix, which you beat together with sour cream and eggs . . . and then layered in a bundt pan with jelly crystals. I have adapted that idea to a from scratch cake and it works beautifully as you can see!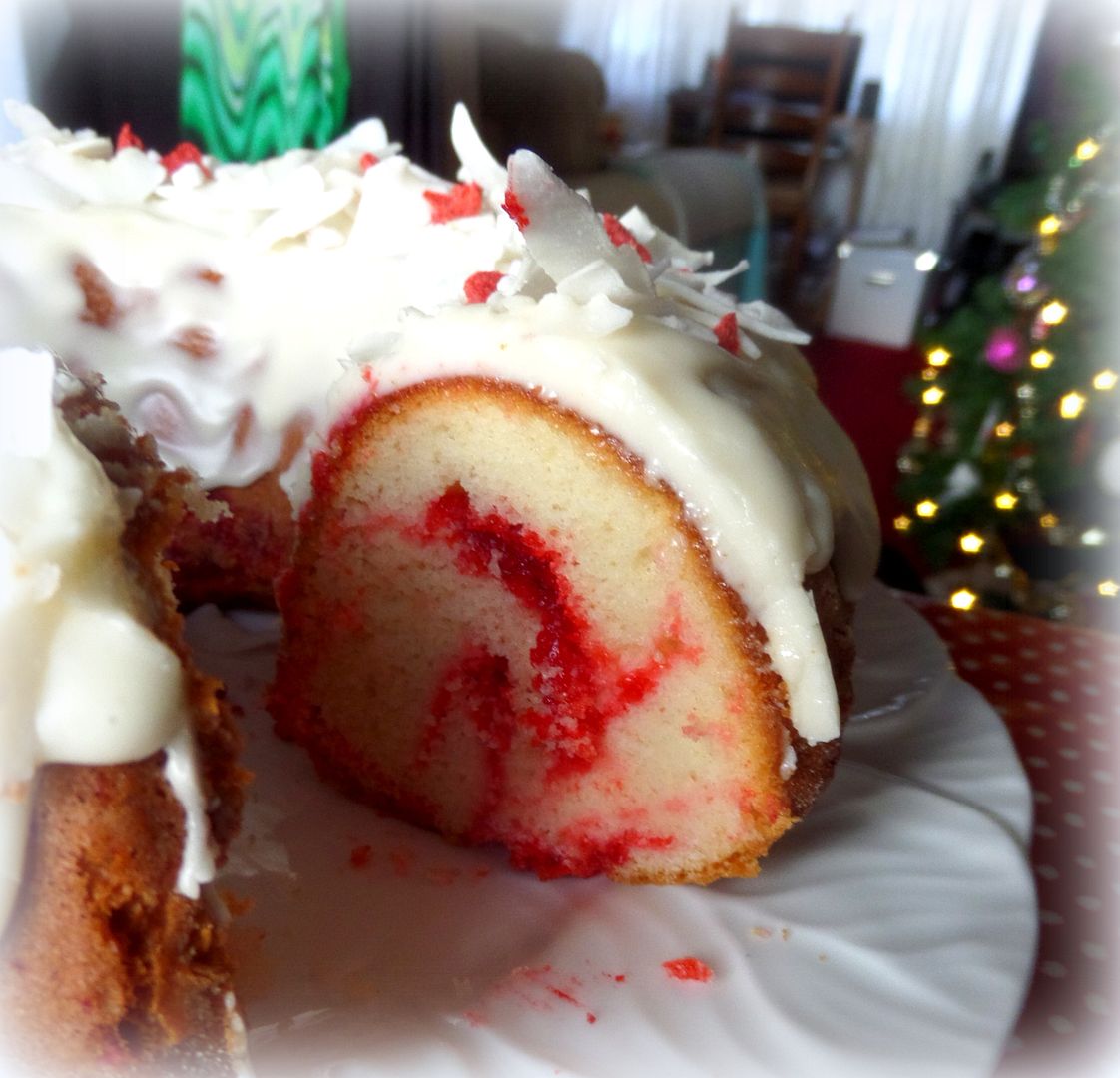 This is a lovely moist bundt cake, rich with sour cream and then with a strawberry jelly swirl through the middle. The jelly crystals kind of melt into the cake creating a sweet tunnel which is not only pretty to look at but quite, quite tasty.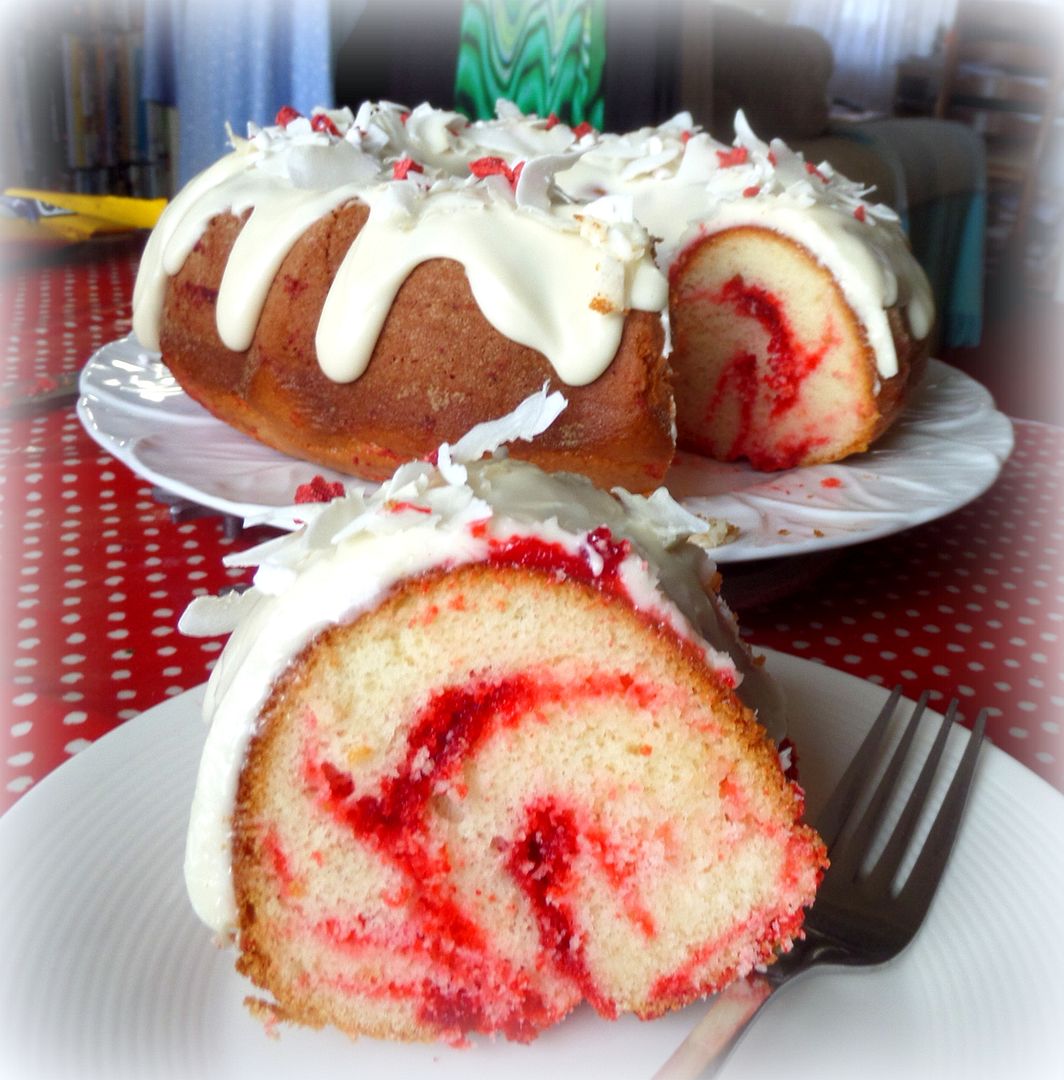 Isn't that nice? The Missionary Elders happened over the same day I baked this cake and they were thrilled to have the first two slices of it. What is a cake for, if not for sharing.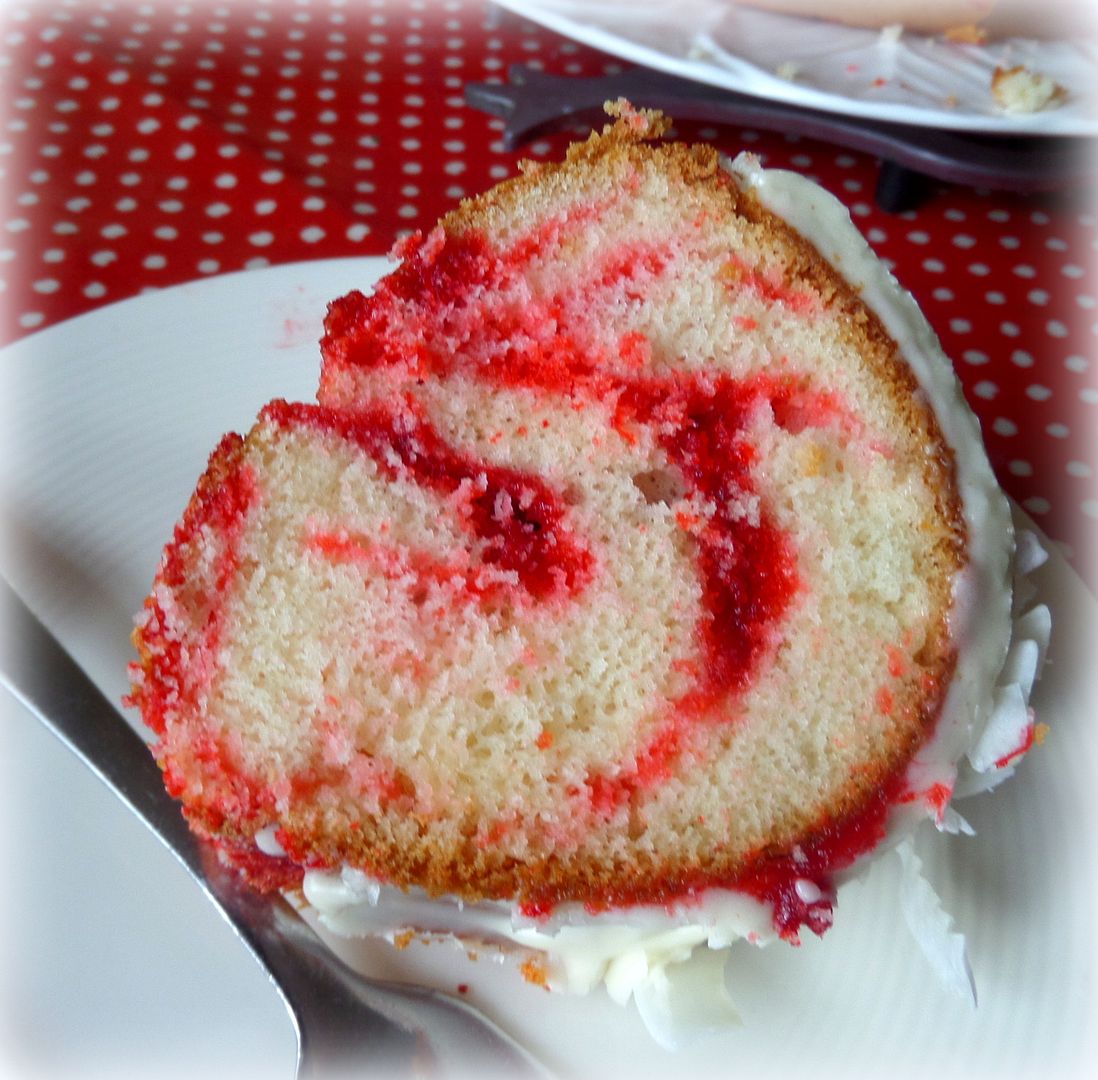 Indeed. This really is a nice cake. If you want to use a mix, just use the yellow cake mix, along with 1 cup of sour cream, 2 large free range eggs, and 1/4 cup of water. Beat it all together and proceed as per the recipe below with the remaining instructions and the jelly crystals. It would be really pretty with green jelly crystals for Christmas as well! I hope you will give it a go! Ice cream is very nice with this.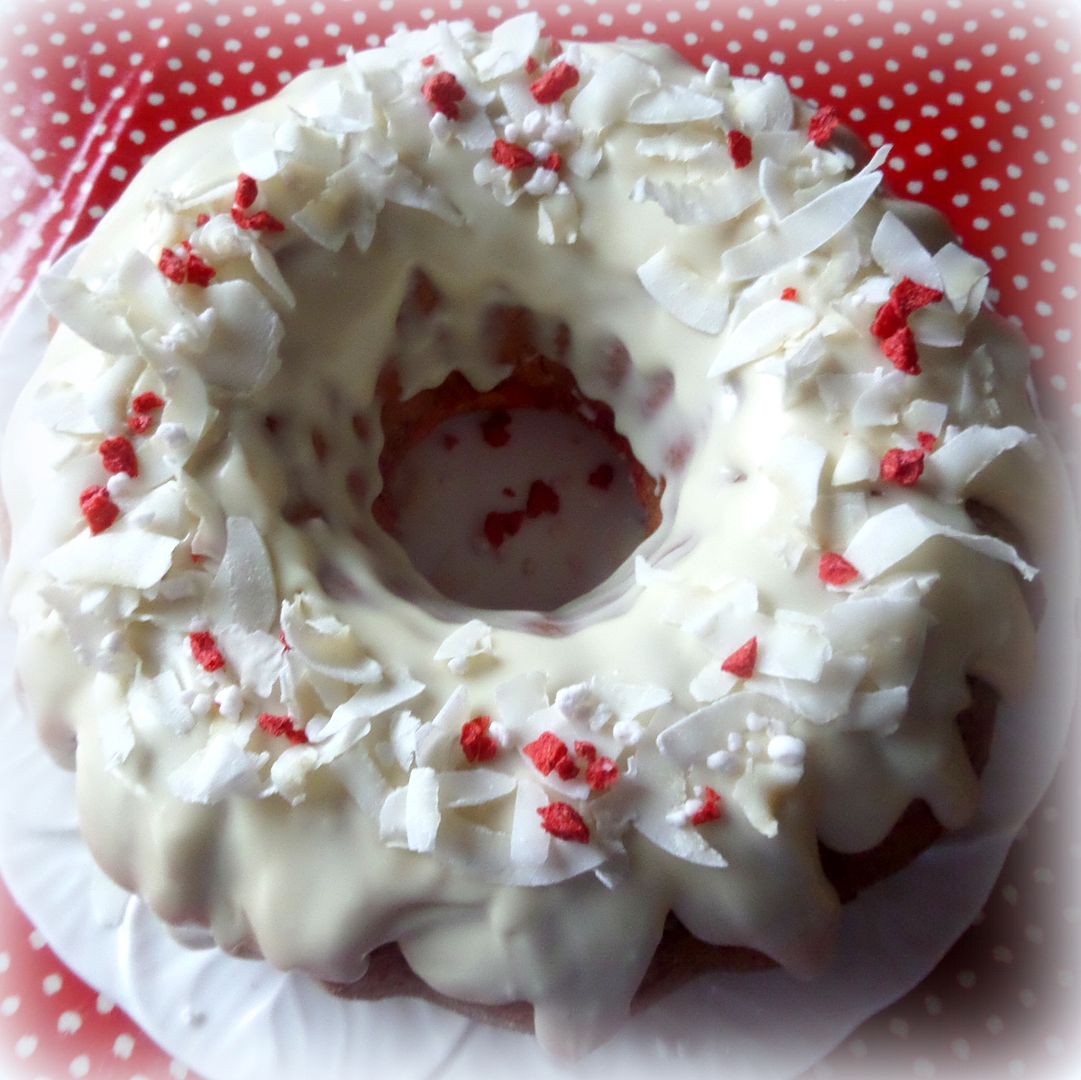 *Ruby Slipper Cake*
Makes one bundt cake, or 16 servings
I used to make a cake similar to this for my youngest daughter's birthday each year. It used a cake mix. No such thing here in the UK, so I have started making my own cake from scratch. It's a moist and delicious sour cream vanilla cake with a ribbon of strawberry running through it.
For the cake batter:
125g of butter softened (1/2 cup)
180g of sugar (I use caster but you can use granulated, 15 TBS)
2 large free range eggs, beaten
180g of plain flour, sifted ( 1 1/4 cups plus 2 tsp)
1 tsp vanilla
1 tsp baking powder
pinch salt
150g sour cream (1 1/4 cups)
1 (4-serving size) package of strawberry flavoured jelly crystals
(Strawberry Jello in North America)
To frost:
260g of icing sugar, sifted (2 cups)
1 TBS softened butter
few drops vanilla
milk
To decorate:
coconut flakes
sprinkles (I used strawberry Eton Mess ones from Dr Oetker)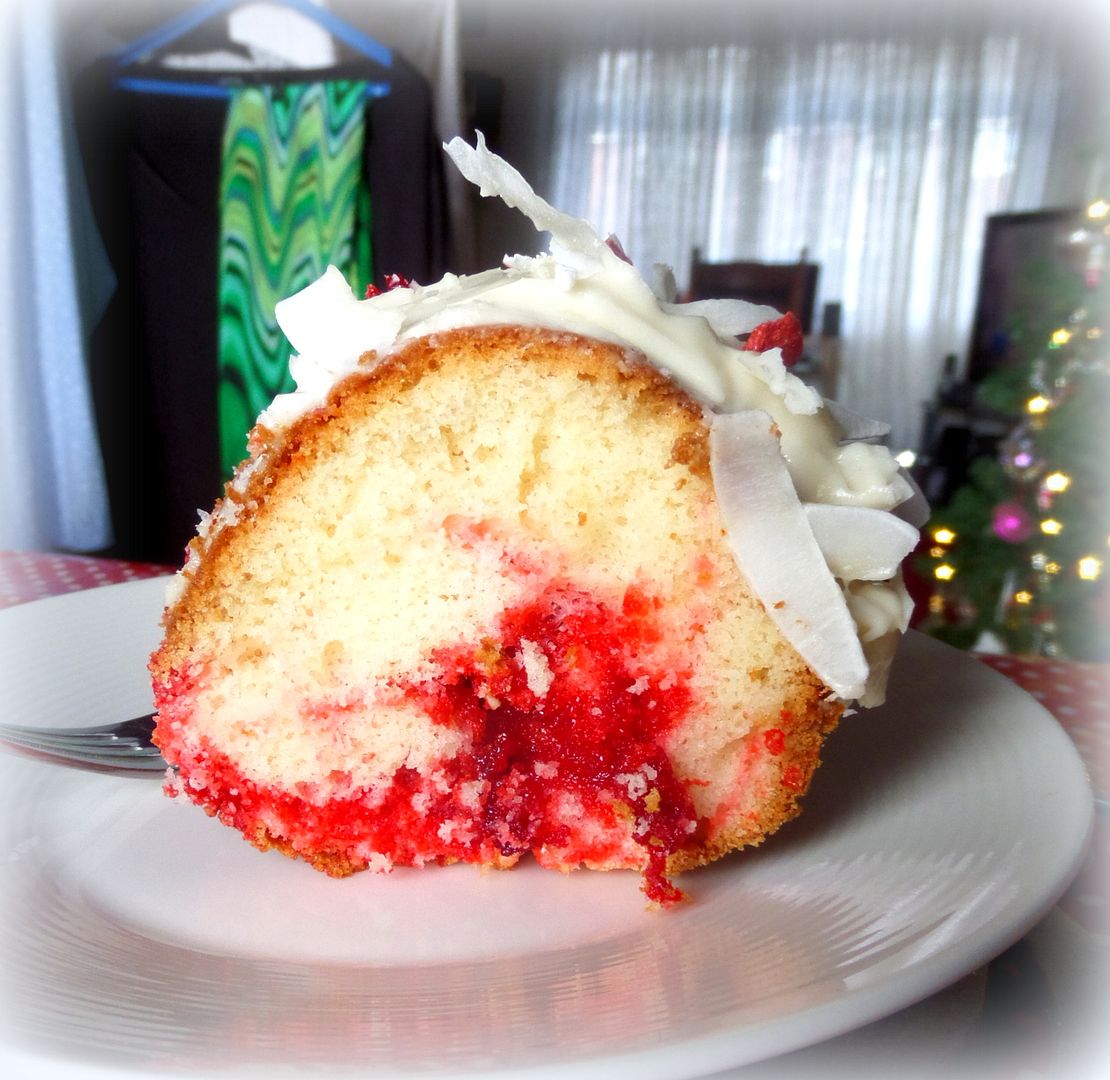 Preheat the oven to 180*C/350*F gas mark 4. Butter a bundt cake tin well and dust lightly with flour, shaking out any excess. Set aside.
Cream the butter and sugar together until light and fluffy. Beat in the eggs one at a time. Beat in the vanilla and salt. Sift together the flour and baking powder. Beat half into the creamed mixture. Add half of the sour cream. Beat in the other half of the flour. Stir in the remaining sour cream, until all are well mixed together.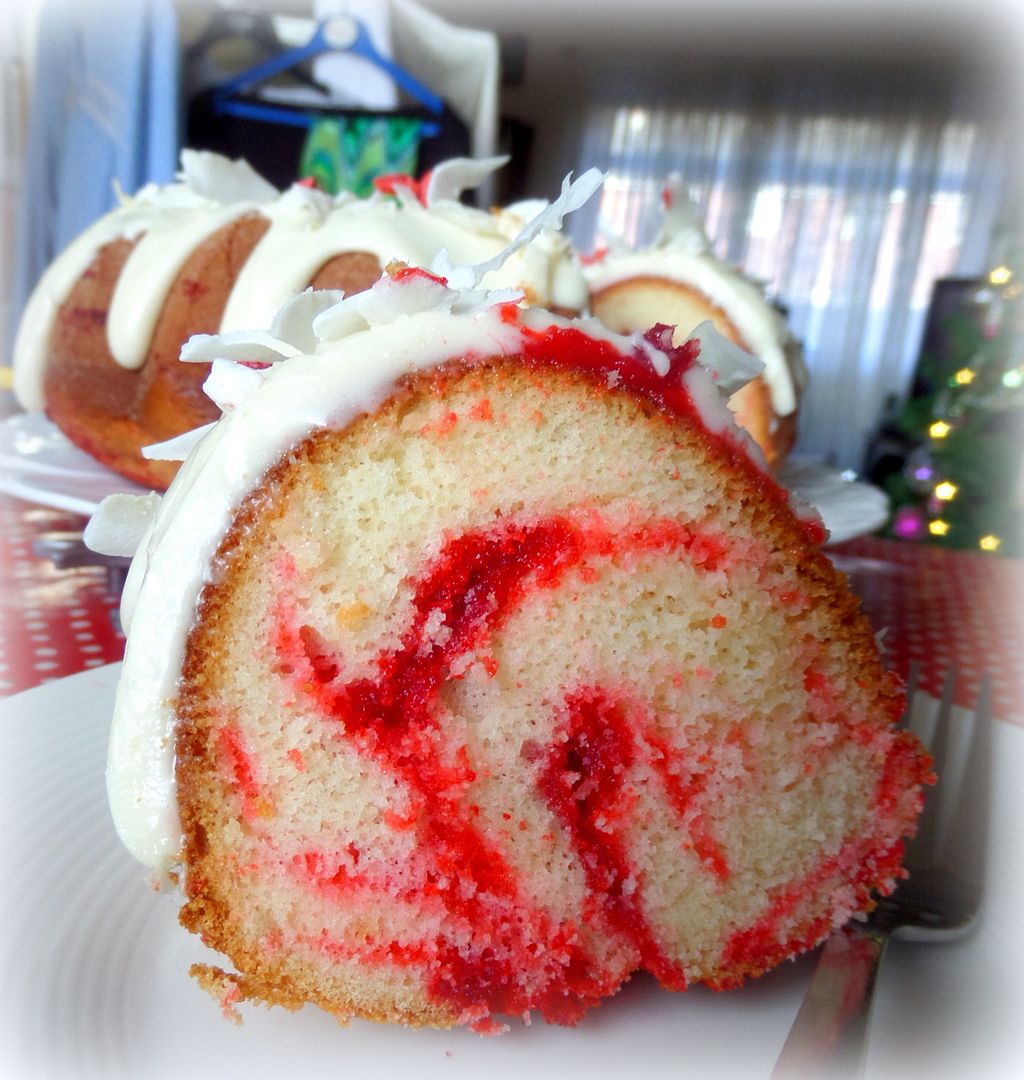 Layer 1/3 of the cake batter in the prepared tin. Sprinkle with half the jelly crystals. (Take care not to let it touch the sides.) Layer on another 1/3 of the cake batter. Sprinkle with the remaining jelly crystals. Spoon over the remaining batter. Smooth the top over. Using a skewer, gently swirl the jelly crystals a bit.
Bake in the preheated oven for 35 to 40 minutes, or until the stop springs back when lightly touched. Allow the cake to cool in the pan for five minutes before turning the cake out to cool completely.
Place the cooled cake onto a serving plate. Whisk the icing sugar together with the butter, vanilla and enough milk to give you a thick icing that will drip just a bit down the sides of the cake. Spoon it over the cake and then sprinkle the coconut flakes and sprinkles over top. Allow to set before serving.
Happy Saturday and Bon Appetit!