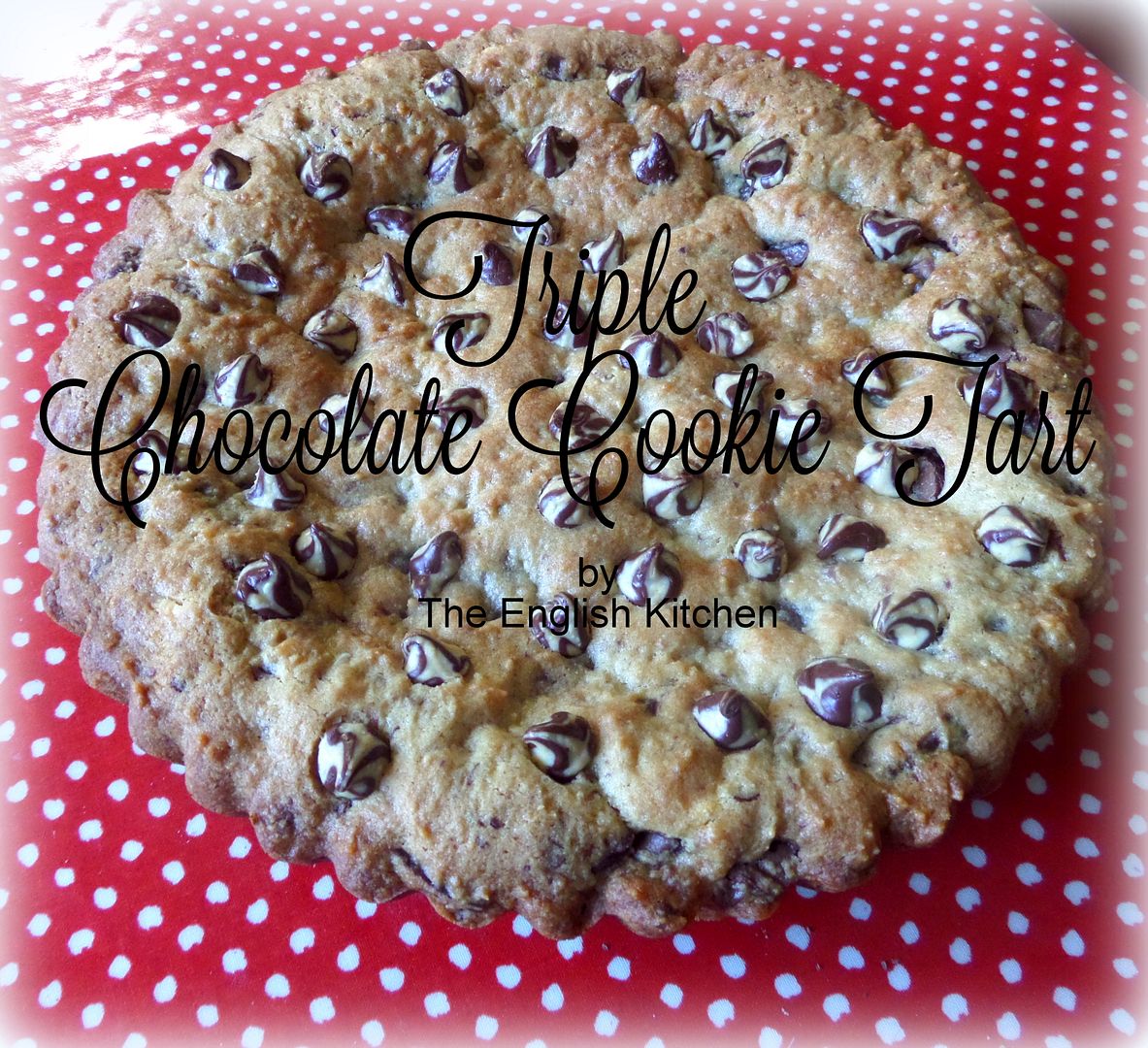 If you are looking for a simple dessert this weekend look no further. This Triple Chocolate Cookie Tart is not only delicious, but very simple and quick to make. I would actually call it fabulous and a ten out of ten on the win/win/win scale!!!
This is one your family will absolutely adore and one that you will adore also. Not only for the deliciousness of it, but for the ease of baking and clean up as well. Lazy me. I like lazy cooking and easy clean up. Suits me to a "T". I had enough of that faffing about when I worked at the Manor. Now, in my retirement, I like ease.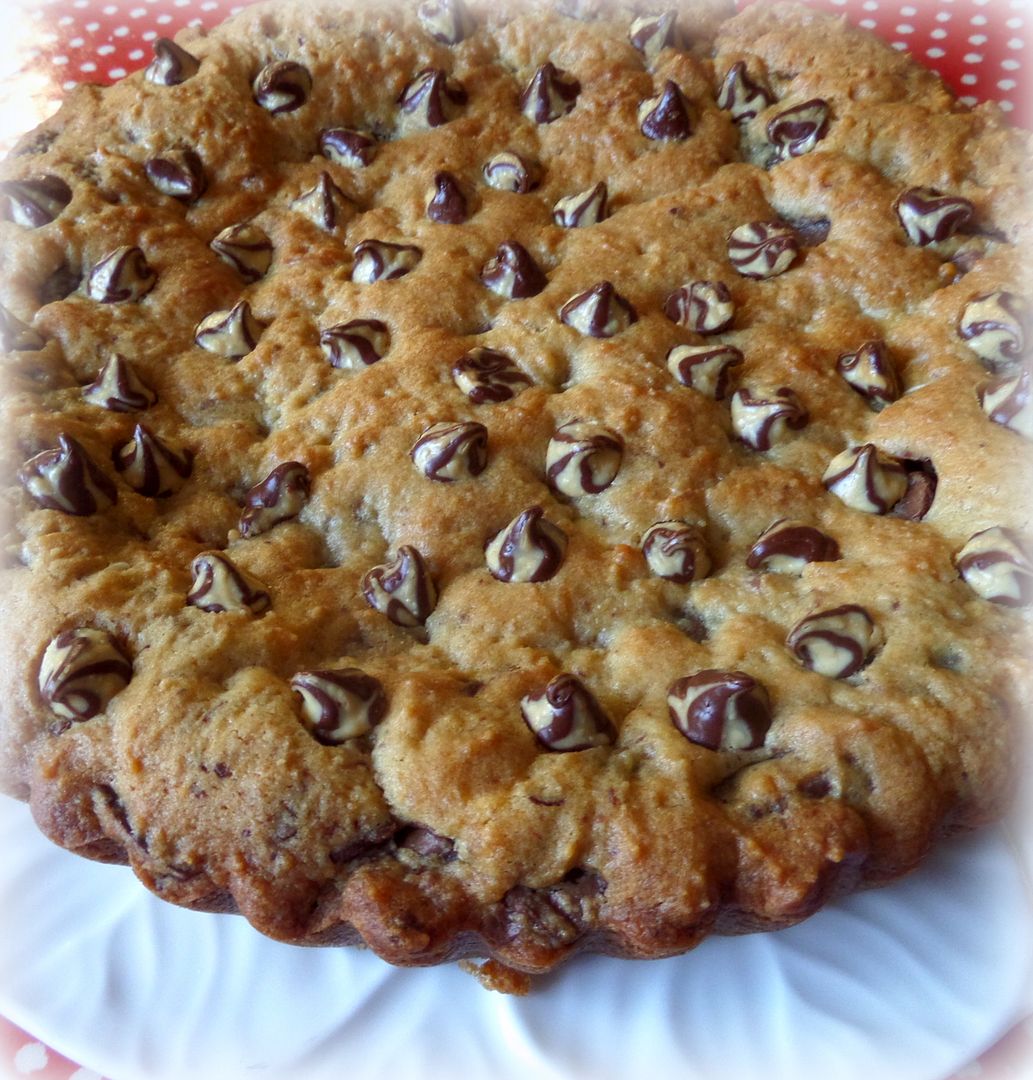 This tart is like a HUGE chocolate chip cookie. It's crisp on the outside . . . but fudgy in the centre . . . and stogged to the hilt with not one . . . not two . . . but THREE kinds of chocolate!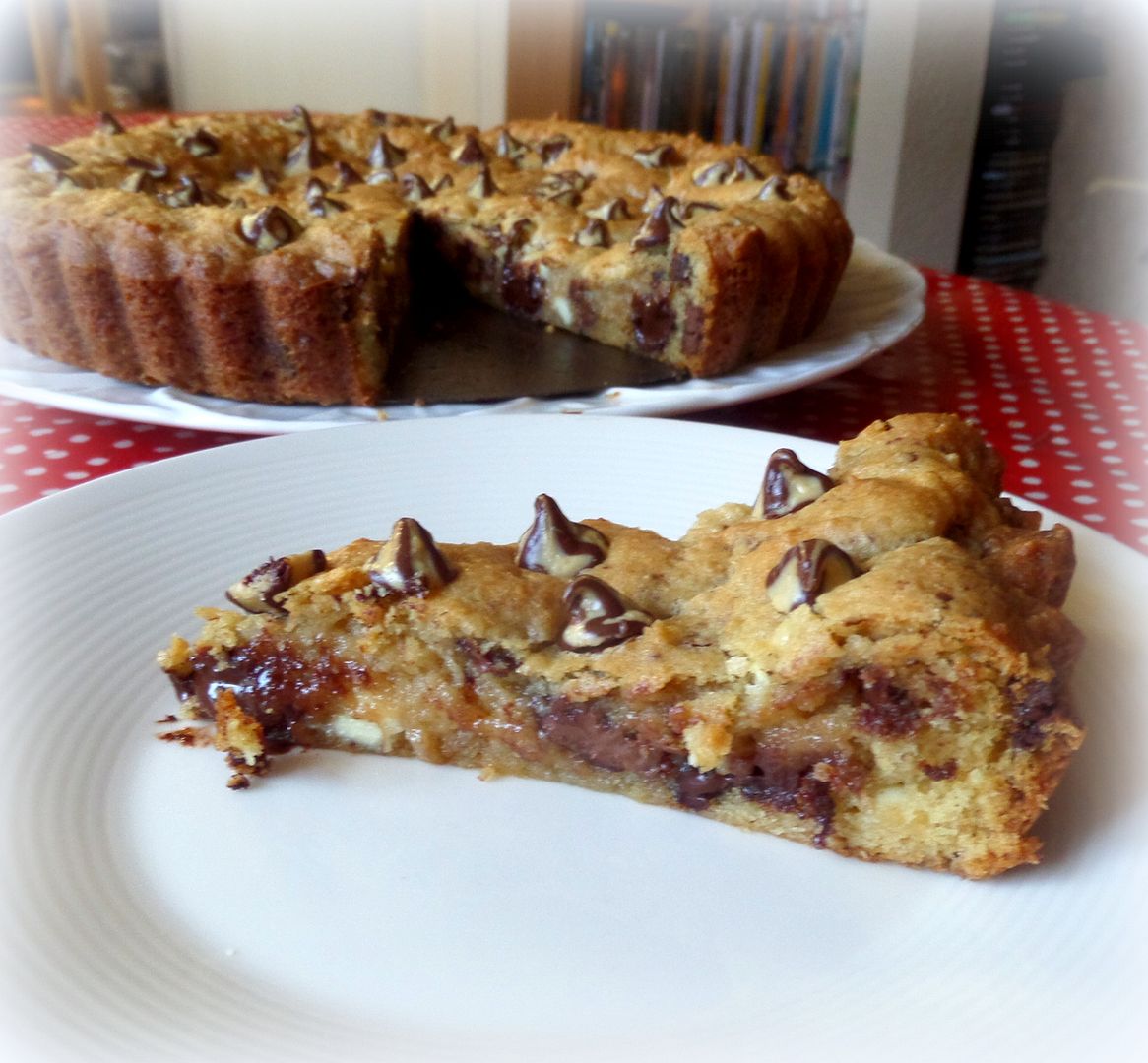 You could use chocolate chips, but I like to use real bars of chocolate and cut it into chunks. I used dark, milk and white. G O R G E O U S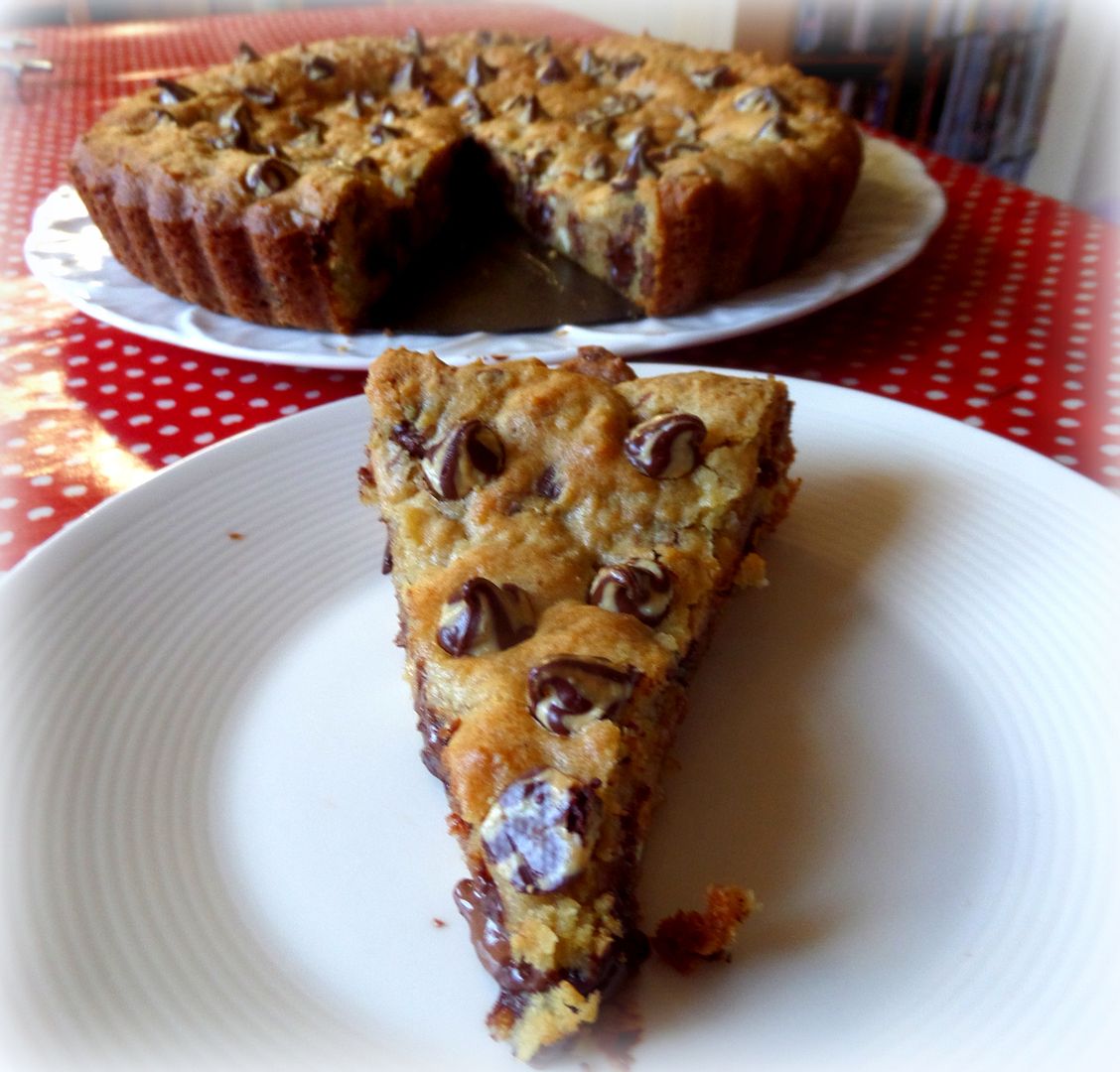 I cut myself a tiny sliver . . . and then a few minutes later I was cutting myself another sliver. I quickly had to hand it off to someone else to keep safe because I was sorely tempted to eat the whole thing! Oh what a horrible thing that would be!
This would be absolutely divine topped with a scoop of vanilla ice cream. Just sayin . . .
(I had some two tone chocolate chips which needed finishing up, just a handful. I chose to sprinkle them on top, but you can use a mix of dark and white, milk and white, or whatever you wish.)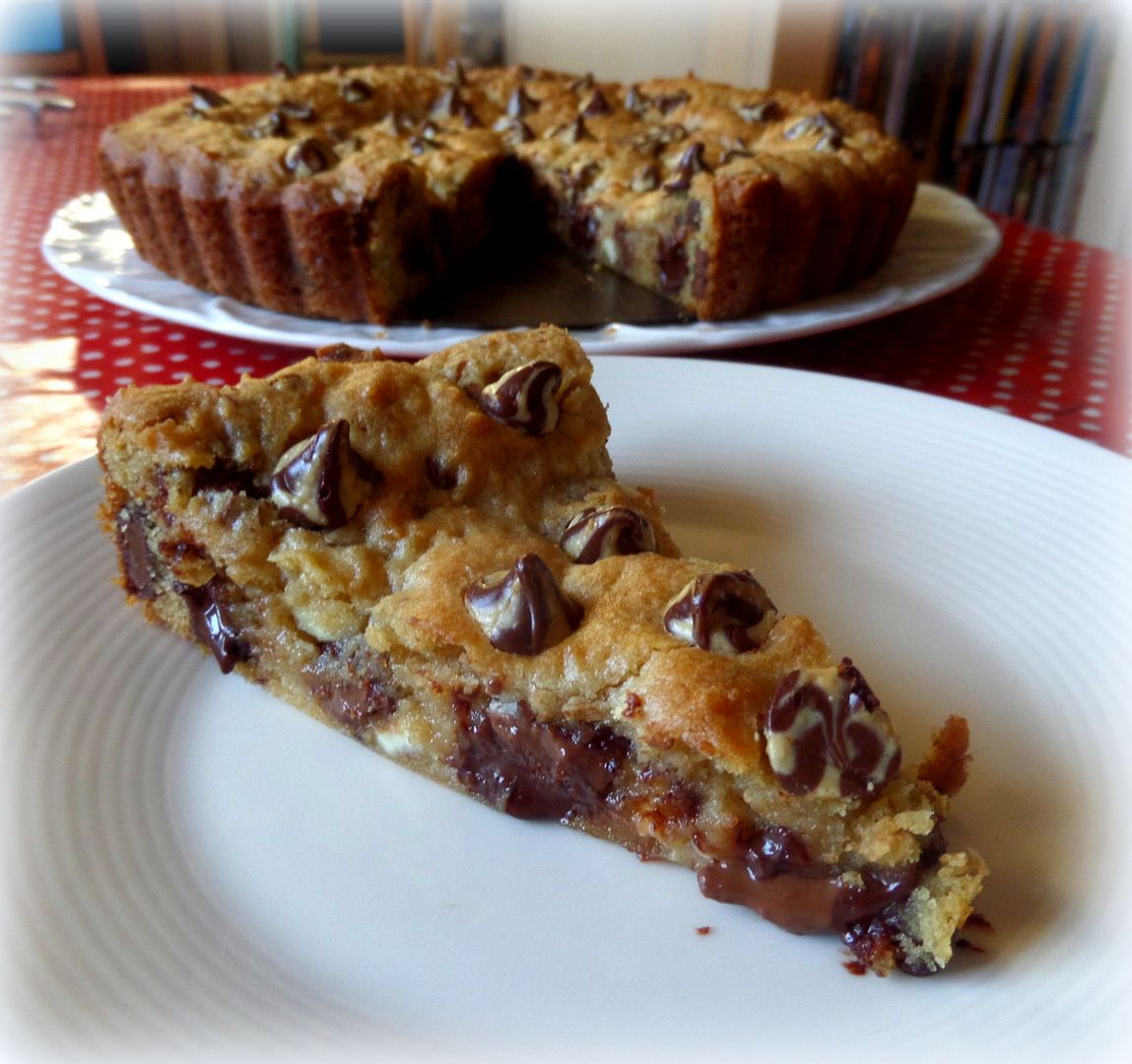 *Triple Chocolate Cookie Tart*
Serves 12
You are going to want to kill me after you taste this. It's addictively dangerous. Moist inside, crisp outside and stogged to the hilt with three kinds of chocolate.
232g of plain flour (1 2/3 cup)
1 tsp corn flour (cornstarch)
1 tsp baking soda
1/4 tsp salt
6 TBS butter, room temperature
85g of cream cheese, room temperature (3 ounces)
50g granulated sugar (1/4 cup)
110g soft light brown sugar (1/2 cup)
1 large free range egg
2 tsp vanilla extract
2 ounces dark chocolate chopped
2 ounces milk chocolate chopped
2 ounces white chocolate chopped
To top:
4 TBS mixed white and semi sweet chocolate chips
Whisk the flour, corn flour, soda and salt together in a bowl. Set aside.
Preheat the oven to 180*C.350*F/ gas mark 4. Butter a 9 inch round tart tin with a removable bottom well. Set aside.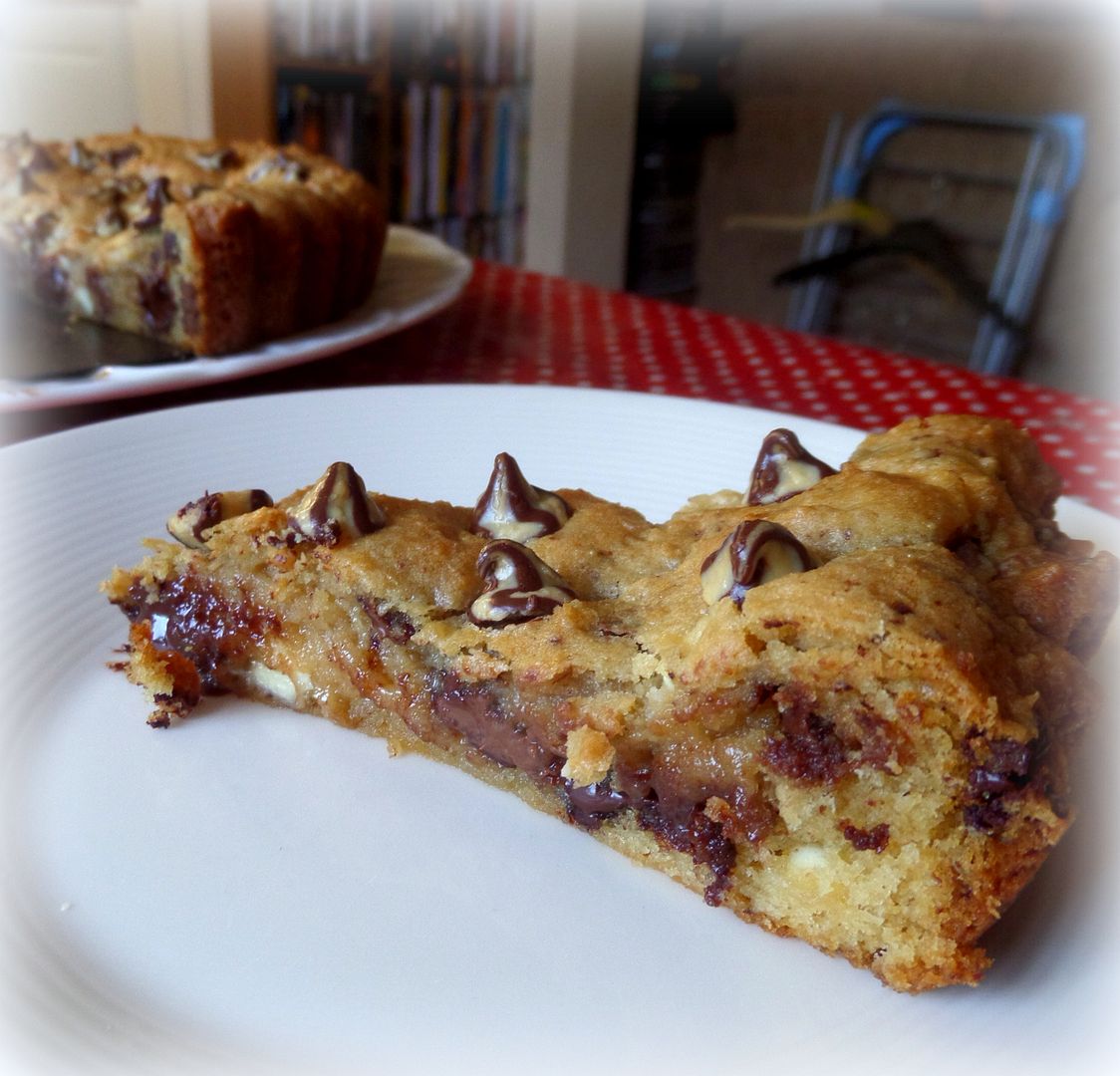 Cream together the butter and cheese until light and fluffy. Beat in both sugars, until creamy. Beat in the egg and vanilla. Slowly beat in the flour, beating just until incorporated. Stir in all the chocolate chunks. Spread in the prepared backing dish. smoothing the top over with a damp spatula. Sprinkle the chocolate chips on top.
Bake for 15 to 20 minutes, until golden brown and a toothpick inserted in the centre comes out clean. Allow to cool for 45 minutes before slicing into wedges to serve. (That's the hard part! Waiting!) Bon Appetit!