I love winter food . . . comfort food, warming and filling. Indoor food. Foods like earthy root vegetables and potatoes . . . leeks and cabbage.
Cabbage is a real favourite around here, and I'm not picky about the variety either. I love all types, although in all honesty I really had only ever eaten red or white cabbage prior to moving here to the UK.
I was incredibly naieve as to the many delicious varieties of this fabulous member of the Brassica family.
We just adore red cabbage, gently spiced . . . sweet and sour almost . . . it's absolutely lovely with pork and turkey . . . another favourite meal of ours is simply sauteed white cabbage stirred together with rice or noodles.
Simply fabulous. You can't get much better than that.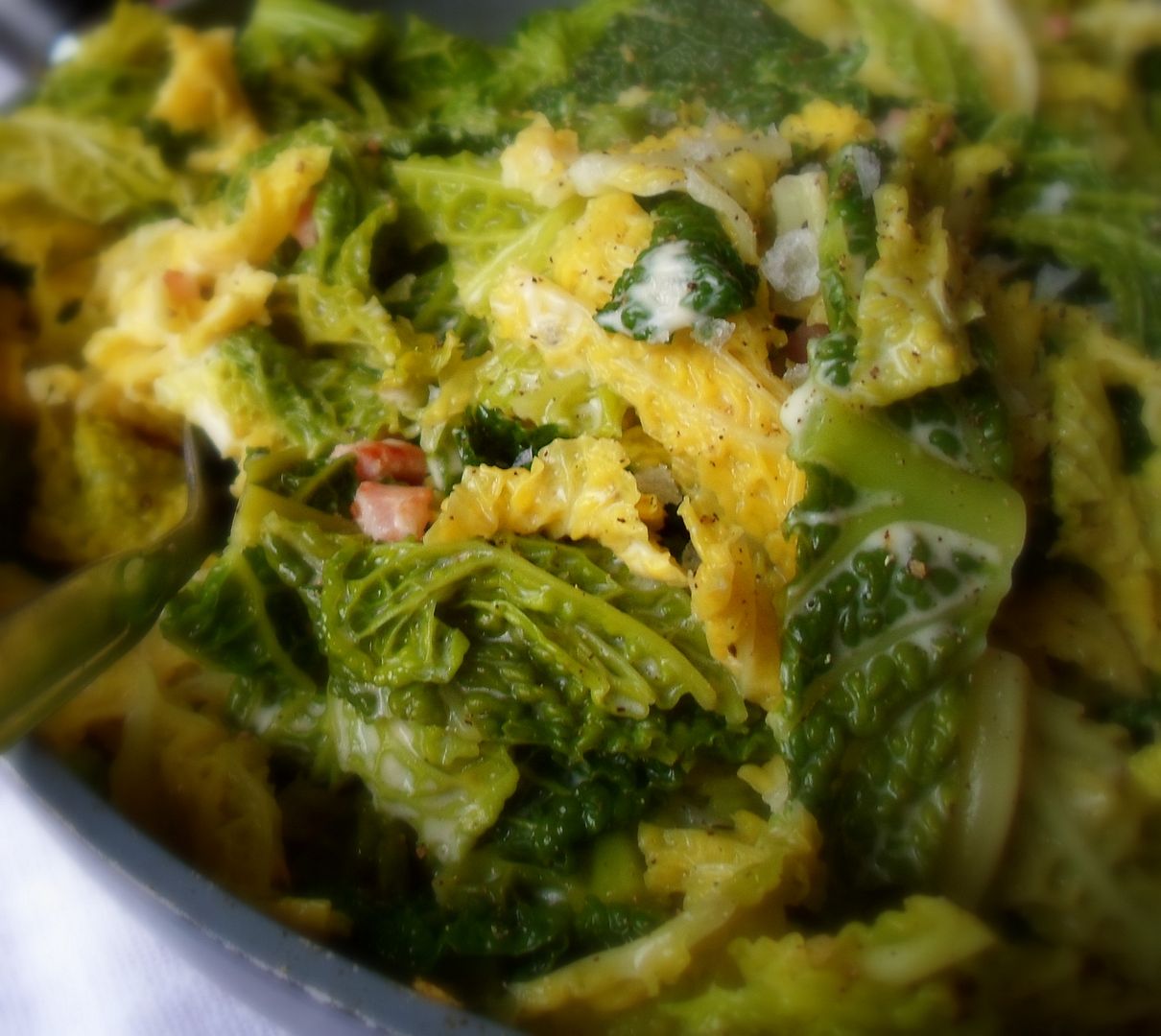 Sauteed, boiled . . . pickled, steamed . . . stewed and even raw. Cabbage is a favourite winter food in the Rayner household, full stop.
Most people make the mistake of overcooking their cabbage, and don't get me wrong . . . there is a perfect time for that . . . think stuffed cabbage here, or baked with sausage,
Trou style.
In a dish like that you want the cabbage meltingly soft . . . almost butter soft . . . but you would never use a Savoy for that . . . only a green or a white.
This recipe is the perfect way to showcase the brilliant green and earthy, jewel-like Savoy variety.
Quickly blanched, sliced and then stirred together with some sauteed pancetta with it's lovely salt and pepper flavours, beautifully herby Sage . . . and rich cream.
Each ingredient bringing out the very best of this beautifully humble vegetable.
I could eat a whole plate of nothing but this . . . but it does go particularly well with roasted chicken and potatoes.
Do cook extra potatoes so that you can enjoy the leftovers of both the cabbage the potatoes stirred together and fried in butter for a simple hash the next day.

Delicious.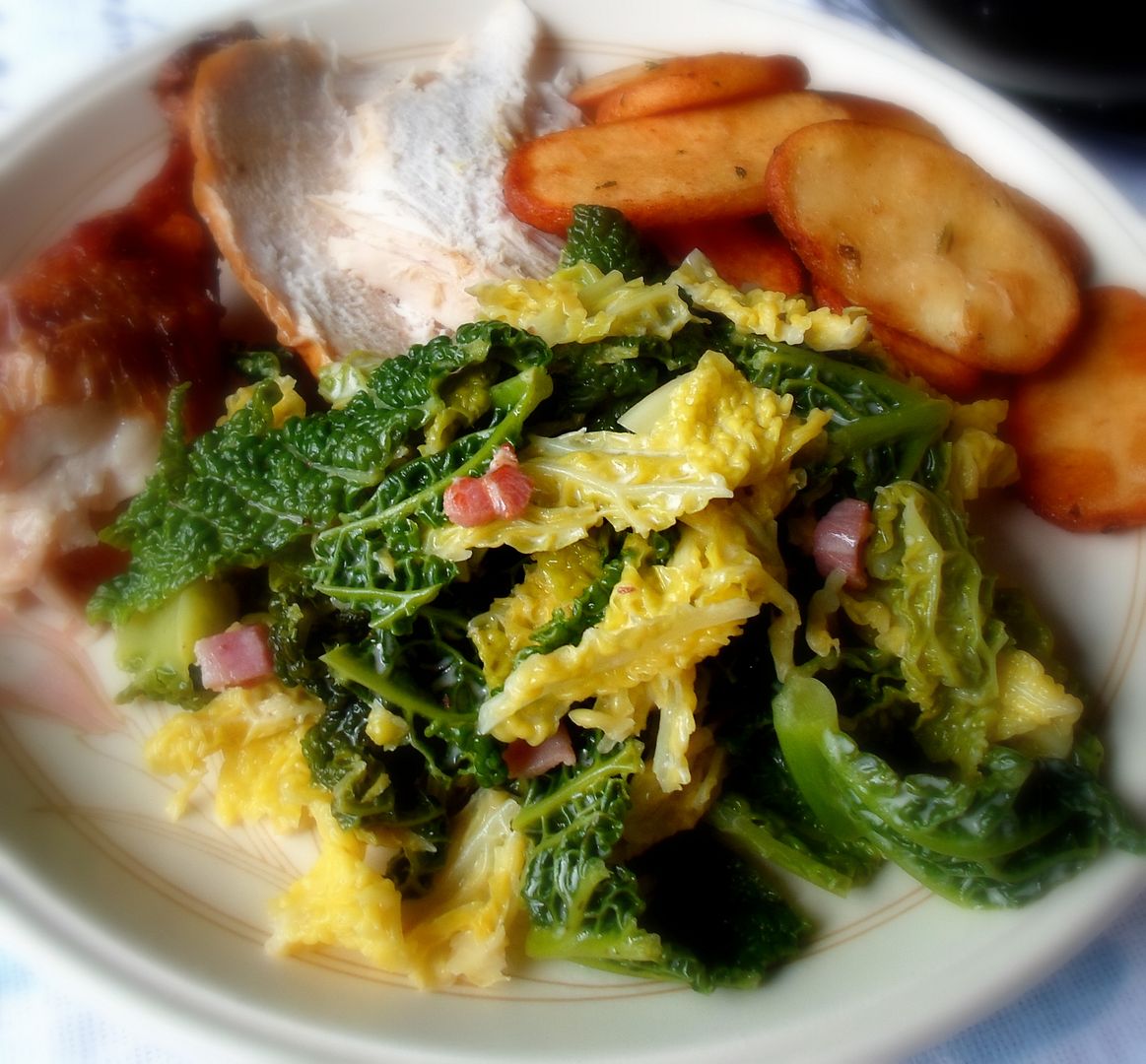 *Cabbage with Pancetta and Cream*
Serves 4
Printable Recipe
Cabbage and bacon are a marriage made in heaven . . . add some cream and you have bliss. Perfect side dish for roast chicken and potatoes.
1 large bay leaf
1 savoy cabbage (about 3 pounds)
2 TBS unsalted butter
1 TBS extra virgin olive oil
100g chopped pancetta (about 1/2 cup)
half a dozen sage leaves, thinly sliced
4 TBS creme fraiche or double cream
fine sea salt and freshly ground black pepper to taste
Bring a large saucepan of lightly salted water to the boil. Add the bay leaf, broken in half. Cut the cabbage into quarters and blanch it in the boiling water for 2 to 3 minutes. Drain well and set aside. Allow to cool until you can touch it with your hands. Cut out the cores and discard. Cut the remainder of the cabbage into thick slices, crosswise.
Heat the butter and olive oil together in a large skillet. Once the butter begins to foam add the pancetta and sage. Cook and stir over high heat for about a minute. Add the cabbage along with some salt and cook, stirring occasionally for several minutes, until heated through. Add the cream and heat through, stirring to combine completely. Season to taste with some more salt and freshly ground black pepper. Serve immediately.