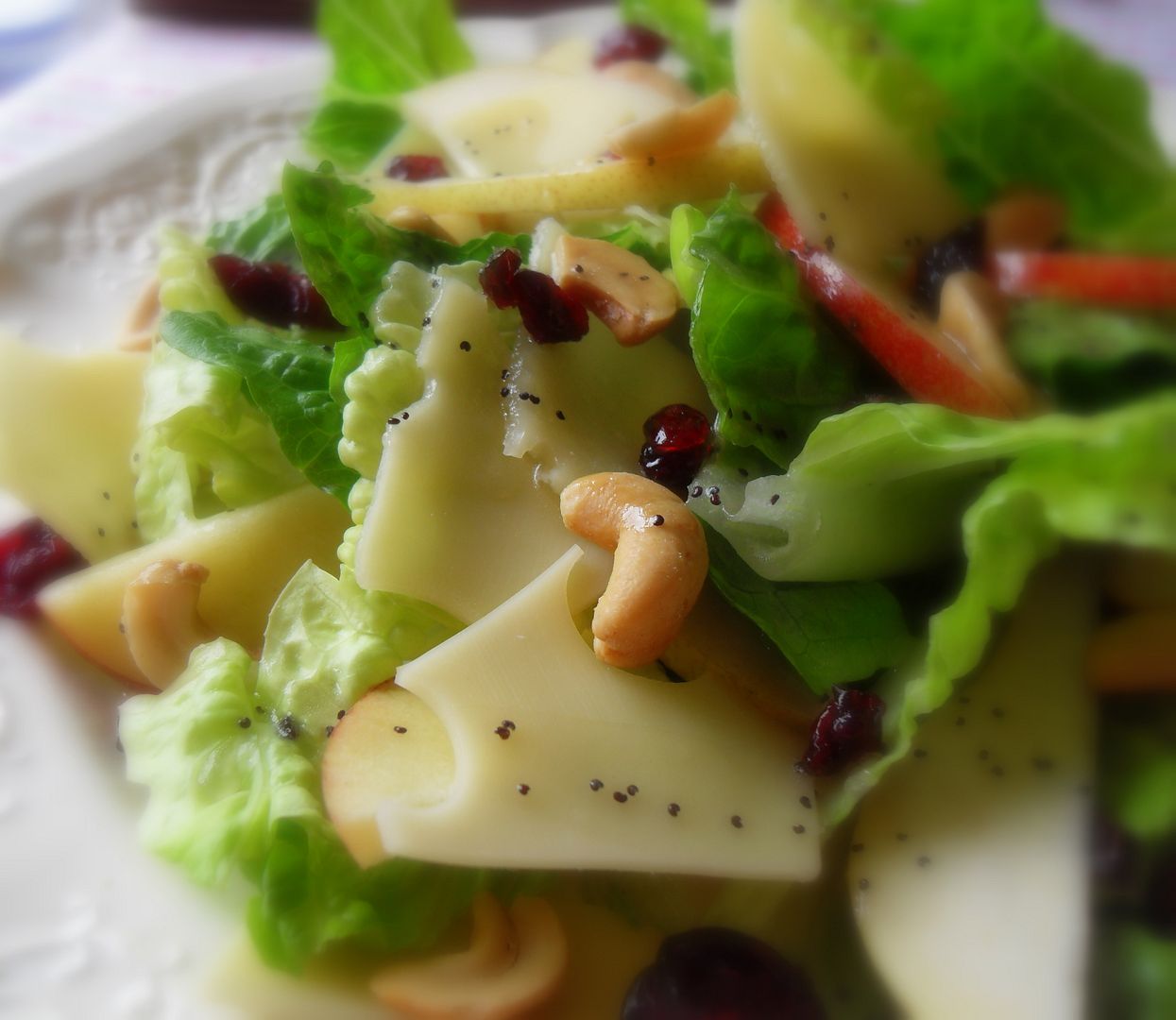 Even though it's Winter and it's cold . . . I still find myself longing for the salad days of summer . . . there are some days when stodge just doesn't cut the mustard. I want lettuce, and I want it now!
Sadly there is a bit of a shortage of lettuce (and other veg) just at the moment with all of the bad weather they have had in Spain. Thankfully I was able to get a lovely head of Cos lettuce to make this. Whew!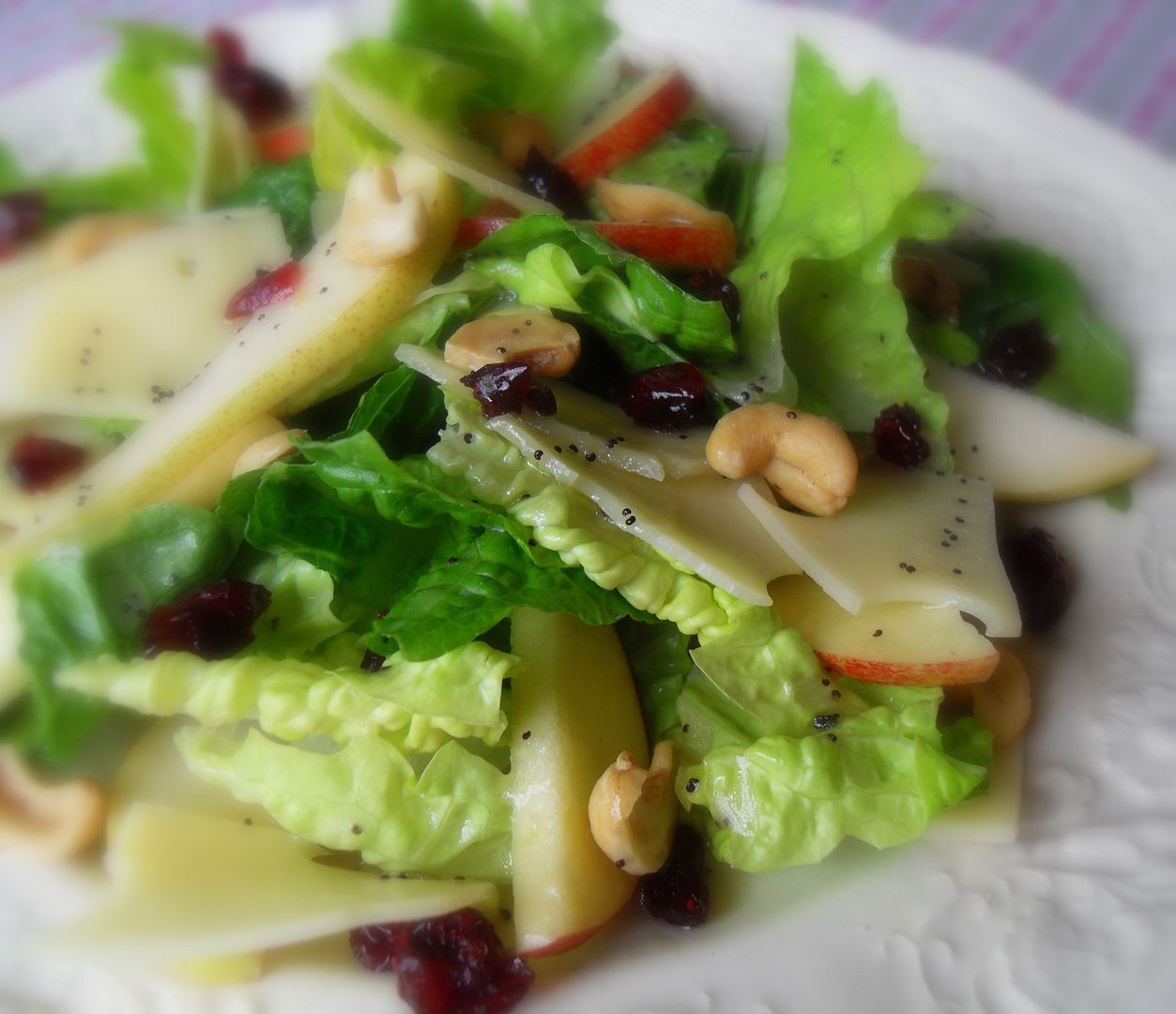 I love fresh salads made with lovely fresh tomatoes and other salad vegetables, but in truth . . . the tomatoes at this time of year are decidedly anemic looking and tasting! There is no salvaging them!!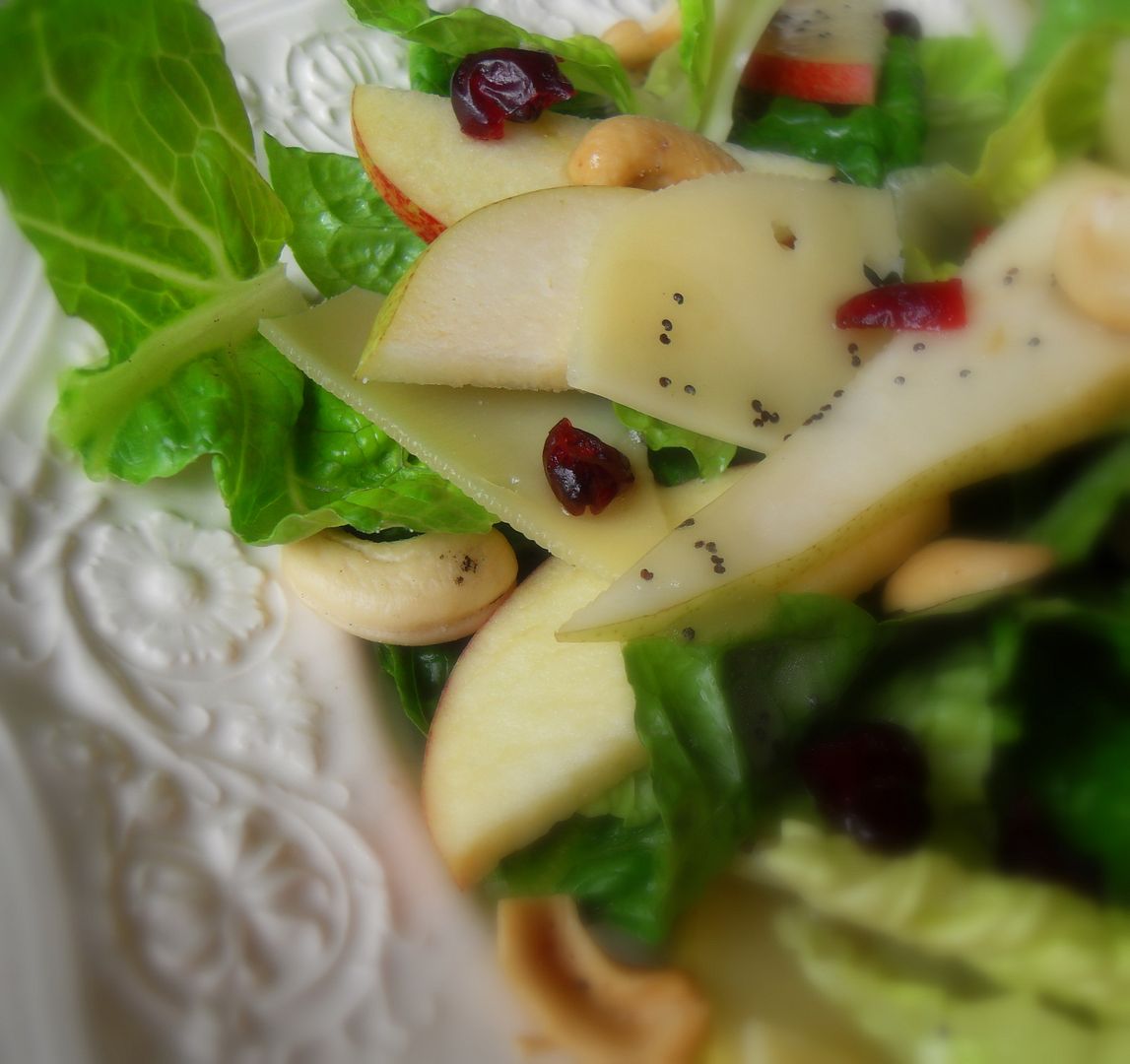 Instead, I choose to use fresh fruit. It adds beautiful colour, texture and flavours to my salad. eating apples and pears . . . the fruits of winter . . . along with some sweetly chewy dried cranberries, little jewels of colour . . .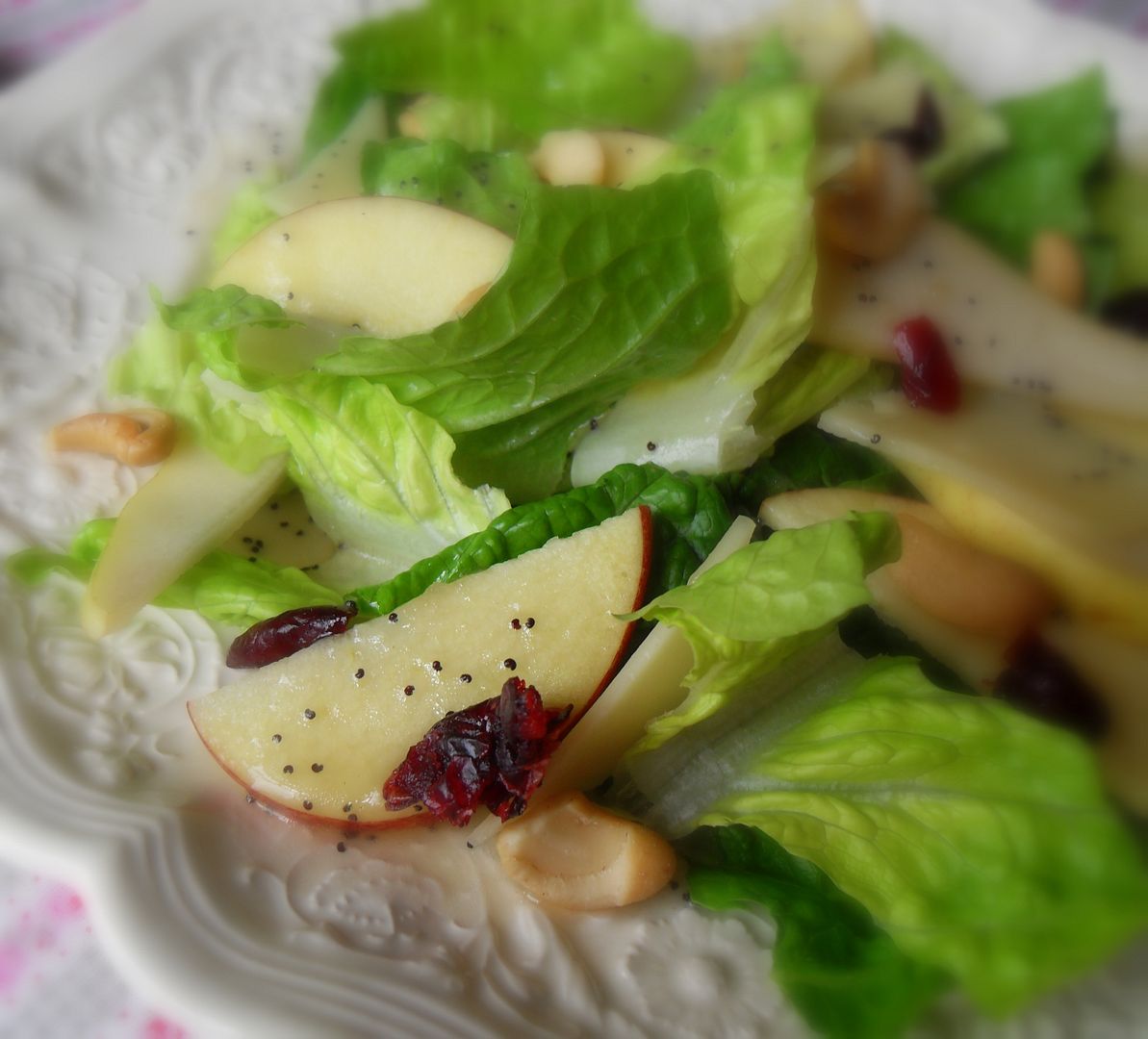 Tossed together with some lovely cos (Romaine) lettuce . . . crisp and crunchy and slightly bitter . . . just perfect with the sweetness of the fruit . . .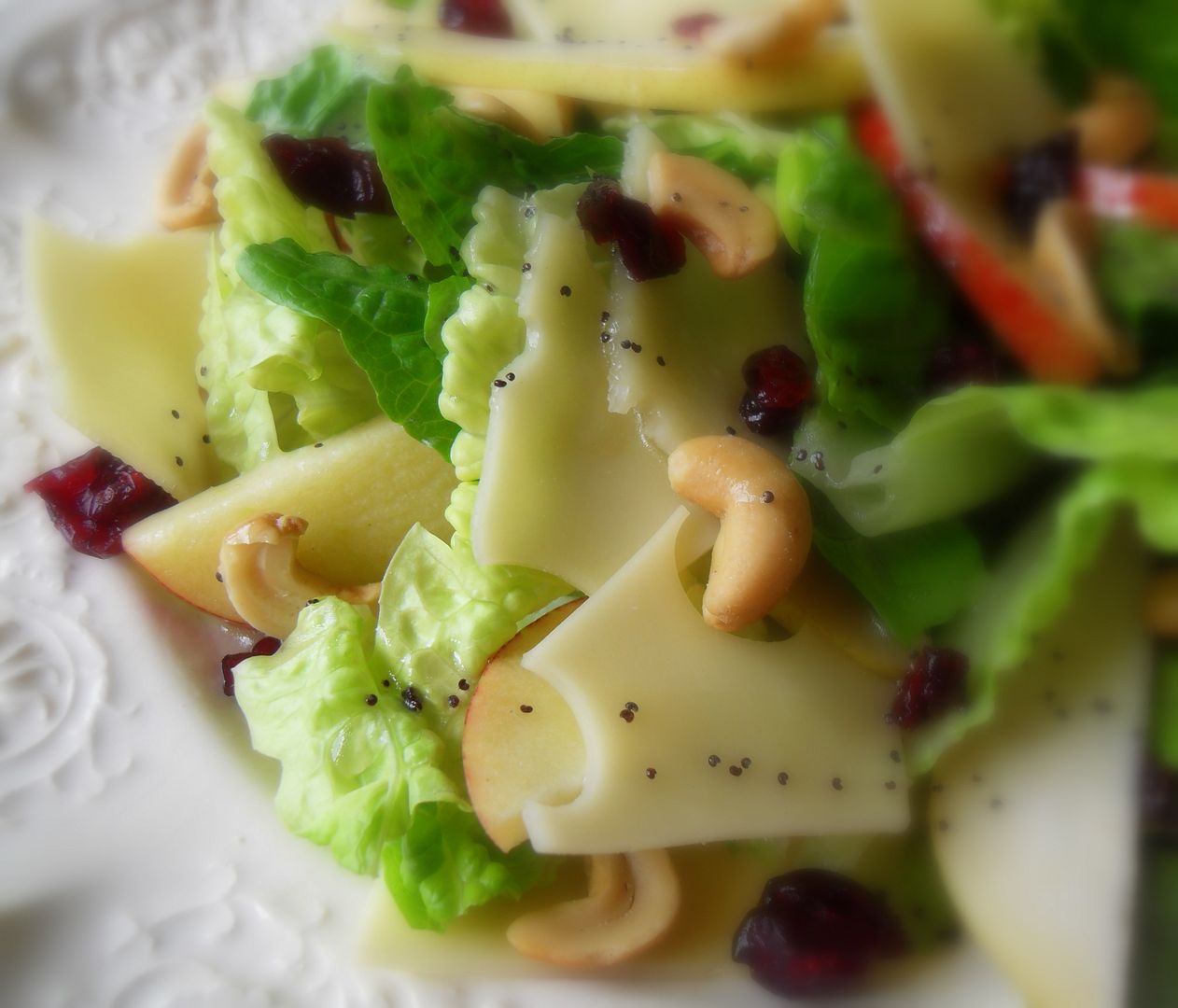 Crunchy salty roasted cashew nuts . . . Creamy sweet nutty emmenthal cheese . . .
And a sweet and sour lemon and poppy seed dressing . . . homemade of course!
You get the tartness of the lemon combined with the sweetness of sugar . . . a little bite from some grated onion and the crunch of poppy seeds.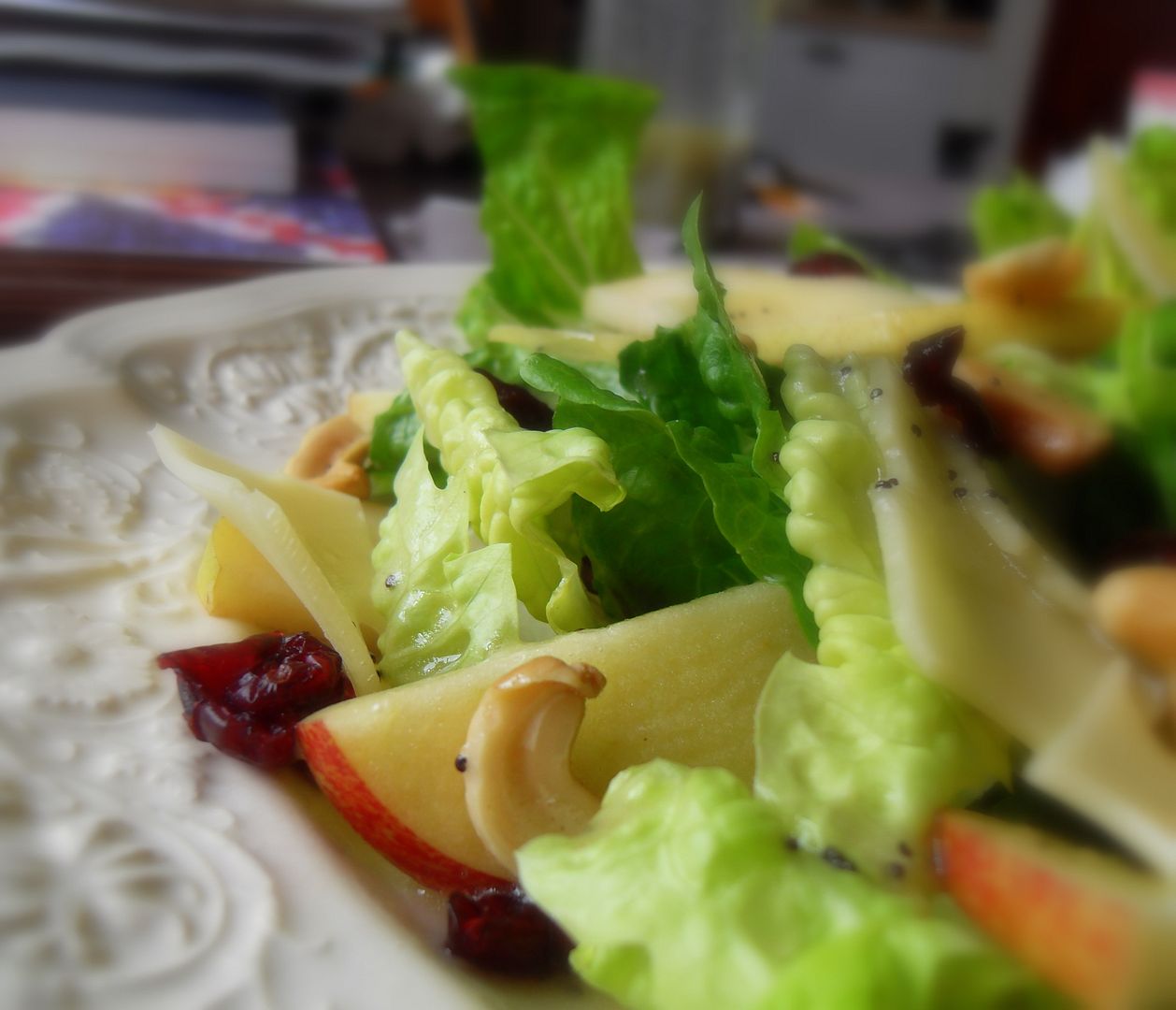 Oh, my . . . this is some good, and does the trick. I am happy . . . for now . . .
*Winter Fruit Salad with a Lemon and Poppy Seed Dressing*
Serves 6 to 8
Printable Recipe
A perfect blend of crunchy cos lettuce, sweet apples, pears and cranberries, salty cashew nuts and nutty emmenthal cheese, swathed in a tangy lemon and poppy seed dressing. Delicious!
1 pound of cos lettuce hearts, washed, dried and torn into bits
(Romaine lettuce, 16 ounces)
6 ounces emmenthal cheese, shaved with a vegetable peeler (Swiss cheese)
150g of roasted salted cashew nuts (1 cup)
75g of sweetened dried cranberries (1/2 cup)
1 large eating apple, washed, cored and thinly sliced
1 large ripe pear, washed, cored and thinly sliced
For the Dressing:
95g of white sugar (1/2 cup)
125ml fresh lemon juice (1/2 cup)
2 tsp finely grated onion
1 tsp Dijon mustard
1/2 tsp salt
150ml of salad oil (2/3 cup)
1 TBS poppy seeds
(This will make more dressing than you need, but you can store it in the refrigerator and
use it for other salads.)
To make the dressing, shake all of the dressing ingredients together in a large jar until emulsified. Set aside.
Toss the lettuce, cheese, nuts, cranberries, apple slices and pear slices together in a bowl. Divide amongst chilled serving plates. Give the dressing a good shake again and drizzle some of the dressing over the salads. Pass remaining dressing so that people can top it up as need be on their own salads.
Note - You can use an equivalent of artificial sweetener in the dressing if you like, or honey which works quite well.
Bon Appetit!