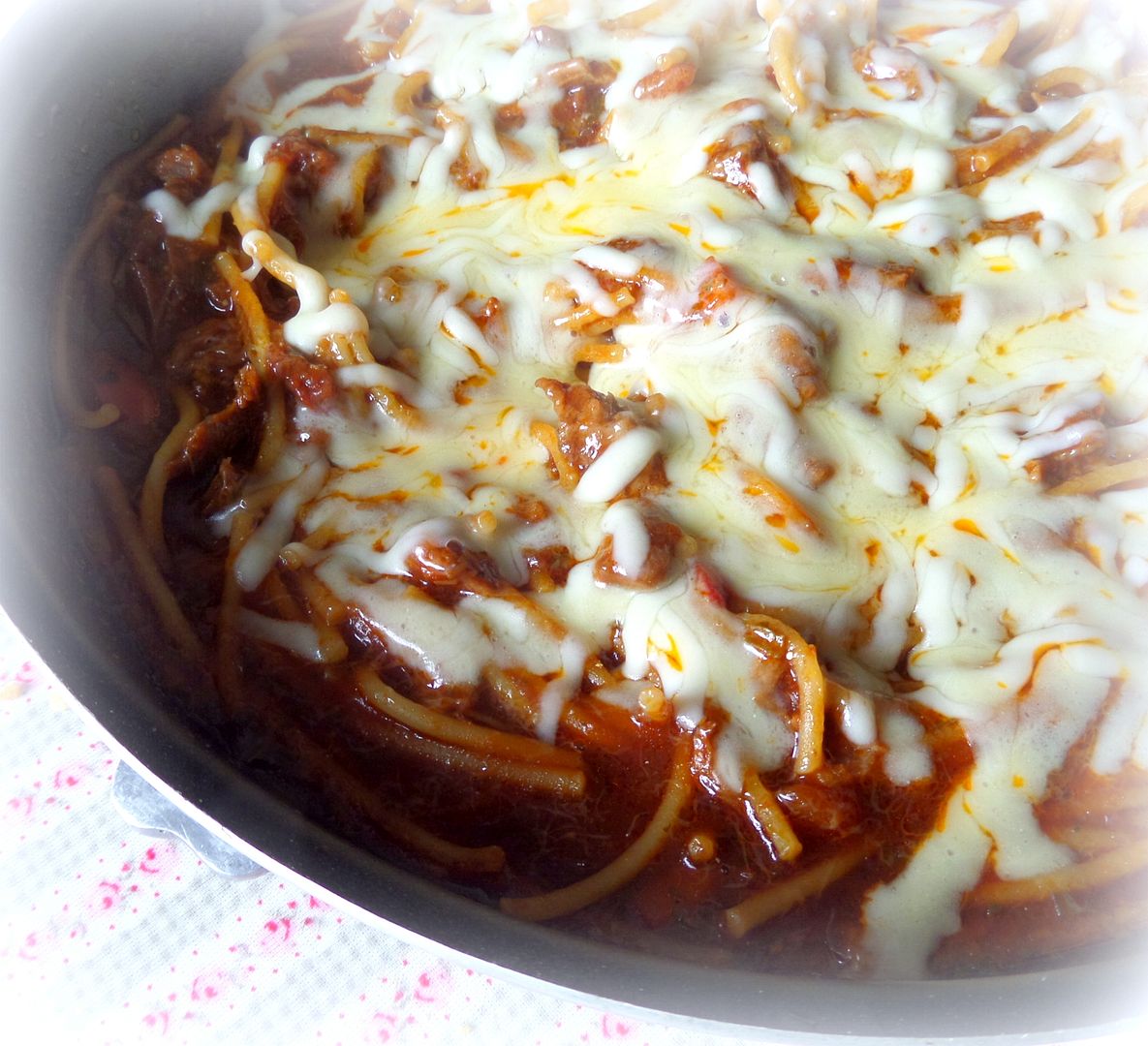 Invariably, if you are like me, the beginning of the week finds me wondering what I can do with the leftovers from the weekend roast dinner.
I do often make a hash or pot pies, and sometimes sandwiches . . . but every so often I like to shake things up a bit and do something different.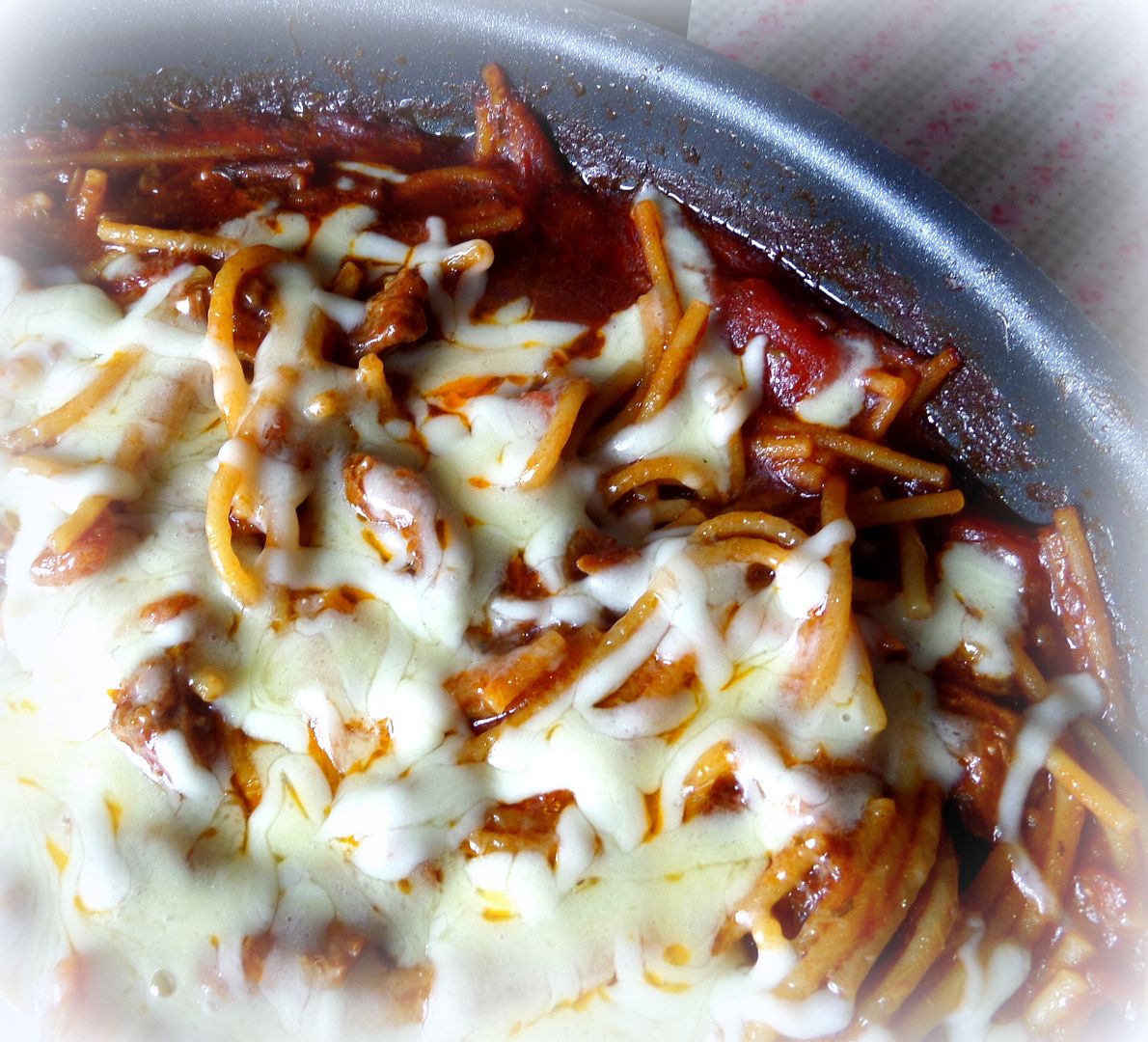 This week I had a craving for spaghetti. I know my husband
hates
dislikes pasta intensely, but this pasta loving heart of mine just has to fill the craving from time to time.
I remembered something which I used to make when my kids were growing up that they always liked. Stove Top Spaghetti dinner. And I do confess . . . I always enjoyed it too.
I often used leftover roast beef or pork in this, but you could brown some ground beef and turkey in equal amounts and use that instead.
I don't think there would be any complaints either way.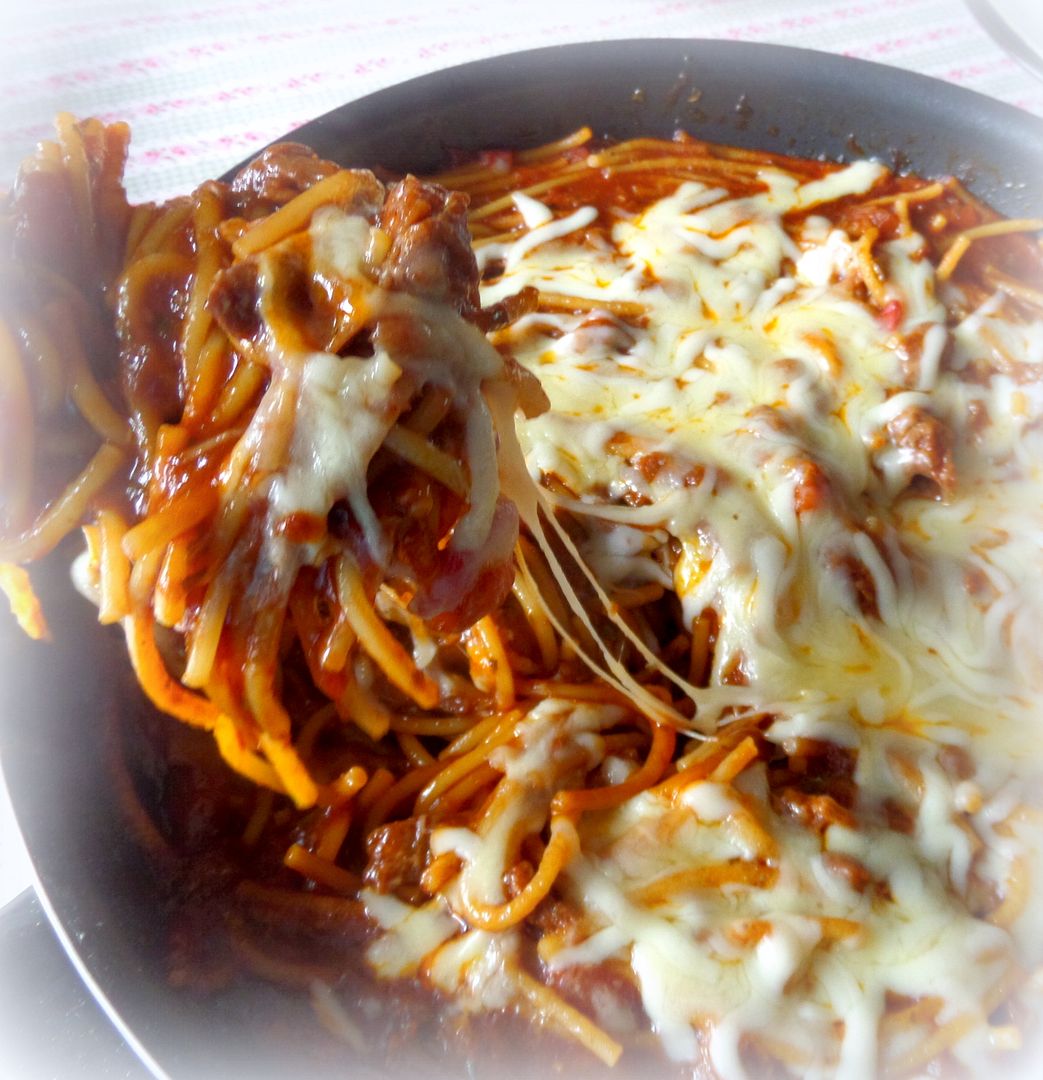 It's a delicious way of disguising leftovers in such a way that the people you are serving it to forget completely that its leftovers they are eating!
You get to use up everything. They enjoy it. Its win/win all around!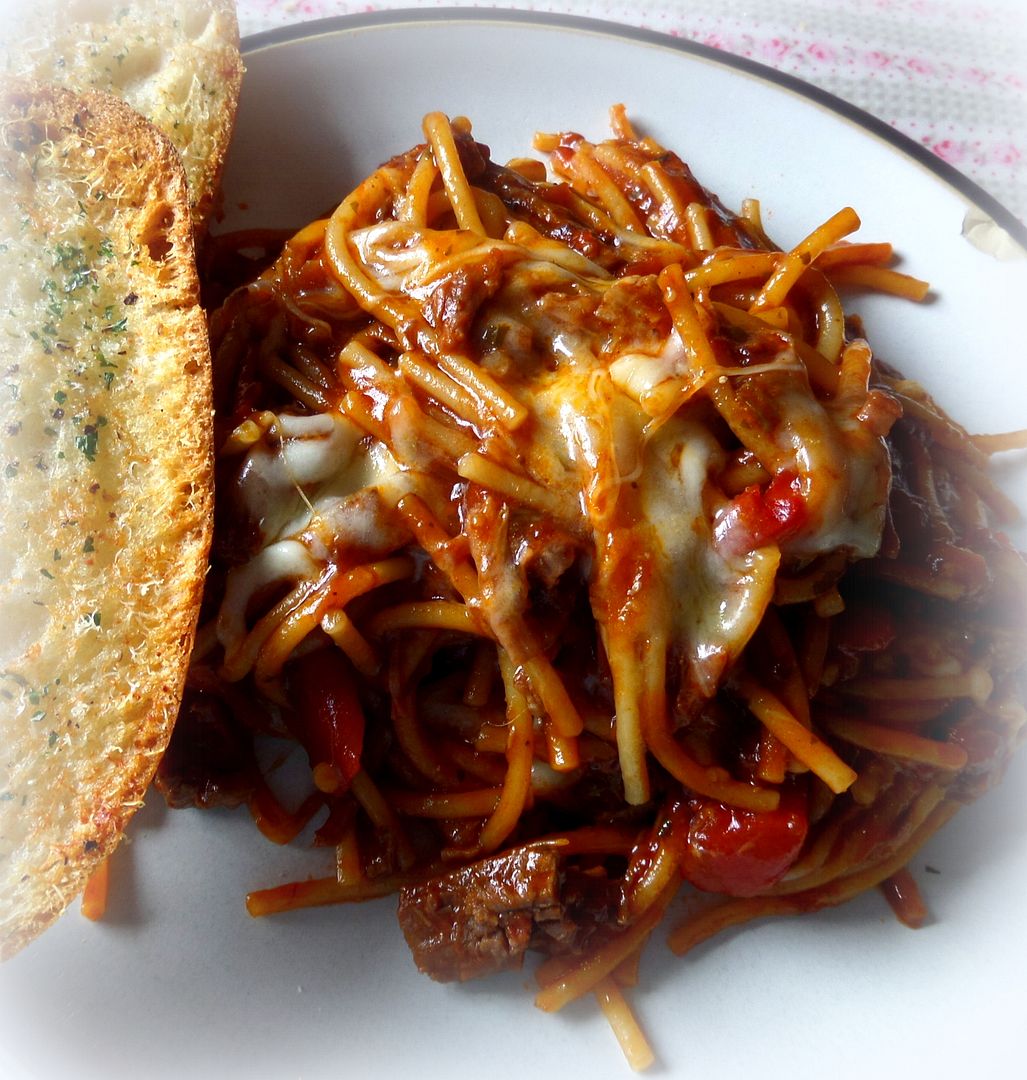 You get a delicious sauce that the pasta actually cooks in, giving it even more flavour, chock full of lovely chunks of roasted meat . . . with only one cooking dish to wash at the end of it.
Of course slathering it with lots of cheese and serving it with garlic bread also adds to the curb appeal of this economical time saving meal.
My weekdays are always super busy and if I don't have to spend a lot of time putting together supper, then that's always a bonus! A salad on the side makes this complete.
*Stove Top Spaghetti*
Serves 4


I created this to use up leftover roast beef, but you can use browned ground beef, or turkey if you wanted to instead.Makes a little go a long way and it's delicious!
335ml of beef stock (1 1/2 cups)
1 small jar of marinara sauce (1 1/2 cups)
1/2 tsp dried basil
1/2 tsp dried oregano
1/2 tsp onion powder
1/4 tsp garlic powder
salt and black pepper to taste
splash of hot pepper sauce
1 bay leaf
1/2 pound of uncooked spaghetti noodles, broken into bits
1 cup chopped leftover roast beef or browned ground beef or turkey
a handful of grated mixed mozzarella and cheddar cheese
finely grated Parmesan cheese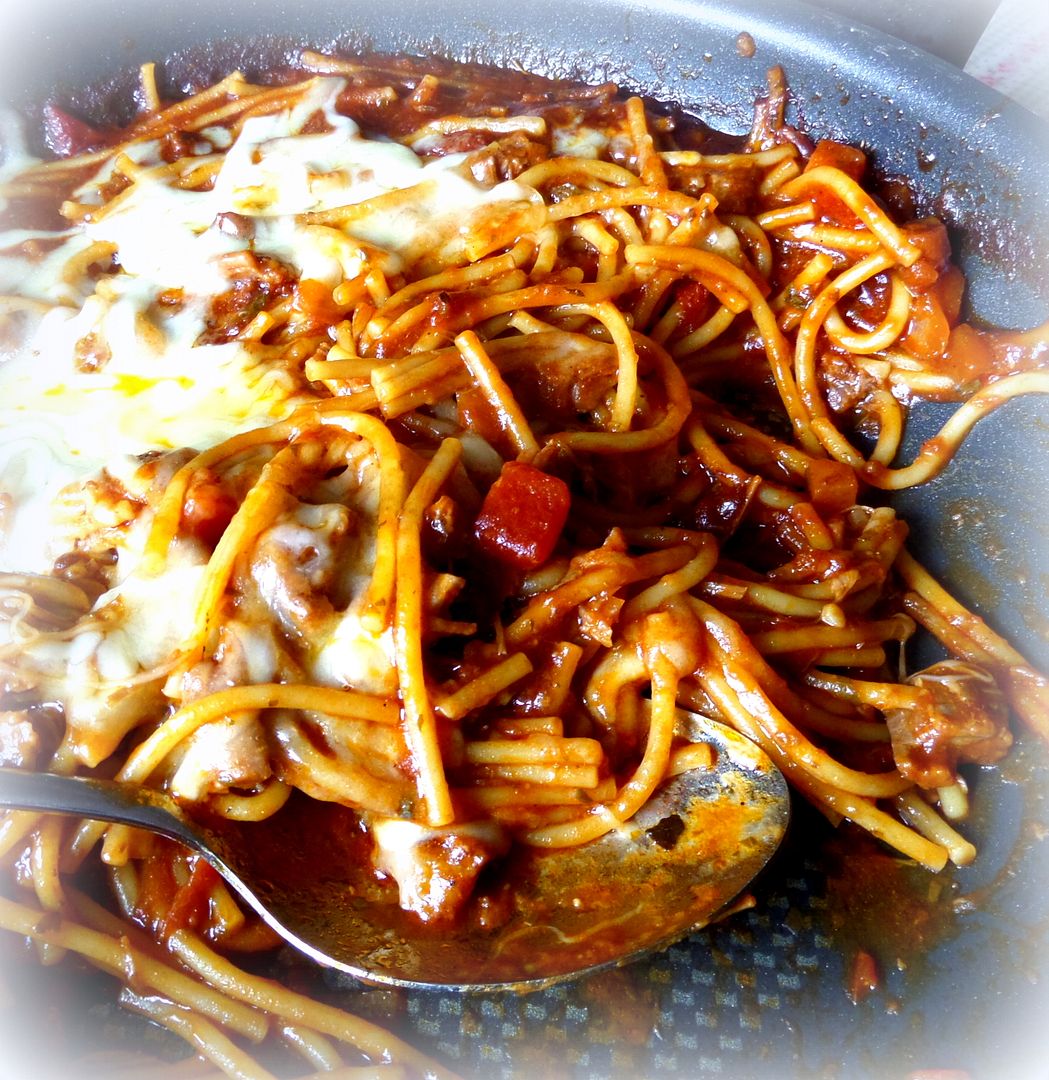 Put the beef broth and spaghetti sauce in a large skillet ong with the seasonings and the broken spaghetti. Stir to coat the pasta well.
Bring to the boil, then reduce to a simmer, cover and cook on low for about 15 minutes, stirring a couple of times. Stir in the cooked meat and cover again.
Let it cook for a further 5 minutes or so to heat through, adding a further 110ml (1/2 cup) of water if need be. Remove the pan from the stove.
Cover with the cheeses. Place lid on for another 5 minutes to melt the cheese and serve.
I am one very happy camper when I get to feed both my lust for pasta and my passion for preventing waste! When I can do both at the same time, I am an
ULTRA
happy camper. Bon Appetit!