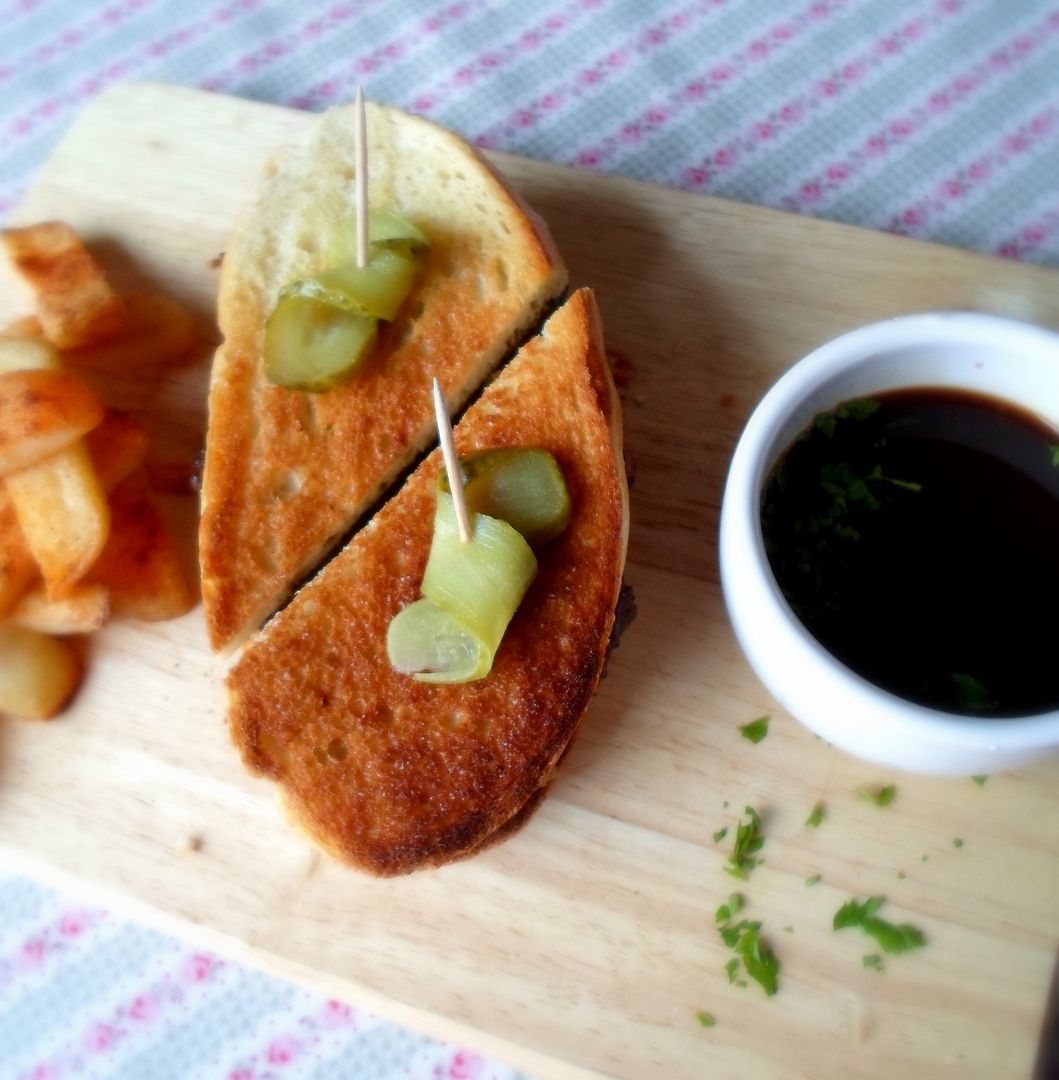 One of my favourite things has always been the Beef Dip Sandwich.
A beef dip is a sandwich composed of shaved roast beef in a toasted baguette that you dip in a hearty beef broth to eat. Scrummo! I love em!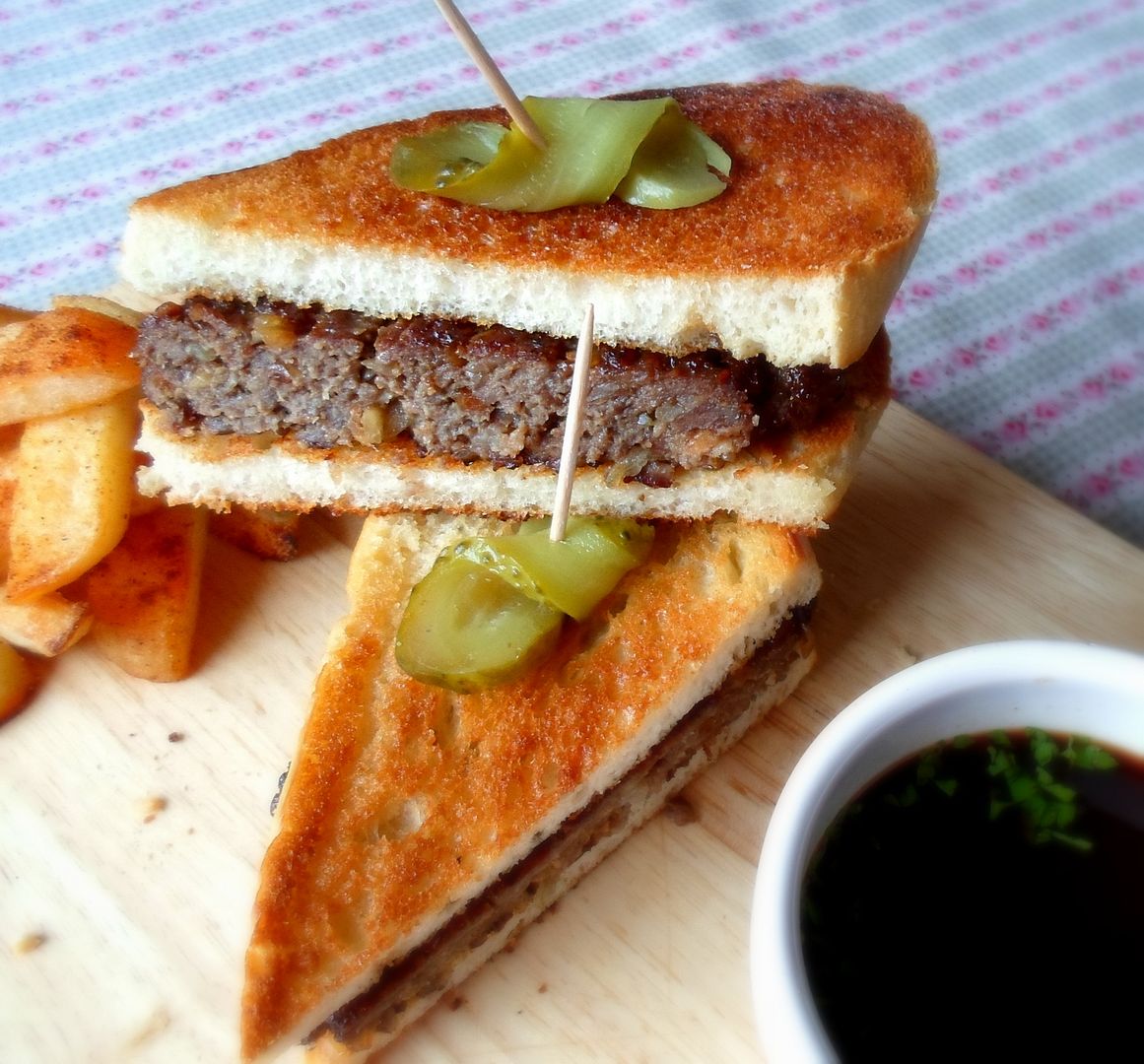 I also love a good burger . . . and really, who doesn't??
This recipe I am showing you today combine the two, with a hearty burger served up in toasted French Bread with a beef broth dip.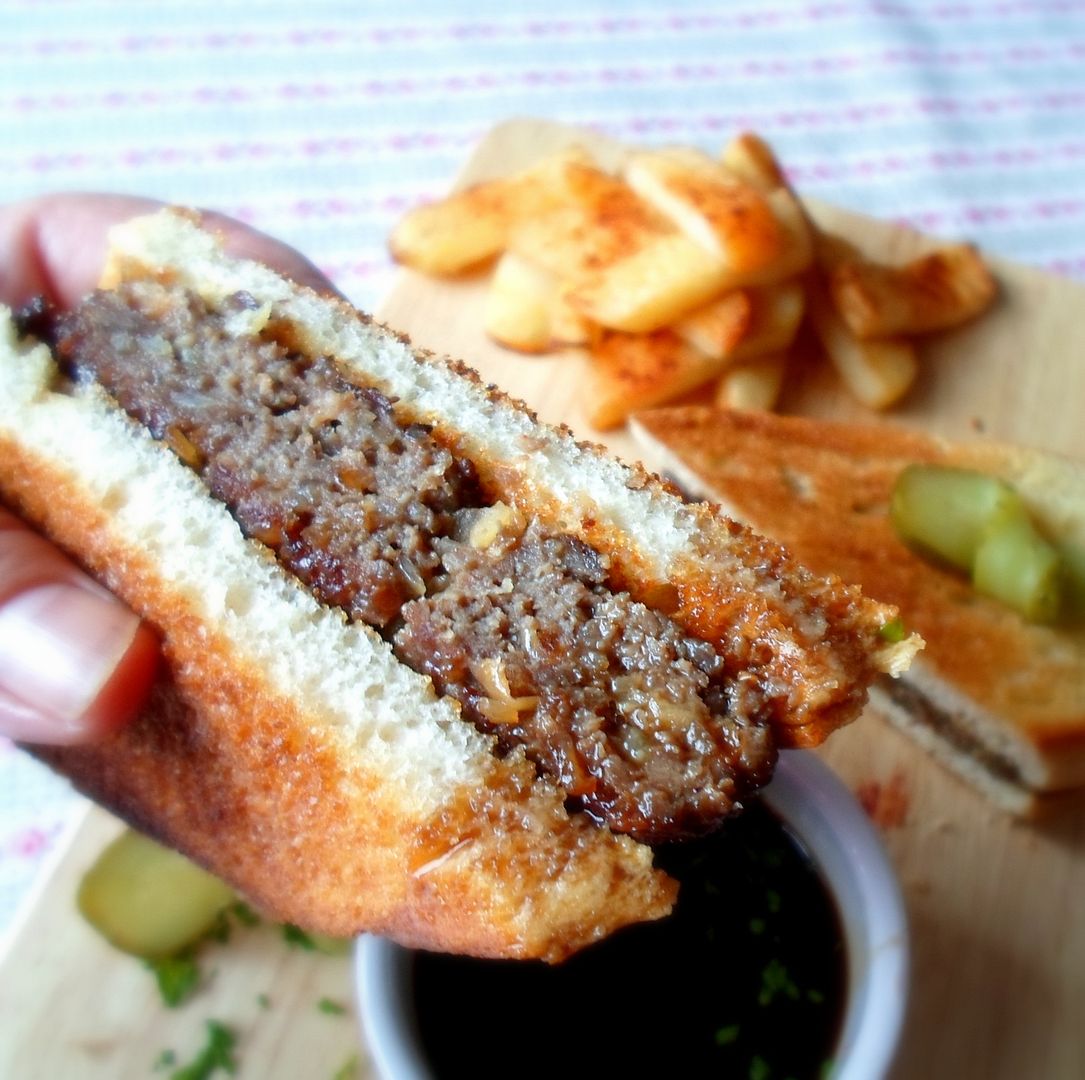 I used low salt Soy Sauce in both the meat mix for the burger and in the broth for the dip. I like to try to cut back the salt in our diets as much as possible.
You can by all means use regular soy sauce. It is quite delicious either way.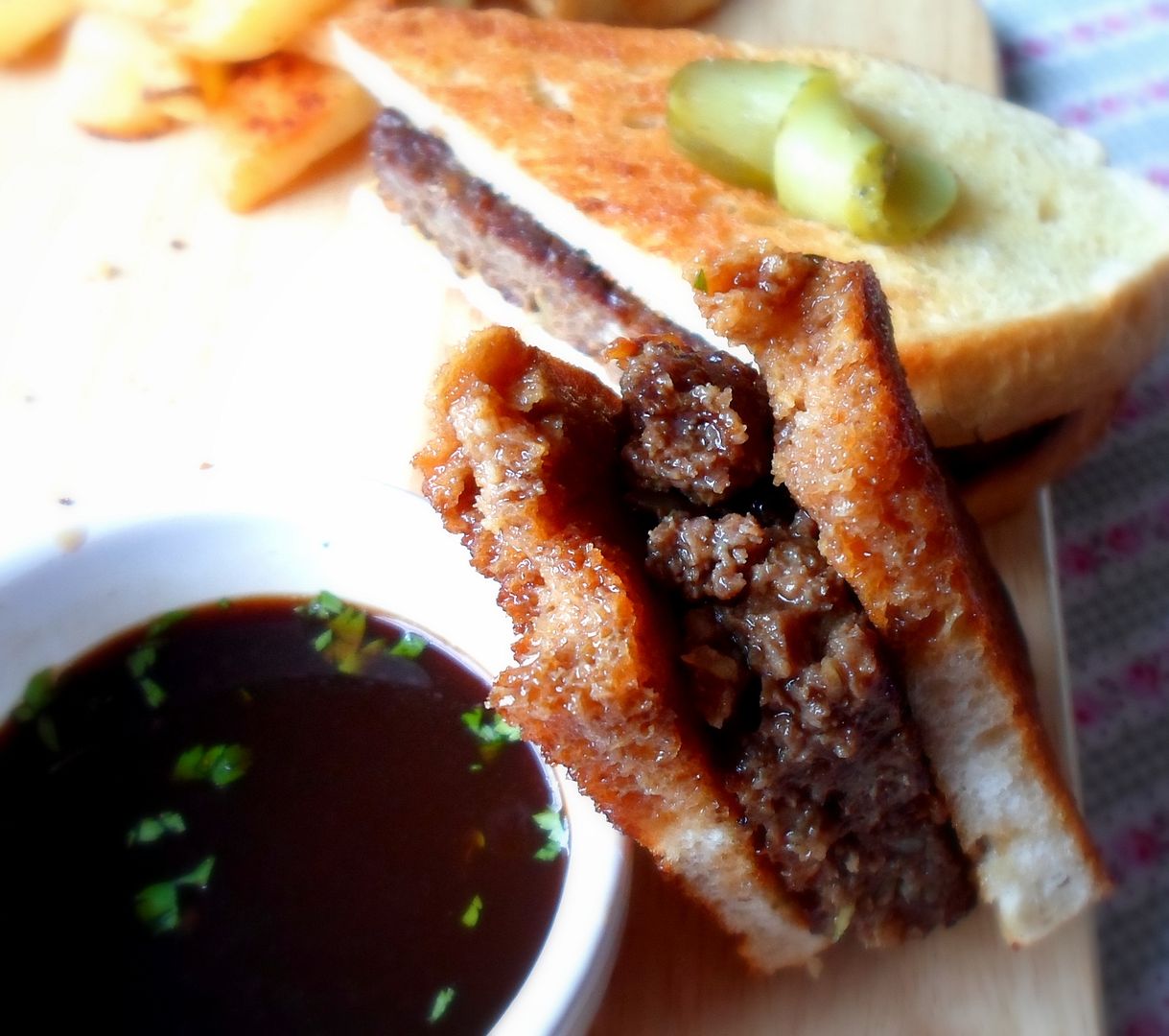 This is not complicated in the least and very easy to make. Its also quick
AND
economical!!!! This is not a budget buster by any stretch.
I do use extra lean ground steak which is a bit more pricey than hamburger would be, but then I don't have to pour half of it away in fat and grease.
If you can toast bread and grill burgers, then you can do this!
Hearty, filling, economical and easy. A real family pleaser. What more could you ask for!
*French Dip Burgers*
Serves 4
1 package of dry onion soup mix (If you can't get the family sized packet, use three single
serving size packets)
1/2 tsp ground black pepper or to taste
2 cloves of garlic, peeled and crushed
2 TBS soy sauce
1 pound of extra lean minced steak
8 (1/2 inch thick) pieces of French Bread, sliced on the diagonal
softened butter

For the Dip:
250ml of boiling water (1 1/4 cups)
1 beef stock pot
1 TBS low salt soy sauce
cracked black pepper to taste
chopped fresh parsley and sliced dill pickles for garnish (optional)
Heat the grill or broiler in your oven to high. Combine the water, stock pot, soy sauce and pepper in a small saucepan. Bring to the boil, then keep warm at a low simmer until you are ready to eat.
In a medium bowl, combine the minced steak, soup mix, soy sauce, garlic and black pepper. Mix together well and then divide into 4 equal portions. Pat each portion lightly into an oval shaped patty about 1/2 inch thick and large enough to cover the bread.
Place the patties under the broiler/grill (heat to high) and broil for 5 to 6 minutes per side until nicely browned and thoroughly cooked, turning once.
While the meat patties are grilling, toast the bread and butter them on one side.
Place each patty between two slices of toast, buttered side out and cut in half on the diagonal. Place two halves onto each of four heated plates along with a small bowl of the dip for each. Garnish with some sliced dills and chopped parsley if desired. Serve immediately.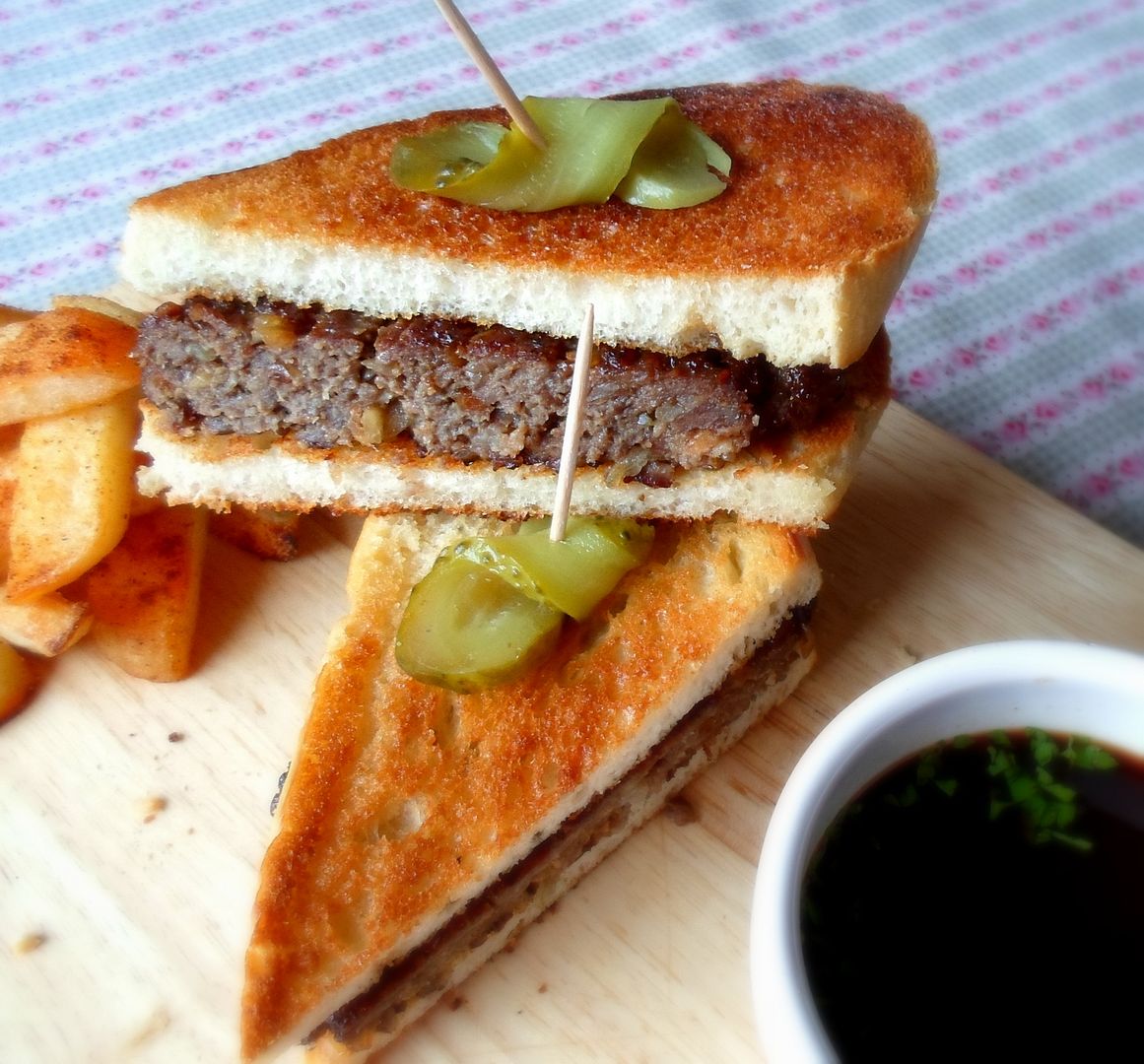 These are delicious and just that little bit different. My husband really loves them, and I confess I do too! Bon Appetit!