I did us some lovely Lamb Chops for our New Years Eve Supper last week. I simply rubbed them with a mixture of rosemary, thyme, garlic, sea salt, white pepper, olive oil and a bit of good balsamic vinegar that I mashed together with my mortar and pestle. I let them macerate for a good hour or more while these delicious potatoes were baking and then I quickly grilled them in a hot skillet with a bit of butter for about a minute and a half per side. They were done perfectly!
These lovely potatoes were the perfect side dish! Simple to make, yet very impressive to look at. I had found a similar recipe on
Joyously Domestic
earlier this year and had pinned it. But as you know, I cannot leave well enough alone and so I made a few changes and I think they turned out even more fabulously than hers did, if I don't say so myself!
I cut down on some of the fat mixture, using half the amount in her recipe and I added extra flavour by using a bit of worcestershire sauce, garlic powder, thyme and paprika.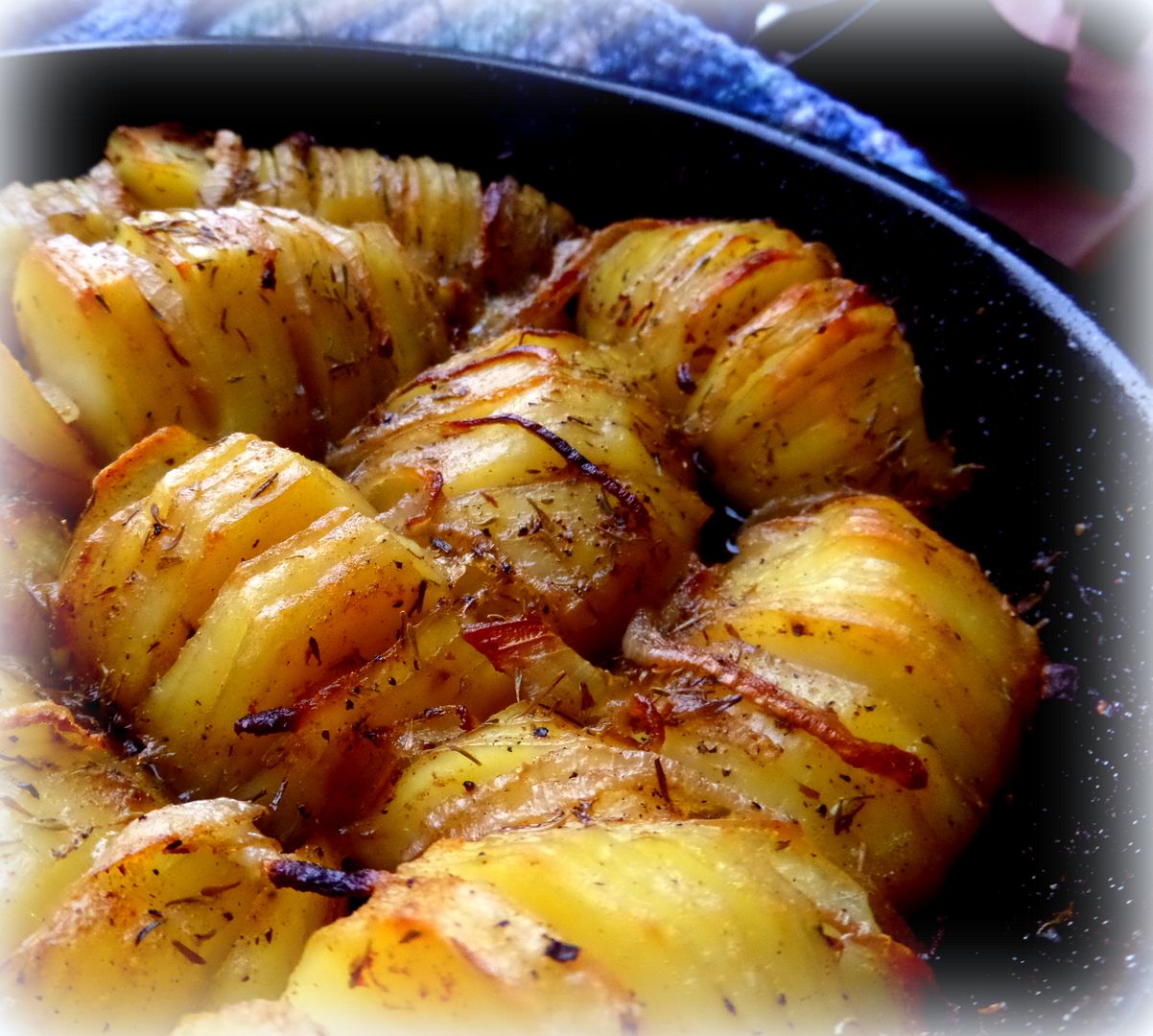 Cutting the potatoes in half lengthwise cut down on the cooking time needed. I also covered them with foil for the first half hour or so, which also cut down on the cooking time. I uncovered them for the last half of the cooking time, which afforded them plenty of time to crisp up on all of the edges. I did not use any bacon.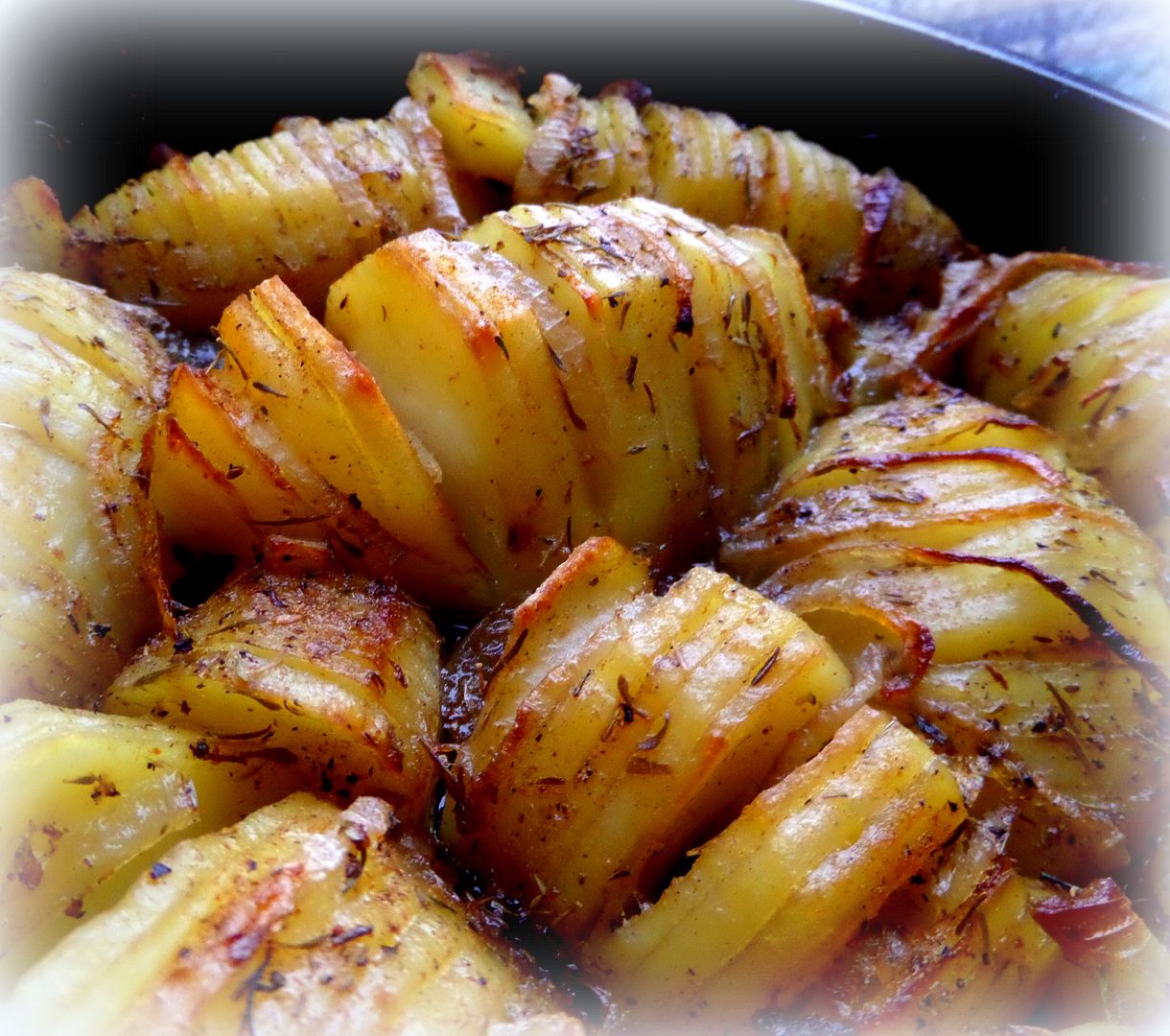 These were just gorgeous . . . just buttery enough, with plenty of flavour . . . nice and tender inside, but there were also plenty of lovely crisp golden edges to satisfy. They went wonderfully with the lamb chops and I am thinking they would also go very well with a steak or even grilled chicken or fish. I was very happy with how they turned out!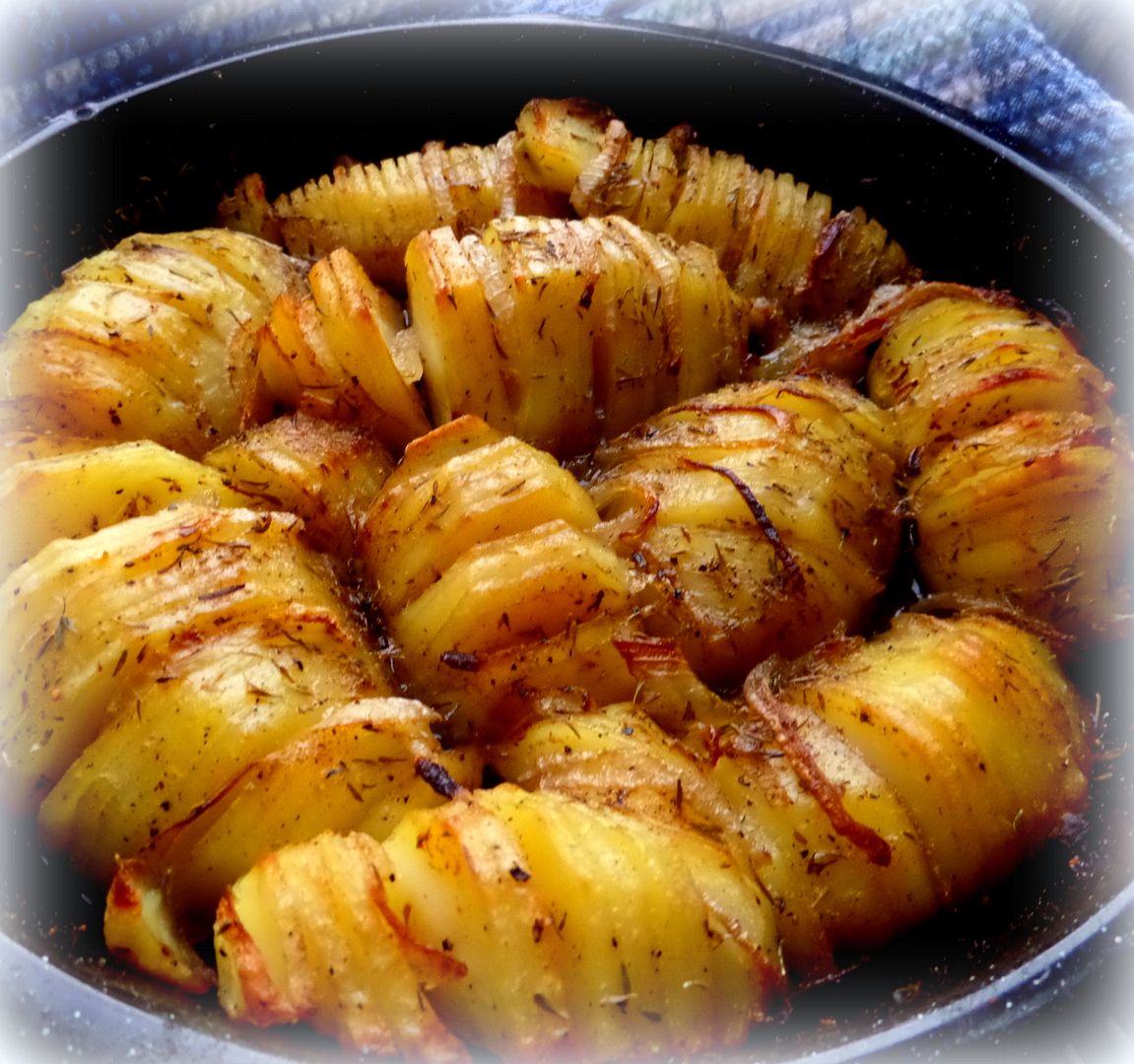 *Crispy Potato Roast*
Serves 4
A deliciously different and very attractive side dish for those times when you want something just a tiny bit special!

2 TBS butter, melted
2 TBS olive oil
1 tsp Worcestershire Sauce
1/2 tsp dried thyme
1/4 tsp garlic powder
½ tsp paprika
¼ tsp salt
¼ tsp freshly ground black pepper
1 medium onion, peeled and cut into thin slices
8 medium potatoes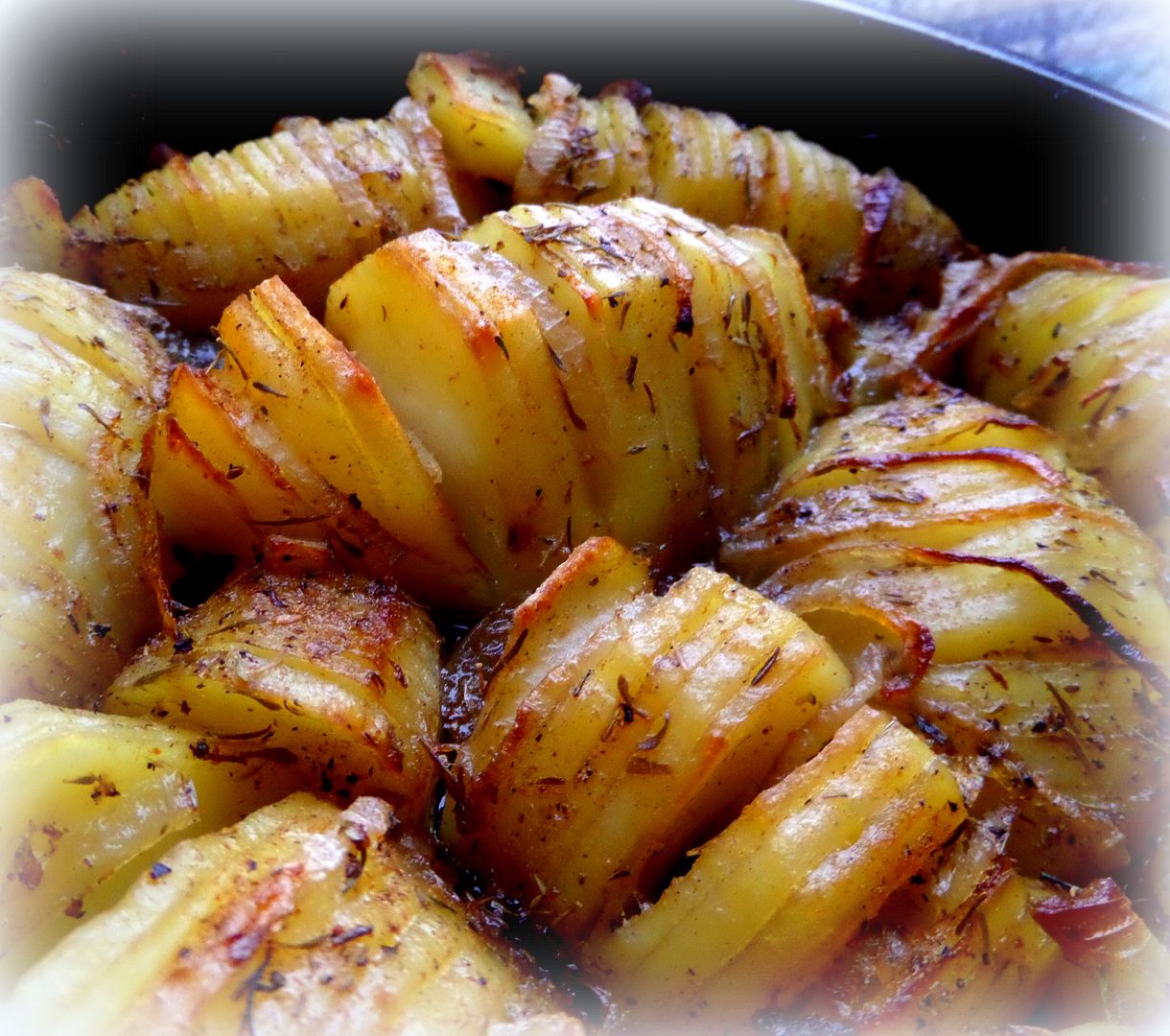 Preheat the oven to 190*C/375*F/ gas mark 5. Butter a 9 inch round baking dish very well. Set aside.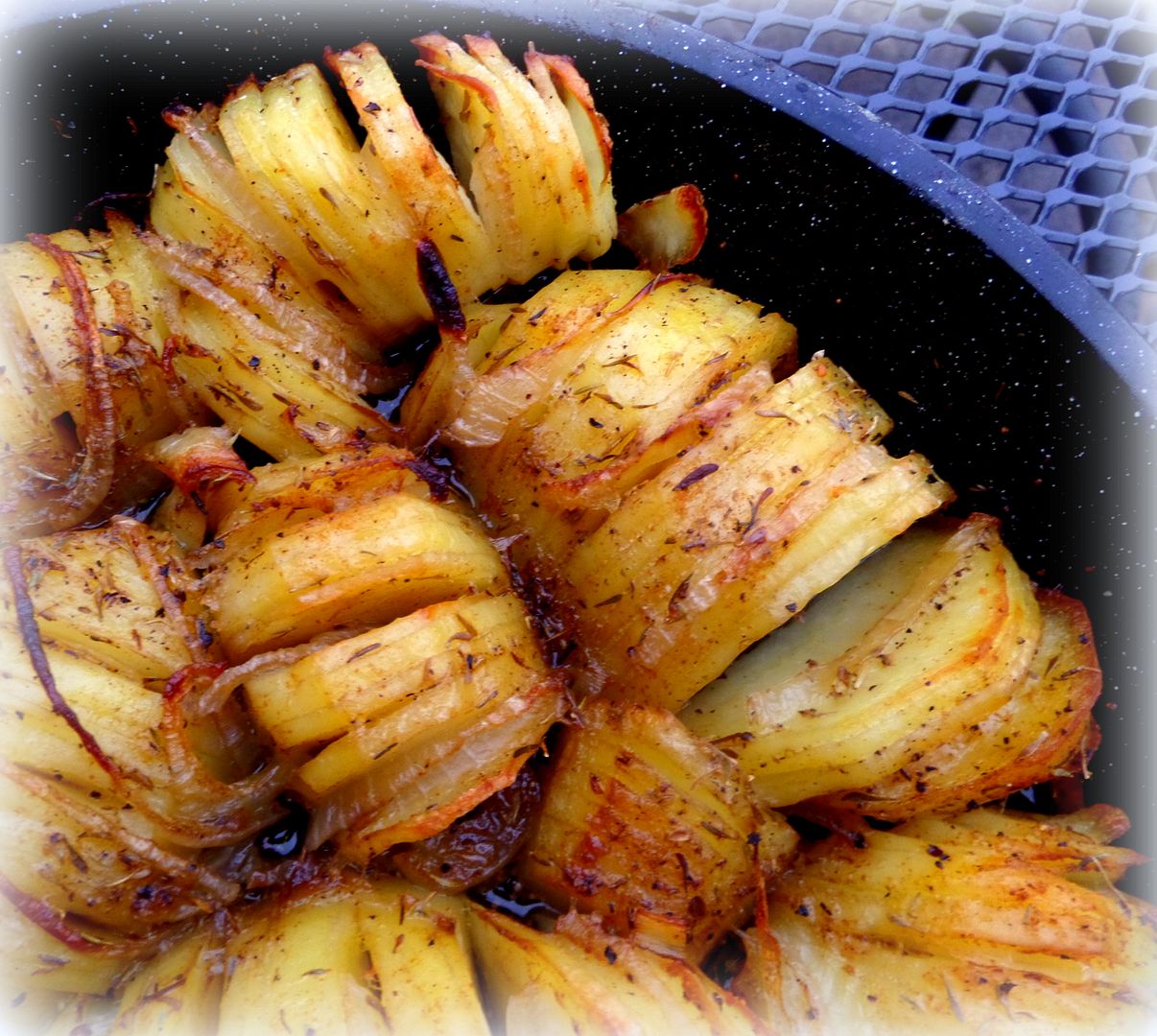 Peel your potatoes and cut them into half lengthwise and then cut each half into very thin slices. Keep them together. Slide a knife under each potato half and place them into the buttered baking dish. Stick some onion here and there in between the slices, wedging it in here and there. NO need to put it in between every slice. Divide it more or less equally amongst the potatoes. Whisk together the remaining ingredients and pour them evenly over top of the potatoes. Cover the baking dish loosely with foil. Place into the preheated oven. Roast for about 45 minutes. Uncover and roast for a further 25 to 30 minutes until the potatoes are done through and the are golden brown on top with crispy edges here and there.
Serve hot with your favourite meats. Steak and Lamb go especially well. Oh I do love a nice and crisp roasted potato! Don't you??? Bon Appetit!