I had some cooked chicken breasts today that I needed to use up. I had bought some already cooked ones at the weekend for something and then hadn't used them all, and so today I thought I better make good use of them.
You could use home cooked chicken breasts for this, or even leftover roast chicken. It's all a matter of using what you have on hand.
I like to use up all of my leftovers. I just hate waste and in today's economic climate, it just makes sense to use up all that we have.
Good use of leftovers makes good food budget economy, and I am all for that!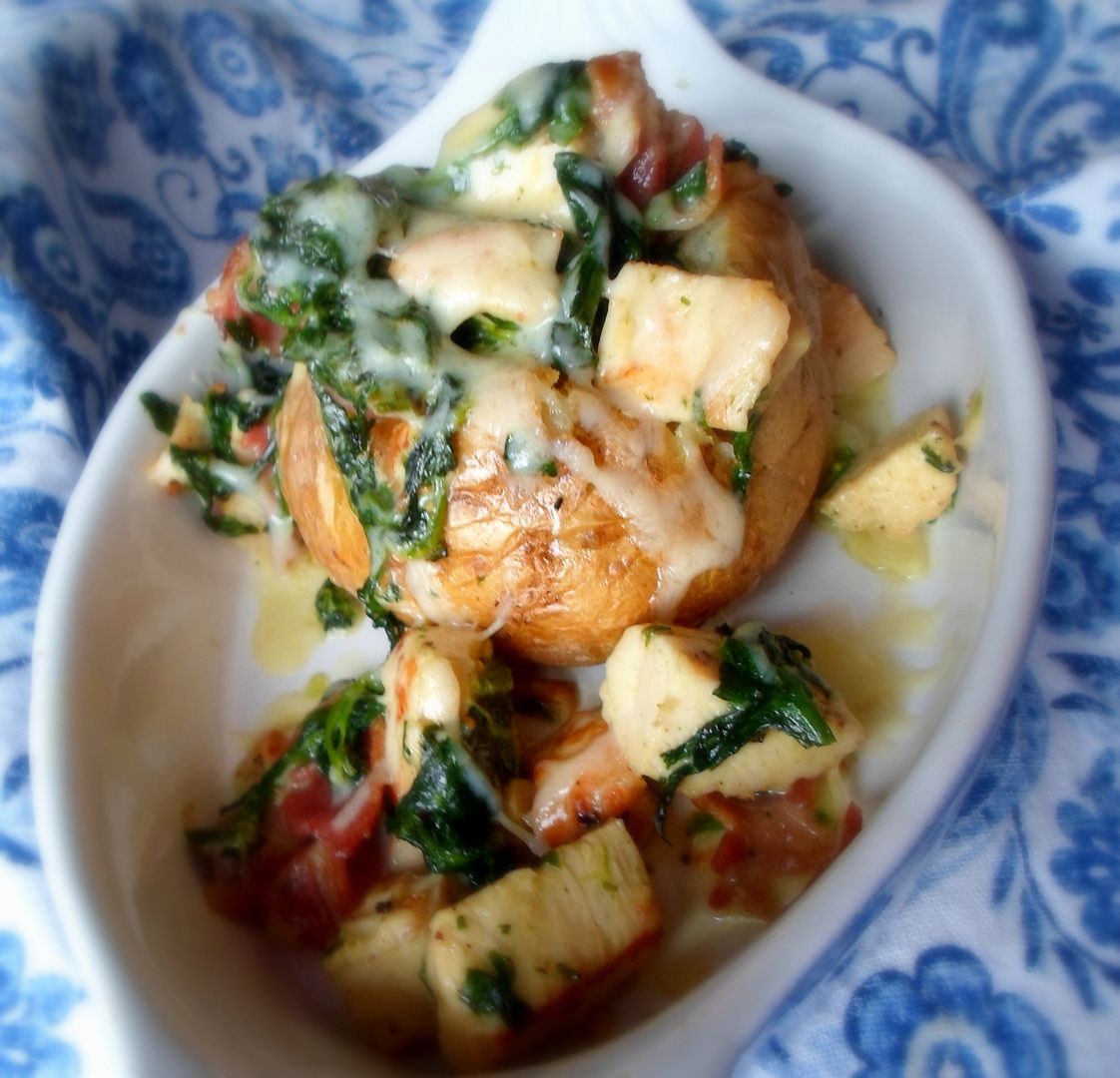 I think baked jacket potatoes have to be the most versatile ingredient in the world.
It's so easy to just throw them in the oven and get on with other things, and presto, an hour later you have the perfect canvas to paint a supper meal on!
Today I browned some pancetta cubetti along with the chopped cooked chicken breasts, and threw in some spinach and seasoning.
You could use fresh spinach or even frozen leaf spinach. Both work well.
You could also use chopped streaky bacon, or even chopped cooked ham. Just what you have.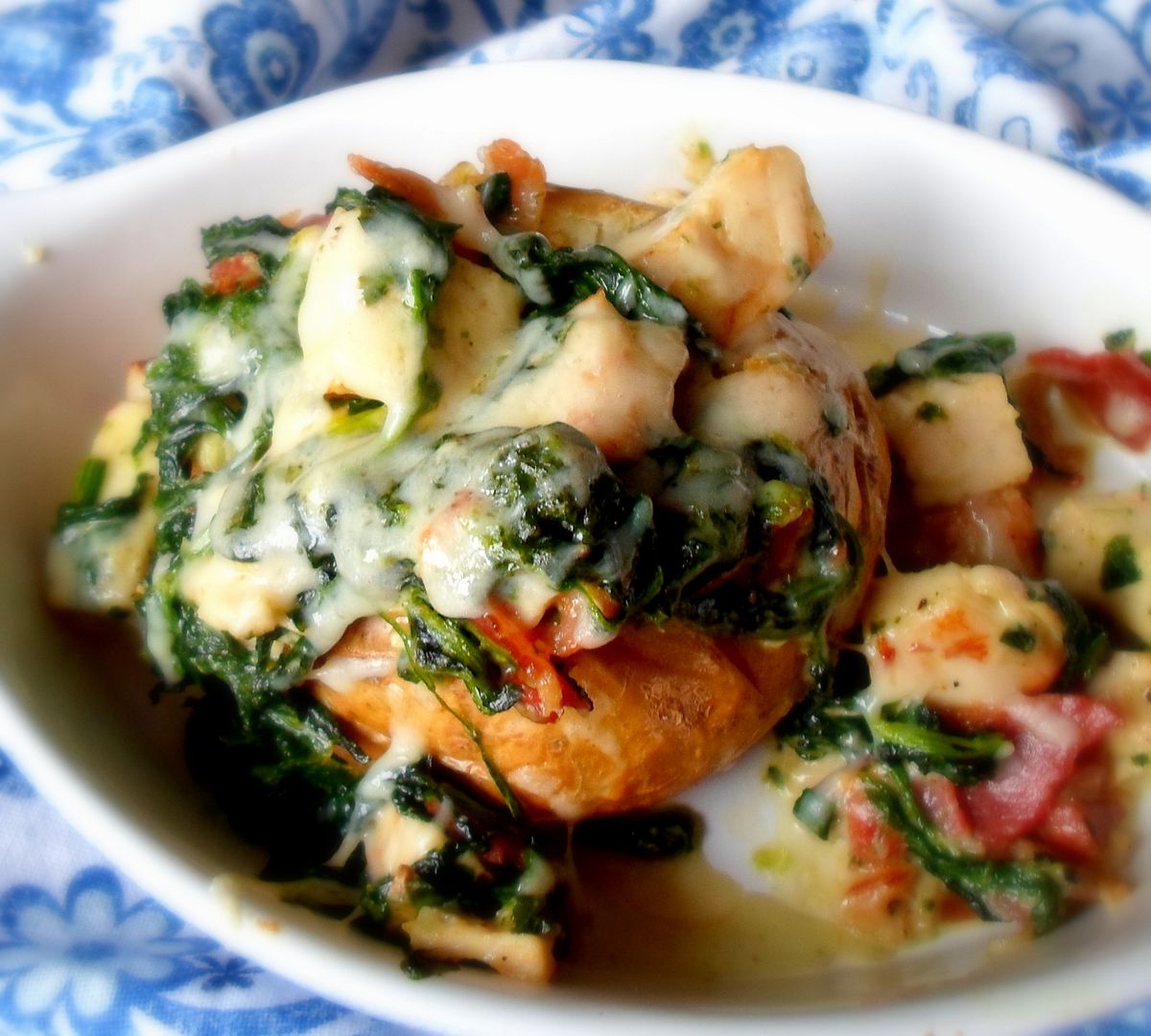 A bit of cheese and some cream, and I had a delicious mixture to top our jacket potatoes with. I just cut a cross in the top of each, pinched them open and . . .
Then I popped them into individual casserole dishes . . . because who doesn't love a tasty casserole just for YOU.
A bit more cheddar on top and a blast under the grill and we had a simple supper, that was low on cost and high on taste.
Fit for a King I would say. The King of this castle didn't complain at any rate! I love it when that happens.
Enjoy!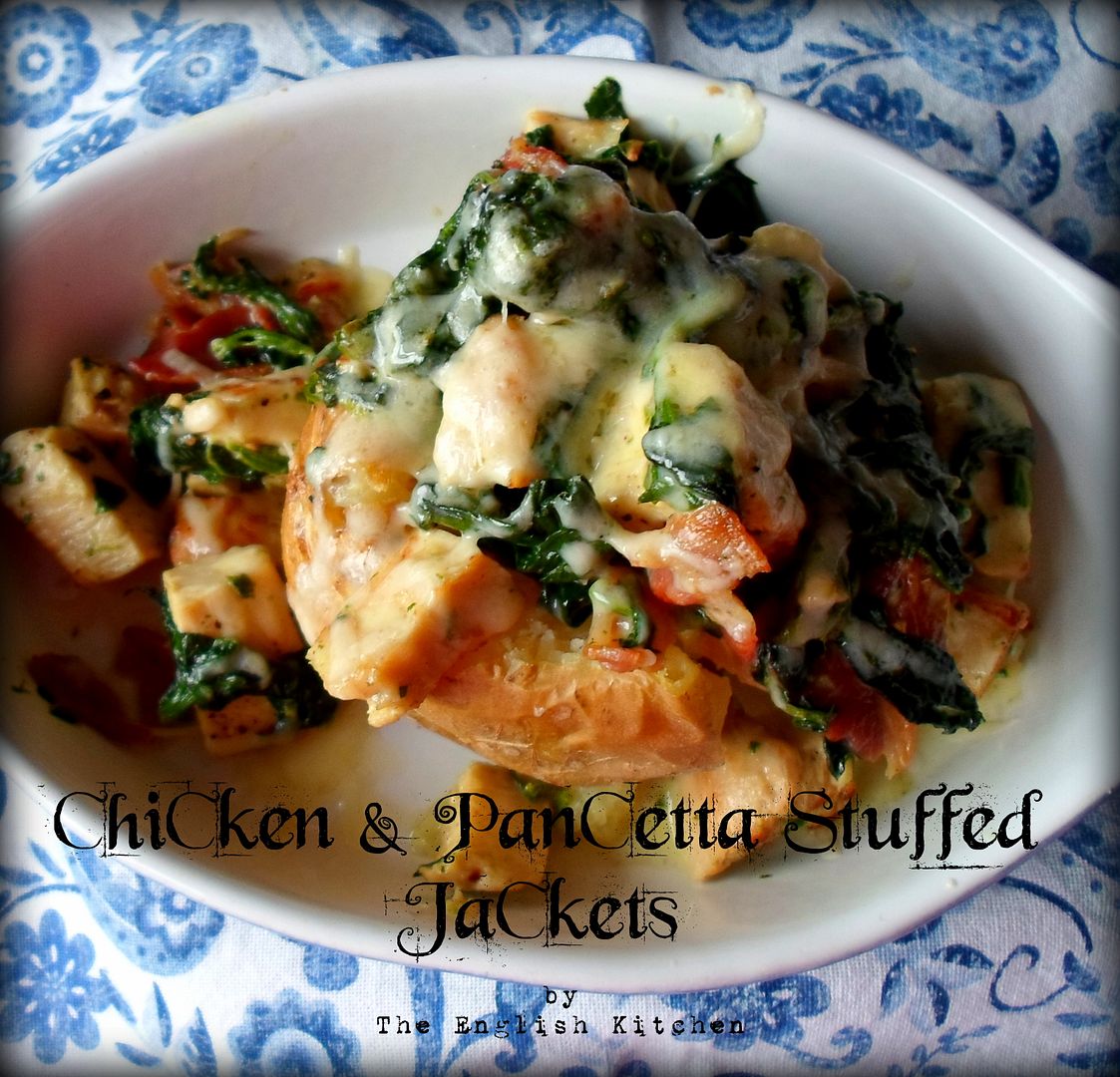 *Chicken and Pancetta Jacket Potatoes*
Serves 4
Printable Recipe


A great way to stretch your leftovers. Simply thrifty and delicious altogether.


4 large baking potatoes
1 TBS olive oil
160g package of pancetta cubes (about 1/2 cup)
3 leftover cooked chicken breasts
4 handfuls of baby leaf spinach, washed
salt and pepper to taste
100g of grated strong cheddar cheese (1 cup)
2 TBS double cream
Preheat your oven to 200*C/400*F/ gas mark 6. Wash your potatoes well and dry. Prick all over with a fork, to prevent them from bursting in the oven. Rub them with 1/2 of the olive oil and then place them into the heated oven directly on the oven rack. Bake for 40 to 45 minutes until done.


Heat the remaining TBS of olive oil in a large skillet. Add the pancetta and cook for about 5 minutes, until it turns golden brown. Cut the chicken breasts into cubes and toss them in with the pancetta. Cook and stir until heated through. Add the spinach a handful at a time to wilt. Stir in half of the cheese and the cream. Heat through and stir to melt the cheese. Season to taste with salt and pepper.


Remove the cooked potatoes from the oven. Cut a cross in top and gently squeeze open. Place onto a baking tray (or into individual casserole dishes). Fill the potatoes with the cheesy and bacon mixture. Top with the remainder of the cheddar and pop under a hot grill until the cheese is melted and bubbling. Grind a bit of black pepper over top and serve.


Of course if you don't have pancetta, you can just use bacon! It's all good! Happy Valentines Day and Bon Appetit!