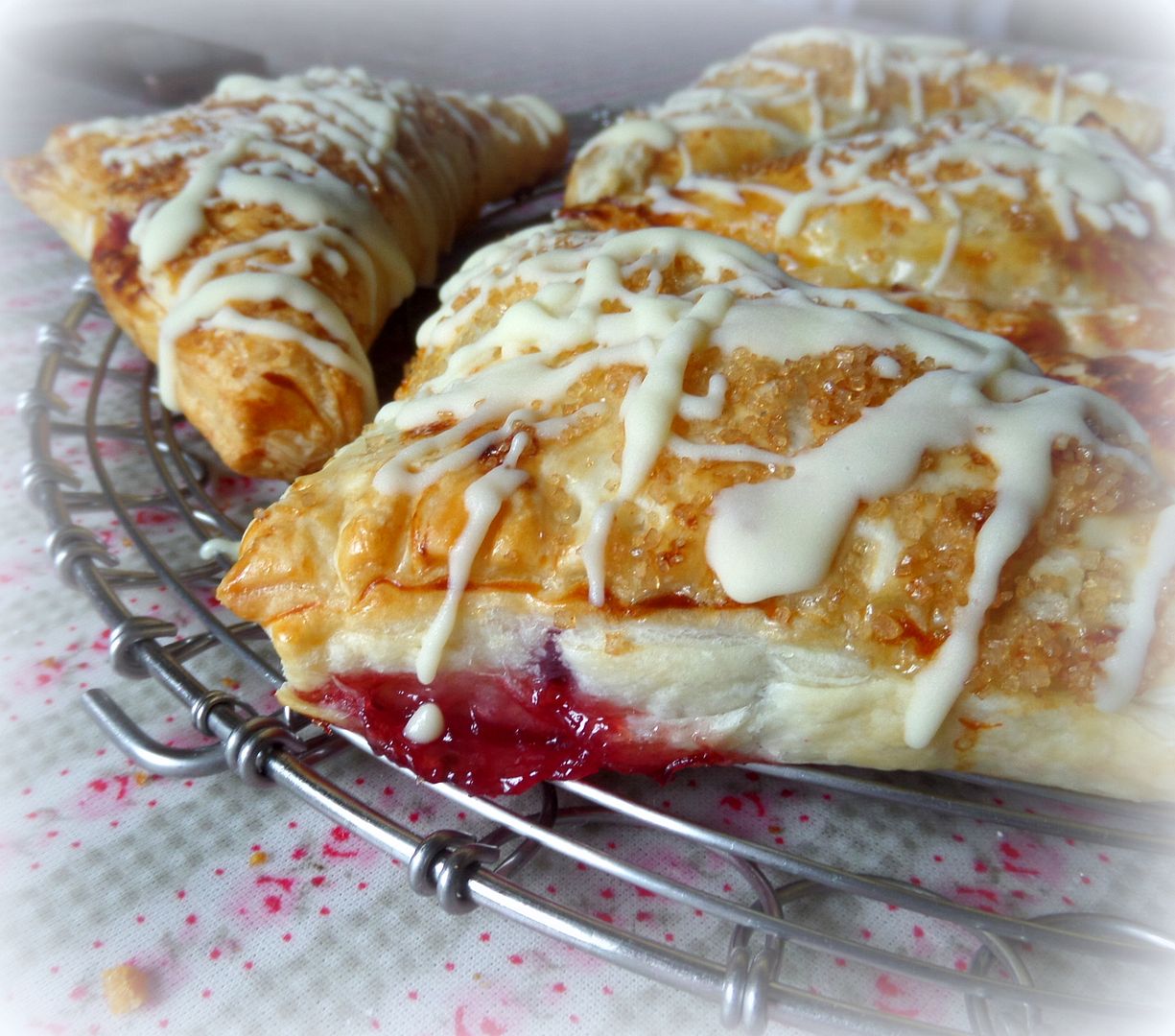 I do like to spoil my husband at the weekends. These fabulous turnovers are a wonderful way to do just that. Simple to make and oh so delicious, they always go down a real treat with him!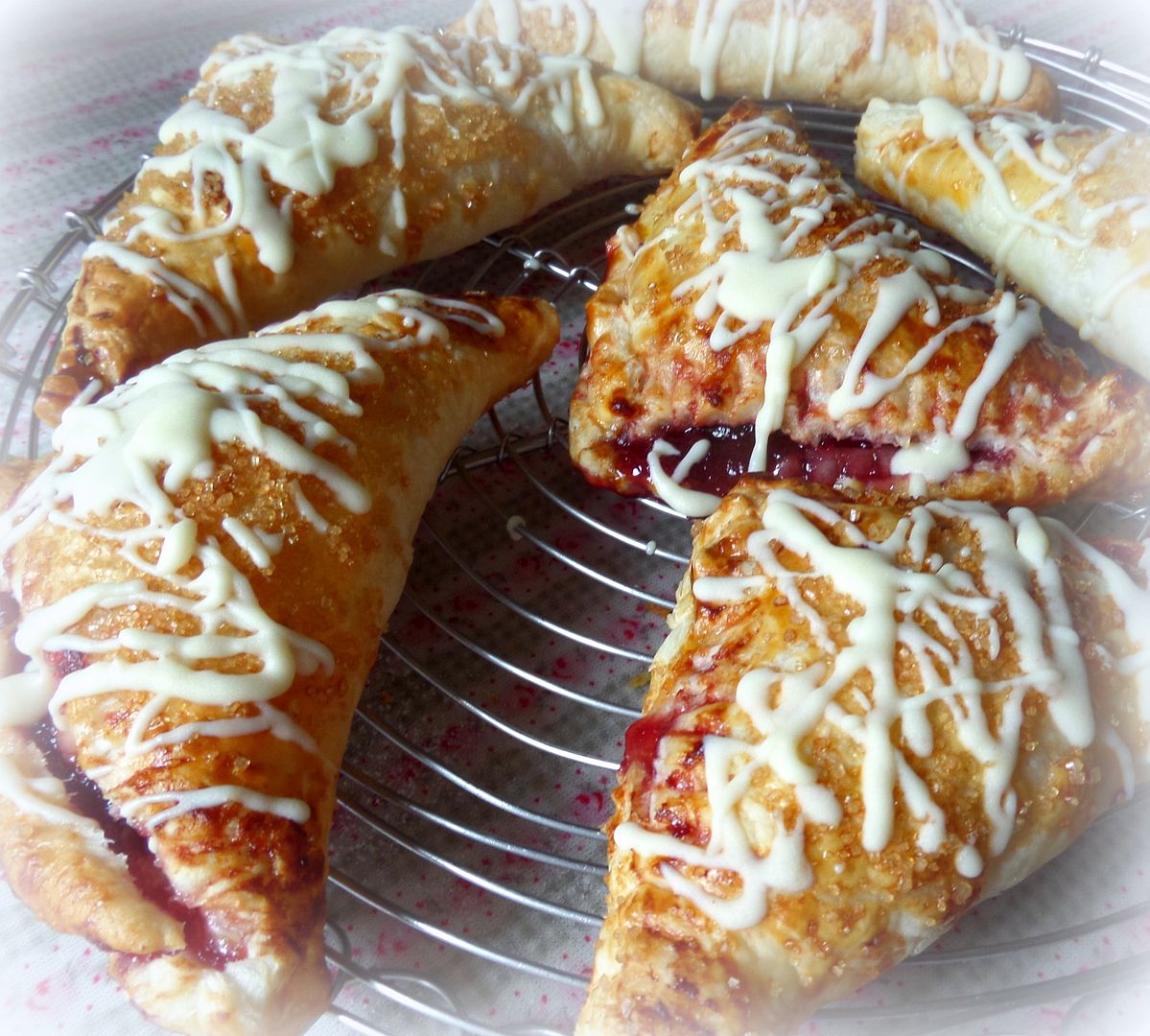 These are very simple to make, using store bought all butter puff pastry, a bit of jam and some cream cheese. Things I usually have in my refrigerator, larder and freezer.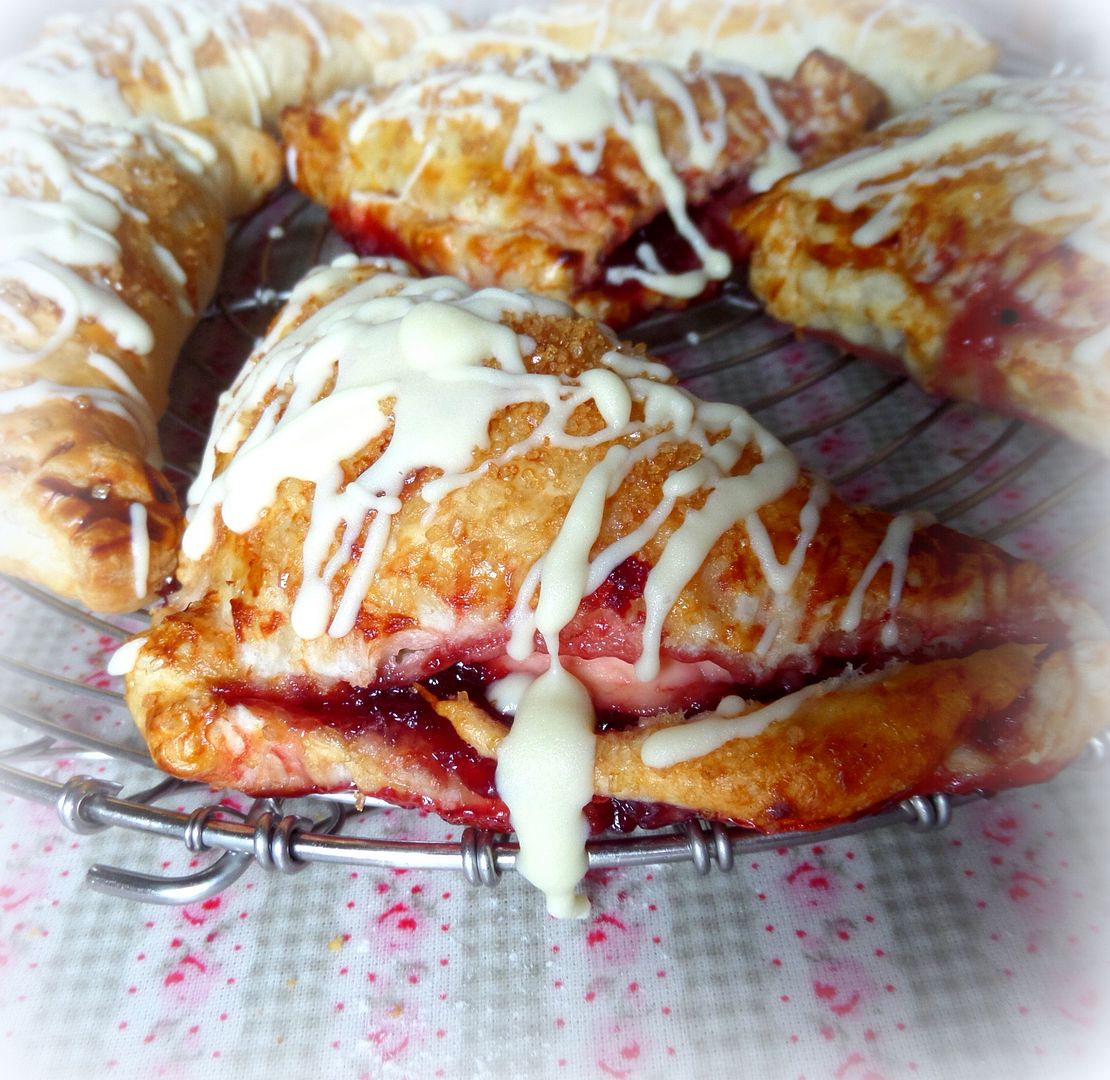 Sigh . . . I do love a good cherry or strawberry danish. Actually I'm not picky. I love any kind of danish pastry . . .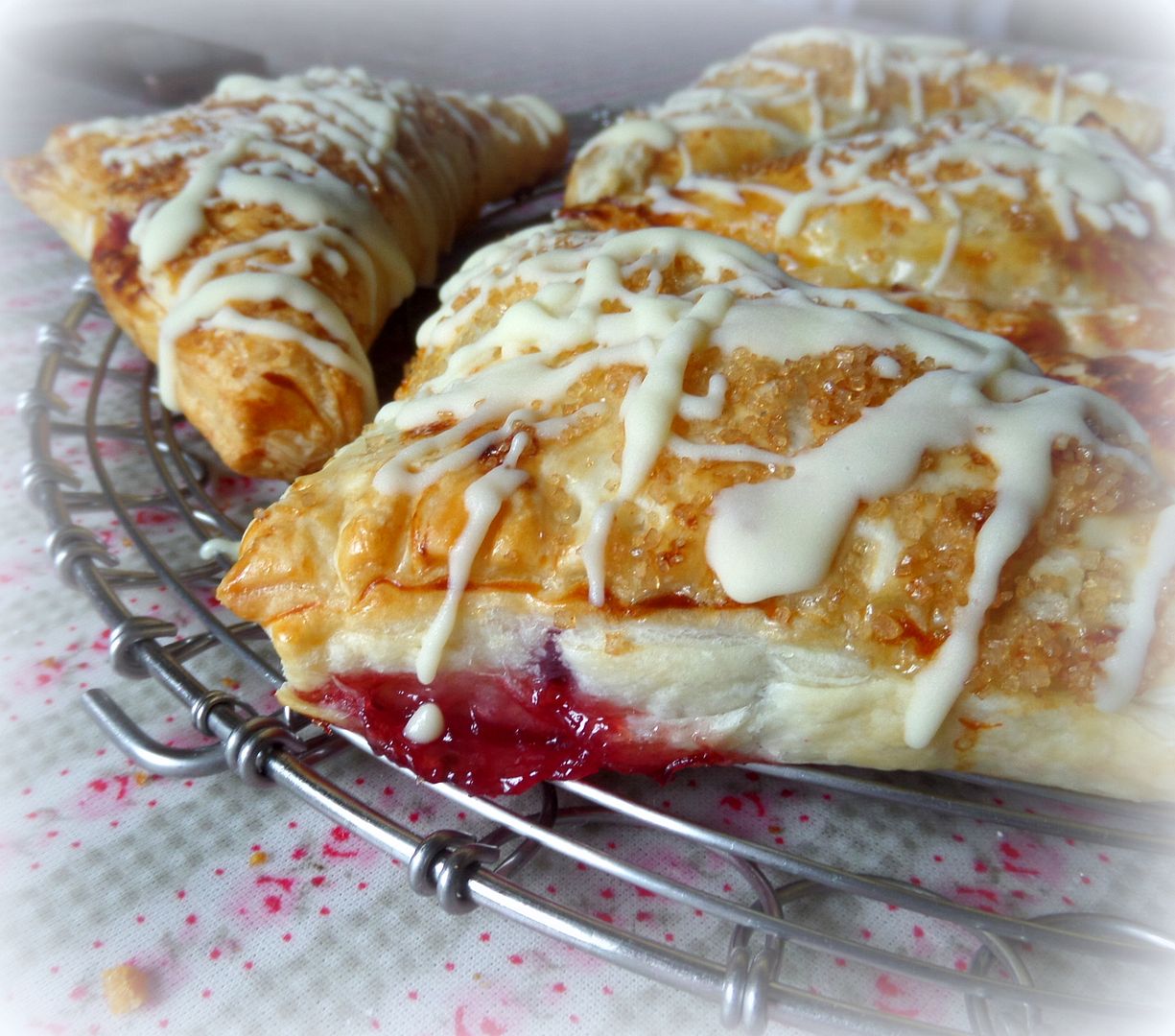 As you know I can be rather lazy at times, so you know also that this recipe is quick and easy as well as being delicious. Your sweetie pie will think you slaved over a hot oven all day to make these, but truth be known . . .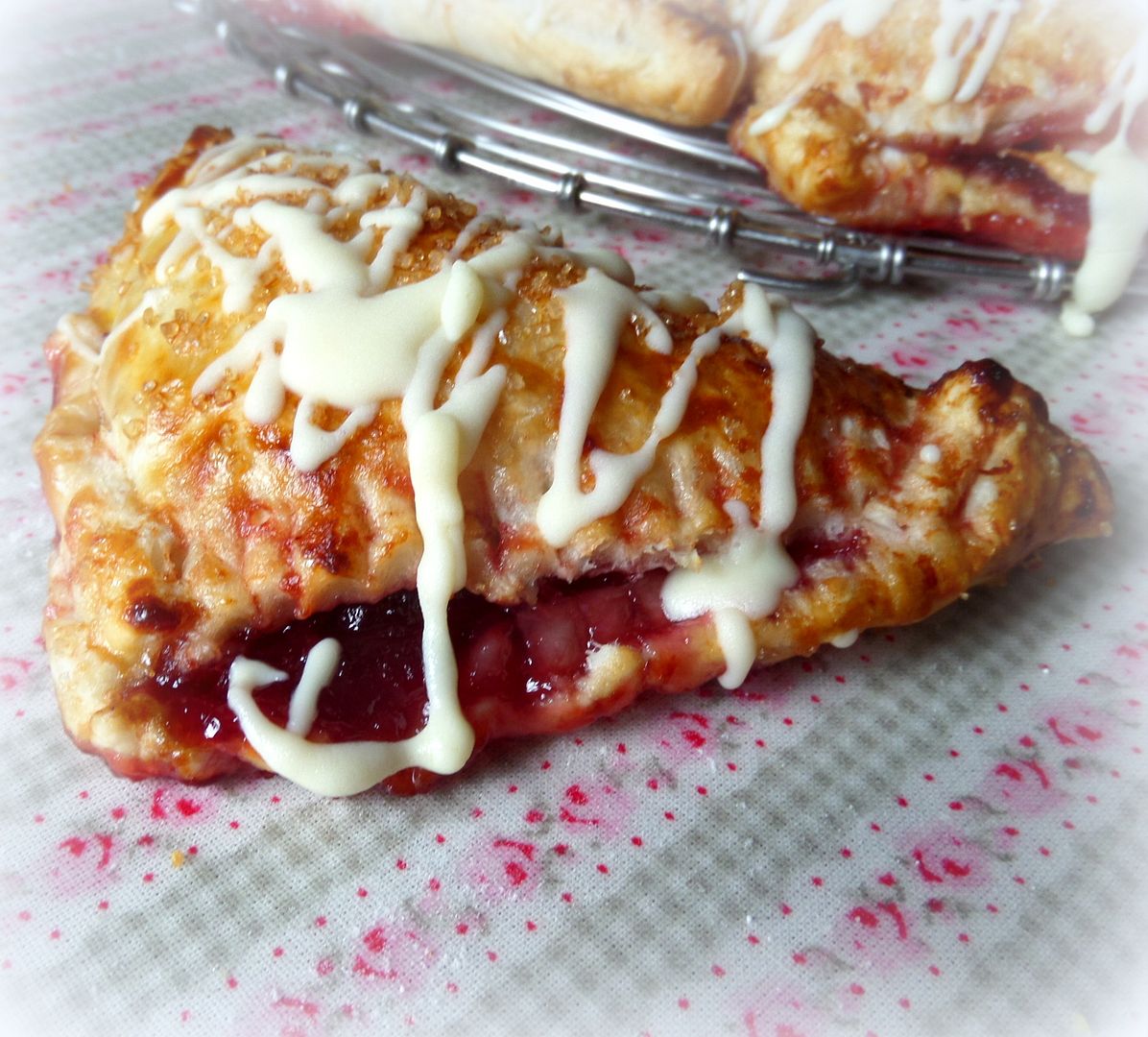 in not much more than half an hour you can be feasting on these delicious little treats. I kid you not! Don't be tempted to overfill them . . . you will experience blow out if you do. They still taste really good, but they are not as pretty. Or are they??? I suppose it is all a matter of taste and perception. I had some blow out and they still looked mighty tasty to me. Hard to resist . . .
far
too hard to resist.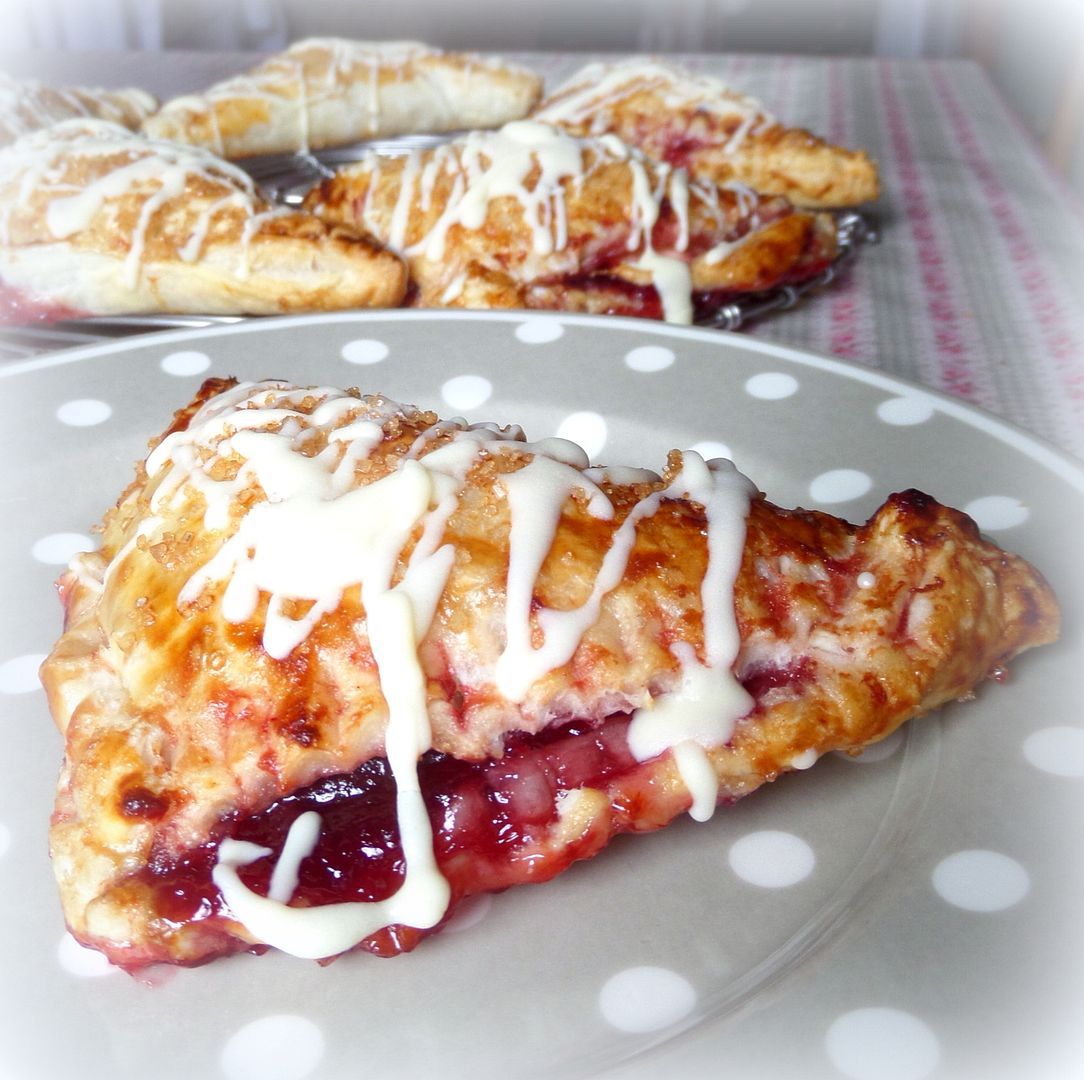 *Glazed Cherry Danish Turnovers*
Flaky, buttery puff pastry turnovers, filled with cream cheese and sour cherry preserves. Topped with some crunchy demerara sugar and a cream cheese and vanilla glaze when done for even more scrum.
1 sheet of ready roll puff pastry, chilled
3 TBS of full fat cream cheese
6 TBS sour cherry preserves
1 large egg yolk, beaten with 1 tsp water
demerara sugar to sprinkle (turbinado)
130g of icing sugar, sifted (1 cup)
few drops of vanilla extract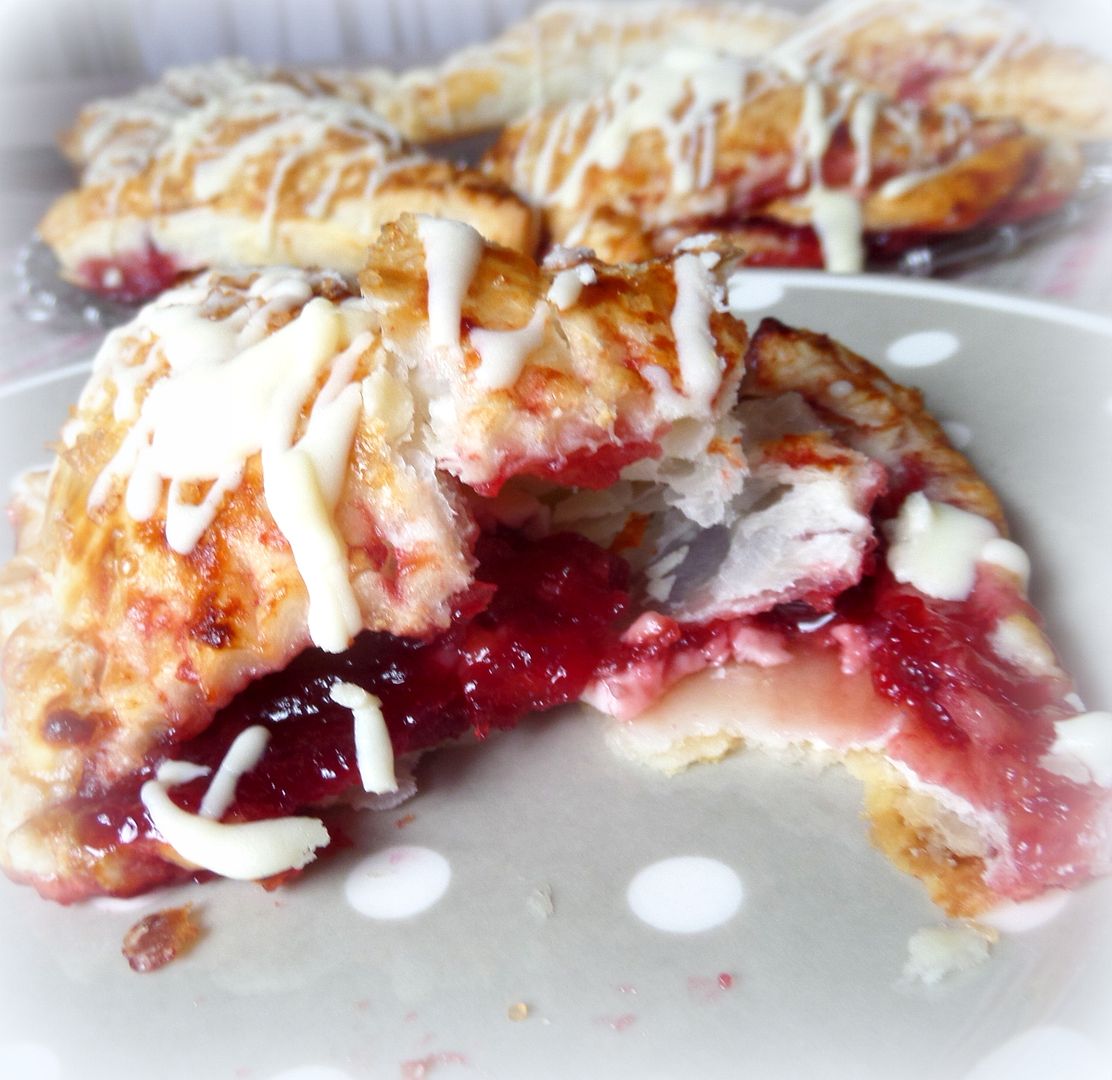 Preheat the oven to 200*C/400*F/ gas mark 6. Line a baking tray with baking parchment. Set aside.
Cut the puff pastry into 6 equal sized squares with a sharp knife. Place 1/2 TBS of cream cheese in the centre of each, spreading it out a bit. Top each with 1 TBS of sour cherry preserves. (Don't be tempted
to use more or you will have a blow out!) Fold the pastry in half diagonally to cover the jam and cheese. Press the edges firmly together with the tines of a fork. Place onto the baking tray, leaving
plenty of space in between for rising. Brush with the beaten egg yolk. Sprinkle with the demerara sugar.
Bake for 15 to 20 minutes, until puffed and golden brown. Allow to cool on the baking sheet for 5 to 10 minutes before lifting off onto a wire rack to finish cooling.
Whisk together the glaze ingredients, adding only enough milk to give you a smooth drizzle glaze. Drizzle this decoratively over the cooled turnovers. Enjoy!
Note:

You can use other flavours of jam if you wish. Apricot and strawberry are also both very nice! As is blueberry. Sigh . . . Bon Appetit!