Occasionally you run across a cake that is so squidgilly good that you either have to share it right away, or hide it and hog it all to yourself. This delicious loaf cake falls into both those categories. I kid you not. At first bite you will want to run to your bestest friend or partner and share it with them, coz something this scrummy just begs to be shared . . . but then again, the glutton in you may be tempted to want to hide it and save it all for yourself!
Truth be told . . . you probably won't be winning any beauty contests with this. It's just not that pretty a cake. It doesn't rise really high and have a pretty peak in the centre . . . it may even get a little dark on the outside before it gets completely cooked, but do not fear . . . that ugliness, low height . . . and yes the darkness are just it's humble way of hiding the truth of it's complete and totally decadent squidgieness . . .
It's so dense and so moist and so totally stogged full of lovely bits . . . stem ginger, 5 whole sticky nobs of that delicious spicy gold all finely chopped . . . a lovely large handful of soft ready to eat prunes, again finely chopped . . . and no less than 3 tsp of powdered ginger. There is lots of flavour and texture going on here . . .
Not to mention the fudgy-ness you get from a cake full of butter and dark muscovado sugar . . . and golden syrup . . . sweet caramel flavoured golden syrup . . .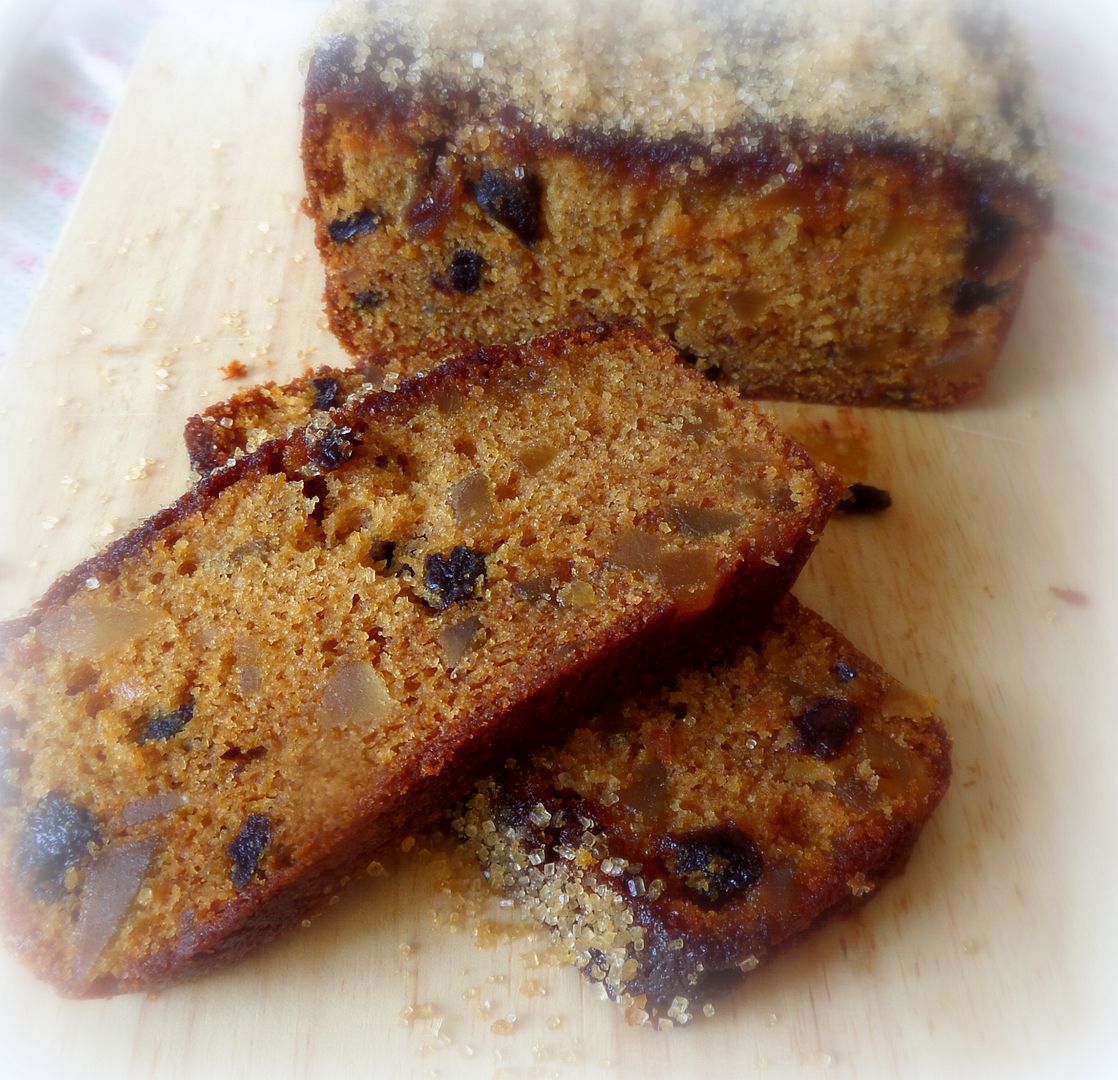 And if THAT'S not enough to convice you that you have to go out and bake this cake NOW, the top of the cake is brushed with oodles of the syrup from the stem ginger jar when it first comes out of the oven and is still hot enough to absorbe all that gooey stickiness . . . and then sprinkled with golden demerara sugar on top . . . just to add a bit of class and crunch.
I can't believe you are still here reading this. Just look at that cake. Take a virtual bite and then run . . . run as fast as you can to the store to pick up the ingredients, then dash home and turn on the stove and break out the mixer. This is one cake you will not want to pass by!
*Squidgy Prune and Ginger Cake*
Makes one medium loaf,
This may not look like much, but it's fabulous. If you like cakes that are rich, squidgy moist and totally indulgent, you will LOVE this easy loaf cake!
170g of self raising flour, sifted together with (1 1/3 cups)
3 tsp powdered ginger
120g unsalted butter, softened (8 1/2 TBS)
120g dark soft muscovado sugar (9 1/2 TBS packed)
4 TBS golden syrup (in North America you can use dark corn syrup)
2 large free range eggs, beaten
100g of stem ginger in syrup, finely chopped (about 5 knobs)
100g ready to eat prunes, finely chopped (about 2/3 cup loosely packed)
To finish:
2 TBS of syrup from the jar of stem ginger
2 TBS demerara sugar (turbinado)
Preheat the oven to 180*C/350*F/ gas mark 4. Butter a medium sized loaf tin (about 8 1/2 inches by 4) and line it with baking paper. Set aside.
Cream the butter and sugar together until light and fluffy. Beat in the golden syrup. Add the beaten eggs a bit at a time, whisking until thoroughly combined. Whisk in the flour/ginger mixture. Stir in the prunes and chopped stem ginger. Spread the batter into the prepared loaf tin, smoothing over the top. Bake in the preheated oven for 40 to 50 minutes, until the top springs back when lightly touched and a toothpick inserted in the centre comes out clean.
Remove from the oven. Immediately brush the top with the stem ginger syrup allowing it to asorb completely. Sprinkle with the demerara sugar and allow to cool completely in the pan. Cut into slices to serve. Delish!
This cake will keep very well in a covered tin for about 4 to 5 days, should you have it around that long! I'll confess . . . it's even better spread with butter, but shhh . . . I didn't tell you that.
Seriously folks. This is a keeper. But you will be tempted to share . . . maybe. Depends on how greedy you are . . . sigh . . .