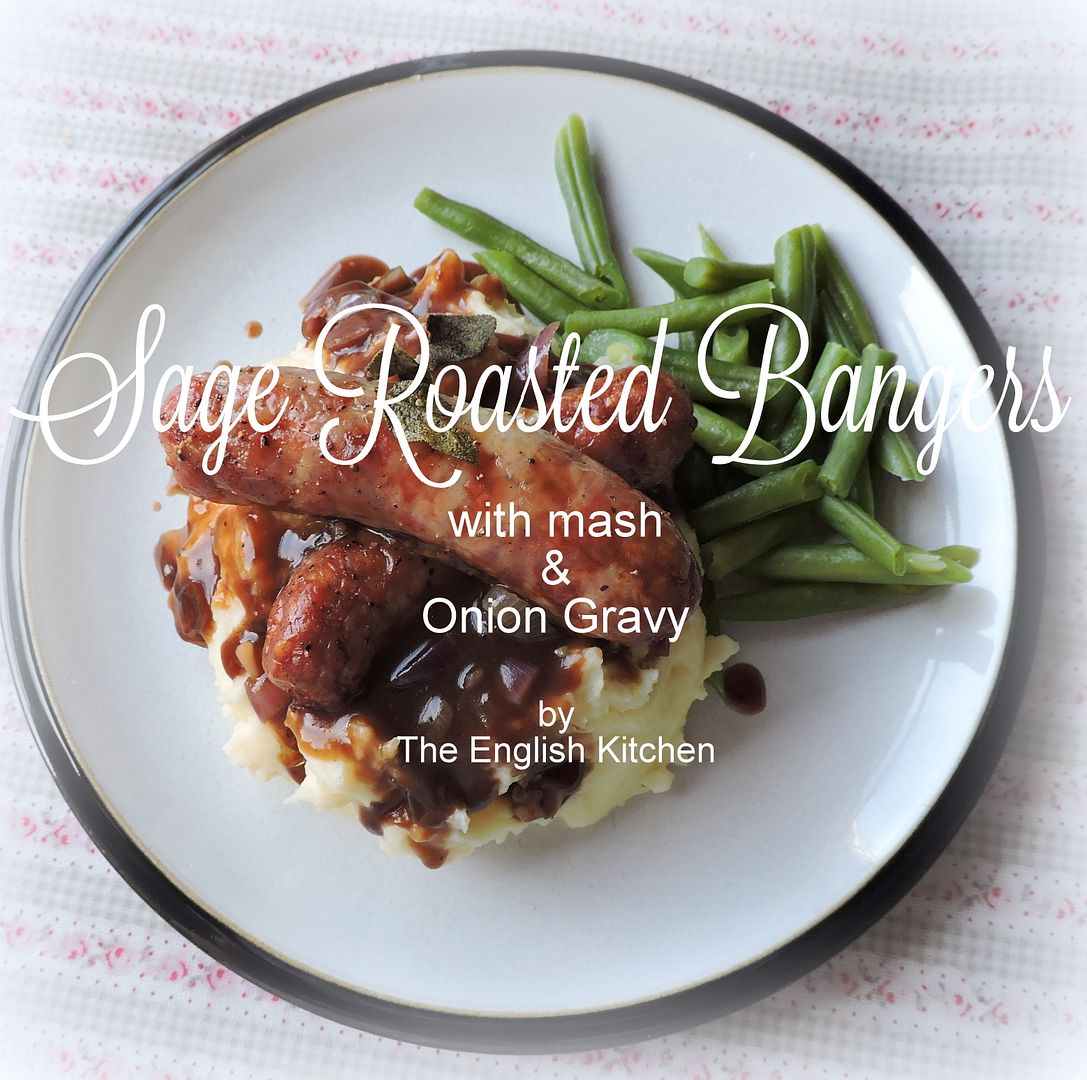 I think Bangers (sausages) and Mash has to be the Toddsters favourite meal of all that I cook for him. He loves a good meaty sausage. He love a nice pile of fluffy mash and . . . he adores a nice onion gravy. This meal ticks all the boxes for him and he is a very happy camper when I make it for him!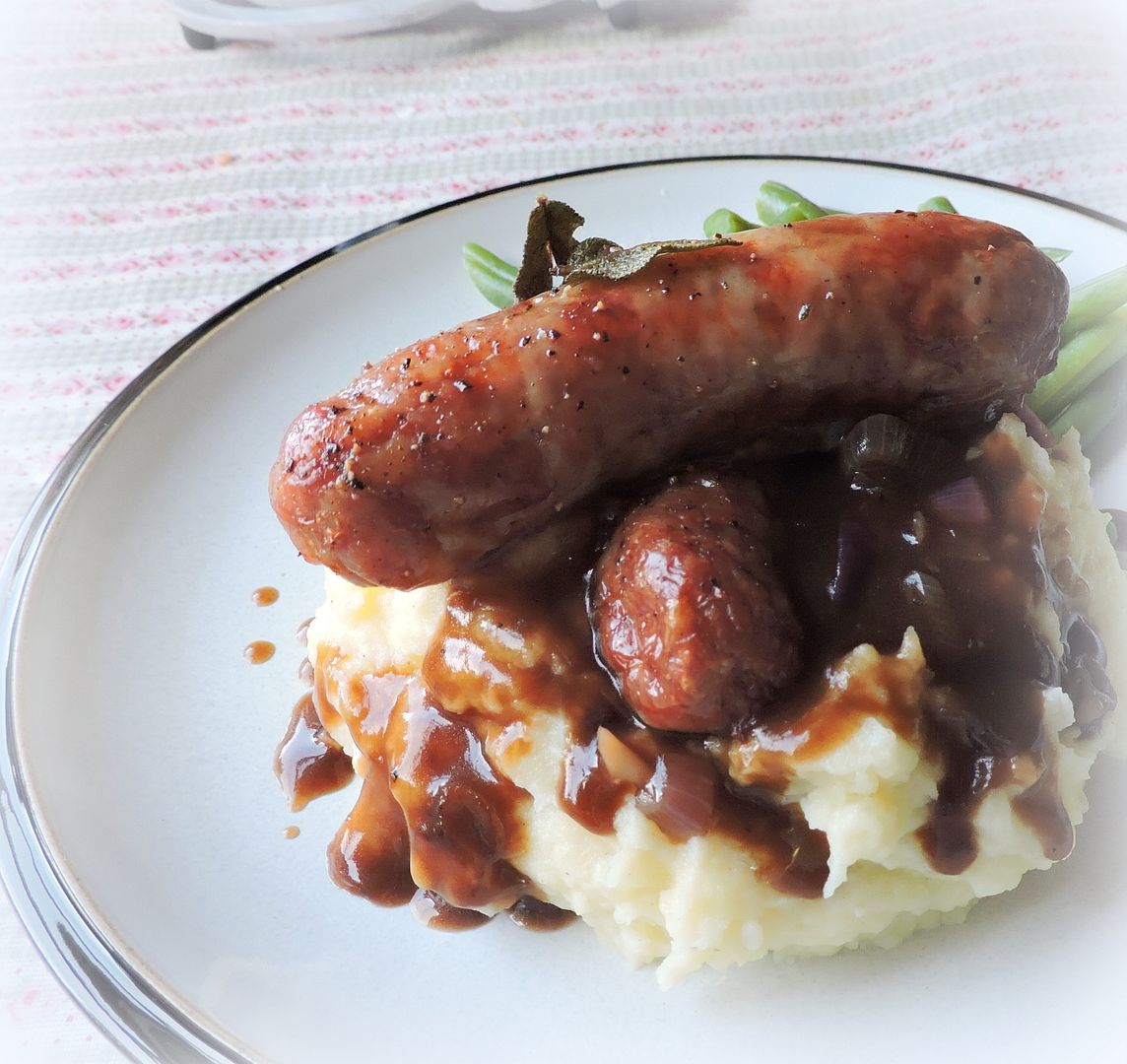 It goes without saying that you will want a nice and well flavoured meaty sausage for this. After all, it
IS
the star of the show! Never ever opt for a cheap and nasty sausage. When you go for cheap and nasty, that is what you get. When it comes to sausages . . . you DO get what you pay for.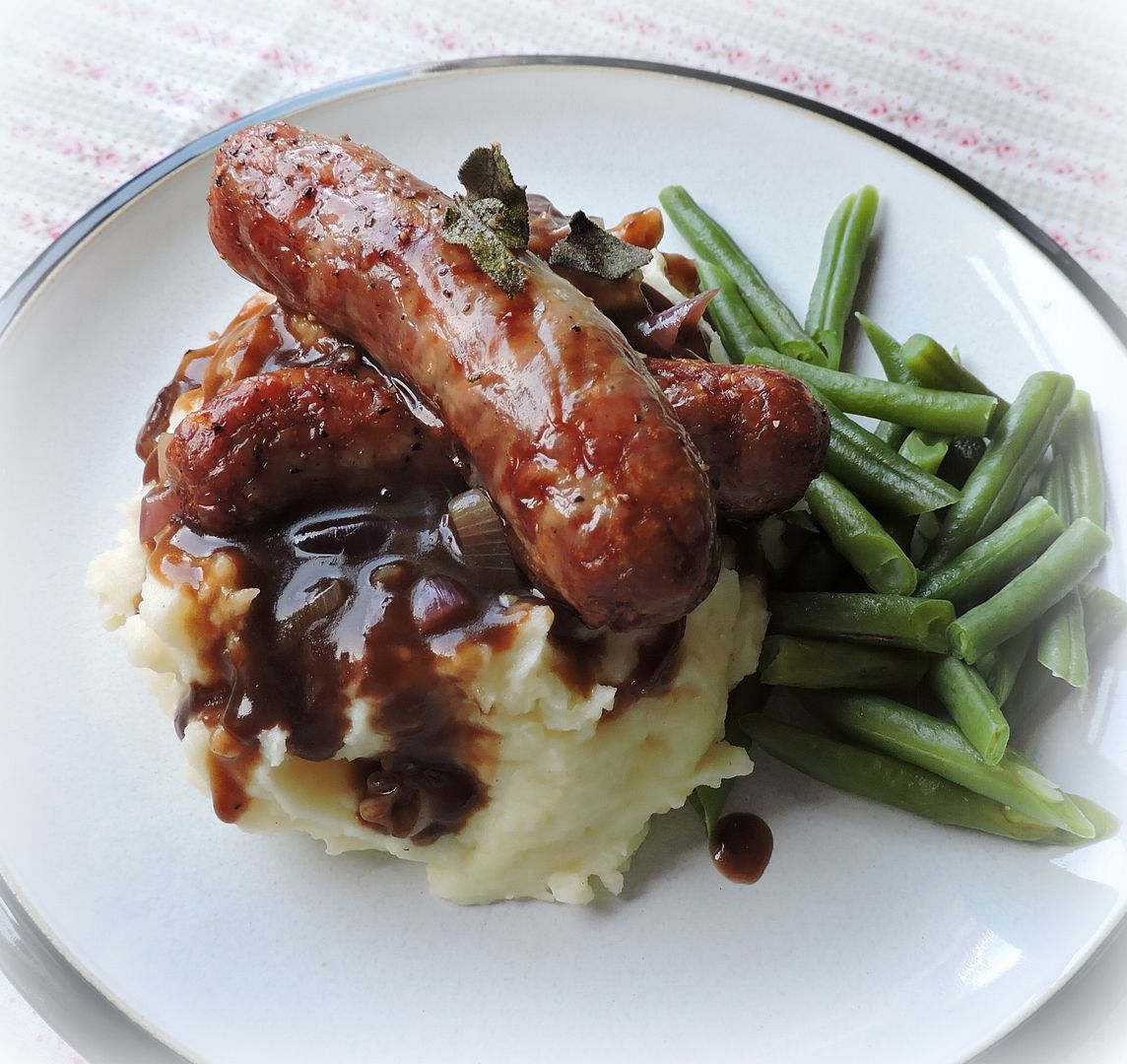 Cheap sausages are overloaded with fillers and fat . . . gristly bits . . . with almost a pasty texture, which almost makes me want to gag. I want to feel like I am eating somehing meaty . . . not wall paper paste and sawdust stuffed into a tube, and not a nice tube at that.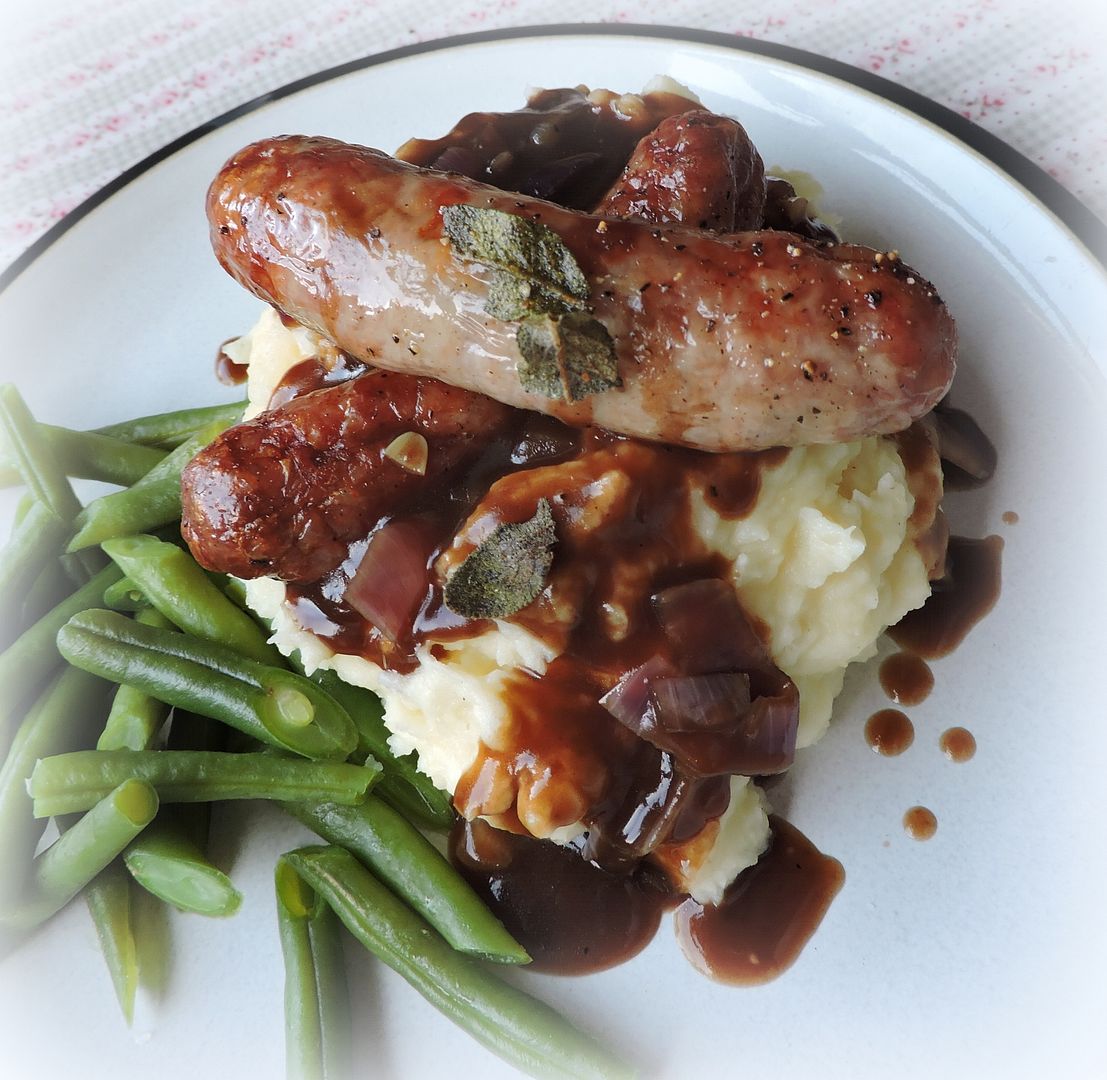 When you bite into a quality sausage the difference is immediately apparent . . . when that skin snaps beneath your teeth and they sink into beautifully textured and flavourful meat, you have reached sausage heaven. (Today I picked some sage from my garden and roasted it with the sausages. It was gorgeous. I love sage, it is one herb that winters very well in our garden. Sage and Sausage are a marriage made in heaven.)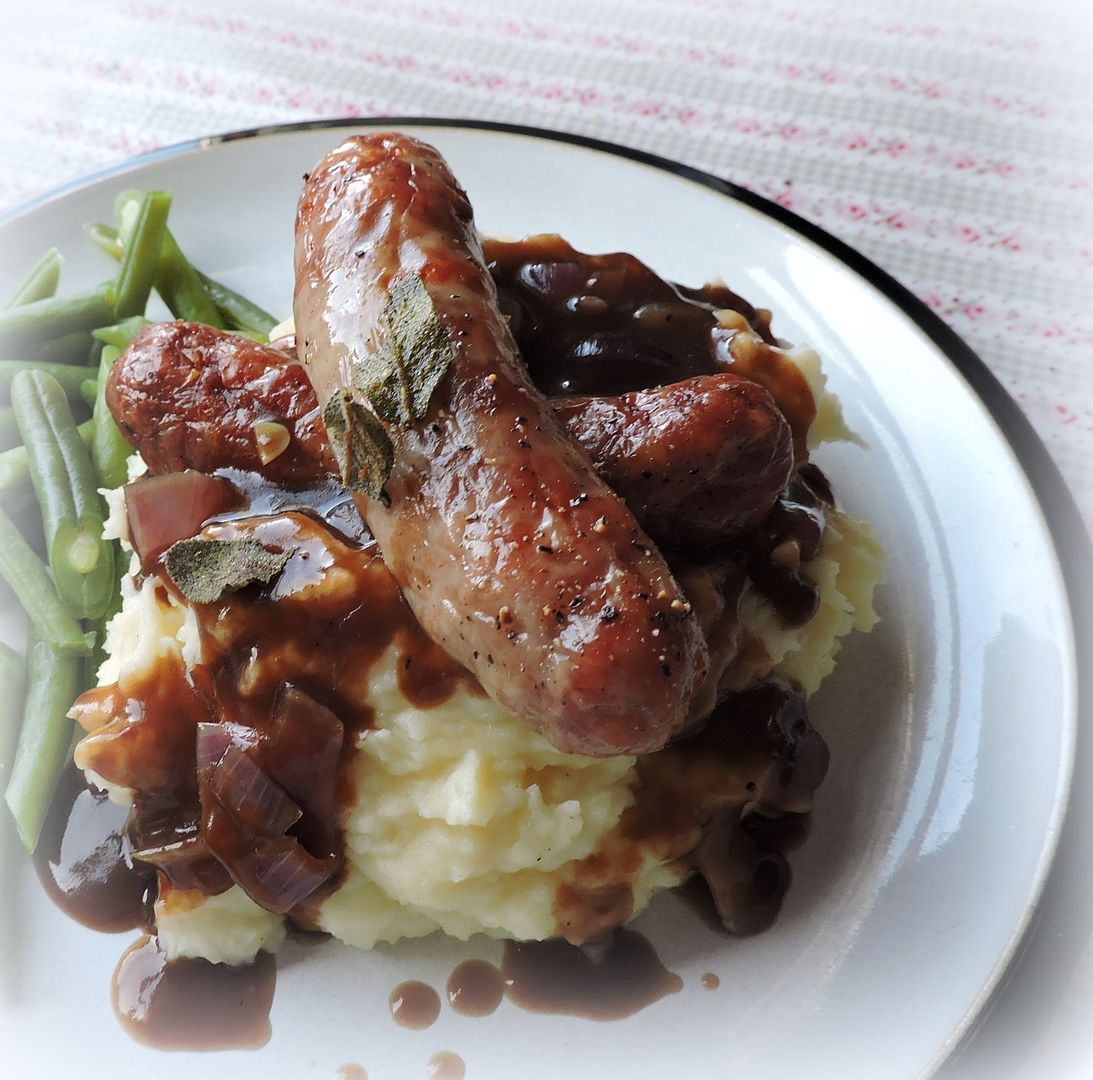 I am a real fan of Heck Sausages myself or Debbies & Andrews (and no I have not been paid to say that. It's simply the truth). But any of the higher end sausages you see in the shops are sure not to disappoint and a good butcher's sausage that you buy at the Butcher shop itself, cannot be beaten. Our local shop does a lovely sausage with caramelized onions in it. Fabulous.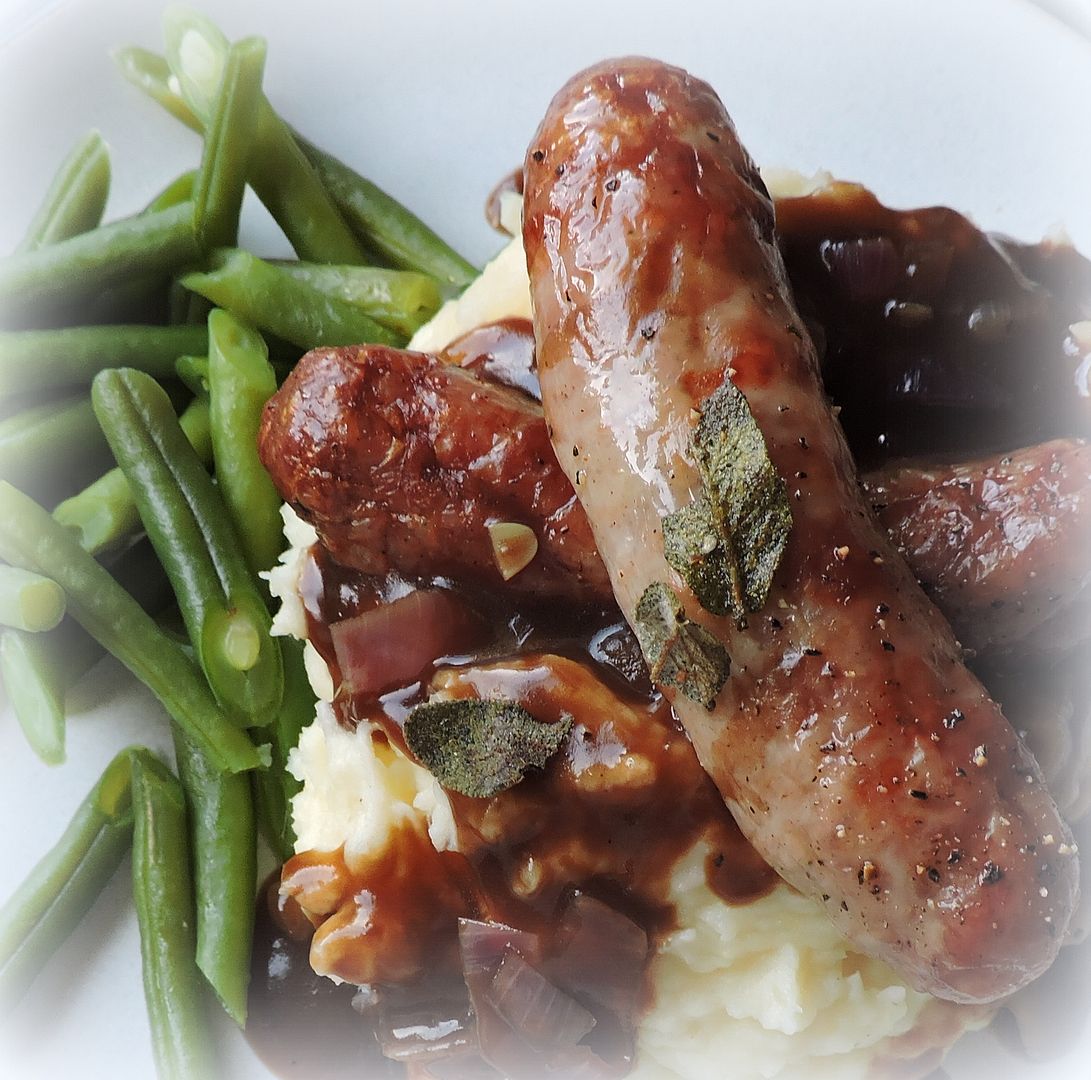 Which brings me to the second part of this fabulous meal. A great onion gravy! You cannot beat a good onion gravy. This one I am showing you today benefits with a long slow cooking of the onions and the addition of some good balsamic vinegar and a bit of brown sugar. It's sooooo good ladled over the potatoes and sausage.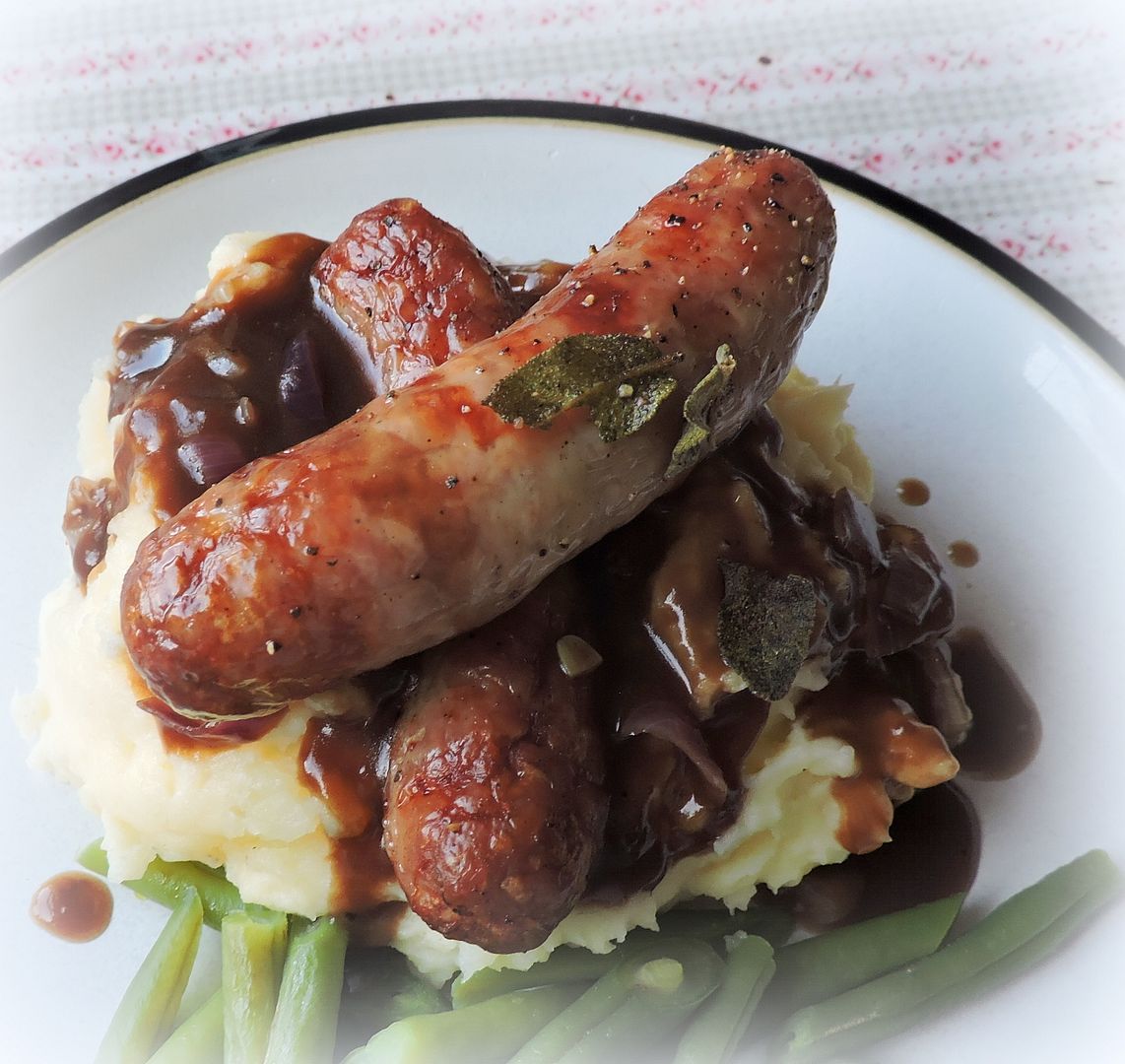 Of course the final layer of this trinity of good taste is the mash. Use a good floury potato that will break down nicely when you mash it . . . giving you nice and dry fluffy potato . . . ready and willing to soak up that butter and warm milk without becoming soggy. You will end up with light and fluffy . . . the perfect back drop for all that lovely meat and gravy. No wonder this is a favourite of Todds!
*Sage Roasted Bangers with Onion Gravy and Mash*
Serves 4
With proper planning and timing you can have a delicious sausage and mash supper on the table in not much more than half an hour. This is the real deal. The onion gravy is to die for.
For the Sausage:
1 package of meaty and thick herbed pork sausages
a handful of fresh sage leaves
olive oil to drizzle


For the Mash:
2 pounds of mealy mashing potatoes, peeled and quartered
(A russet or a Maris Piper, or Rooster Potato work well)
225ml of warm milk into which you have melted 50g of butter (1 cup of milk, 1/4 cup butter)
fine sea salt and ground white pepper to taste
freshly grated nutmeg


For the Gravy:
a knob of butter
3 large red onions, peeled and thinly sliced into half moons
3 shallots, peeled and thinly sliced into half moons
2 TBS plain flour
2 TBS good balsamic vinegar
2 TBS brown sugar
450ml of good beef stock (2 cups)
fine sea salt and black pepper to taste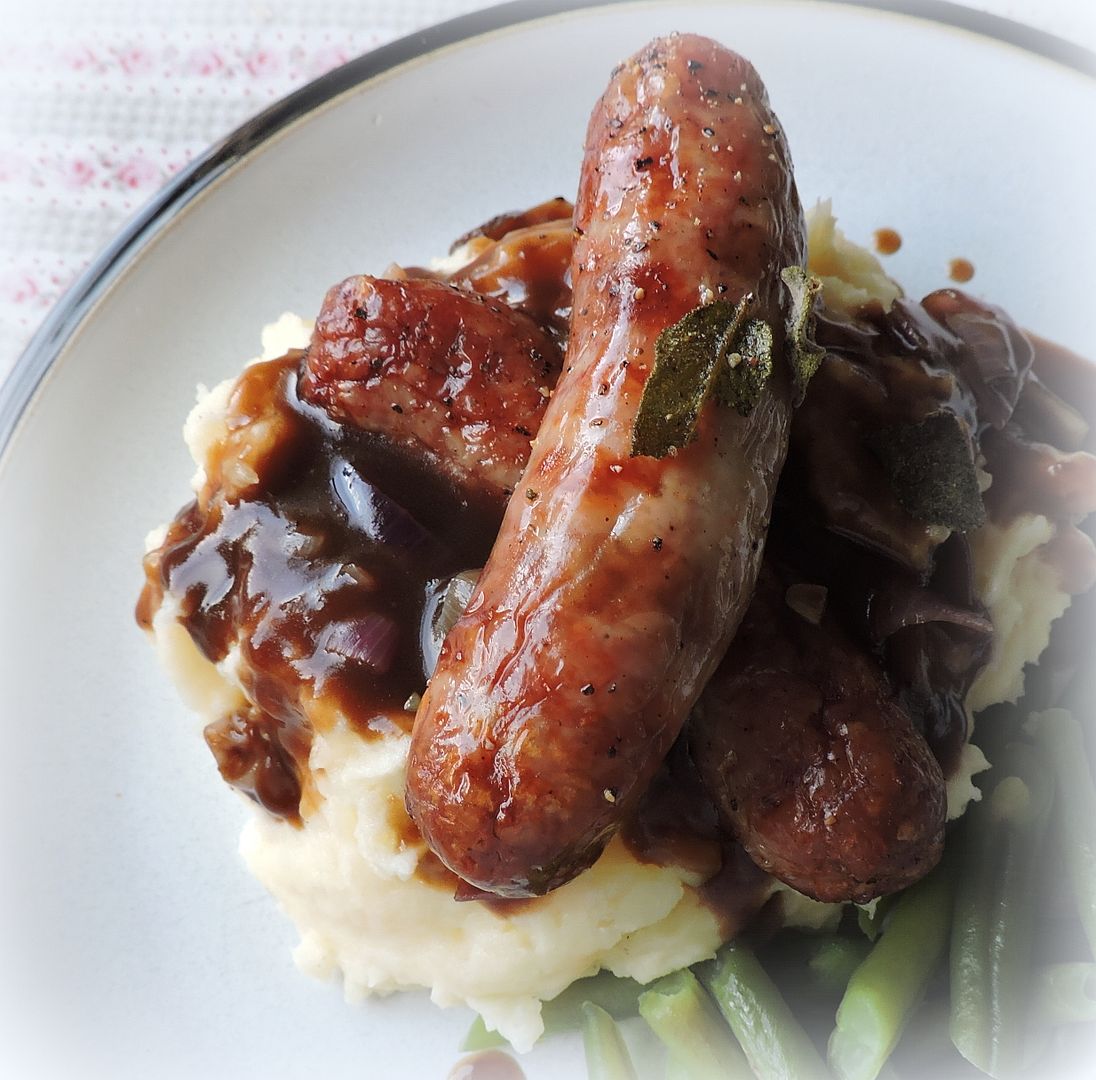 Preheat the oven to 200*C/400*F/ gas mark 6. Place the sausages onto a baking tray, scattering the sage leaves amongst them. Drizzle with olive oil and toss together with a bit of sea salt and black pepper. Set aside.
Put the potatoes into a pot of lightly salted water to cover. Set aside.
Melt the knob of butter in a large skillet. Once it begins to foam add the onions and shallots, cook over medium low heat for about 20 minutes, or until they are nicely softened without colouring.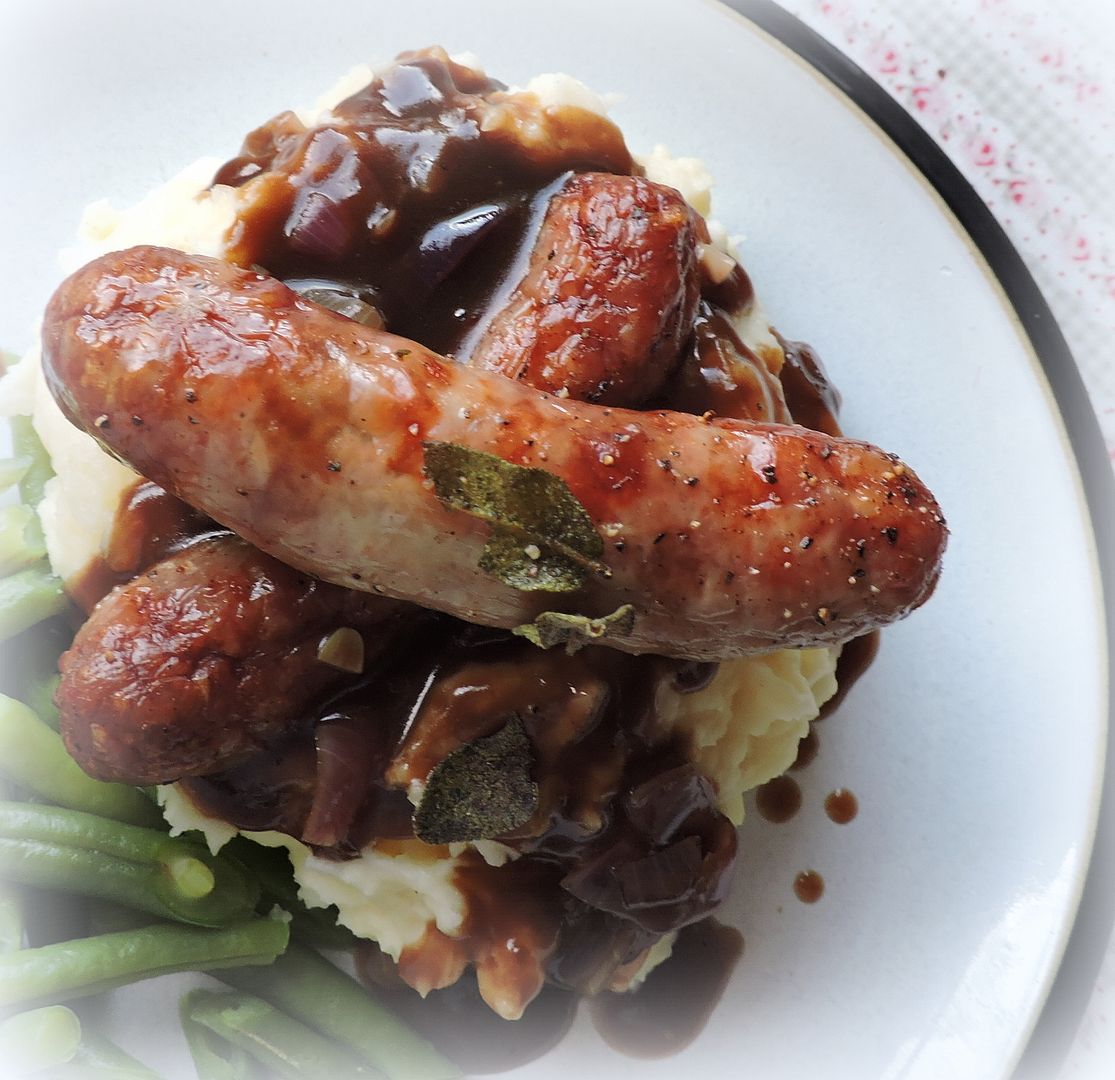 Bang the sausages into the oven and turn the burner on under the pot of potatoes and water. Bring to the boil. The sausages should take about 30 minutes to cook through.



Whisk the flour into the onions, cook and stir to meld in the flour. Add the brown sugar, balsamic vinegar and the beef stock. Bring to the boil, whisking constantly. Reduce to a slow simmer and simmer for 30 minutes, stirring every now and again and taking care it doesn't catch.
Test the potatoes after about 15 minutes. If they are fork tender, drain them. Return them to the pan and shake them dry over the residual heat of the pan. Mash them well, slowly adding enough of the milk and butter mixture to give you a consistency you like. You may not need it all depending on the time of year and the typr of potato used. Season to taste with some freshly grated nutmeg, salt and white pepper. Set aside and keep warm.
Once the sausages have cooked through, remove them from the oven. Divide the mash between 4 heated serving plates. Top each mound of potatoes with a couple of sausages, some of the crispy sage leaves and a nice spoonful of onion gravy. Pass the remaining gravy at the table.
I like to serve these with a green vegetable on the side. (Green beans, sprouts, peas, cabbage, etc.)