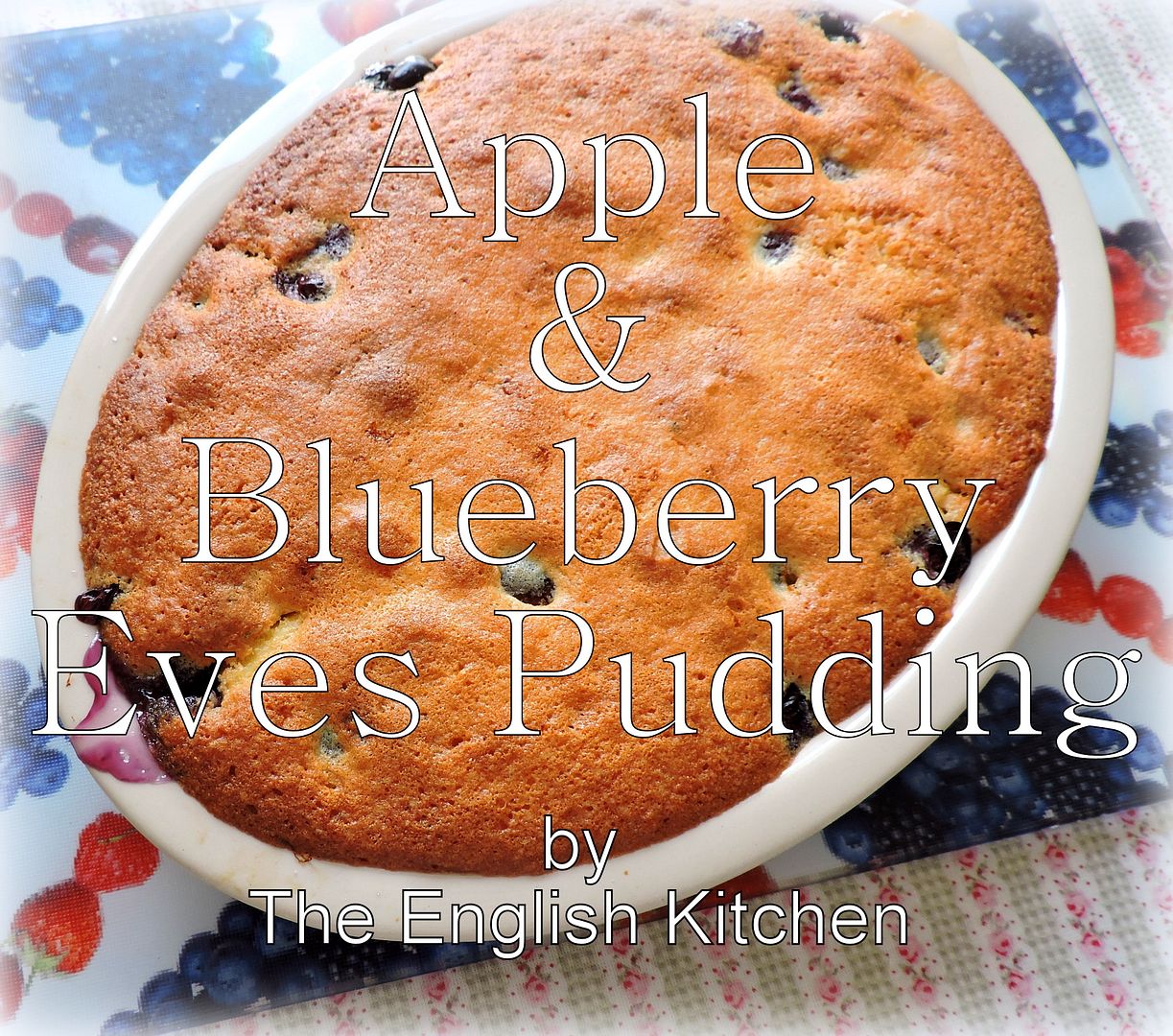 This is a lovely dessert I made the other night when we had some company for dinner. I had other plans, but the time got away from me, and so I decided to whip up an Eve's Pudding, which makes a quick and easy dessert, but not just an Eve's Pudding, but an Apple and Blueberry Eve's Pudding, which was only slightly different then the original traditional Eve's Pudding. Whew!
Eve's pudding is a traditional British pudding made from sliced cooking apples with a sponge cake mixture spooned over top. The apples are allowed to stew at the bottom of the baking dish while the cake mixture cooks on top. In this case, I sprinkled some blueberries over the apples to give it a bit of colour and variety!
You could add some spice to the apples if you wished, perhaps a bit of cinnamon, but that day I left them plain. I like to start the apples cooking in the dish in the oven while I whip the sponge mixture together.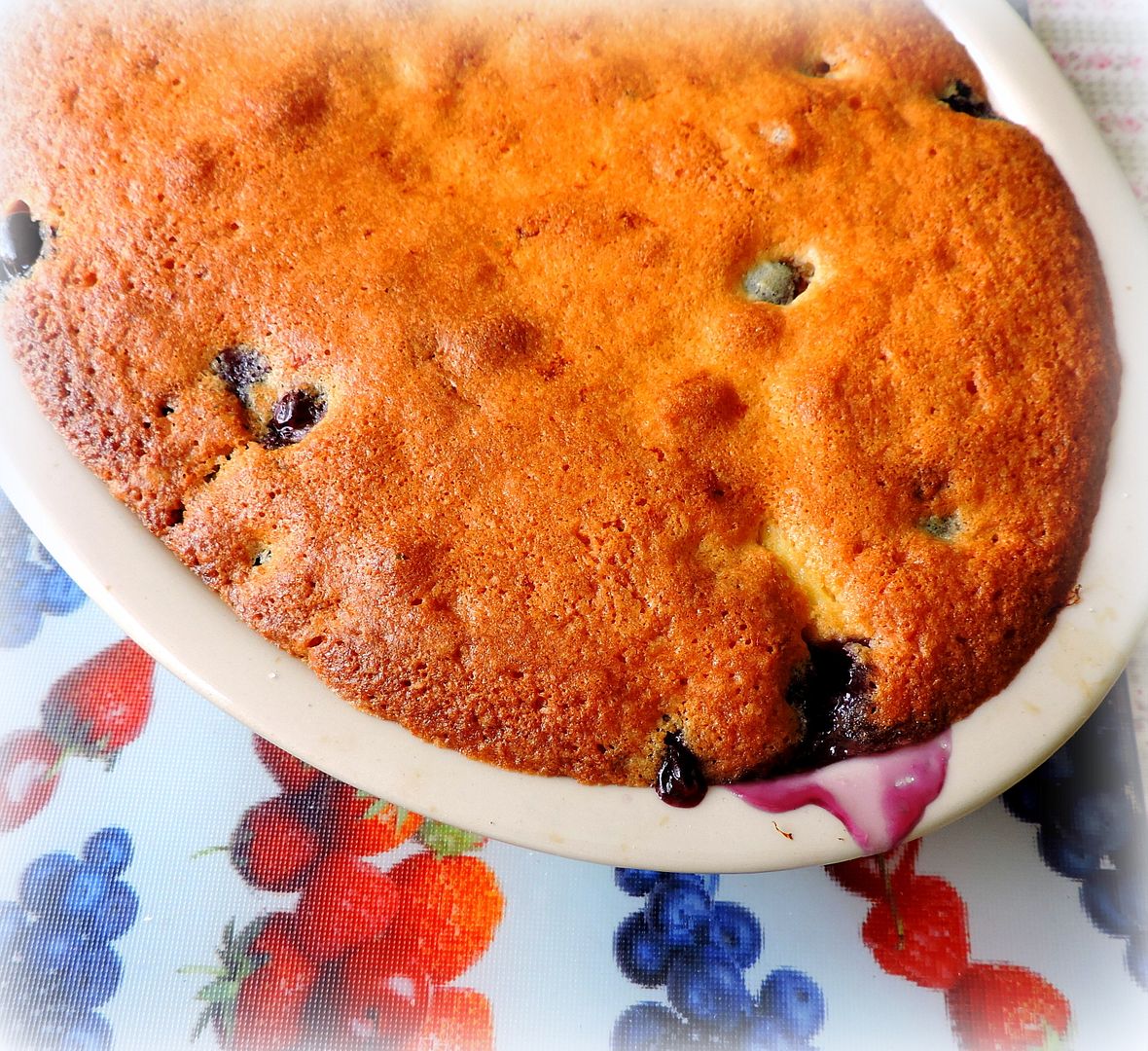 The sponge mixture goes together very easily . . . . and results in a lovely sponge with a moist crumb. I flavoured it with a bit of orange, both some juice and some finely grated zest.
Served warm from the oven with lashings of cream, it went down a real treat, but custard, or vanilla icecream would also be delicious!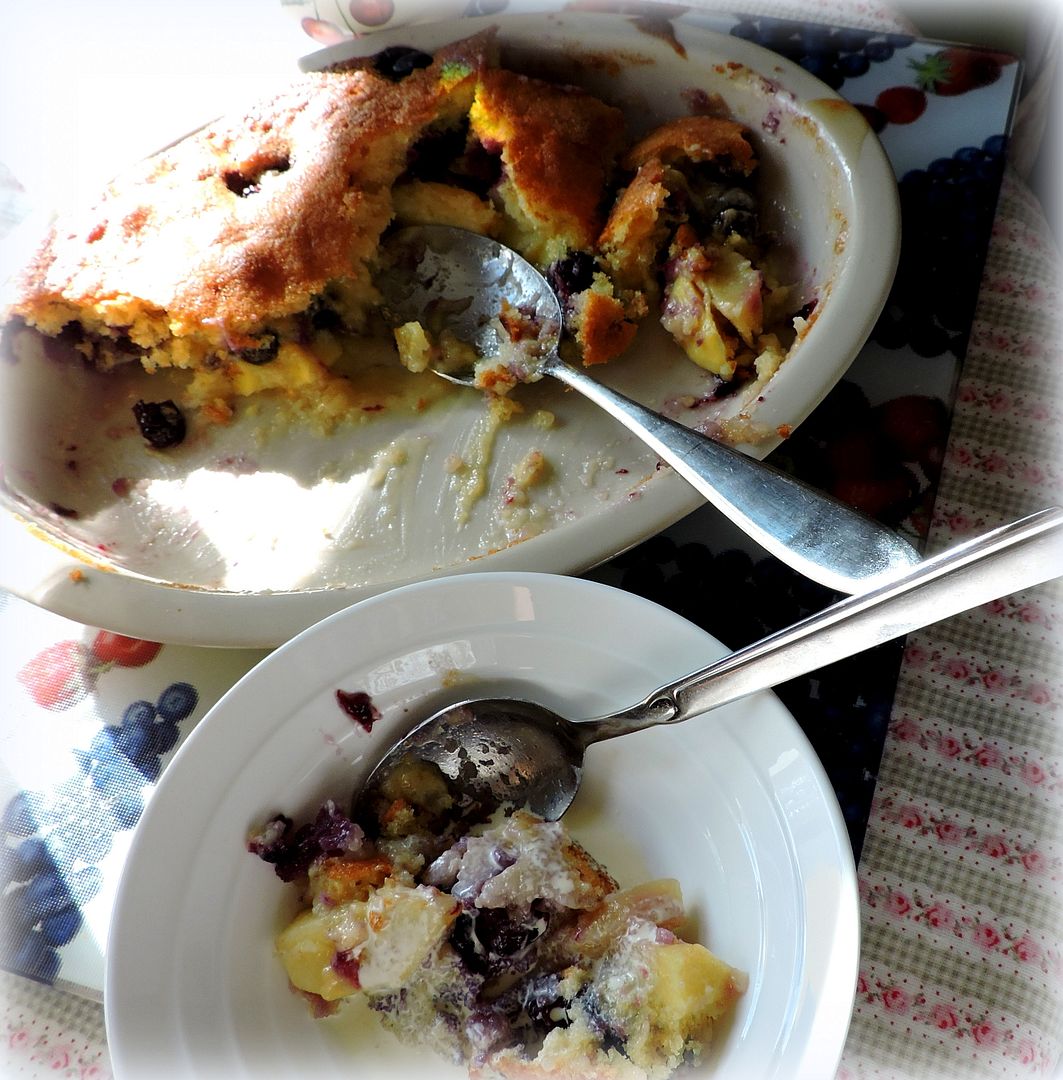 *Apple and Blueberry Eve's Pudding*
Serves 6
Printable Recipe
A slightly different version from the traditional Eve's Pudding. Easy Peazy, and oh so scrummy yummy! Serve warm with lashings of cream or custard poured over top each serving.
1 1/2 pounds cooking apples, peeled, quartered,
cored and cut into thick slices
4 ounces blueberries, fresh or frozen (1/4 pound)
3 ounces of caster sugar (a scant 1/2 cup)
1 TBS water
Topping:
4 ounces unsalted butter, at room temperature (1/2 cup)
4 ounces of caster sugar (a generous half cup)
2 large free range eggs
4 ounces self raising flour (a scant 1 cup)
2 TBS fresh orange juice
the grated zest of one small orange
Icing Sugar for dusting
Warm custard, or cream for serving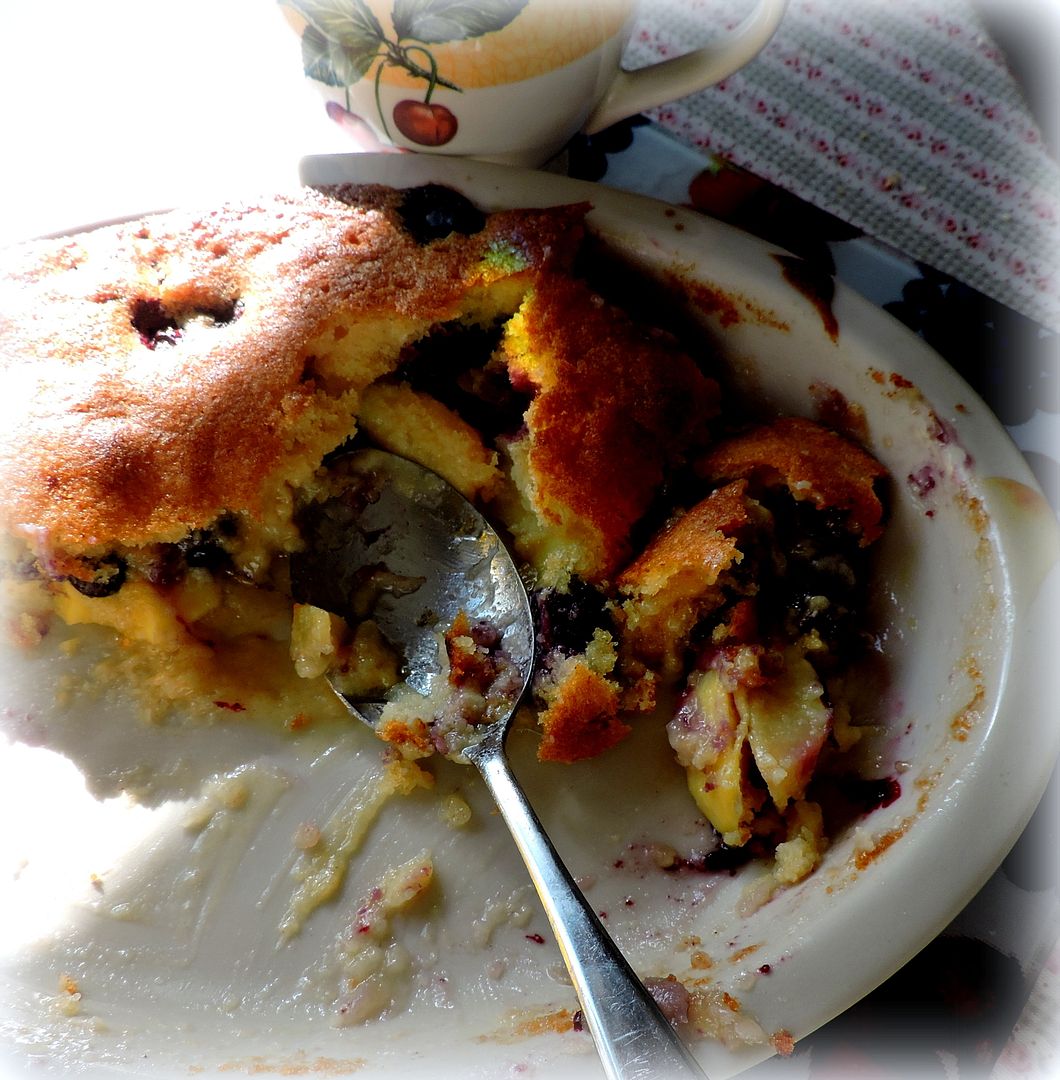 Preheat the oven to 180*C/350*F/ gas mark 4.
Place the apples and cranberries into a 2 1/2 pint baking dish, at least 2 inches deep. Sprinkle the caster sugar over top along with the water. Place into the heated oven and allow to cook for about ten minutes while you make the topping.
To make the topping measure all the ingredients into a bowl and then whisk together until smooth with an electric whisk. Remove the fruit from the oven and spread this batter evenly over top. Return to the oven and cook for 30 to 40 minutes until golden brown and the top springs back when lightly touched.
Dust with icing sugar and serve warm with custard or cream.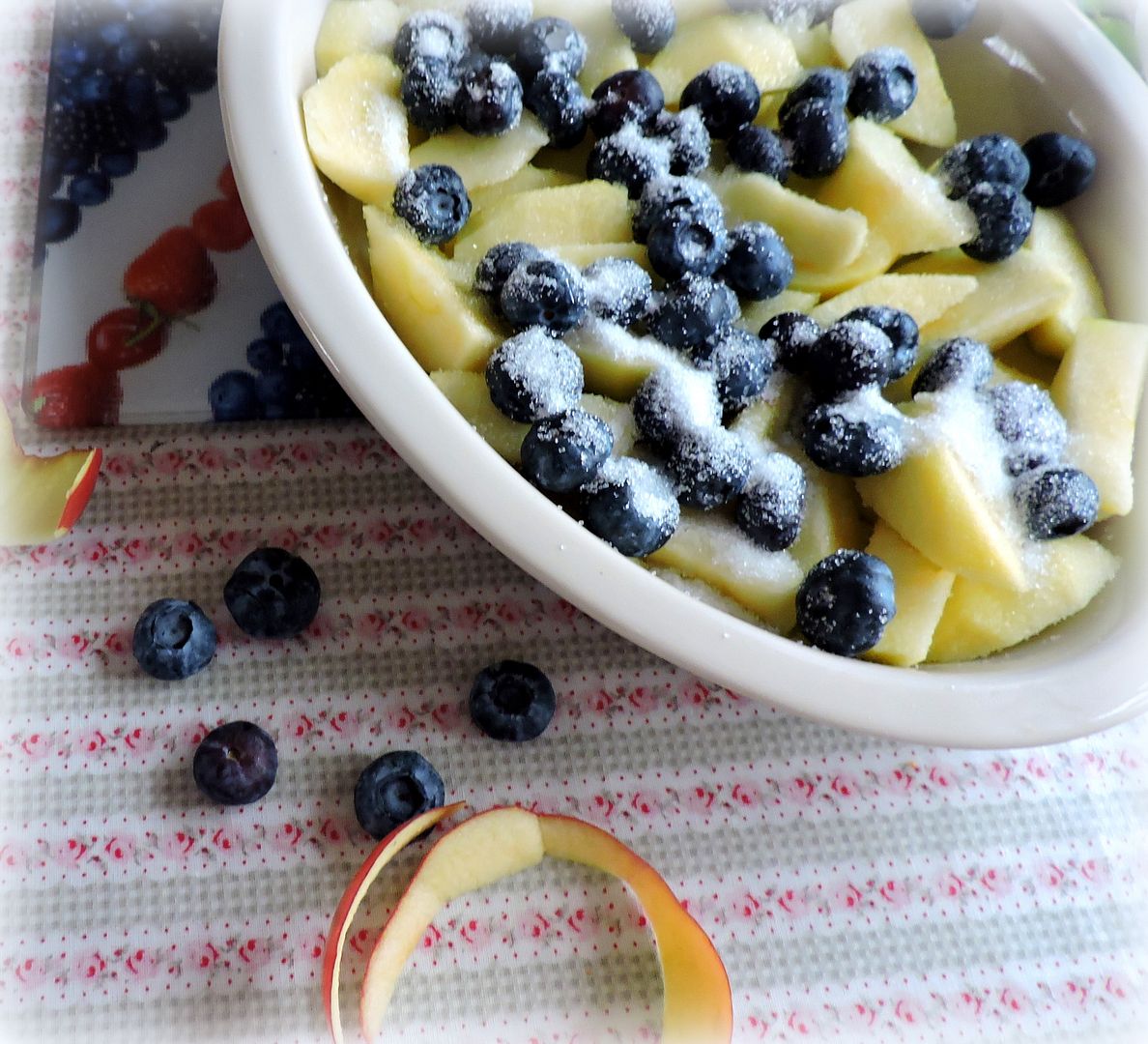 The dish I used to bake my Eve's Pudding in was the Wade Ceramics 12 inch Oval Pie dish, from Eddingtons. It was the perfect size and shape for this dessert. Its really meant for pies, but worked very well for this as well.
The rim of this dish provides ample support for a pie lid; seals pastry and prevents pie from shrinking back during cooking. There is also an indented space for pie funnels, ensuring funnel works effectively to release steam which helps in keeping the pie crust crisp It is made from the finest porcelain, in an attractive off white colour for a timeless classic look. It has an accurate depth design which is created to contain various ingredients ensuring that the pie filling cooks well and evenly. It is microwave, oven and dishwasher safe.
It is available via
Objects of Use
, Oxford. Telephone
01865-241705
at the cost of £24.99.
I can't wait to bake a pie in it. Watch this space!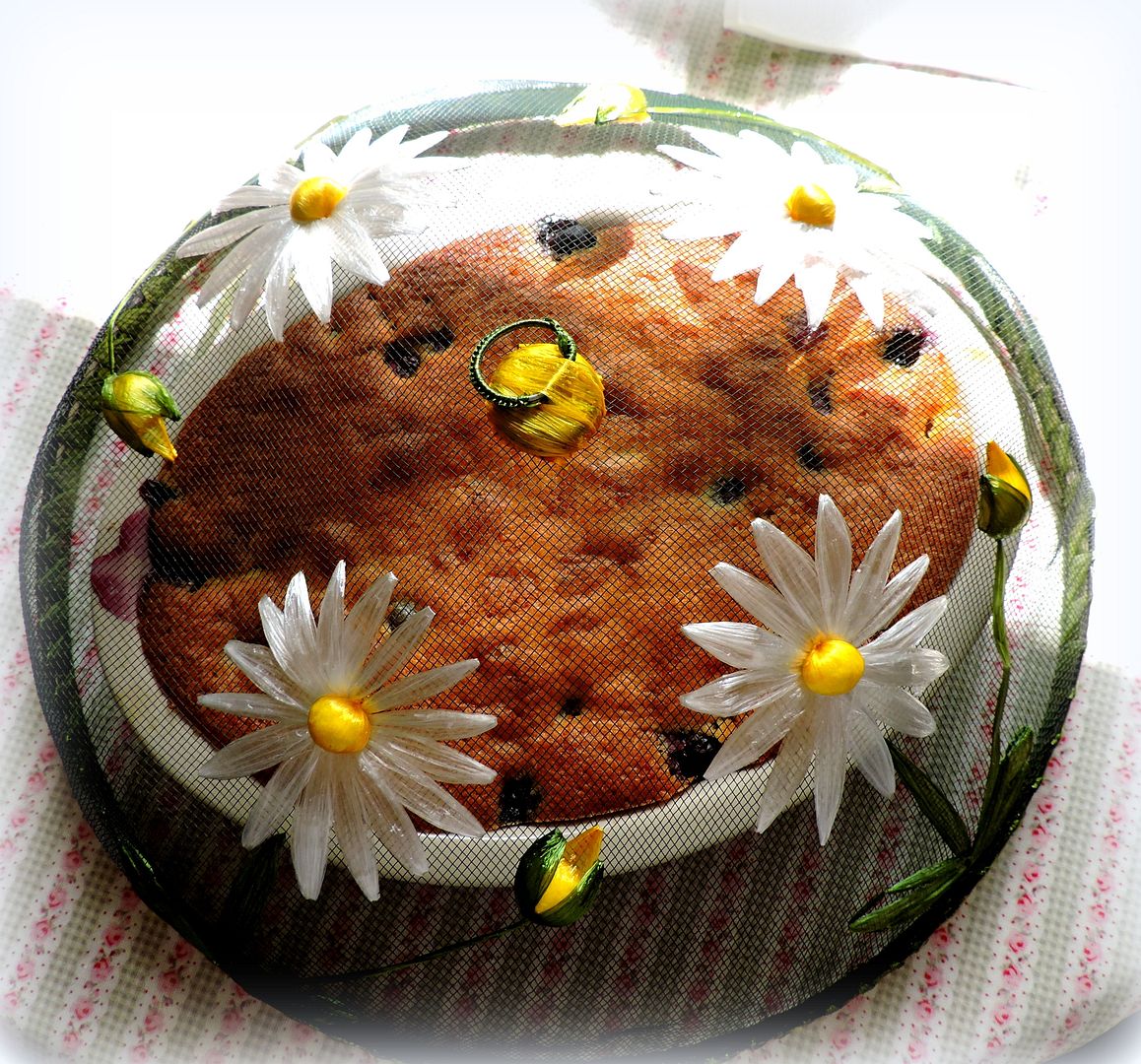 Another handy piece of kit I was able to use on the day was also from Eddingtons. Eddingtons Daisy Food Cover is designed to protect food from pests, whilst adding that finishing touch to picnic and barbecue tables. This is going to come in really handy during the warm weeks ahead. I love eating out of doors, but I hate the idea of flies and other assorted pests crawling over my food prior to our eating.
As you can see it was large enough to amply cover this 12 inch pie dish with plenty of space overhead and around. And it's really pretty. I love it. Eddington's Daisy Food Cover is available from
Steamer Trading
for the low price of only £7.99 and would make a beautiful addition to any picnic table!
This really was a beautiful pudding. Not only was it quick and easy to make and very, very attractive . . . but it was quite, quite delicious! Bon Appetit!
Note - although I was sent free product from Eddington's to use and review, I was not required to write a positive review. Any and all opinions are entirely my own.