As I write this (Saturday morning) I am expecting a big crowd of youngsters to come later on today for a BBQ.
We are going to christen the new BBQ which we purchased last weekend and which the Elders so kindly helped my husband to put together!
Younguns love cupcakes and so I baked these lovely May Cakes to go along with all of the other goodies.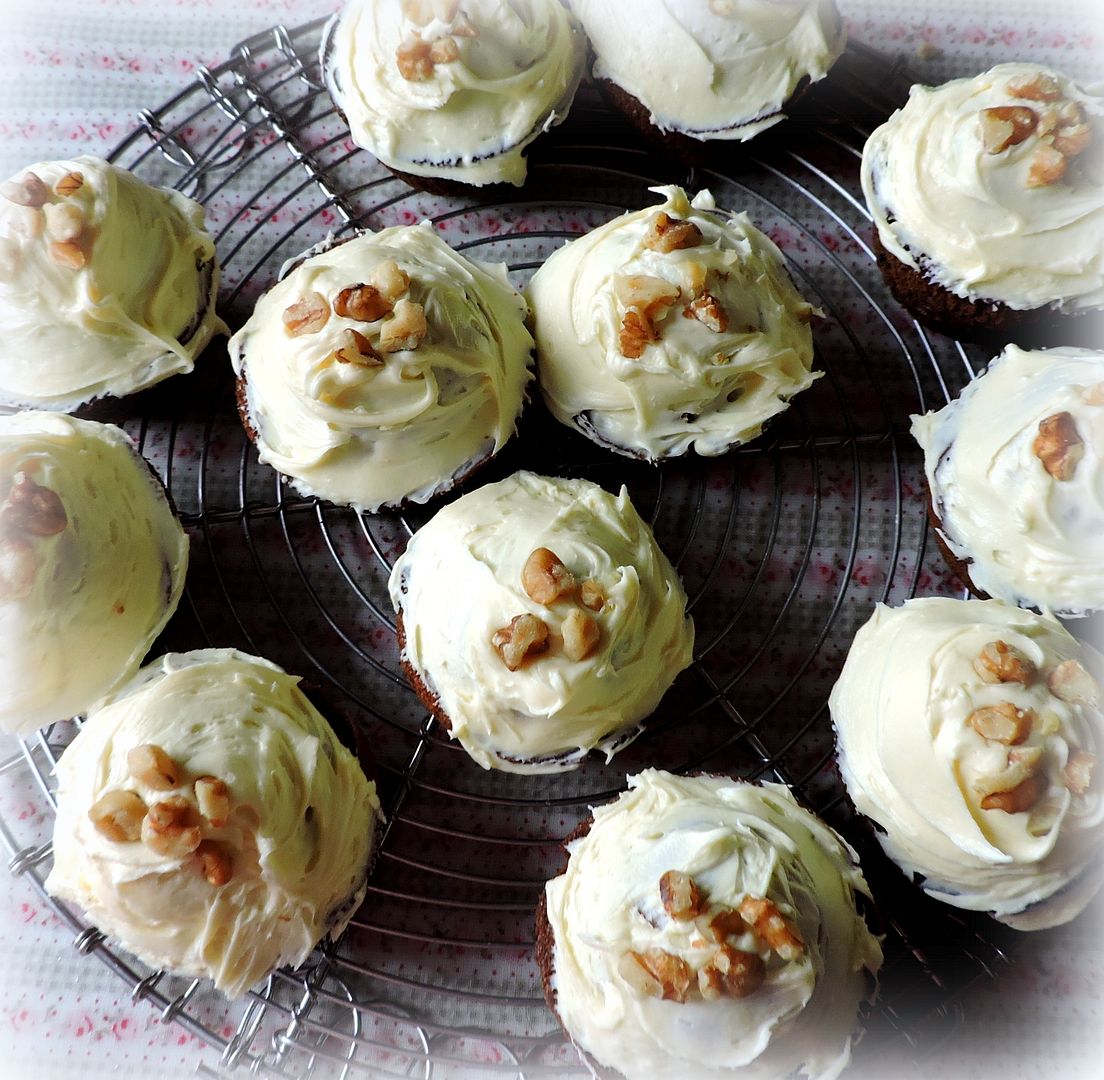 These are a cake I bake often, but have hesitated to show you before because I have always felt something called a May Cake should be posted in May!
I feel rather odd posting about them in another month of the year.
That is just me being pedantic I know. These little cakes are so tasty they deserve to be talked about all year round!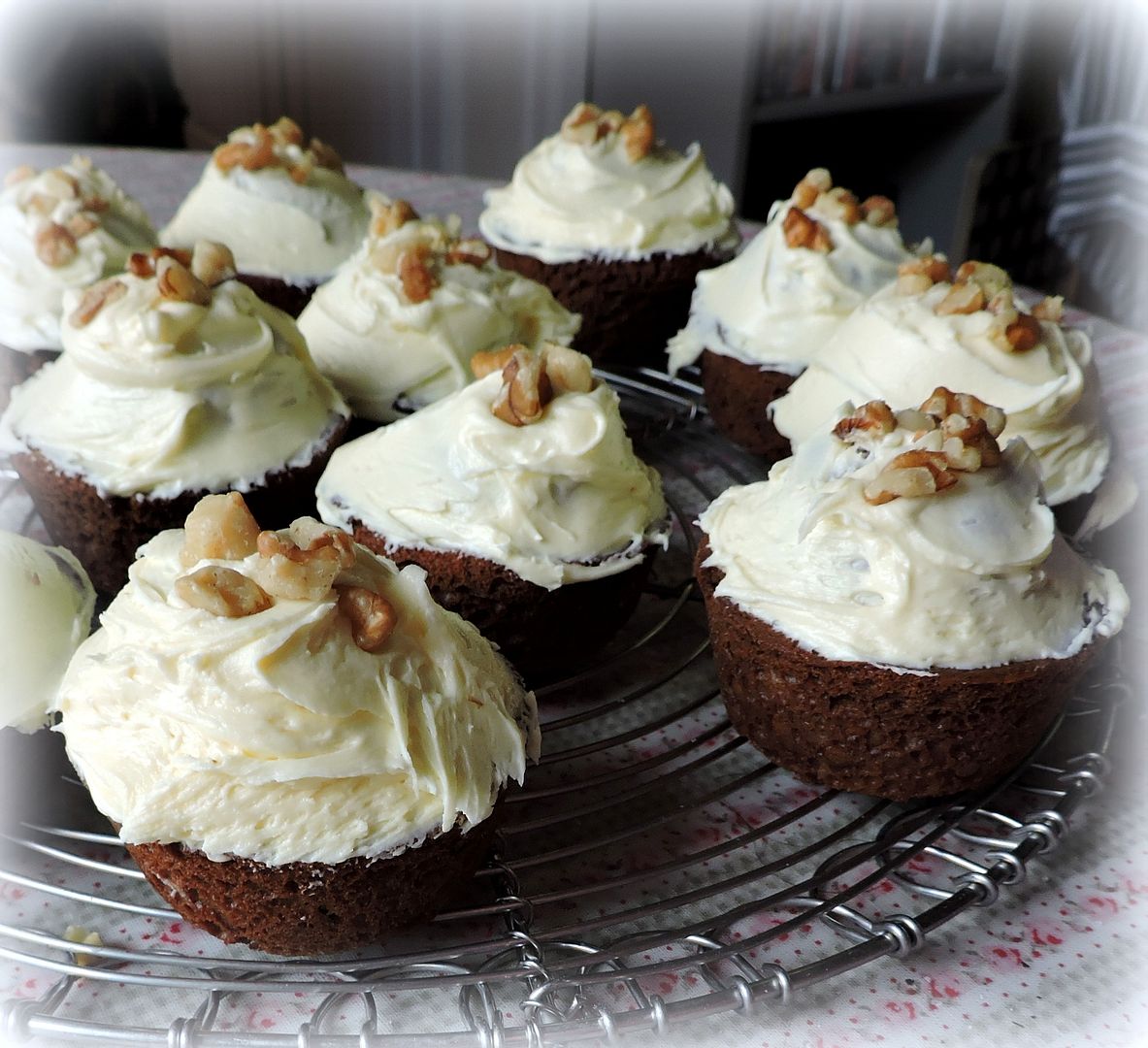 They don't look very special, but I can assure you that they are.
Moist and delicious . . . using buttermilk, butter, brown sugar . . . good old fashioned goodness is what these are . . .
Simple ingredients done well.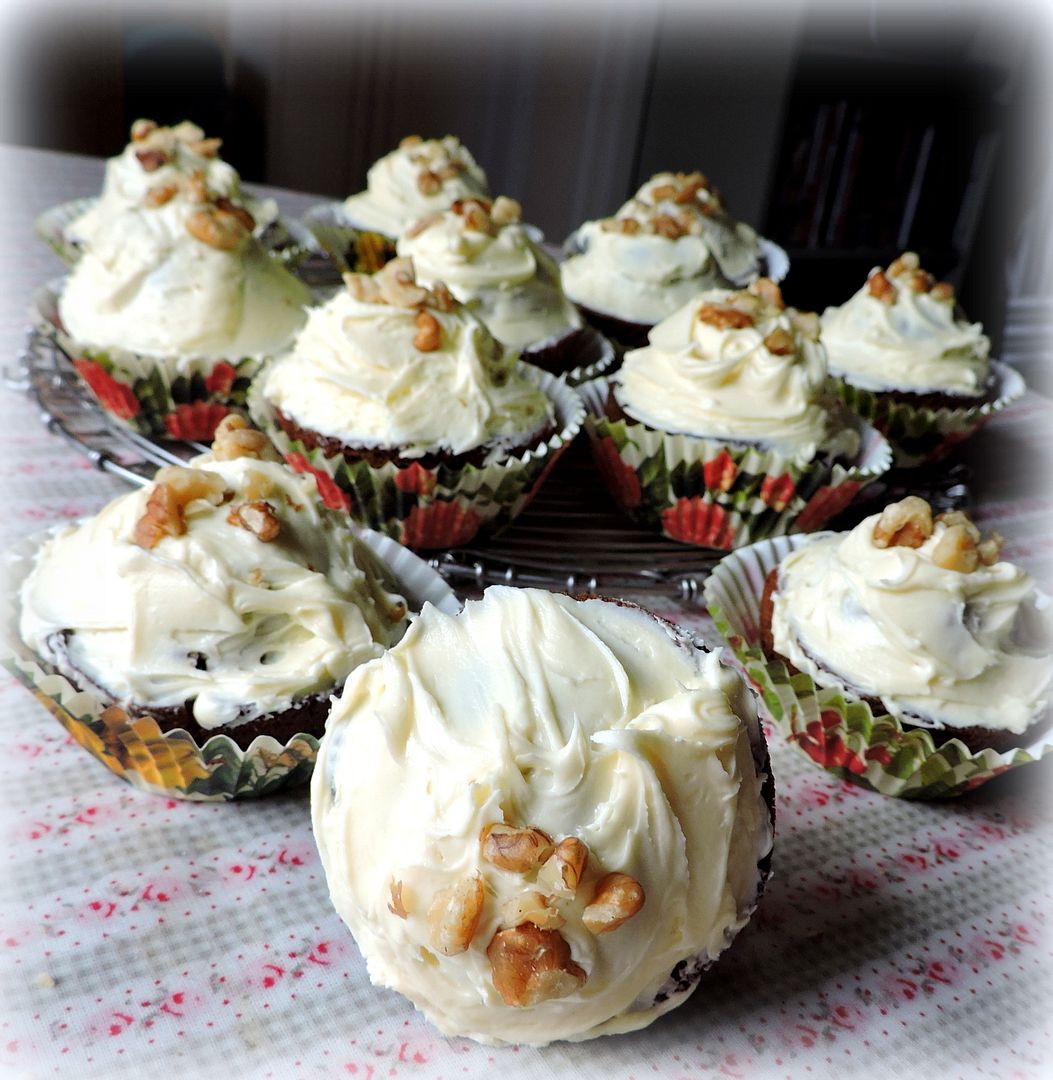 Nicely spiced with warm baking spices . . . cinnamon, cloves, freshly grated nutmeg.
Oh boy . . . and don't get me started on the raisins and toasted walnuts. These are absolutely gorgeous! I hope the youngsters enjoy them!
*May Cakes*
with a Vanilla Icing
Makes 12
Moist gingerbread-like cupcakes stogged with raisins and walnuts, iced with vanilla buttercream.
For the cakes:
65g of butter, softened (1/4 cup)
105g of soft light brown sugar (1/2 cup, packed)
2 large free range eggs
2 TBS molasses
210g of plain flour (1 1/2 cups)
1/2 tsp salt
1 tsp ground cinnamon
1/2 tsp ground cloves
1/2 tsp freshly grated nutmeg
1 tsp bicarbonate of soda (baking soda)
120ml of buttermilk or sour milk (1/2 cup)
75g of raisins (1/2 cup)
60g chopped toasted walnuts (1/2 cup)
For the Icing:
125g butter, softened (1/2 cup)
195g icing sugar, sifted (1 1/2 cups)
1/2 tsp vanilla essence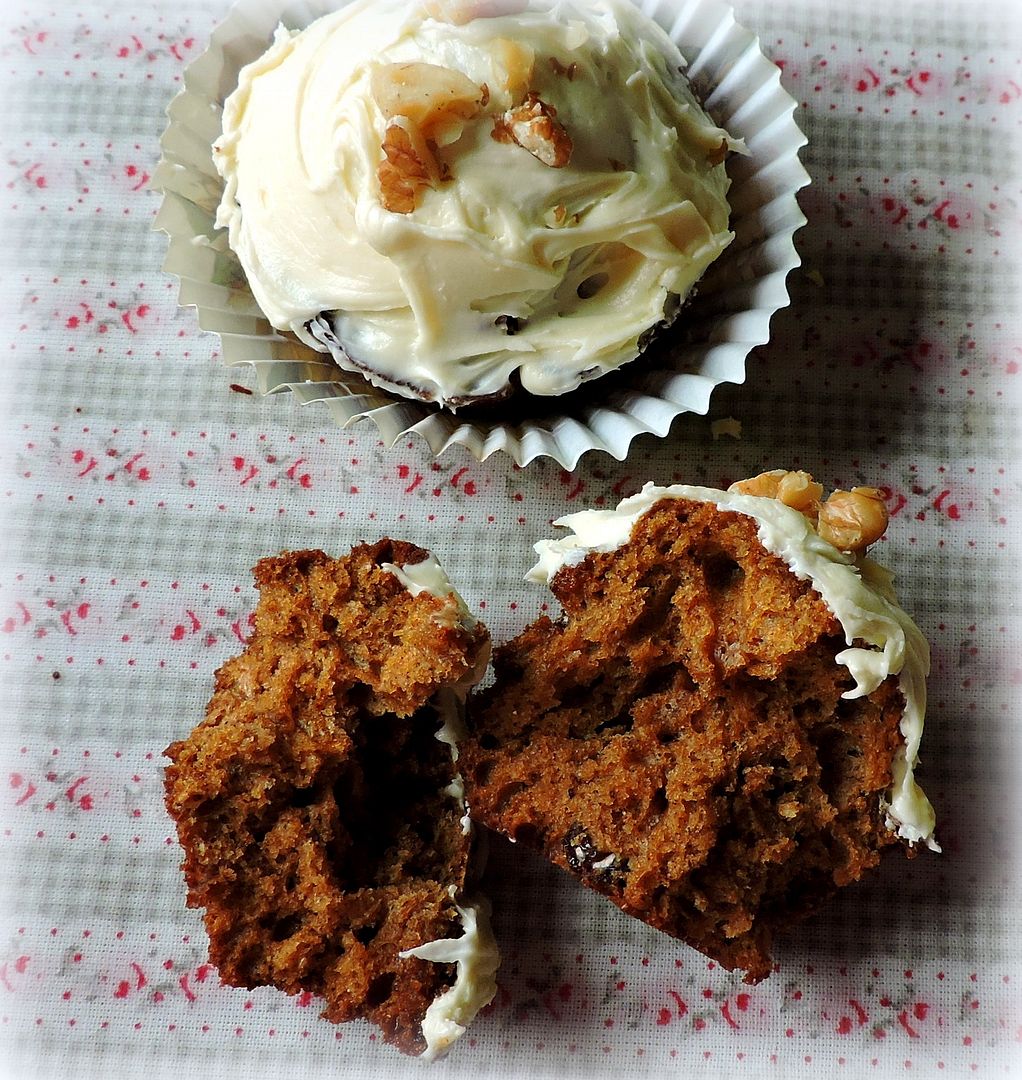 Preheat the oven to 190*C/375*F/gas mark 5. Butter a 12 cup muffin tin really well. Set aside.


Cream the butter until it is light and fluffy. Beat in the sugar a little bit at a time. Beat in the eggs, one at a time. Beat in the molasses to incorporate. Dissolve the soda in the sour milk. Sift together the flour, salt and spices. Remove one TBS and toss together with the raisins and walnuts. Add the remaining flour mixture to the creamed mixture alternating with the milk, beginning and ending with dry ingredients. Stir in the dredged raisins and nuts. Spoon into the prepared muffin tins. Bake in the preheated oven for 20 to 25 minutes.
Allow to cool in the pan for five minutes before tipping out to a wire rack to cool completely.


To make the icing beat all of the ingredients together until light and creamy. Spread a portion on top of each cake once the cakes have completely cooled.
Note: I like to garnish these with more chopped toasted walnuts, just to prettify them up a bit!
Did you notice my cute cupcake liners? Aren't they just the sweetest things!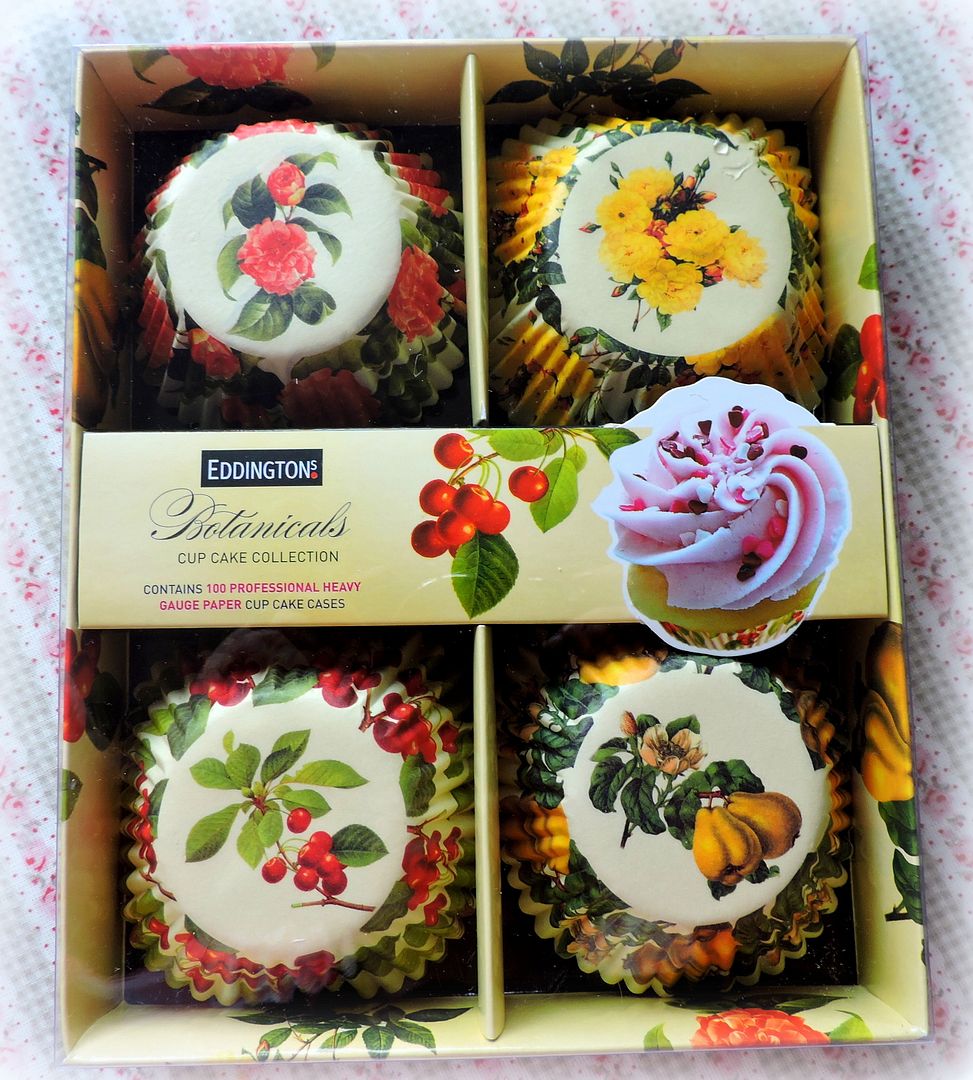 They are Eddingtons' Botanicals Cupcake Collection Cake Cases. Made with 60gsm heavy weight professional quality paper they are decorated with four designs including both yellow and red roses, cherries and pears.
These elegant cases hold their shape well and are perfect to complement your delicious cupcakes. This set of 100 cases features 25 of each design. I love LOVE them, especially the pear and cherry ones. They are so pretty and they're very sturdy!
I love a sturdy cupcake case! These are available via
The Cook's Kitchen
and are on offer for only £4.70 for the set.
I've also been enjoying using this set of Amco Professional Performance Measuring Cups from Eddingtons.
-Set with 4 measuring cups: 1/4, 1/3, 1/2 & 1 cups
-Precision accuracy to assure consistency in food preparation
-Imprinted handle with the measurement
-Pierced to hang for storage
-Made of High Quality Strong Stainless Steel
-Dishwasher Safer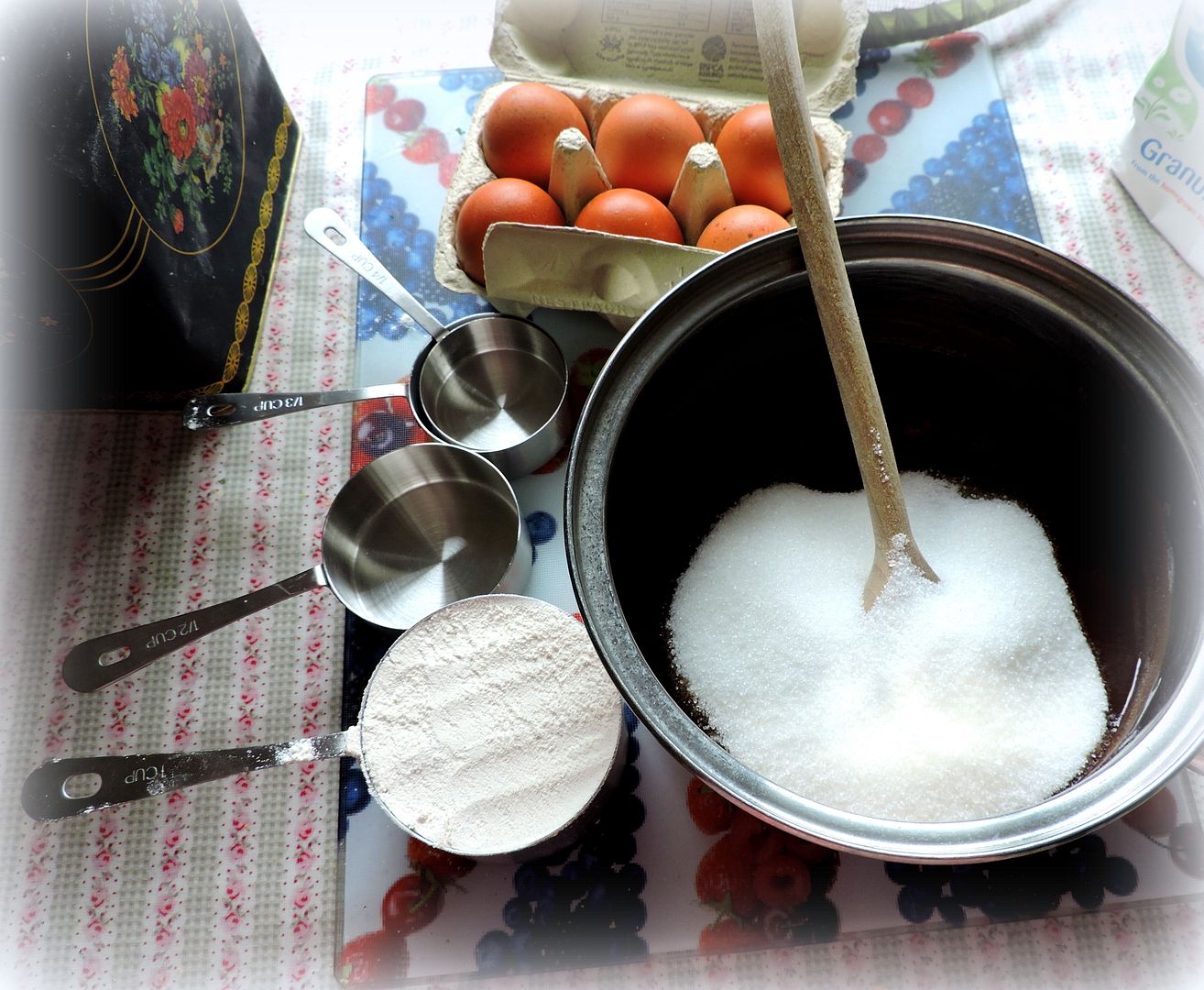 I love these. They are sturdy and accurate and store very easily. I also love that they are dishwasher safe.
You can buy these from
Stuff For the Kitchen
at the cost of £11.10. You cannot beat the longevity of stainless steel. These will last me a lifetime.
Another handy tool which I have been finding very useful, also from Eddingtons is this lovely iSlice Ceramic Cutting Tool.
If you are like me, you can find modern packaging very frustrating! Awkward to get into, hard to cut through . . . and to be honest using a sharp knife to get into them can be dangerous to the hands!
The iSlice is a new ceramic tipped cutter meant for use with paper and plastic!

The iSlice has literally 1000's of uses. Perfect for clipping recipes or magazine articles; for cutting single sheets of paper or sellotape; or for opening awkward CD packaging or shrink wrap.
The ergonomically shaped iSlice features a built in magnet for easy storage and has a recessed high tech zirconium-oxide ceramic blade that resists wear and never rusts.
Because the blade is ceramic it won't cut your finger so it's perfect for kids too! Ideal for use in the home, office, shop or kitchen!
Available at the cost of £3.50 from
Stuff for the Kitchen
. This is one handy dandy gadget! I love it!
Thank you so very much to
Eddingtons
for sending these nice things for me to try out. I just love them! And who doesn't like a nice new piece of quality kitchen kit! Eddingtons are suppliers of fun, innovative and practical kitchen and housewares that are just that little bit different.
Note - although I was sent these articles free of charge, I was not required to write a positive review.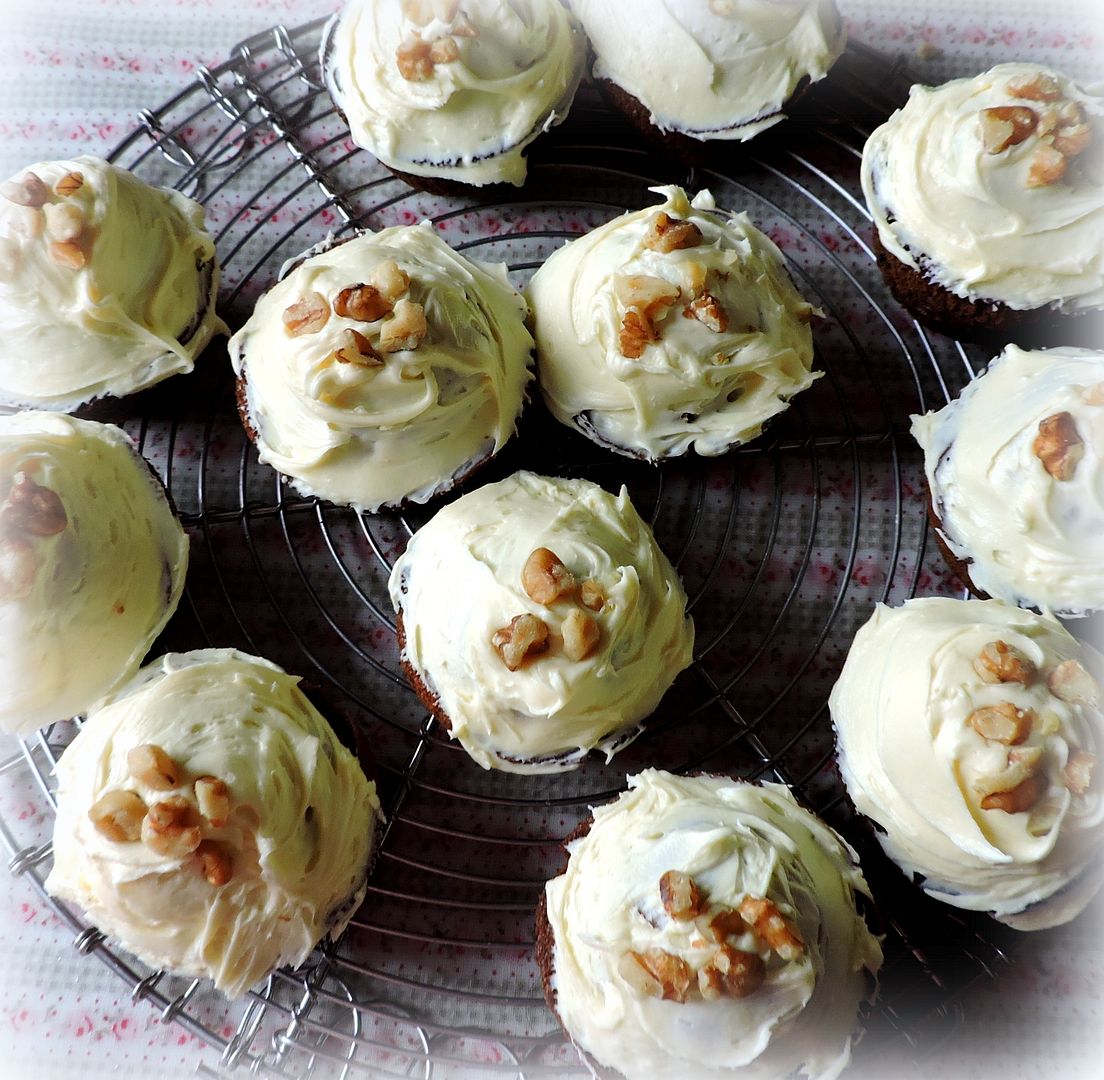 This content (written and photography) is the sole property of The English Kitchen. Any reposting or misuse is not permitted. If you are reading this elsewhere, please know that it is stolen content and you may report it to me at: mariealicejoan@aol.com