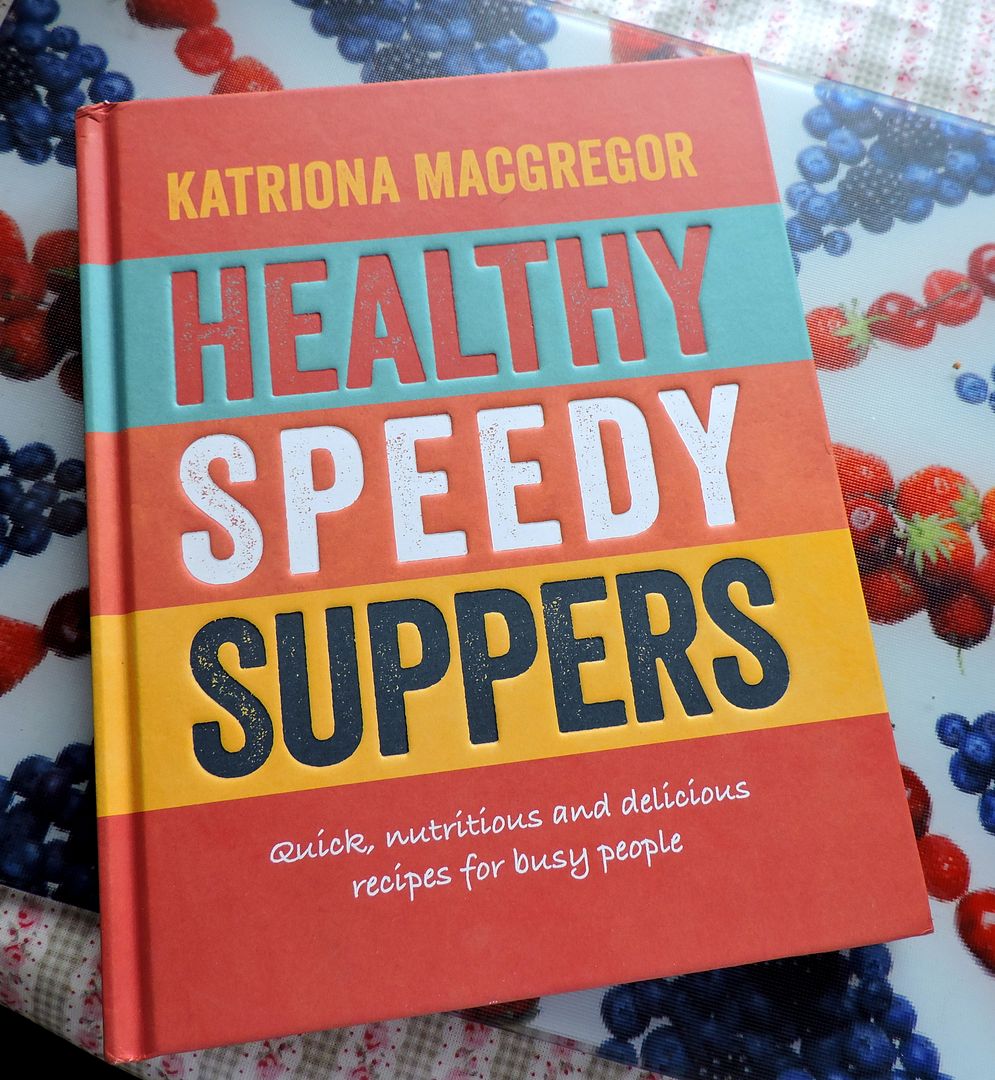 Another cookery book I received recently for review is Healthy Speedy Suppers, by Katriona MacGregor. Bursting with quick, simple and deliciously healthy recipes, Healthy Speedy Suppers will inspire anyone who feels too tired or busy to cook at the end of the day.
Katriona MacGregor started her Speedy Weeknight Suppers column for The Telegraph online in 2013, after a move back to exhausting London office life caused a slump in her diet. Resolving to break away from eating ready meals and cheese on toast every night, she began developing recipes that took no more than 40 minutes to make, were packed with good quality, wholesome ingredients, and tasted fantastic.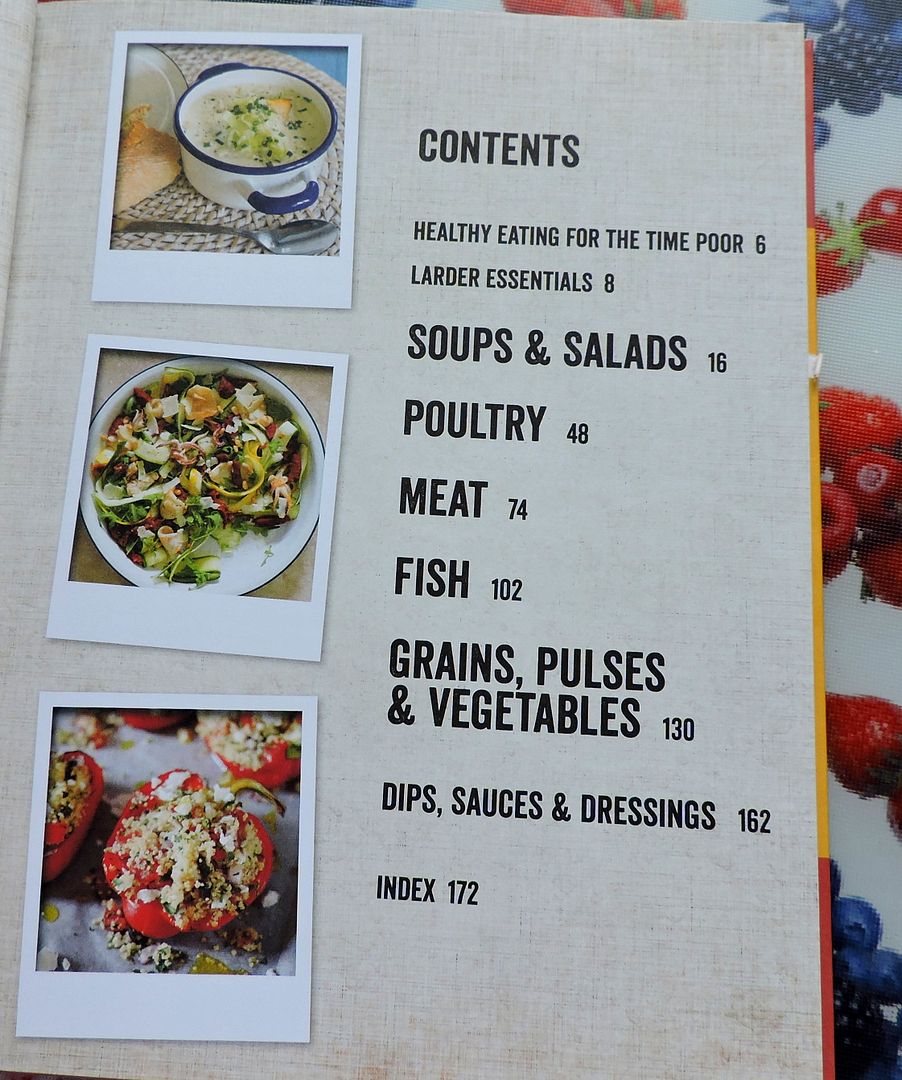 It is brimming over with advice for those who are short on time but stillwant to eat nutritiously and how to stock a healthy larder. There are Six tasty chapters of recipes including . . .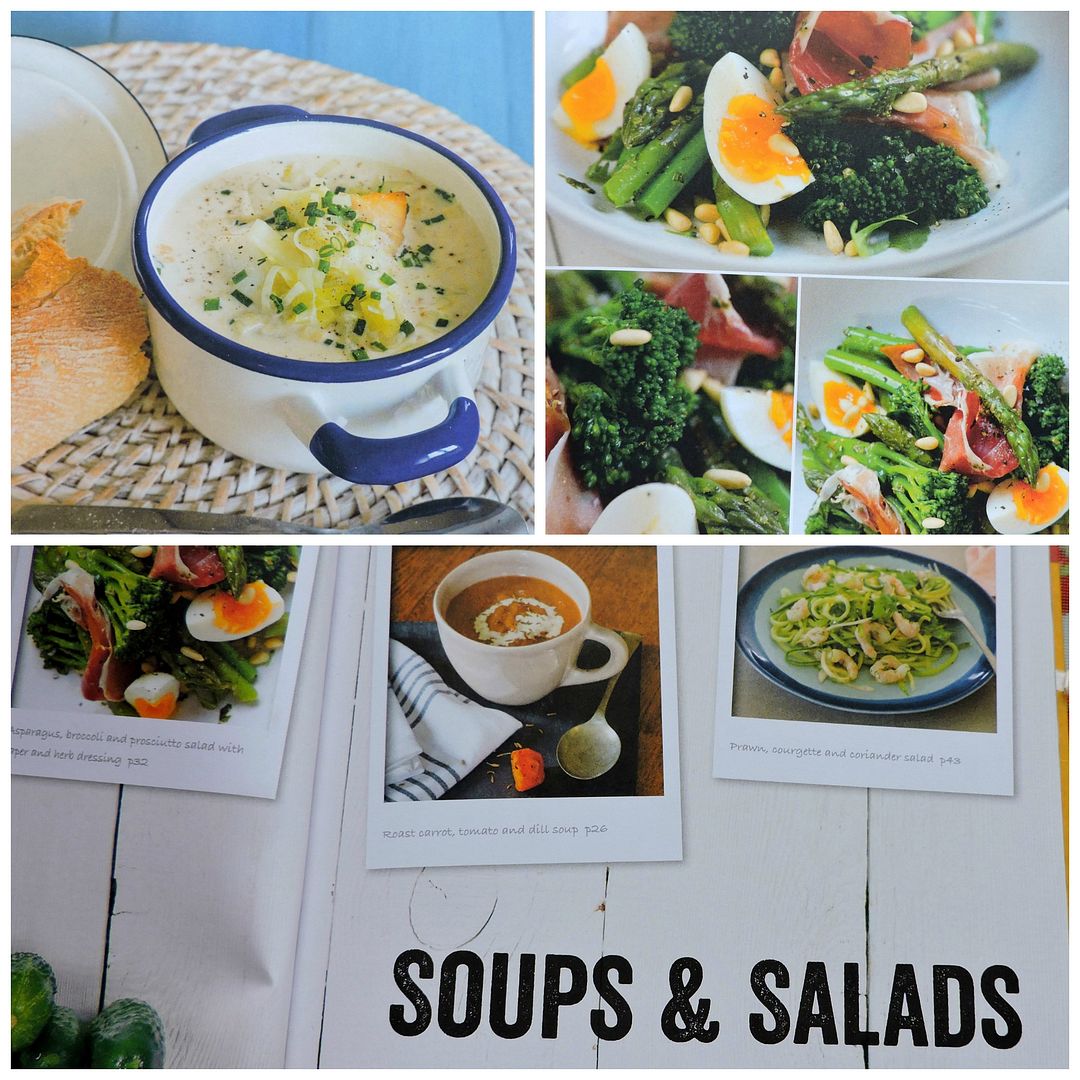 Soups and Salads
- Nineteen delicious recipes including such fabulous delights as Little Gem, Cucumber and Rocket Soup, Asparagus, Broccoli and Proscuitto Salad wih Caper and Herb Dressing, Roast Carrot, Tomato and Dill Soup, Prawn, Courgette and Coriander Salad. Who knew healthy could be so delicious!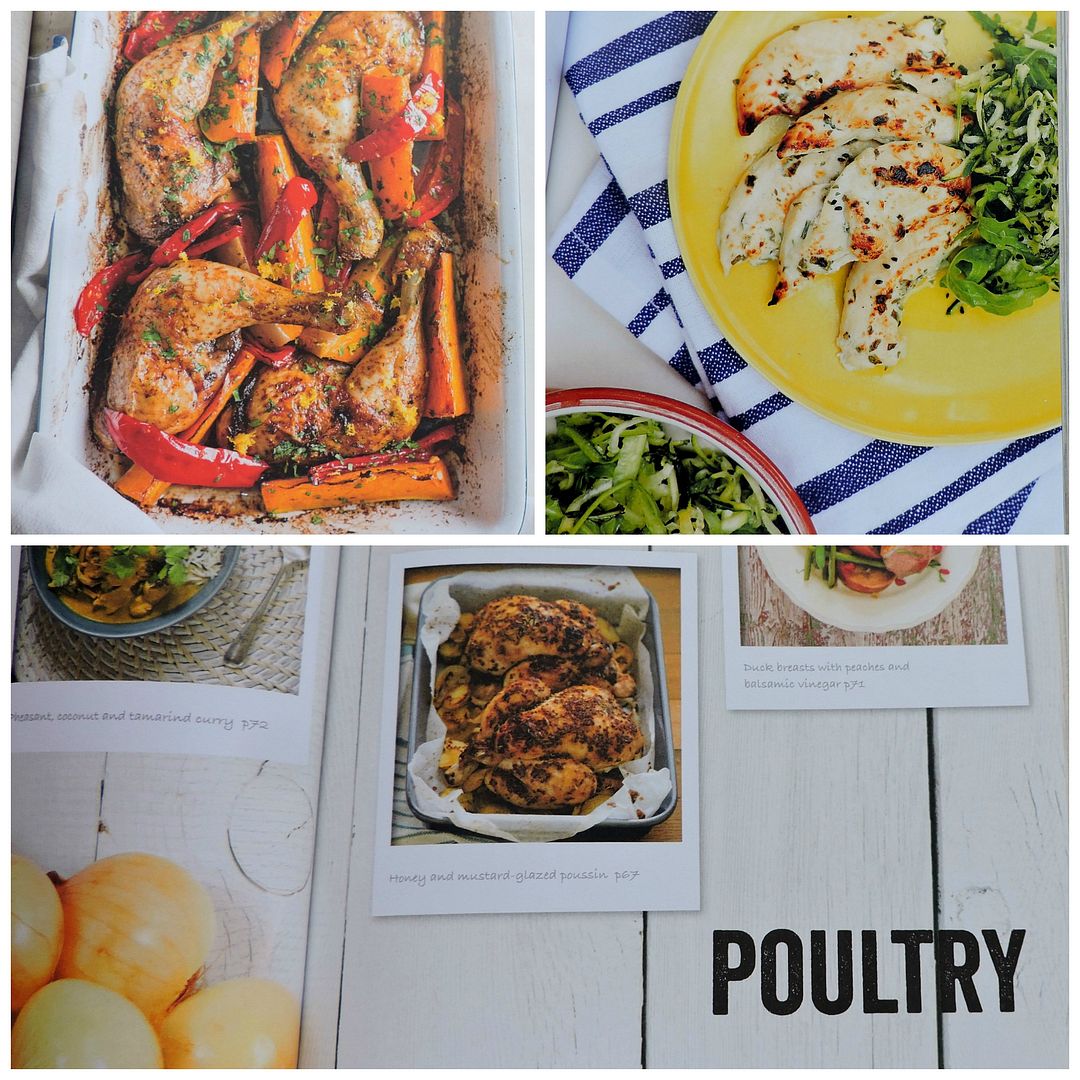 Poultry
- Fourteen Tasty Delights . . . Soy Roast Chicken Legs with Butternut Squash and Red Peppers, Pheasant, Coconut and Tamarind Curry, Honey and Mustard Glazed Poussin, Duck Breasts with Peaches and Balsamic Vinegar to name but a few. Totally tempting to the tastebuds.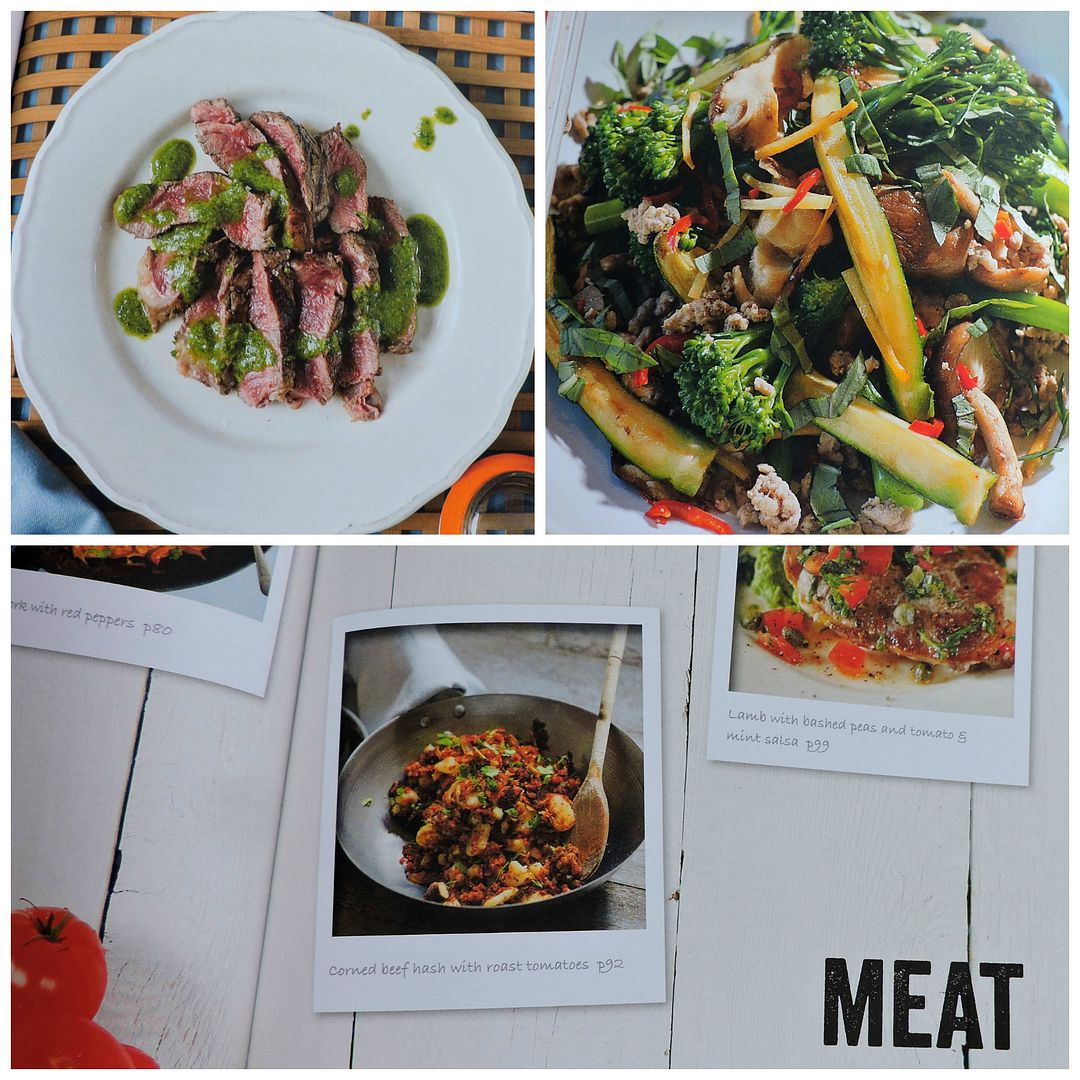 Meat
- Sixteen tantalizingly delicious sounding meaty meals including Pork, Courgette and Broccoli Stir Fry, Paprika Pork with Red Peppers, Corned Beef Hash with Roast Tomatoes, Lamb with Bashed Peas and Tomato & Mint Salsa.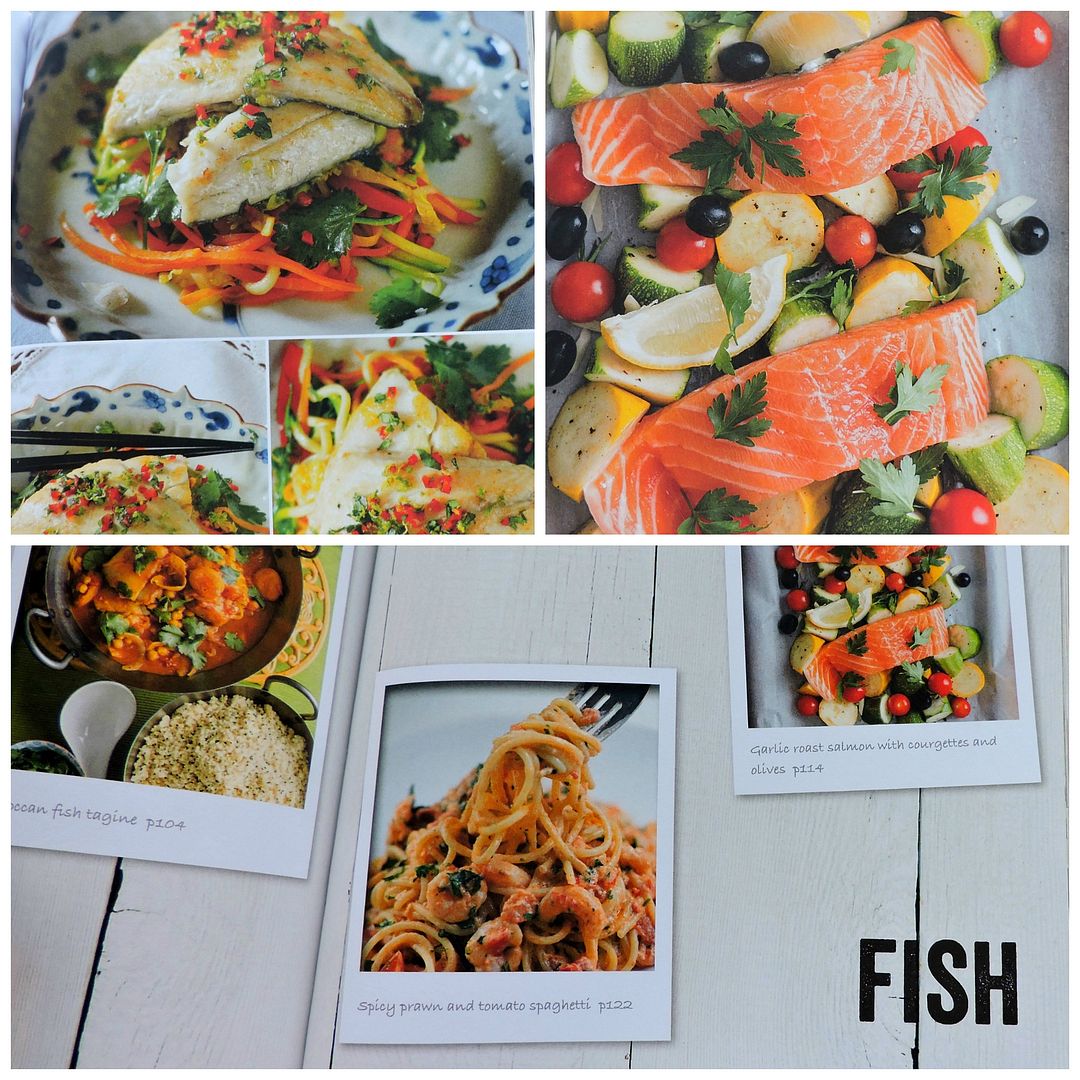 Fish - Fifteen Oceanic Delights including Sea Bass with Thai Vegetables, Moroccan Fish Tagine, Spicy prawn and Tomato Spaghetti, Garlic Roast Salmon with Courgettes and Olives. Can't wait to get stuck in!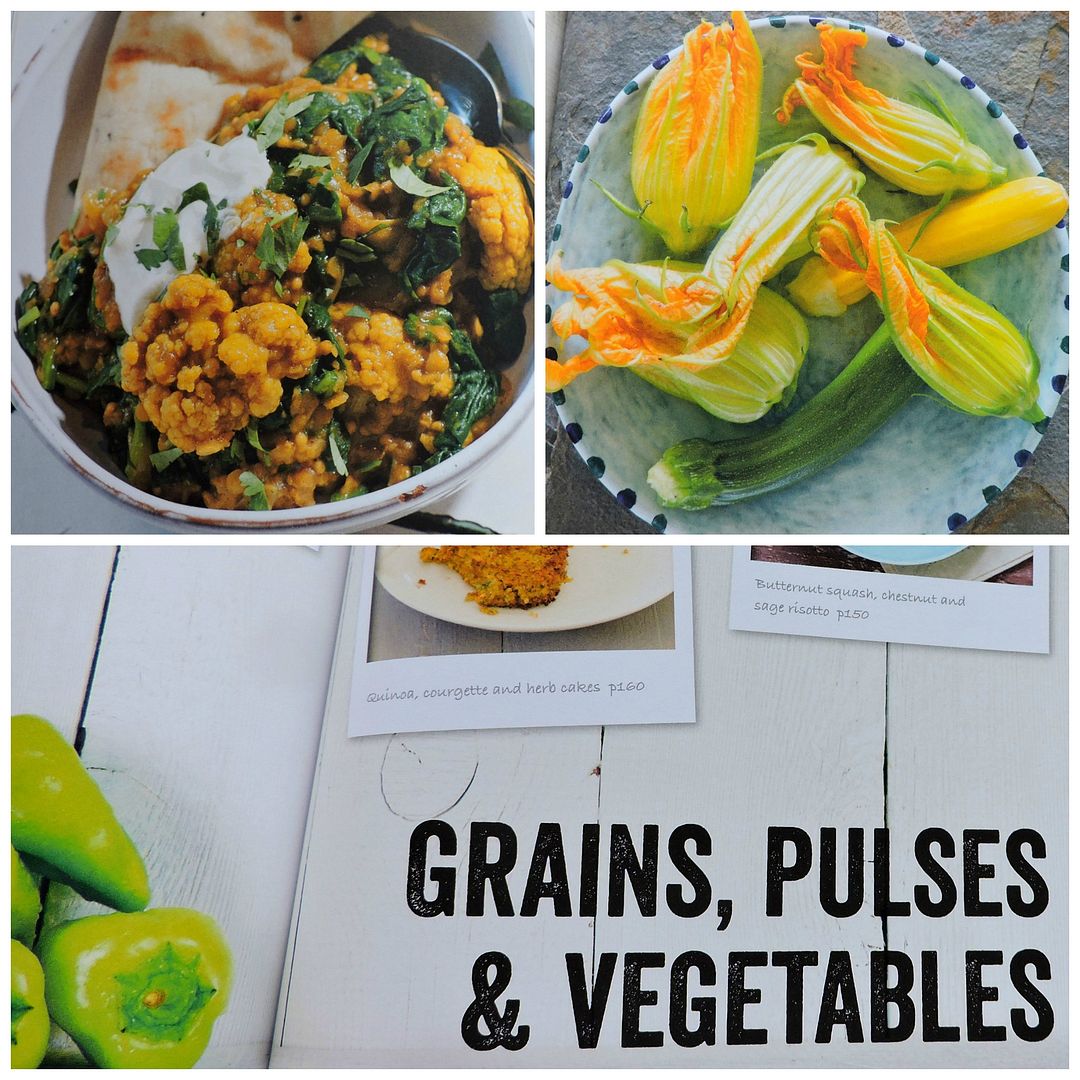 Grains, Pulses & Vegetables
- 18 delicious recipes using these as their main ingredient. Fabulous sounding dishes such as Chickpea and Black-eyed Bean Chilli, Courgette, Cherry Tomato and Goats Cheese Frittata, Quinoa, Courgette and Herb Cakes, Butternut Squash, Chestnut and Sage Risotto to name but a few.
And finally . . .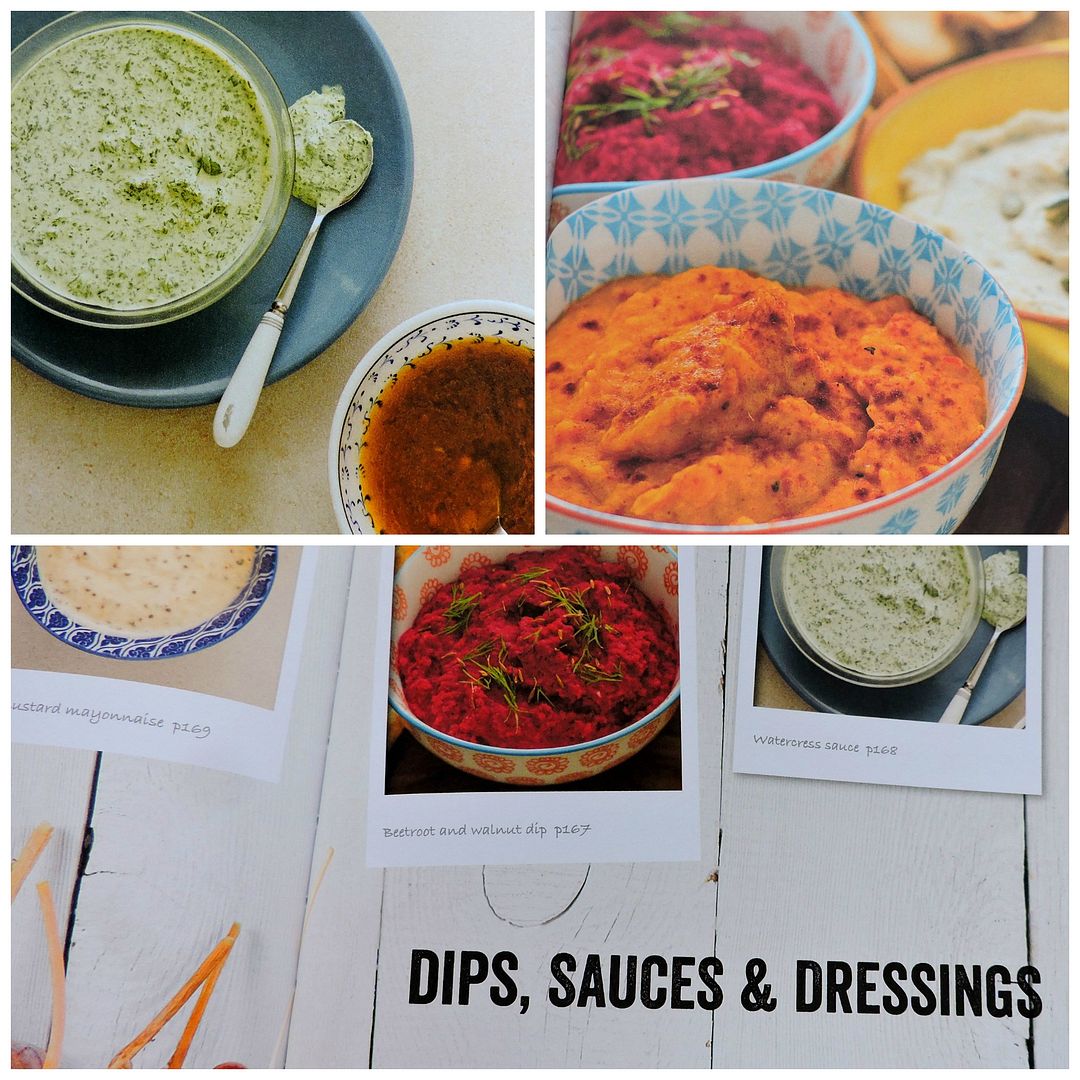 Dips, Sauces & Dressings
- Eight different dips, sauces and dressings including Butterbean and Pumpkin Seed Hummus, Grainy Mustard Mayonnaise, Beetroot and Walnut Dip and Watercress Sauce, just for starters.
No surprise . . . no desserts. Boo Hoo, but then again, unless you are talking about eating a fresh piece of fruit there are not too many healthy desserts are there really.
The recipes are fresh, seasonal and nutritious and showcase a broad range of influences from around the world. Ingredient lists are short, prep is kept to a minimum and the methods are relaxed, often featuring one-pot or one-tray cooking. All of them have been put to the test at home after a busy day in the office, and the ingredients are easy to find and can be scooped up on the way back from work. Ranging from the summery Strawberry, Fennel & Chicken Salad, to warming Aubergine & Red Lentil Curry and zesty Sea Bass with Thai Vegetable Noodles, there is something here for every mood, diet and seasons.
Most of the recipes are wheat and dairy free, and are all naturally low in fat, sugar and refined carbohydrates. Also included are a guide to larder essentials, suggestions for leftovers, ingredient substitutions and simple variations. This is truly a one-stop cooking resource for stressed, busy people.
I, for one, can't wait to get stuck in!
Food writer and chef Katriona MacGregor has been cooking, thinking and writing about food since she was able to wield a wooden spoon. Leith's trained, she has worked all over the country in restaurants, private houses and cookery schools both cooking and designing recipes.