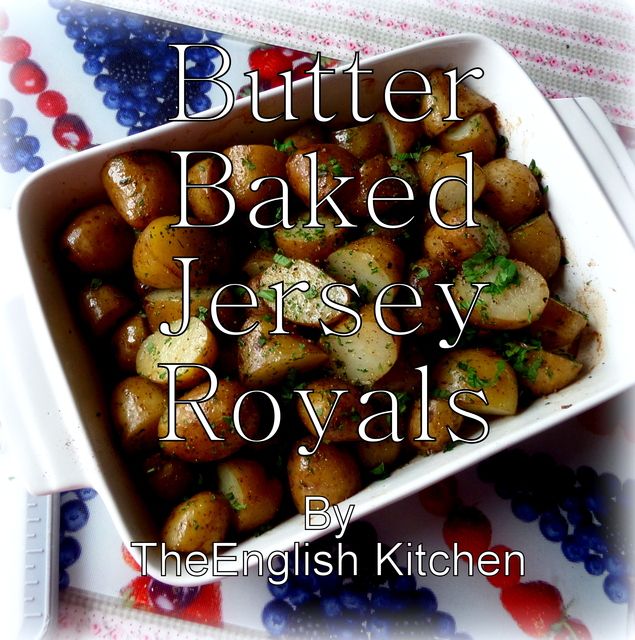 One of the things I love most about Spring . . . other than the fresh asparagus, rhubarb and early strawberries . . . is the Jersey Royal New Potatoes! The Jersey Royal was not a potato I had eaten prior to coming over to the UK, but it is a potato that I have fallen in love with and basically this is the only time of year you can find them fresh in the shops! But just what is a Jersey Royal?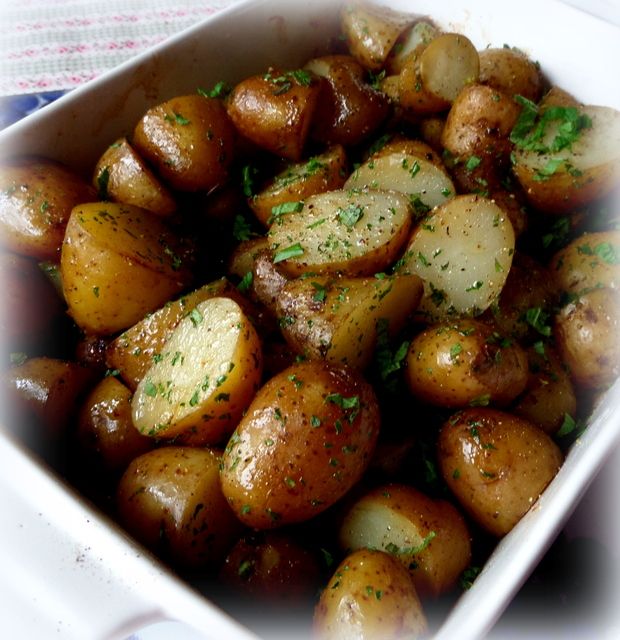 The Jersey Royal is a variety of potato which is grown exclusively on the Channel Island of Jersey, where they have been grown now for over 130 years. The very distinct soil of this Island, along with the use of a certain type of seaweed found here called Vraic which is used to fertilize the soil helpt to produce a variety of potato with a very distict and delicious flavour!
Their season actually runs from March through to July, but MAY is the peak of the season and when they are at their very best! I do love them very VERY much! They make the nicest potato salads, boiled potatoes, fried potatoes, and yes . . . baked potatoes as you see here today!
This is such a simple recipe as well. You just wash the potatoes, cutting any larger ones in half so that they are all roughly the same size. Dry, sprinkle with some seasoning and place them into a baking dish. Dot with butter, cover and bake . . .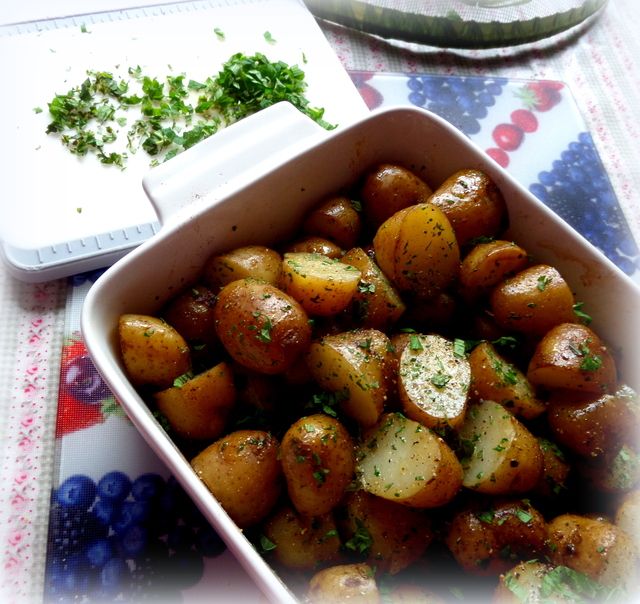 until deliciously fork tender! Nothing could be simpler! Of course if you can't get Jersey Royals, you could do the same thing with any small new potato, but I really hope you can use the Jersey Royals! The final crowning touch is a sprinkling of chopped fresh herbs! Oh boy, but these are some delicious! Going great with all sorts . . . and yes, even on their own. ☺ Oh, I am a greedy Gus, so I am!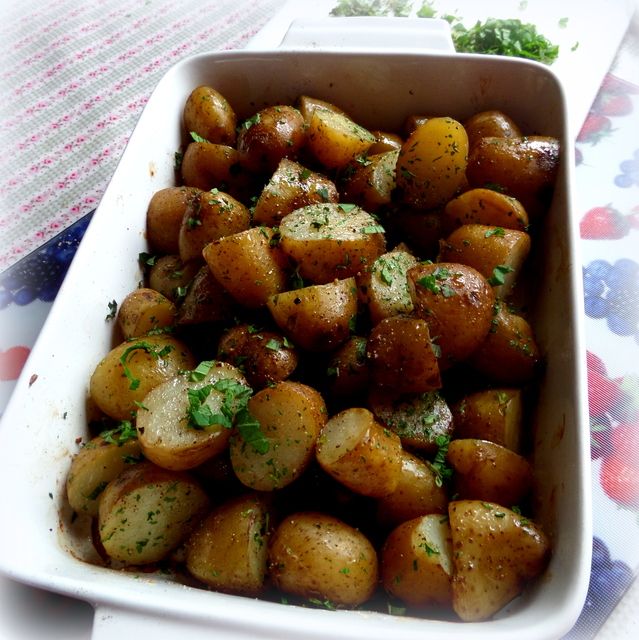 This is a delicious way to cook those delightful Jersey Royals that are available this time of year. Any small new potato will do, but I do love the distinct flavour of the Jersey Royal. If your potatoes are a variety of sizes, cut larger ones so that they are all of a similar size.
700g baby Jersey Royal potatoes (1 1/2 pounds)
40g butter (3 TBS)
1 tsp salt
freshly ground black pepper
2 to 3 TBS chopped fresh green herbs (chives, mint, parsley, thyme, dill, you choose)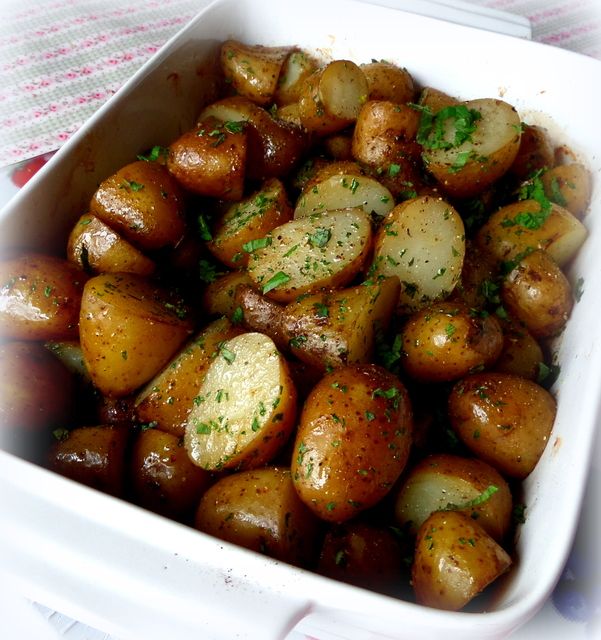 Preheat the oven to 165*C/325*F/ gas mark 3. Place the potatoes into a large baking dish in one layer. Sprinkle with salt and black pepper. Dot with butter.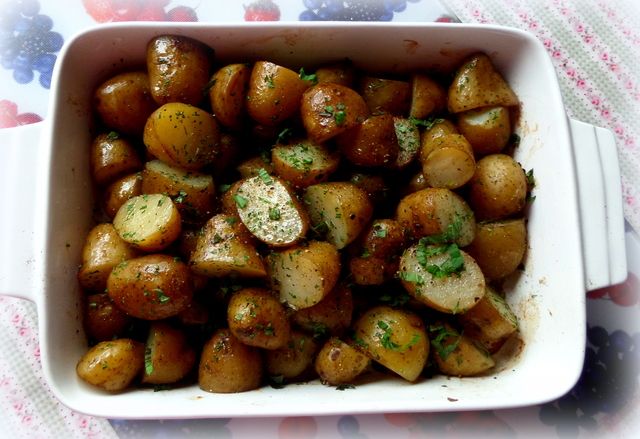 Cover tightly and then bake in the preheated oven for 3540 - 45 minutes until they pierce easily with the tip of a knife. Sprinkle with your desired herbs and serve.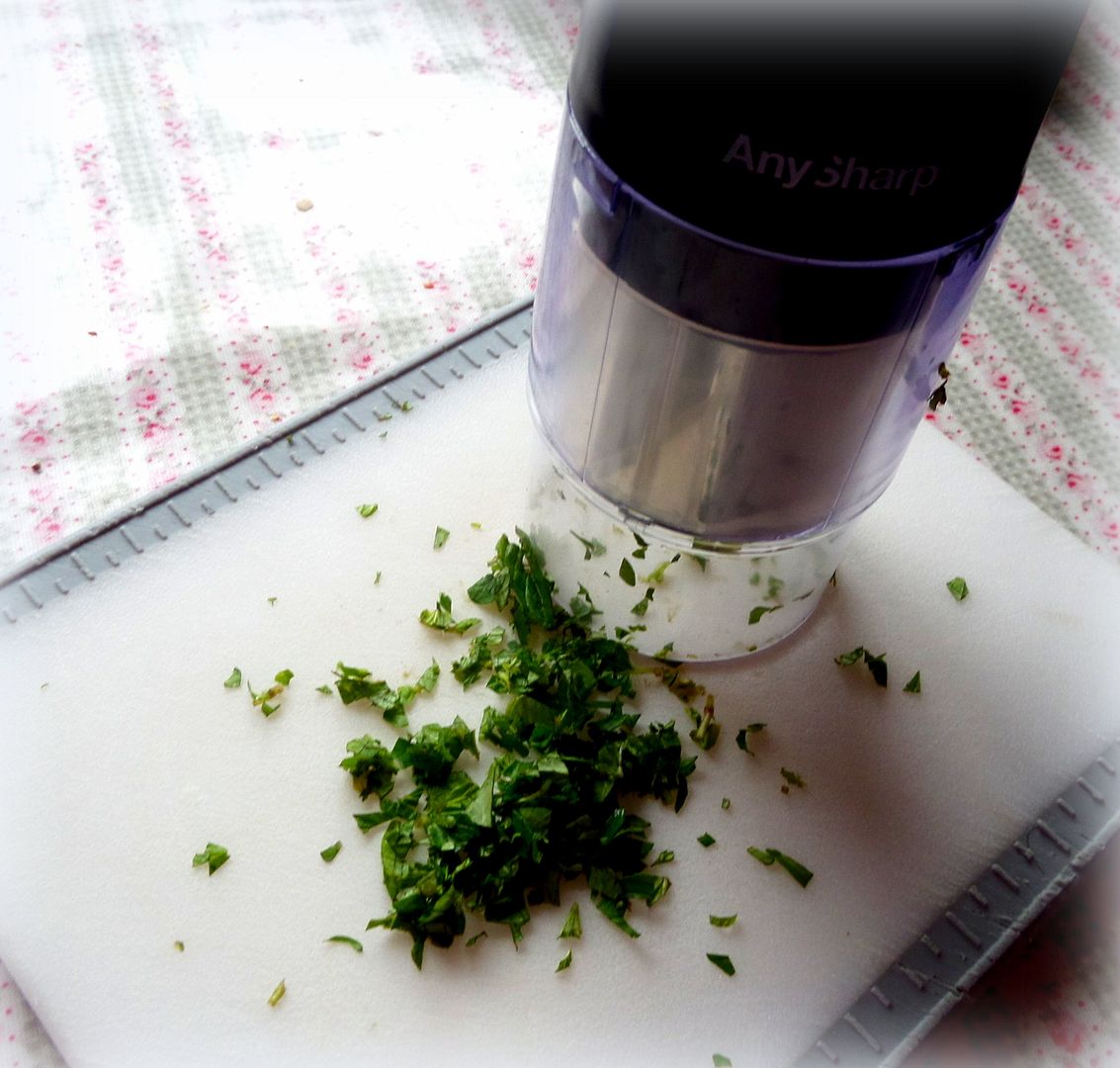 I recently received a lovely piece of kit from Eddingtons called the Any Sharp Mini Chopper and I have to say I have been loving it! I have a larger food chopper, but . . . this smaller sized one is ever so handy for chopping herbs, garlic, etc. Any thing which needs chopping in smaller quantities! Garlic, chilies, nuts, herbs, etc.
It is about six inches tall and 2 1/2 inches in diameter and helps to keep your hands safe when chopping. Chopping takes just seconds and the whole thing comes apart easily into four parts for washing in the dishwasher. Hand held and easy to use with a stainless steel cutting blade. It's available from
The Hut
right now for only £7.99 which is a really decent price!
Thank you so very much to
Eddingtons
for sending it to me! I just love it! Eddingtons are suppliers of fun, innovative and practical kitchen and housewares that are just that little bit different.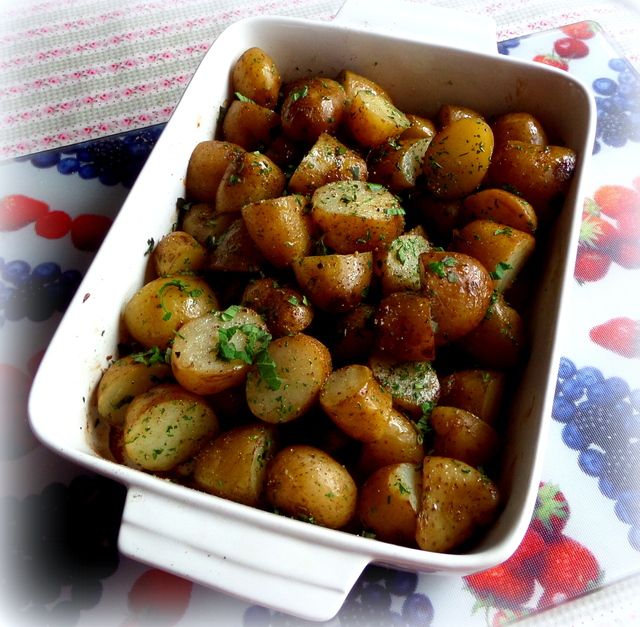 I do hope you will give this deliciously simple potato recipe a go! I think you will like it. We had the leftovers fried the next day and they were fabulous too!
Happy Friday the 13th! I hope you're not superstitious! Bon Appetit!
Note - although I was sent this product free of charge, I was not required to write a positive review.