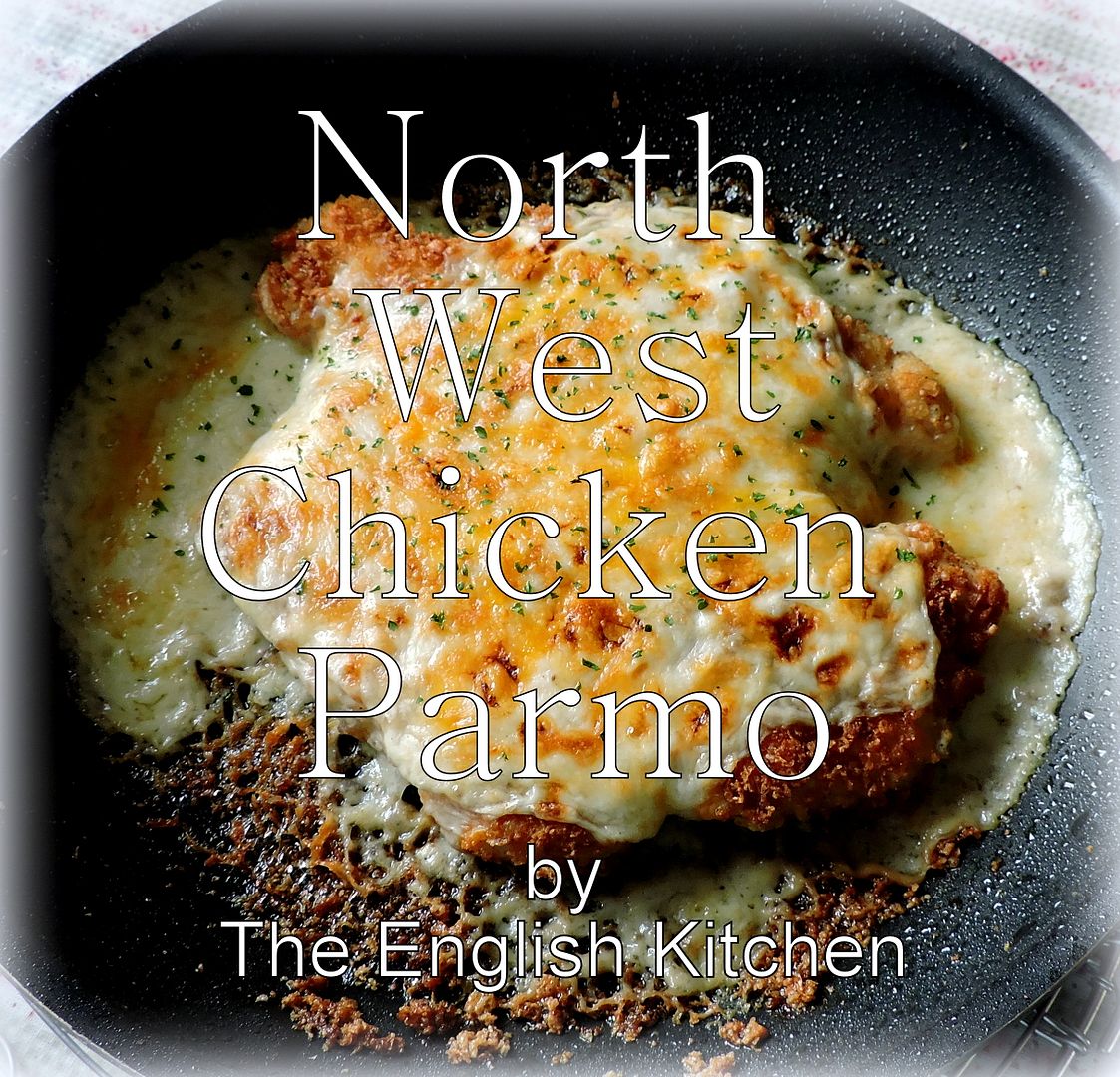 Chicken Parmo . . . no, that is not a mistype. I meant to say Chicken Parmo. Are you ready for some full on decadence Middlesbrough style?
Lock away the calorie counters because I am going to show you something today which is totally off the scales tastewise, not to mention caloriwise! Fastfood chicken as only the people in the North East of England, Teesside . . . do it!
Hang onto your hats, you're in for a real treat!
Not to be confused with the Italian Chicken Cutlet and cheese dish with the marinara sauce known as Chicken Parmigiana, this is a dish I had heard about for a long time and always wanted to try.
I have never been to the North East, but this dish is something I have been stalking for a while, ever since I heard my friend Julie (who is from the North East) talking about.
Breaded chicken cutlet is the only thing it has in common with its Italian Counterpart.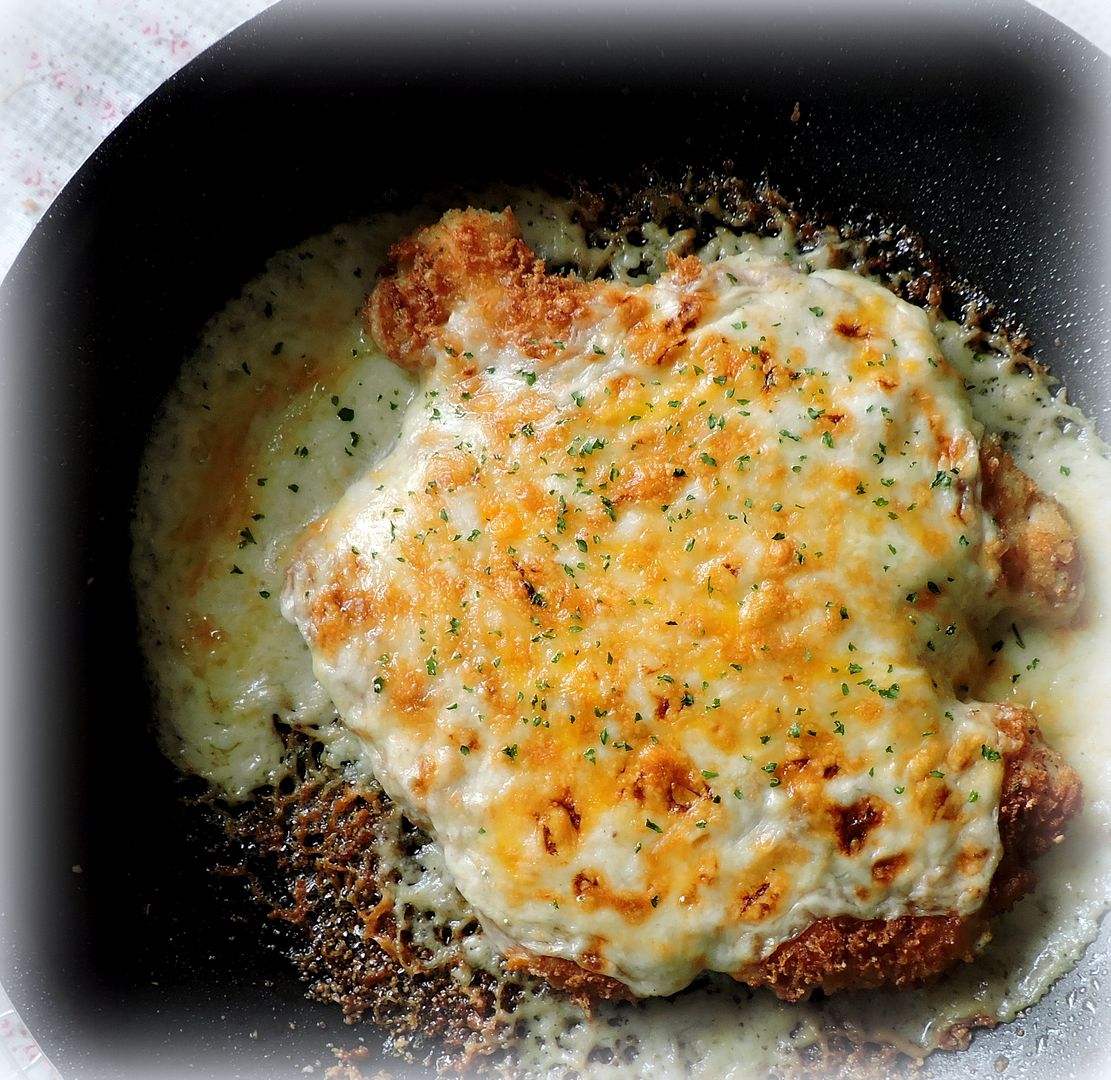 What you have here is a chicken breast, pounded and breaded . . . then deep fried . . . until it's crisp and golden on the outside and tender moist on the inside . . .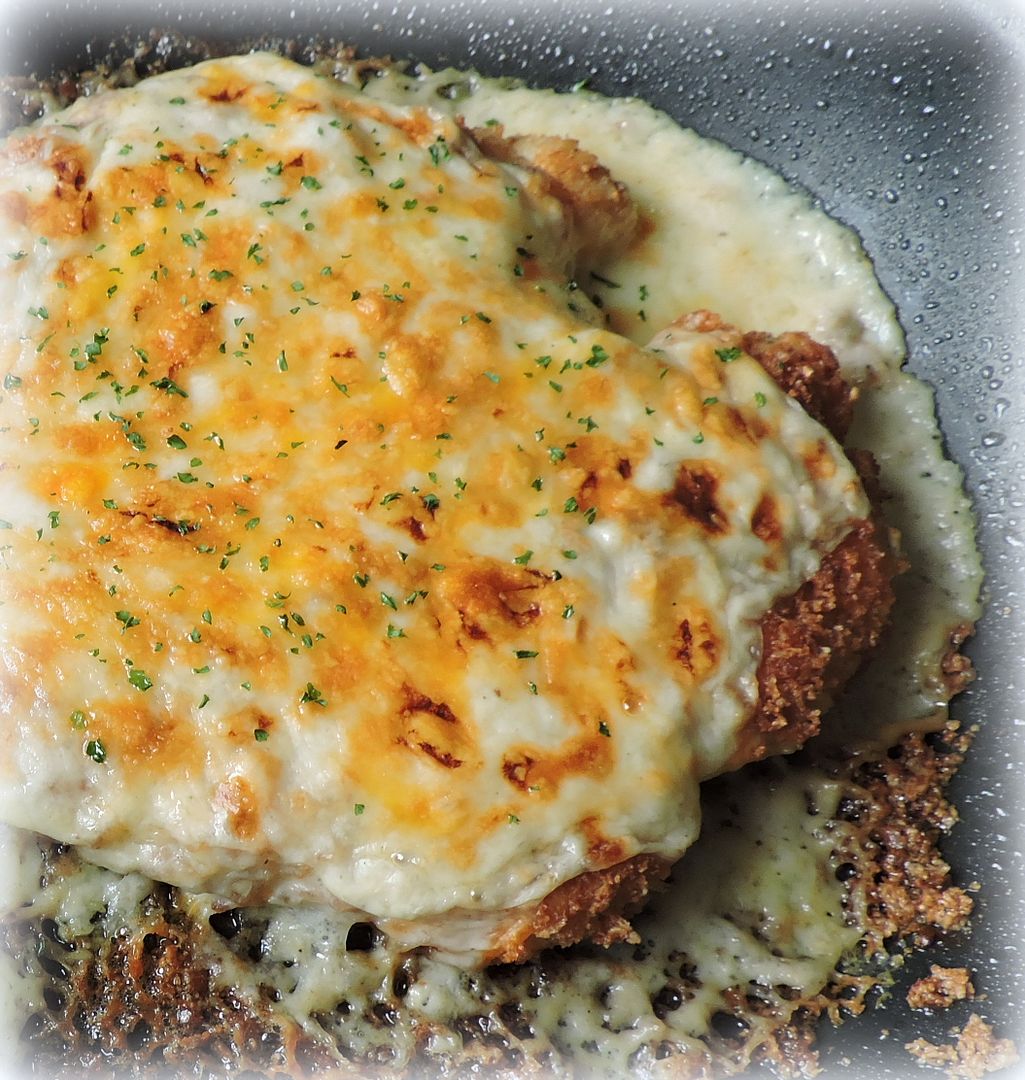 Slathered with a rich, well flavoured bechamel cream sauce . . . and loaded wth lots of grated strong cheddar cheese . . .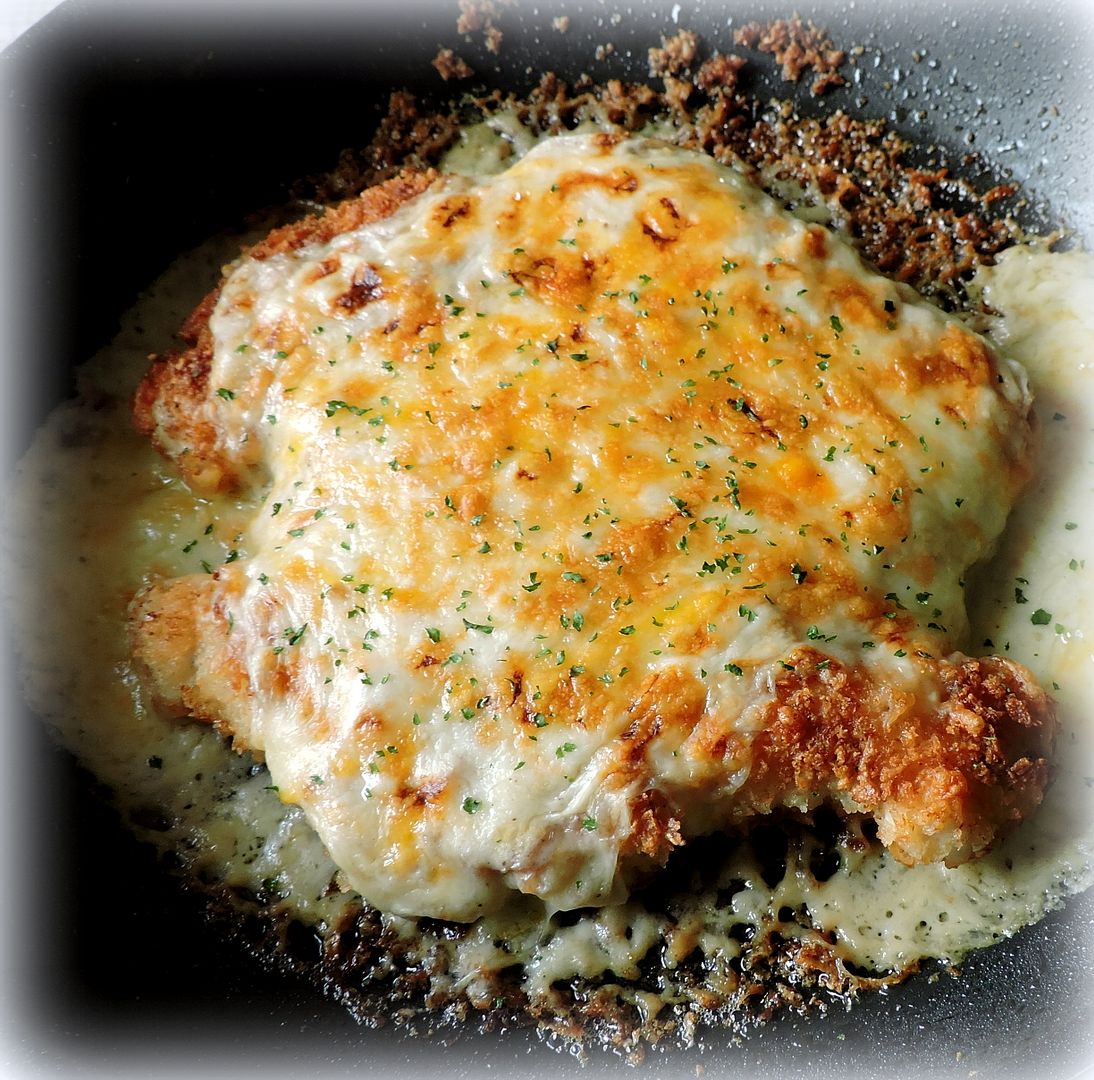 Then popped under a grill til the bechamel is bubbling away and the cheese is golden and gooey . . . the three together. Heavenly Bliss. Its as simple as that. In the North East they would eat them with chips, one per customer. Come big or stay home.
I cut it into three and was in heaven with every mouthful. I have given quantities for four, but really two would serve four people quite amply, especially if you added chips on the side.
*North East Chicken Parmo*
Serves 4
Tender breaded fried chicken breast, slathered with some bechamel sauce, with sharp cheddar on top and grilled until everything is scrumptiously gooey.
4 chicken fillets, pounded to an equal thickness
1 large free range egg
150g of dry bread crumbs
salt and pepper to taste
Vegetable oil for frying
For the bechamel:
5 TBS butter
4 TBS flour
4 cups milk
1 onion, peeled and stick with 1 clove and 1 bay leaf
salt and pepper
1/2 tsp freshly grated nutmeg
110g of strong cheddar cheese, grated (4 ounces)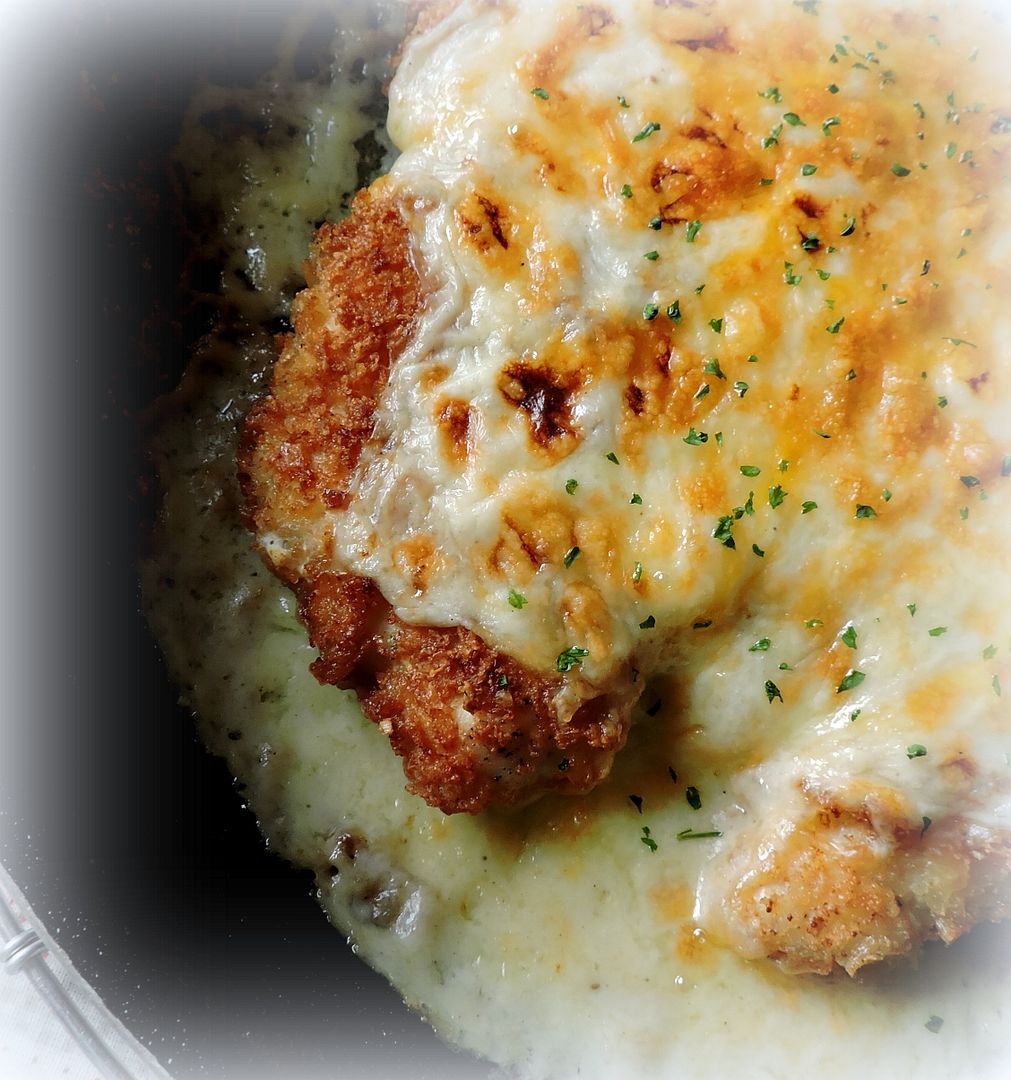 First make the bechamel. Place the milk into a sauce pan with the onion, clove/bayleaf. Bring just to the boil. Remove and set aside to infuse for half an hour. Strain out the onion and clove/bayleaf.
Melt the butter in a large saucepan. Whisk in the flour. Cook for one minute, Whisk in the warm milk a bit at a time until the mixture thickens and boils. Cook for about 5 minutes over low heat. Season with salt and black pepper and nutmeg. Place a piece of parchment paper on the surface to keep a skin from forming and set aside.


Season the chicken breasts with salt and pepper. Beat the egg in a large shallow bowl. Place the bread crumbs into another large shallow bowl.
Place 1 inch of vegetable oil in a large skillet.
Dip the chicken breasts into the egg and then into the bread crumbs, coating them well all over, and lightly pressing to adhere. Place onto a parchment lined baking sheet as you coat them.
Heat the oil in the skillet until hot. Add the chicken breasts, two at a time, and cook for several minutes on each side, until golden brown. (depending on the size of your chicken breasts, you may not be able to cook two at at ime, in which case cook one at a time, and add more oil as needed) They are done when golden brown and cooked through. Don't have the oil too hot or they will burn on the outside and not cook on the inside.
Place them all into a large baking dish. Slather the tops with the bechamel sauce and sprinkle cheese over all.
Heat the grill to high. Pop the baking dish under the grill and grill until the sauce is bubbling and the cheese is golden. Serve hot.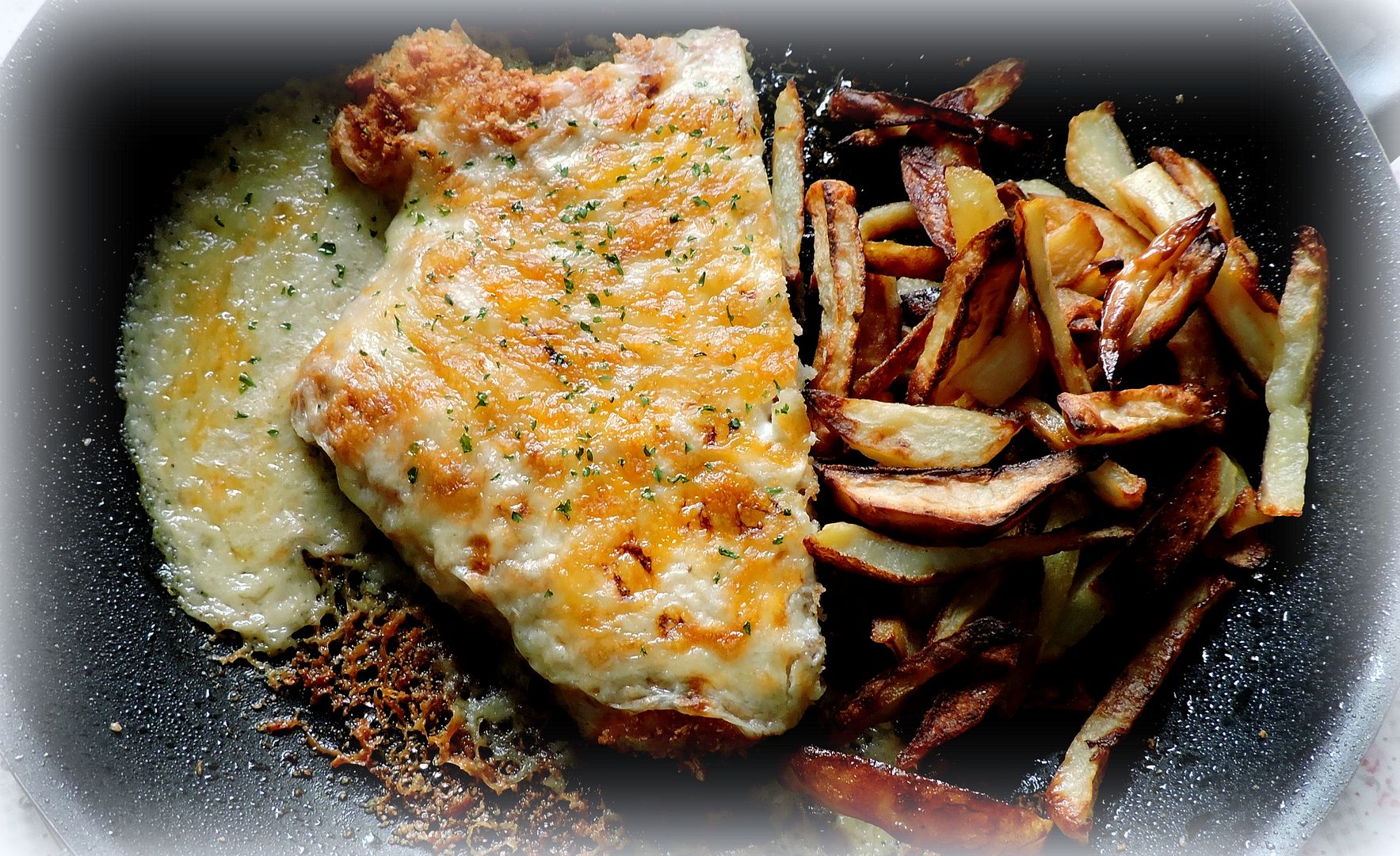 The History of Chicken Parmo:
The parmo is said to have been created by Nicos Harris, a chef with the American army in World War II. He was wounded in France, but was brought to the United Kingdom to be treated in a British hospital. He ended up moving to Middlesbrough and opened a restaurant where he created the parmo at The American Grill in 1958.
You do NOT want to know how many calories there are in one full size Parmo served with chips and salad on the side. Look it up on the net and prepare to be shocked. Suffice it to say that . . . as delicious as it is . . . this is one heck of a blue moon treat! I dare say once in a lifetime. I am glad that I only made one and had two other people to share it with. Whew!
(My chips were oven baked homemade)