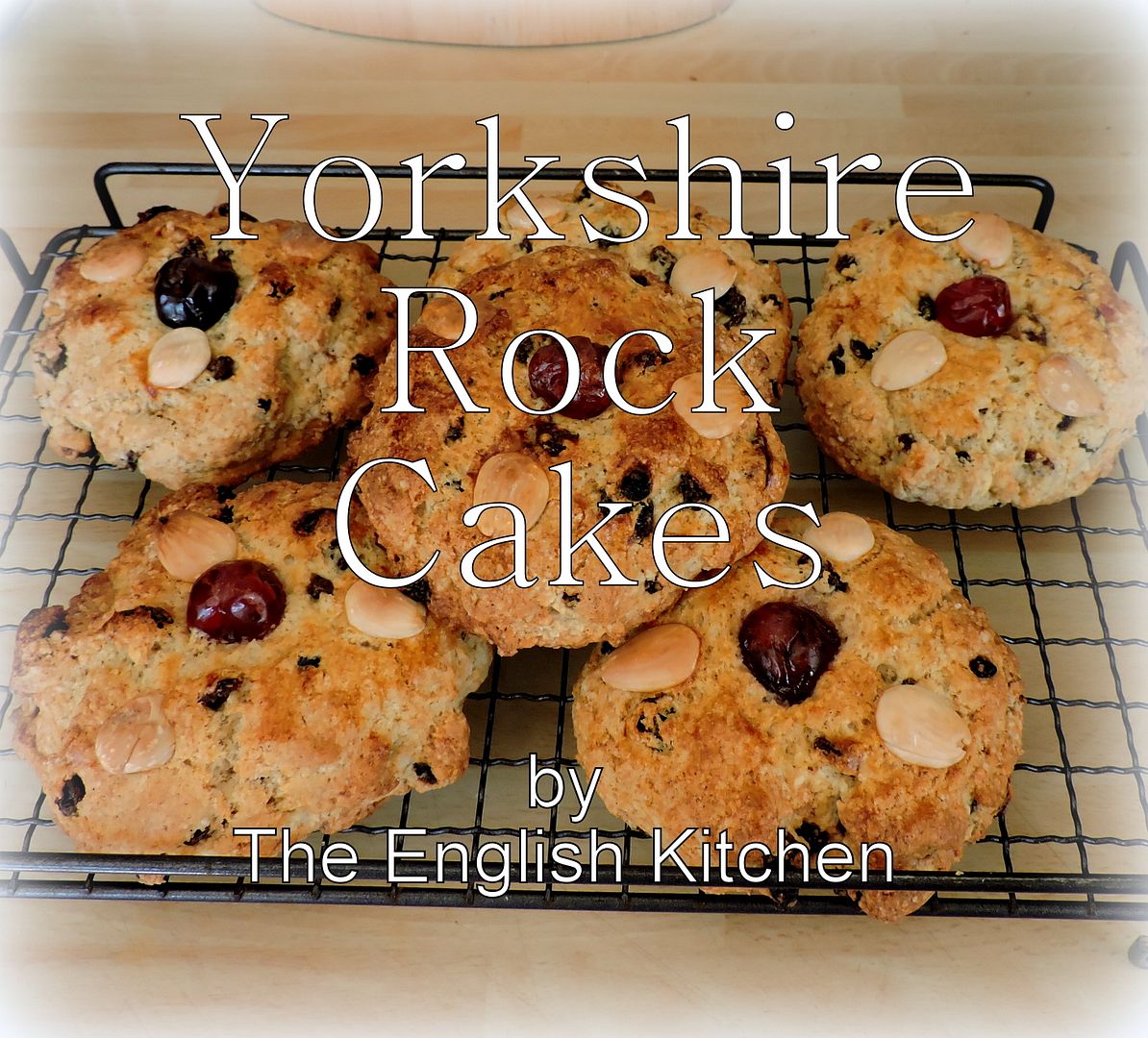 Yorkshire Rock Cakes. Also known as Fat Rascals, these delicious rock cakes have been made pretty famous by the Iconic Betty's Tea Room in Yorkshire.
A fat rascal or a rock cake is a delicious baked bread that is a tasty cross between a scone and a bun. Packed full of dried fruits.

From what I can tell the only difference between Yorkshire Rock Cakes and regular rock cakes is the addition of glace cherries and blanched almonds on top. Some people call them fat rascals, but they're not fat rascals at all. These are fat rascals (see photo below), and as you can clearly see, they are not the same animal at all.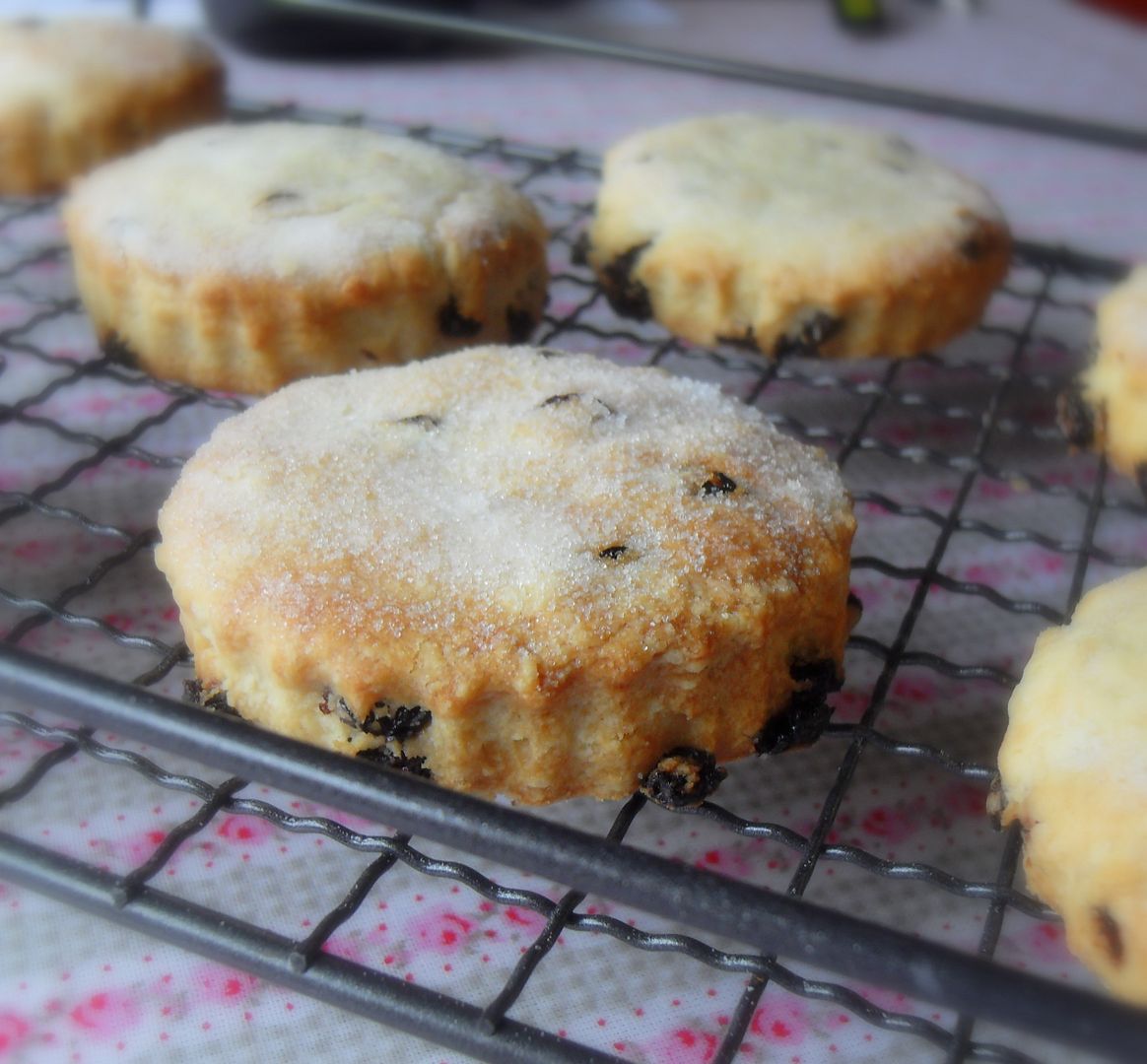 They are very, very different, not only in looks, but also in texture and ingredients. You can find my fat rascal recipe here.





These are exceedingly good cakes . . . easy to make . . . buttery . . . crumbly. Perfect with a hot cuppa.
I have never had a Yorkshire Rock Cake from Betty's but I dare say these are probably even better. Homemade always is.




Stogged full of dried currants, sultanas (golden raisins), raisins and candied peel . . . with just a touch of mixed spice. You can find my recipe for mixed spice on my make your own page. You can find that here. It is filled with a variety of make your own herb, spice and baking blends. (You may want to bookmark it!)

It's a warm baking spice . . . with cinnamon, nutmeg, ground ginger, cloves and ground coriander. Very nice.




Topped with blanched marcona almonds and a glace cherry, these make a very moreish treat with a nice cold glass of milk or a hot cuppa.
They make the perfect Sunday afternoon teatime treat! If you are feeling especially hedonistic you can split and butter them. Also very tasty!


*Yorkshire Rock Cakes*
Makes 6 large ones
Somewhere between a bun and scone, these are moreishly delicious. You will want to enjoy these warm with an ice cold glass of milk or a hot drink. Rock Cakes are said to be Harry Potter's favourite food.
150g of plain flour (1 cup + 1 1/2 TBS)
150g self raising flour (1 cup plus 1 1/2 TBS)
pinch salt
1 tsp of baking powder
125g of cold unsalted butter, cut into bits (1/2 cup)
100g of golden caster sugar (1/2 cup)
the finely grated zest of both 1 orange and 1 unwaxed lemon
1 tsp mixed spice (see my side bar for the recipe)
150g mixed dried fruit (1 cup)
(this is a mix of fruit containing sultanas, raisins, currants and mixed peel)
1 large free range egg, beaten
4 to 5 TBS milk
To finish:
1 free range egg yolk beaten with 1 TBS water
6 glace cherries
18 blanched marcona almonds
Preheat the oven to 200*C/400*F/ gas mark 6. Line a baking tray with baking parchment. Set aside.
Sift both flours into a large bowl along with the salt and baking powder. Drop in the cold butter. Rub the butter into the flour mixture, using a snapping motion with your fingertips, until the mixture resembles fine dry bread crumbs. Stir in the sugar, citrus zests, mixed spice and dried fruit. Beat together the egg and 4 TBS of the milk. Add all at once to the mixture and stir in to form a soft dough. If you need the additional TBS of milk to do this, then add it now.




Divide into six equal parts and shape into a ball. Place each ball onto the prepared baking tray leaving plenty of space in between each. Gently flatten slightly with the palm of your hand until each are only about 3/4 inch thick. Brush the top of each with some of the beaten egg yolk/water mix. Push a glace cherry into the centre of each and then place 3 almonds arouond the centre decoratively .

Bake for 15 to 20 minutes, until well risen and golden brown. Remove from the oven. Leave on the tin for five minutes then scoop off to a wire rack to cool.

Best served warm from the oven, although they can be frozen and then gently reheated at a later date. You may also split them and spread them with butter if you are feeling especially hedonistic!




Traditionally Tasty! Bon Appetit!
This content (written and photography) is the sole property of The English Kitchen. Any reposting or misuse is not permitted. If you are reading this elsewhere, please know that it is stolen content and you may report it to me at: mariealicejoan at aol dot com Thanks so much for visiting. Do come again!
Follow my blog with Bloglovin