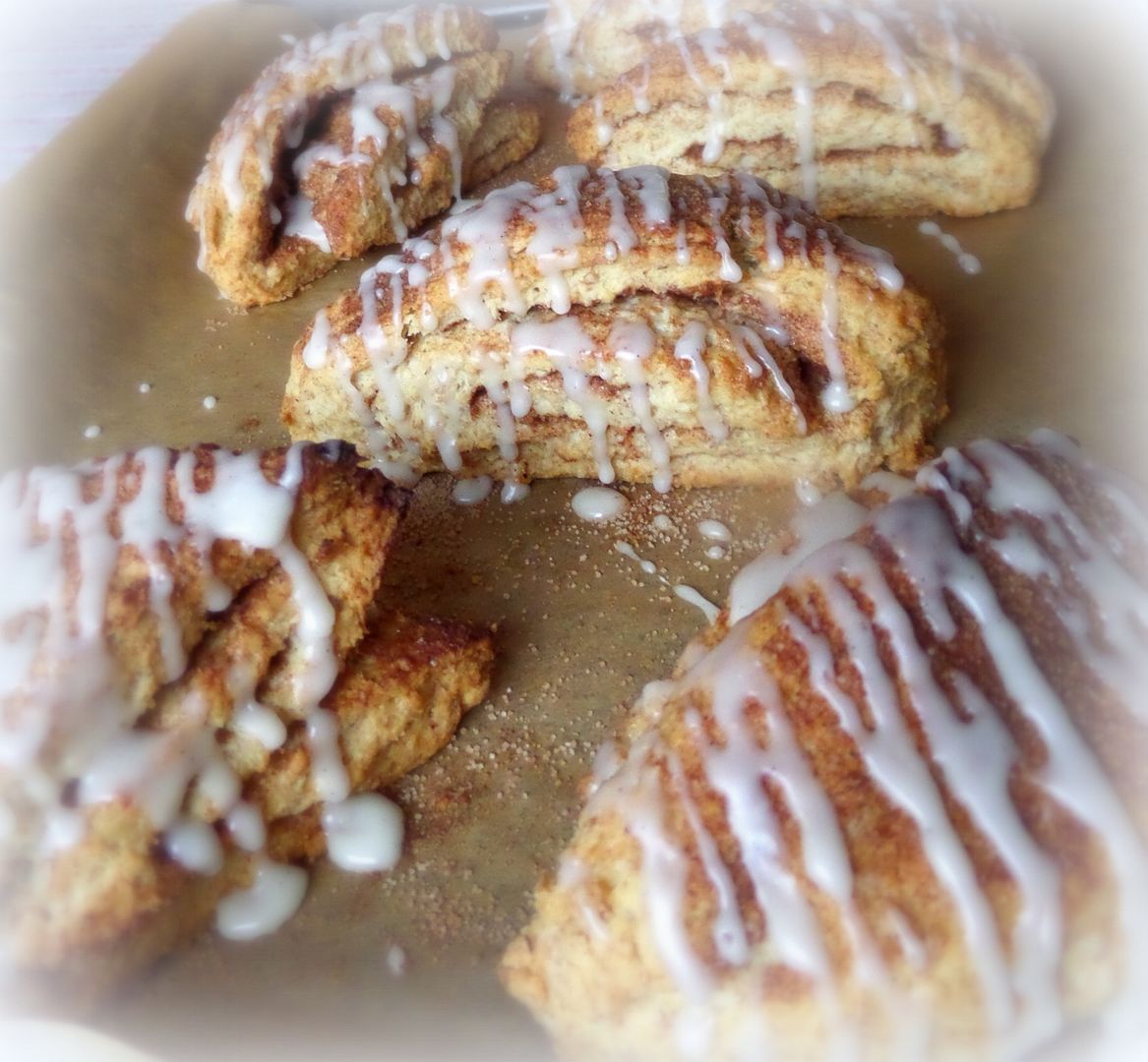 Are you like me when it comes to anything cinnamon? If it has cinnamon in its title I am immediately salivating. Cinnamon Cookies, Cinnamon Rolls, Cinnamon . . . well, anything . . . I am on it!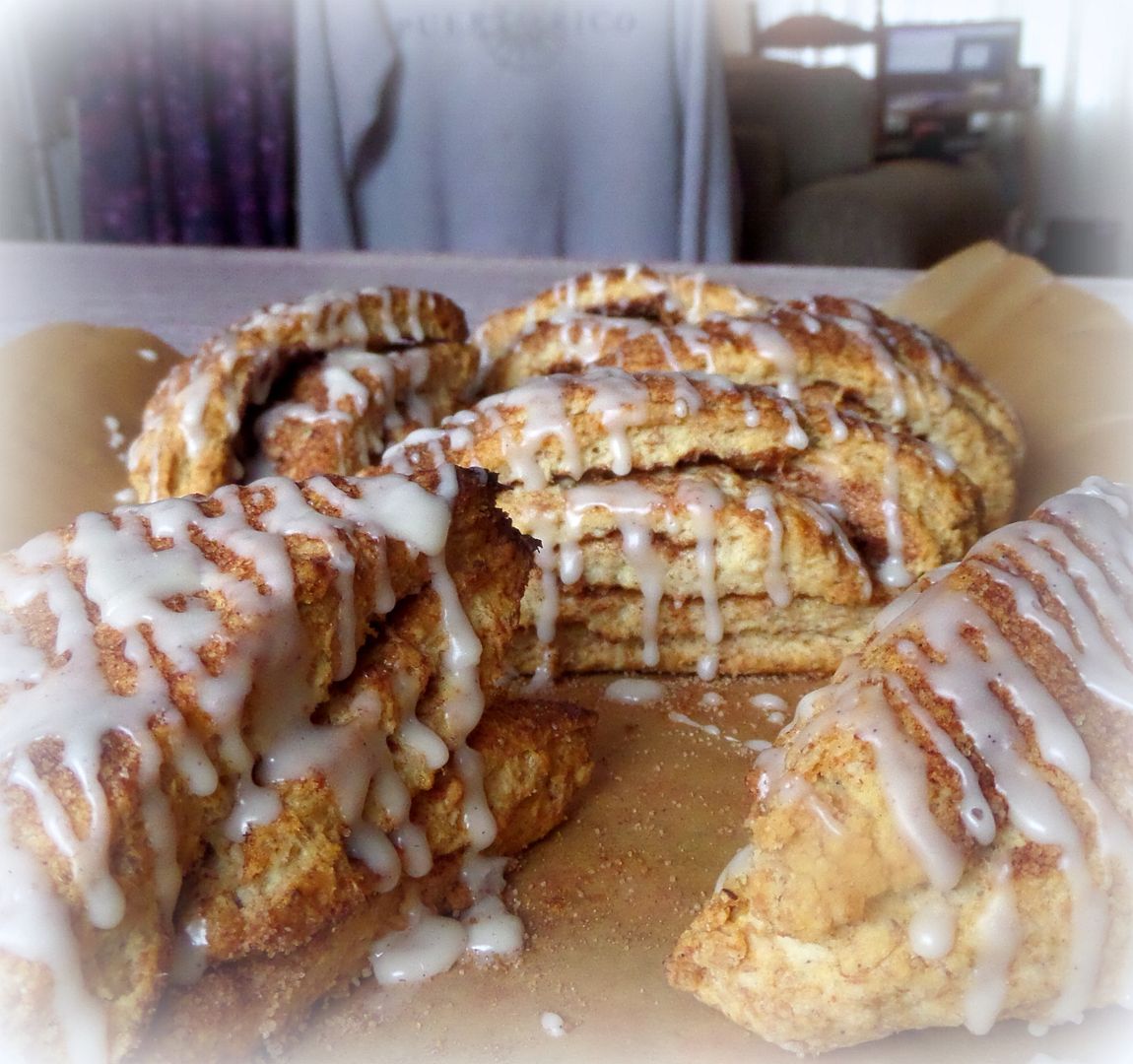 I am mad for cinnamon, which you have probably guessed by now. I just adore it. I love the way it smells. I love the way it tastes, both in sweet and savory goodies. I love crafting with it (cinnamon ornaments on the Christmas tree at Christmas are the best!). I just plain can't get enough of cinnamon.
My mom used to make these
Quick Cinnamon Rolls
when we were kids as a treat. We loved them. I used to make them for my own children as well. That was one way to put a smile on their faces big time! Then there is my infamous
Cinnamon Swirl Tea Bread.
People can't get enough of that when I bake it. It's an old recipe that I got from a very dear friend way back when and it's a keeper!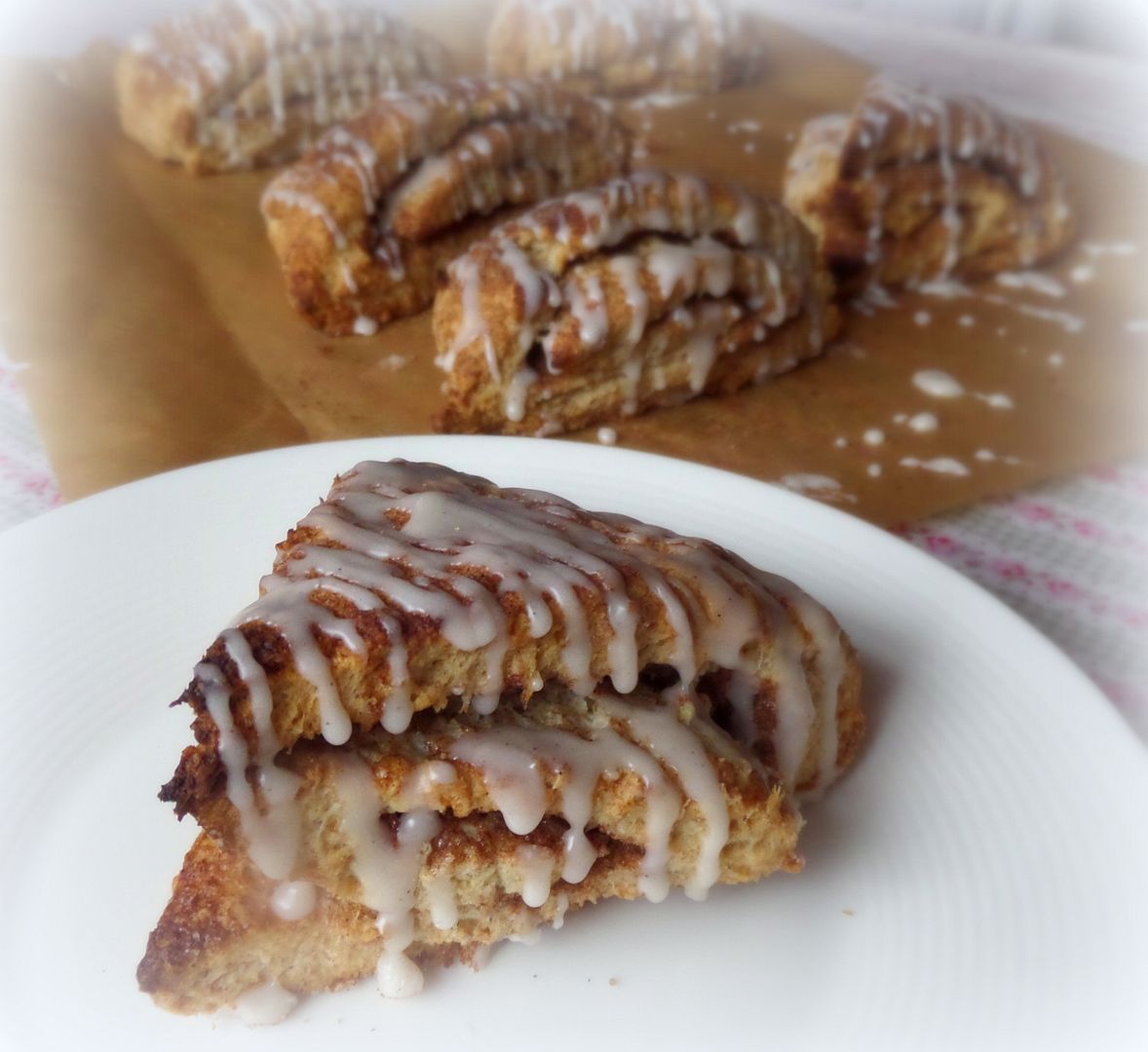 Don't even get me started on the finer qualities of my
Cinnamon Roll Breakfast Cake.
Just a peek at the photographs are enough to set one to drooling big time, I kid you not!
My
Cinnamon Butter Buns
are to die for. Likewise my
Cinnamon Roll Pancakes
. Then there are my
Cinnamon Roll Croissants
, and my
Cinnamon Roll Pluckit Bread
. . .
Cinnamon Roll Toast
. . . etc. the list goes on and on . . . You get the picture I am sure. I am Cinnamon mad!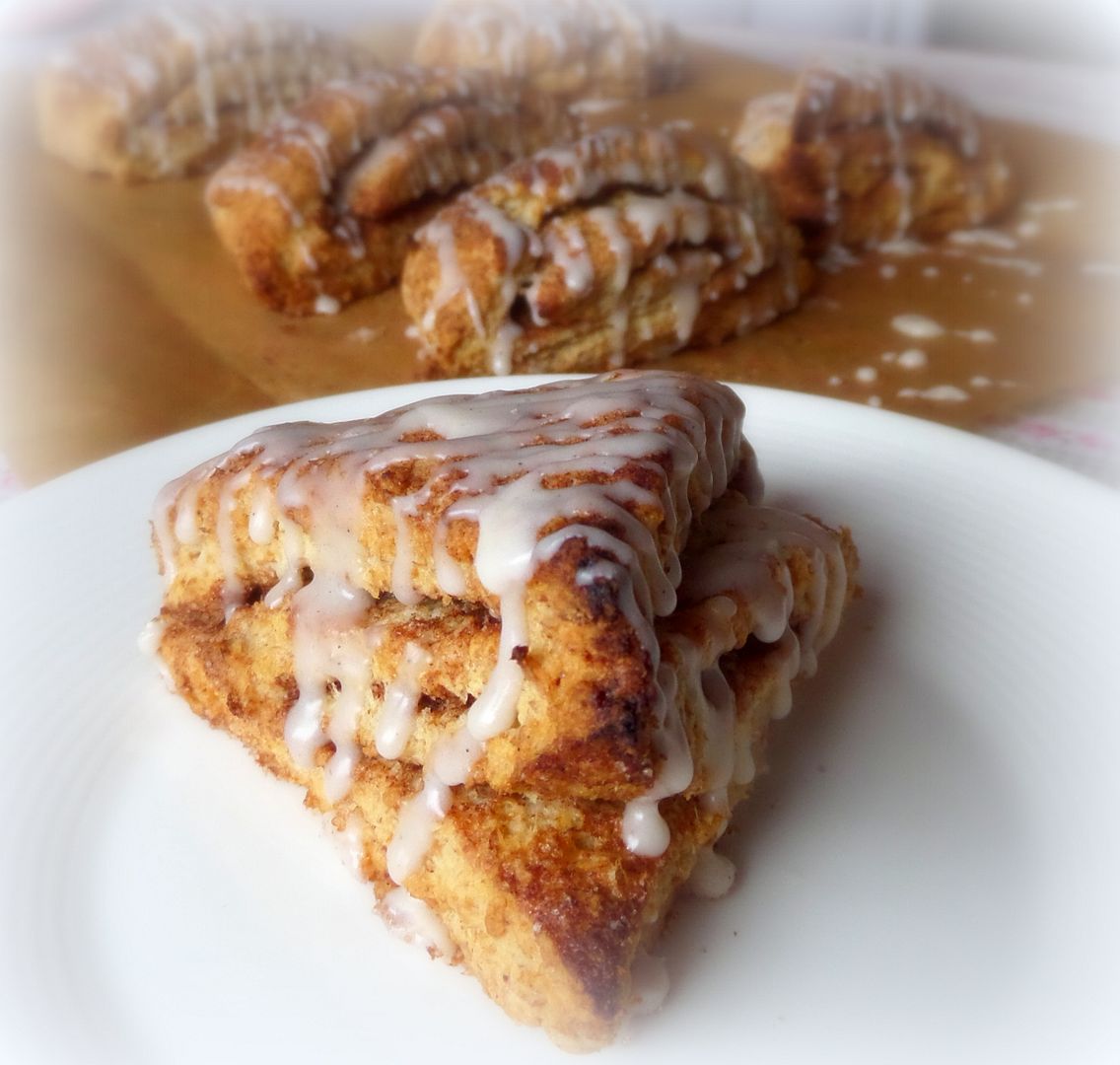 If there is one thing I like as much as Cinnamon and am crazy for . . . it is scones! I love, Love, LOVE scones! And I don't care how you say it!! I'll eat them no matter how you pronounce the word! A scone is a beautiful thing . . .
But when you combine the two loves . . . Cinnamon . . . and Scones, well . . . you've just died and gone to heaven. There is no other way to put it.
Bake them. Today. You will be glad that you did. And now back to your regular programming.
*Cinnamon Roll Scones*
Makes six
☺
100g of plain flour (3/4 cup)
110g of whole wheat flour (3/4 cup)
2 TBS golden caster sugar (or maple sugar if you have it)
2 1/4 tsp baking powder
1/4 tsp bicarbonate of soda
1/2 tsp salt
6 TBS cold unsalted butter
2 large free range egg yolk
60ml of buttermilk plus 2 TBS (1/4 cup, plus 2 TBS)
softened butter for spreading
1 TBS of powdered cinnamon
2 TBS golden caster sugar
for the frosting:
35g of icing sugar, sifted (1/4 cup)
1/2 tsp vanilla paste
1/4 tsp cinnamon extract
1 to 2 TBS milk
Preheat the oven to 220*C/425*F/ gas mark 7. Line a baking tray with baking paper. Set aside.
Whisk the flours, sugar, baking powder, soda and salt together in a bowl. Drop in the butter and then rub it into the flour mixture with your fingertips until the butter is in little pea sized bits. Whisk together the egg yolk and buttermilk. Stir into the dry ingredients until the dough pulls together. Tip it out onto a lightly floured surface and knead a couple of times, then pat the dough out into a 10 by 6 inch rectangle. Spread lightly with softened butter. Mix together the cinnamon and the sugar.
Sprinkle about 2/3 of this mixture over top of the butter, pressing it lightly to help it adhere. Roll up from the long side as if you were rolling up for a cinnamon roll. Press the roll into a rectangle which is 10 inches long by 3 inches wide and 1 1/2 inches tall. Cut in thirds and then cut each third in half diagonally into a triangle. Transfer to the baking sheet. Lightly butter the top of each triangle and sprinkle with the remaining cinnamon sugar.
Bake for 12 to 15 minutes, rotating the pan halfway through the baking time. The scone should be well risen and crisp on the outsides, and be lightly browned. Remove from the oven.
Whisk together the icing ingredients until you have a thick yet drizzable icing. Drizzle this decoratively over the scones. Store any leftovers in an airtight container.
Let the feasting begin. Bon Appetit!