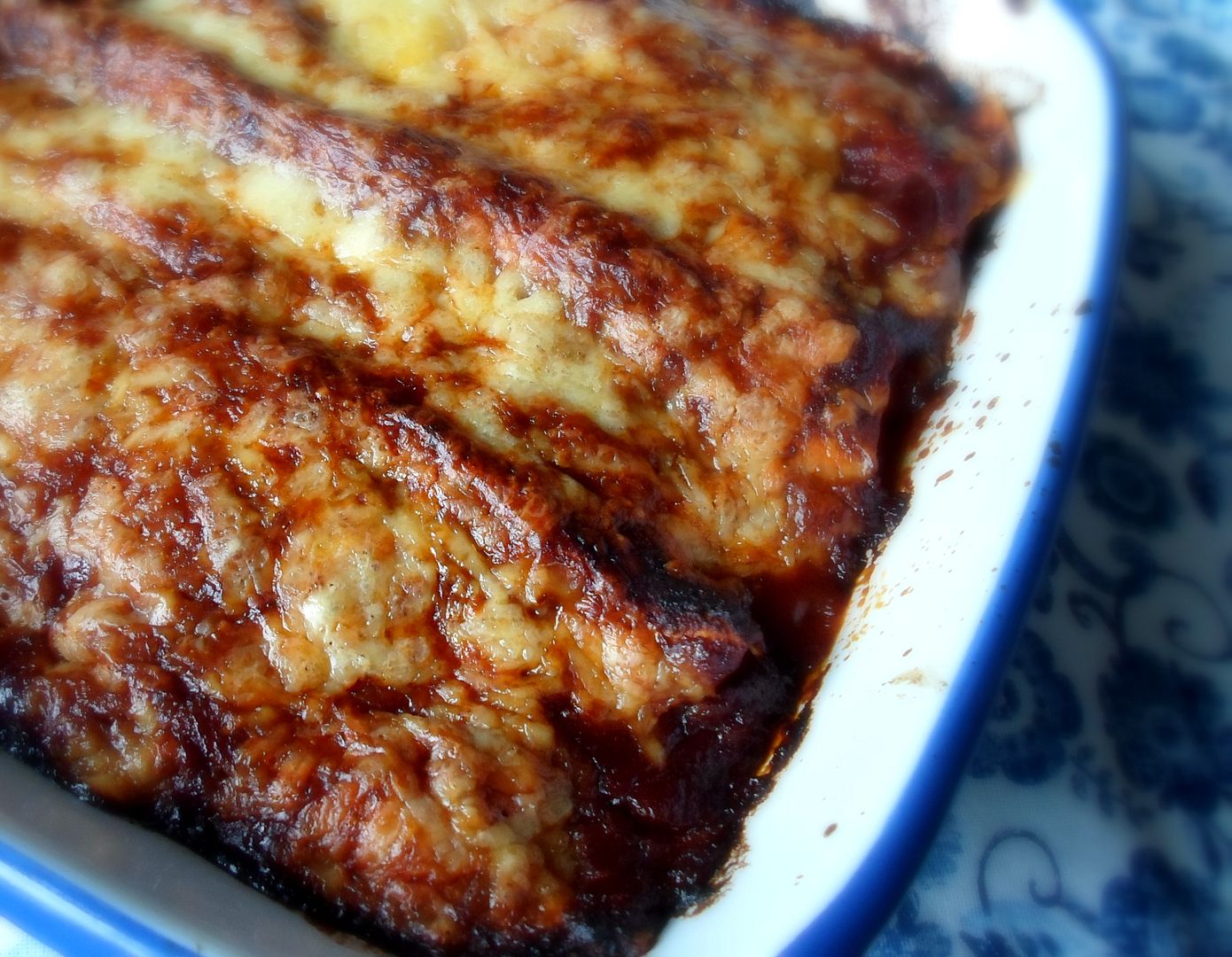 One of my children's favourite meals when they were growing up was enchiladas. It was not something we had very often, but a rare Tex Mex treat.
I always made Turkey ones after Thanksgiving and Christmas and occasionally I would make these delicious beef ones. They loved them both.
I have seen a lot of recipes through the years for beef enchiladas which use ground beef, but this tasty recipe uses cubed stewing beef, which makes it that little bit different.
The beef is browned on top of the stove and mixed with a variety of spices, onions, garlic and tomato passatta (tomato sauce) and then roasted in a slow oven until the beef is meltingly tender . . .
So tender you can tear it apart with a couple of forks.
You then remove all of the cooked beef from the sauce and shred it. Mix it with a few spoonfuls of the sauce and some cheddar cheese, and you have your delicious enchilada filling.
Very easy and very tasty. The remainder of the sauce can then be strained if you wish a smoother sauce. I don't bother to do this as I don't mind the bits.
Sometimes if it is too thick I think it a bit with some boiling water. You want the sauce to be thick, but also pourable.
I always use soft corn tortillas because I like them, but you can use the regular corn tortillas if you like, but you will have to soften them before they can be easily rolled.
Just use the directions on the packet. Filled and topped with the sauce and then baked, these are like a tex mex version of Italian Cannelloni.
I think it's so fascinating that most cultures have their own form of rolled and stuffed things . . . and they are all tasty.
The Italians have their Cannelloni, the Chinese have their duck pancakes, Europeans have stuffed cabbage and strudels . . . and then there are these lovely Tex Mex Enchiladas.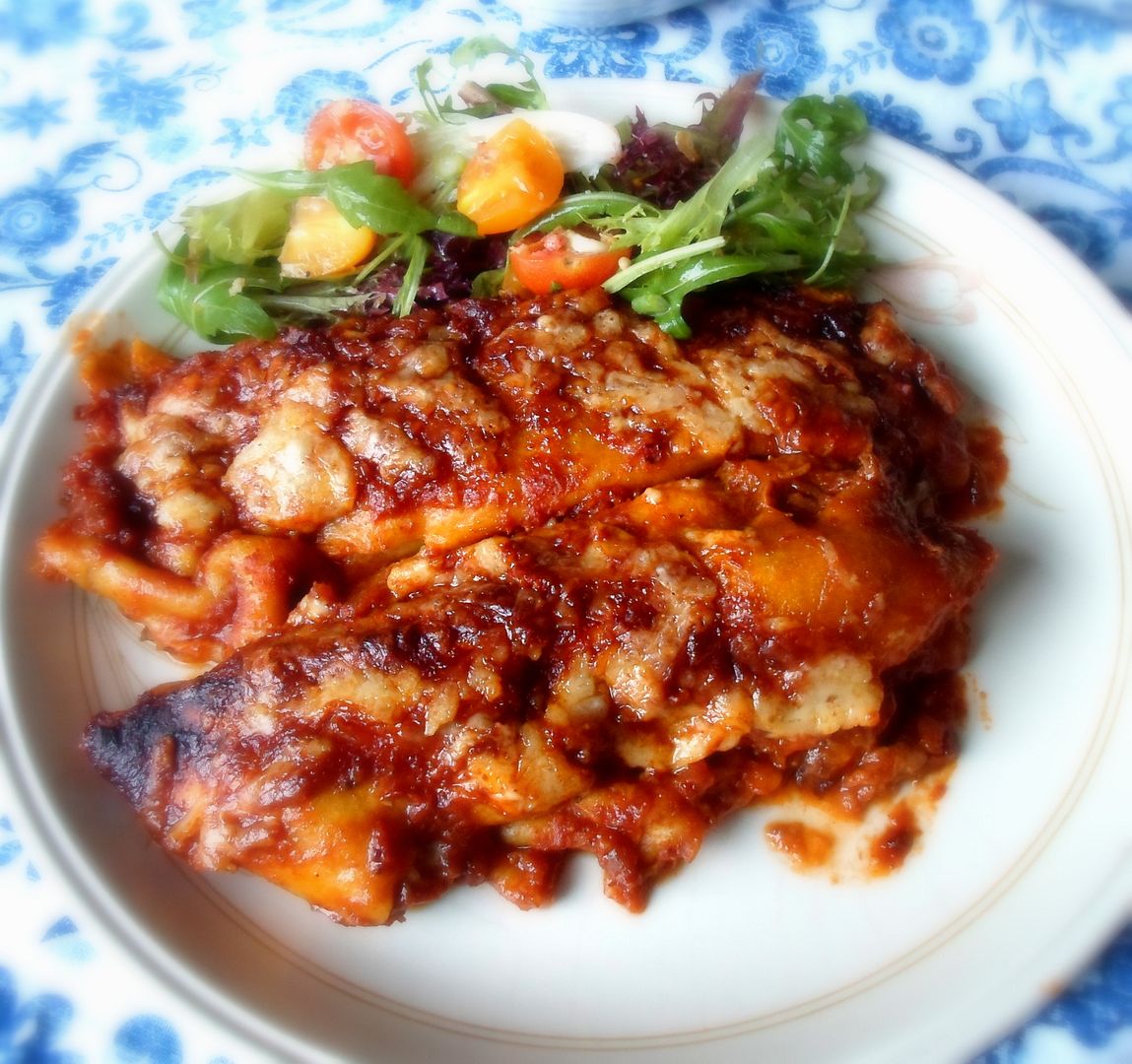 As a North American/Brit . . . I embrace them all quite happily.
I think our cuisine here in the UK is becoming a happy fusion of the traditional and the not so traditional.
It matters not what you bring to the table as long as it looks and tastes good . . . and these certainly fit the bill on all counts.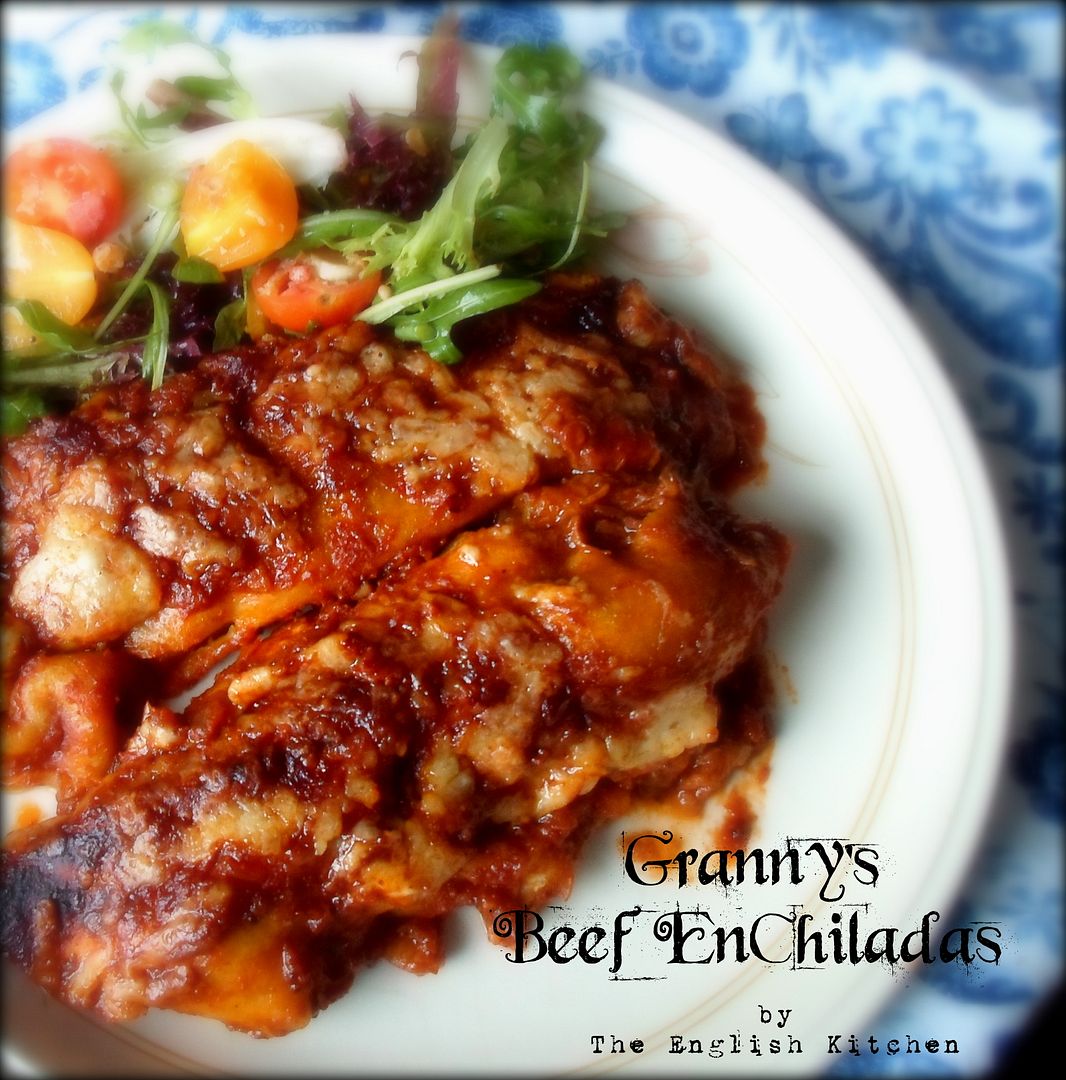 *Granny's Beef Enchiladas*
Serves 6
Printable Recipe
I'm not sure whose Granny this recipe belongs to but they are delicious. I've been making these for years. They are a bit time intensive, but worth every minute. Do plan ahead as you will need to start the beef filling about 3 hours or so before you need it.
3 pounds well trimmed stewing beef, cut into 1 inch cubes
salt and black pepper
2 TBS vegetable oil
2 medium brown onions, peeled and minced
3 TBS mild Chili Powder (I think the chili powder over here in the UK is ultra strong, so I only use about half that amount or even less when
I am reduced to using it. Normally I bring North American Chili powder back with me when I return from visiting there, and that is what I use.)
2 tsp ground cumin
2 tsp ground coriander
1/4 tsp ground cayenne pepper
4 cloves of garlic, peeled and minced
900ml of tomato passata (30-ounces tomato sauce)
60ml of dry red wine (1/4 cup)
1 TBS brown sugar
250g of medium cheddar cheese, grated (2 cups)
12 (6-inch soft corn tortillas)
Preheat the oven to 160*C/300*F/ gas mark 3. Pat the beef dry with paper kitchen toweling. Season well with salt and pepper.

Heat 1 TBS of the oil in a large Dutch oven over medium high heat. Add half of the beef and brown it well on all sides. Scoop out and set aside. Add the remaining oil and beef, and repeat. Add the onions to the pot along with 1/2 tsp salt.
Cook, stirring occasionally, until they have softened. Return the beef to the dutch oven, along with any juices which may have gathered. Add the spices along with 1/4 tsp of black pepper. Cook, stirring, until the mixture becomes very fragrant and the spices darken slightly.
Stir in the garlic and cook for about a minute. Add the tomato sauce and the wine and bring to the boil, scraping up any browned bits from the bottom of the pan. Cover tightly and roast in the heated oven until the meat is very tender, 2 to 2 1/2 hours in cooking time.

When the meat is very tender, remove the casserole from the oven. Scoop the meat out of the sauce to a large bowl and shred it with two forks.
If desired strain the sauce, discarding any solids. I don't mind the bits myself. You should have about 500ml (2 cups). Add a couple of spoonfuls of the sauce to the beef. If you think the sauce is too thick you may thin it a bit with some boiling water.

Increase the oven temperature to 190*C/375*F/ gas mark 5. Spoon a large dessertspoonful of the sauce into the bottom of a 9 by 13 inch glass baking dish. Spread it out to cover.

Stir half of the grated cheese into the shredded beef. Spread the tortillas out on the counter. Spoon 1/12 of the beef filling down the centre of each tortilla. Roll them up tightly and place them seam side down in the prepared baking dish.
Once all of the filled tortillas have been put into the dish, spoon the remaining sauce over top to cover. sprinkle with the rest of the cheese. Cover tightly with foil. Bake for 20 minutes, uncover and bake for 5 to 10 minutes longer, until the cheese is melted and they are well heated through. Serve hot, with or without sour cream for topping.

I like to serve this with a mixed salad.

Bon Appetit!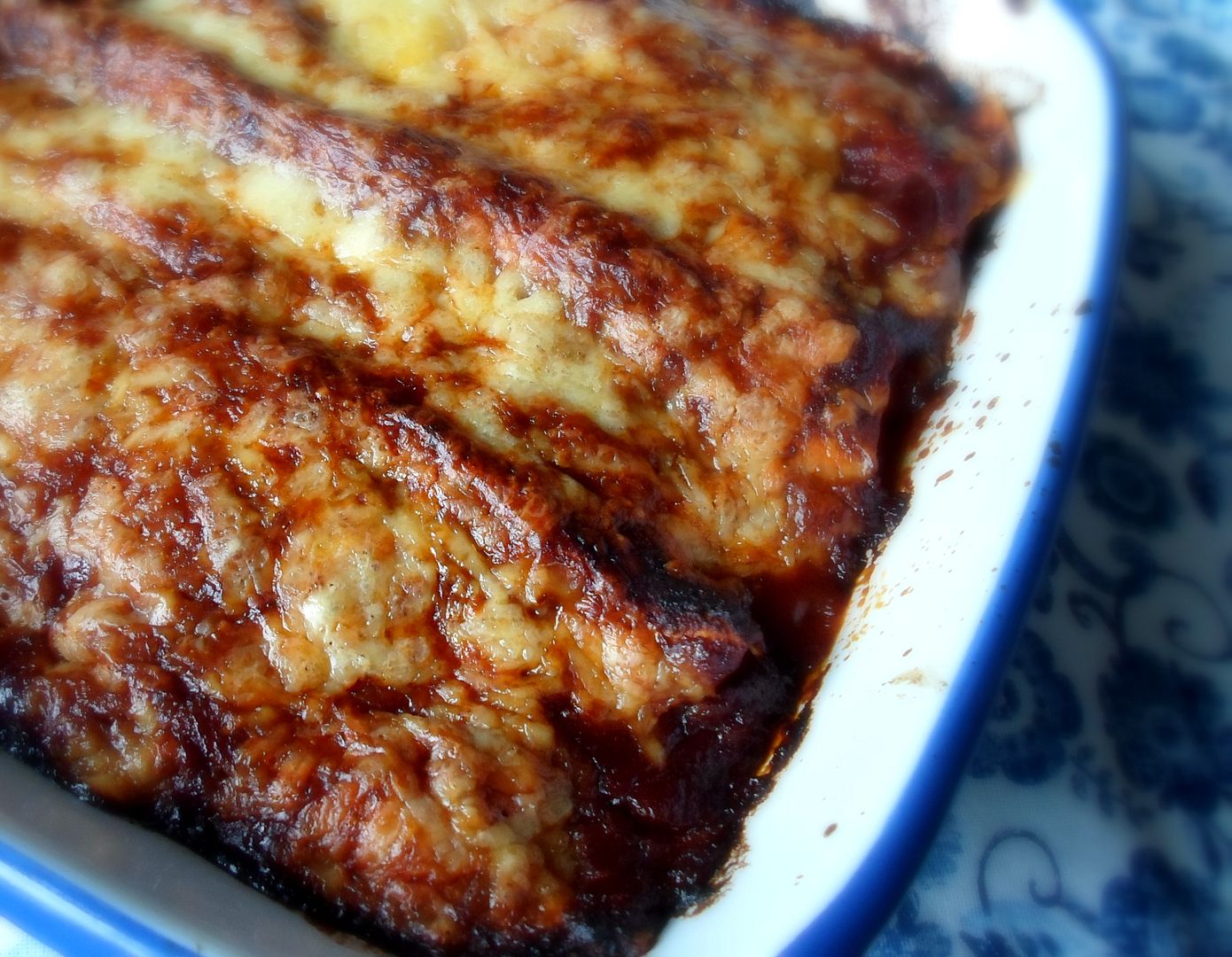 This content (written and photography) is the sole property of The English Kitchen. Any reposting or misuse is not permitted. If you are reading this elsewhere, please know that it is stolen content and you may report it to me at mariealicejoan at aol dot com.
Thanks for visiting, do come again!
Follow my blog with Bloglovin