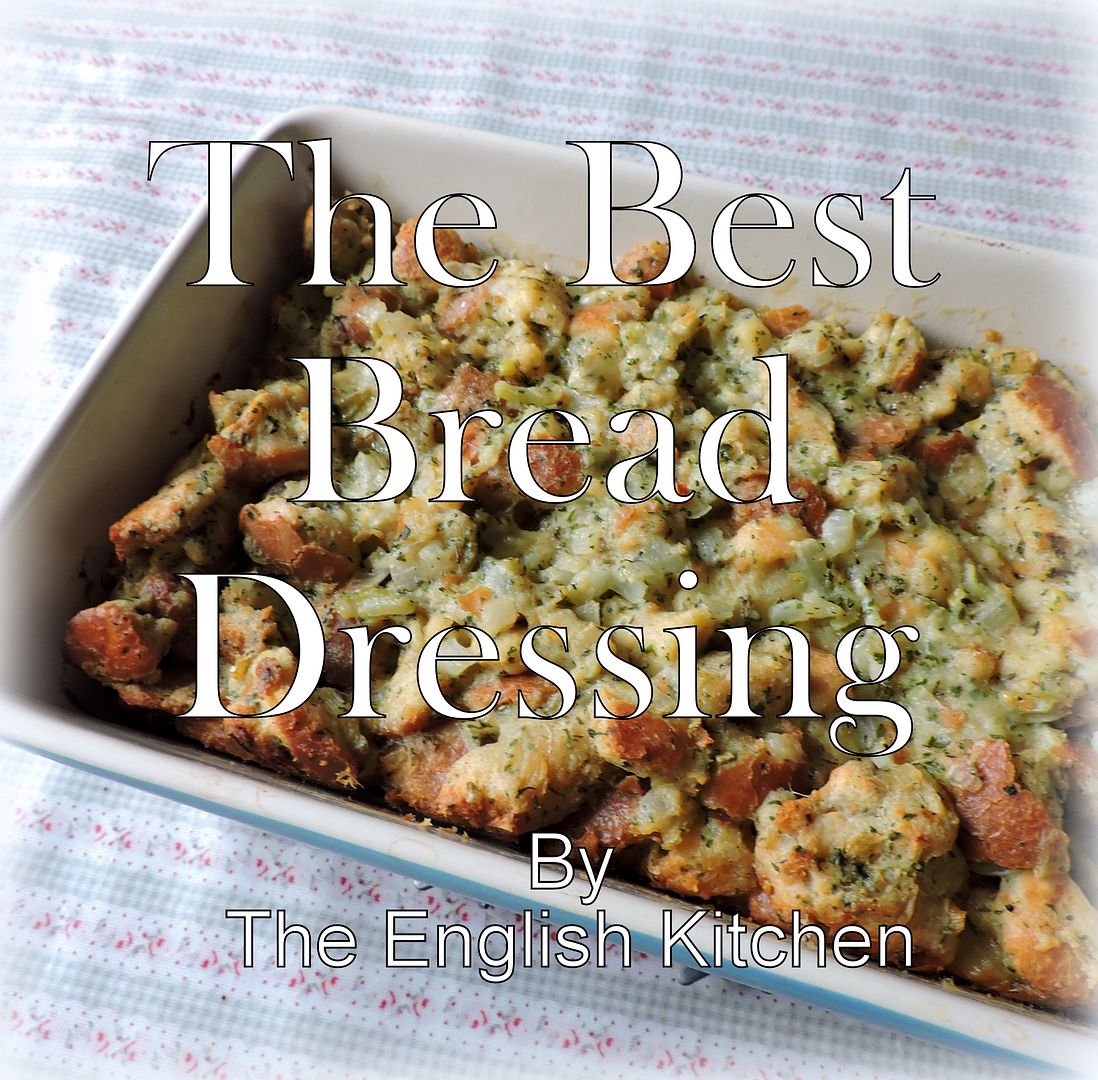 I don't know about you, but for me, the stuffing is the best part of any holiday dinner. I could eat a whole plate of stuffing and nothing else. If there is no stuffing . . . it's not a celebration in my books.
Oh, and by the way, Stuffing is dressing, stuffed into the bird, and Dressing is stuffing baked outside of the bird. I make no distinction. I adore them equally, and to me they are both one and the same.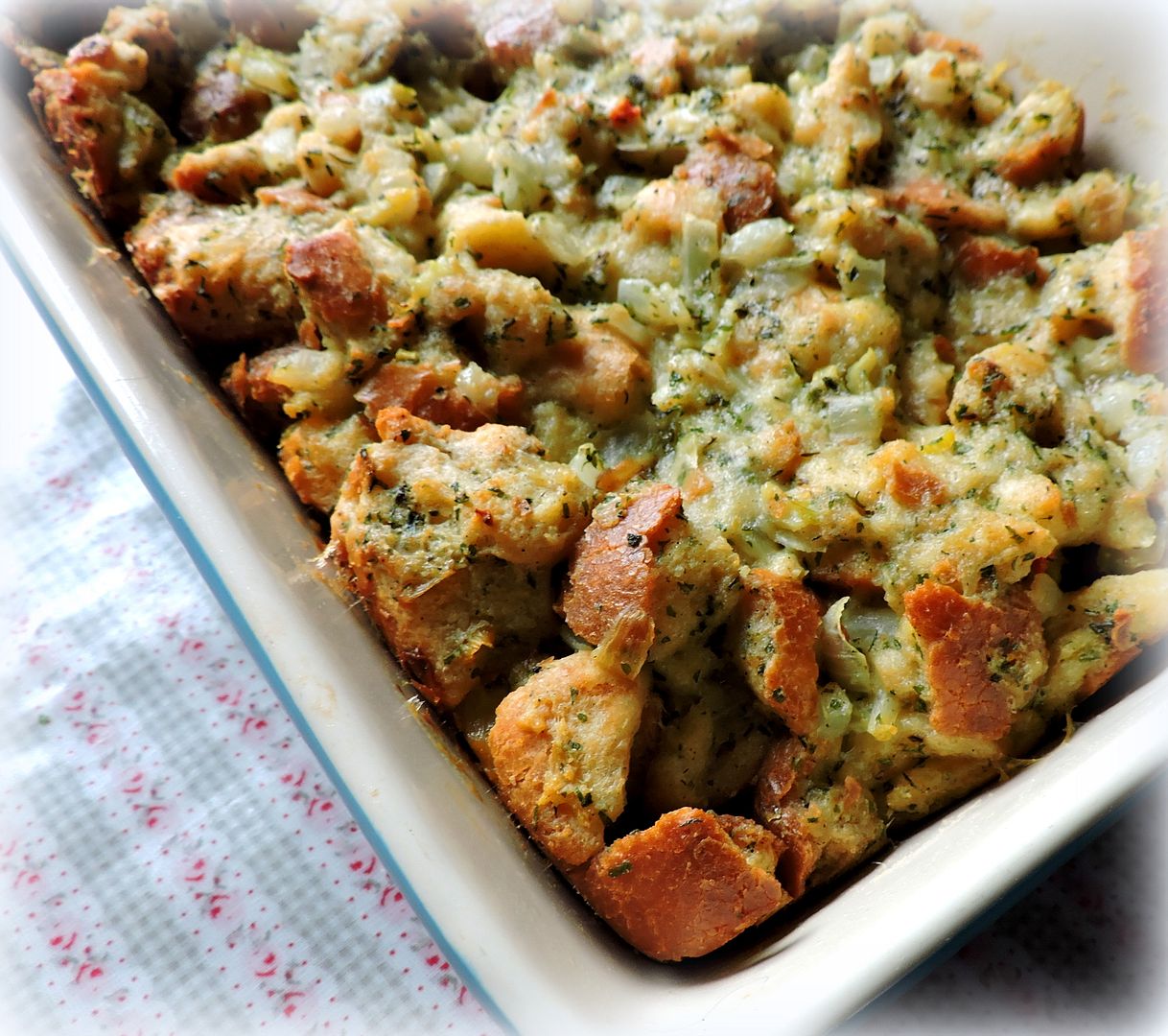 So what is it that makes this version the "Best?" It's moist and yet at the same time it has all these crunchy little bits all around the outer edges . . . I love crunchy bits.
What is your favourite part about stuffing/dressing? To be honest, I could eat just this and nothing else.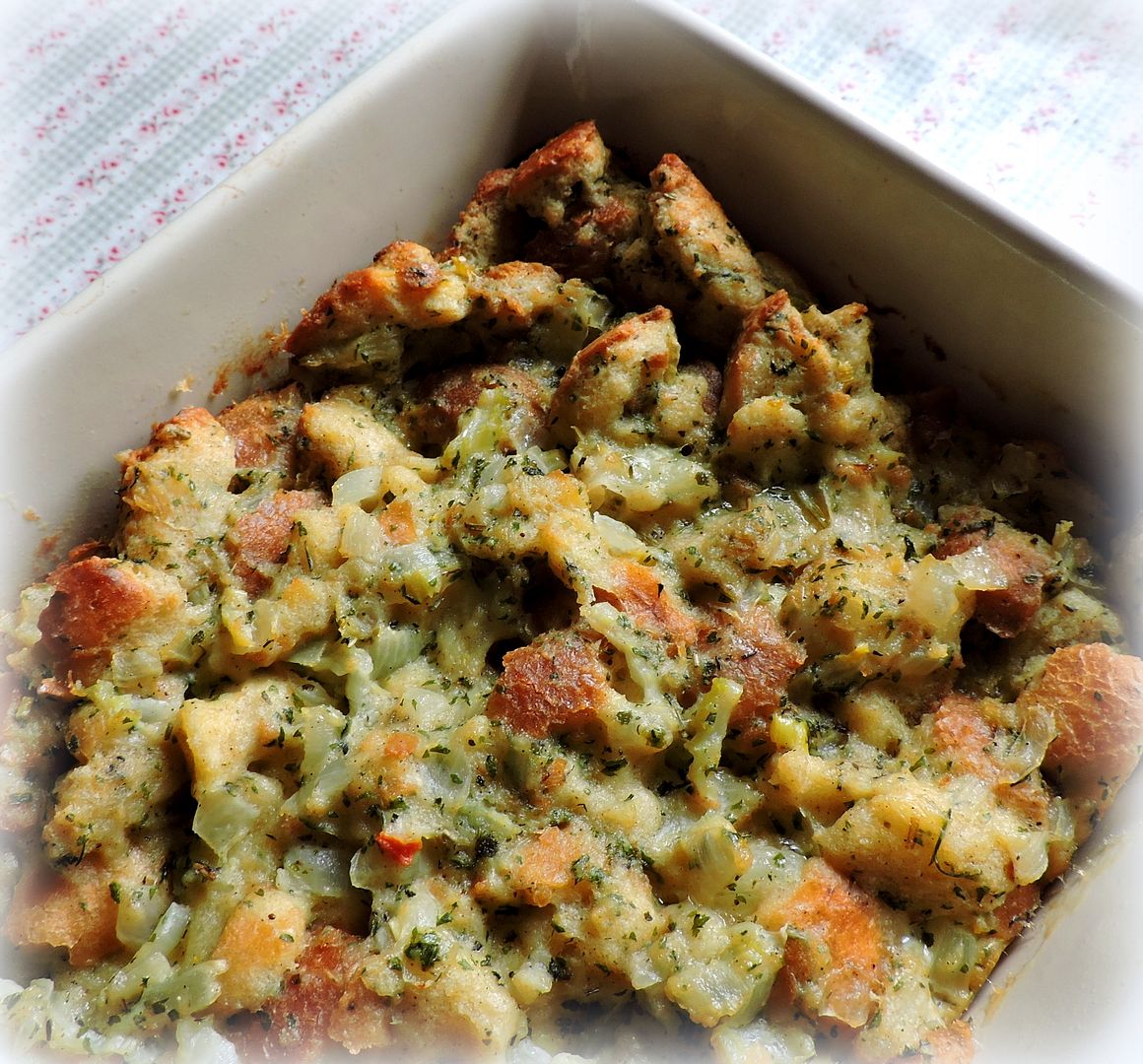 You can make it totally ahead of time, except for the baking bit. Just mix everything together and cover it and put in the refrigerator.
You will need to bring to room temperature prior to baking . . . half an hour on the countertop will do it.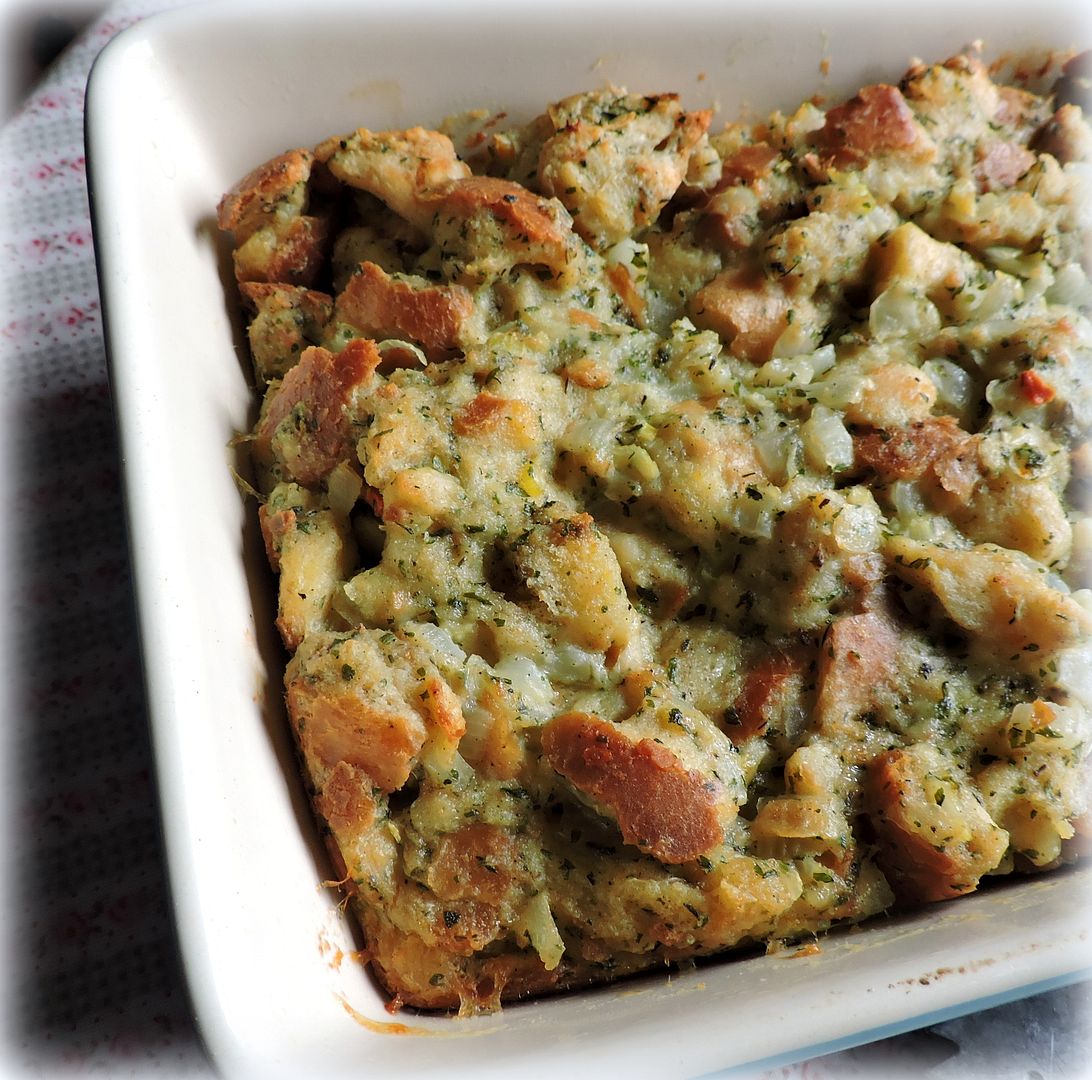 It has the perfect balance of herbs. Parsley, Sage, Rosemary and Thyme. Just like the song.
There is also plenty of aromatics like celery and onion as well. I always like to include some of the celery leaves.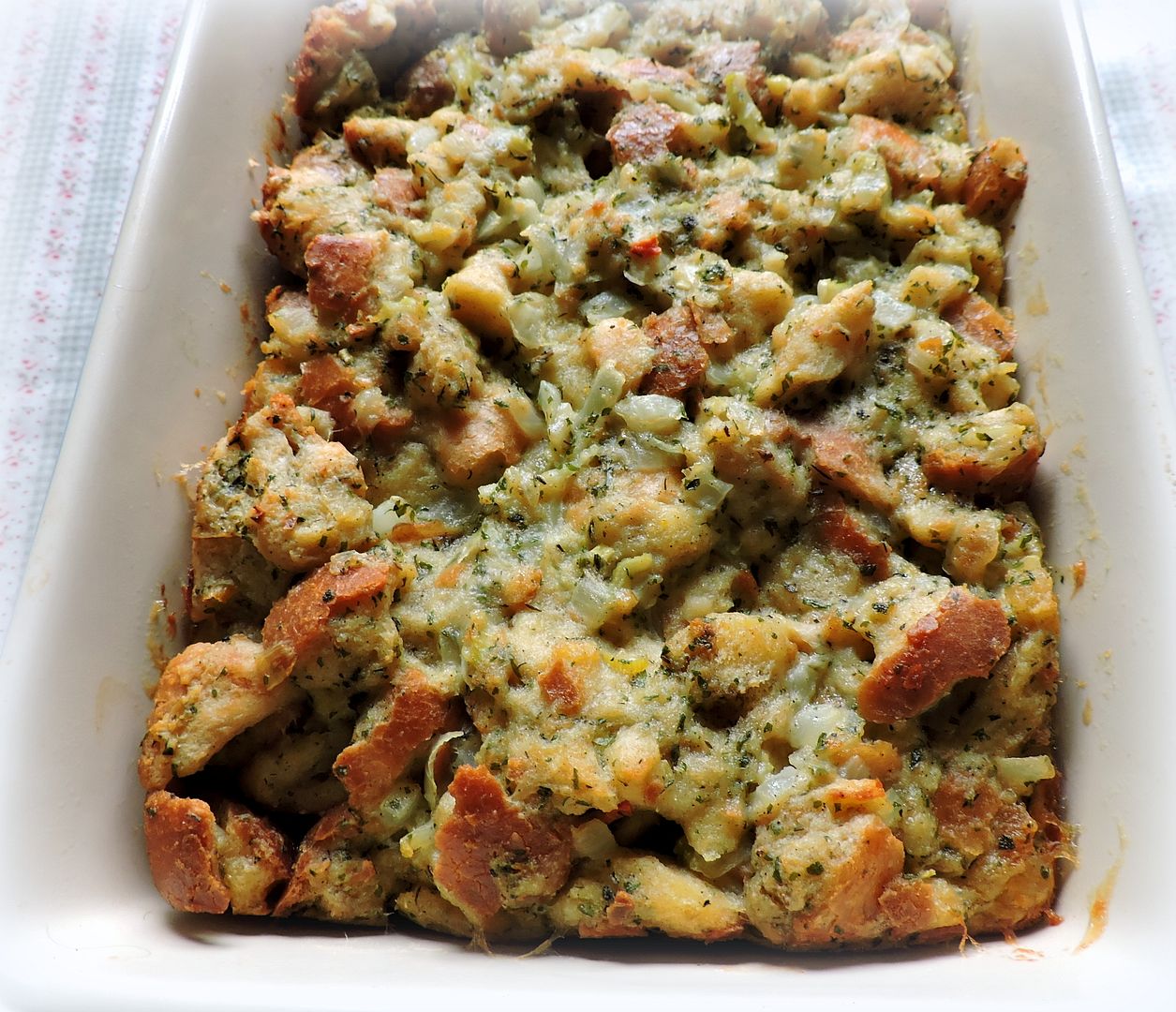 It is easy to throw together and the most important quality of all . . . its totally delicious! In my opinion, this is the best stuffing/dressing ever.
Oh, and it is totally adaptable. If you like you can add fried mushrooms, or chopped giblets, crumbled cooked sausage, etc. This dressing is a delicious canvas you can build upon.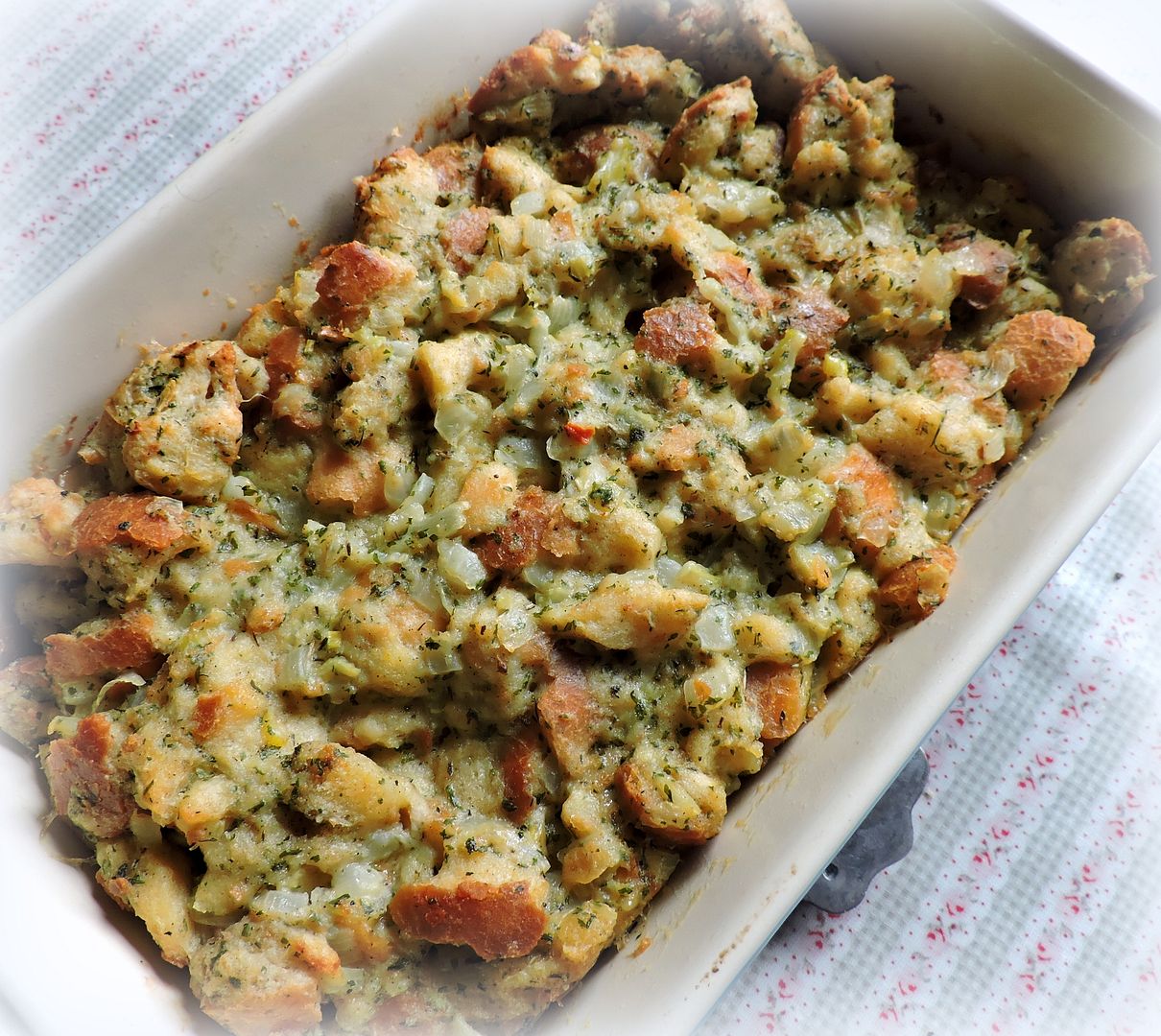 This is simple to make and always turns out fabulous. Perfect for the holidays!
180g butter, plus more to butter the baking dish (3/4 cup)
450g of good quality day old bread, tear into 1 inch pieces (about 1 pound)
3 medium onions, peeled and chipped
3 stalks celery, sliced thinly
a large bunch of flat leaf parsley, chopped (about 1/2 cup)
2 TBS chopped fresh sage
1 TBS chopped fresh rosemary
1 TBS chopped fresh thyme
1 1/2 tsp salt
1 tsp freshly ground black pepper
590ml low salt chicken stock, divided ( 2 1/2 cups)
2 large free range eggs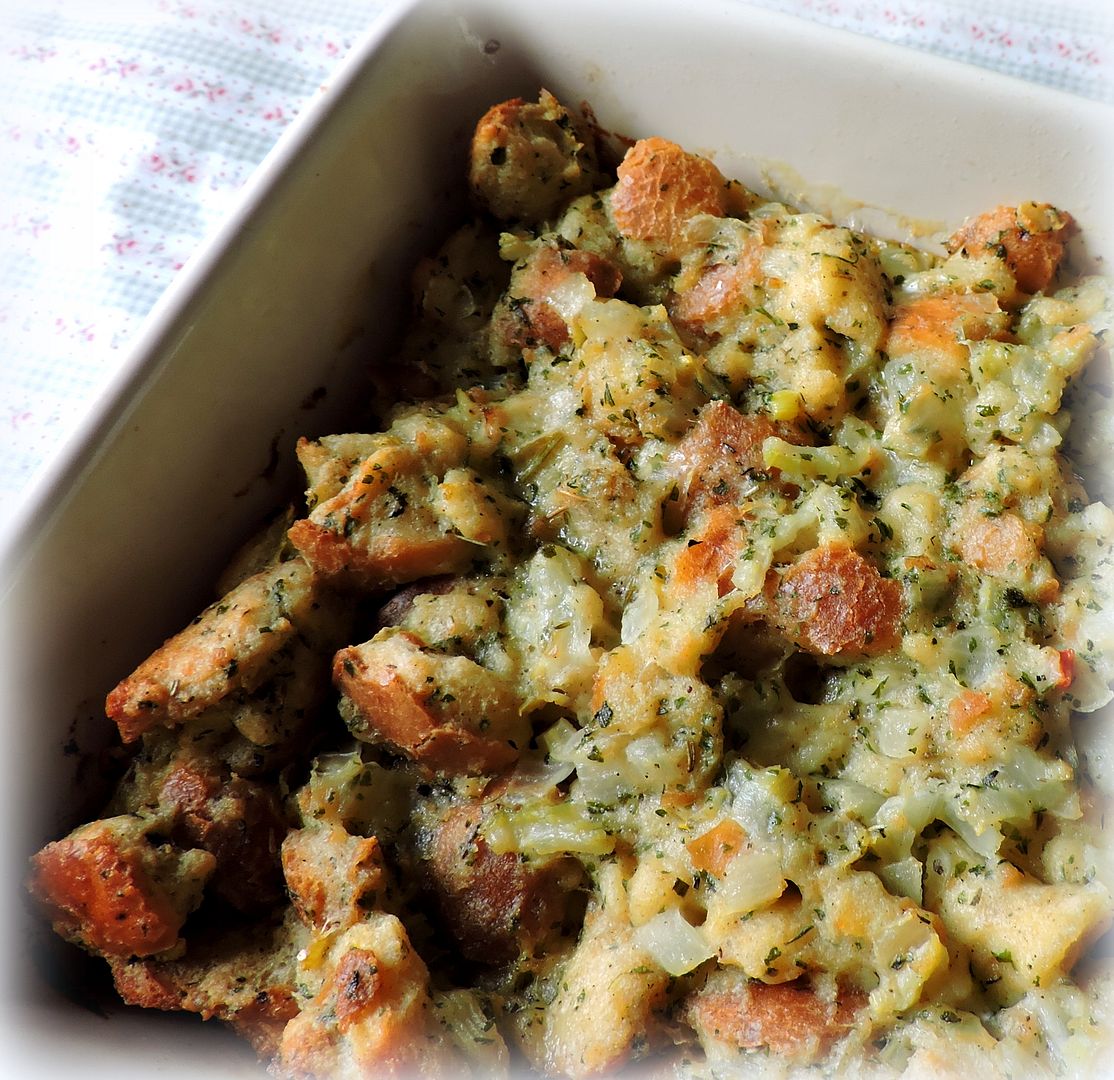 Preheat the oven to 120*C/250*F. gas mark 2. Butter a large baking dish (13 by 9) and set aside.
Place the bread crumbs onto a large baking sheet which has a rim. Spread into a single layer. Bake in the preheated oven for about an hour, stirring occasionally. Remove and let cool. Place into a large bowl.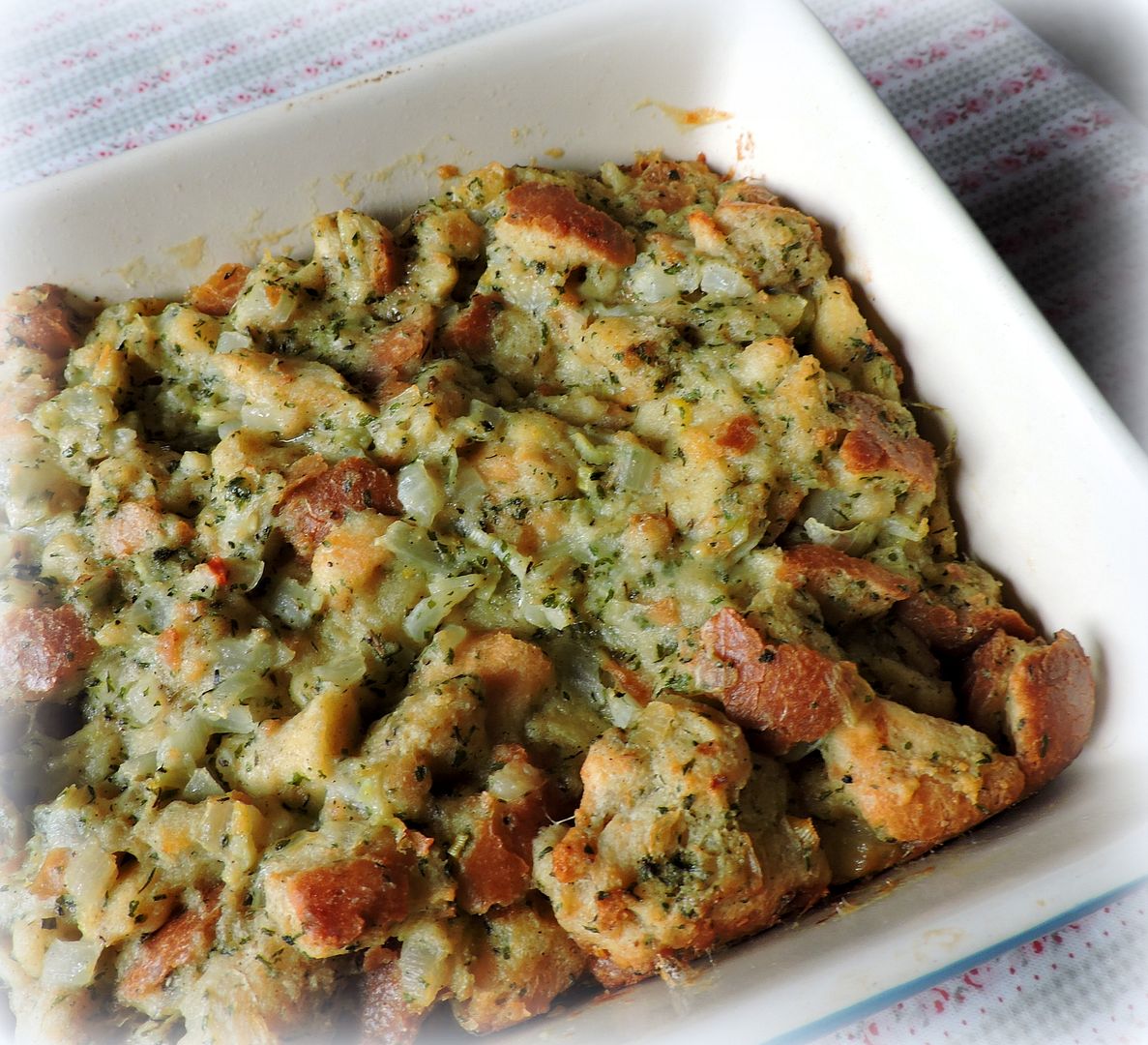 Melt the butter in a large skillet over medium high heat. Add the onions and celery. Cook, stirring frequently, until just beginning to brown. Pour over the bread in the bowl. Stir in the herbs, salt and pepper. Drizzle in 300ml of the chicken stock (1 1/4 cups). Toss together gently and allow to cool.
Whisk the remaining stock together with the eggs. fold into the bread mixture until combined.
Preheat the oven to 180*C/350*F/ gas mark 4. Spread the stuffing mixture into the buttered baking dish. Cover tightly with foil. Bakein the preheated oven for 40 to 45 minutes, until the centre of the dressing registers at 72*C/160*F. Keep warm until ready to serve.
Note - this can be made (right up to the baking part) up to one day ahead. Uncover and let cool. Re-cover and then place in the refrigerator. Bake uncovered in an oven until set and golden, 40 to 45 minutes from room temperature, 45 to 55 minutes from chilled. I recommend bringing to room temperature prior to baking.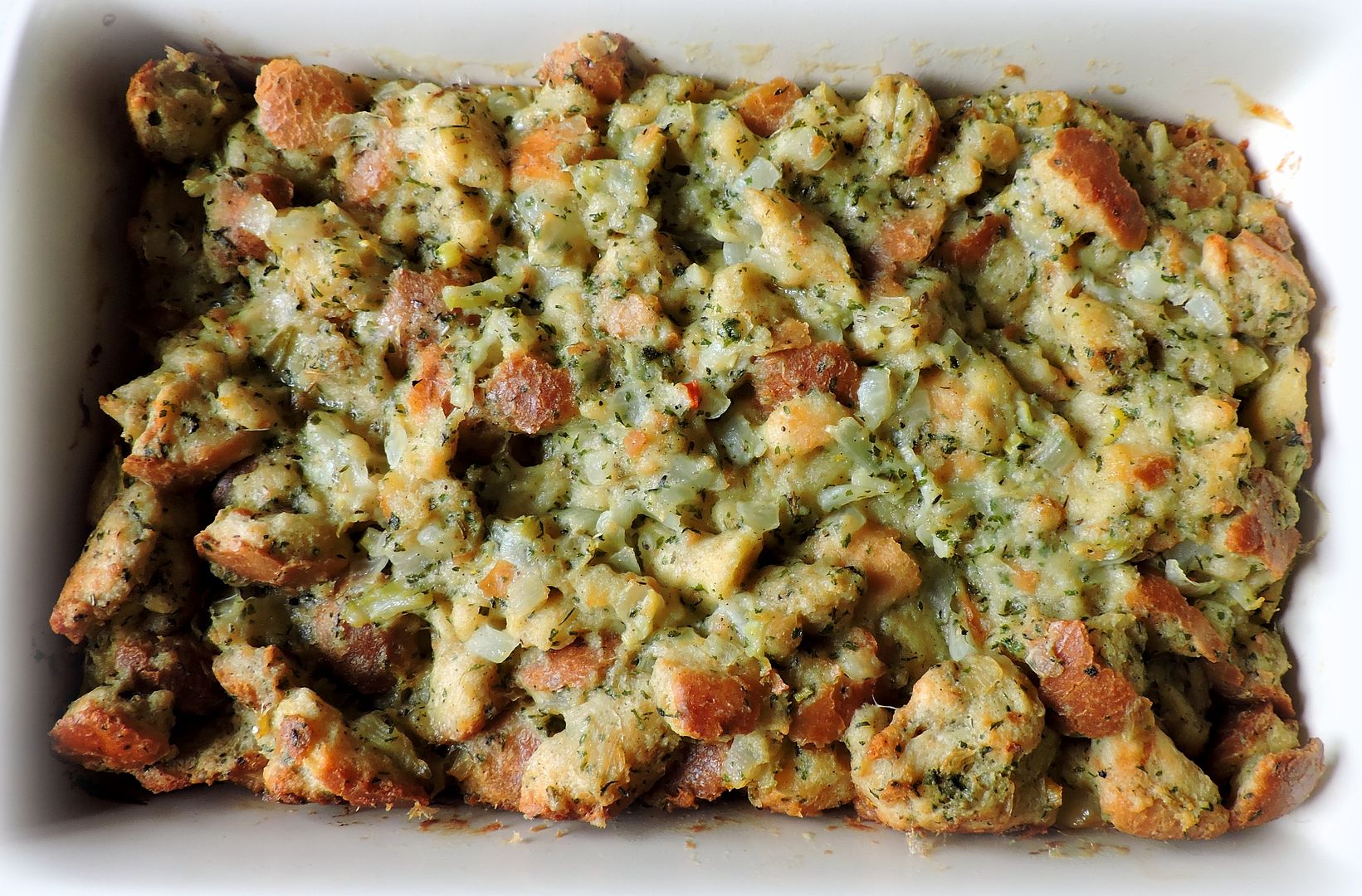 Bring on the holidays. I can't wait! There is so much deliciousness to look forward to! Bon Appetit!