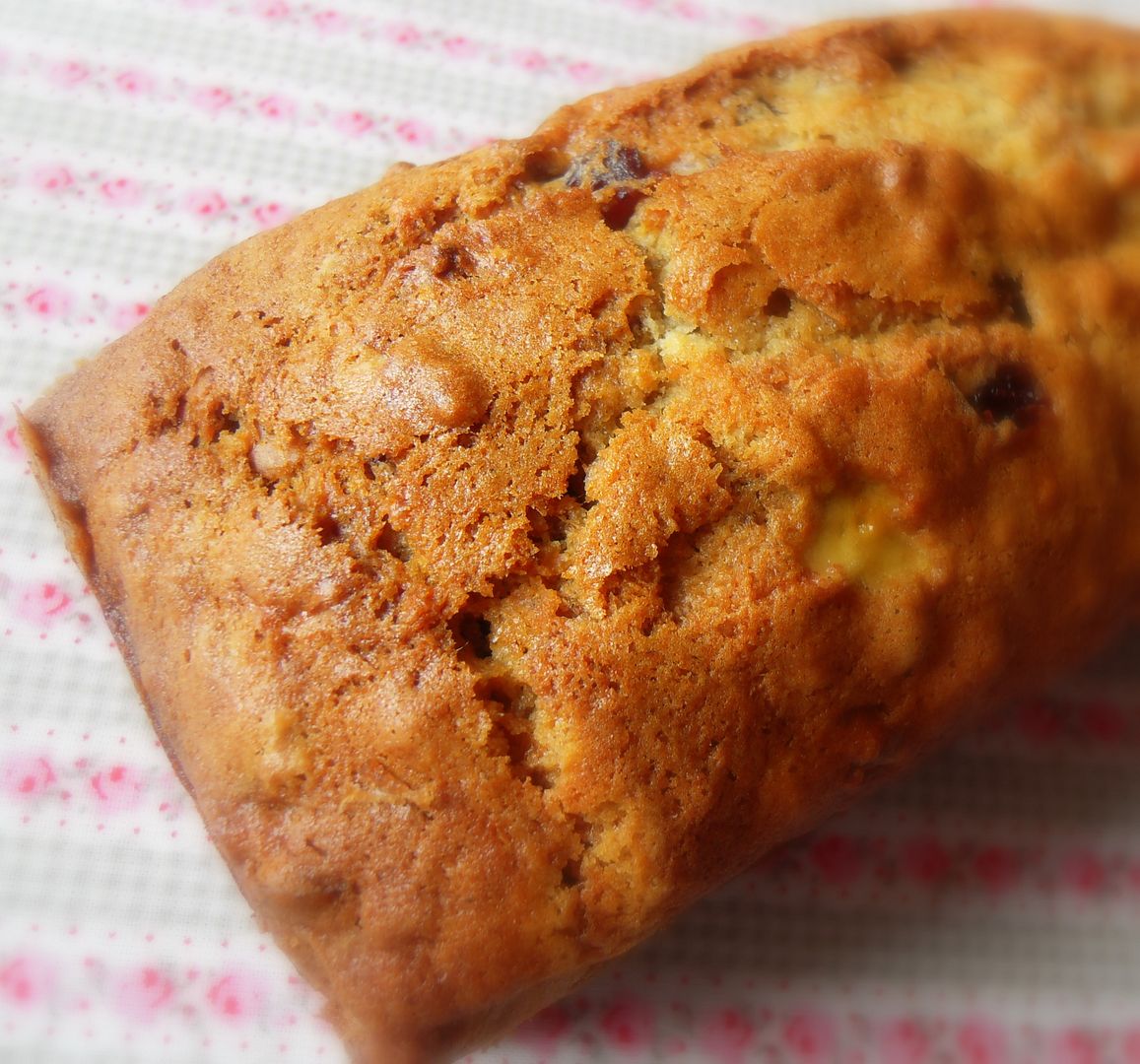 One day last year I was baking this lovely loaf and I went out the front door to check on something and the wind from the back door blew the front door shut. This was somewhat of a disaster as if the front door closes and you don't have a key . . . you can't get back in. There I was stuck in the front garden, with a loaf in the oven, a small puppy at large inside, no cell phone on my person . . . and a padlocked 10 foot tall back gate that I had no hope of scaling. Thank goodness it wasn't raining.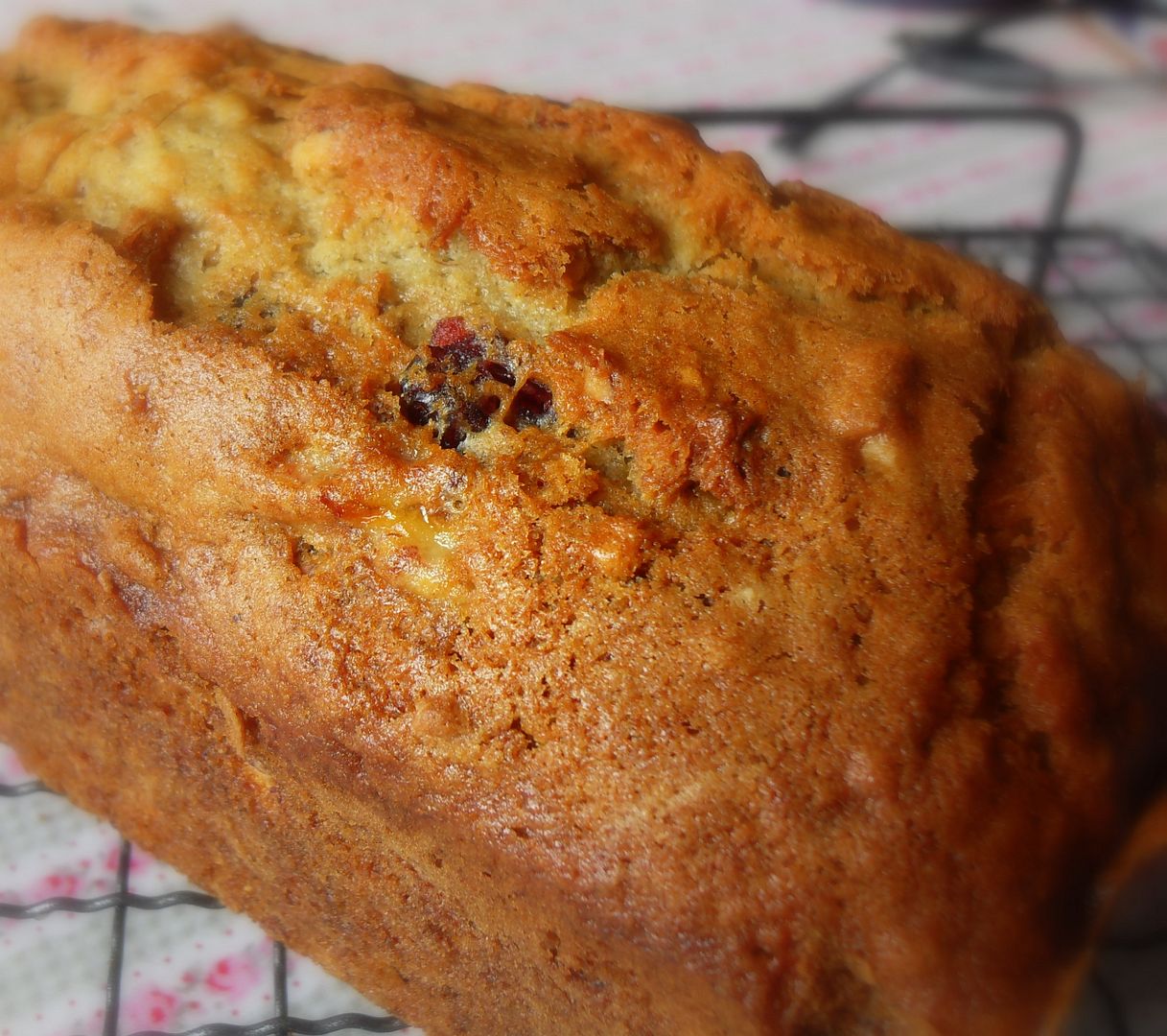 I knew the back door was open but I was so worried about Mitzie, who wasn't very old at that point and also that my cake would burn. My phone was in the house and I had no way to contact Todd who had the only other key. What to do . . . what to do . . .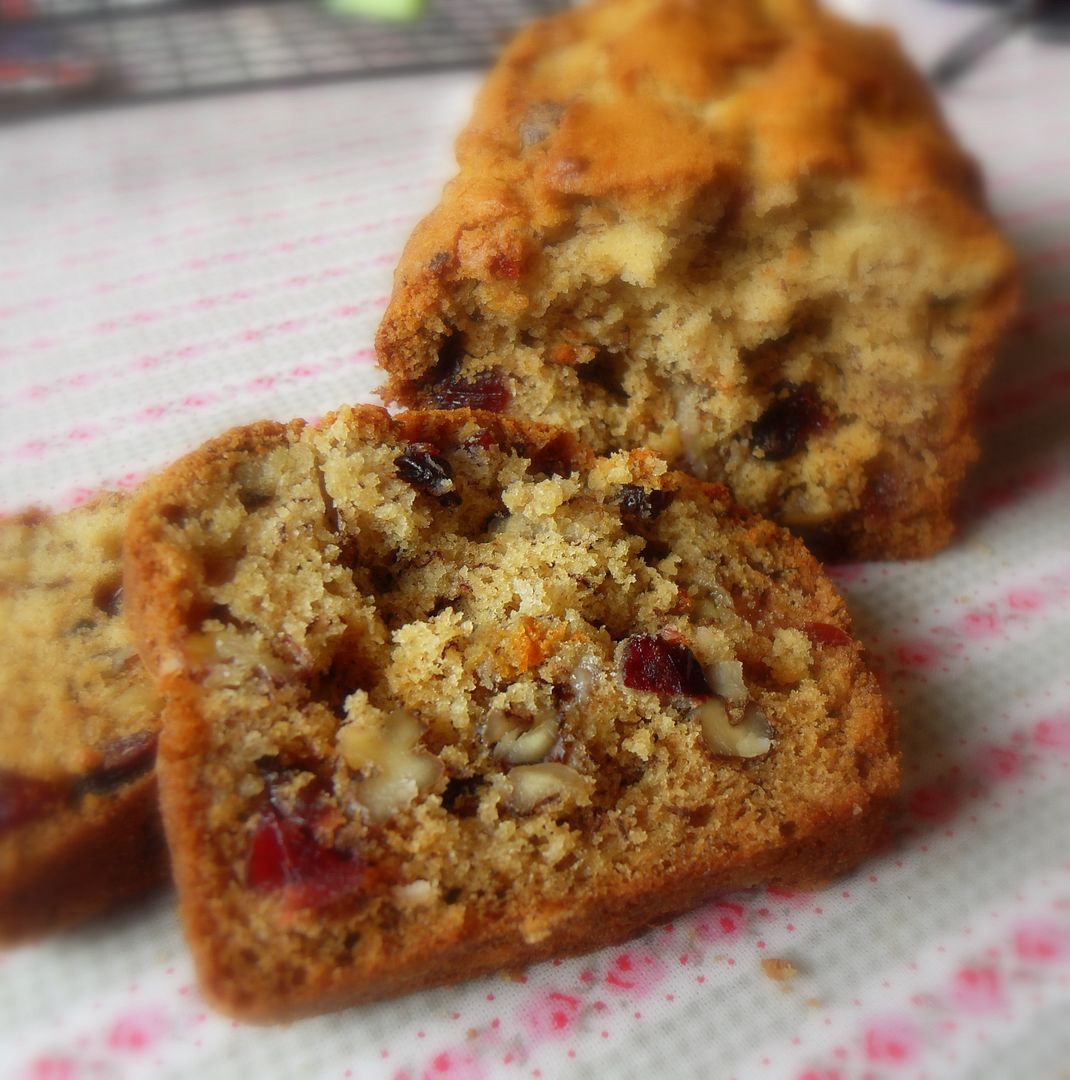 In the end, I did what anyone would do . . . I knocked on the next door neighbor's front door and asked him if he had a ladder I could use to get over the back gate. He had a ladder of course, but better than that, he did the climbing! Then he just walked through the house to the front door and let me in. Whew!! You cannot imagine how grateful I was.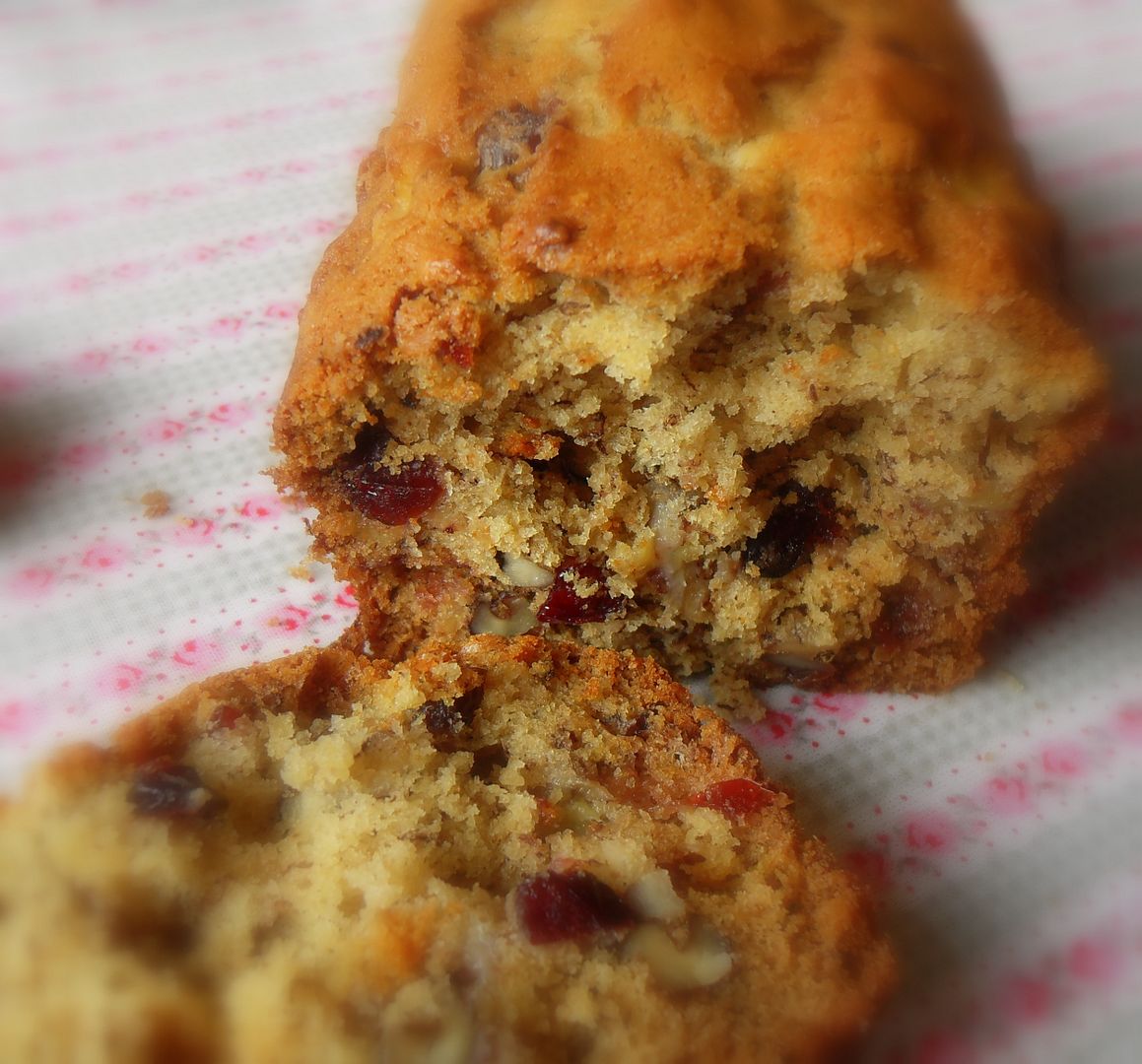 Once the cake was finished, and cooled . . . I packaged it up and took it over to him and his wife as a thankyou. I think they were somewhat surprised . . . I don't think it's something that a lot of people over here do, but in North America we are always taking casseroles, cakes and other baked goodies to neighbours as welcome to the neighbourhood gifts, thank you's, helping out when someone has a new baby or has been sick, or when someone in the family has passed away. It's just a neighbourly thing to do.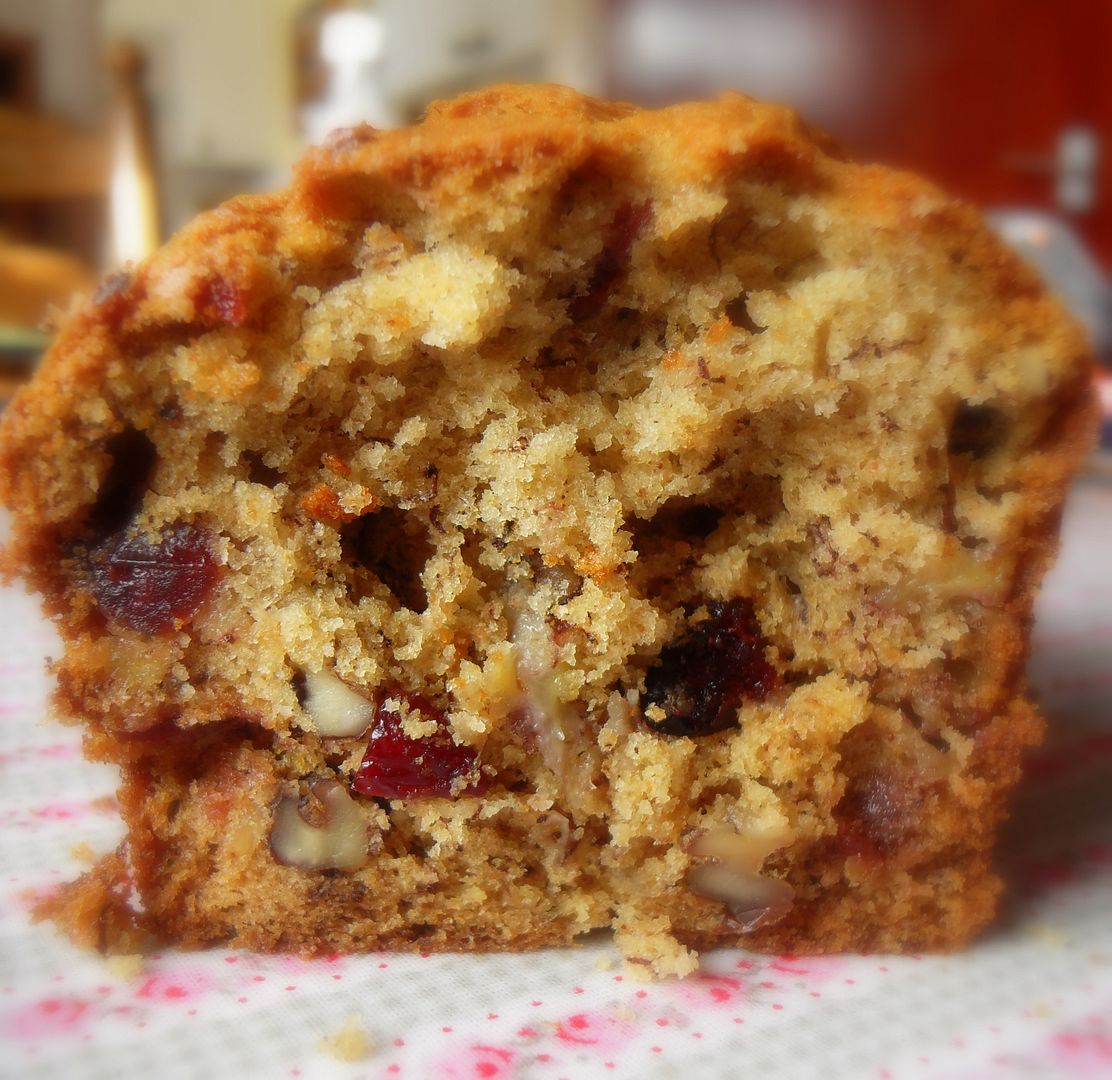 They must have really liked it because just before Christmas that year he asked Todd if I would be willing to bake them another one that they could take to their sons. They said they would pay for the ingredients, etc. I baked one and gave it to them as a thankyou for all the nice things they do for us through the year . . . keep an eye on our house when we are away, take in mail and other deliveries when we are out, etc. I was quite happy to bake them one and then I thought to myself . . . sometime I better bake one for myself, if it's so delicious!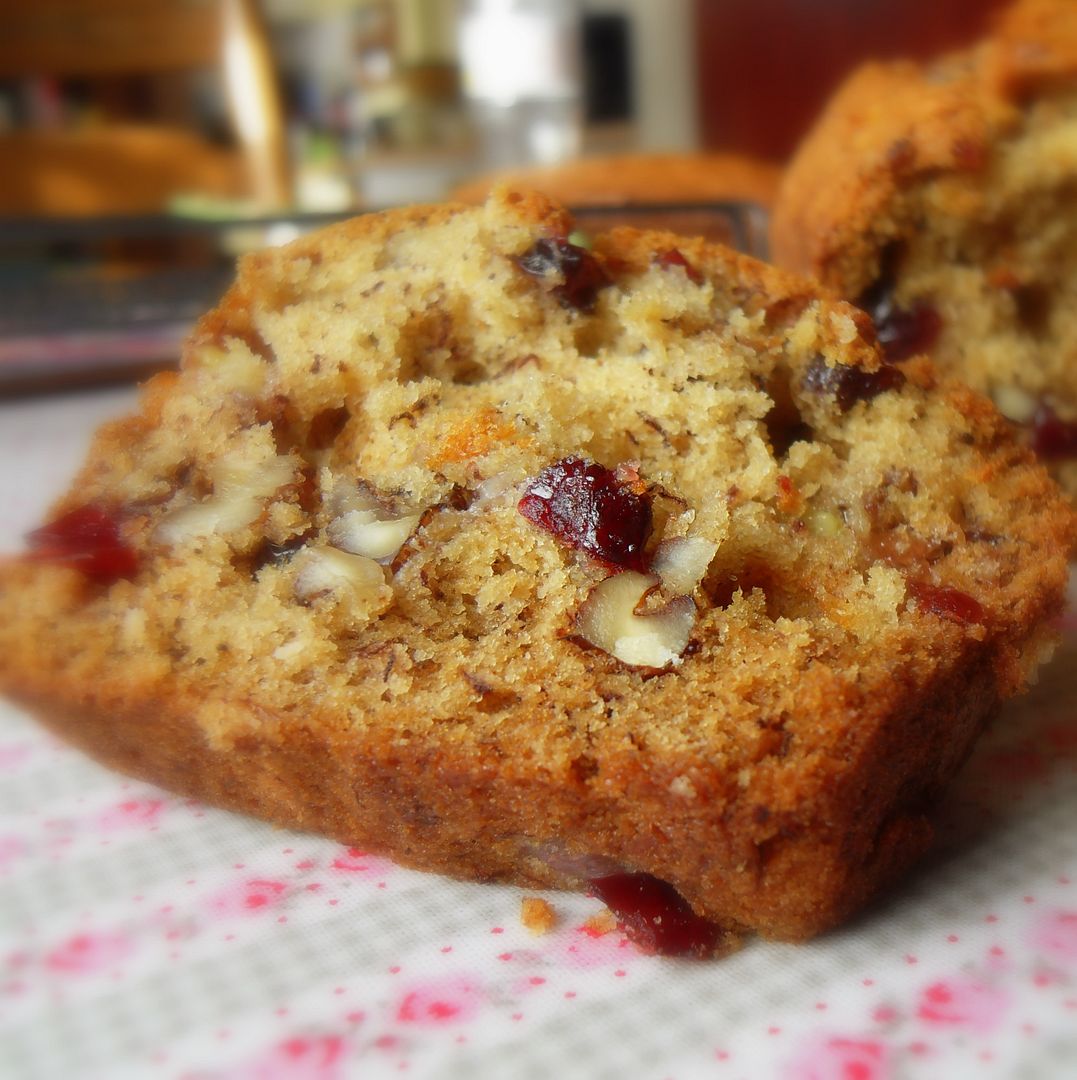 Friday was
the
day. I had enough ripe bananas and I was in a baking mood, and I wanted something tasty to take on a car trip we were going on with the young Sister Missionaries early Saturday morning. We were going to be leaving before 5:30 a.m. and be gone quite a while. I didn't think anyone would have time for breakfast. I thought this lovely loaf would go down a real treat.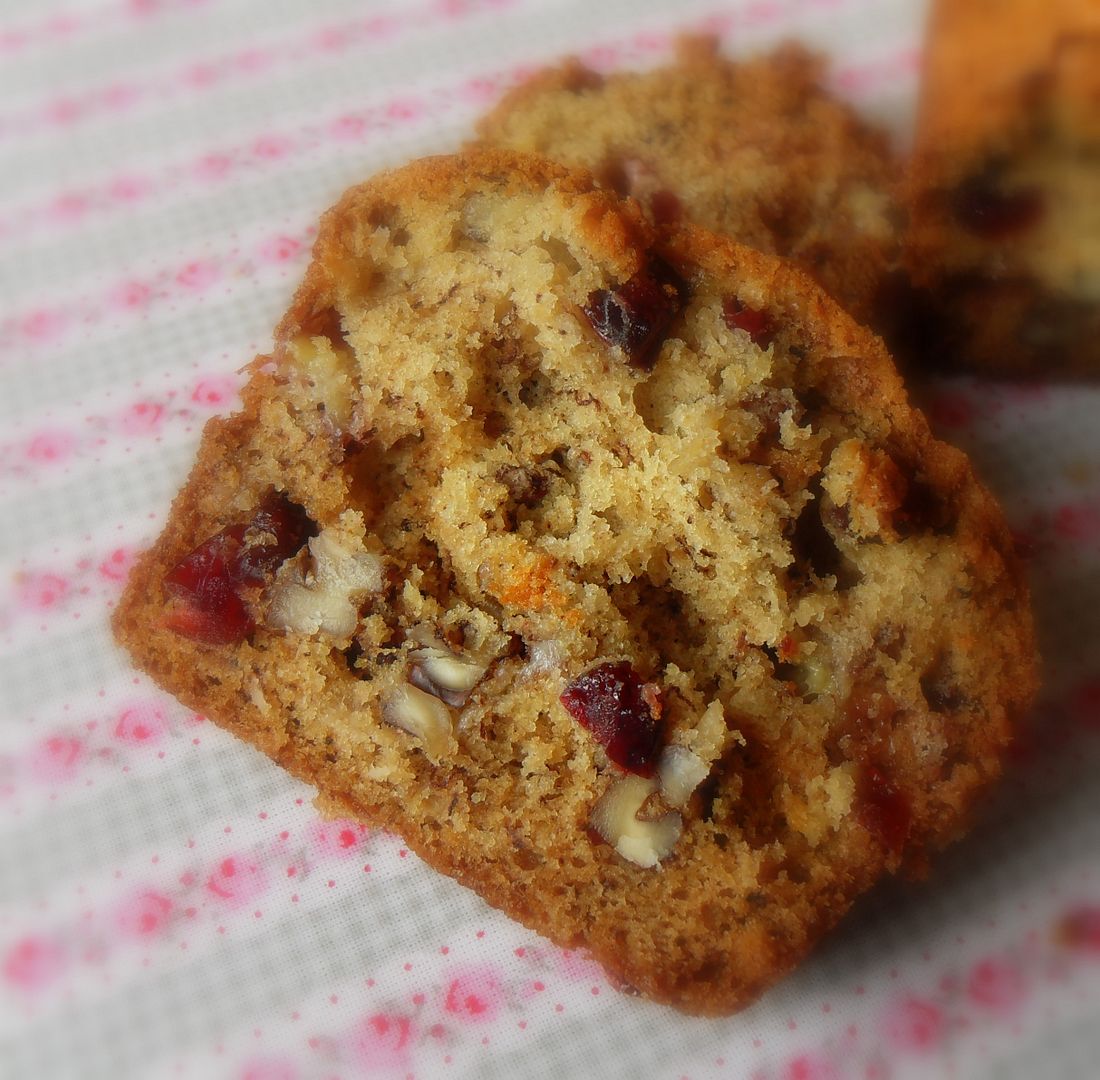 It's moist and filled with flavour . . . lovely banana, sweet dried cranberries, toasty chopped walnuts. I'm not surprised that the man next door fell in love with it, for I have too. This is my all time favourite Banana Loaf. Absolutely delicious.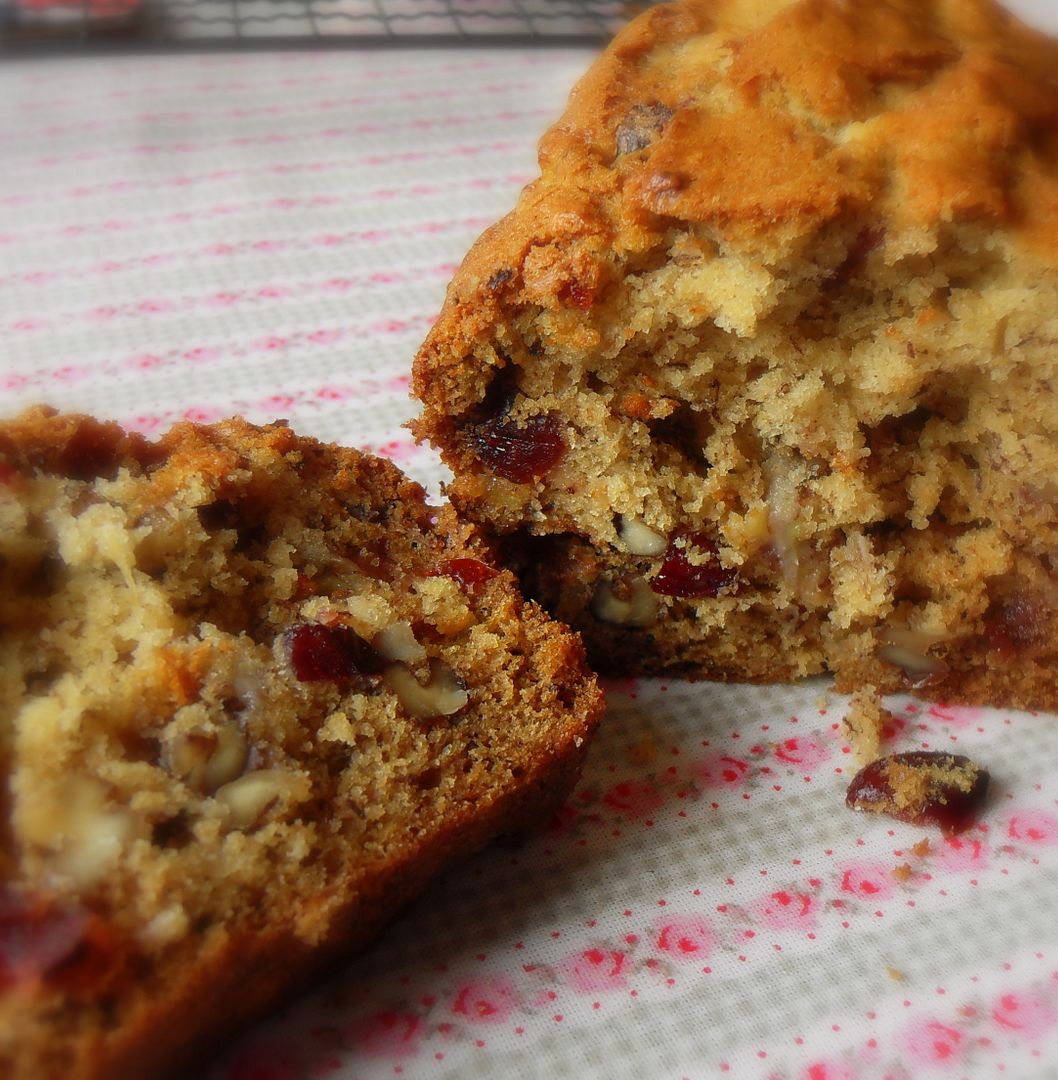 The sisters really enjoyed it sliced and spread with butter. I know . . . butter. It's a North American thing. Banana bread and butter. This is soooooo good! I think it was love at first bite.
I really DO hope you will bake this too. I think you'll find that my claims about it's scrumminess are NOT exaggerated in the least!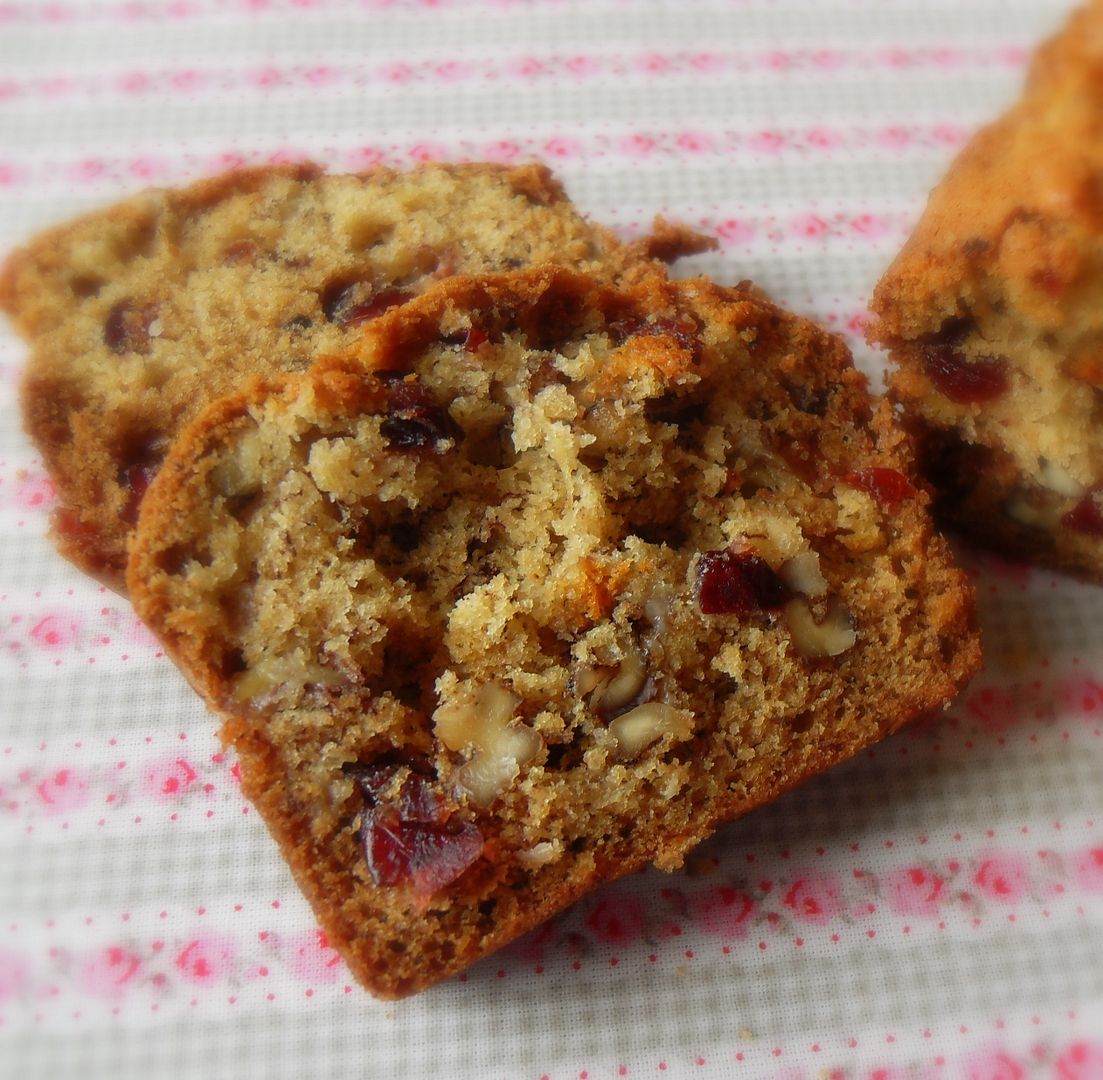 *Banana, Cranberry & Walnut Loaf*
Makes 1 large loaf, or 2 small loaves
(one for keeping and one for giving!)
Printable Recipe
A moist banana loaf chock full of sweet cranberries and crunchy walnuts.
4 ounces butter, at room temp (1/2 cup)
175g of caster sugar (3/4 cup)
2 large free range eggs, beaten
1 tsp milk
300g of plain flour (scant 3 cups)
1/2 tsp salt
1 tsp bicarbonate of soda
1 tsp mixed spice (see my recipe in the side bar on the right side
of the page)
3 ripe bananas, peeled and mashed
85g dried cranberries (generous 1/2 cup)
60g toasted walnuts, chopped (scant 1/2 cup)
Preheat the oven to 160*C/325*F/ gas mark 3. Butter 2 small loaf tins, or 1 large loaf tin and line with baking parchment.
Cream the butter and sugar together in a large bowl until pale and creamy. Beat in the eggs and the milk, mixing all together well.
Whisk together the flour, salt, soda and spice. Stir this mixture into the creamed mixture. Stir in the bananas, cranberries and walnuts. Divide the mixture between the two small tins or spread into the large tin. Bake in the middle of the preheated oven for 45 to 50 minutes for small loaves, or 1 to 1/1/2 hours for the large tin, until well risen and a toothpick inserted in the centre comes out clean.
Remove from the oven and allow to cool in the tins for 10 minutes, then lift out onto a wire rack to cool completely. This cake will keep for up to 1 week when stored in an airtight tin.
Bon Appetit and Happy Sunday!