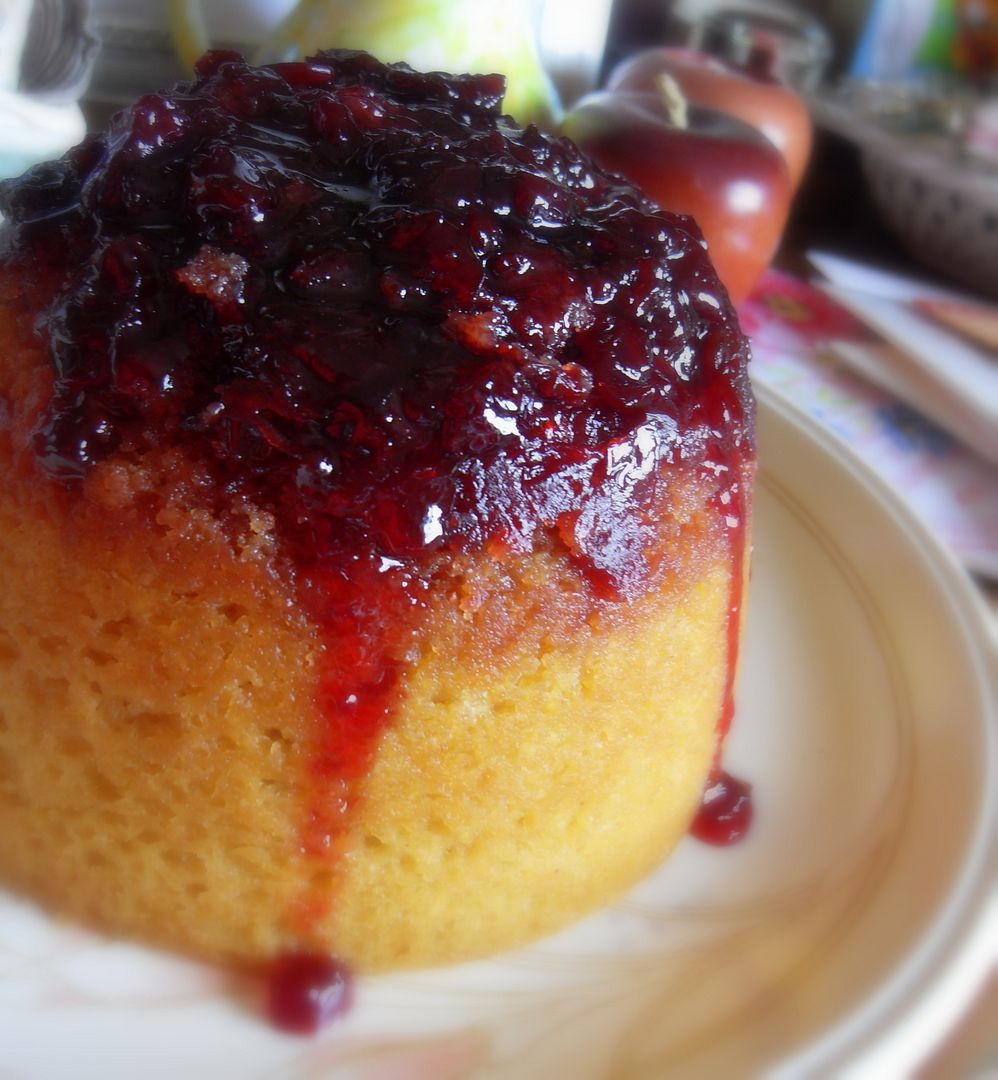 Oh I do so love when the cooler temperatures arrive and I can get down to the business of cooking comfort foods again. So does Todd. He does enjoy my salads, but he is a WW2 baby and he likes his stodge much more than those leafy greens and veg.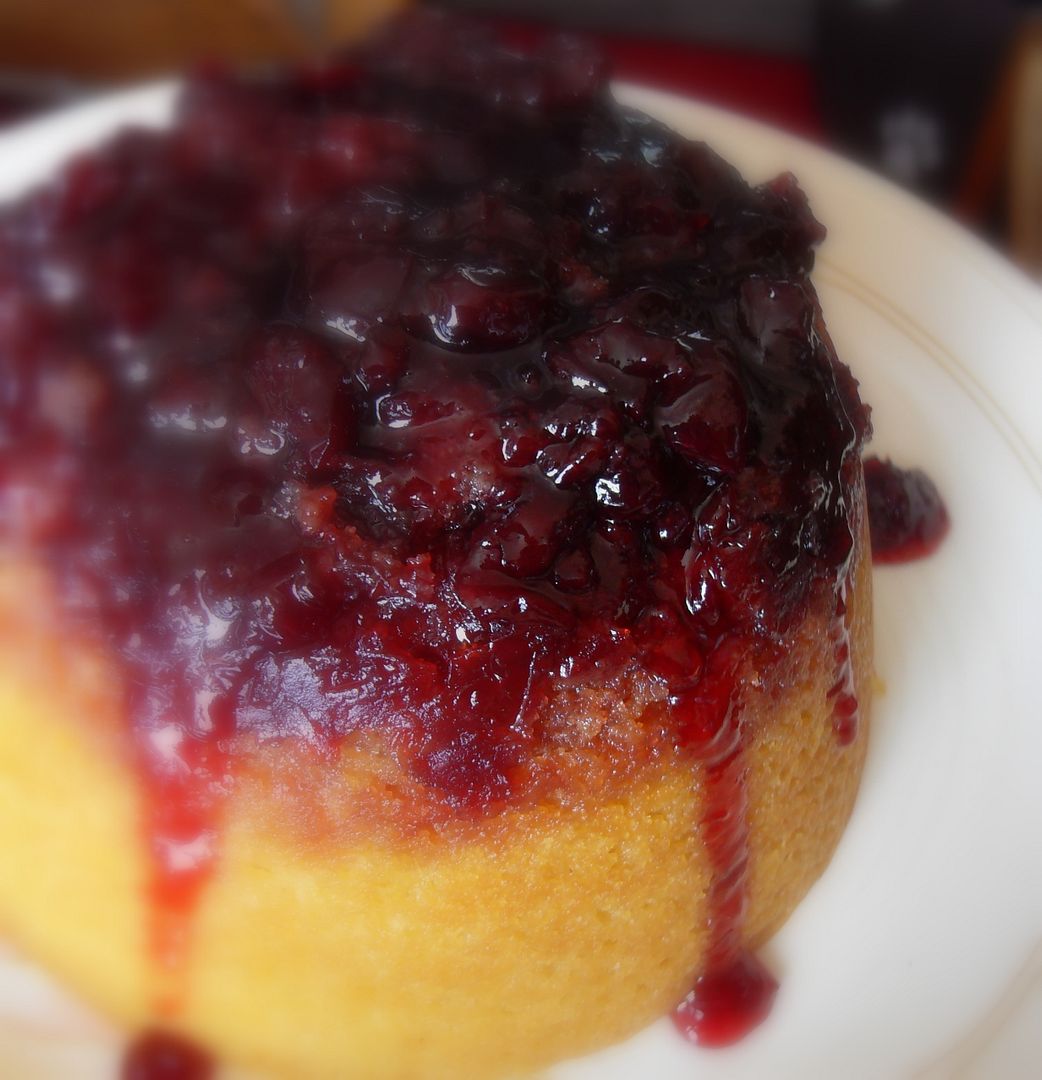 I love it when he talks about his school dinners. He adored his school dinners. That is where he had his main meal of the day. There was not a lot of cash and rationing was in full force for all of his growing up years. His dad was a window washer after the war. His mother never worked outside the home. School dinners were a big help. He especially waxes lyrical about the puddings they had . . . spotted dick, treacle sponge, etc. And always with custard.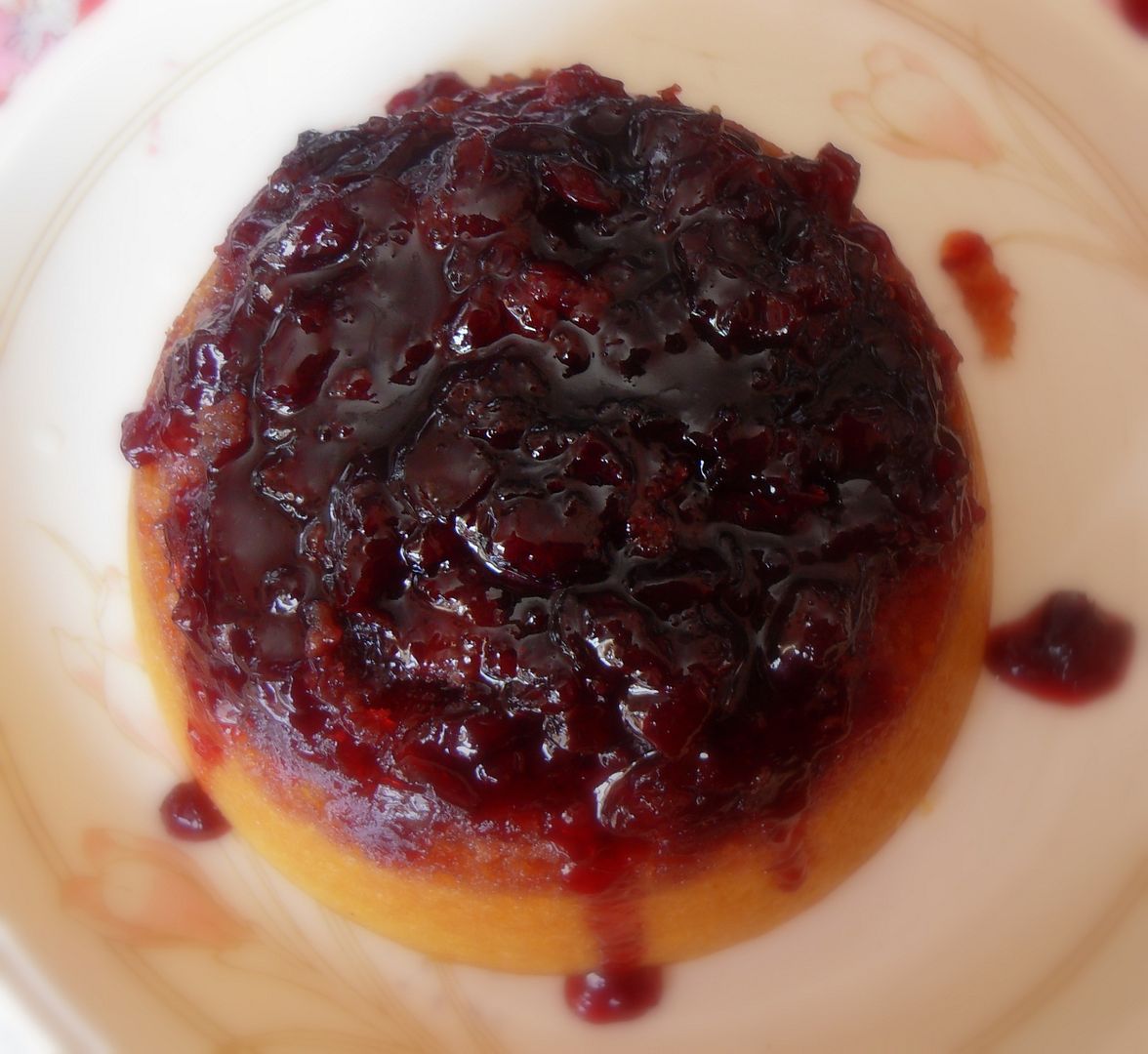 I wanted to make him a special pudding this weekend, to spoil him a bit and so I made him an old fashioned steamed pudding . . . but not just any steamed pudding would do . . .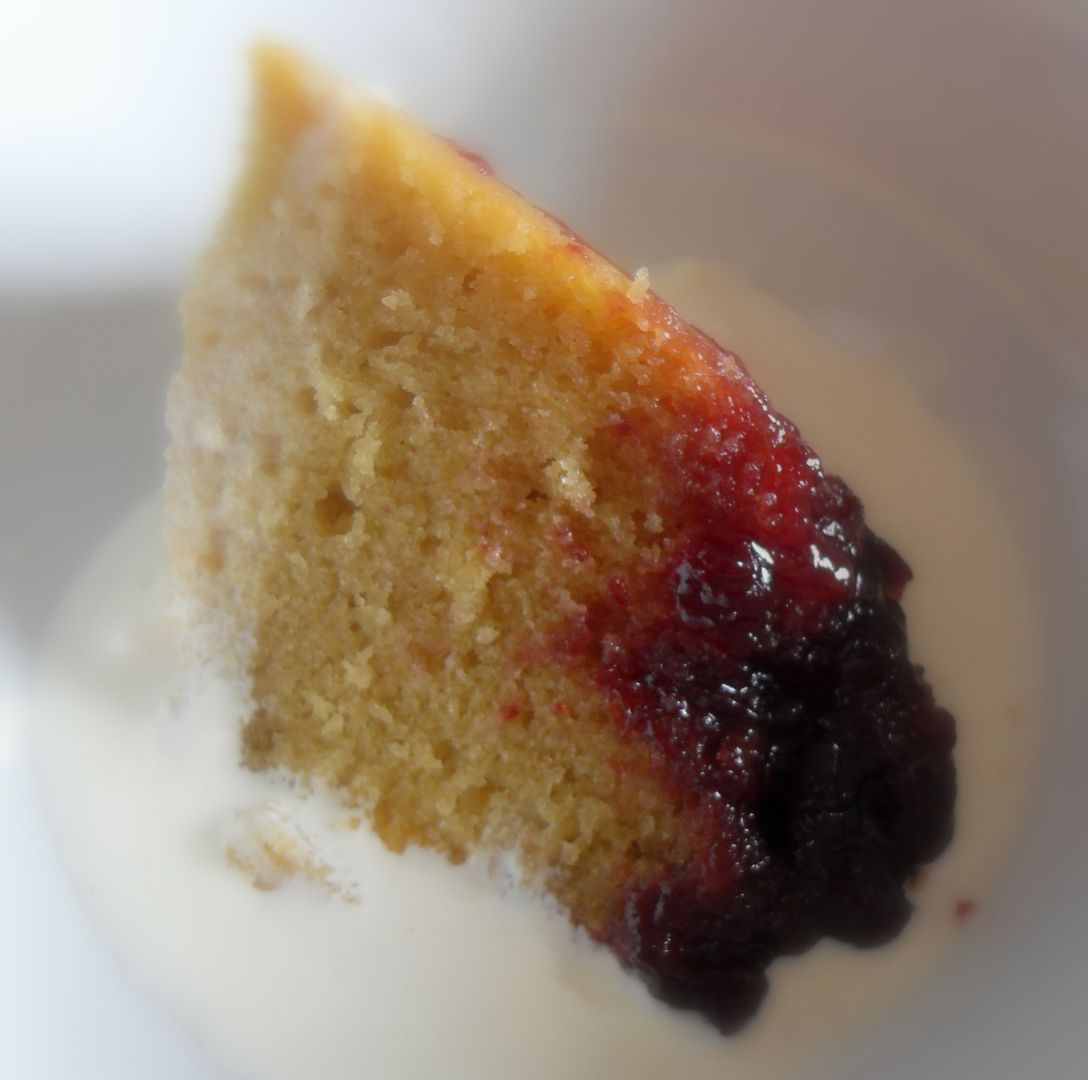 I did him a Steamed Cherry Bakewell Pudding, and yes . . . served up with a warm custard sauce. A dessert right after Todd's old school, school dinner, stodgy heart!!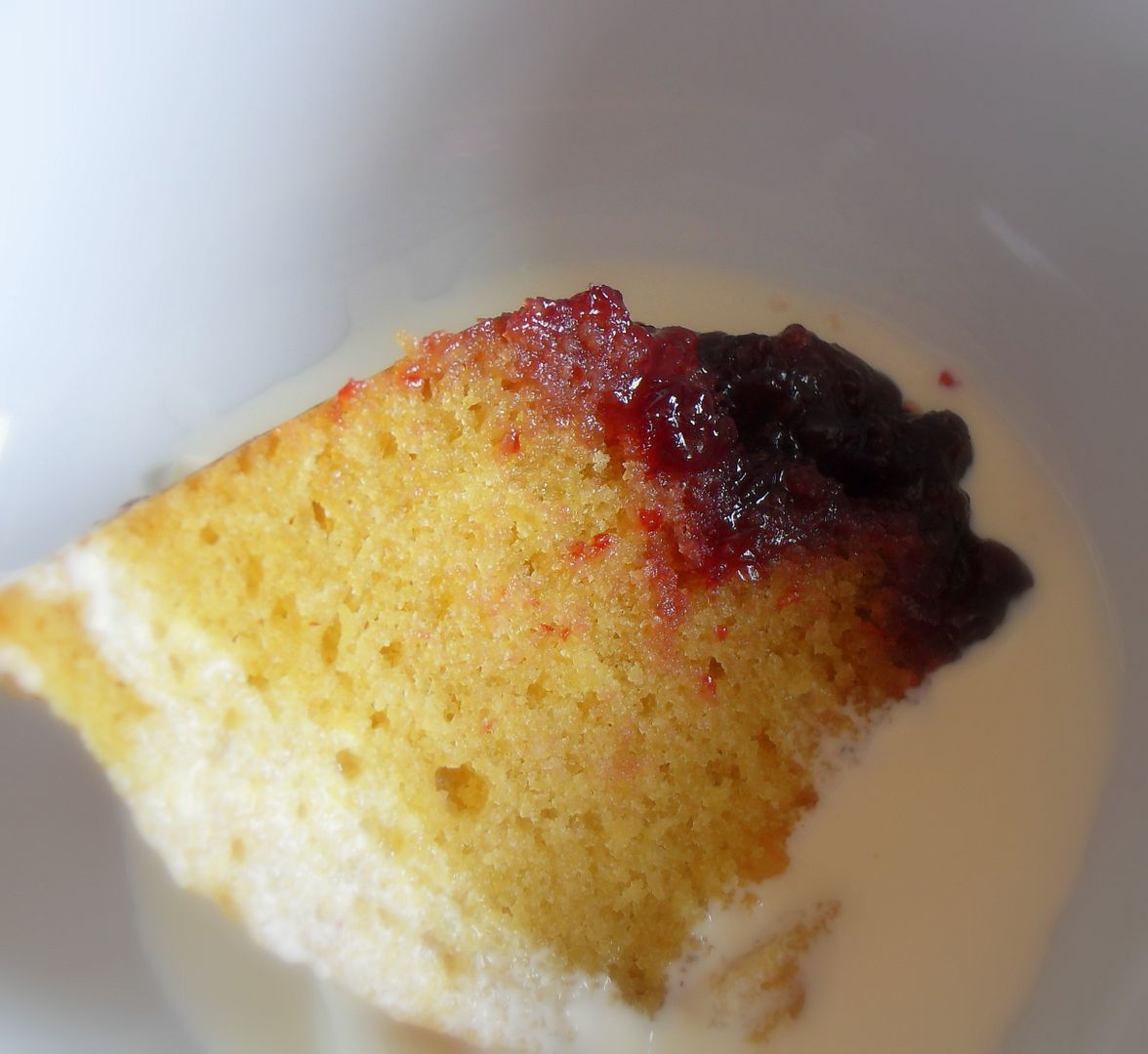 Picture this . . . a lovely moist and buttery steamed pudding . . . filled with the lovely flavour of almonds . . . coming from both the ground almonds and the almond essence used in making the batter . . .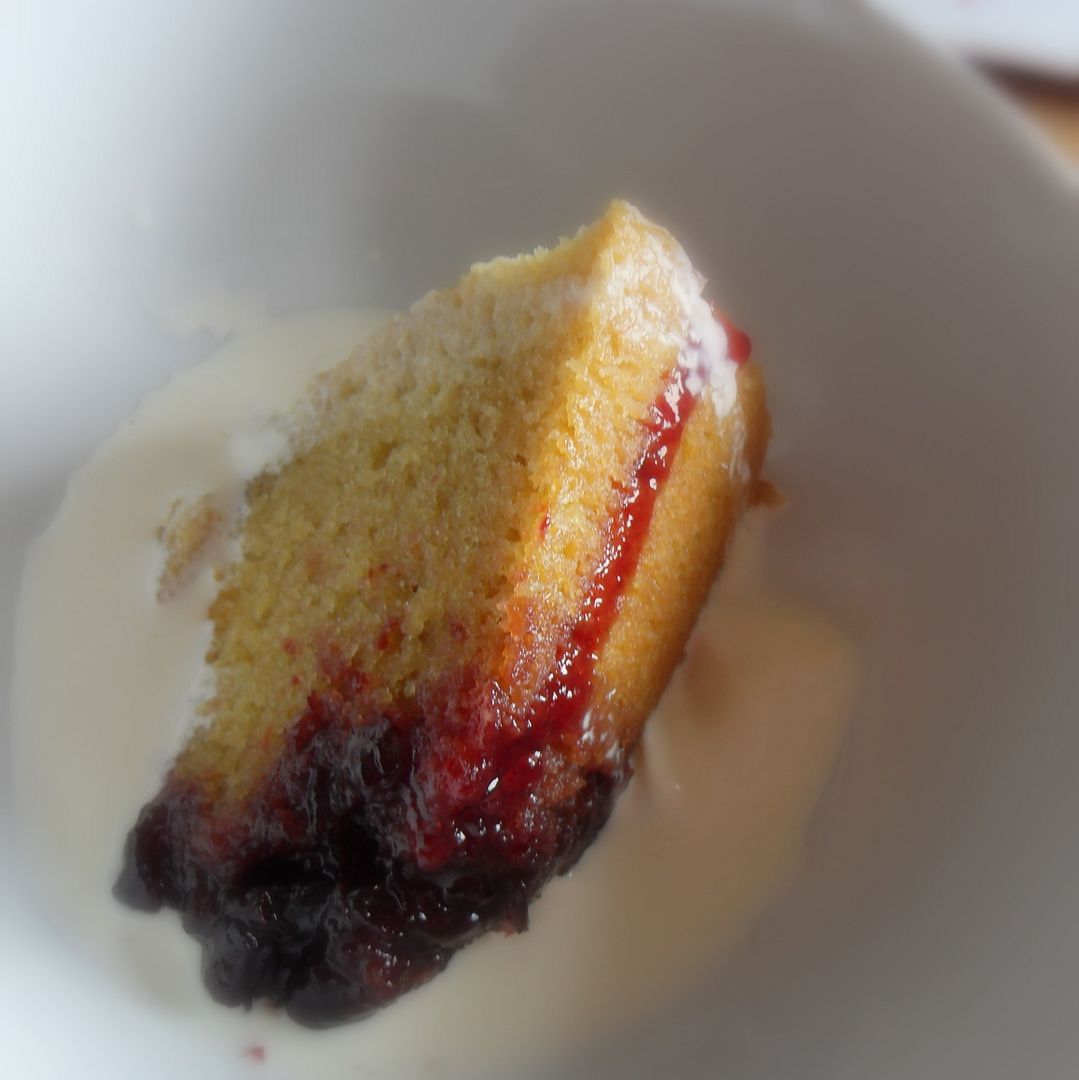 Topped with some lovely sweet/tart morello cherry preserves . . . sitting there all scrummily on top of the pudding . . . and then gilded with an unctuously delicious custard sauce.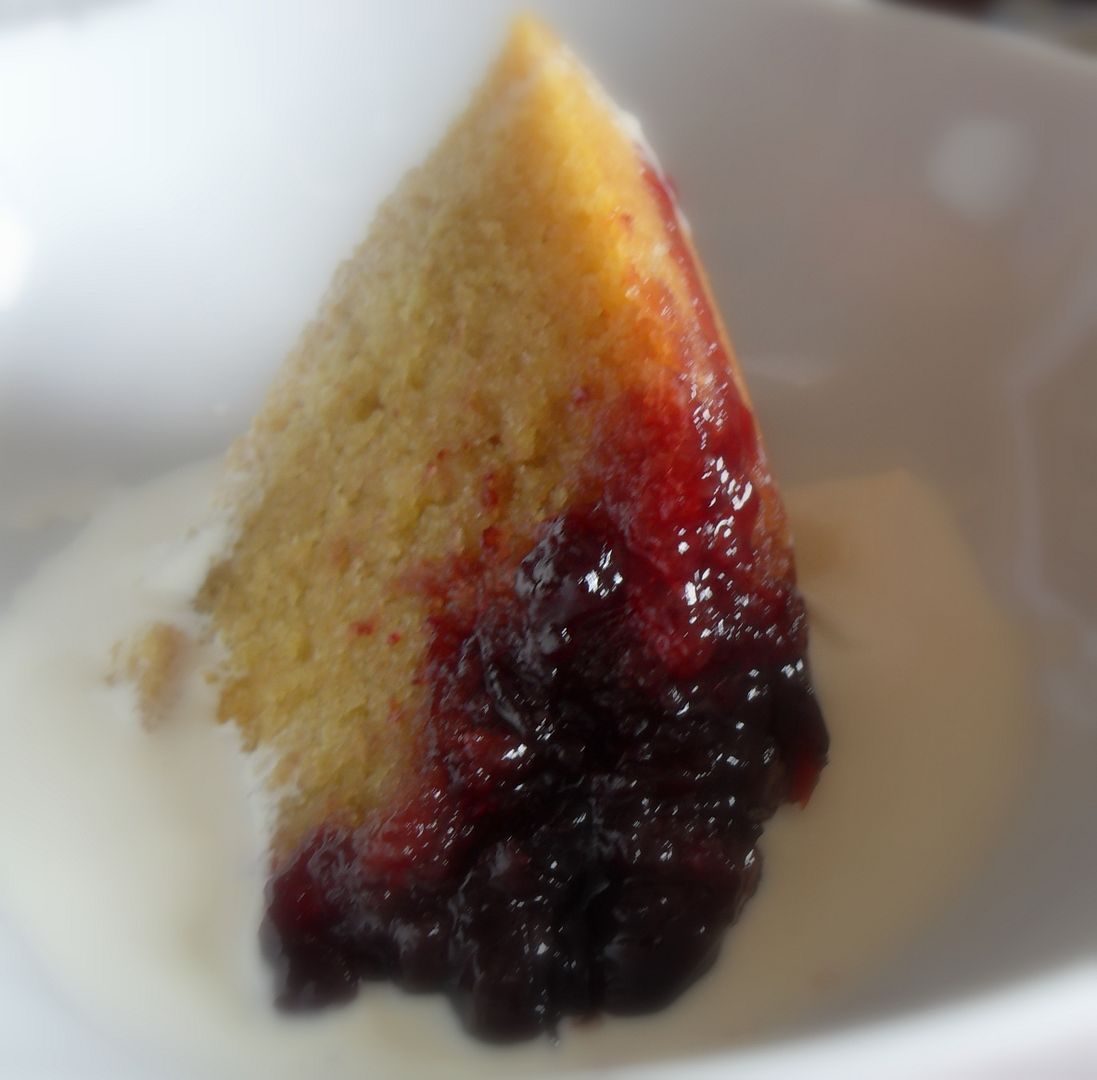 Dare I say it? TO DIE FOR! Todd was in pudding heaven. He even had seconds.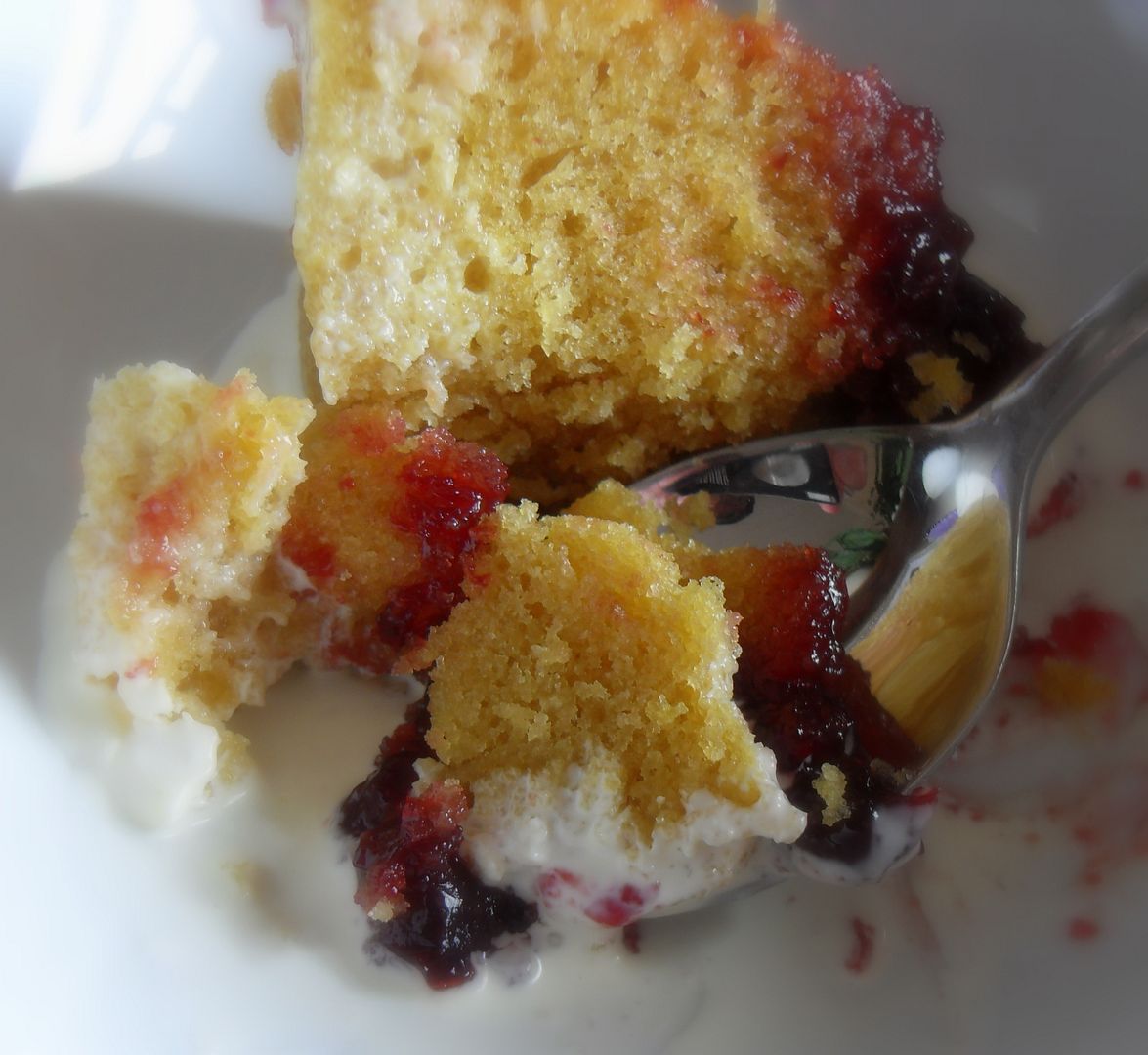 I dare say the leftovers will go down a real treat today as well. I confess although I shouldn't be eating such things . . . a tiny taste does make me smile also. Hooray for comfort! Don't ever be intimidated by a steamed pudding. They are quite the easiest things to make. Truly.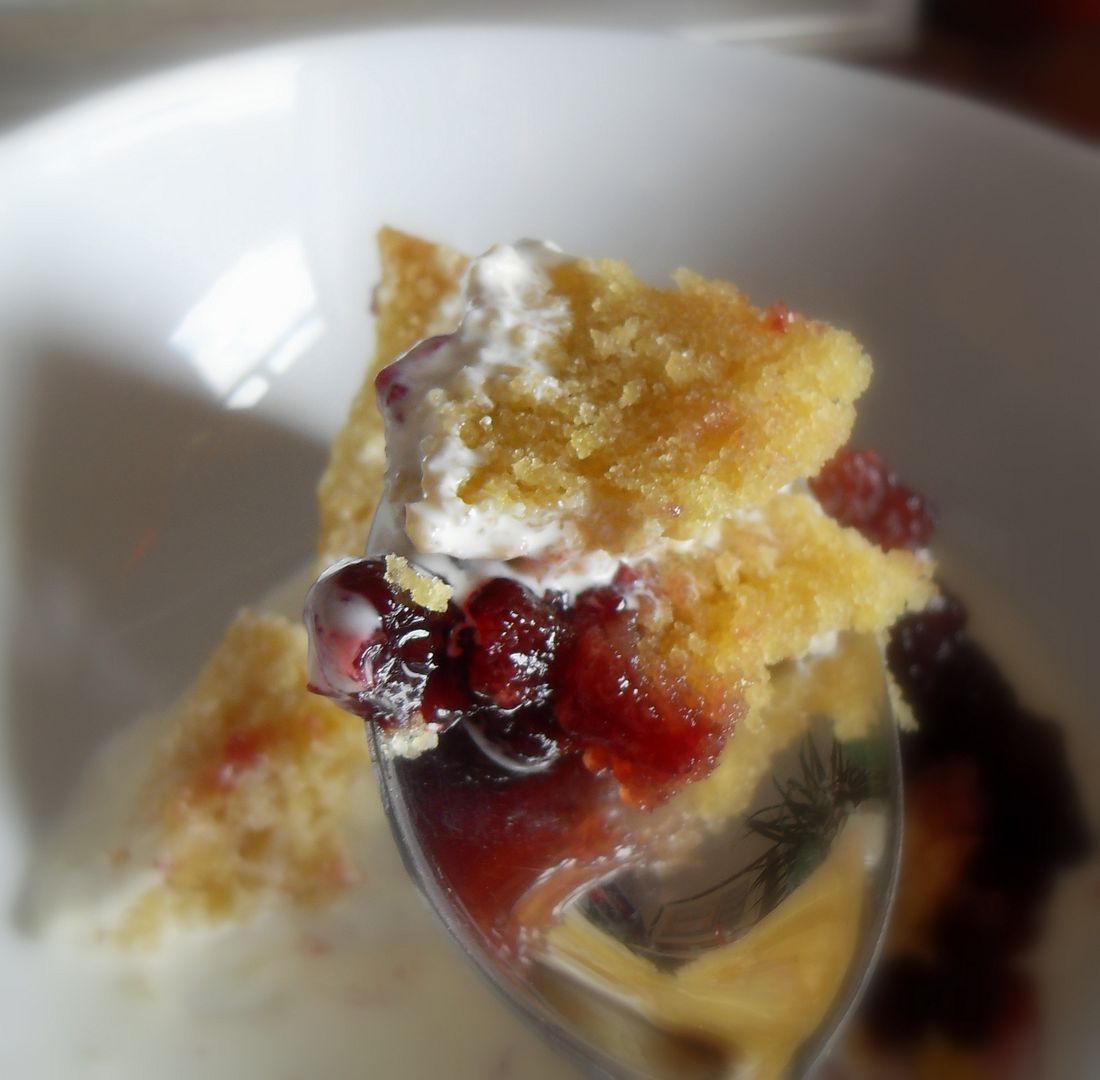 *Steamed Cherry Bakewell Pudding*
Serves 4
Printable Recipe
A delicious steamed pudding stogged full of scrummy almond flavour and slathered with morello cherry preserves. Served with a custard sauce, this is old school, stodge, deliciousness!
For the pudding:
110g of butter, softened (1/2 cup)
110g of soft light brown sugar (1/2 cup packed)
2 medium free range eggs, beaten
a few drops of almond essence
75g of self raising flour, sifted (2/3 cup)
75g of ground almonds (14 TBS)
2 TBS semi skimmed milk
3 heaped TBS of morello cherry preserves (jam)
For the Sauce:
150ml (5 fluid ounces) of milk
250ml of heavy/double cream (8.5 fluid ounces)
50g of caster sugar (1/4 cup fine sugar)
6 large free range egg yolks
1 vanilla pod, split and seeds removed
To make the pudding. Butter a 1 1/2 pint pudding basin. Set aside. Take a large piece of greaseproof paper or foil, make a pleat in the centre and then spray it lightly with nonstick cooking spray, or spray oil.
Cream together the softened vutter and brown sugar until pale and fluffy. Beat in the eggs, a bit at a time, until well incorporated. Stir in the almond essence and then fold in the flour and the almonds. Stir in the milk to give a dropping consistency.
Spoon the jam into the bottom of the buttered basin. Pour the batter over top. Cover the pudding basin with the prepared paper or foil and secure in place with some string or a rubber band. Place into the top of a steamer or large saucepan which is half filled with boiling water. Cover and steam the pudding for 1 1/2 hours, checking periodically to make sure that your pot of water does not go dry, and topping up as necessary.
About 20 to 25 minutes before the pudding has finished cooking make the sauce. Place the milk, cream and one tsp of the sugar into a heavy bottomed saucepan. Bring to a gentle simmer and then turn the heat down to the lowest setting. Place the sugar and egg yolks into a bowl and whisk together with a hand whisk until creamy. light and pale in colour. Continue to whisk and slowly pour the warm cream mixture into it at a slow drizzle. Strain the mixture through a fine sieve back into the saucepan. Add the vanilla pod and the seeds. Cook, whisking constantly, over low heat until the mixture thickens somewhat. Don't be tempted to rush this process, or you will end up with scrambled eggs. The mixture should coat the back of a metal spoon when it is done. Pass through a fine sieve again and keep warm until needed.
Kids are funny creatures aren't they. The things they love to eat. When I was a child the idea of having a Swanson's frozn Turkey Dinner with Cranberry sauce sent us all into ecstasy! To us, that was a real treat!
Bon appetit!