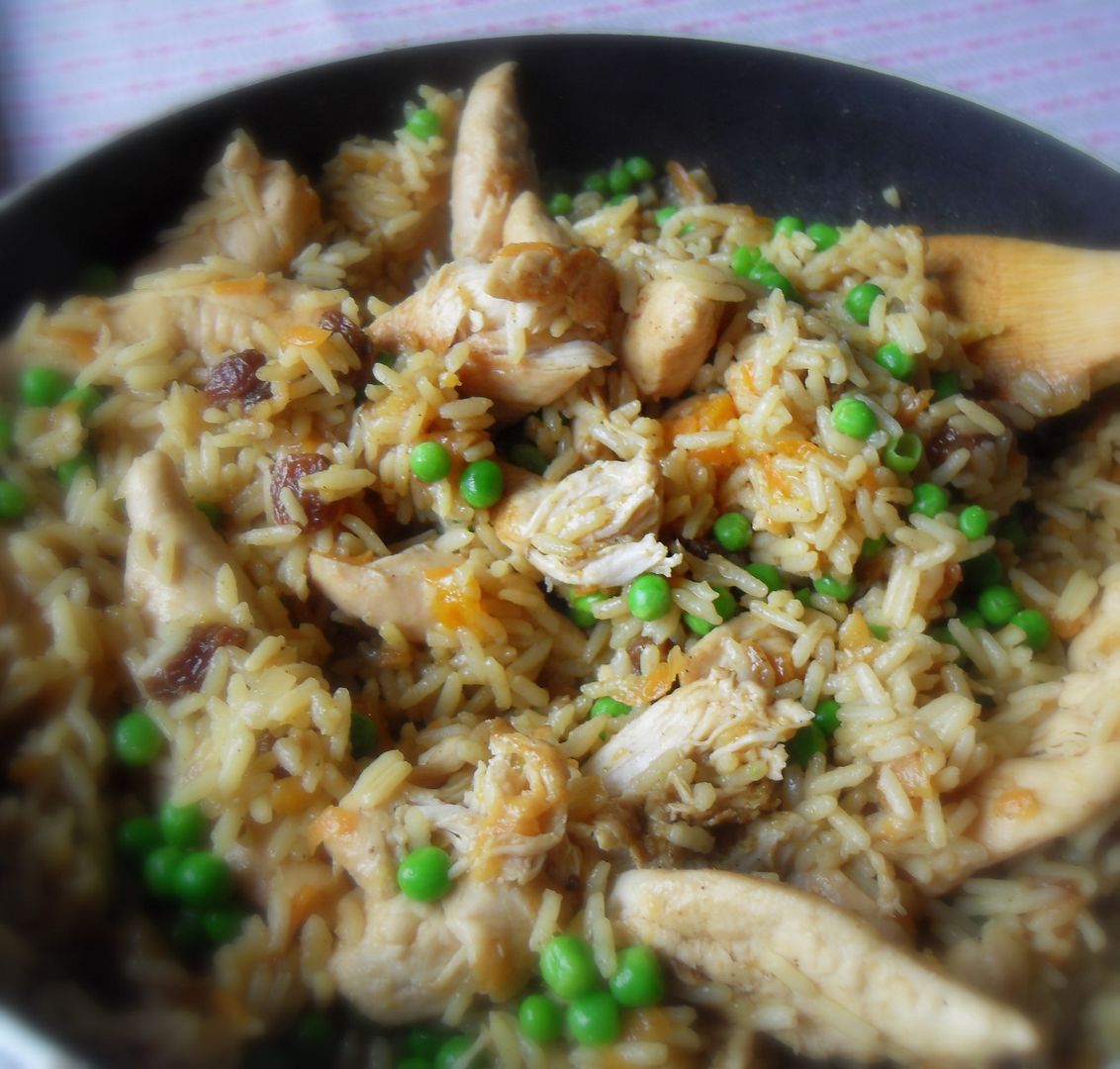 You can pick up some tasty little goodies in the grocery store, and I'm not just talking about food. For years now I have been collecting little recipe cards, pamphlets and booklets that I thought had tasty recipes in or on them.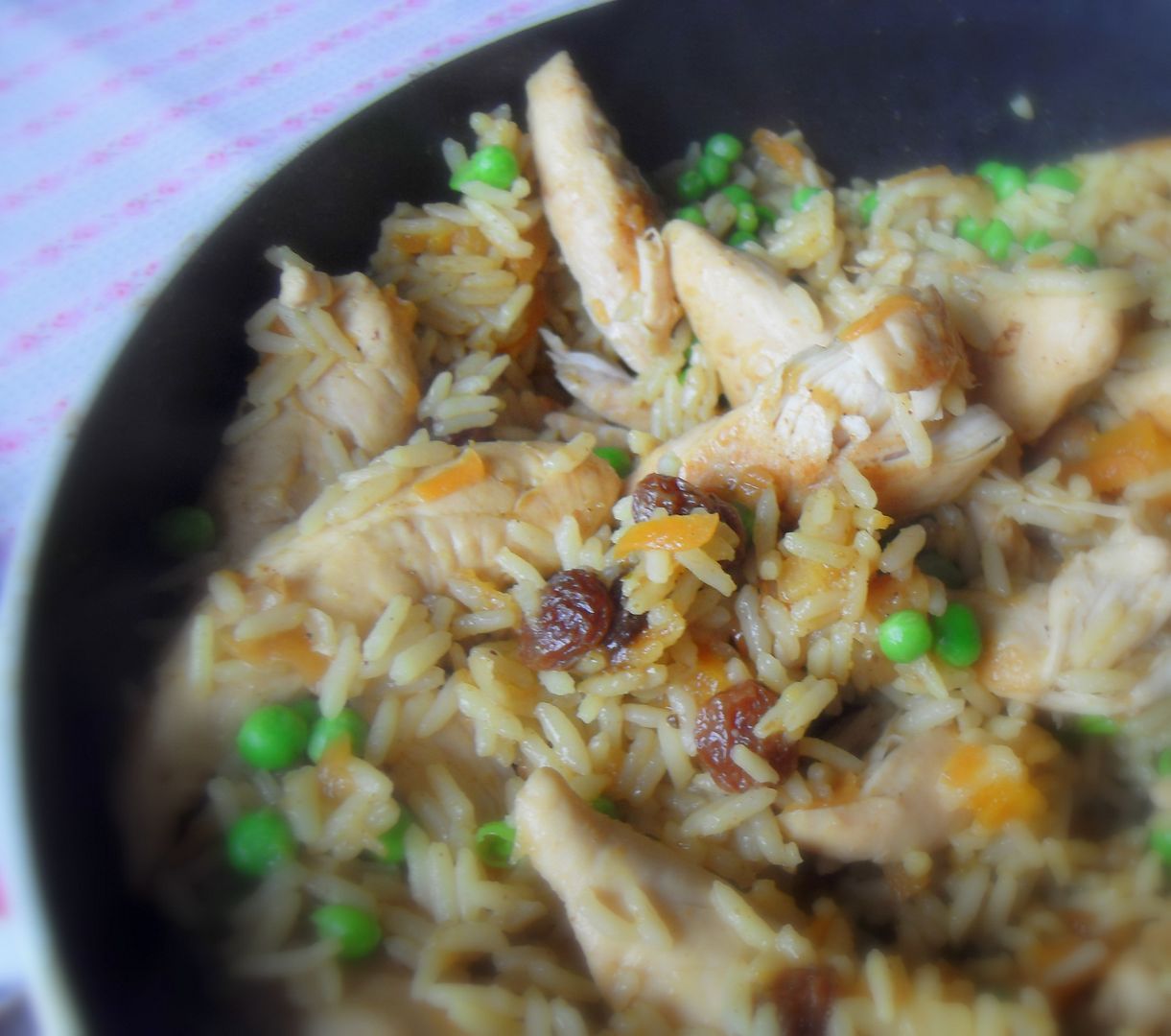 I have quite a collection as you can imagine. The recipes are normally quite, quite tasty. My favourites have always been the Waitrose Cards, but I have found little gems in most of the shops.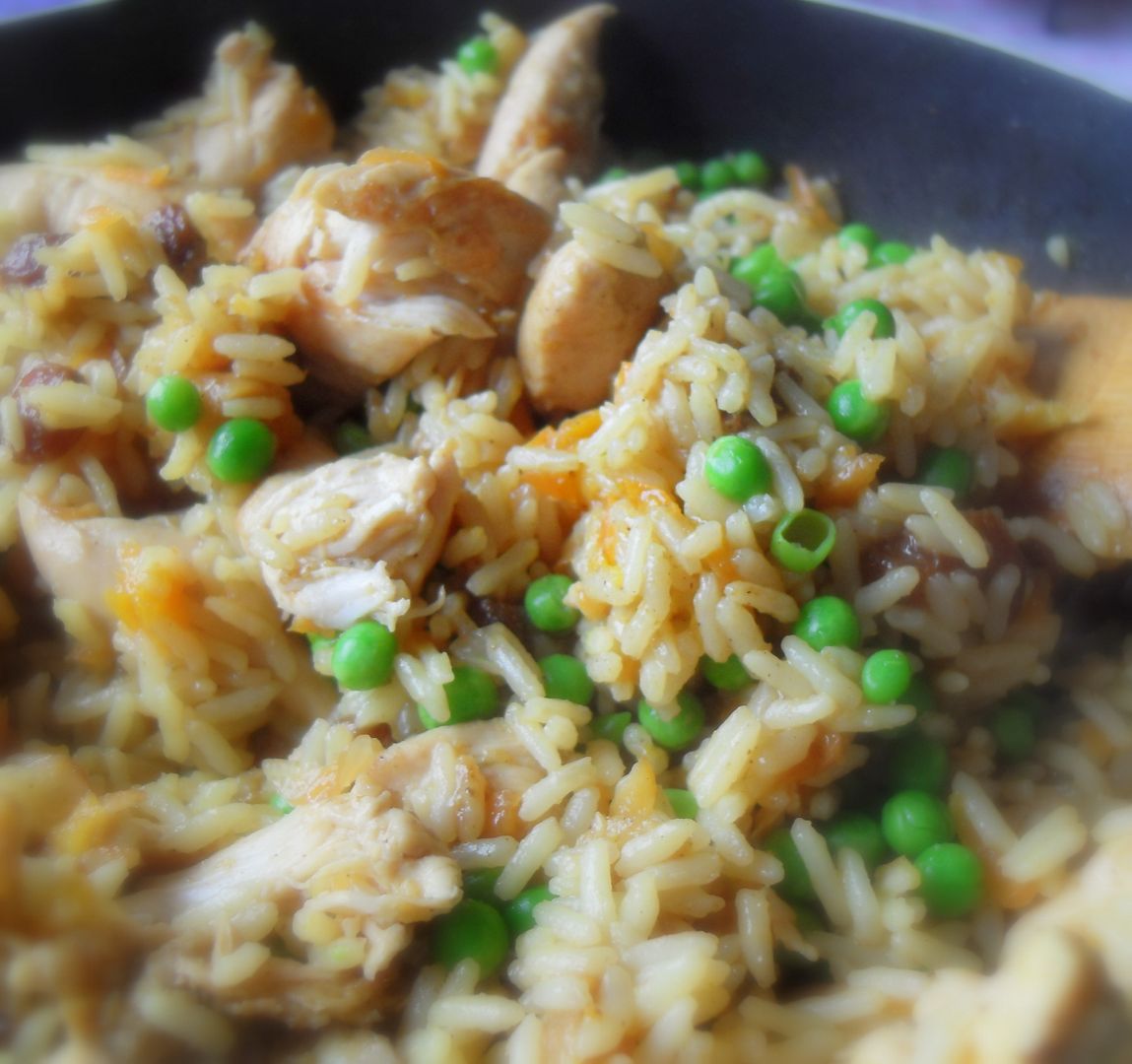 I even have some very old Robin Hood baking pamplets that I had collected when I was a girl. They're just lovely. This recipe here today came from a magazine clipping advertising chicken tenders.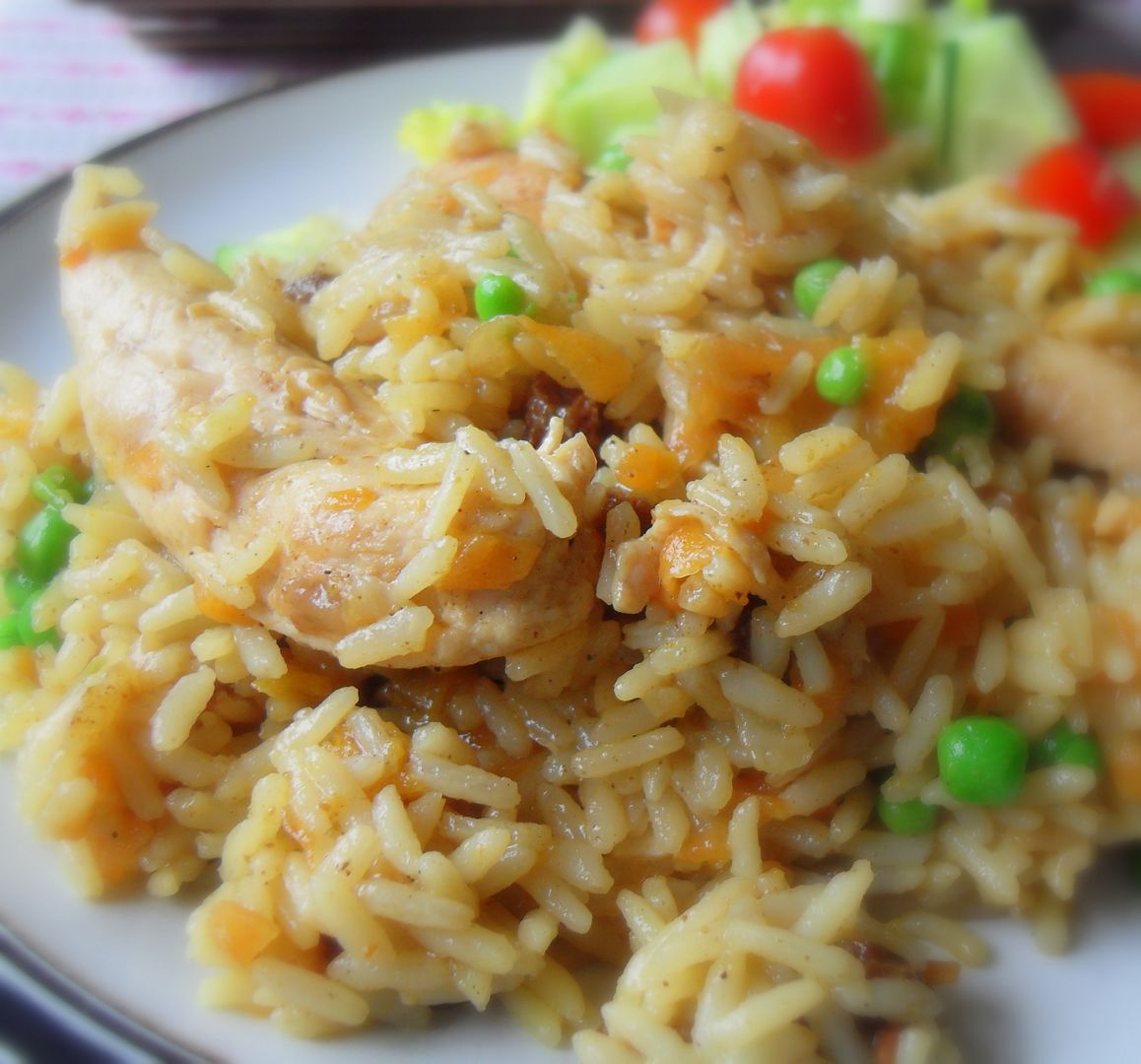 I have adapted it somewhat and it is a recipe we both really enjoy. It gives us a tasty dinner on the day and then leftovers to stick in the freezer for another time. It has just enough spice to suit our tastes, with middle eastern flavours. The frozen peas are my addition . . . because they add colour and texture and we like them.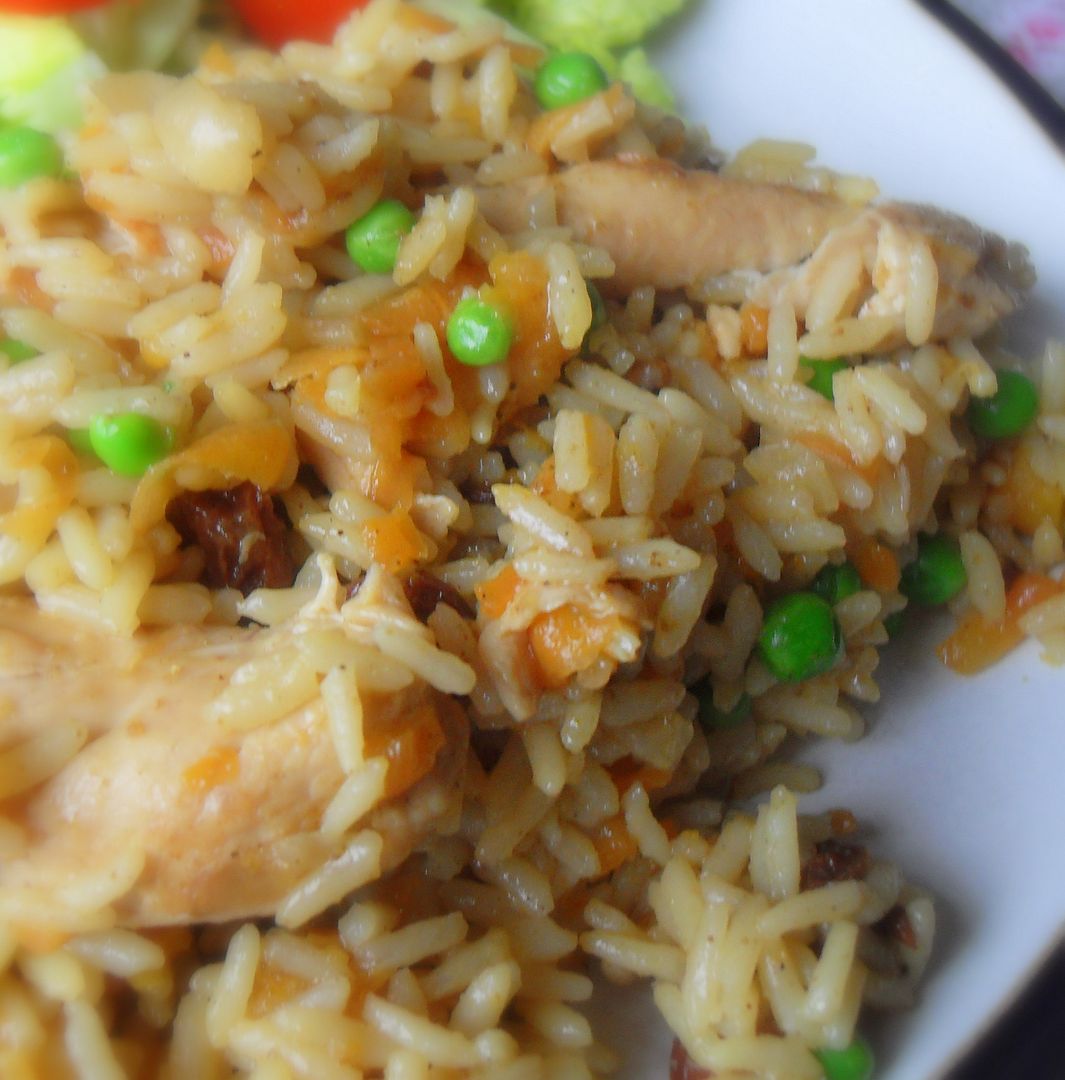 Quick, easy and a great way to stretch a pound of chicken, this recipe pleases on many levels. I forgot to sprinkle the chopped nuts on top today . . . so you'll just have to imagine how pretty it is with them added!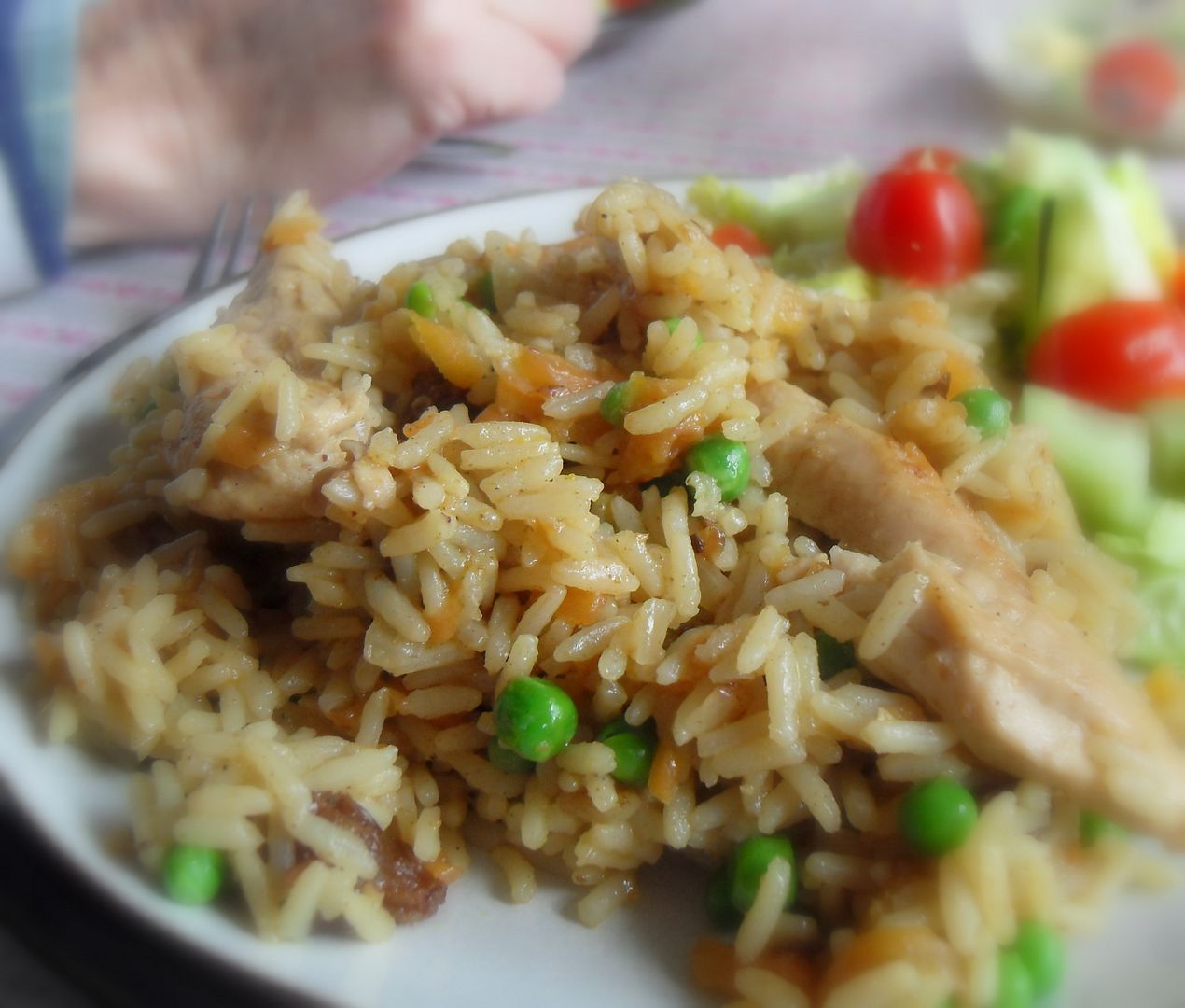 *Fruity Chicken and Rice Pilaf*

Serves 4
Printable Recipe
This is a quickie dish that I adapted some years ago from one of those booklets you pick up in the grocery store. It's delicious and always more than welcome.
2 tsp olive oil
1 pound fresh chicken tenders (or the equivalent of boneless, skinless chicken breast,
cut into strips, crossways)
1 medium onion, peeled and chopped
210g of uncooked regular long grain rice (1 cup)
1 medium carrot, peeled and grated
1 fat clove of garlic, peeled and minced
a handful of sultana raisins
a handful of chopped dried apricots
1 heaped tsp of curry powder (I use a medium strength)
1 tsp ground coriander
1/4 tsp salt
500ml of chicken broth (2 1/4 cups)
white pepper to taste
a handful of frozen petit pois
to garnish:
chopped toasted almonds or pistachio nuts
Heat the oil in a large nonstick skillet over medium heat until hot. Add the chicken and onion. Cook, stirring occasionally, until the chicken is browned and the onion is softened. Stir in the rice, spices and the carrot and garlic. Cook for a few minutes until very fragrant. Stir in the fruit and broth, mixing all together well. Bring to the boil, then cover and reduce the heat to low. Cook, covered for about 15 minutes, until the chicken is cooked through, the rice is tender and all the liquid has been absorbed. Take off the heat, stir in the petit pois and set aside, covered, for about 5 minutes. Fluffy up the rice and serve immediately, garnished with some toasted nuts if desired.
I love using Olive Oil when I can in my cooking. I have a light for every day use and then a good quality fruity Extra Virgin Olive Oil for salads and dipping, drizzling, etc. The people from
Jamie's Italian
sent me a lovely Info-graphic to share with you extolling the virtues of Olive Oil featuring cooking suggestions, a how to guide to professional tasting and facts on where it is sourced from.