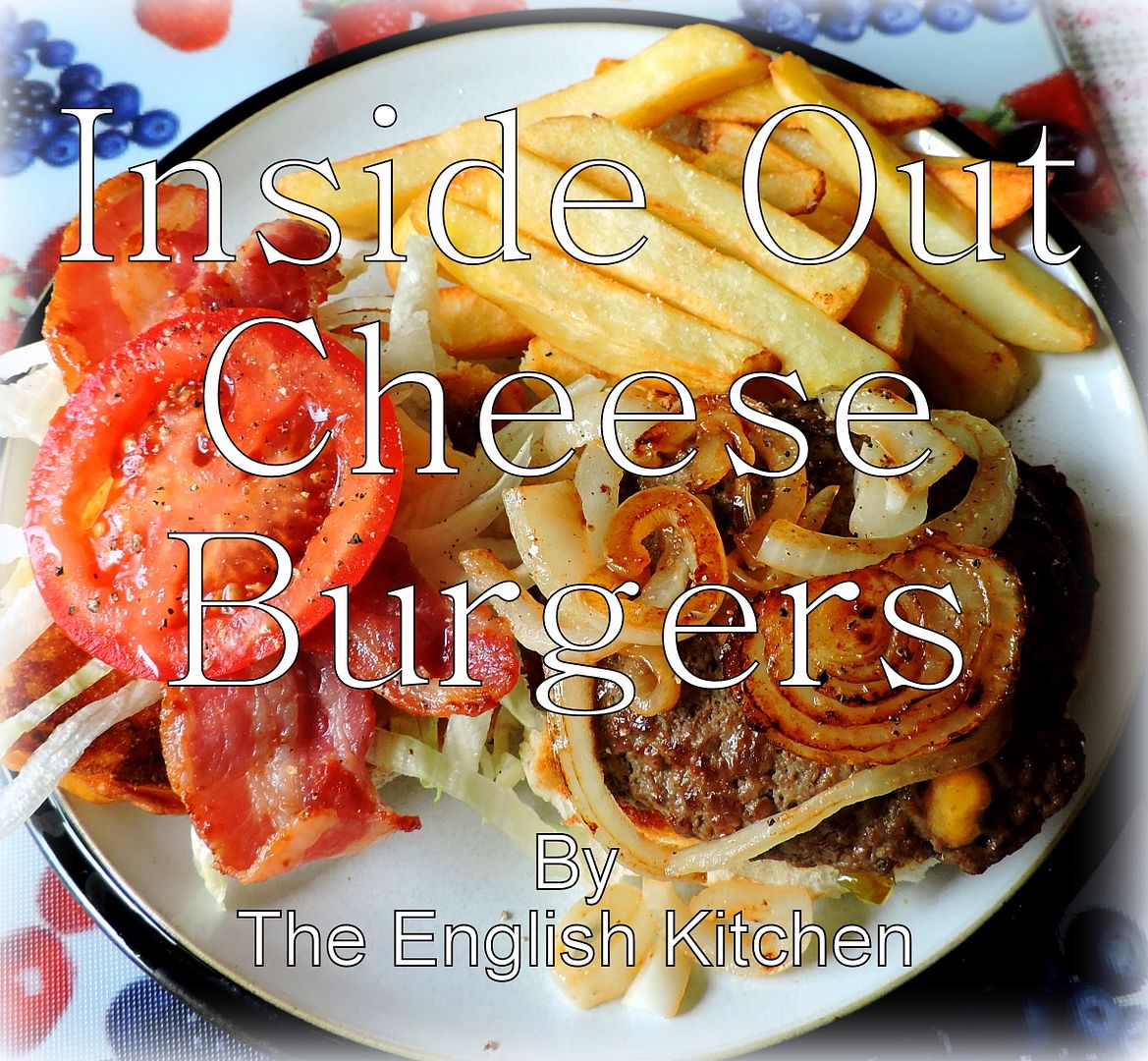 Every now and again Todd and I like to treat ourselves to a good burger. I am not fond of store made burgers. I find them too fatty and since the horsemeat scare a few years ago, I have become very suspicious of anything that is pre-pared like that. I know it is silly and they are probably as safe now as they are ever going to be, but they are also ultra fatty. UGH. I hate overly fatty meat.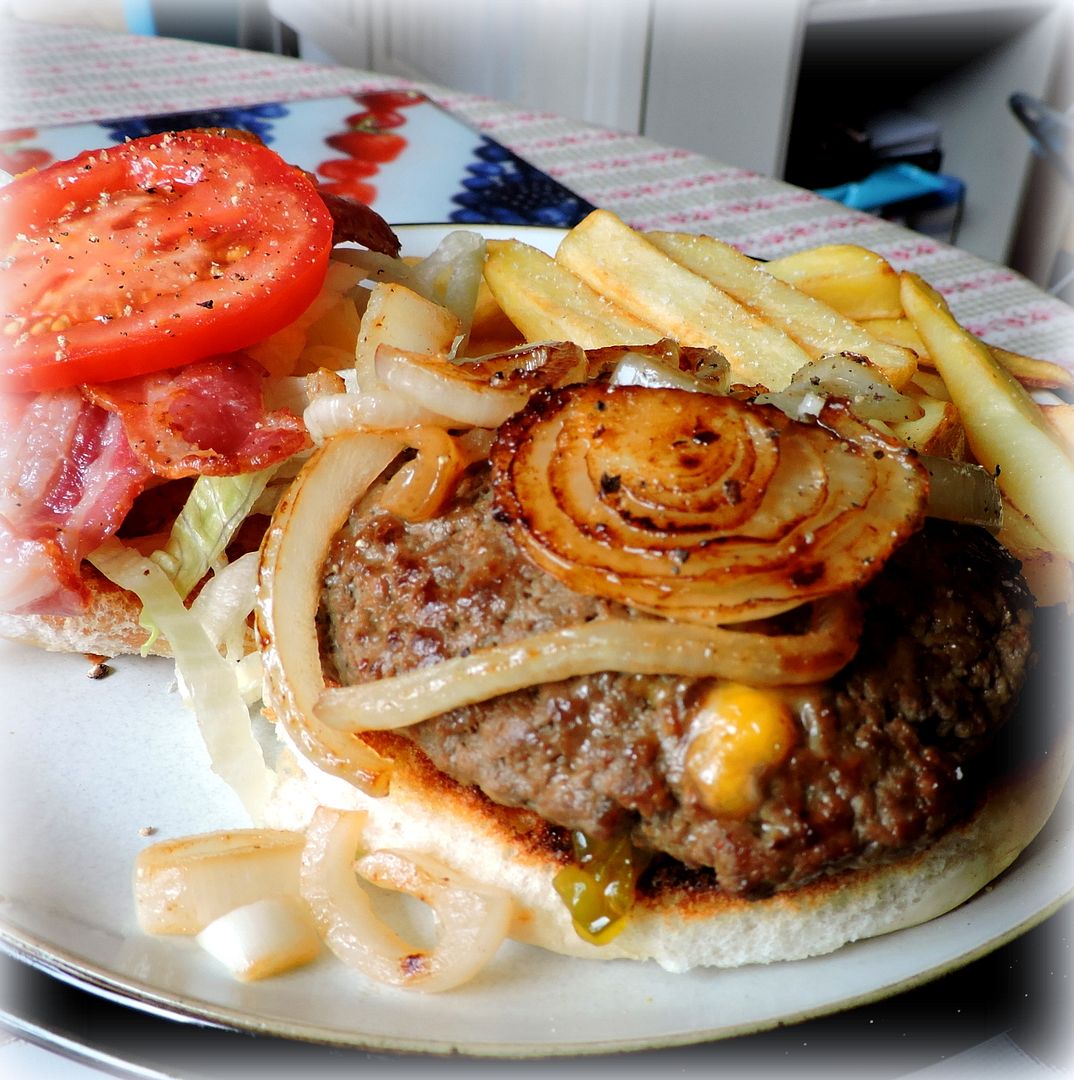 A nice homemade burger however is a thing of beauty and very delicious. These ones are a bit unusual in that instead of putting the cheese on the outside, you pop it inside before cooking . . .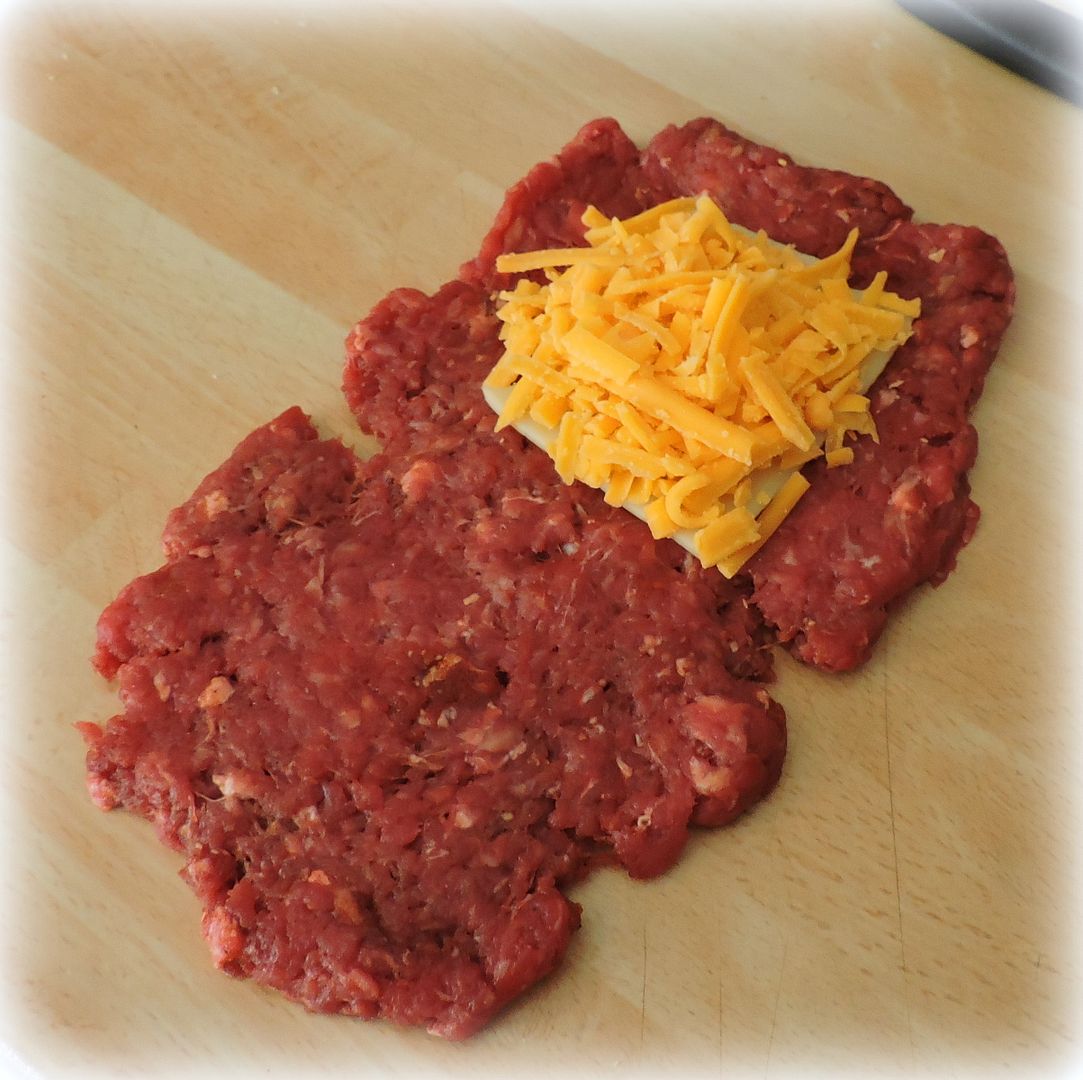 Nicely seasoned meat is patted out flat into an oval and then you pile cheese on one half and fold the other half over top to seal the cheese in before grilling.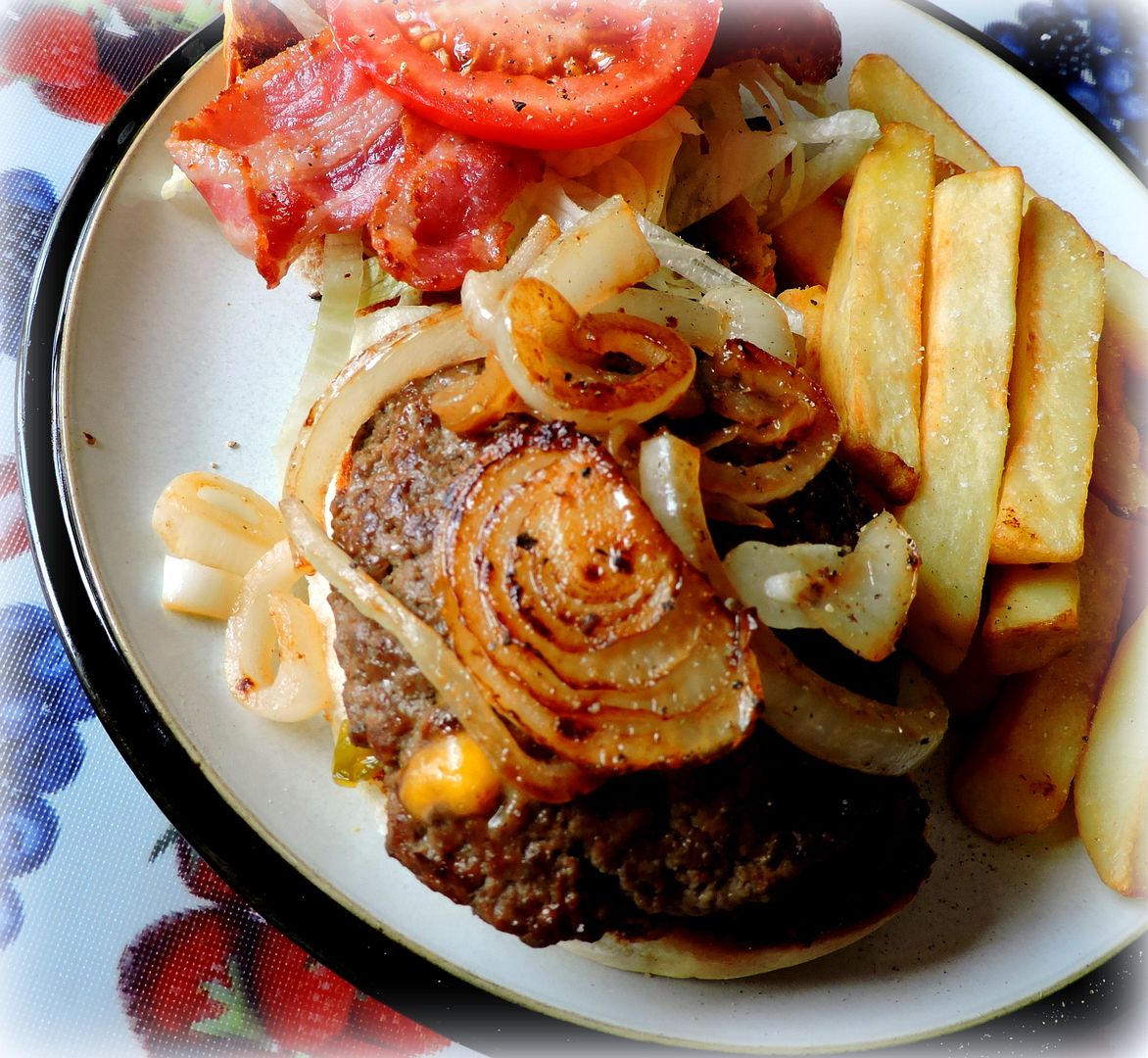 This is one time when you won't want to use the extra lean ground beef. A little bit of fat adds to the moistness of the burgers, but you don't want too much either. I use no more than 10% fat.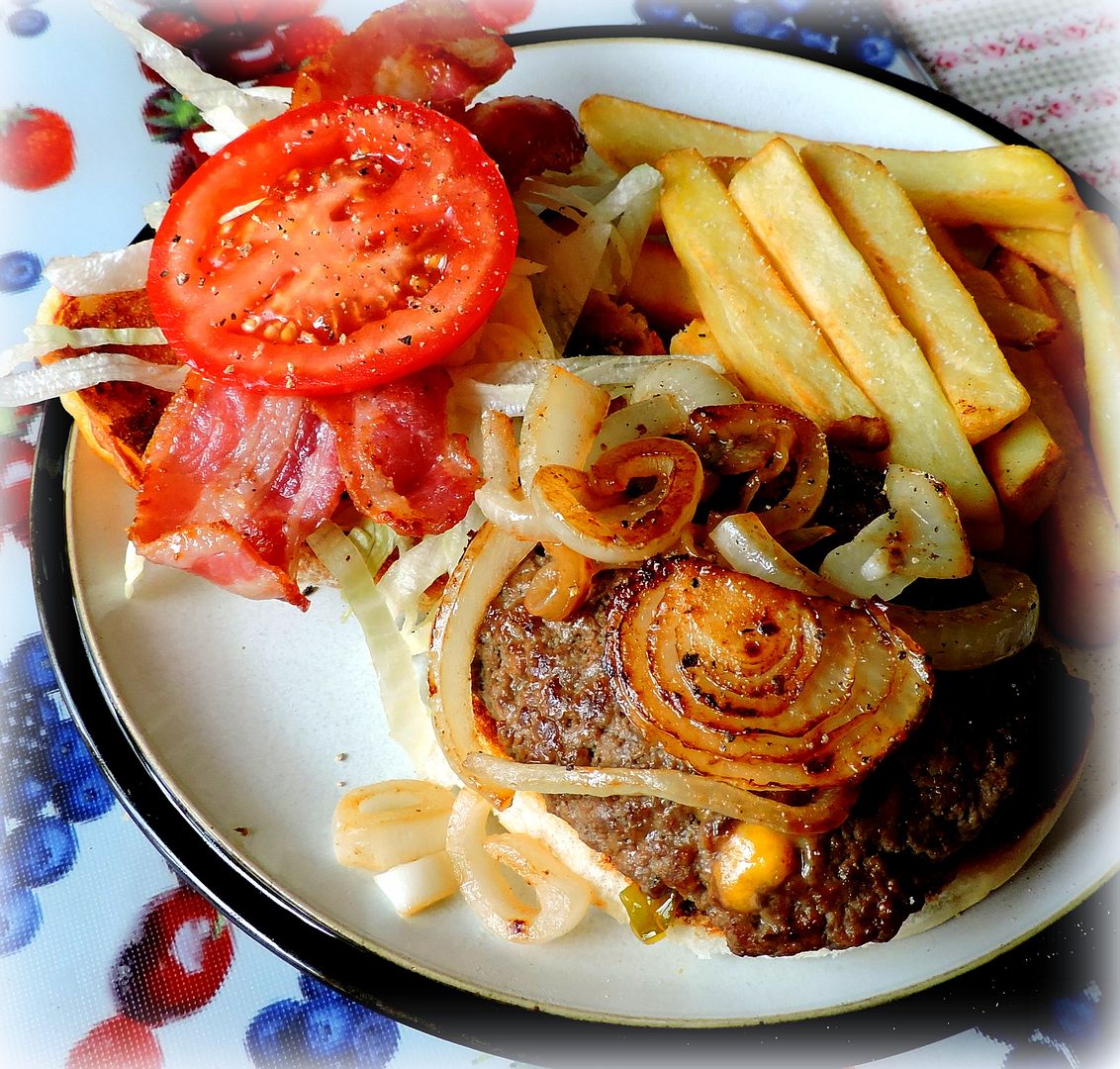 I use paprika, worcestershire, garlic and black pepper for seasoning, and there are no fillers at all. These always turn out really delicious.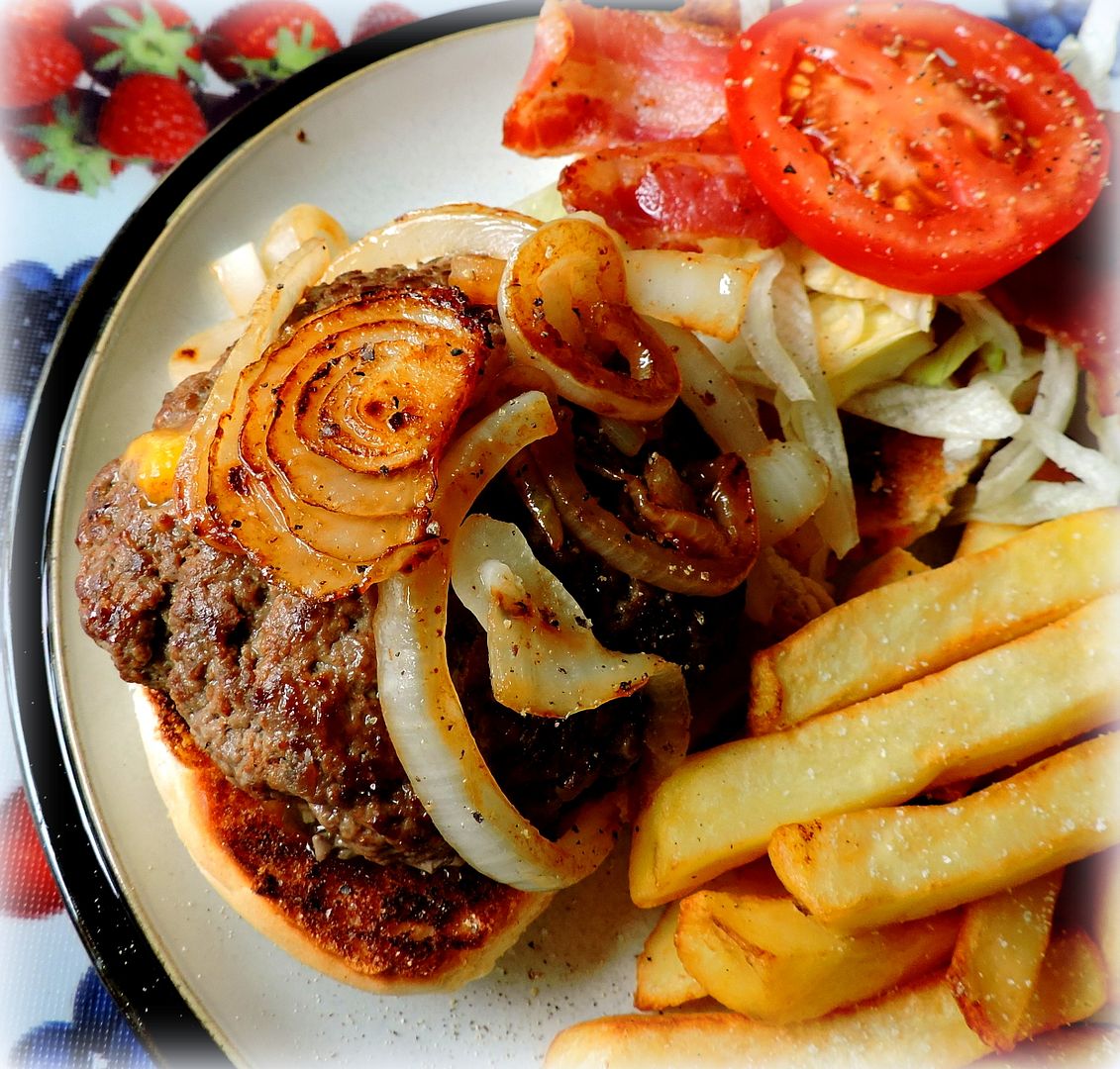 With a slice of bacon split grilled and placed on top, along with some grilled onions, lettuce and tomato, these always go down a real treat. Todd leaves off the lettuce, but he likes every thing else! I also like to use these really nice cheese buns we get at the local chops. I only toast the insides.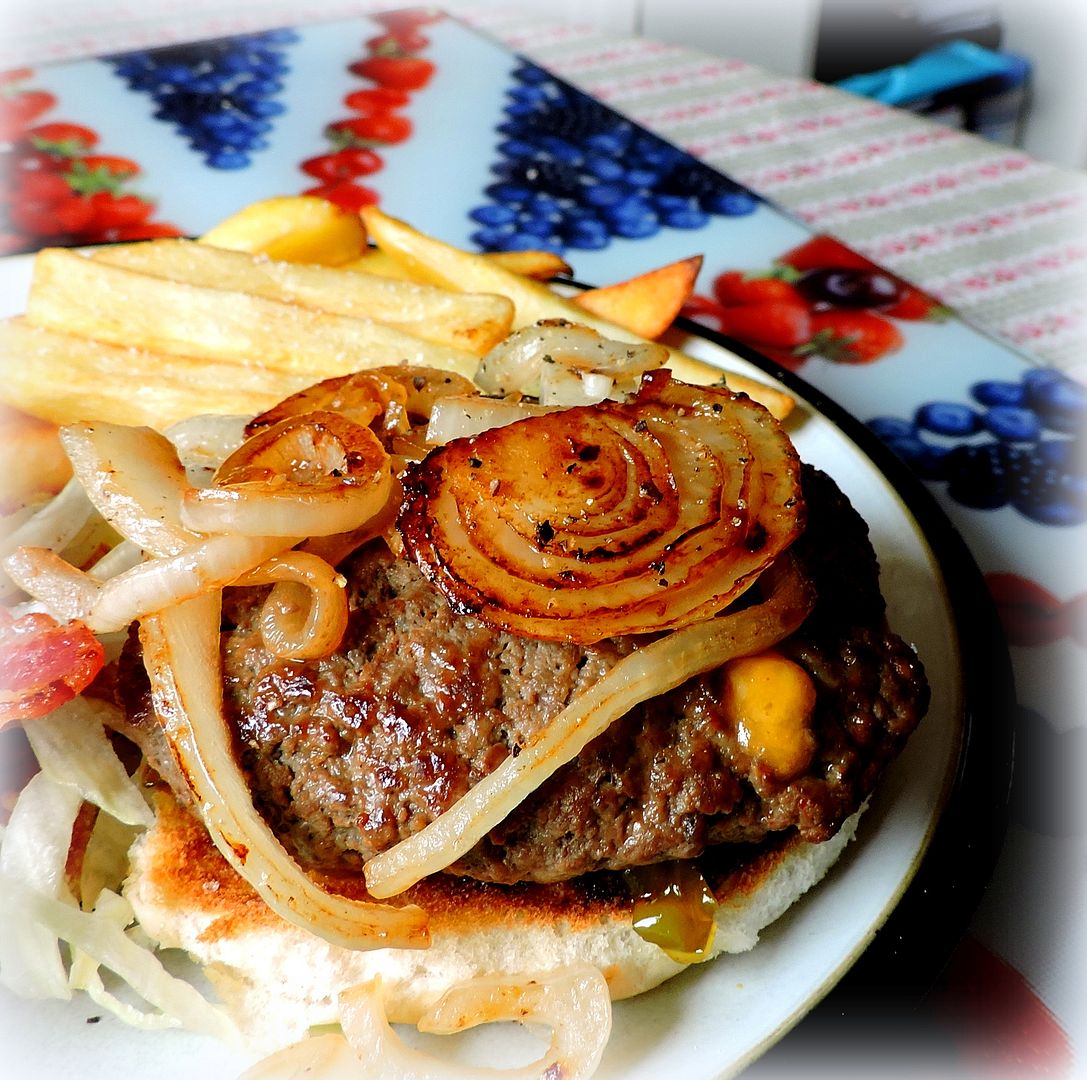 Oh boy, these are some good. A rare red meat treat!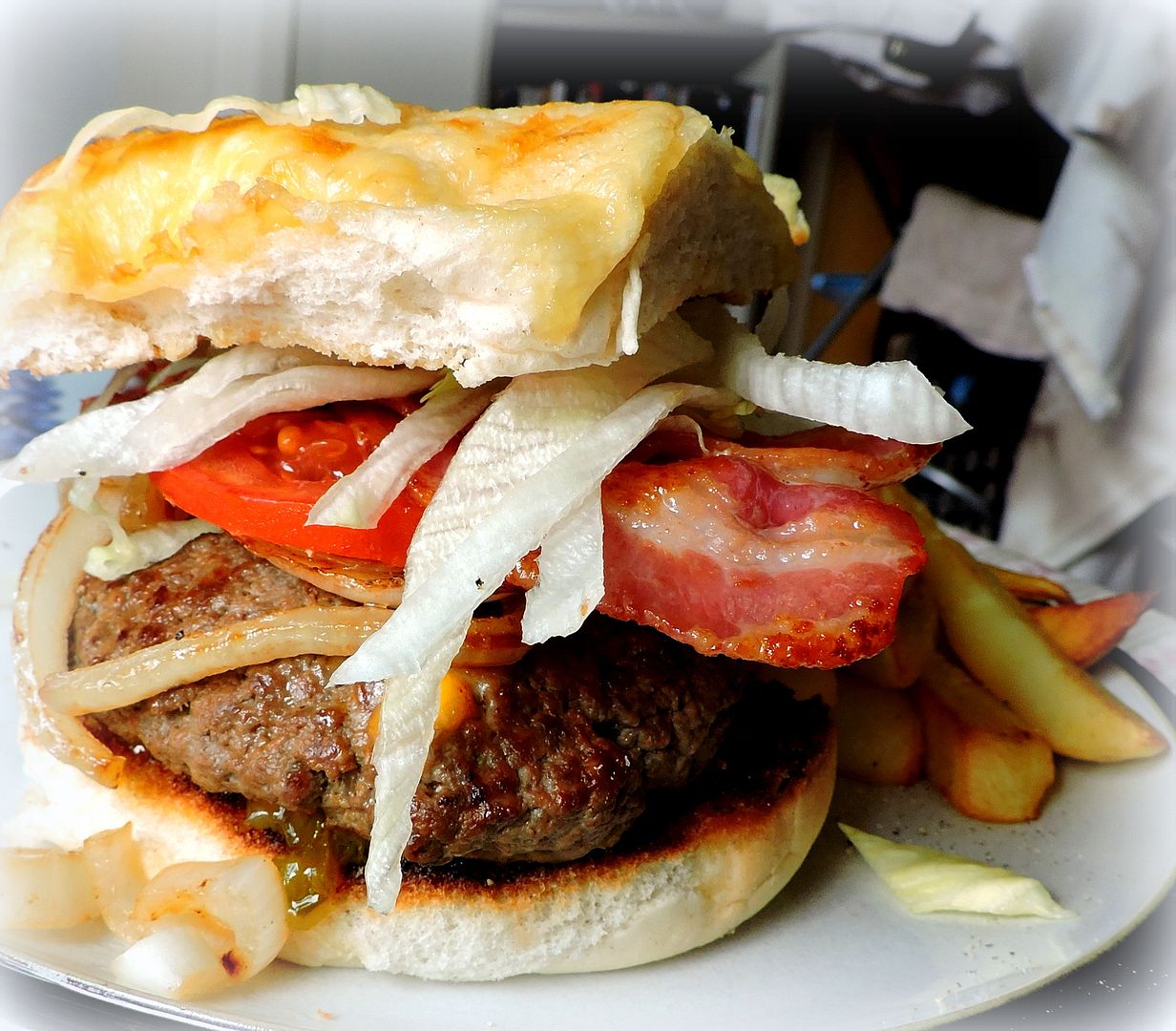 *Inside Out Bacon Cheese Burgers*
Makes 4
These tasty burgers have the cheese melted inside. Scrumptious! I like to serve them with fried onions on toasted cheese buns!
1 pound ground beef (this is one time you don't want the extra lean)
1 1/2 tsp sweet paprika
1/4 tsp garlic powder
1 TBS Worcestershire Sauce
freshly ground black pepper to taste
4 slices of streaky bacon, cut in half crosswise, grilled and kept warm
60g grated strong cheddar cheese (1/2 cup)
60g grated gruyere cheese (1/2 cup)
To serve:
Toasted buns
lettuce
sliced tomato
grilled onions
mustard, pickles, ketchup as desired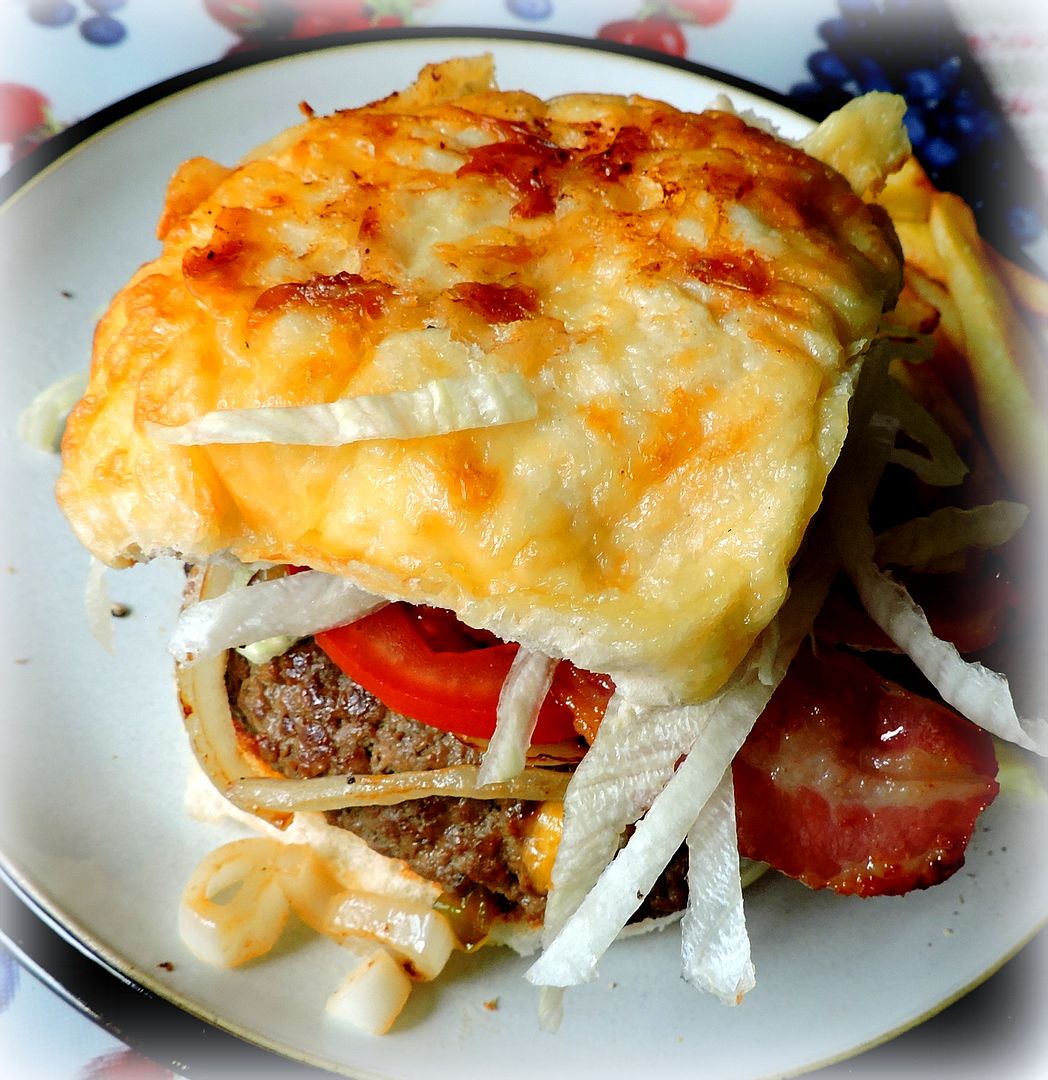 Mix the beef, paprika, garlic powder, Worcestershire sauce and black pepper together in a bowl until well combined. Mix together both cheeses. Set aside. Divide the beef into four equal portions. Flatten each into a large oval, about 1/4 inch in thickness. Place one fourth of the cheese onto the centre of one half of each oval. Fold the other half over top and press the edges to seal. I kind of try to shape it into a bit of a circle here if I can.
Heat a grill or grill pan. Spray lightly with cooking spray. Grill/fry the burgers for about 4 minutes per side over medium high heat, for medium well done. Don't be tempted to press down on the burgers as you will risk the cheese breaking out. Let stand for five minutes before placing onto toasted buns. Top each with two half slices of bacon and any other toppings, etc. you desire.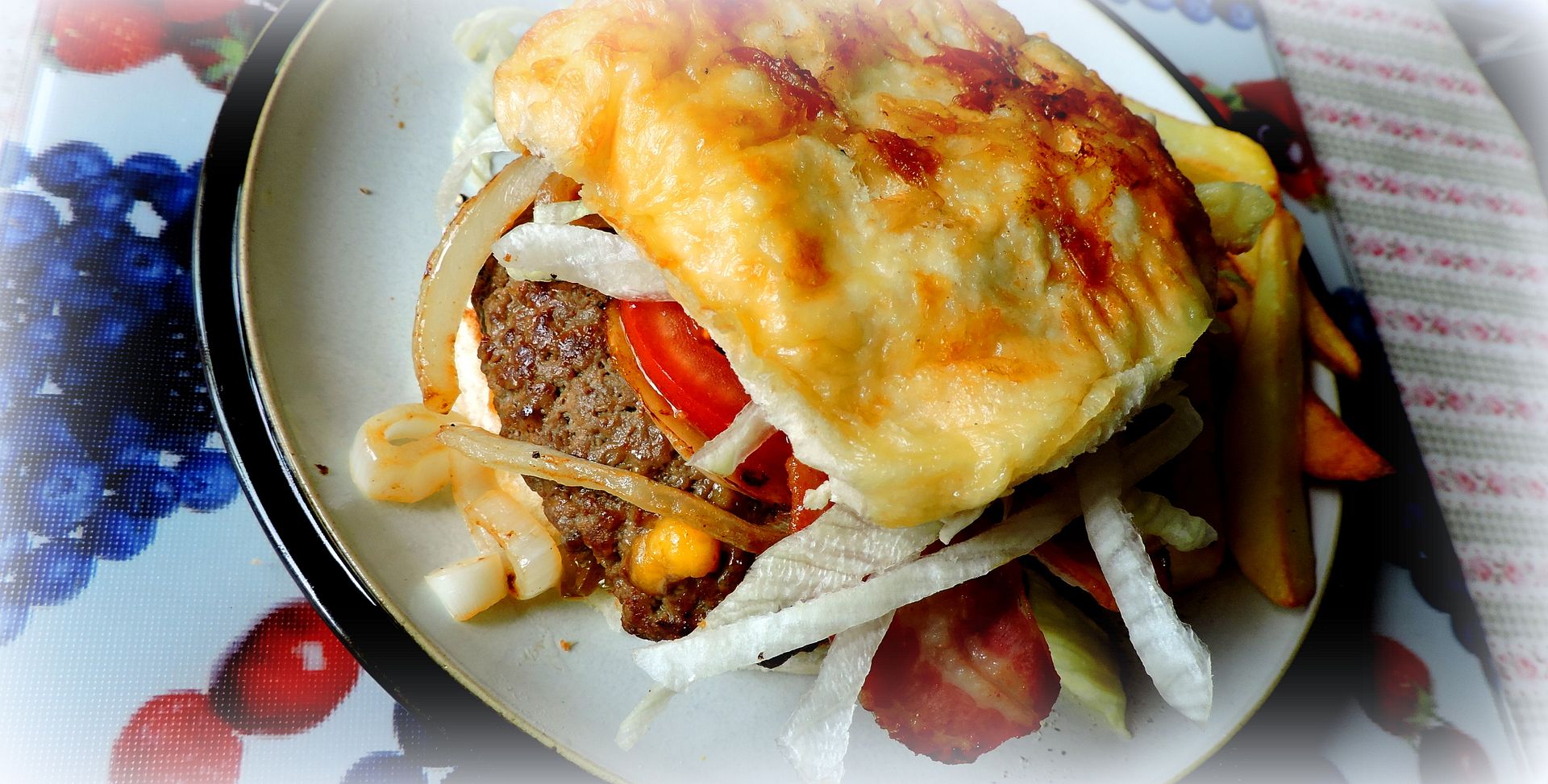 Bon Appetit and Happy Friday!