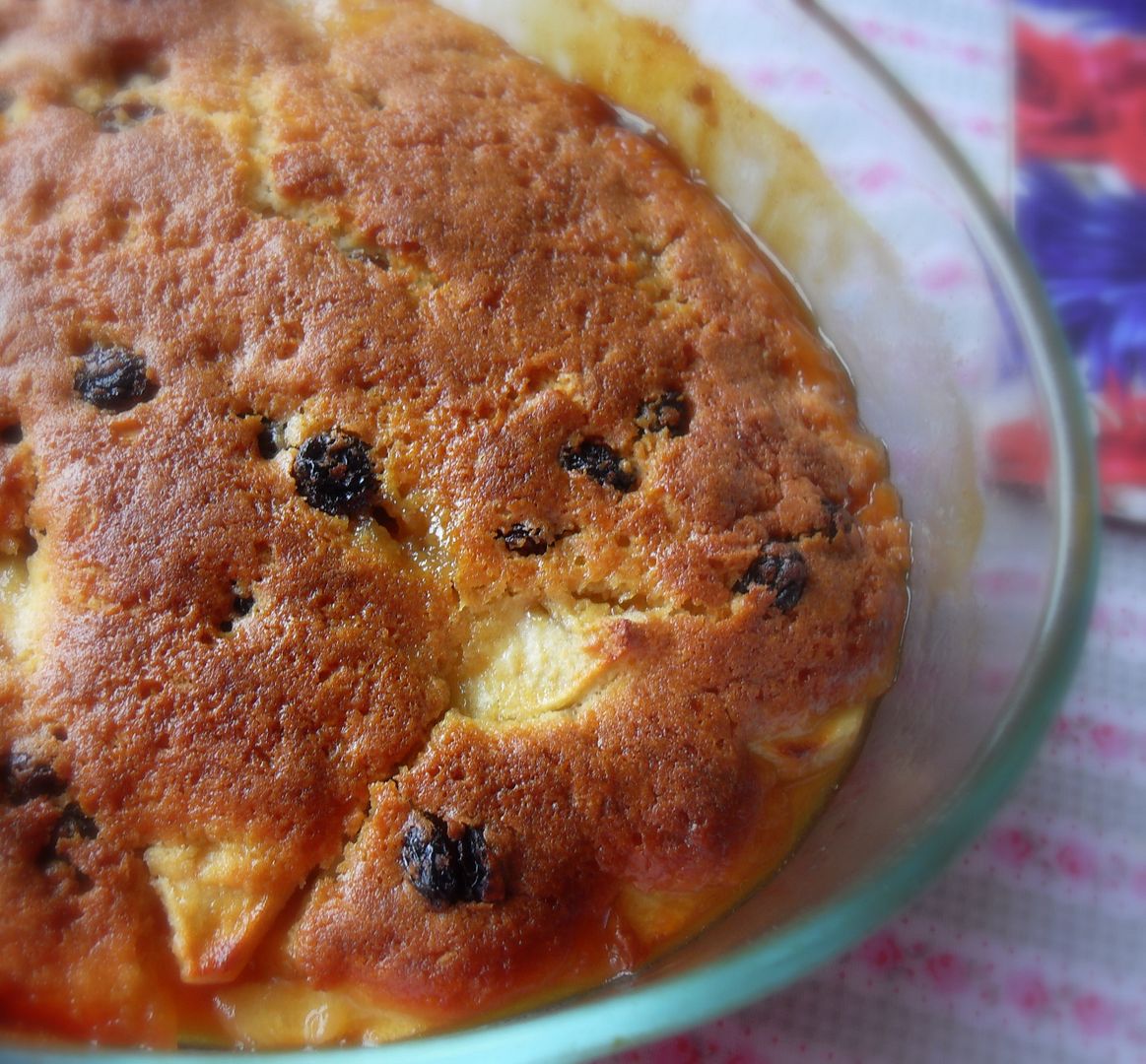 When I was really small my mother used to bake us delicious goodies several times during the week . . . there was always fresh baked cookies in the cookie jar and the occasional pie and cake. She went back to work when I turned 11 though, so all the baking stopped . . . or homemade baking at any rate . . . .at least until I was trusted and allowed to experiment in the kitchen on my own.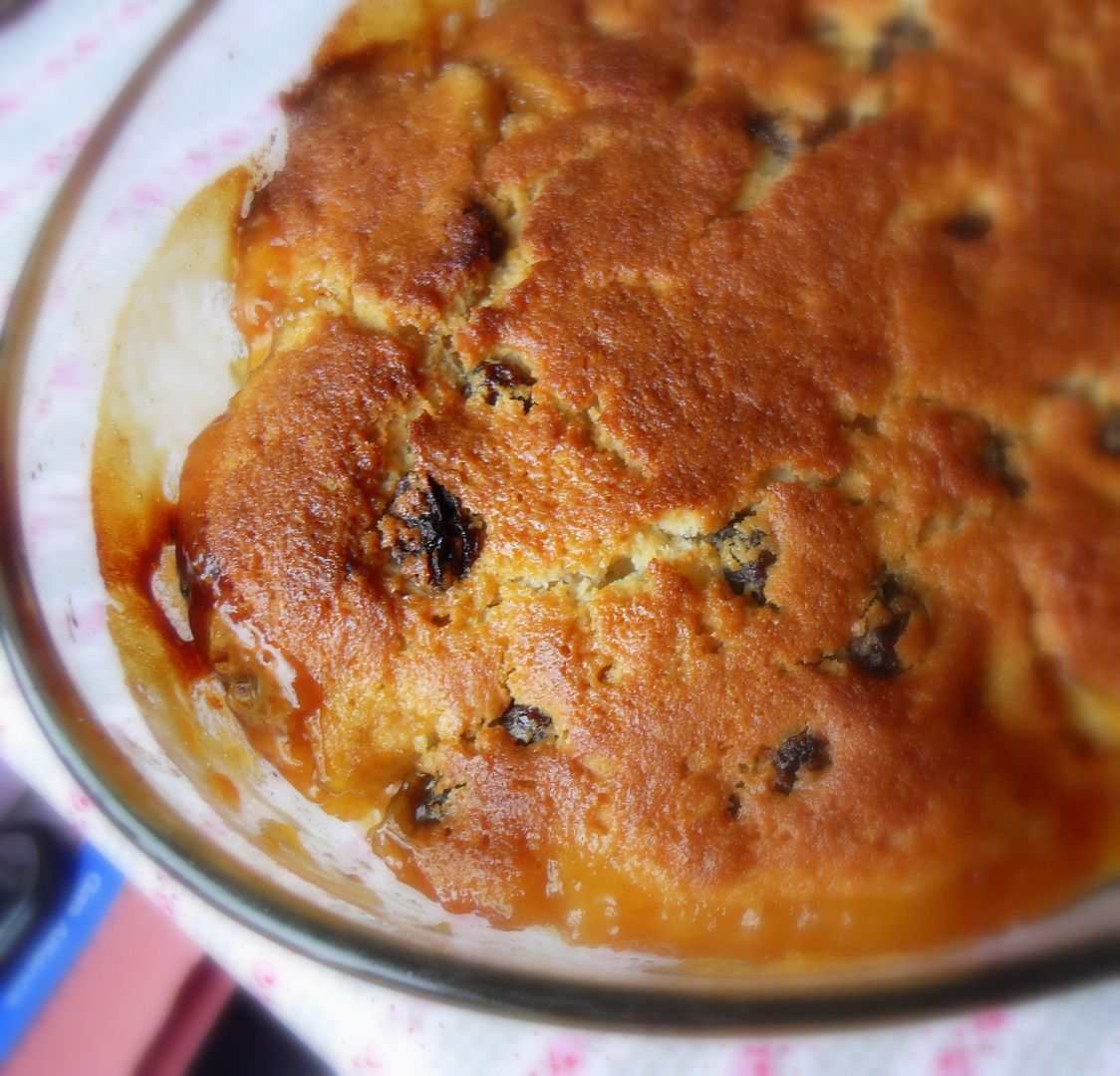 She did sometimes buy these pudding cake mix thingies for desserts once in a while. I think there was a chocolate one and a butterscotch one and a really fake apple tasting one . . . but as a child we were just glad to have dessert. It didn't really matter that it came from a mix or that it didn't really taste all that great. It was sweet and that's what counted.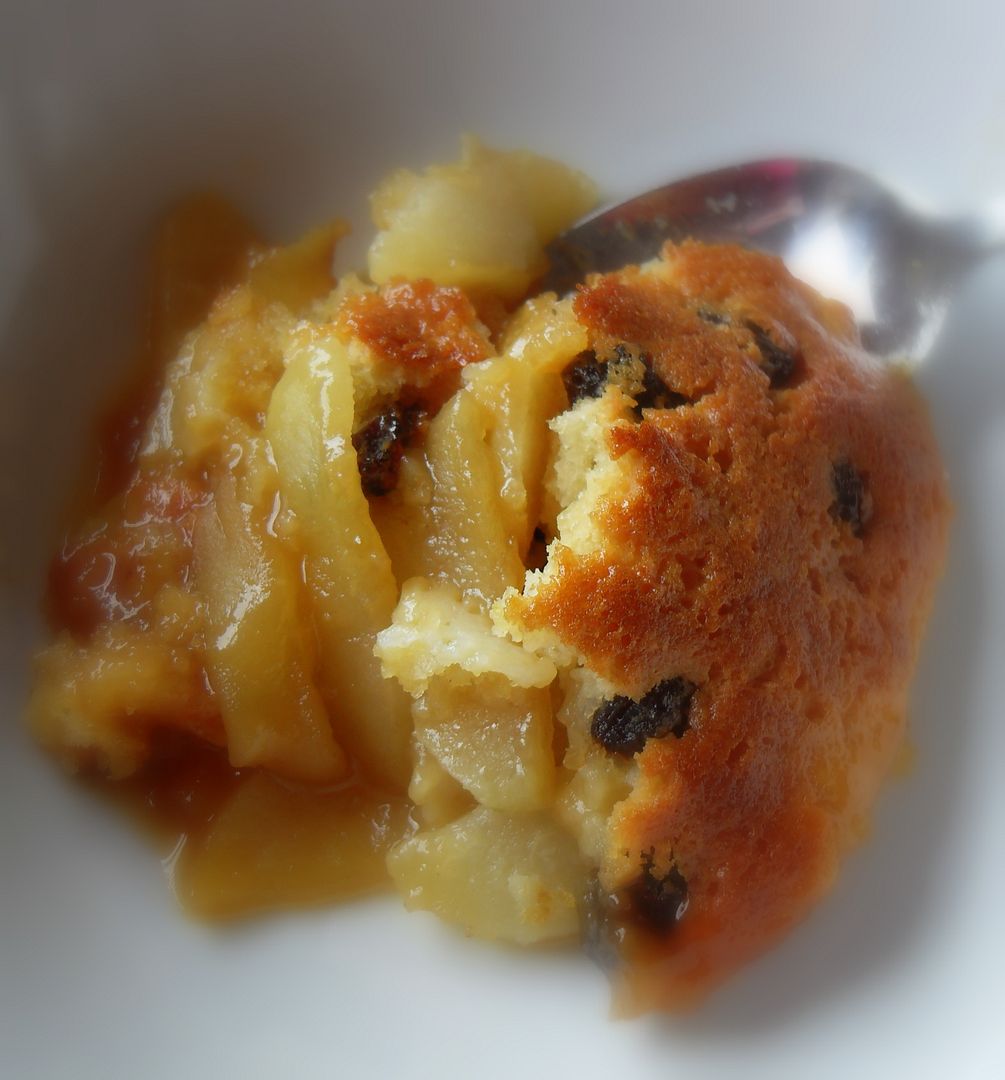 Of course as an adult and experienced baker I have come to appreciate the finer qualities of desserts that are homemade. I love pudding cakes . . . I make a really good
Gingerbread Pudding Cake
from scratch, as well as a
Cinnamon
one, and an
Apple and Blueberry
version which is totally scrummy as well. Let's not forget
Sticky Toffee Pudding Cake
either, that is like the ultimate of the ultimate pudding cakes!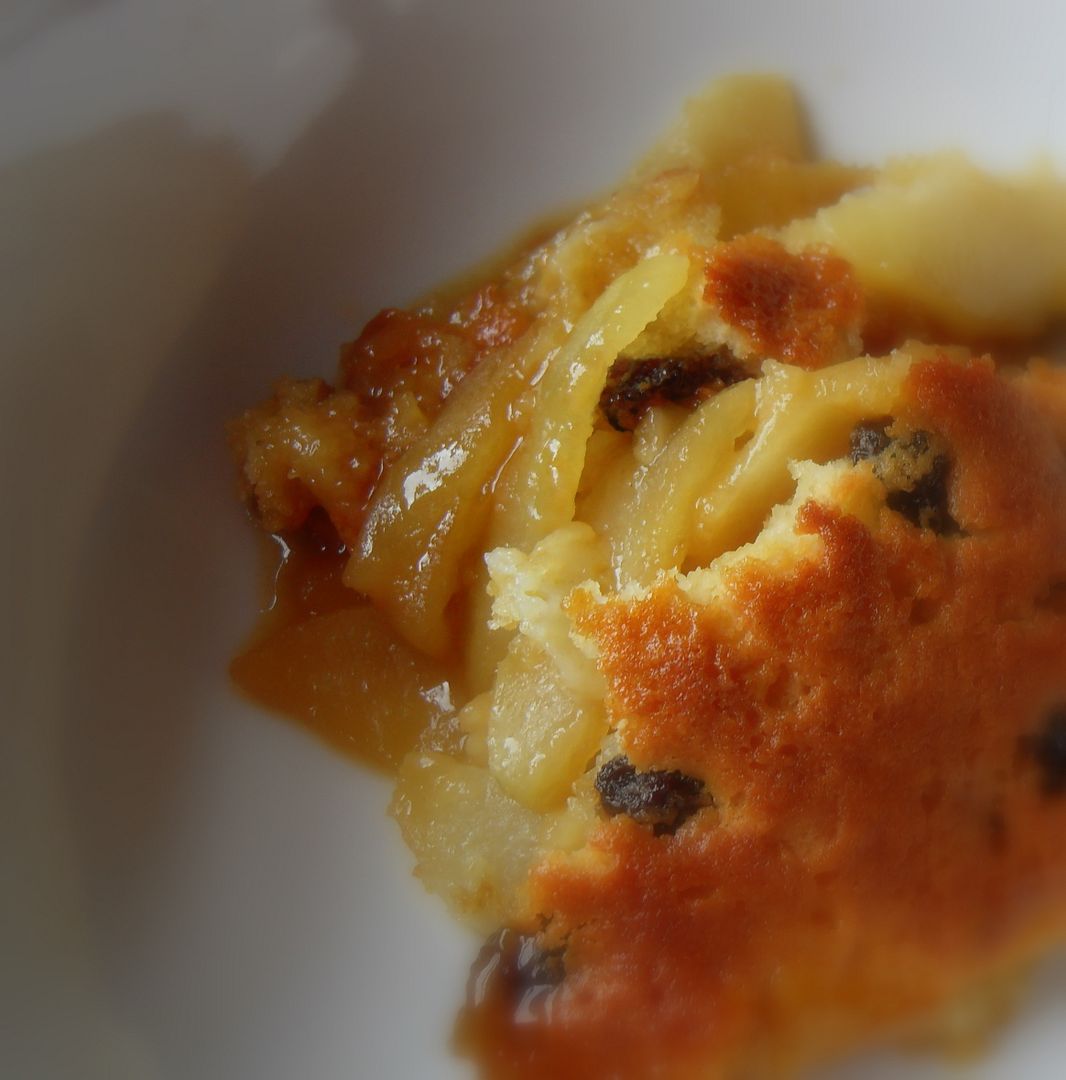 There is just something that is so very special about the alchemy and magic of a cake that makes it's own sauce when it's baking! It's like a tiny delicious little miracle happening in your very own oven, just for you!!
This is a really scrumdiddlyumptious version . . . with the sweet/tartness of Granny Smith Apples on the bottom . . . topped with a buttery sponge, filled with raisins . . . and a lucious butterscotch sauce that appears like magic and goes fabulously well with it all.
Eaten warm and topped with a nice cold scoop of vanilla bean icecream, I don't think you can get much homier or delicious. Of course my Brit husband would argue that fact and say that custard is much much better . . . but the Canuck in me still longs to have a nice big scoop of ice cream, preferably a
good
vanilla . . . on top of my cakes, pies and desserts. I just can't help it. Old habits die hard!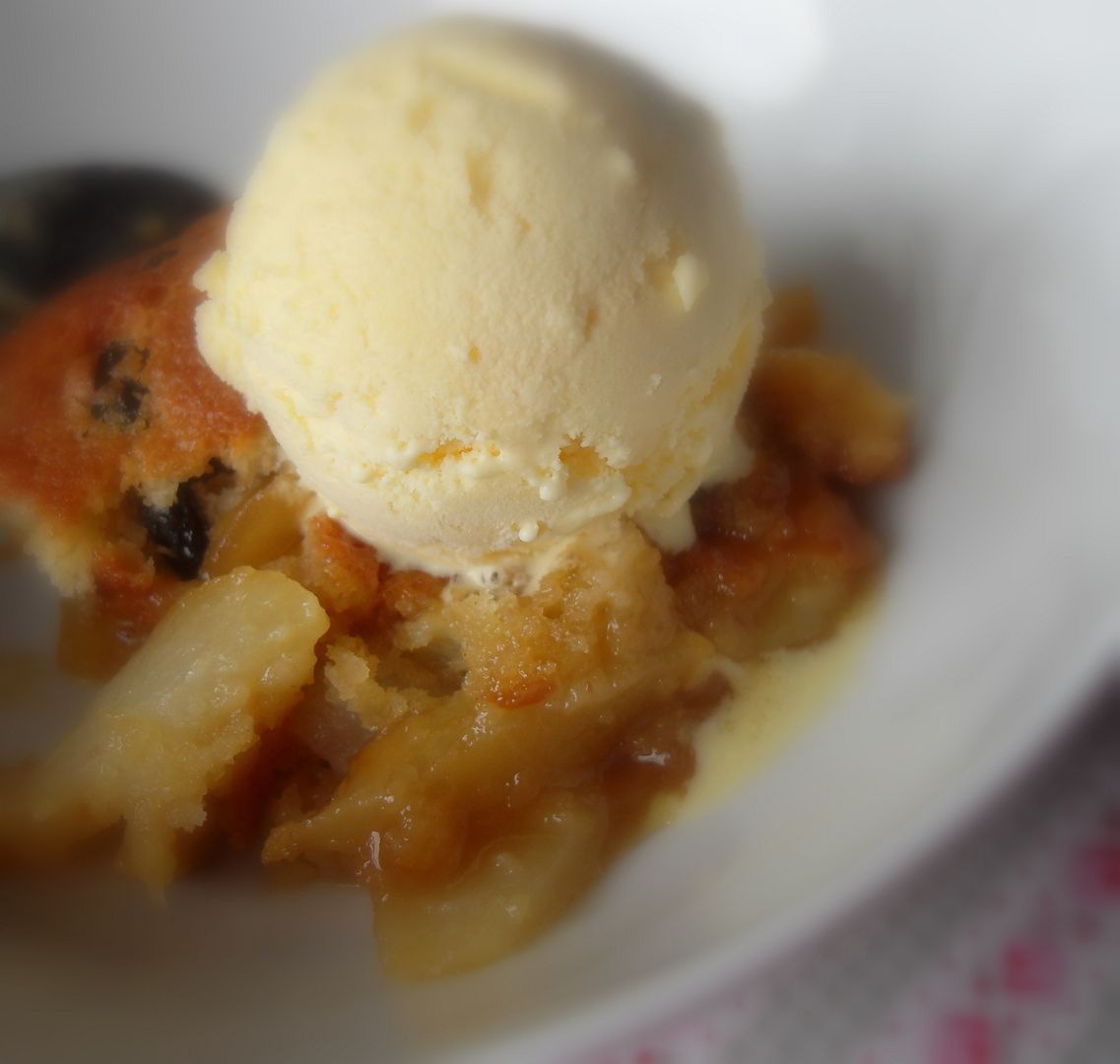 But what really is icecream though . . . it is frozen custard. So I guess you could say that we both like custard on our desserts . . . just in opposite forms! He likes his warm and dripping . . . and I like mine cold and melting.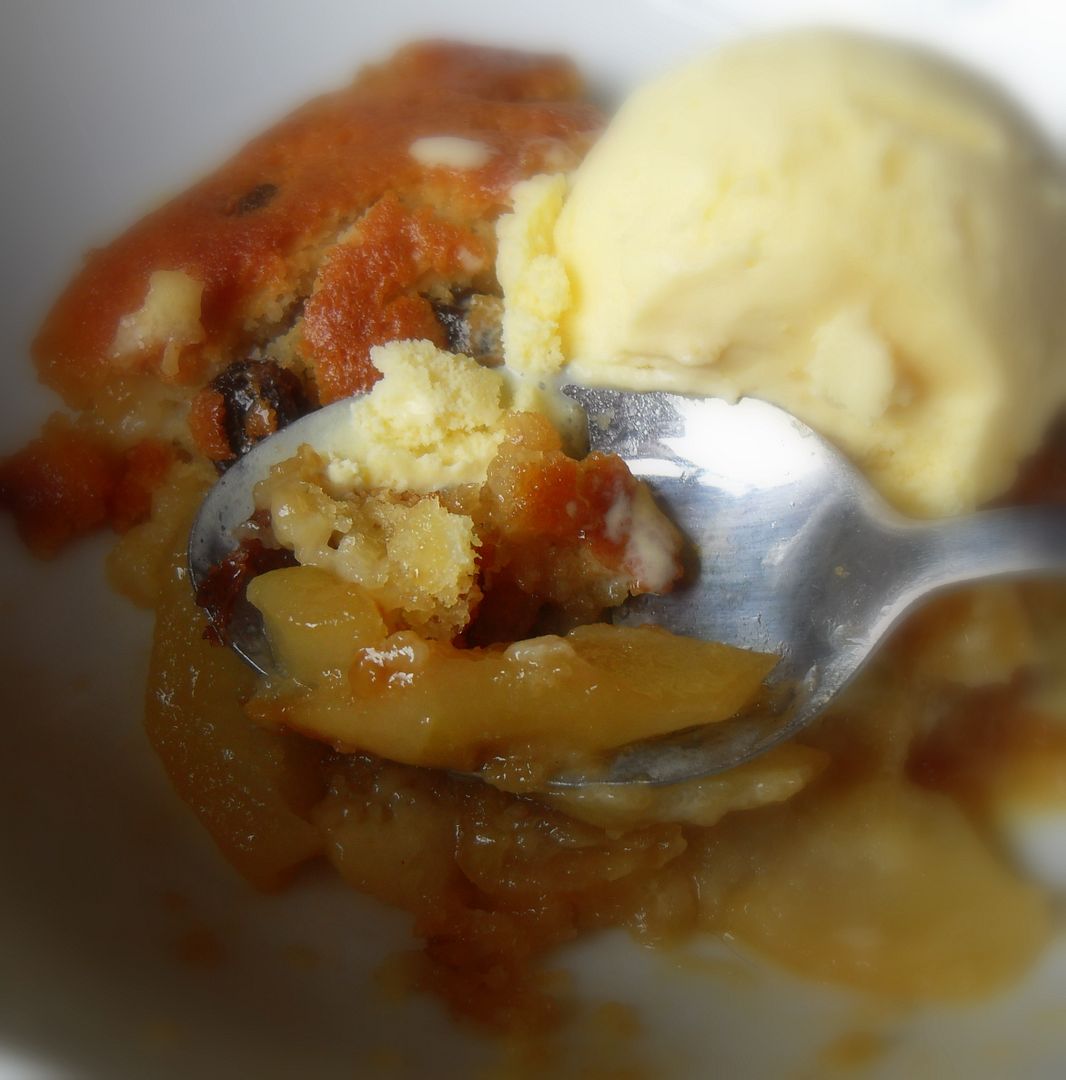 In any case . . . this Apple Butterscotch Pudding Cake rocks! With custard or with ice cream. You just can't get
much
better than this. I do declare!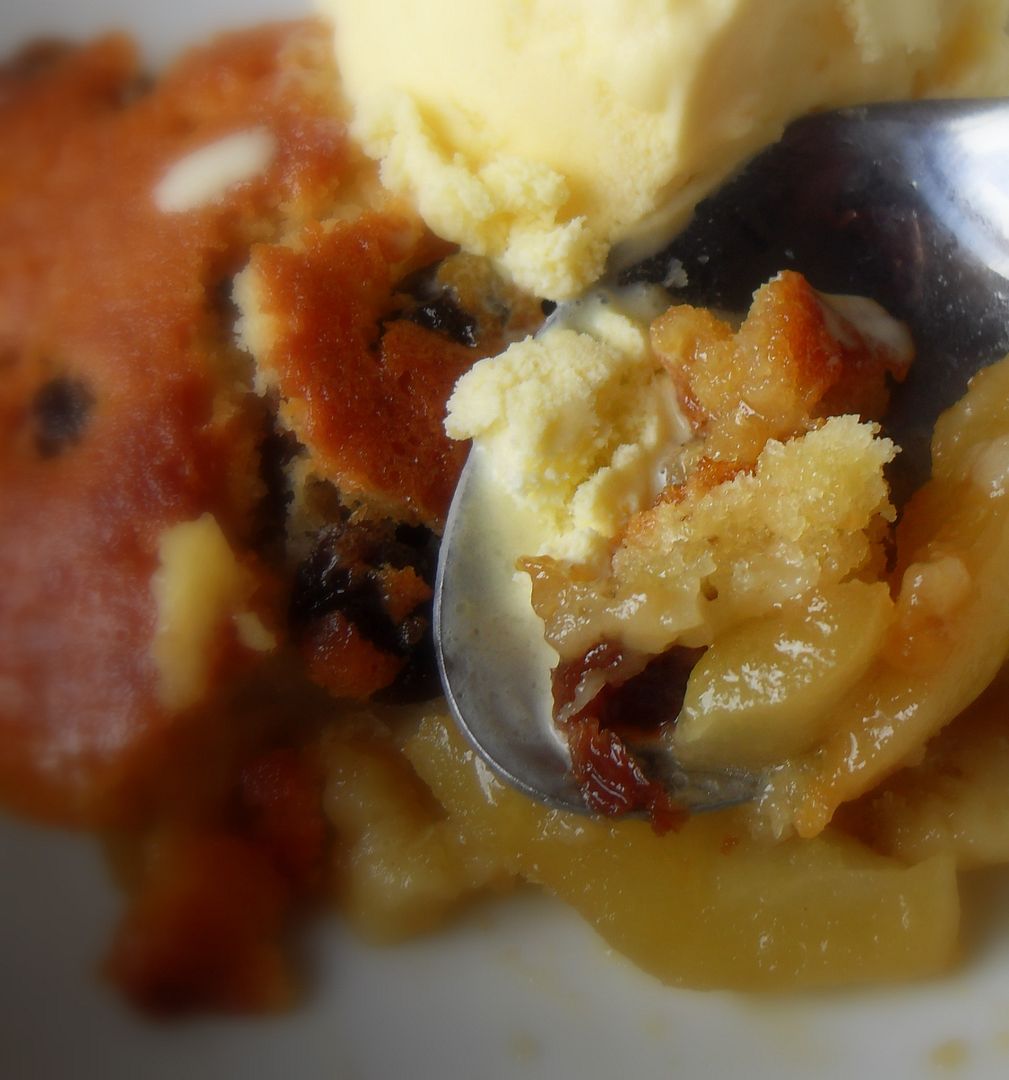 *Apple Butterscotch Pudding Cake*
Serves 6
Printable Recipe
A delicious dessert topped with a fluffy raisin sponge atop tart sliced apples in a delicious butterscotch sauce that appears as if by magic!
4 large Granny Smith or other cooking apples, peeled, cored and sliced (about 4 cups)
For the sponge:
150g self raising flour (1 1/3 cups)
50g caster sugar (generous 1/4 cup)
80g unsalted butter, chilled and diced (5 1/2 TBS)
1 medium free range egg
100ml milk (7 TBS))
the finely grated zest of one unwaxed lemon
50g of raisins or currants if you prefer (generous 1/3 cup)
For the Sauce:
80g light muscovado sugar (6 1/2 TBS)
25g unsalted butter (2 TBS)
100ml water (7 TBS)
Pinch fine sea salt
the juice of 1/2 lemon
Preheat the oven to 180*C/350*f/gas mark 4. Have ready a 2 litre oval gratin or other shallow oven proof dish.
Whisk the flour and sugar for the sponge together in a bowl. Drop in the butter. Rub the butter in with your fingertips until the mixture resembles fine bread crumbs. Beat together the egg and milk. Stir in along with the lemon zest and the raisings. Arrange the apple slices in the bottom of the dish and smooth the sponge mixture on top.
Place the sugar, butter, water and salt for the sauce into a small saucepan. Bring to the boil. Whisk in the lemon juice and then pour this mixture over top of the batter in the dish. Bake for 30 to 35 minutes, until the cake is golden brown on top and the sauce is bubbling around the edges.
Let stand for 5 to 10 minutes before spooning out into dessert dishes to serve. (A scoop of icecream goes nicely!)