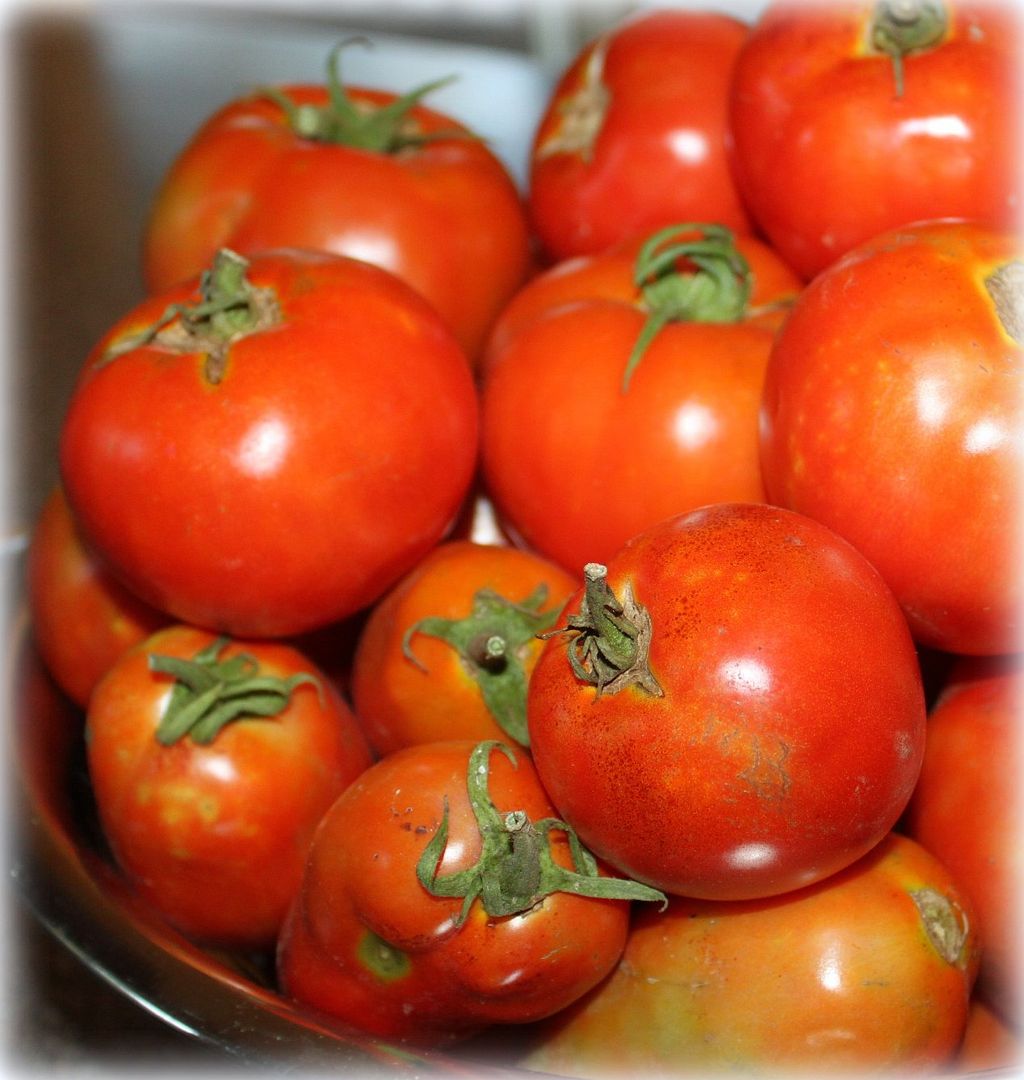 We had a windstorm a week or so ago and our tomato plants all blew over. I was force to pick them all. Most were green. I had thought to make some green tomato chow, but alas time got away from me and they ripened in the bowl before I could get that done. That was okay however because I love tomatoes and I am never at a loss as to what to do with tomatoes!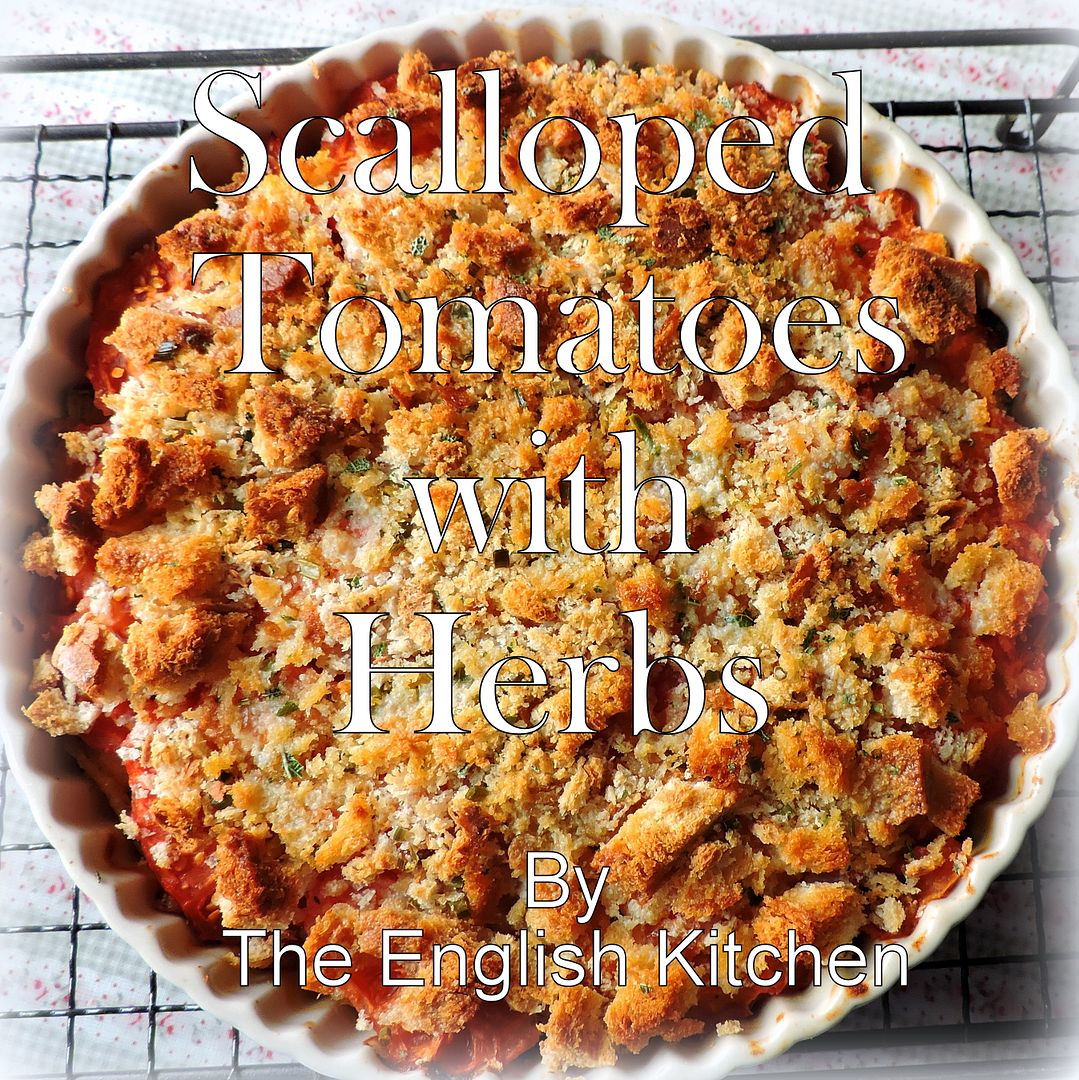 I quite simply love tomatoes and have been collecting ways to use them for years and years and years. This recipe today comes from a small green notebook which is filled with lovely home style old fashioned recipes, laboriously copied by myself years ago from books I took out from the local library. Unfortunately I was not quite so good at keeping a record of which book they came from. I can date this notebook to the years I was living in Meaford, Ontario, and I think it might have been from a book called Canadian Cookbook by Elizabeth Baird, but I could be wrong, so do forgive me if I am. In any case it is a delicious recipe.
And so very simple. Sliced tomatoes are layered in a baking dish with a mix of buttery sauteed onions, bread crumbs and herbs, and then topped with a simple mix of plain herbed breadcrumbs and dotted with butter prior to baking.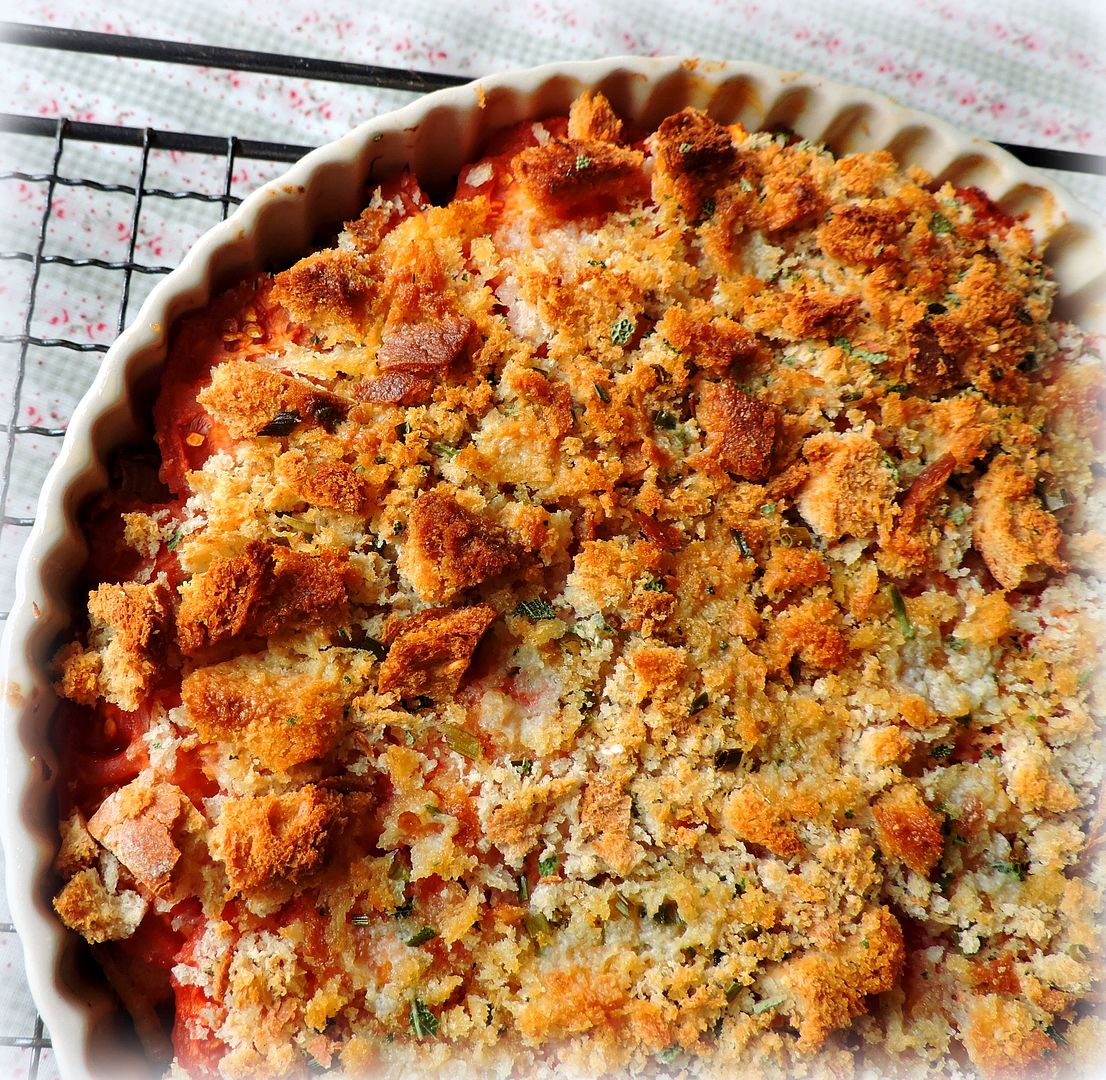 The end result is a type of tomato pudding . . . so delicious with the soft buttery onions, the sweet tomatoes, the herby breadcrumbs . . .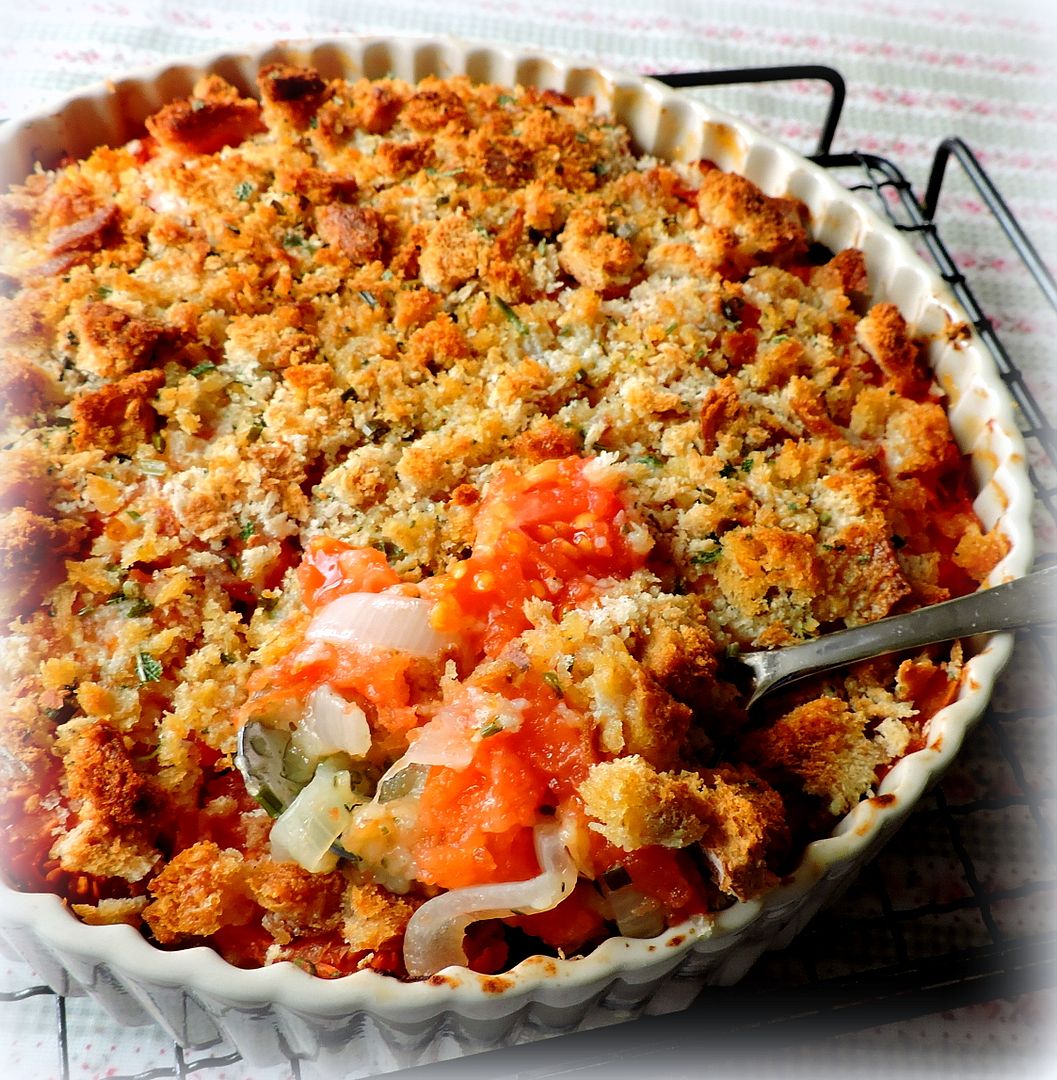 I suppose you could add cheese if you wanted to, but you really don't need it. It's fabulous just the way it is. I could sit down and eat a whole bowl of this all on it's own.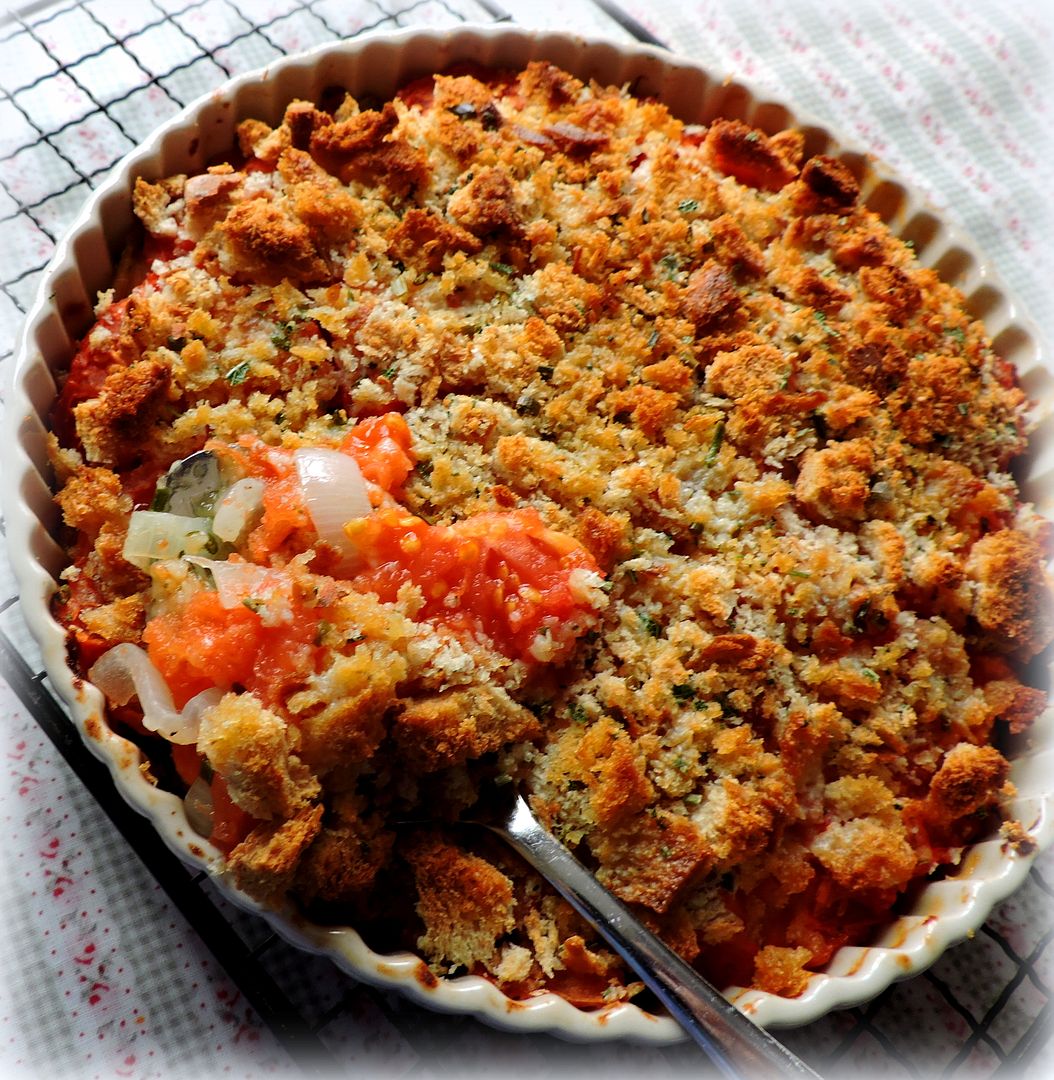 *Scalloped Tomatoes with Herbs*
Serves 4 to 6
This is simple and delicious. If you don't have fresh tomatoes you can use tinned whole tomatoes, drained and sliced. I always peel my tomatoes, as I am not fond of cooked tomato skins. See note at bottom.
60g butter (1/4 cup)
3 to 4 onions, peeled and sliced
1 1/2 tsp white sugar
1/2 tsp salt
1/4 tsp black pepper
1/2 tsp dried thyme
2 cups coarse soft bread crumbs (120g)
2 TBS minced parsley
1 tsp chopped chives
6 large ripe tomatoes, cut into 1/2 inch slices
2 TBS butter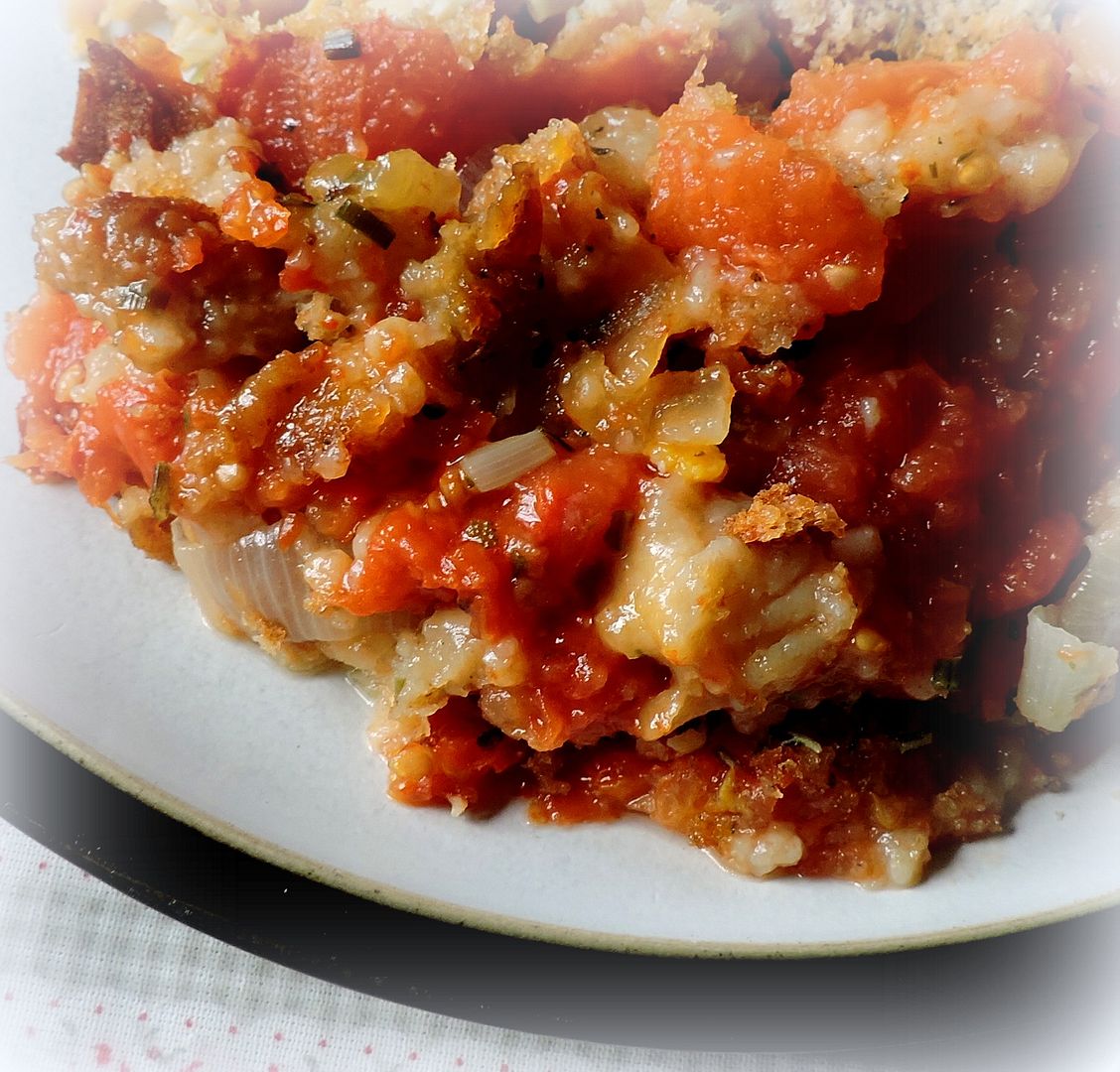 Melt the butter in a skillet. Add the onions, sugar, seasonings, and thyme. Cook, stirring frequently, for about 5 minutes until softened without browning. Combine the bread crumbs with the parsley and dhives. Stir
half
of them into the onion mixture, mixing together well.
Butter a medium shallow baking dish. Arrange half of the bread crumb mixture in the dish. Top with half of the tomatoes. Top with the remaining bread crumb mixture and then the remainder of the tomatoes on top. Sprinkle the herbed breadcrumbs which remain (without the onions) over top. Dot with the remaining 2 TBS of butter.
Bake in a preheated 180*C/350*F/ gas mark 4 oven for 35 to 45 minutes until the tomatoes are tender and the crumbs are golden brown.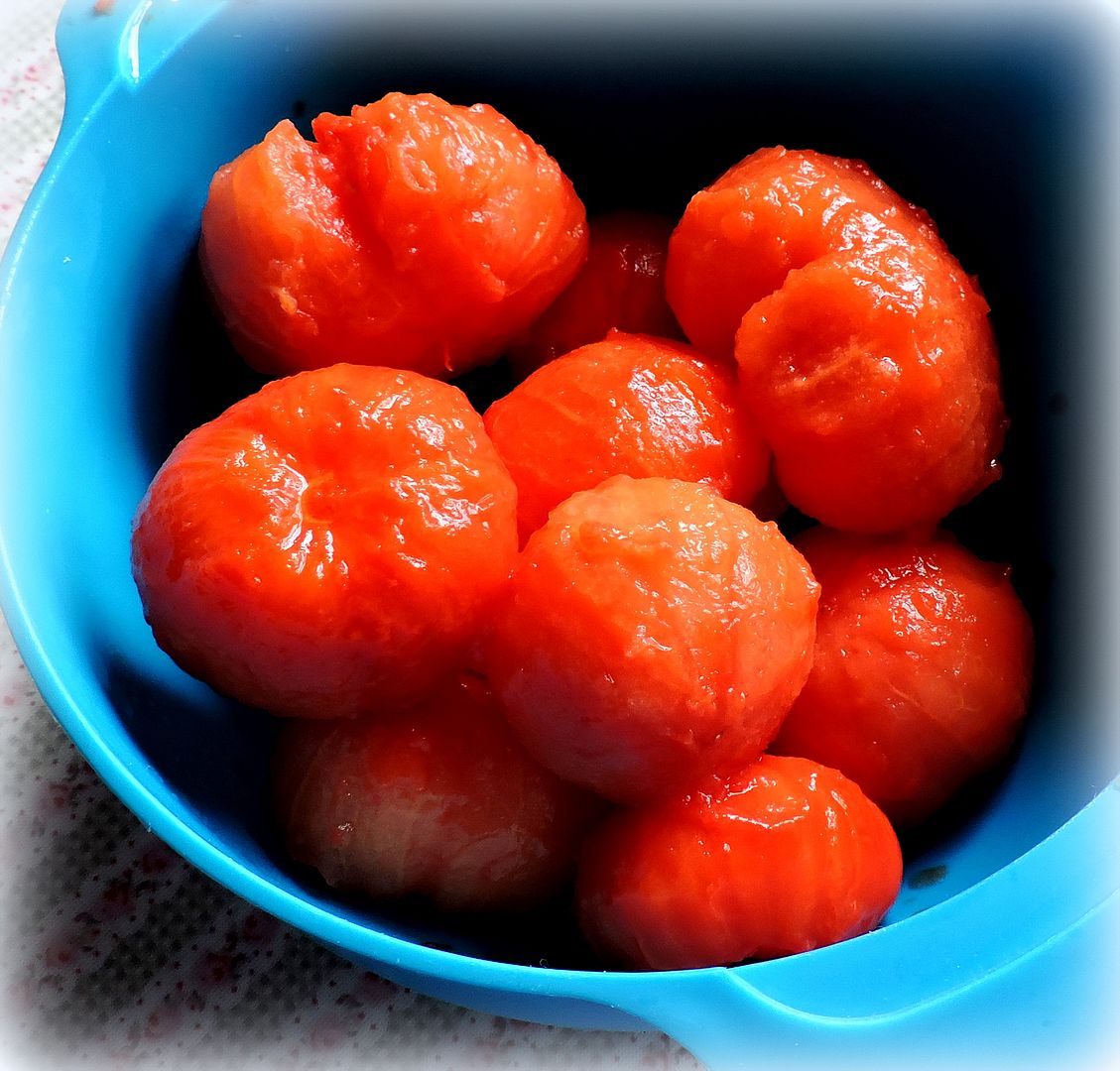 Note - to easily peel tomatoes, cut a small x with a sharp knife into the base of each and place into a bowl. Cover with boiling water and leave for about 1 minute to 1 minute and a half. (The edges should look like they are beginning to pull away from the cuts). Drain well and cover with cold water to stop the cooking process. Drain again. The peels should now slip off quite easily.
I hope you will give this a go, and that if you do you will enjoy it! You could also use drained tinned whole tomatoes, sliced. If you do I recommend Cirio. Really I do. Bon Appetit!
The lovely dish I have used for this bake today is the Wades Medium Flan dish. It is stoneware created in Stoke-0n-Trent here in the UK by Wade Ceramics. It is microwave safe, dishwasher safe, freezer safe and oven safe. You can purchase it online at
Harts of Stur
for £14.99. I love it. It is the perfect size for a flan if that is what you are wanting to bake. I have been using it for small casseroles and it works beautifully. It cleans easily and does everything it is supposed to. It has become my favourite baking dish for our needs at the moment!
Note - I was sent the flan dish by Eddingtons for the purpose of review. I was not required to write a positive review. Any opinions are entirely my own.