What is a Bumbleberry? Ahhh . . . I think I might know the answer to that.
A bumbleberry is a Burple and Binkel berry (amazing colours you know), one berry being sweet and the other tart.
The two colours, when cooked together, creating a flavour that is fantastically gloriously delicious! (of course!)
It is largely rumoured that they grow on Giggle Bushes in the Bumbleberry Valley . . . a closely hidden secret spot of beauty, I think.
I've never been able to find it on a map, per se . . .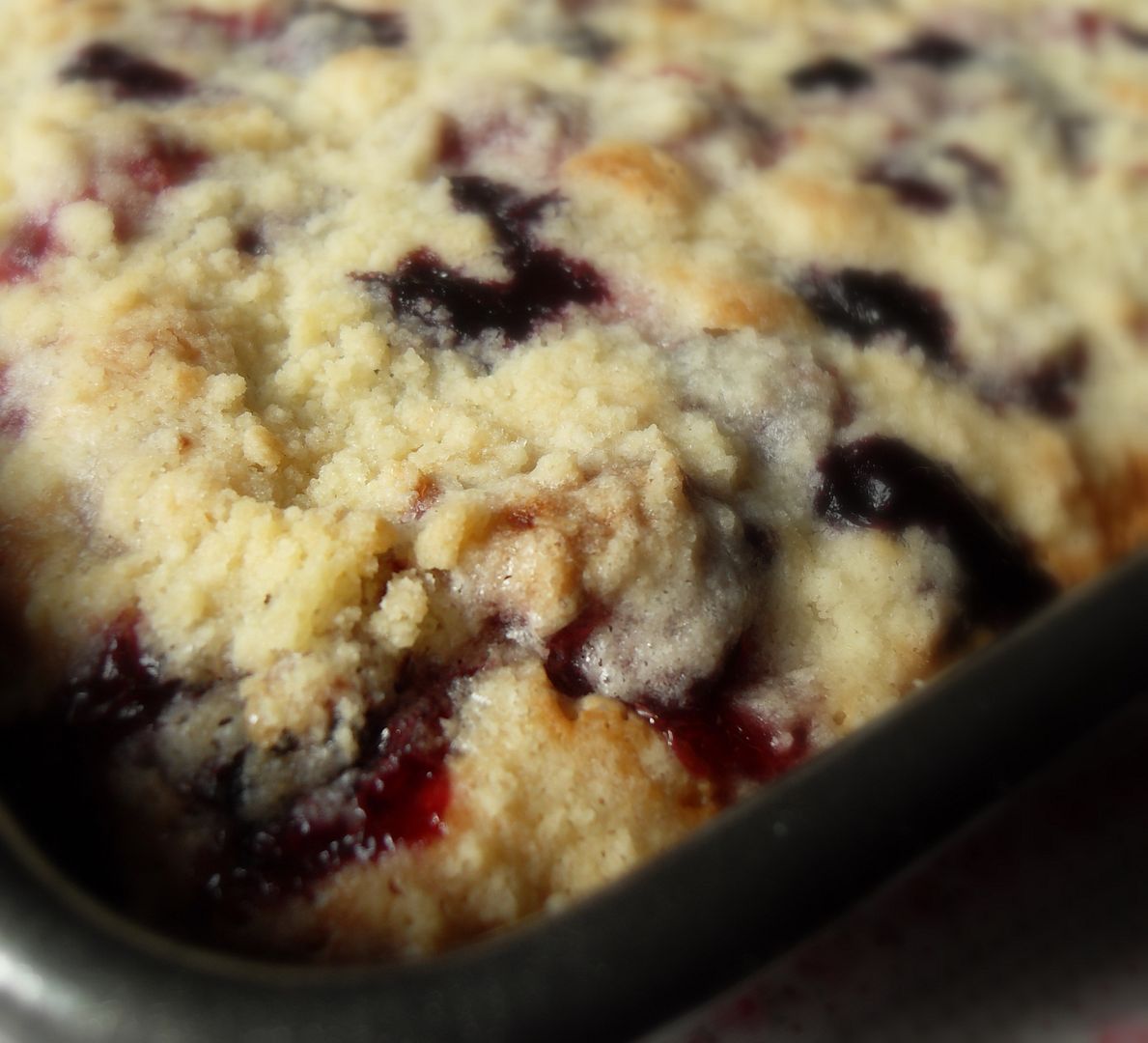 Apparently you cannot grow them
under
anything because they must have the warmth of the sun in order to proliferate . . .
tis also rumoured that they cannot grow
over
anything because that would keep the warmth of the sun off what ever it was growing over, for Bumbleberries are very large. Bumbleberries grow in places where nothing else grows . . .
which means that they are seldom ever seen, as most people won't look where nothing else grows, or so they say . . .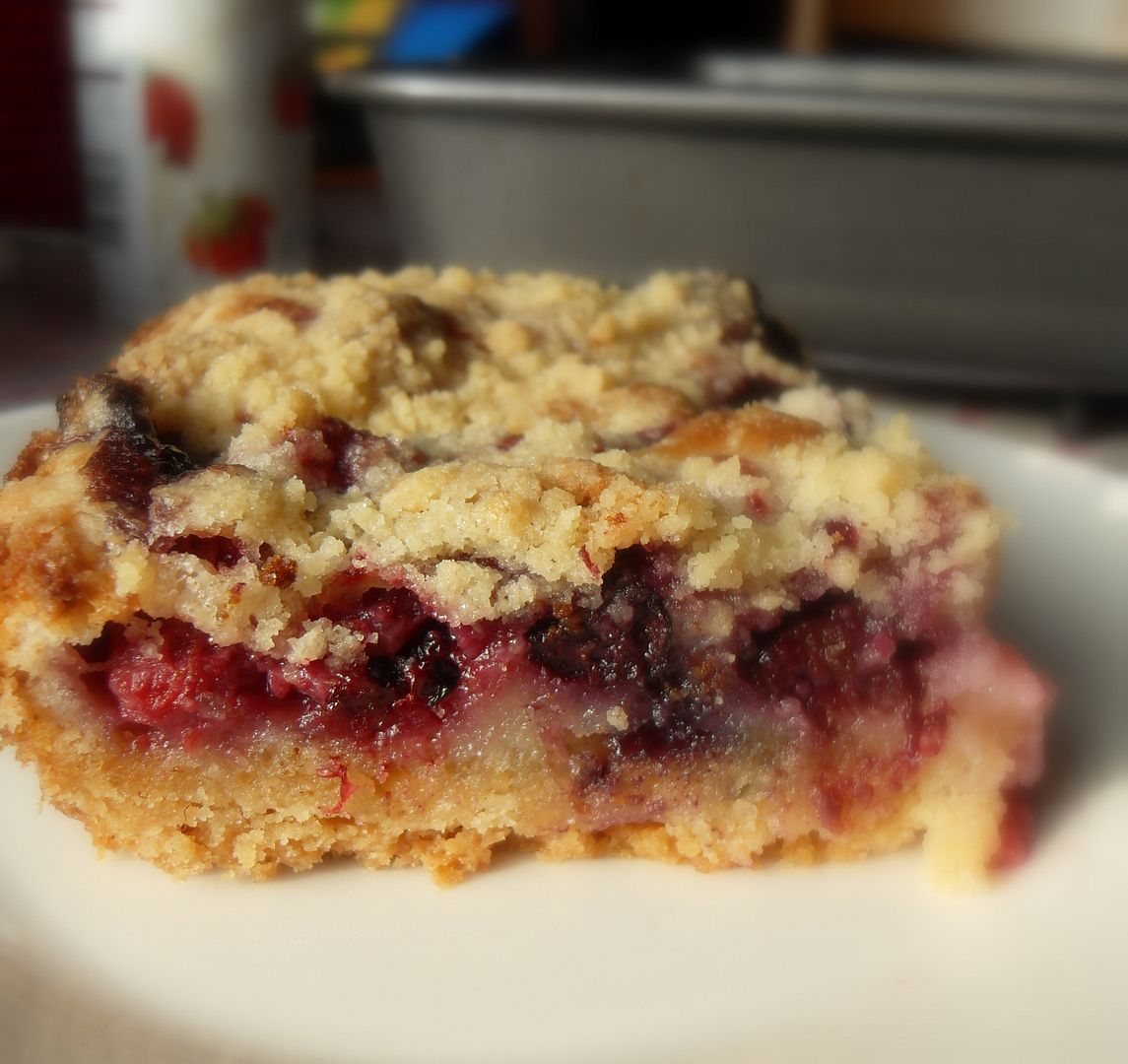 From what I understand, there are four different kinds of bumbleberry bushes, each one flowering at a different time of the year. One blossoms only in the spring and bears berries in the fall in the quiet time of the day, early in the morning, just before dawn.
Another blossoms only in the summer and bears berries in winter during the pleasant mid-day hours. A third blossoms only in the fall and bears berries in the spring in the quiet of an afternoon.
The fourth kind blossoms in the winter and bears berries in the summer at midnight, because of course summer days are far too warm for it.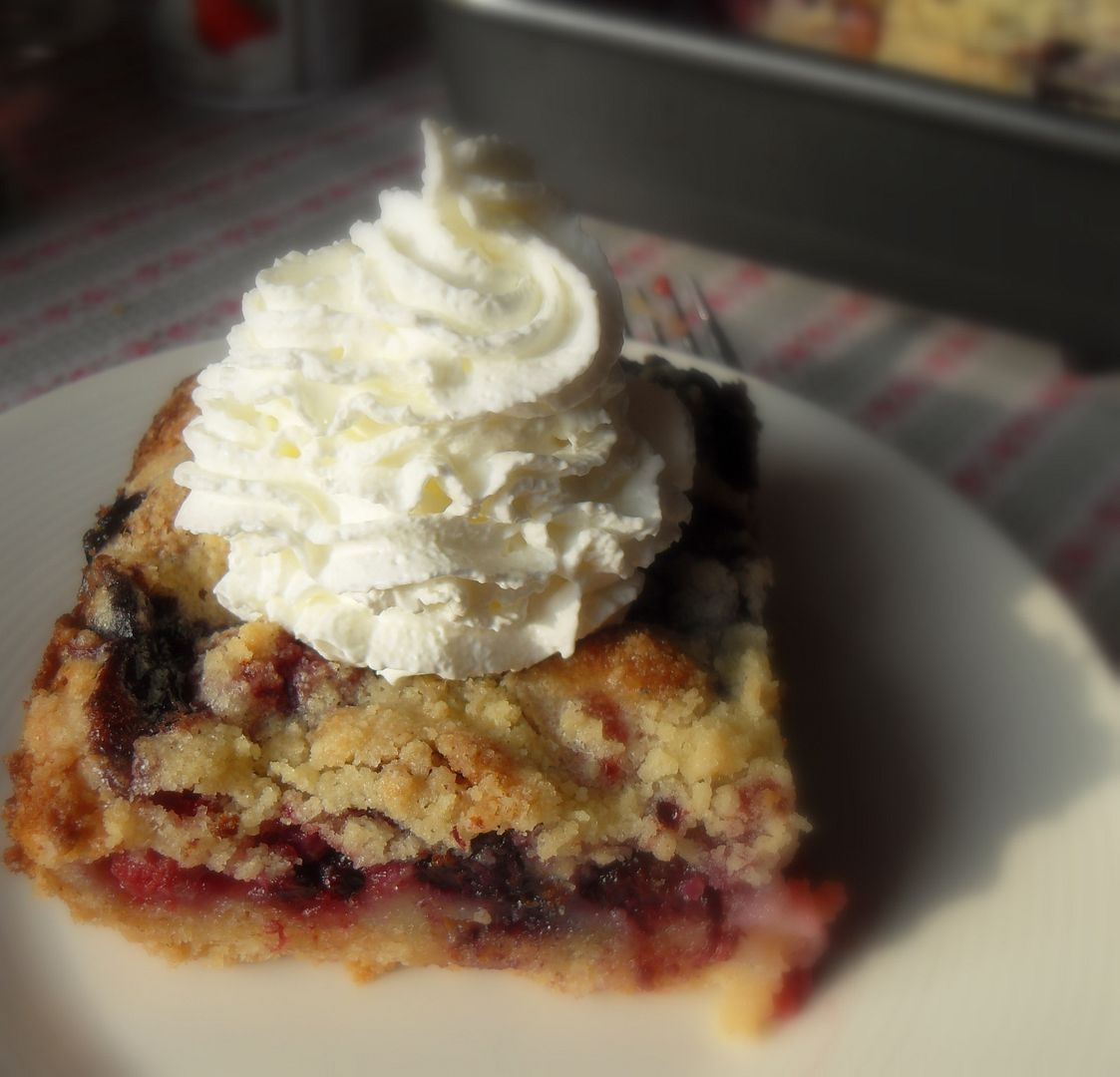 The end result of course is that these wondrous Bumbleberries are available all year round! Which is very good news indeed.
Bearing only one berry at a time, and giggling at the precise moment that they become ripe, makes these berries the most delicious and cherished berries of all . . .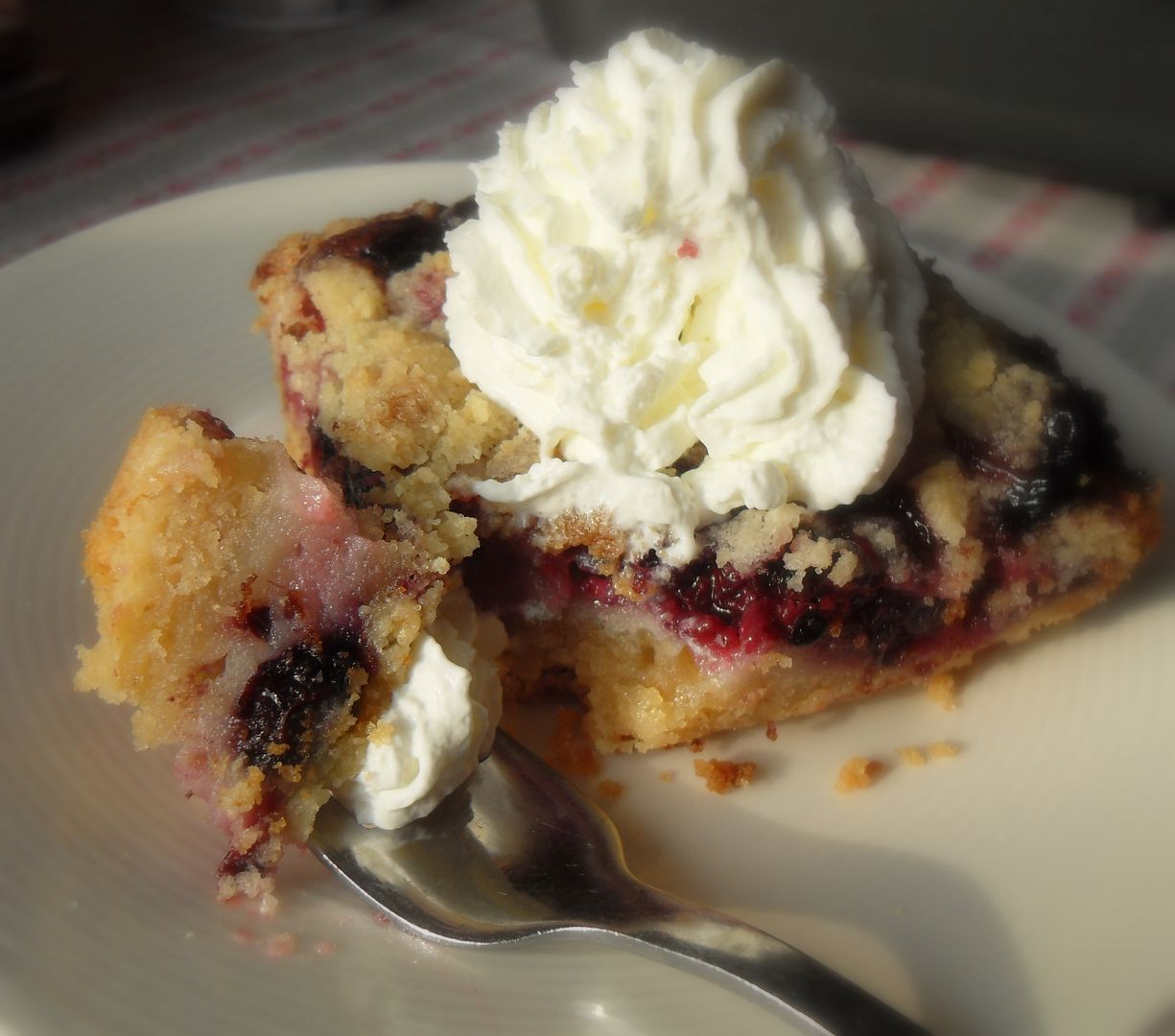 Just perfect for being baked into a lovely traybake such as this one I have baked here today.
With a sweet shortbread cookie crust . . . topped with a lucious sweet/tart rich bumbleberry filling, and topped with shortbread cookie streusel crumbles . . . mmmm . . . mmmm . . . scrummy good.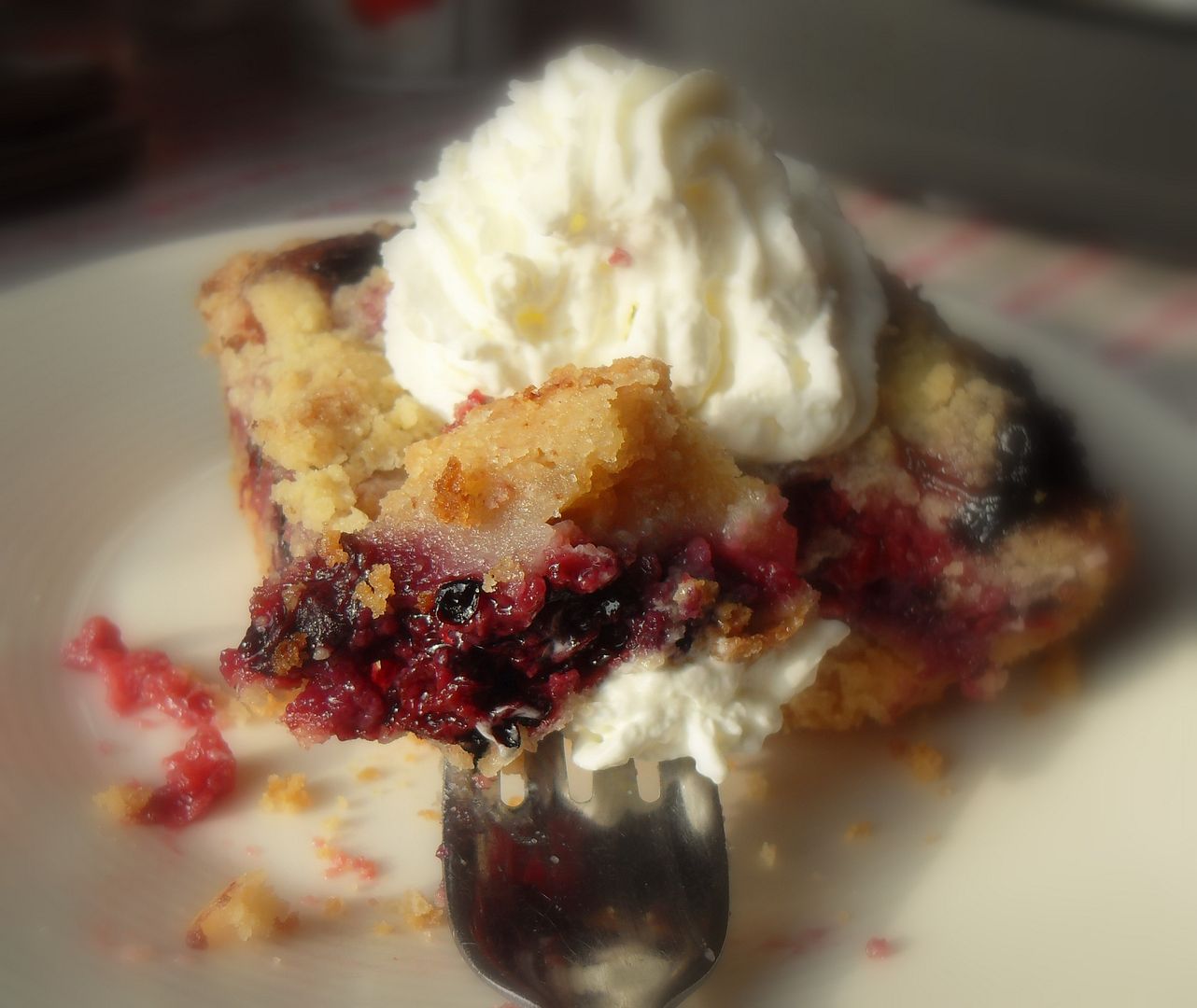 Of course that is a lot of old codswallop . . . but shhh . . . don't tell anyone.
It's awfully hard to giggle when you're mouth is full . . . and why burst the bubble . . . a little bit of fantasy never hurt anyone, and as we all know anything baked with Bumbleberries is automatically calorie free!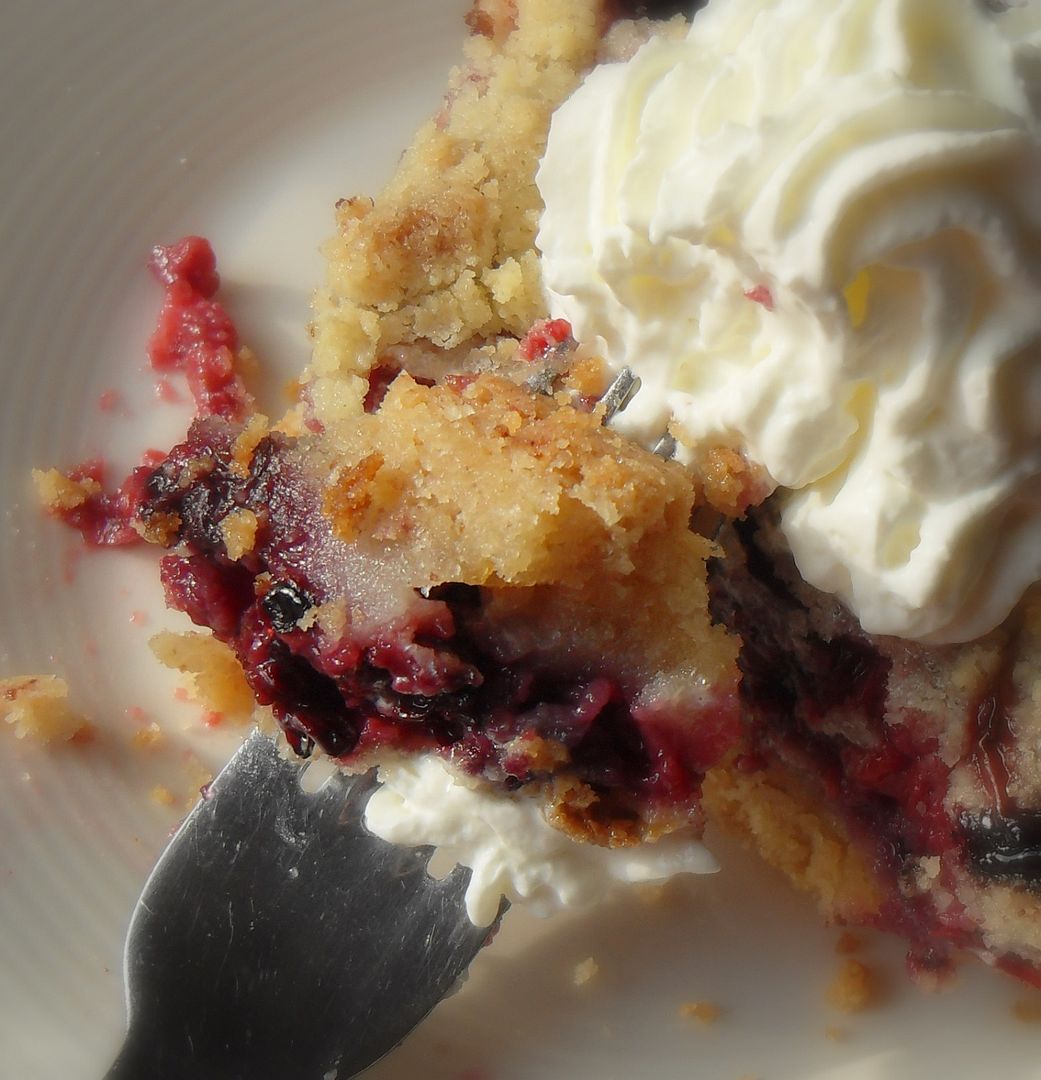 *Bumbleberry Pie Traybake*
Makes one 9 by 13 inch pan
Printable Recipe
With it's crunchy shortbread cookie crust, rich berry filling and crisp streusel topping this traybake is sure to become a fast favourite!
For the crust and topping:
350g plain flour (2 1/2 cups)
290g granulated sugar (1 1/2 cups)
1/4 tsp salt
345g of cold unsalted butter, cut into cubes (1 1/2 cups)
For the filling:
4 large free range eggs
380g granulated sugar (2 cups)
120g of dairy sour cream (scant cup)
75g of plain flour (1/2 cup plus 1 TBS)
pinch salt
2 pounds of berries (I like to use raspberries, blackberries and blueberries)
(Thaw if frozen, and drain)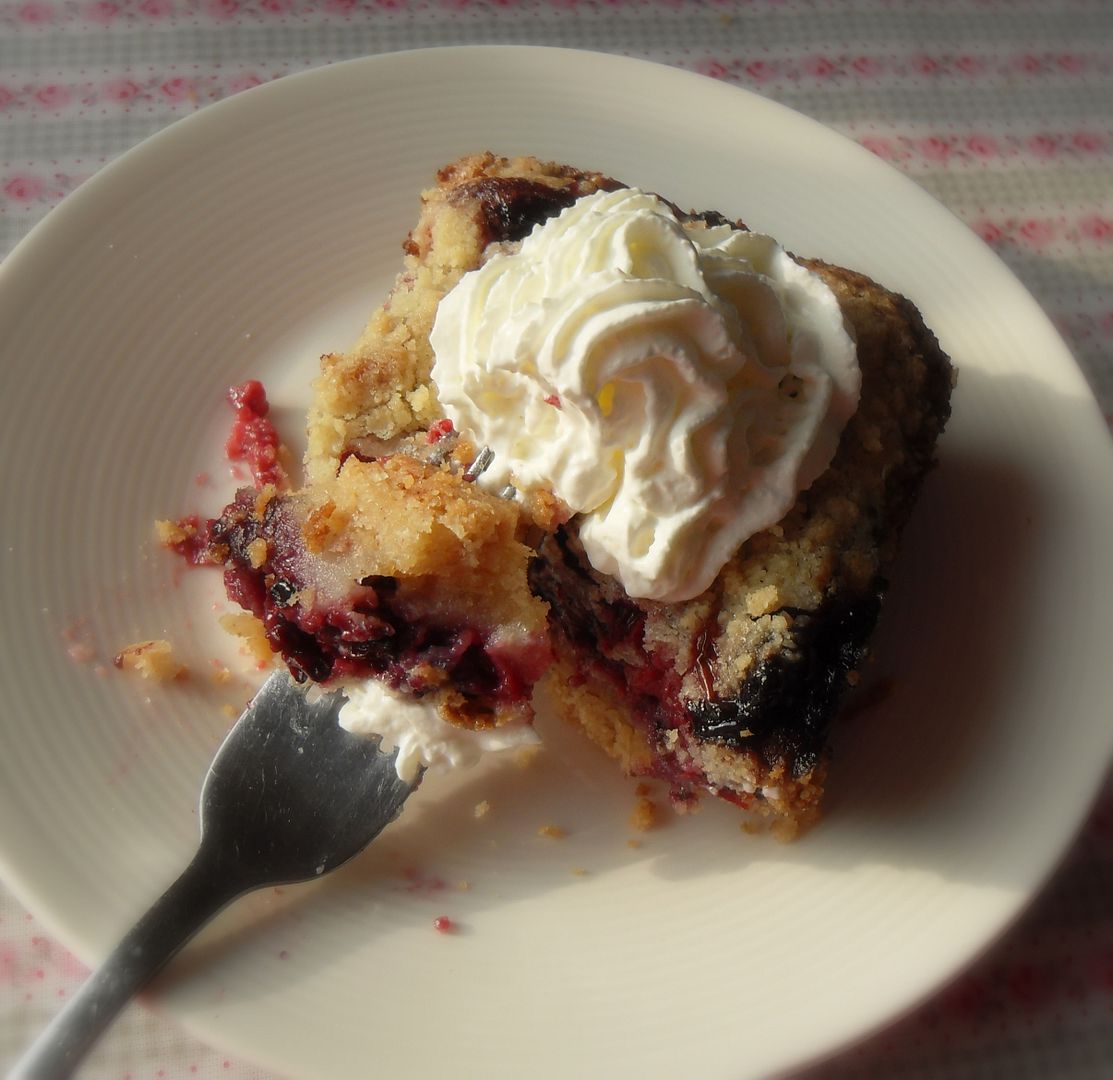 Preheat the oven to 180*C/350*F. gas mark 4. Butter a 9 by 13 inch baking pan. Set aside.
Whisk together the flour, sugar and salt for the crust in a large bowl. Drop in the butter and rub it into the flour with your fingertips, working quickly, until the mixture resembles fine bread crumbs. Alternately you can use a pastry blender, or cut it in using the metal blade in your food processor.
Reserve 1/4 of the crumb mixture for the topping. Press the remainder into the bottom of the buttered baking pan, pressing it in evenly. Bake in the preheated oven for 15 to 20 minutes, until golden brown. Allow to cool for at least 10 minutes before proceeding.
Whisk the eggs and sugar together for the topping. Whisk in the flour, sour cream and salt until smooth. Gently fold in the berries. Pour this mixture evenly over top of the crust. Sprinkle the reserved crumbs evenly over top. Bake for 45 to 55 minutes or until the crust is lightly browned. Allow to cool for at least an hour before cutting into squares to serve.
(Ideally you should get about 24 squares, which makes it ideal for a large crowd. You can also have the recipe quite successfully.)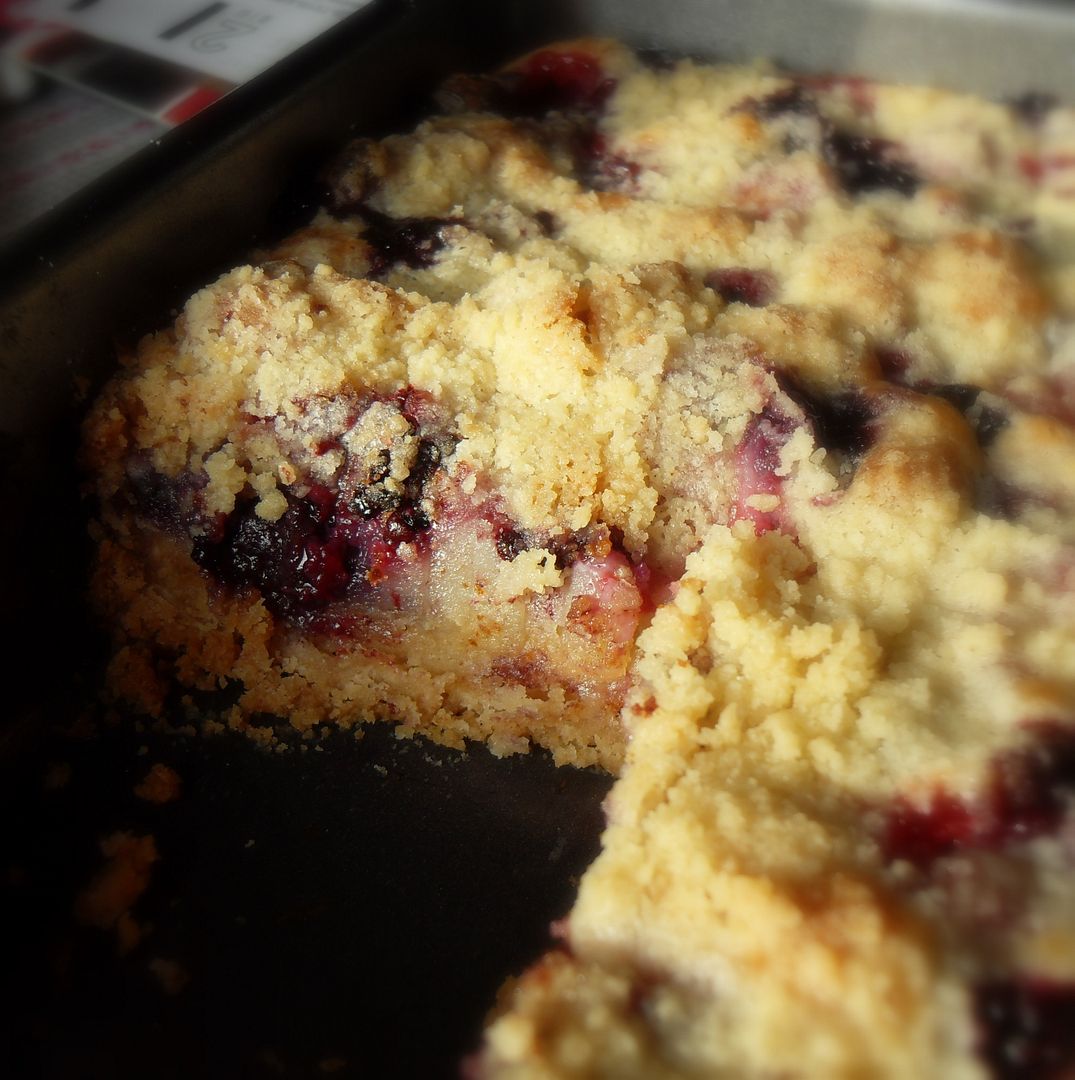 Bon Appetit!