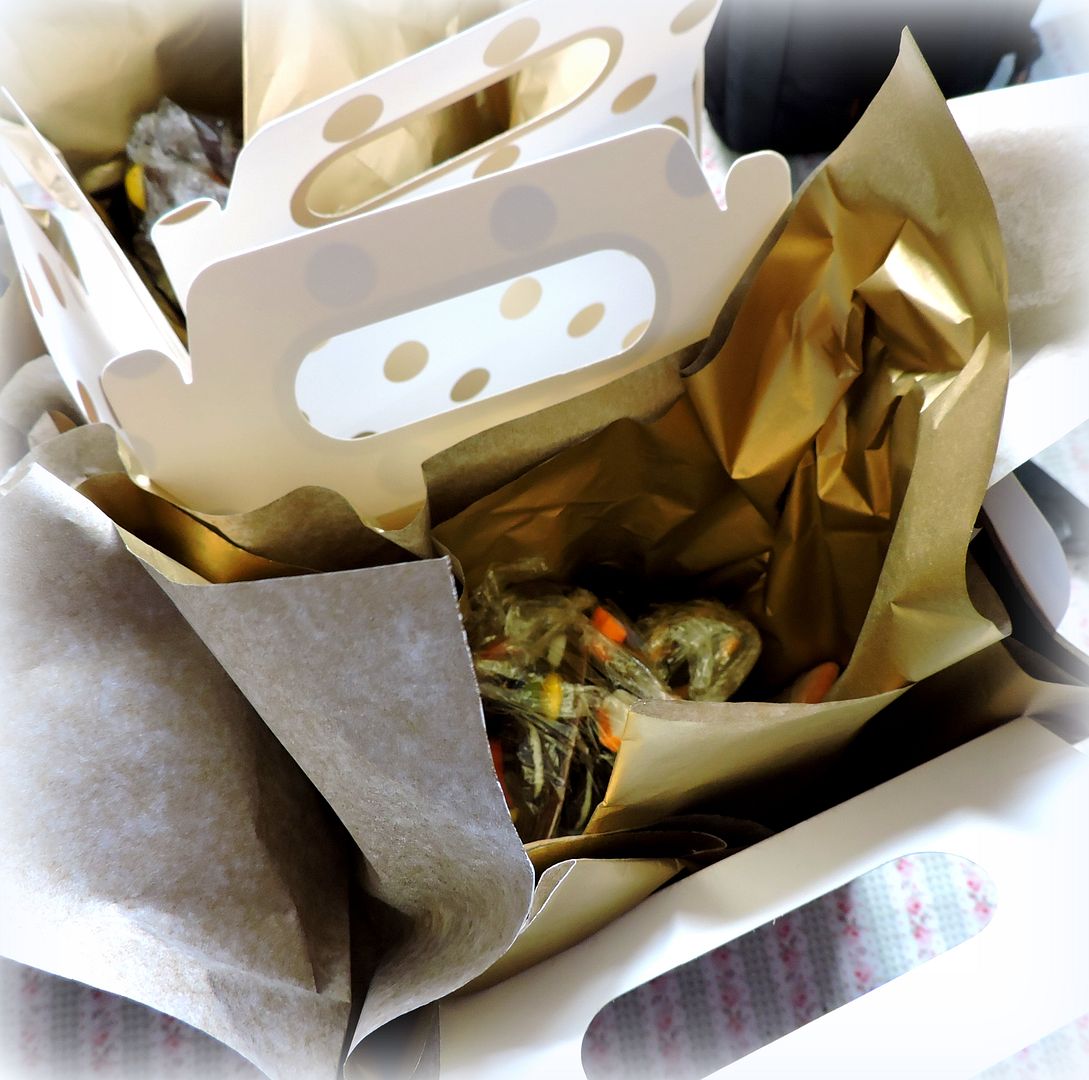 I recently put together some little Halloween Gift bags for the children of a friend of mine. I wanted to do something special for them because just a few weeks ago on FHE (Family Home Evening) they had popped over with some lovely cookies for us. It really touched our hearts that they would do something like this for us and so I wanted to do something nice in return. And so I did what any mom or nan would do at this time of year, I made them some Halloween treats!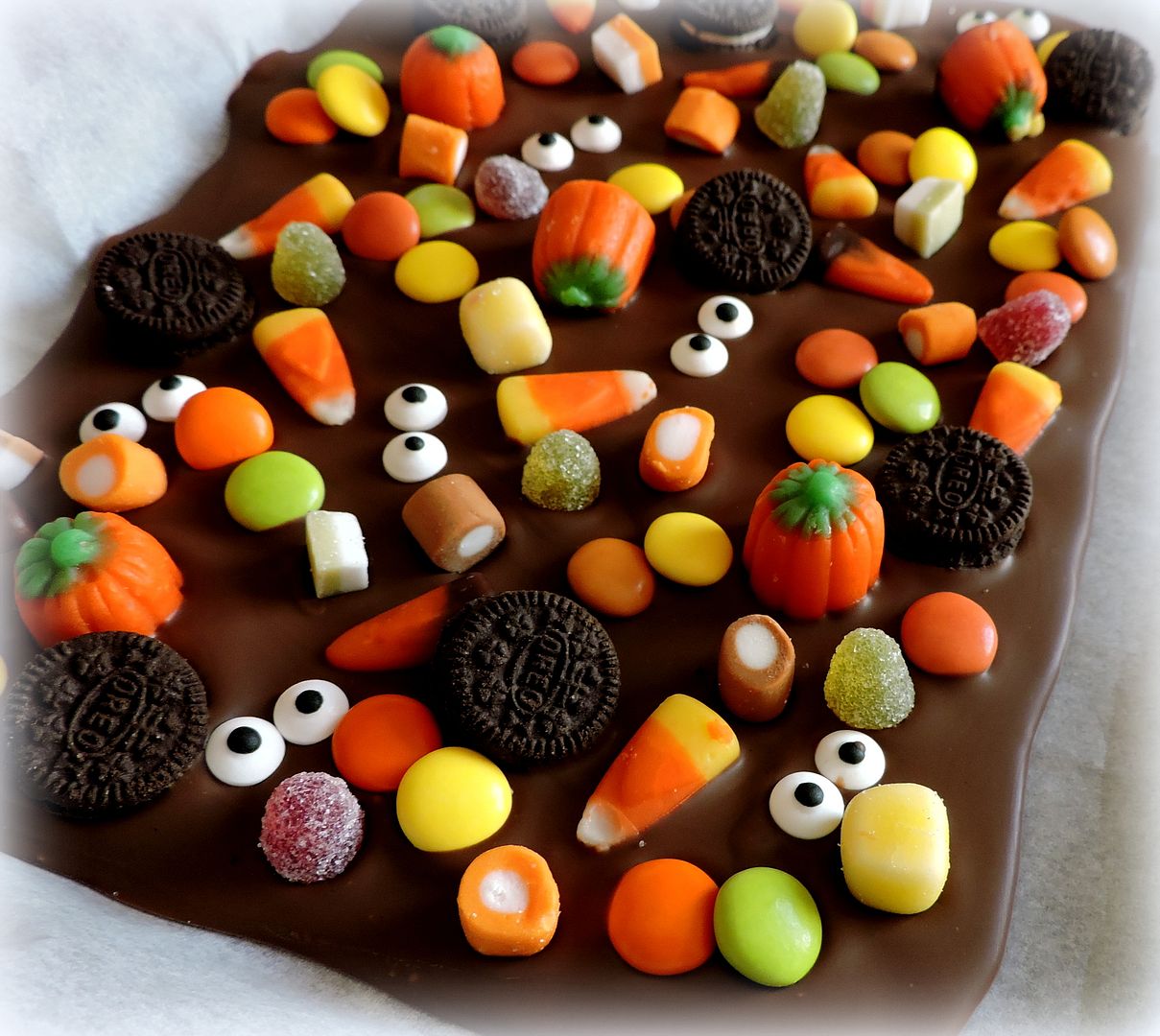 Halloween bark. Its such a simple thing. I had long planned on making some as I had been gathering the ingredients for a few weeks. It made it all the more special that I also got to make it for some lovely children!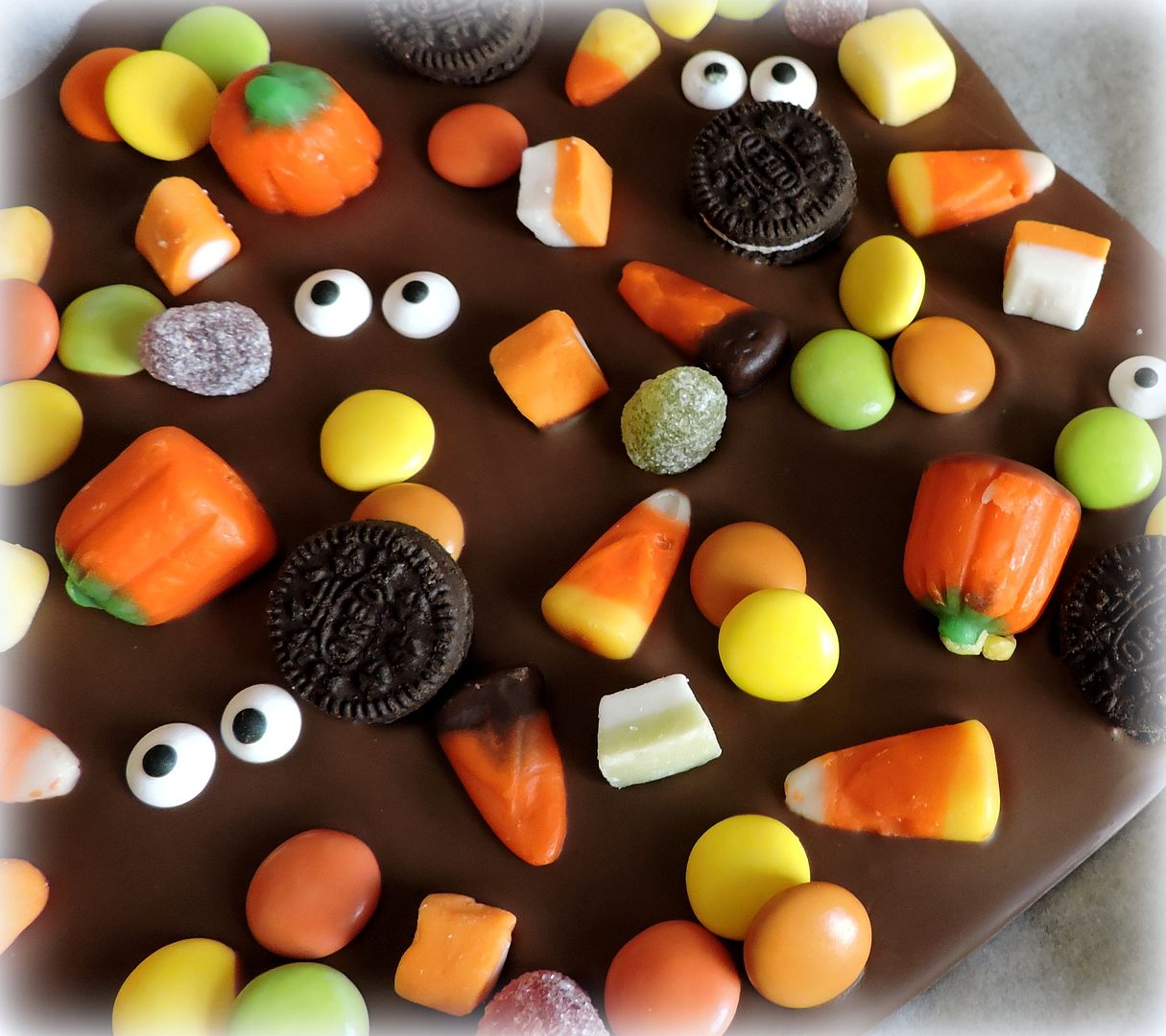 I had bought the candy corn mix on Amazon. I loved it because it had Indian Corn, Candy Corn and pumpkins in it. Perfect for this use. I bought the autumnal coloured smarties at Hobby Craft. They were right by the cash and caught my eye. I bought my googlie eyes there also.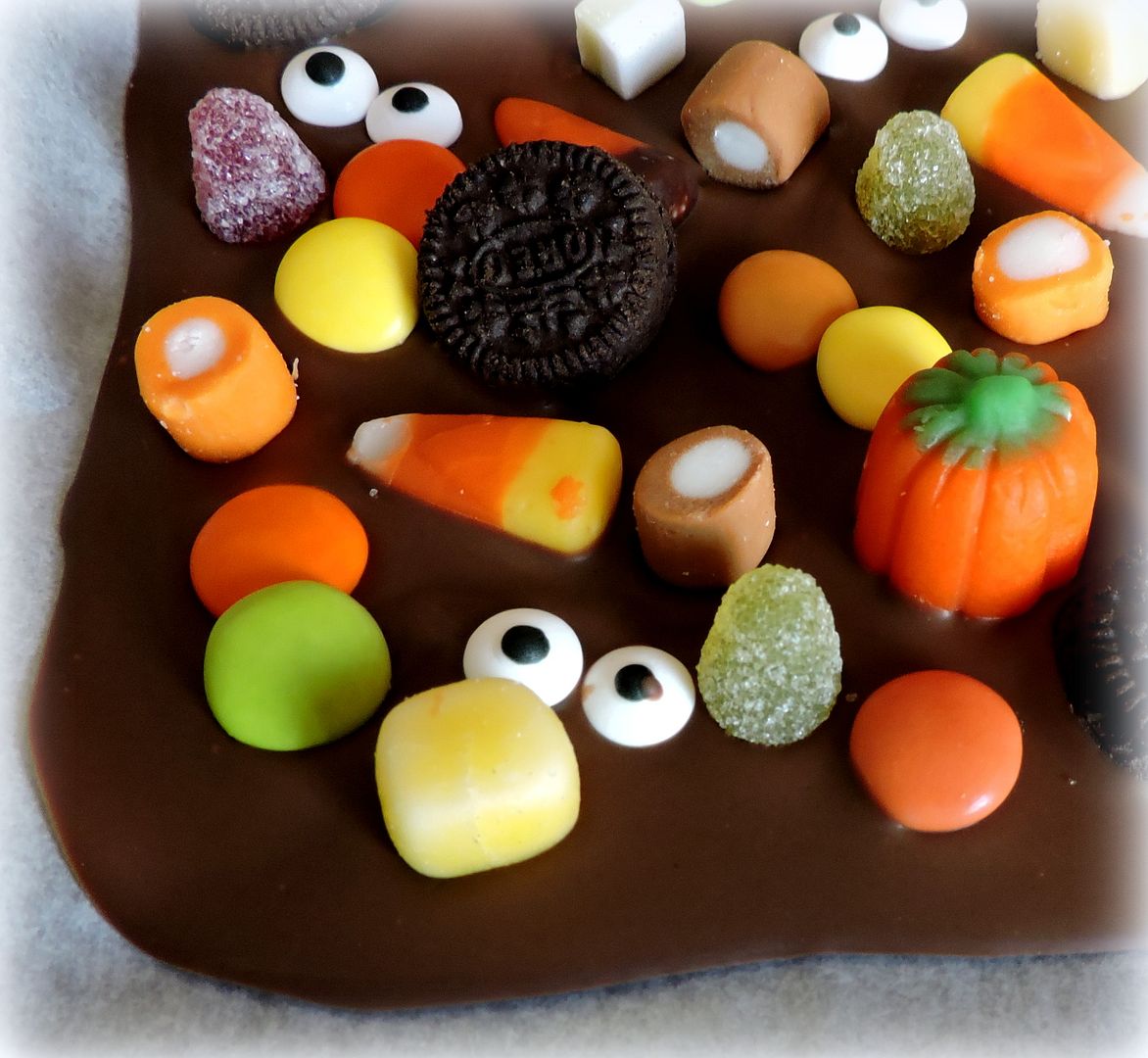 The googlie eyes really make it. Without them this would simply be melted chocolate with some candy thrown on top. I also added Dolly Mixtures and some mini Oreo Cookie biscuits. Altogether it looked just great! This is so easy to make and you can adapt it to whatever toppings you can find, or even use dark or white chocolate or a mix. Kids love it. You should have seen their eyes light up. Made me smile big time!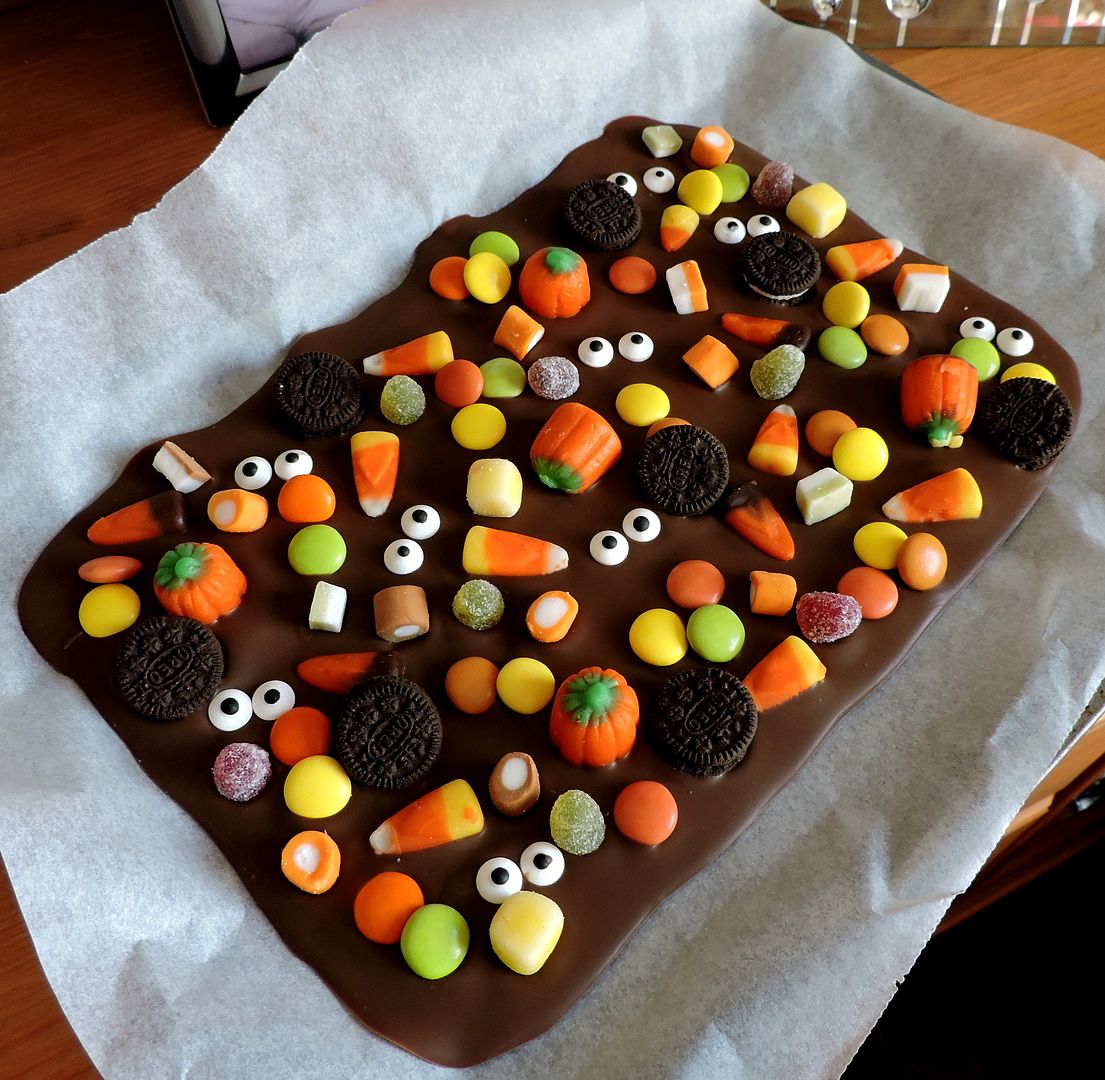 *Halloween Bark*
Makes about 1 pound
I made this up for some neighborhood children as a treat for Halloween. They loved it! It's colourful and fun! You can sprinkle whatever you want on top. I used candy corn and pumpkins which I bought online from Amazon, smarties, mini oreo biscuits, jolly mixture, etc. The googlie eyes were the best part. I picked them up at a cake decorating supply shop. They really made the bark!


12 ounces (weight) of milk chocolate or candy melts (2 cups)
2 tsp white vegetable shortening
200g of small candies, etc. (mini oreos, candy corn, m&m's, googlie eyes, etc.)


Have a baking sheet lined with parchment paper ready. Spray the paper lightly with non cooking spray. Set aside.

Place the chocolate and vegetable shortening into a medium sized microwaveable bowl. Blitz on the 80% setting (medium high) for about 1 minute. Stir. If the chocolate still doesn't melt, blitz at 30 second intervals, stirring after each, until the chocolate is melted and smooth. Pour onto the prepared baking sheet, spreading it out thinly. I use the back of a metal spoon. Sprinkle with your chosen Halloween Goodies, placing them haphazardly over the top of the melted chocolate. Place in the refrigerator to harden.
Break into bits once firm. I try to keep the googlie eyes together. Store in an airtight container.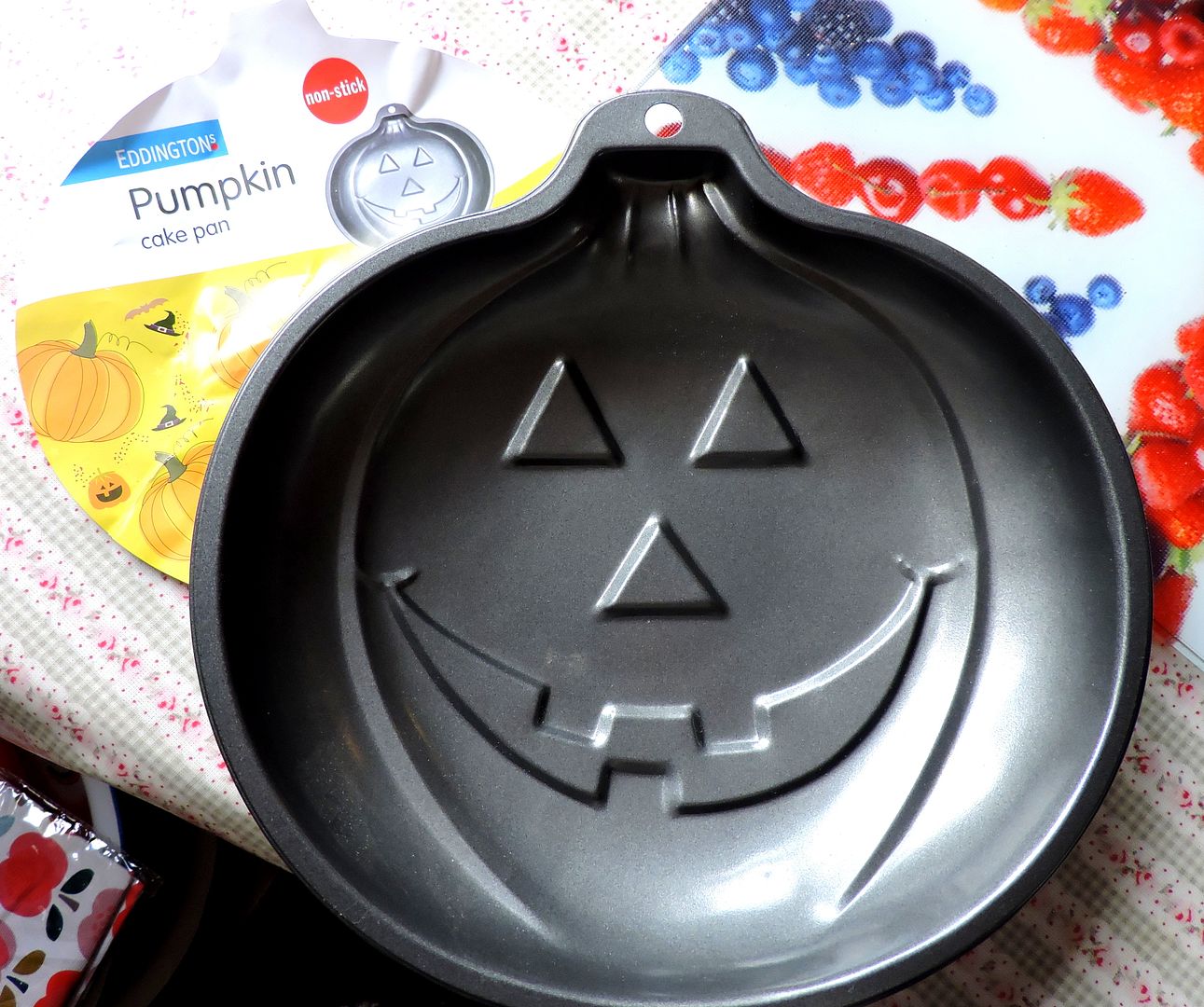 Eddingtons had sent me this really neat pumpkin jack-o-lantern cake tin to use. I was very keen to try it out.
Promise not to laugh . . .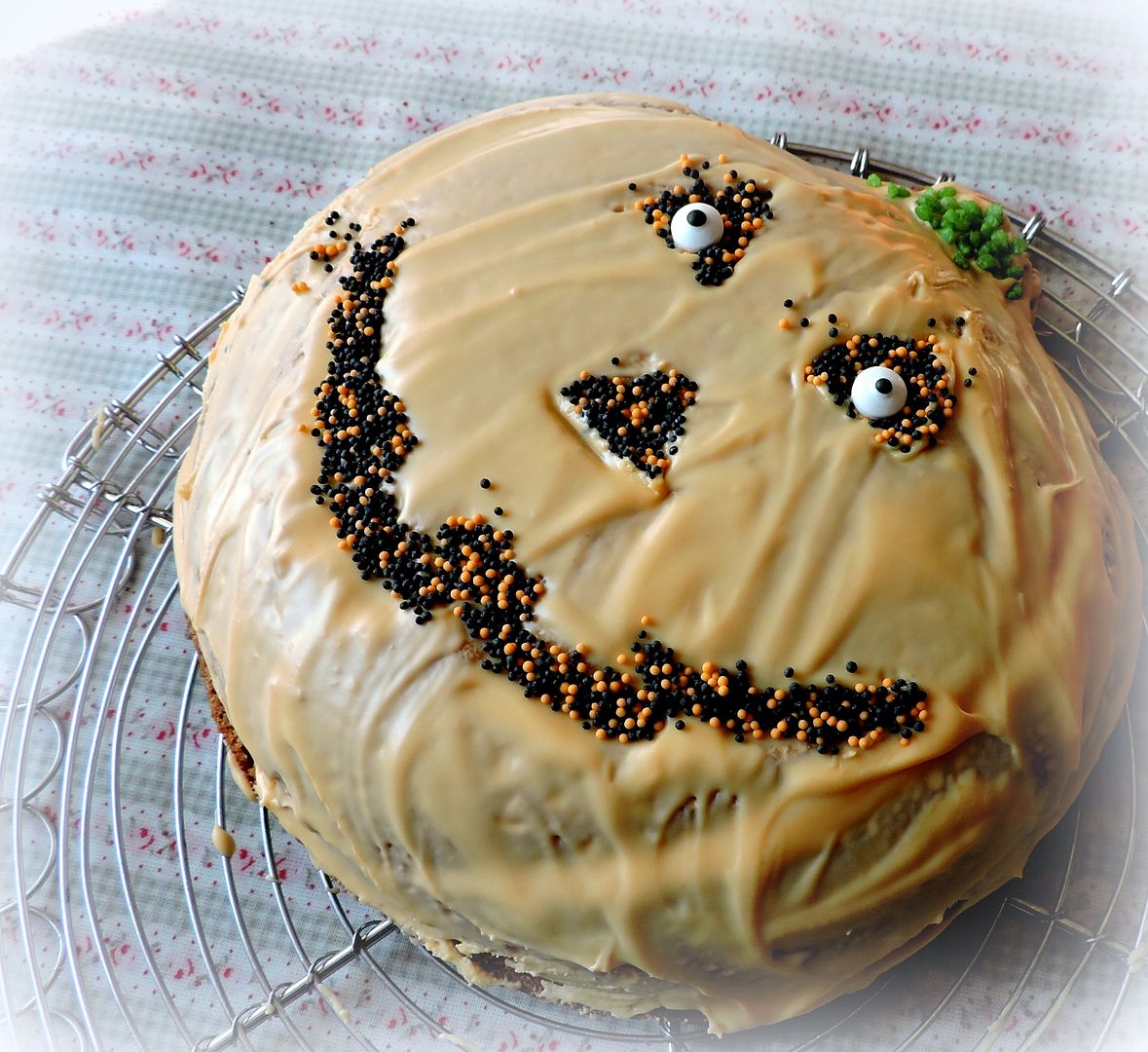 Haha, decorating cakes is not really my fort! This pan actually made it a bit easier, because the indentations for the eyes, etc. baked right into the cake.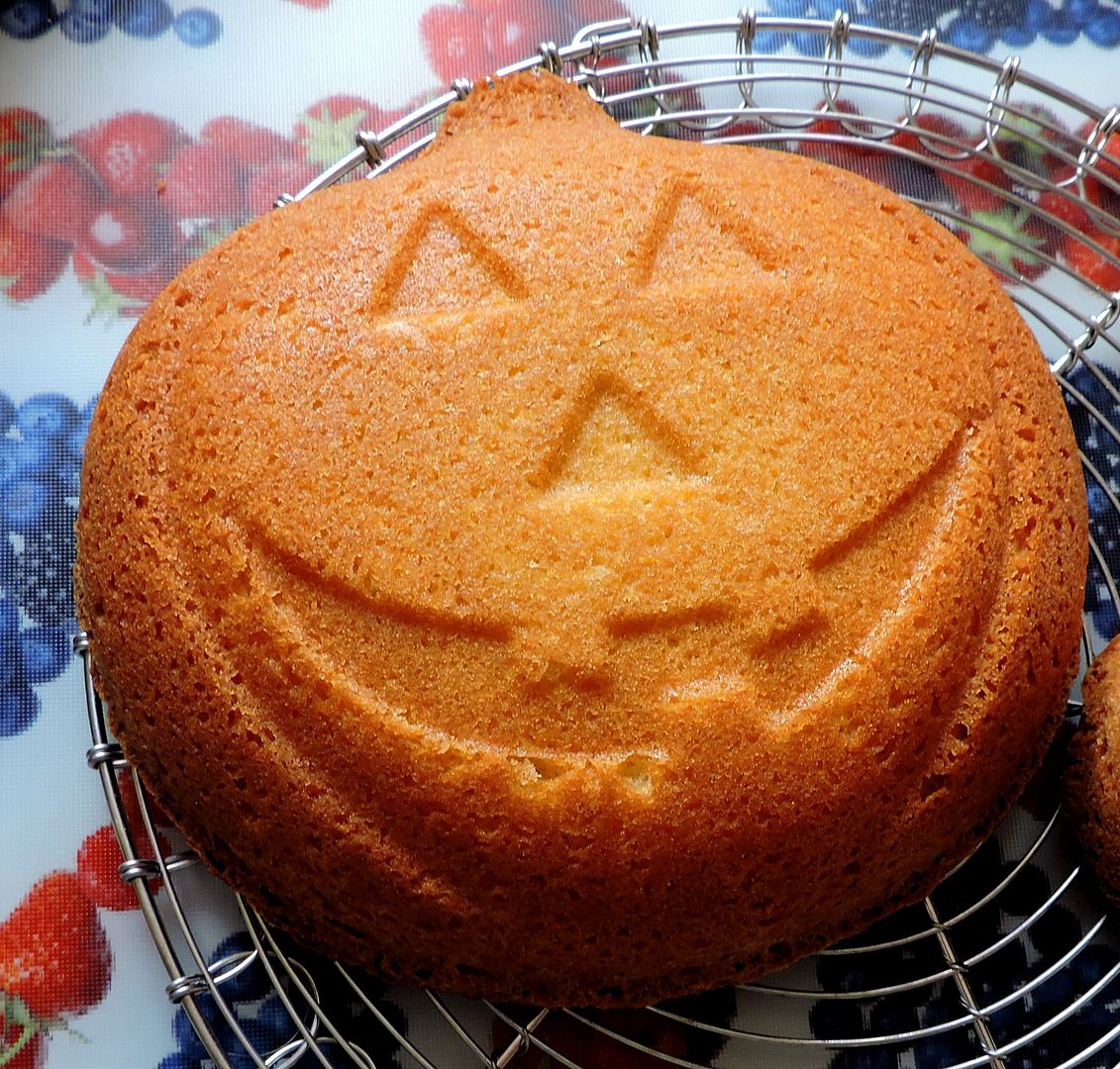 All I had to do was bake the cake and top with a glaze, and then fill in the indentations with some goulish cake decorations.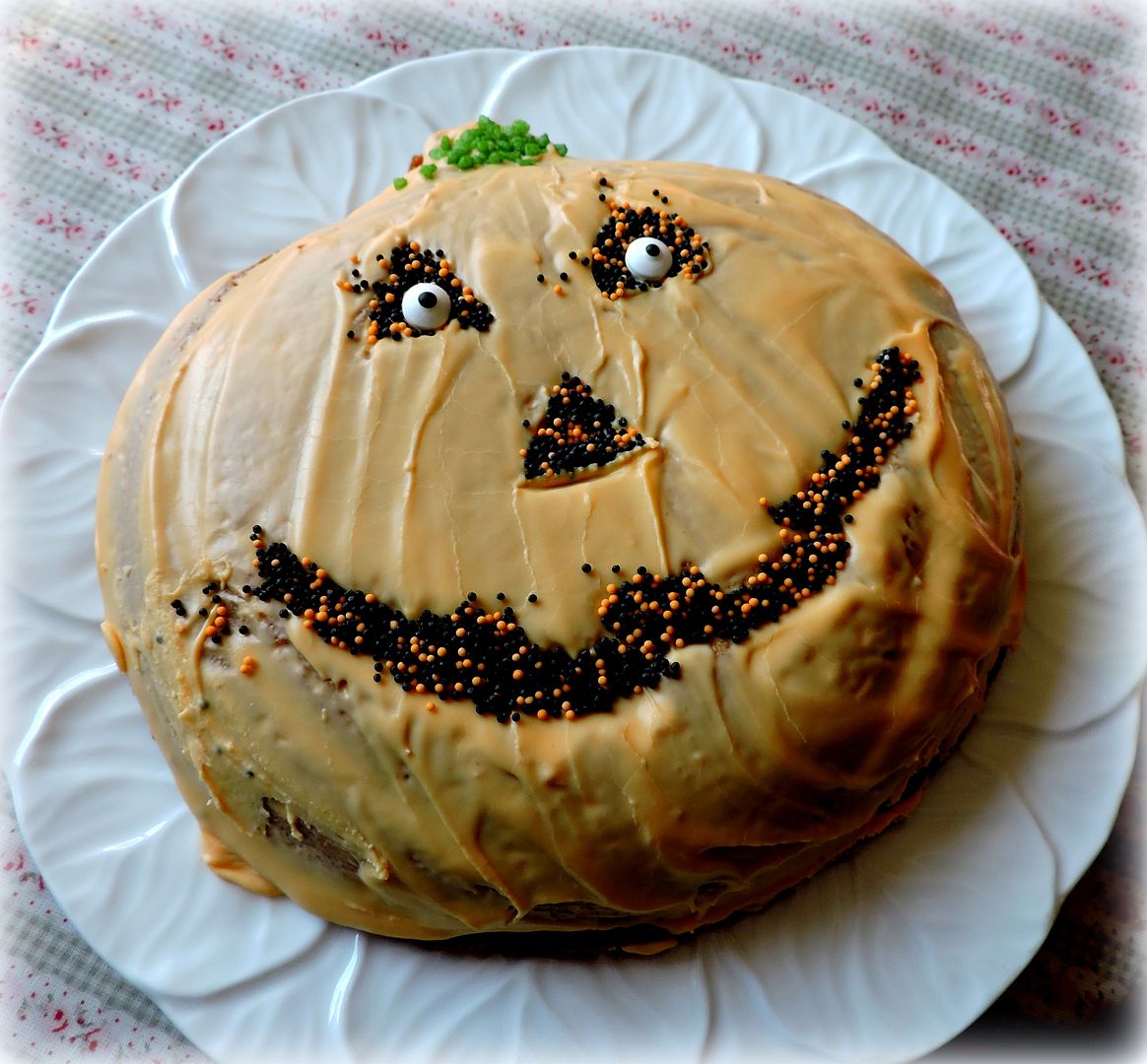 I thought it was pretty gruesome anyways. I used Mary Berry's
all in one
plain sponge recipe. You just bang it all into a bowl and whip it together.
The Eddingtons Spooky Pumpkin Cake Tin can be purchased online at
Ocado
for £3.20. It is non-stick and dishwasher safe. The non-stick coating makes for an easy and clean release. I only spritzed the tin with some low fat cooking spray prior to baking and cean up was very easy as well.
Again, don't laugh at my decorating skills . . .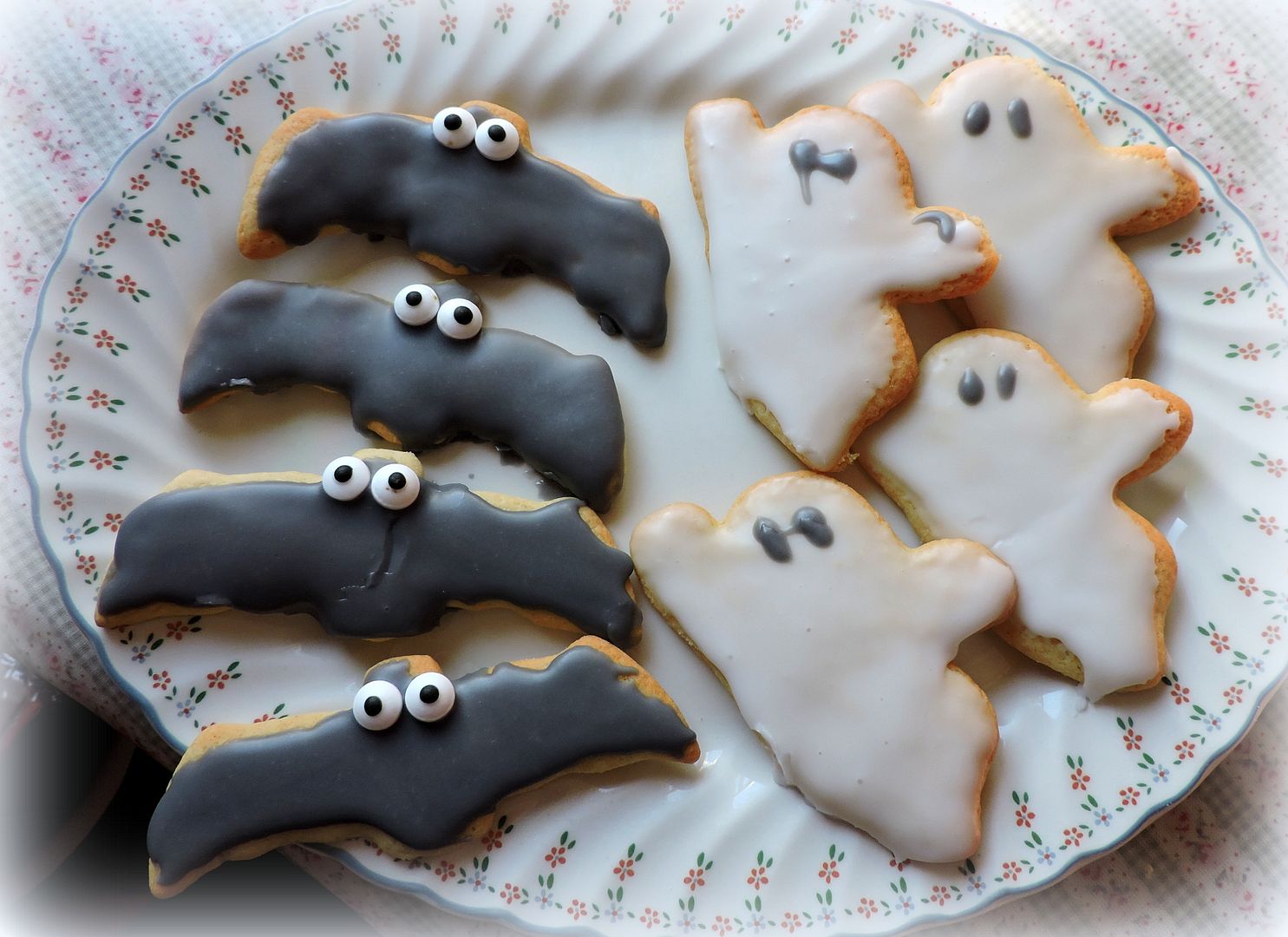 I also made them bat cookies and ghost cookies using a recipe for
buttery cut out cookies
I found on the Land O-Lakes website. I glazed them with a simple icing sugar glaze, which I left plain for the ghosts and then tinted black for the bats and the ghost eyes. Those googlie eyes came in really handy once again for the bat's eyes!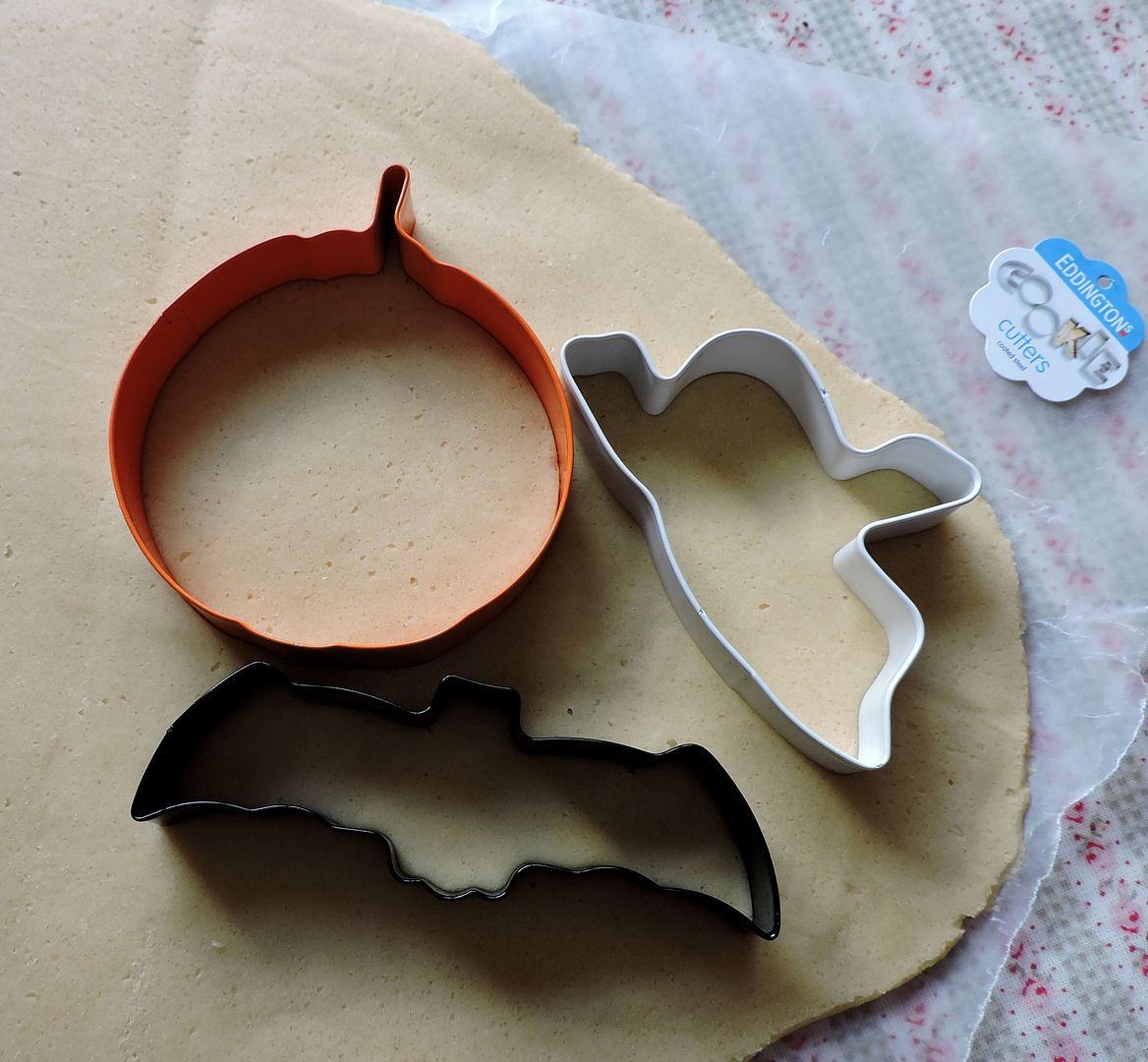 I used Eddingtons bat, ghose and pumpkin cookie cutters, also available online at
Ocado
, for £1.20 each. They are made from high quality poly resin coated stainless steel and simple to use and clean. They're great! I had no problems with any dough sticking to them at all.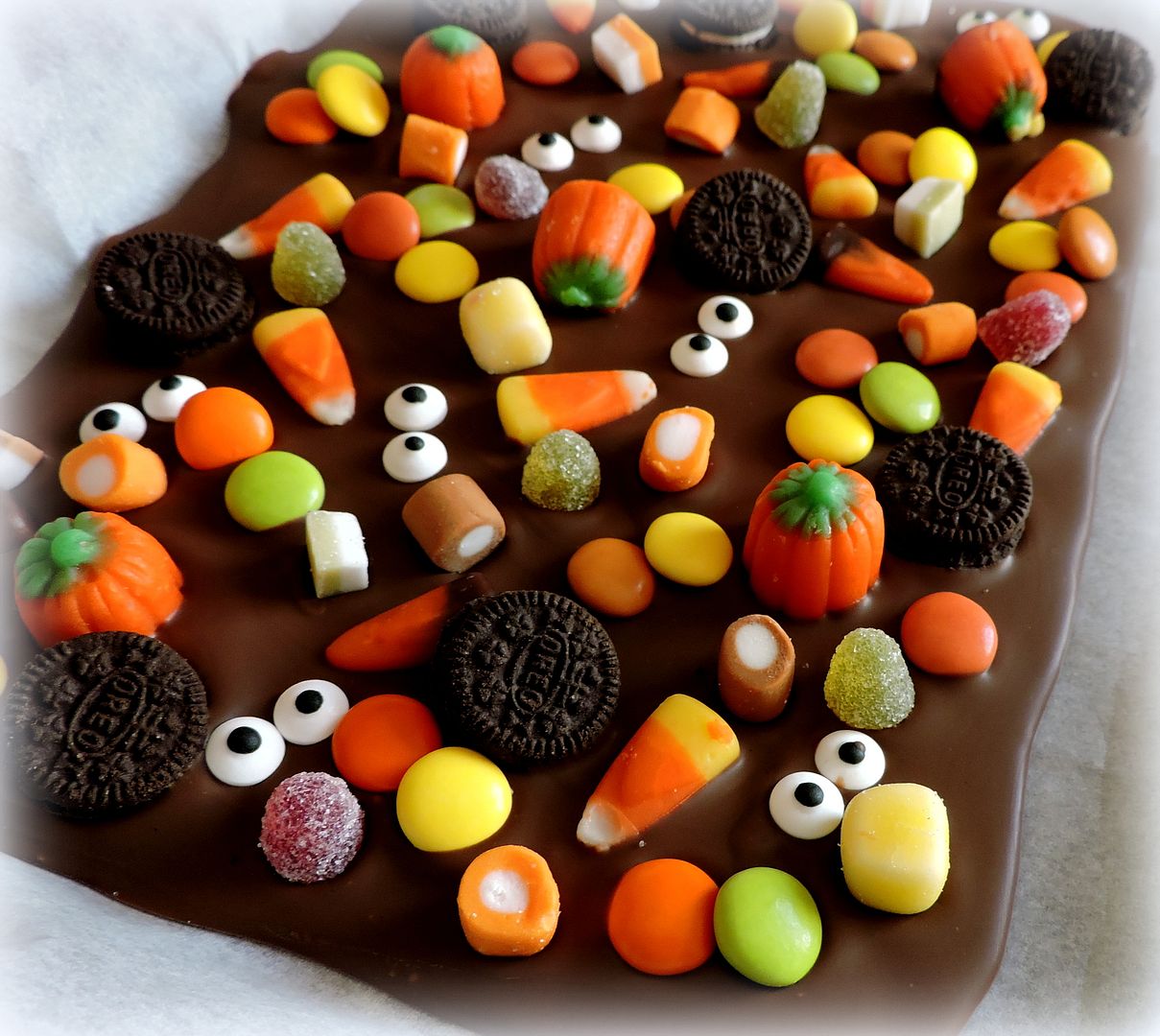 And now I think I have answered that age old question I keep being asked, which is why don't you apply to go on the GBBO? Why? See above. I can bake great cookies, quick breads, pies and cakes, but I am sadly lacking in the patience and finer skills needed for great decoration and I am hopeless at breads most of the time. Thankfully Halloween baking means that things actually look better if they are a bit ghoulish!

Happy Halloween!