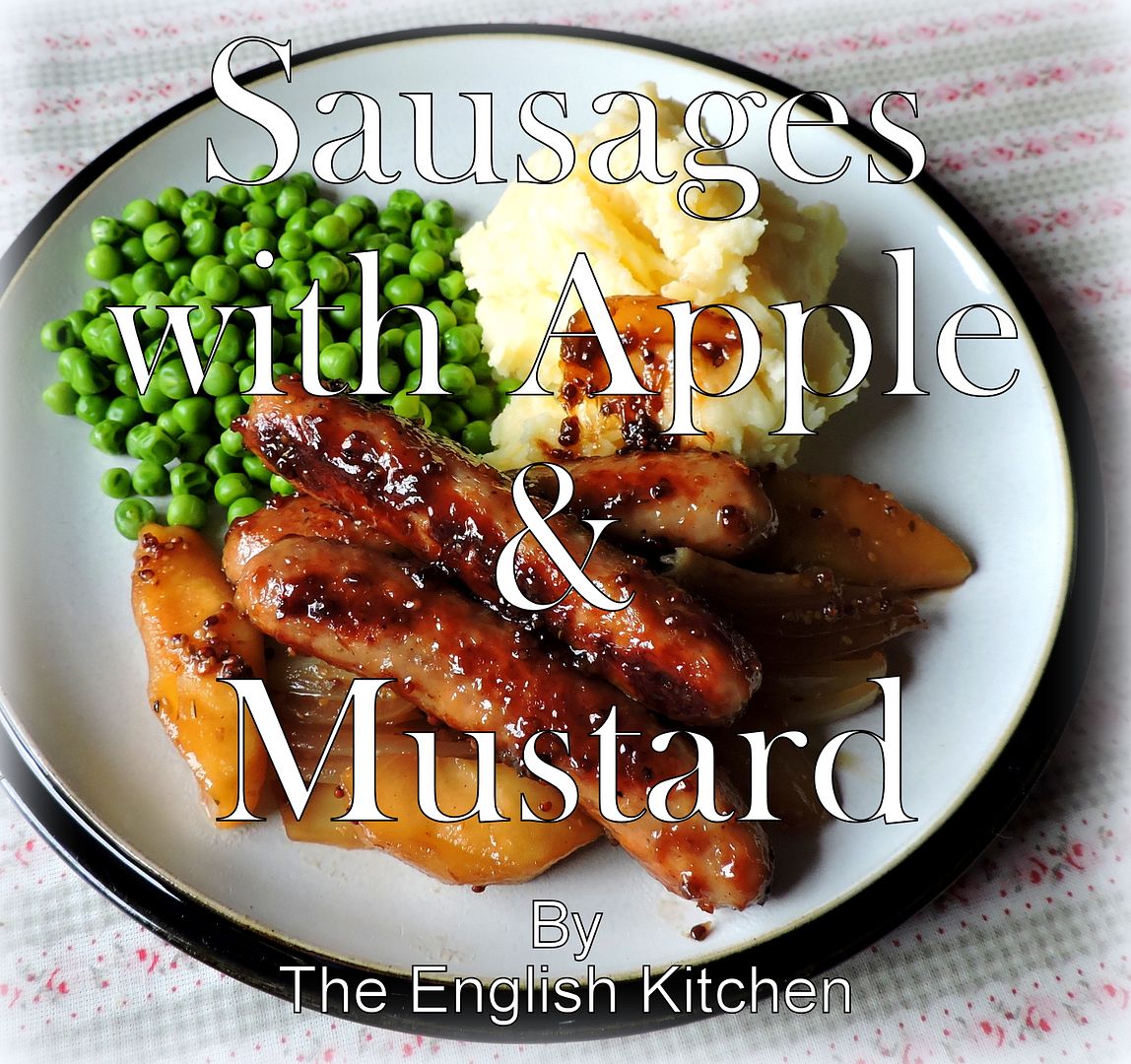 Todd is so happy that the cooler weather has arrived, not because he likes the cold, but because he knows there will be fewer salads on the menu and more meat and potatoes, and my Todd, he is a meat and potatoes kind of guy! Especially when it is a tasty entree like these Sausages with Apple & Mustard. How much more autumnal can you get!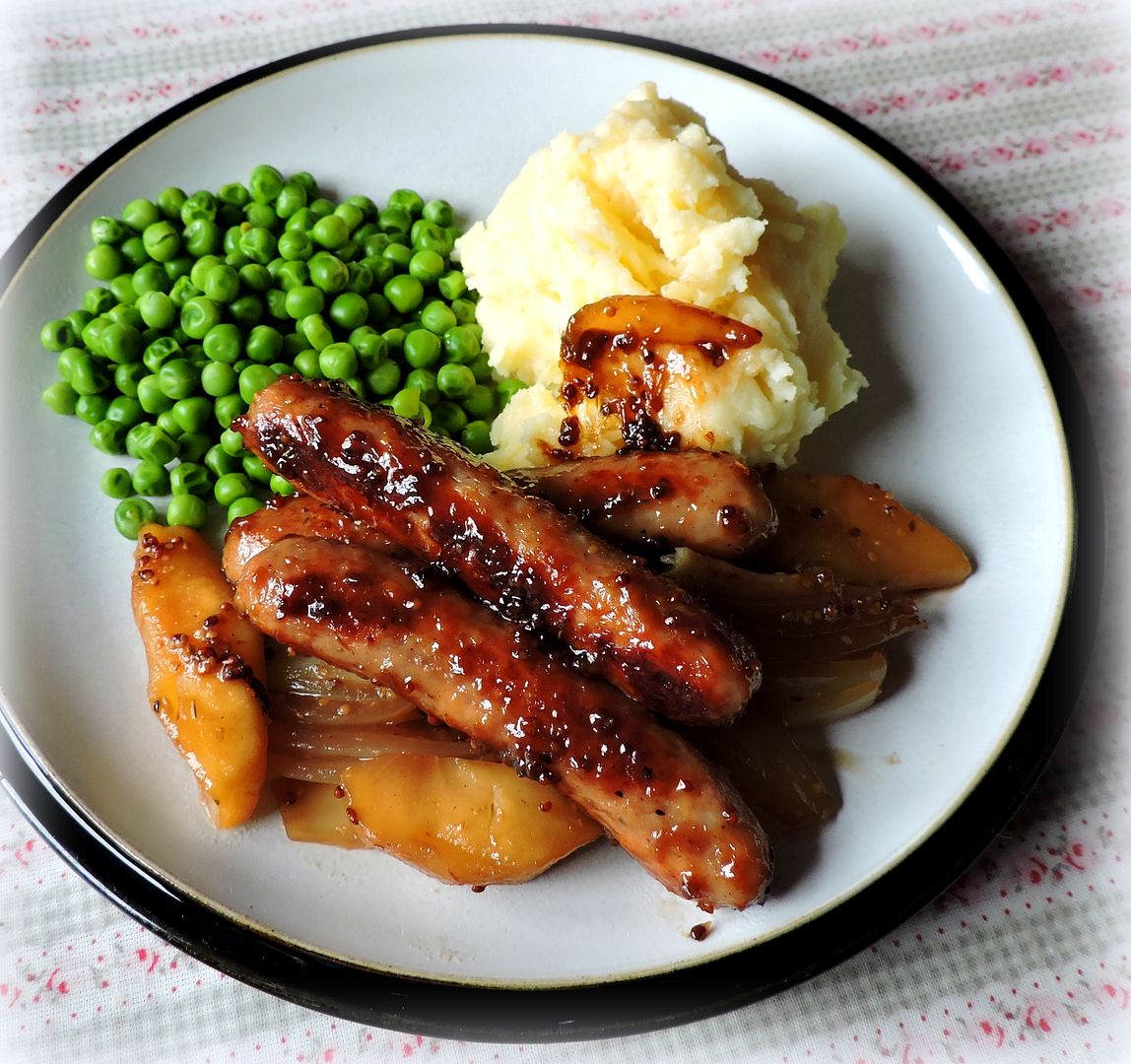 Fancified bangers and mash. He loves his bangers does my man and they go so well with mashed potatoes. Usually with a gravy on the side, but today I chose to fry them up with some apples and onions, a little bit of heaven and earth.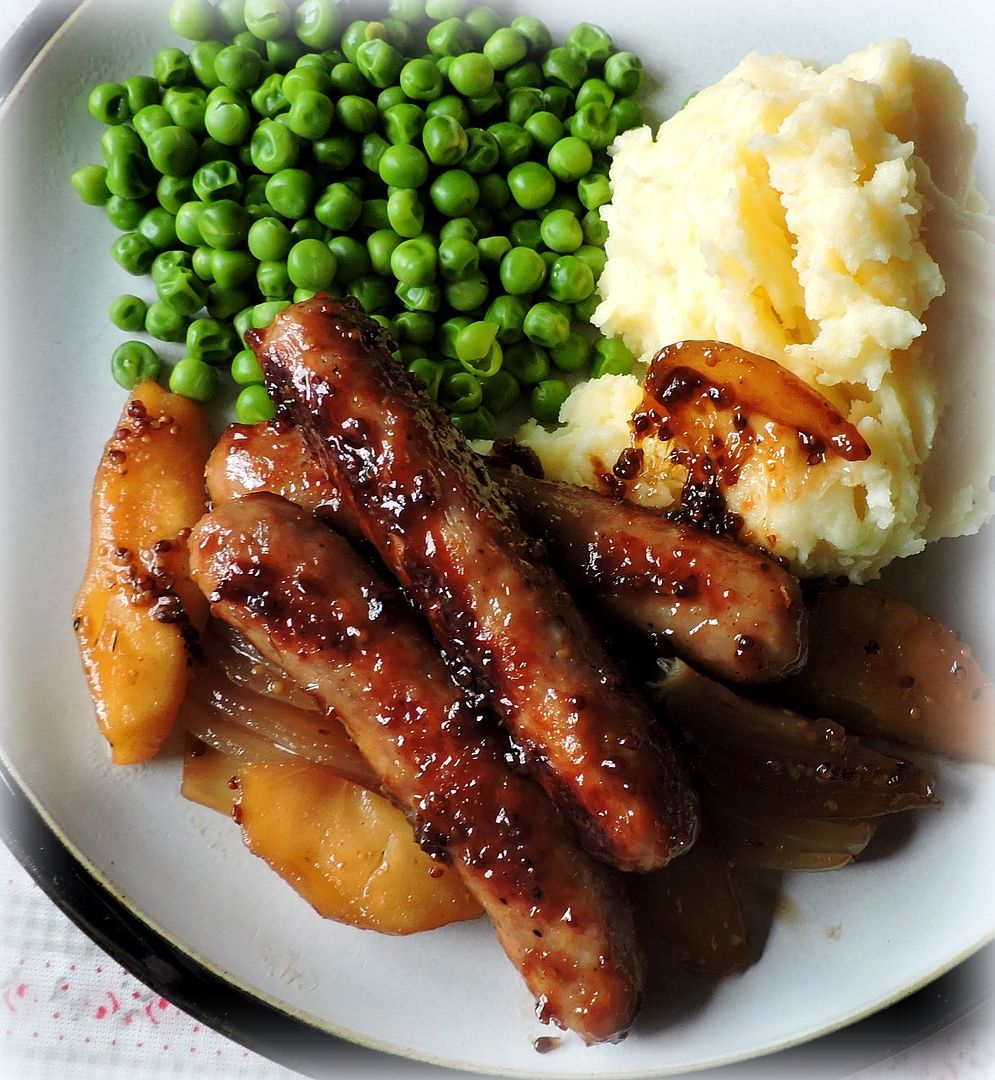 You want a nice and meaty, well flavoured butcher's sausage for this. I used Lincolnshire today, but any good sausage will do. I prefer gluten free because they are meatier, and I like them that way.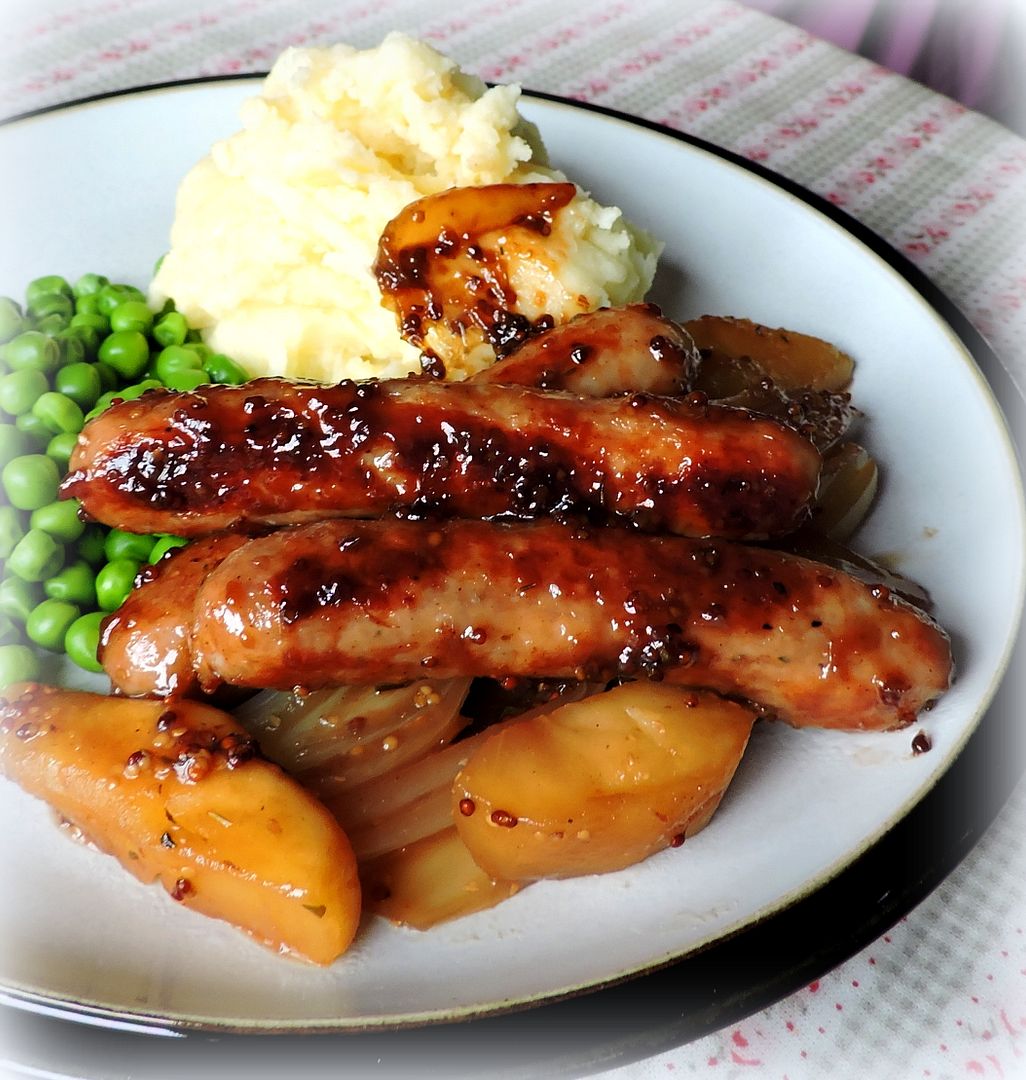 There is a bit of punch in the sauce from the grainy mustard and some sweet/tartness from the apples . . . the savouryness of the onions and then again a sweet/tart hint of red currant jelly. I like to thicken the sauce up a bit to glaze and coat the sausages.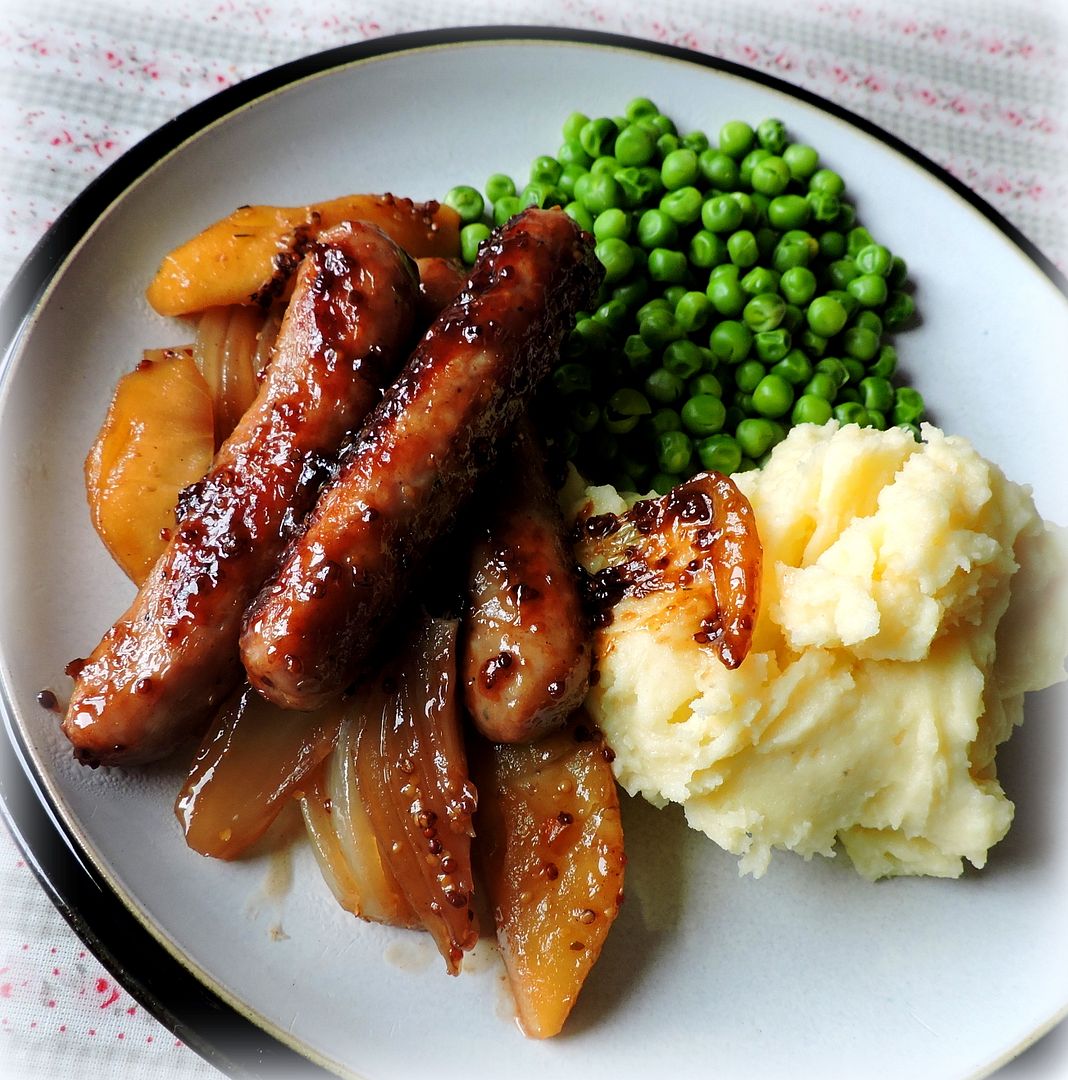 You don't really need any gravy with flavourful sauce like this. Todd loves his mash and he loves his peas and this meal went down a real treat with him. I will repeat. Adapted from a recipe I found in Good Food's "The Easy Cook Cookbook." (I highly recommend. Nothing faffy in that book! Just simple, quick and easy eats!)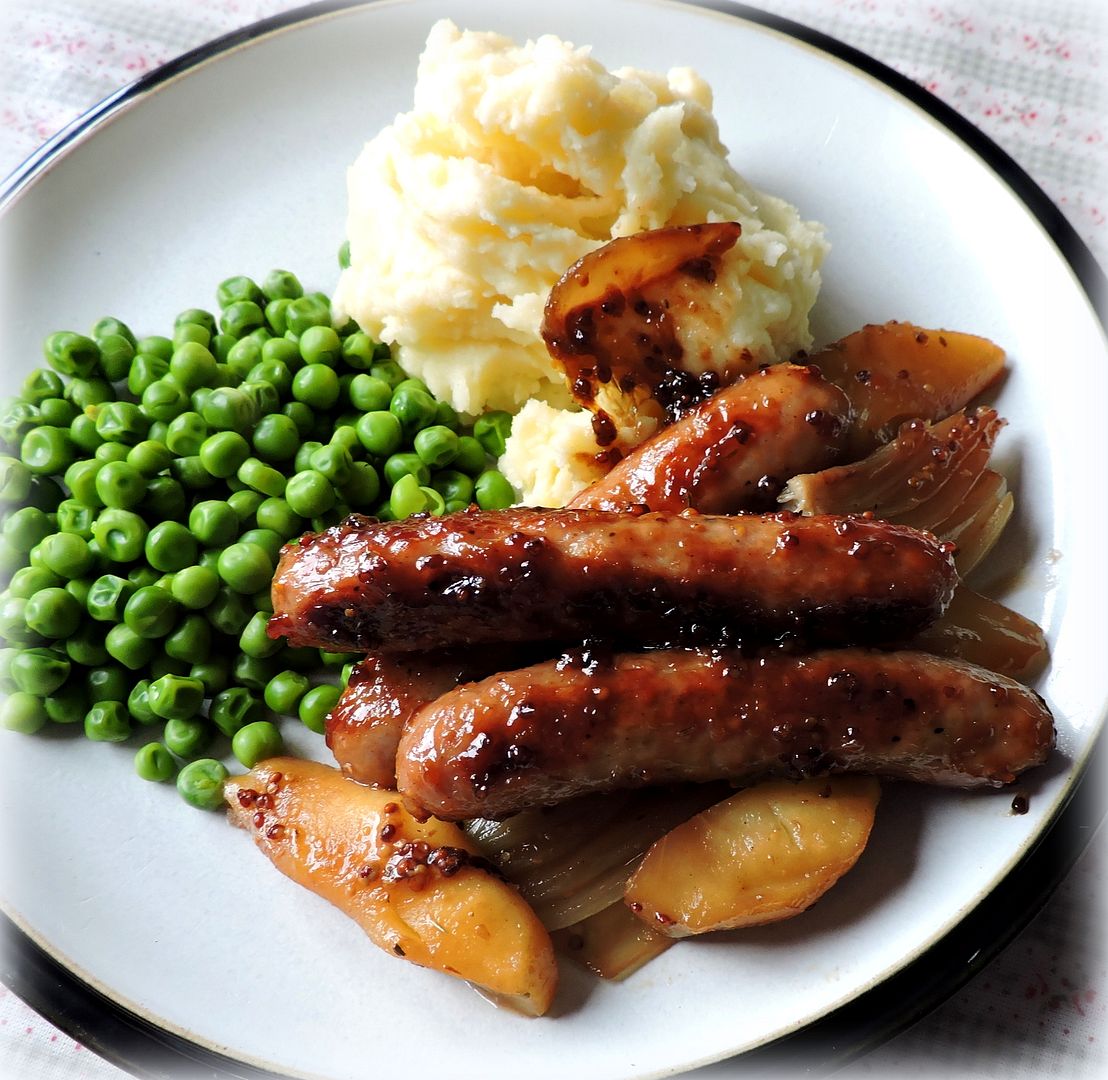 *Sausages with Apples and Mustard*
Serves 4
You want a meaty and well flavoured sausage for this. I always use gluten free as there are no fillers. This day I used Lincolnshire, but Cumberland are also beautiful. This is simple, quick and easy to make. A real family pleaser.
8 meaty, well flavoured sausages
(preferably gluten free)
1 TBS olive oil
1 large onion, peeled and cut into wedges
2 appls, cored, peeled and cut into wedges
1 rounded TBS red currant jelly
2 TBS wholegrain mustard
1 chicken stock cube
300ml of boiling water (1 1/4 cup)
1/2 tsp dried thyme
salt and black pepper to taste
Heat the oil in a large skillet. Add the sausages and brown them all over, about five minutes, turning them frequently. Add the onion and cook until golden. Add the apples and stir fry for several minutes. Whisk together the boiling water, chicken stock cube, mustard, currant jelly, dried thyme and seasoning. Pour over all. Simmer, uncovered, until the apples are tender and the sausages cooked through. Scoop out th apples and onions. Set aside and keep warm. Bring the pan to a boil and reduce the liquid until it begins to glaze the sausages. Toss the apples and onions back in , heat through and then serve immediately with some mash or rice. Delicious!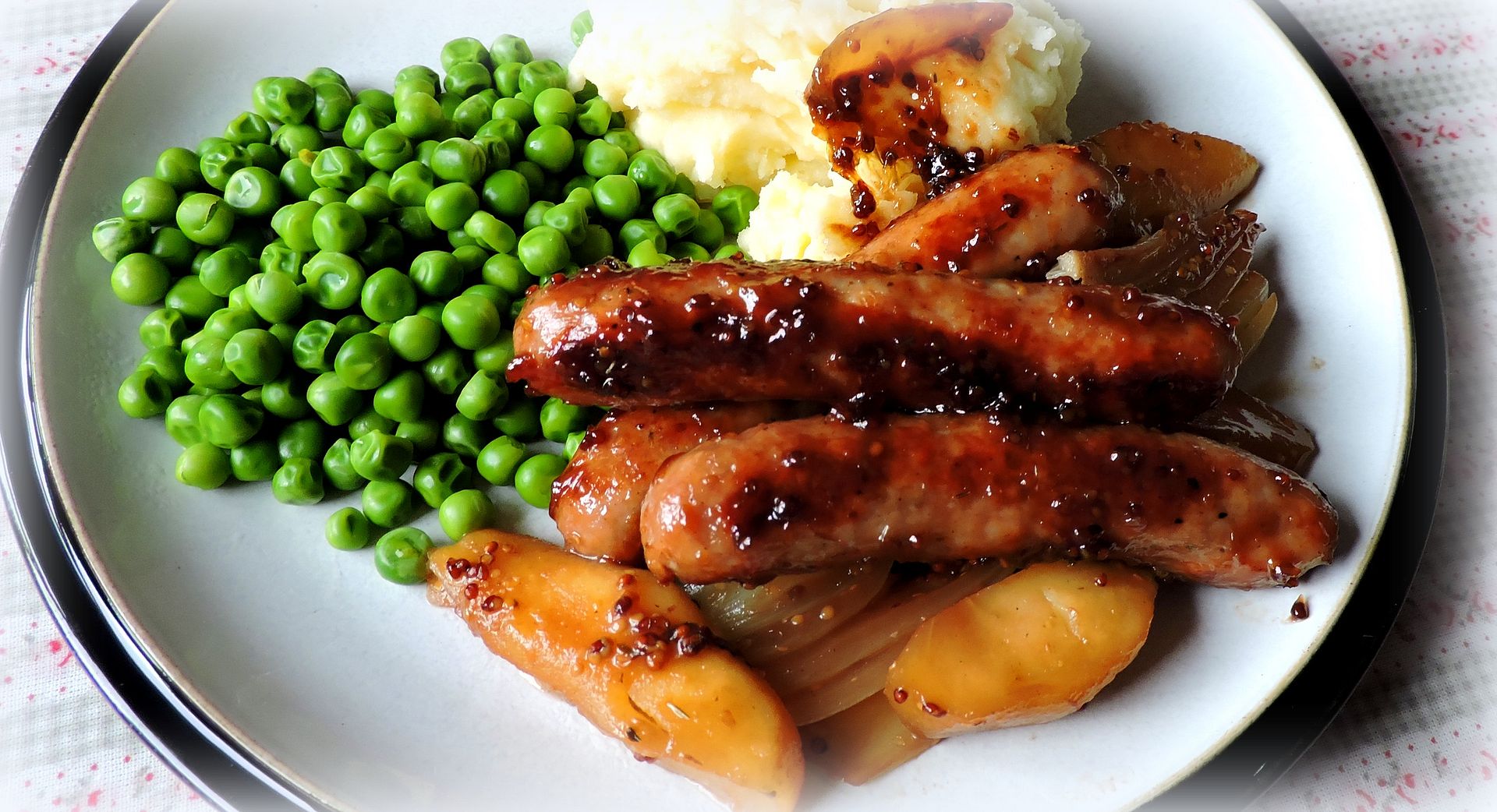 Your family is sure to love this simple and delicious weeknight supper! Bon Appetit!