I baked Todd a delicious Plum Pudding Cake with the last of the plums from our tree last week. It has taken me week to finally get to the point where I could post about it. Trust me when I say that wasn't because I didn't want to. Too many recipes, not enough time! Todd adores this tasty pudding cake. I like it too, although I can't really eat much more than a smidgen of it. Sigh . . .
The recipe comes from one of my cookery books written by Gary Rhodes. I think its called Keeping It Simple, but I am too lazy to go upstairs and look at the moment! One of the very first cookery books I got when I moved over here was one of his. I love his recipes. He was one of the first celebrity chefs I noticed on the television here. I always loved watching him cook because with him the food was the star.
With me the food is also the star. I like to cook food that tastes and looks good. I don't mind cooking things that are a bit faffy, but for the most part I like to save faffy for special occasions. Normally I prefer simple recipes and simple ingredients. But simple and tasty works for me every time.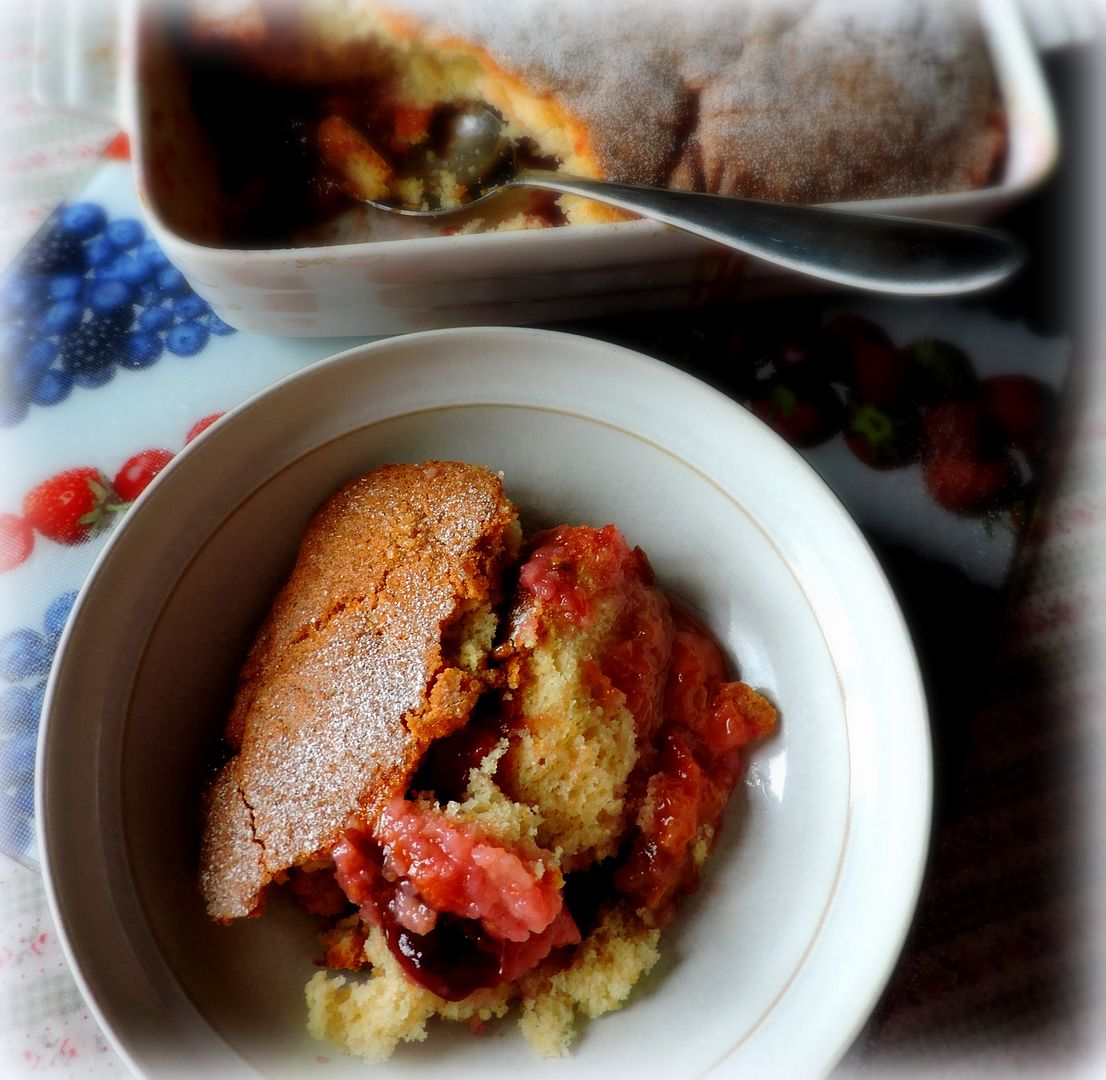 For this pudding you cook the plums lightly in a saucepan prior to pouring them into a baking dish. A delicious cake batter then gets poured over top and the whole thing gets banged into the oven.
I think it is actually quite similar to an
Eve's Pudding
in that way, which is basically the same thing except you use apples. In any case this was the perfect way to use the remainder of the plums, and it went down a real treat with some cream poured over top.
*Baked Plum Pudding Cake*
Serves 4 to 6
This is a delicious and simple pudding adapted from one I found in a Gary Rhodes cookery book. I have used plums for this, but you can use other fruits, suc as rhubarb, blackberries, apples, pears, etc. Or a combination of the above. Serve warm spooned out into bowls with pouring cream.
For the fruit:
12 plums, halved, stoned and cut into quarters
75g caster sugar (1/3 cup)
a knob of butter (plus more to butter the dish)
1/2 tsp vanilla extract
2 to 4 TBS water
(Depending on how juicy your plums are)
For the Batter:
100g butter (1/2 cup)
100g caster sugar (1/2 cup)
the finely grated zest of one each small lemon and small orange
healthy pinch of ground cinnamon
2 medium free range eggs, beaten
225g self raising flour (1 1/2 cups plus 2 TBS)
2 TBS milk
Demerara sugar for sprinkling (Turbinado)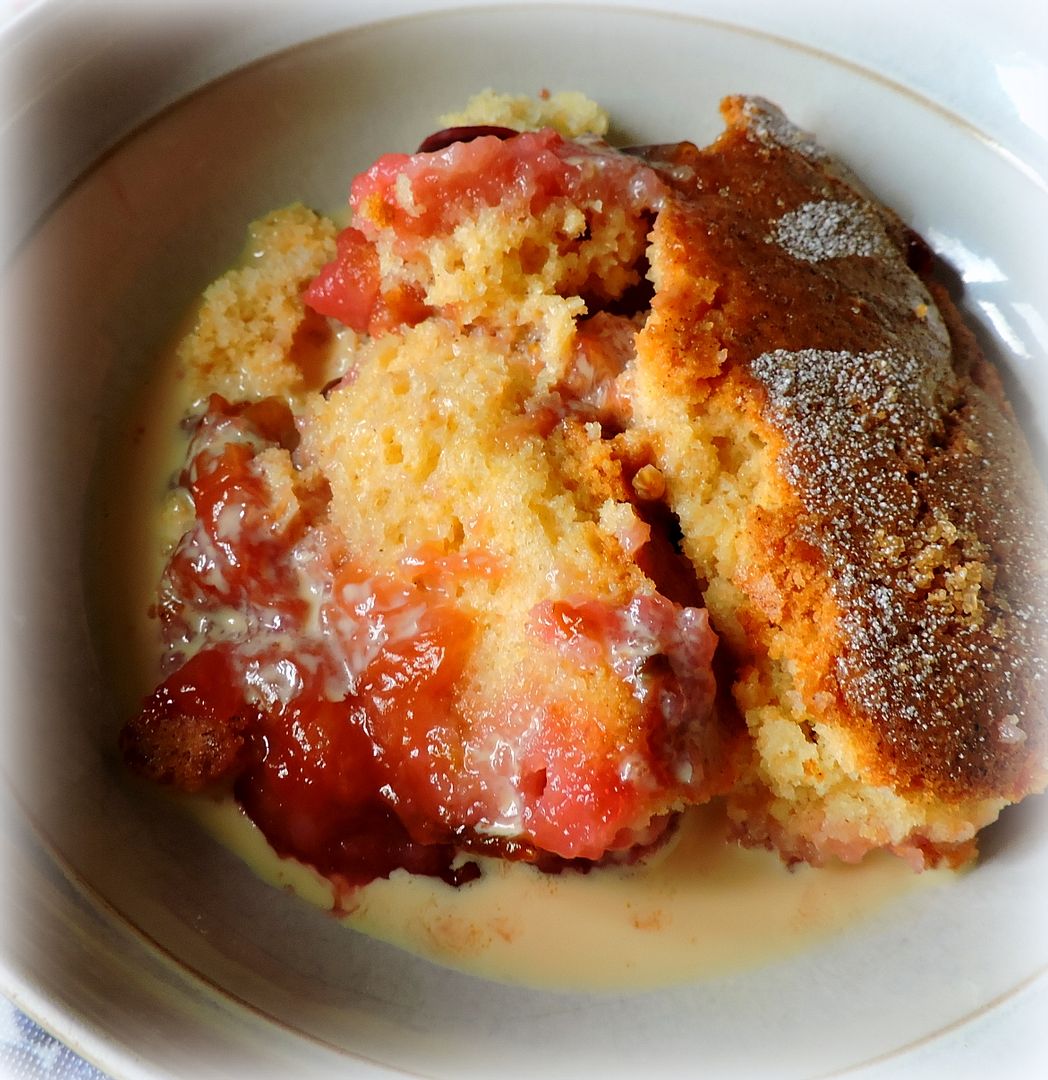 Preheat the oven to 180*C/350*F/ gas mark 4. Butter a oblong baking dish or pie dish and set aside. (Mine is a 2 litre one)
Melt the knob of butter in a sauce pan. Once it begins to foam add the plums and sugar, Cook and stir to release juices for one or two minutes. Remove from the heat. Add some water and the vanilla. You don't want it to be too soupy. Set aside to cool.
Whisk the butter and sugar together until light and fluffy. Beat in the cinnamon and fruit zests. Beat in the eggs. Sift in the flour and then gently fold together. Stir in the milk. Pour the fruit filling into the baking dish. Try to spread the batter over top. I tend to dollop it over in a bunch of dollops over top and spread it out as best as I can. Sprinkle with some demerara sugar. (a couple TBS)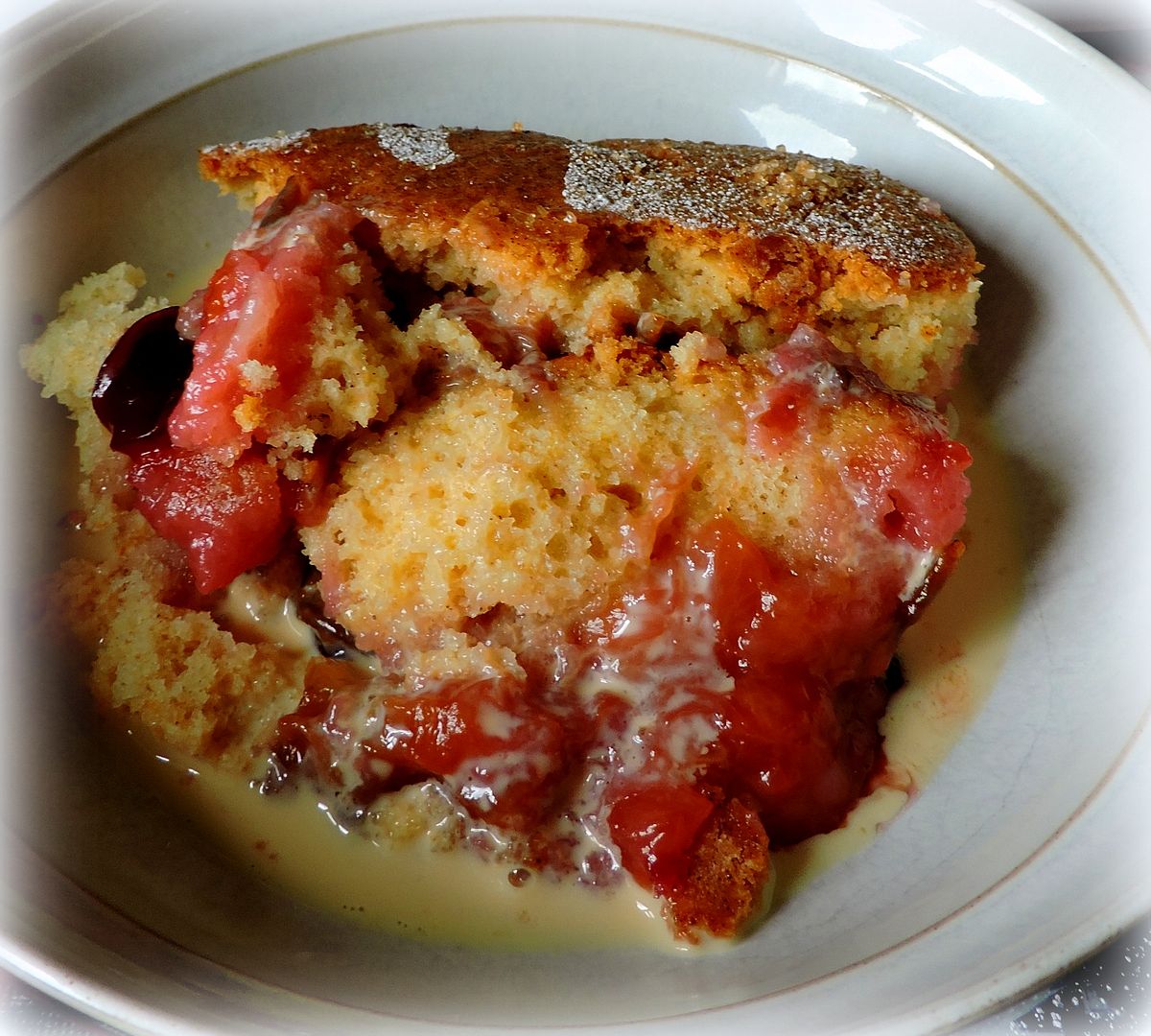 Place the casserole onto a baking tray and put into the oven to bake for 55 to 60 minutes until golden brown and a skewer inserted into the centre comes out clean. Serve warm, spooned into bowls along with some cream for pouring.
Oh, I do love Autumn . . . Bon Appetit!