After his hospital procedure today I wanted to make Todd something he would really enjoy for his tea. Apparently he was talking about stew and dumplings in the operating theatre and how good my stew is that I make. I didn't have any stewing beef or lamb in the house, and no way of getting to the shops to get any, but I did have some leftover cooked chicken, and another of Todd's favourites is a nice and creamy soup. I had found
this recipe
on the net the other day and thought it looked pretty good and so I decided to make it, but with a few adaptions.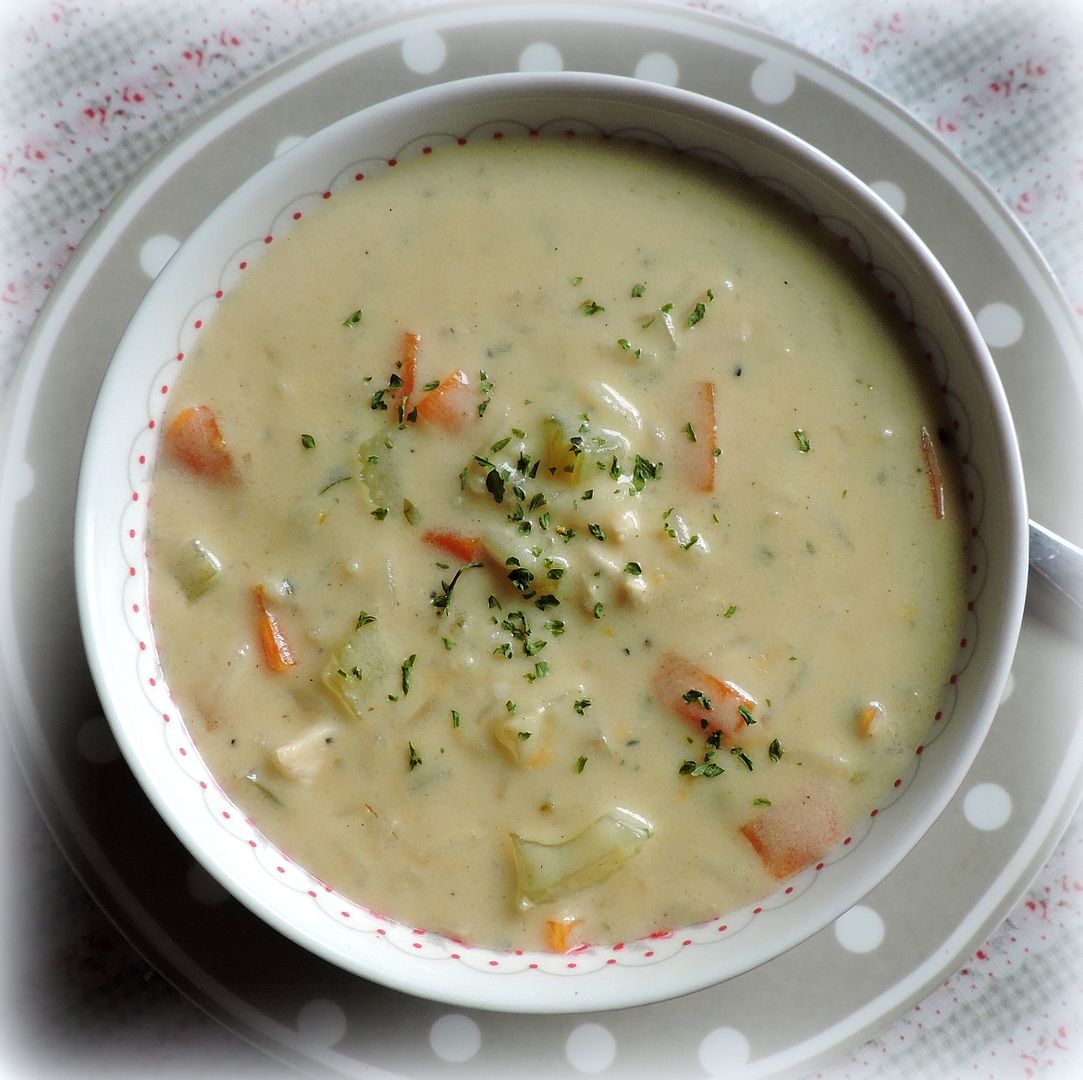 It was already relatively low in fat, but I thought to make it a little bit lower and healthier. I chose not to sweat the vegetables in any oil, rather I sweated them in the microwave in a bit of stock.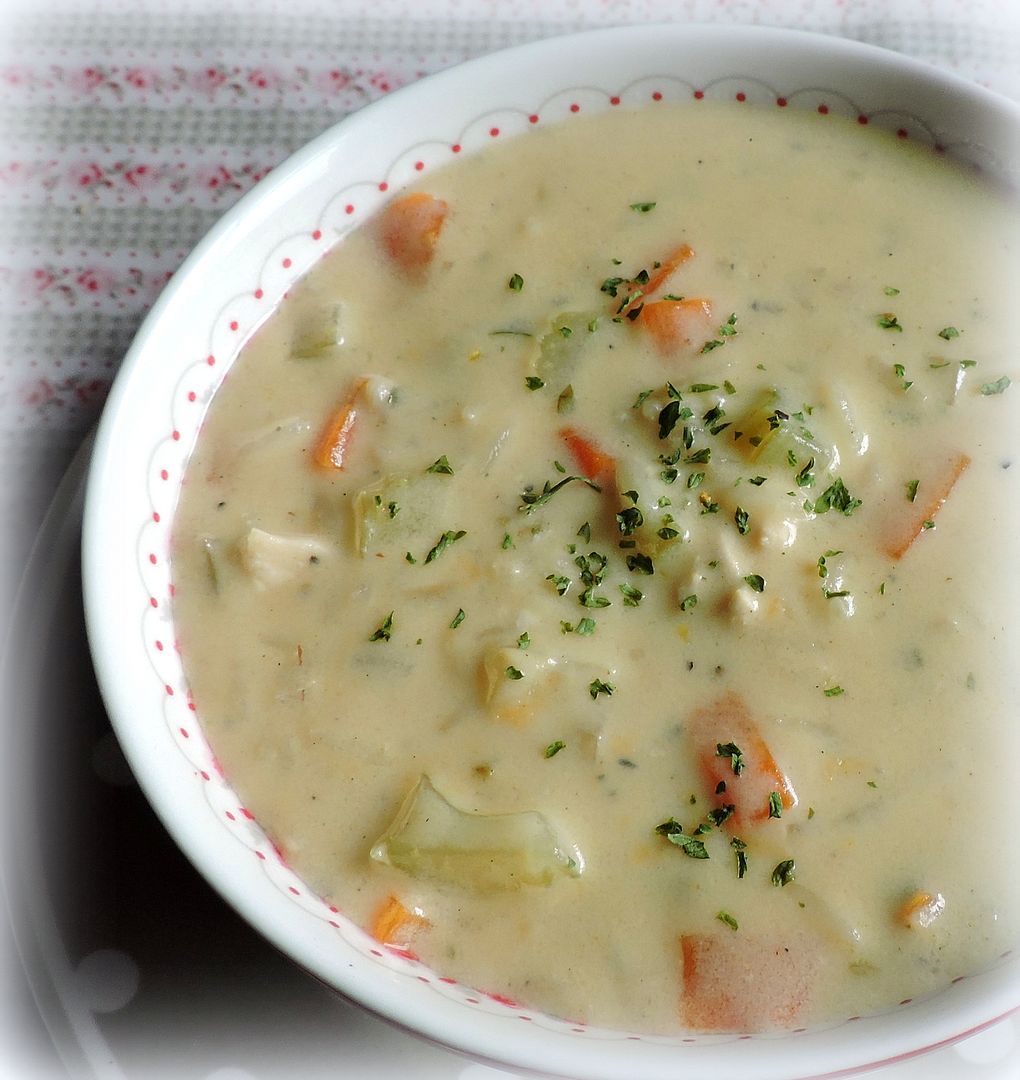 I also chose to use a quick cook brown rice instead of long grain or basamati rice. Its lower GI, and I need to watch those sort of things.
I also chose a low fat evaporated milk to cut the calories and fat even further.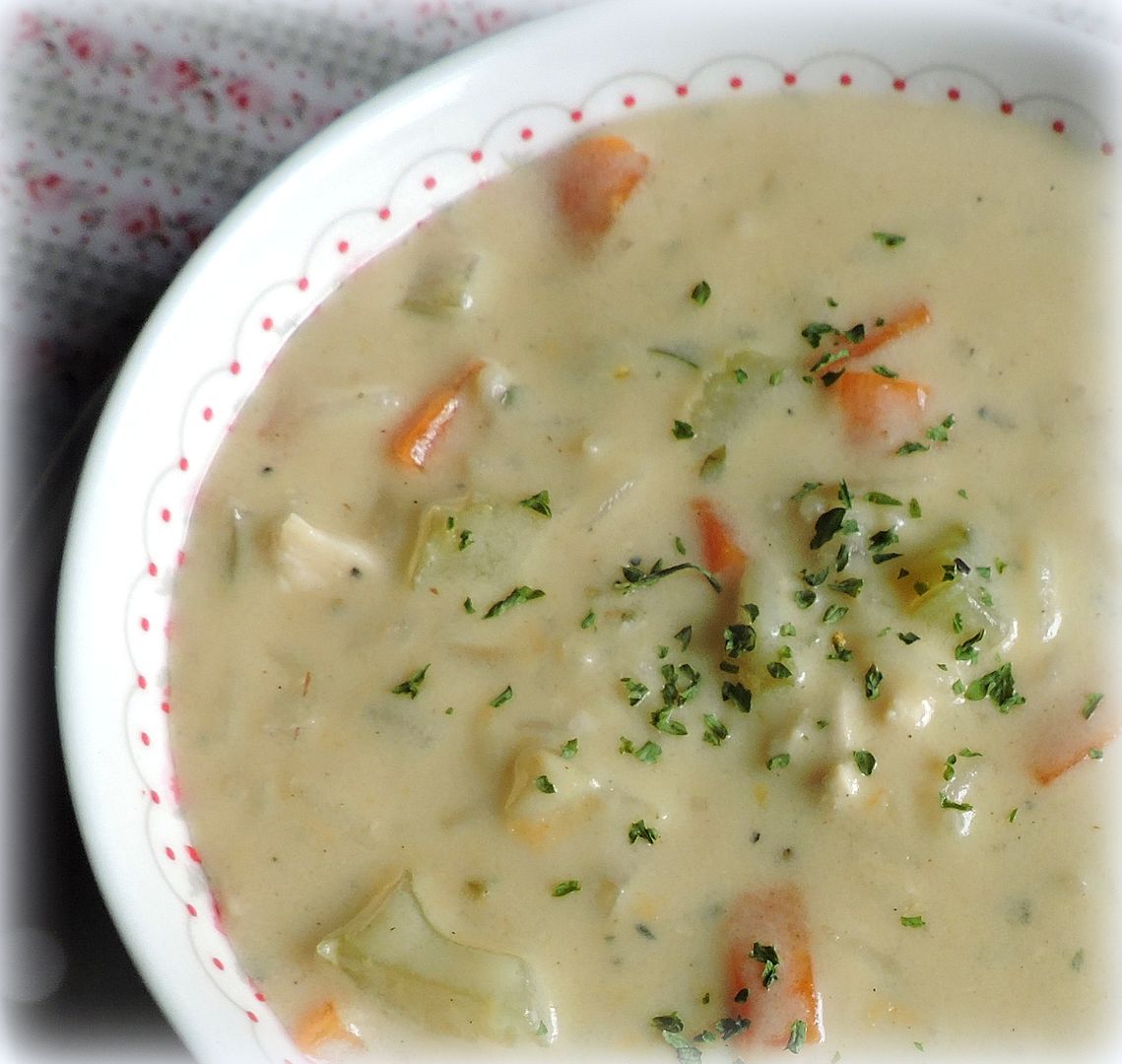 I shook the milk and flour together in a jar until it was smooth before I whisked it into the hot soup. It thickened up really nicely and made for a really creamy thick soup, just the kind Todd loves. In fact Todd declared it the nicest soup he has ever eaten. Job done!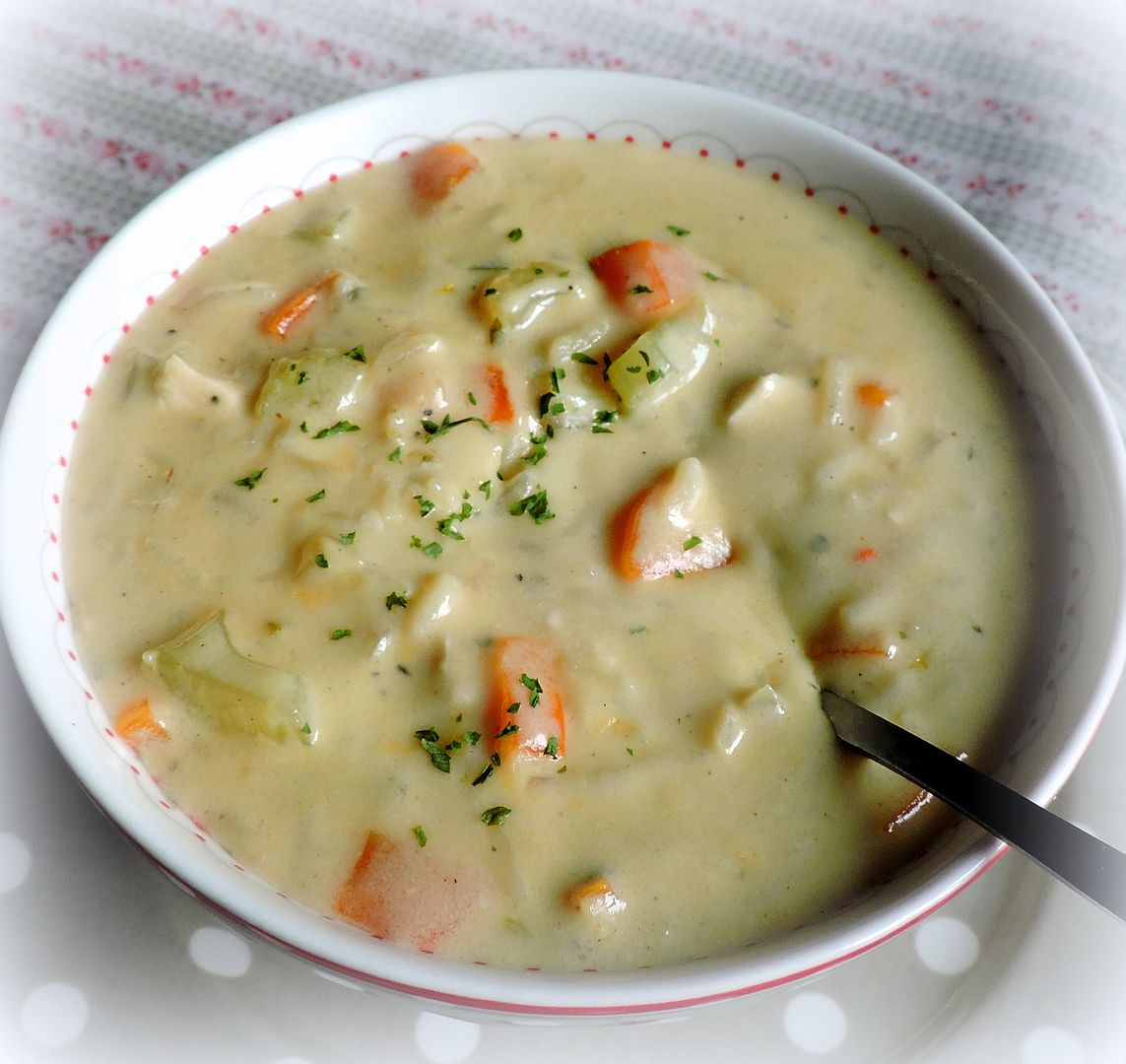 *Creamy Chicken and Rice Soup*
Serves 4
This hearty soup is delicious and hearty and actually quite low in fat. It's also a very quick make so long as you have already cooked chicken in the house. Todd declares this his favourite soup.
1 medium onion, peeled and diced
1 celery stalk, trimmed and diced
1 large carrot, peeled and finely diced
1 small clove of garlic, peeled and minced
795ml hot chicken stock (3 1/2 cups)
65g of uncooked rice (1/3 cup)
(I use brown rice)
1/2 tsp dried thyme
1/4 tsp black pepper
salt to taste
3 TBS plain flour
1 400g tin of low fat evaporated milk (12 oz tin)
3 boneless skinless chicken breasts, poached and cut into cubes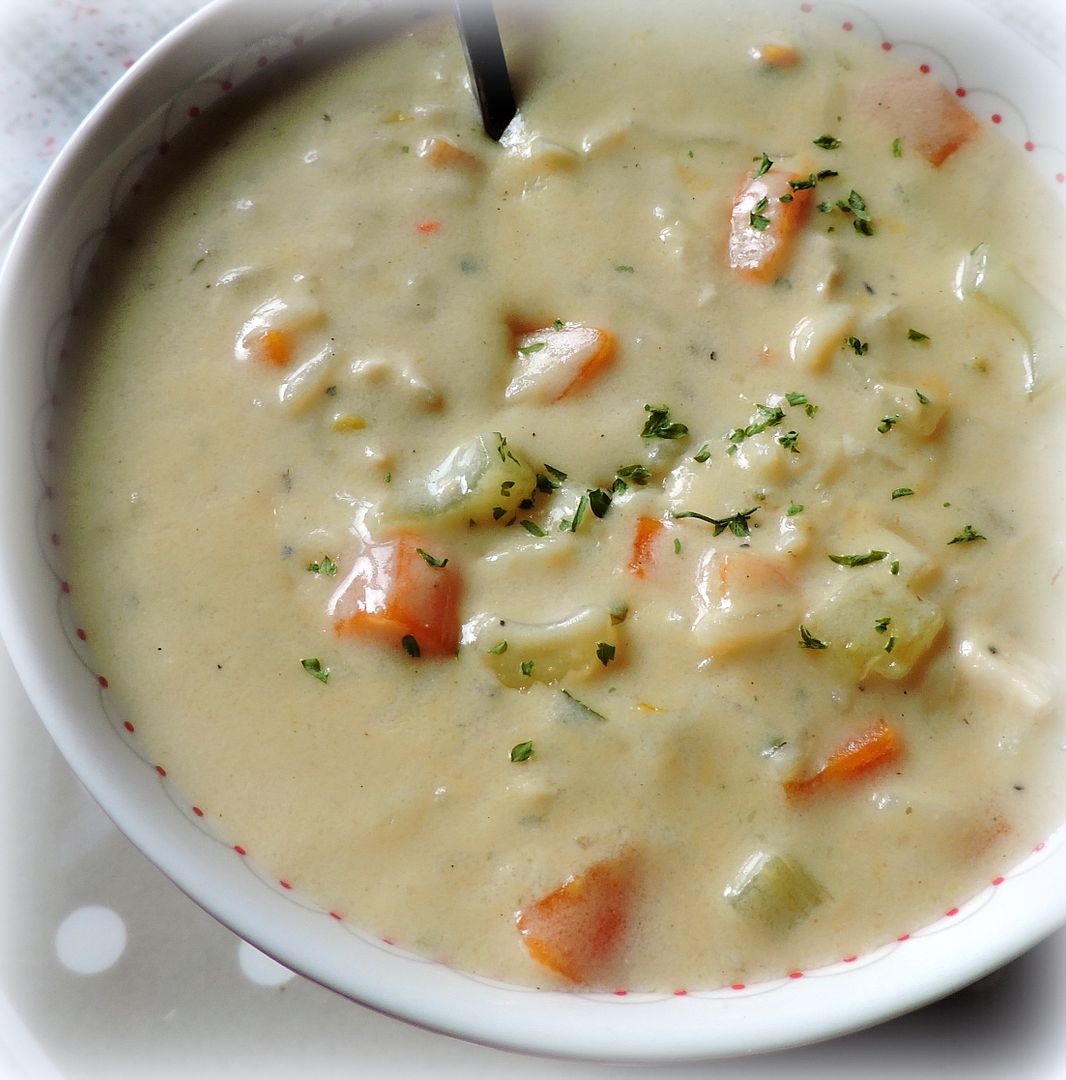 Put the onion and celery stalk into a beaker with 1 TBS of the chicken stock. Cover and microwave for 2 minutes until softened. Place into a saucepan along with the chopped carrot, garlic, chicken stock rice, thyme, and black pepper. Bring to the boil, then reduce to a simmer, cover and cook until the rice is tender, about 15 minutes.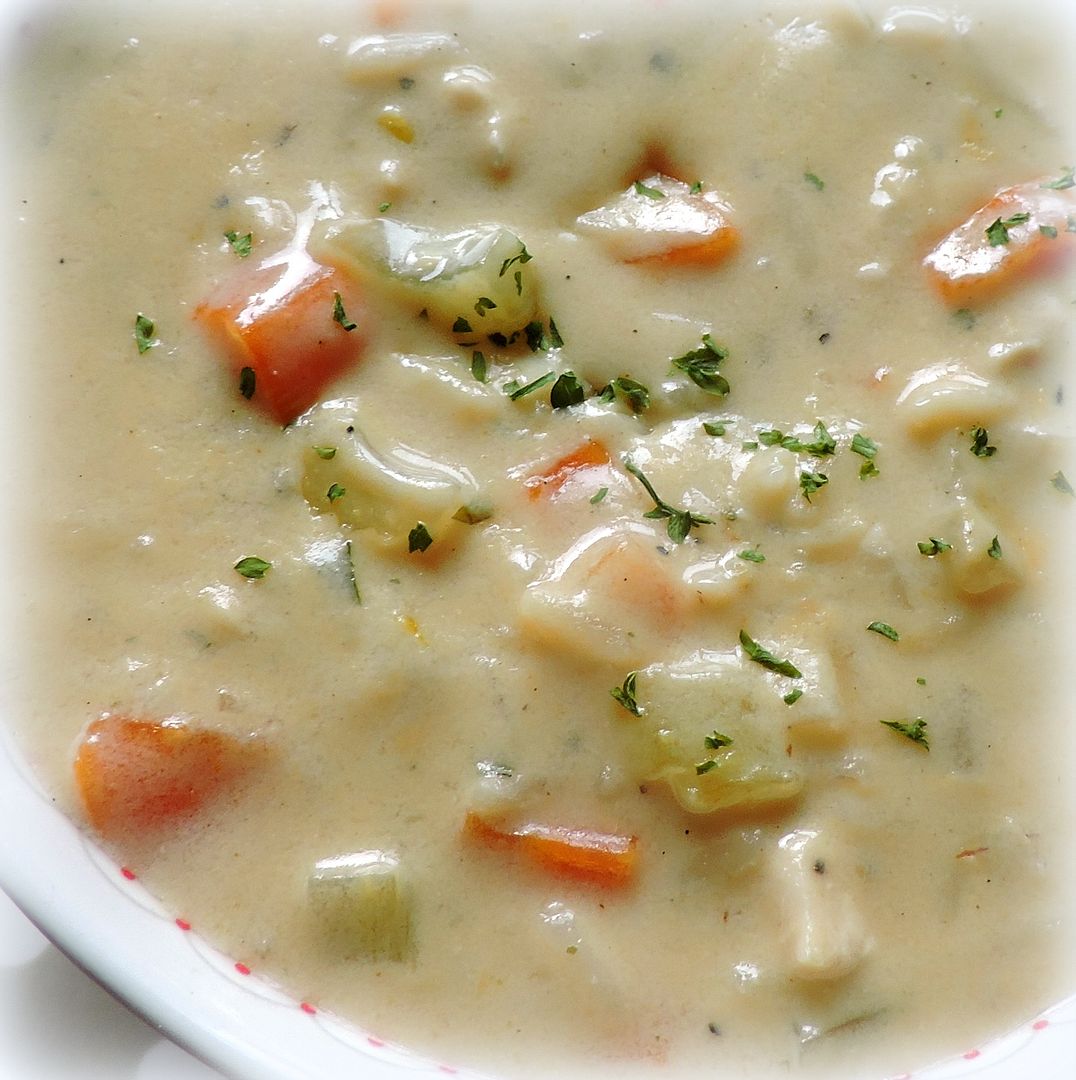 Whisk together the flour and evaporated milk. Whisk into the hot soup mixture and cook, stirring constantly until the mixture bubbles and thickens. Cook for at least 2 minutes. Stir in the chicken and heat through. Taste and adjust seasoning as required with salt and pepper. (If your chicken stock is very salty you may not need any.)
Ladle into heated bowls and serve hot with some crusty bread on the side.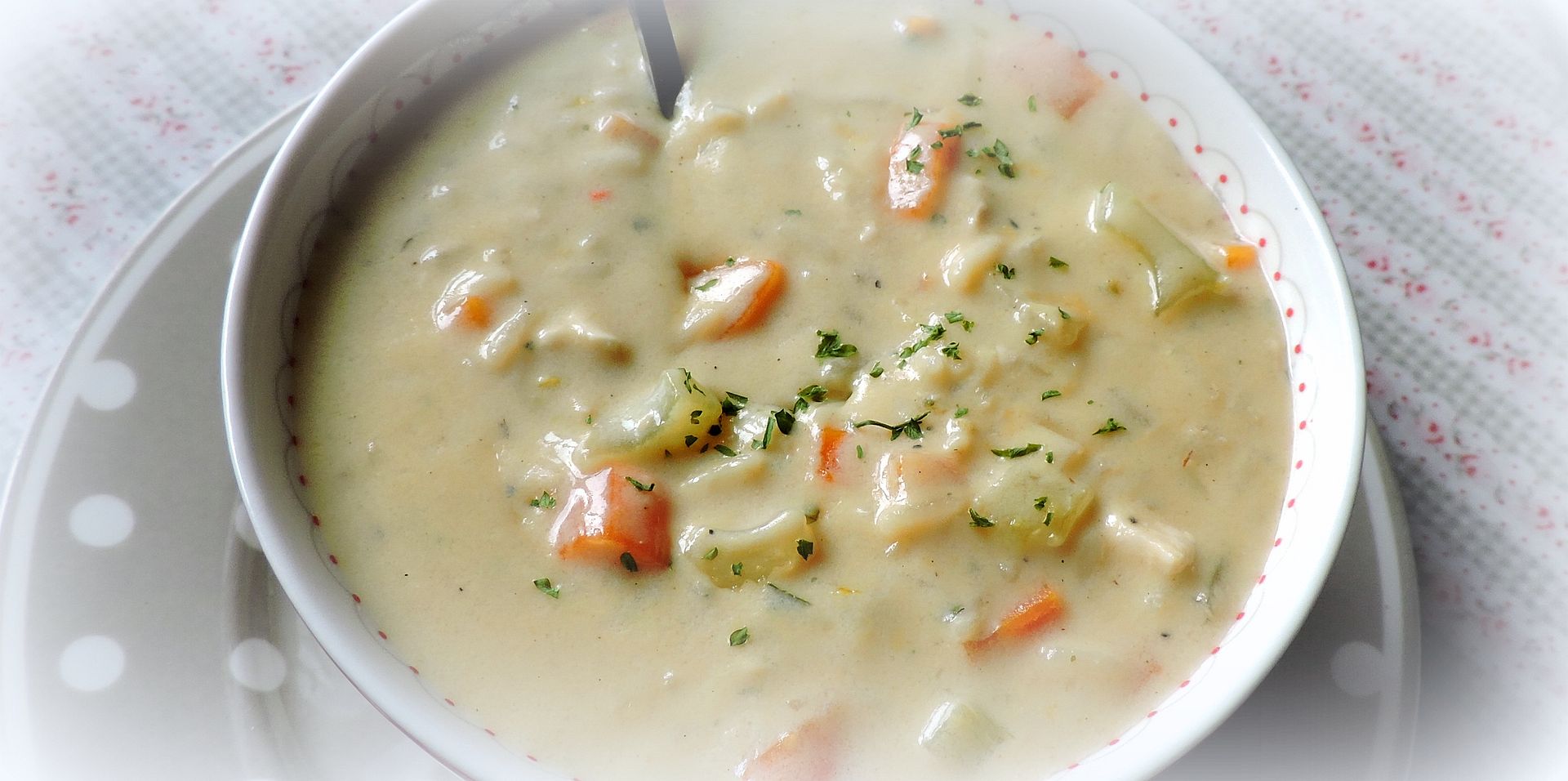 If you don't enjoy this soup, I declare there is something wrong with you, haha. Bon Appetit!