I had some fresh ravioi in the refrigerator that needed using up the other day and so I created a delicious and quick casserole that went down a real treat. I used a spinach and ricotta variety and these flavours worked very well together, but I am sure they would also work very well with a cheese or a beef ravioli.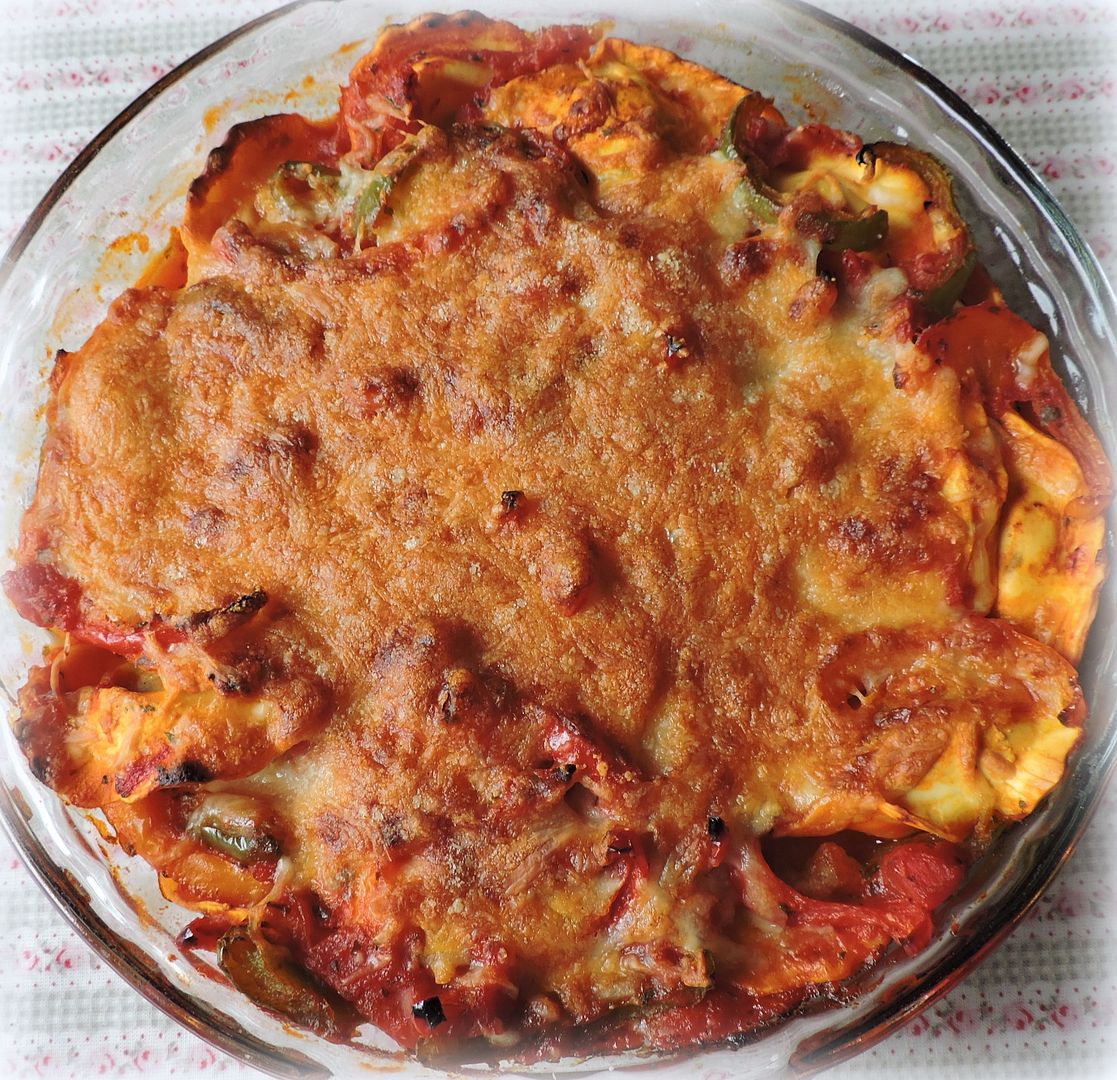 It starts by making a simple sauce, using tinned tomatoes . . .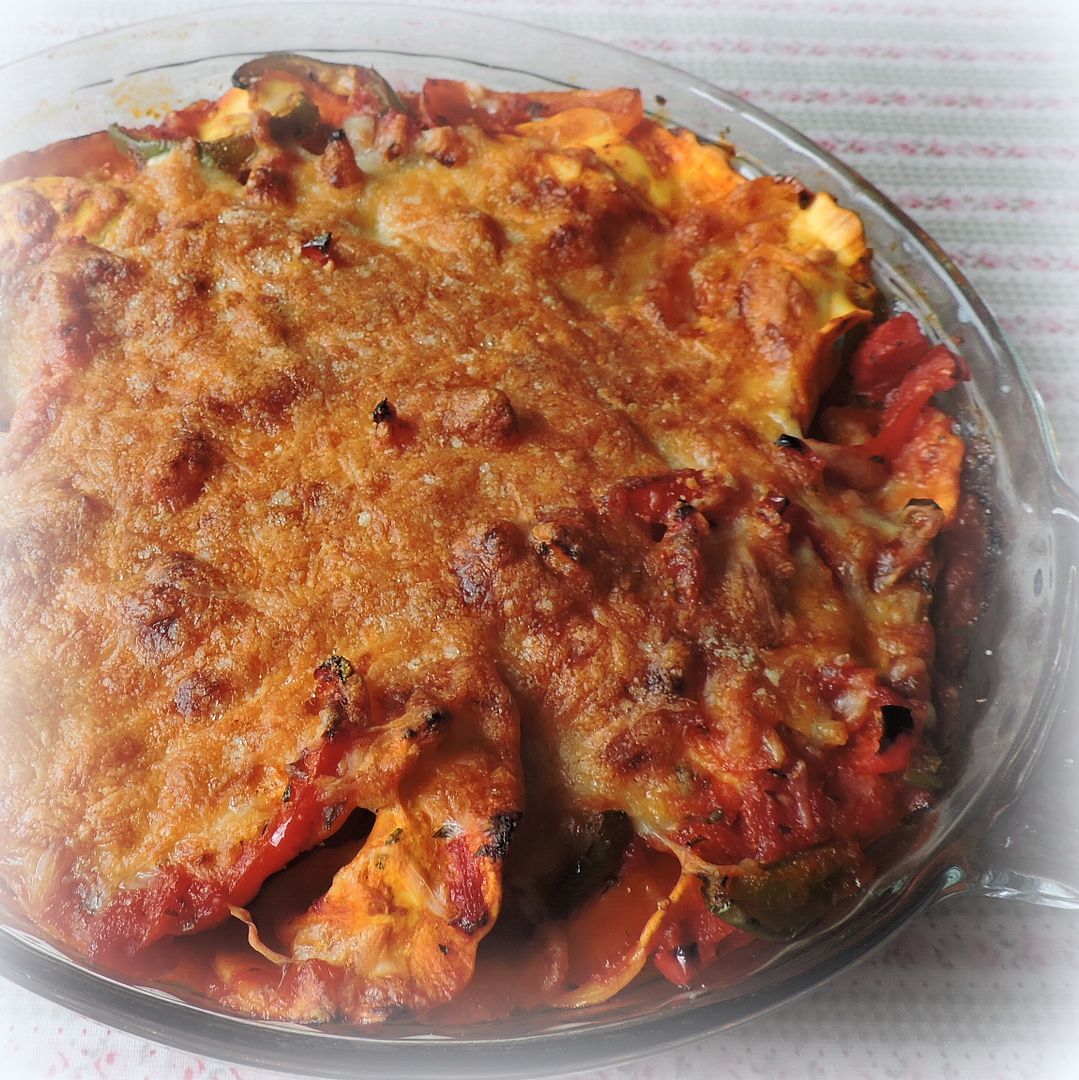 The sauce also has onions, and peppers, so it is a great way to get in several of your five a day. It's delicious. You cook your ravioli and then simply stir it into the sauce . . .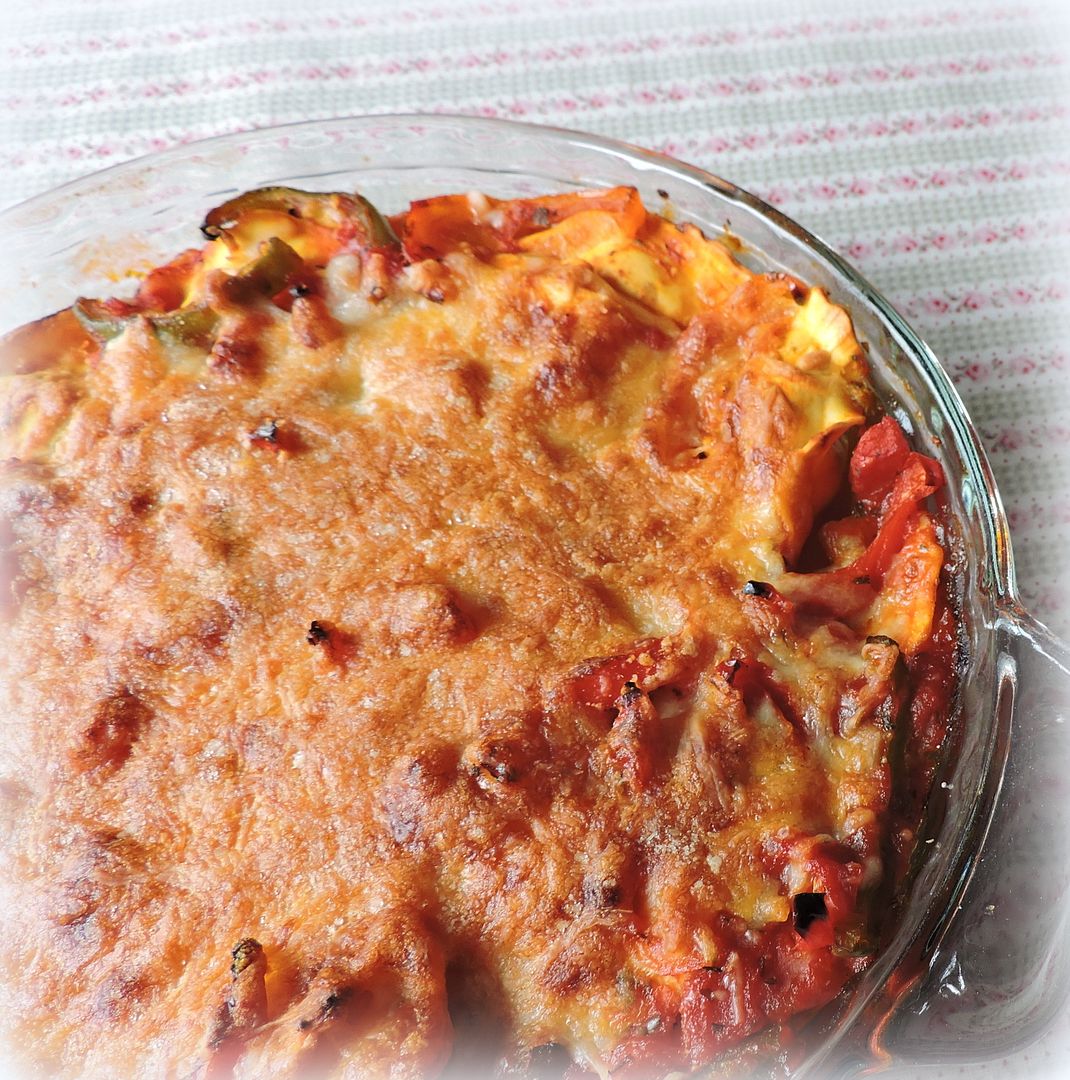 Pour the whole lot into a baking dish and then top with grated cheese. If you use low fat (which works fine) you can't go wrong. A tiny bit of what pleases goes a long way. This was delicious! Simple to make, healthy and very tasty!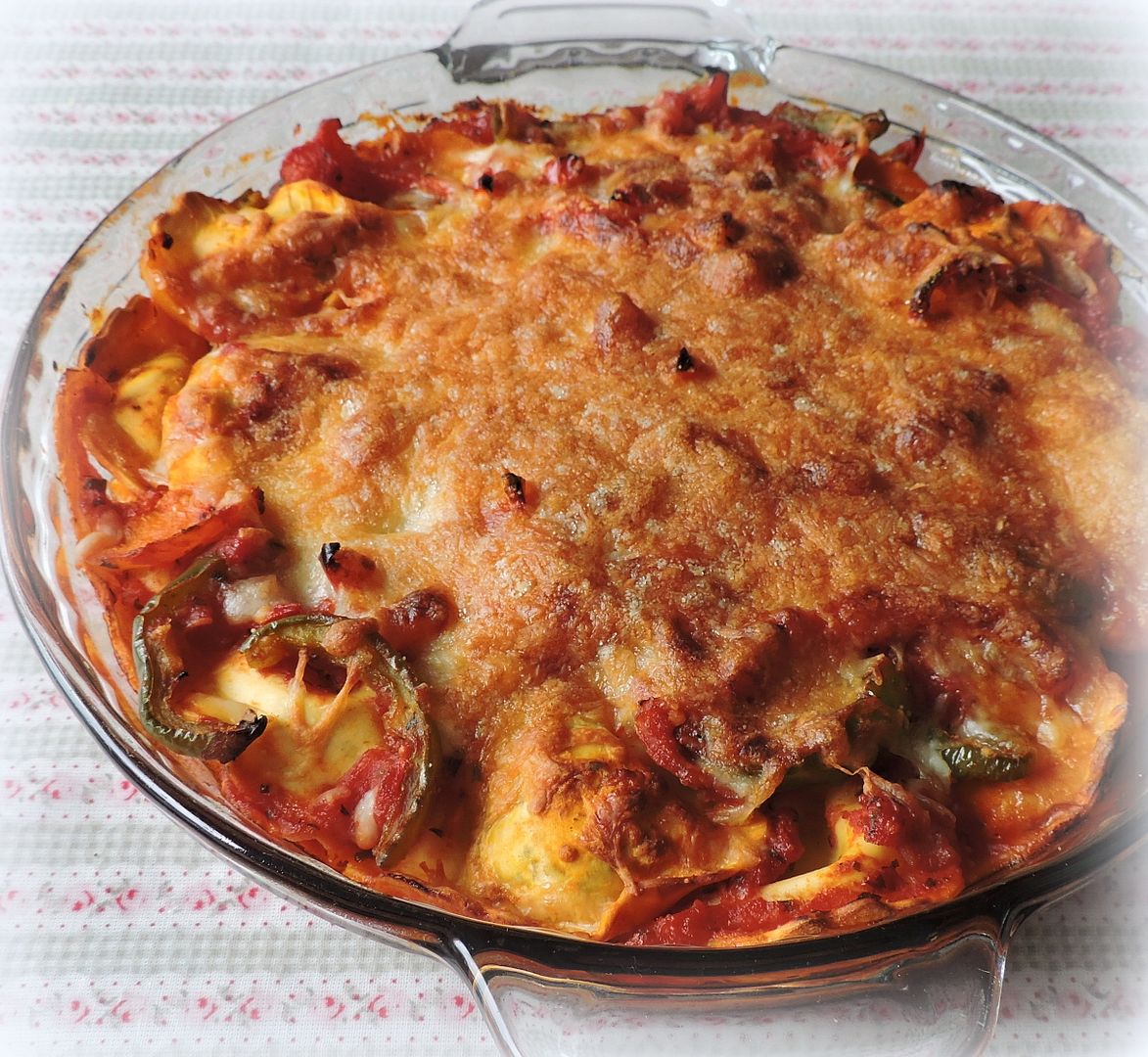 *Baked Ravioli with Sweet Peppers*
Serves 4 - 6
A great supper dish which makes good use of store cupboard ingredients. You can use fresh or dried ravioli. It's up to you. Simple and delicious!
2 TBS olive oil
1 medium onion, peeled, halved and cut thinly into half moons
225g of frozen grilled mixed peppers (scant half pound of 8 ounces)
(alternately you can use 1 each red and yellow pepper, deseeded and sliced)
3 cloves of garlic, peeled and finely chopped
1 tsp dried thyme leaves
pinch hot pepper flakes
2 (400g) tins of chopped tomatoes in juice, undrained (14 ounce tins)
pinch sugar
large handful of fresh basil or flat leaf parsley, coarsley chopped
500g small filled ravioli or cappelitti (1 pound)
75g of gruyere or medium cheddar cheese, grated (2/3 cup)
2 TBS freshly grated Parmesan Cheese
fine sea salt and black pepper to taste
Put a pot of lightly salted water on to boil for cooking the ravioli. Preheat the oven to 200*C/400*F/ gas mark 5. Butter a large shallow baking dish. Set aside.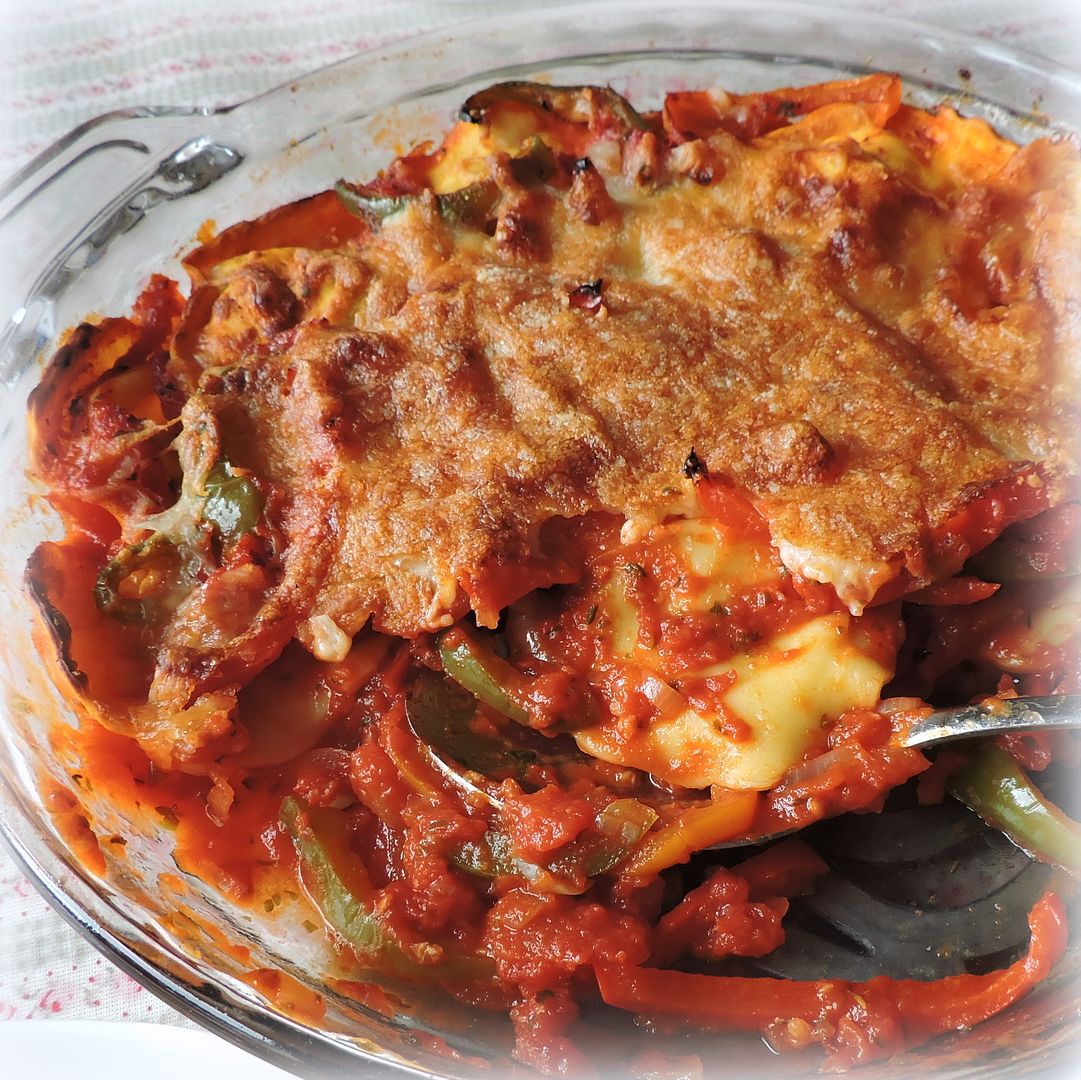 Heat the oil in a large pan. Add the onions and peppers. Cook over low heat for about 5 minutes until softened. (If you are using fresh peppers, it will take a bit longer.) Add the garlic, thyme and chili flakes. Cook, stirring, for a few more minutes. Tip in the tomatoes, sugar and basil or parsley. Season to taste with salt and black pepper. Simmer, uncovered for about 15 minutes.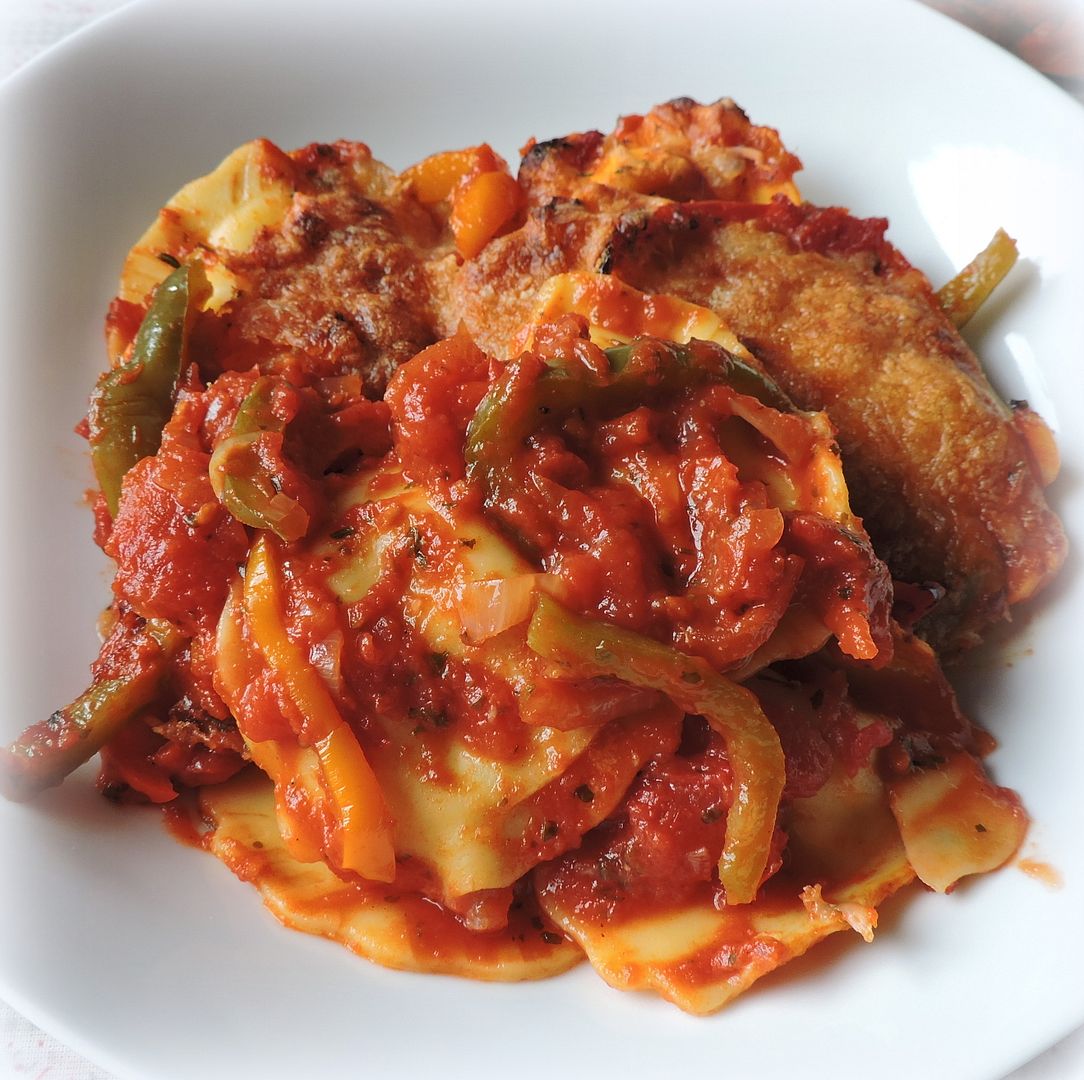 Cook the ravioli according to the package directions. Drain well. Carefully tip into the tomato mixture and gently fold together. Pour into the prepared baking dish. Scatter both grated cheeses over top.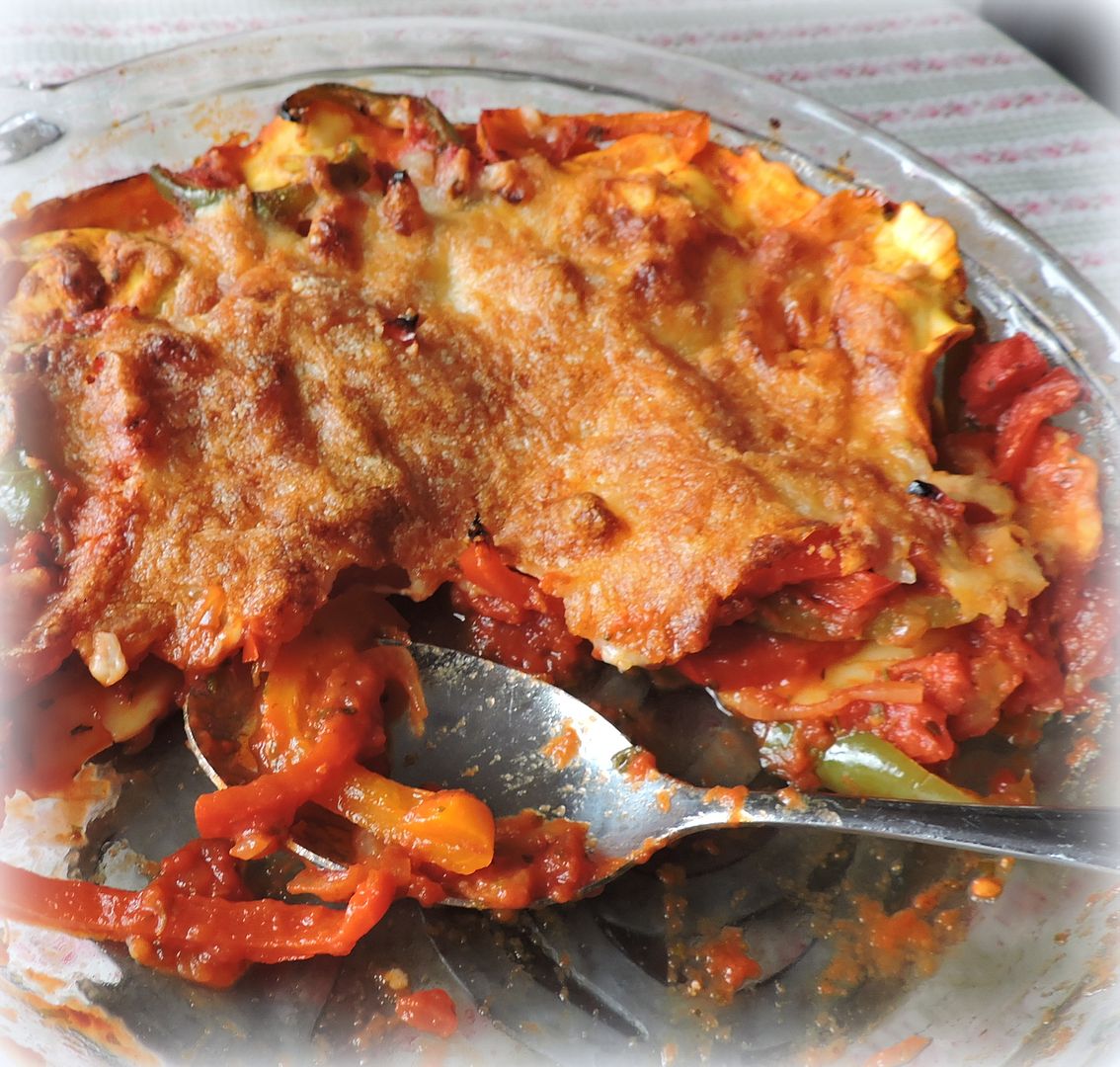 Bake for 20 to 30 minutes, until the cheese is melted and golden. Serve immediately. A salad goes nicely with this.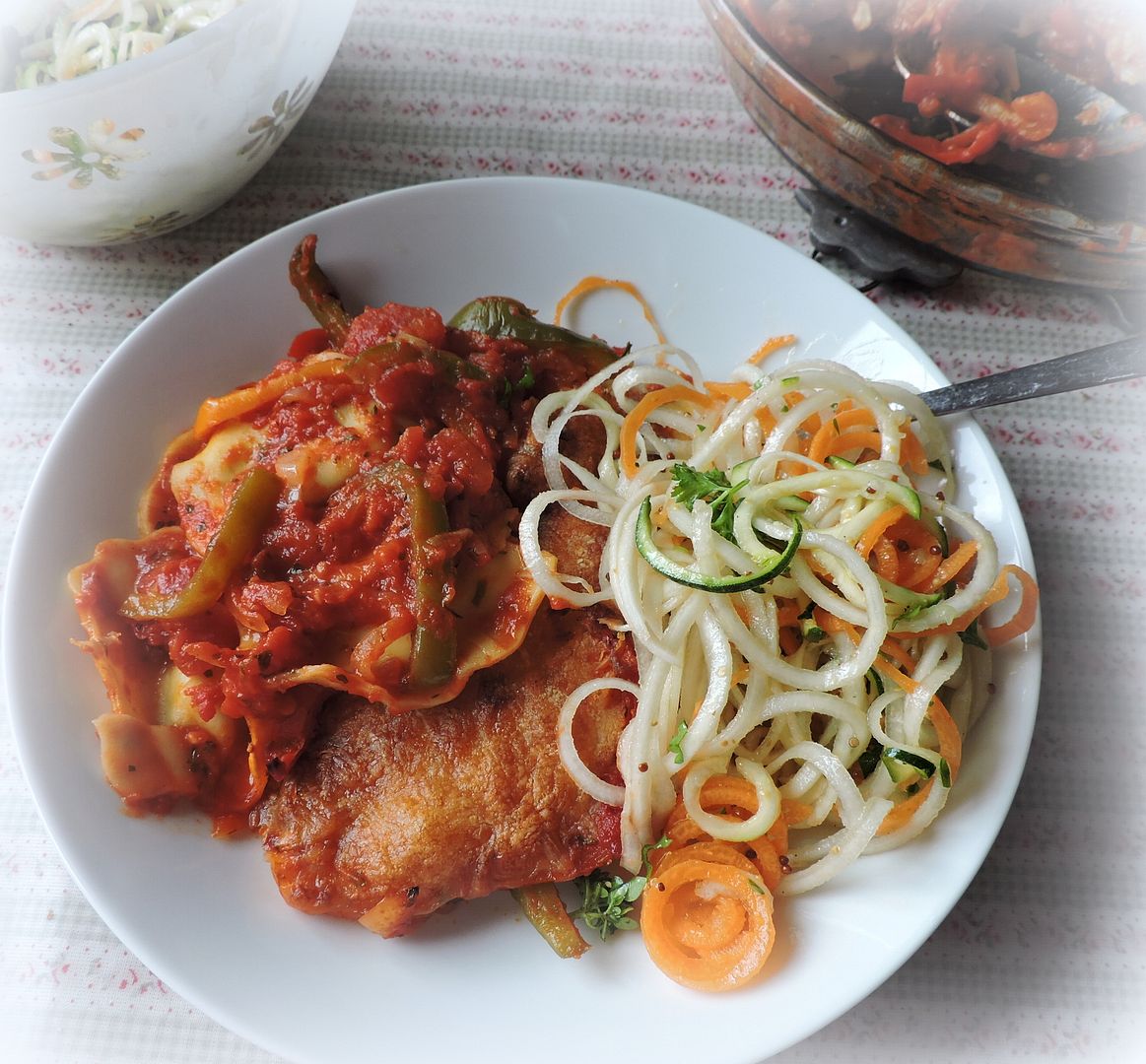 A simple raw vegetable salad on the side made up a complete meal. I got a new Spiralizer the other day and I have been using it as much as I can. It's salad season and this handy machine certainly adds interest and texture to your summer salads!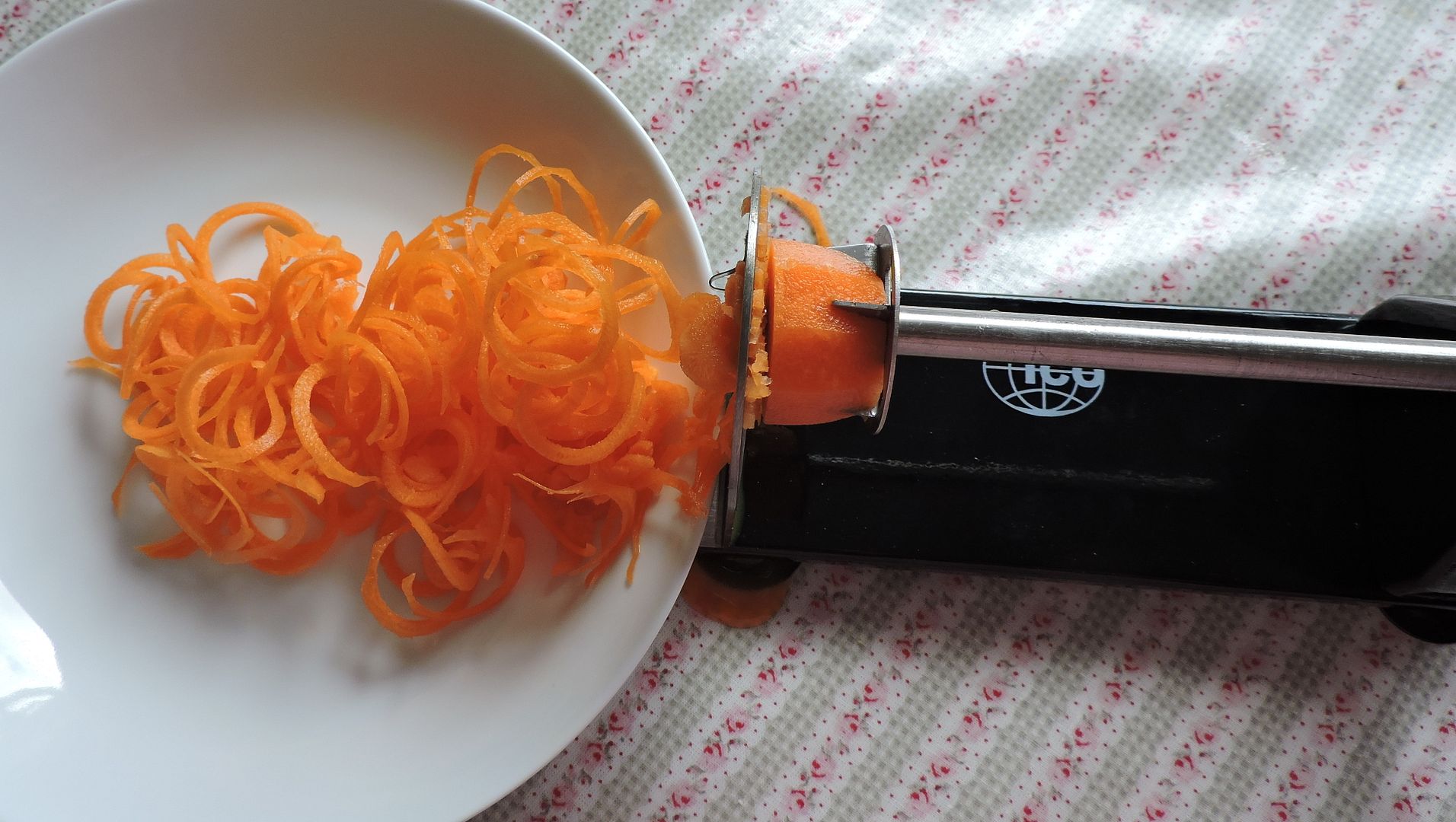 The
ICO Vegetable Spiralizer
is very easy to use. Once I realized that I had to unscrew the handle and put it back on the right way it worked a real treat! (It was on backwards to get it to fit into the box!)
Not only was it easy to use, but it was fun to use! I could watch the vegetables churning out the end for hours. Well, maybe not hours, but it was fun!
I did carrots, turnips and courgettes. What a pretty combination! All went through the spiralizer with ease and came out beautifully.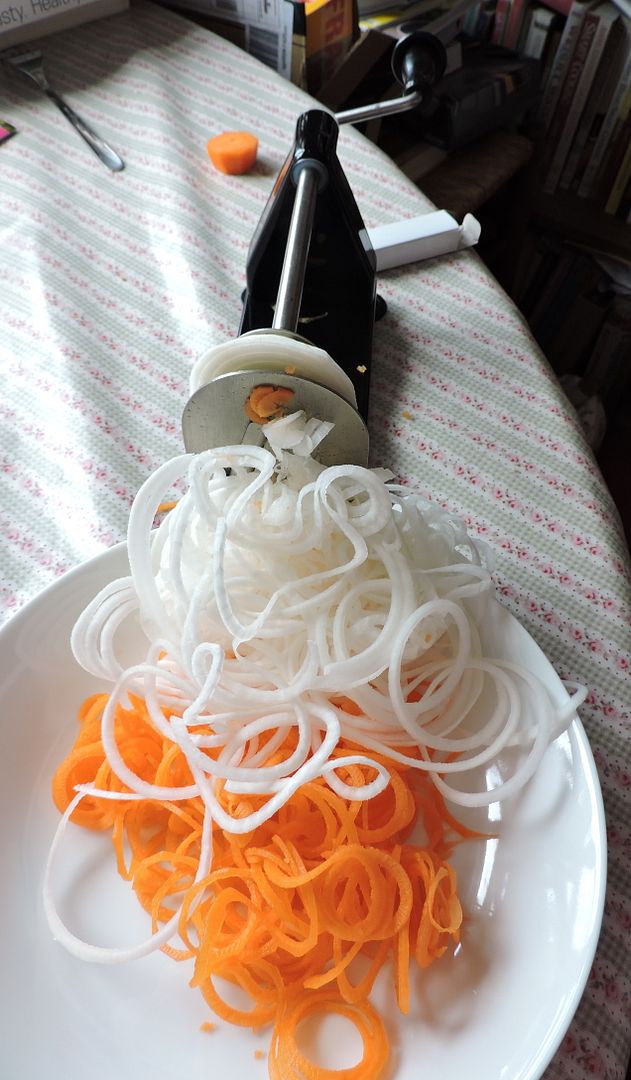 The
ICO Spiralizer
(Black Aluminium) from Impeccable Culinary Objects is the essential kitchen gadget for losing weight and eating more fruit and vegetables in an easy and fun way. Make healthy cooking fun with the ICO Vegetable Spiralizer! Easily transform your favourite vegetables into pastas, spirals, and slices for use in salads, stir fries, or new and inspired dishes. Quickly and easily create your own potato, carrot, cucumber, courgette, celery, radish, beet, onion, apple and pear noodles for use in healthy and exciting dishes. This horizontal plastic slicer packs away nicely when not in use and the interchangeable blades store neatly underneath the machine. Strong suction feet prevent the spiralizer from slipping when cutting vegetables. This is a very easy to use machine, just secure your fruit or vegetable to the spikes, wind the handle, and instantly get beautiful spaghetti, spirals or ribbons! it comes with THE ICO 2 YEAR QUALITY GUARANTEE, 100% satisfaction guaranteed!
Two-year warranty
Perfect for preparing low-carb meals that are fun and delicious!
Makes a fantastic and fun gift!
Manufactured from tough black aluminium
All parts are dishwasher safe for quick and easy clean-up
I found it very easy to use and to clean up and I think this is a kitchen tool I will be using fairly often. I did have a bit of a conundrum figuring out how to remove the blade, but once I finally sorted it out, I was smacking my forehead and telling myself, why didn't I think of that in the first place! DUH! So simple! And it came with a handy little recipe book.
I know there are fancier models on the market, but why spend more when this one does the job perfectly. I give it two thumbs up!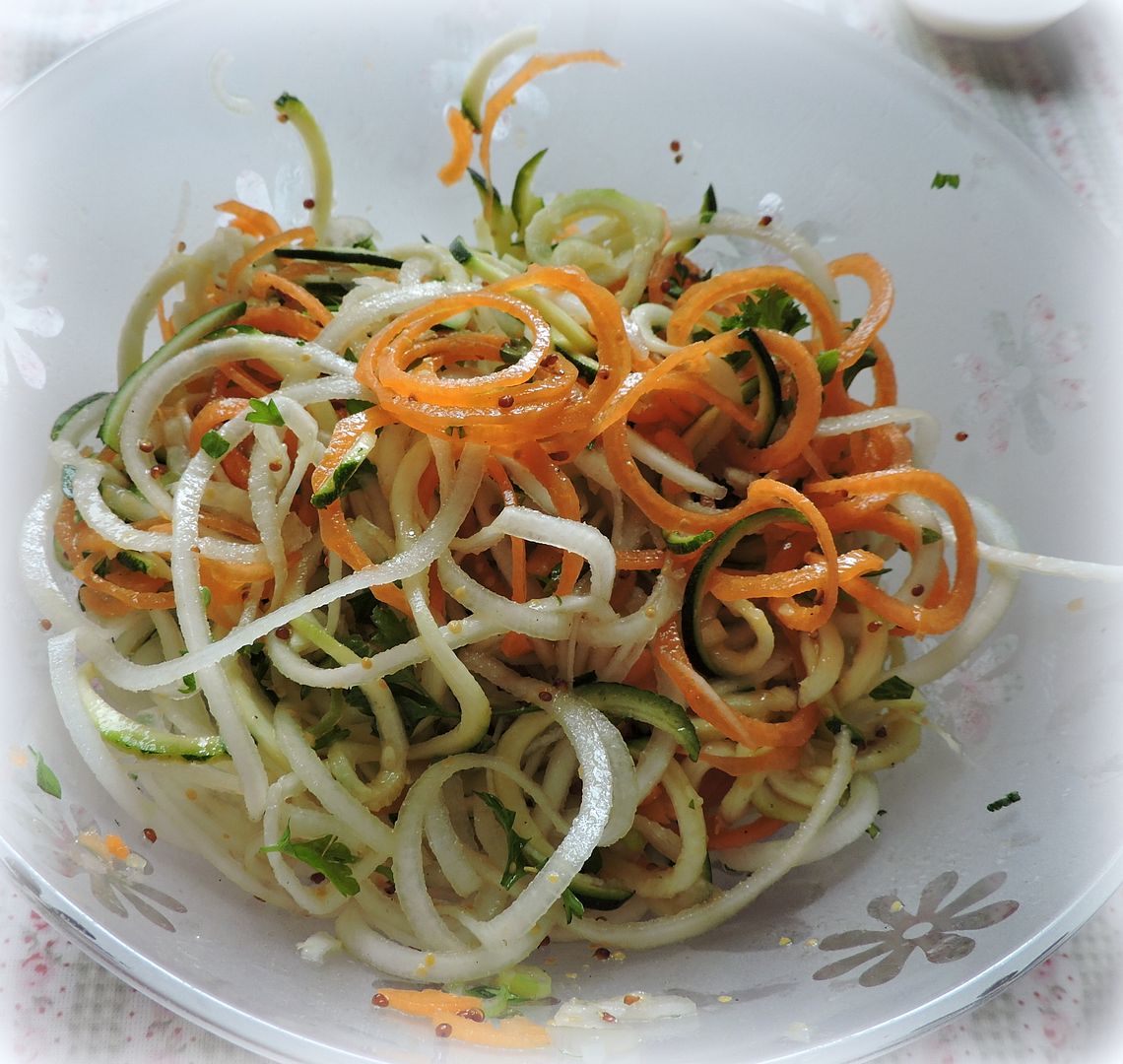 I added some chopped spring onion and a tasty mustard vinaigrette and we had a delicious salad to go with our casserole! Quite simply tasty!
Note - I was provided with the ICO Vegetable Spiralizer free of charge, but was not require to write a positive review in exchange. Any and all opinions are my own. I love this machine!
Bon Appetit!