I saw this recipe on
Julies Eats and Treats
the other day and as soon as I saw it, I wanted to make it. I love mexican flavours and I love pasta. I did have to adapt it somewhat according to the ingredients I have available over here in the UK, but I was very pleased with the end results.
I didn't have Creole Seasoning, and in fact didn't even know what it was, but I did a search and found a substitute for it and made my own from scratch. Use caution in this ingredient as it is very spicy!
We don't have tins of chopped green chilies over here, so I had to use fresh Jalapenos and cook them from scratch which I did when I was cooking the onions.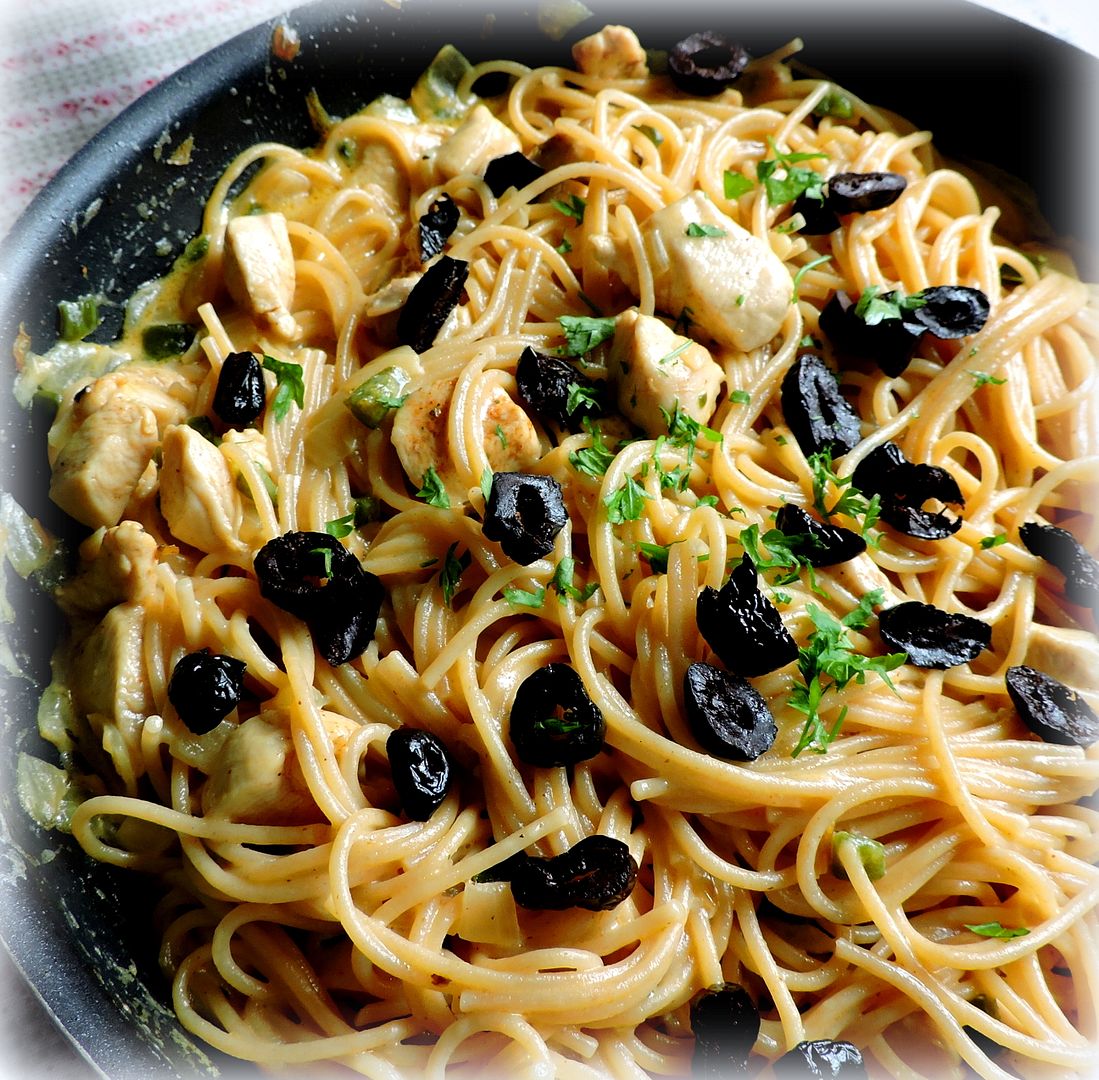 I also used low fat sour cream and cheddar cheese, to cut down the fat in the recipe as much as I could. I didn't have angel hair pasta either, so I used whole wheat spaghetti.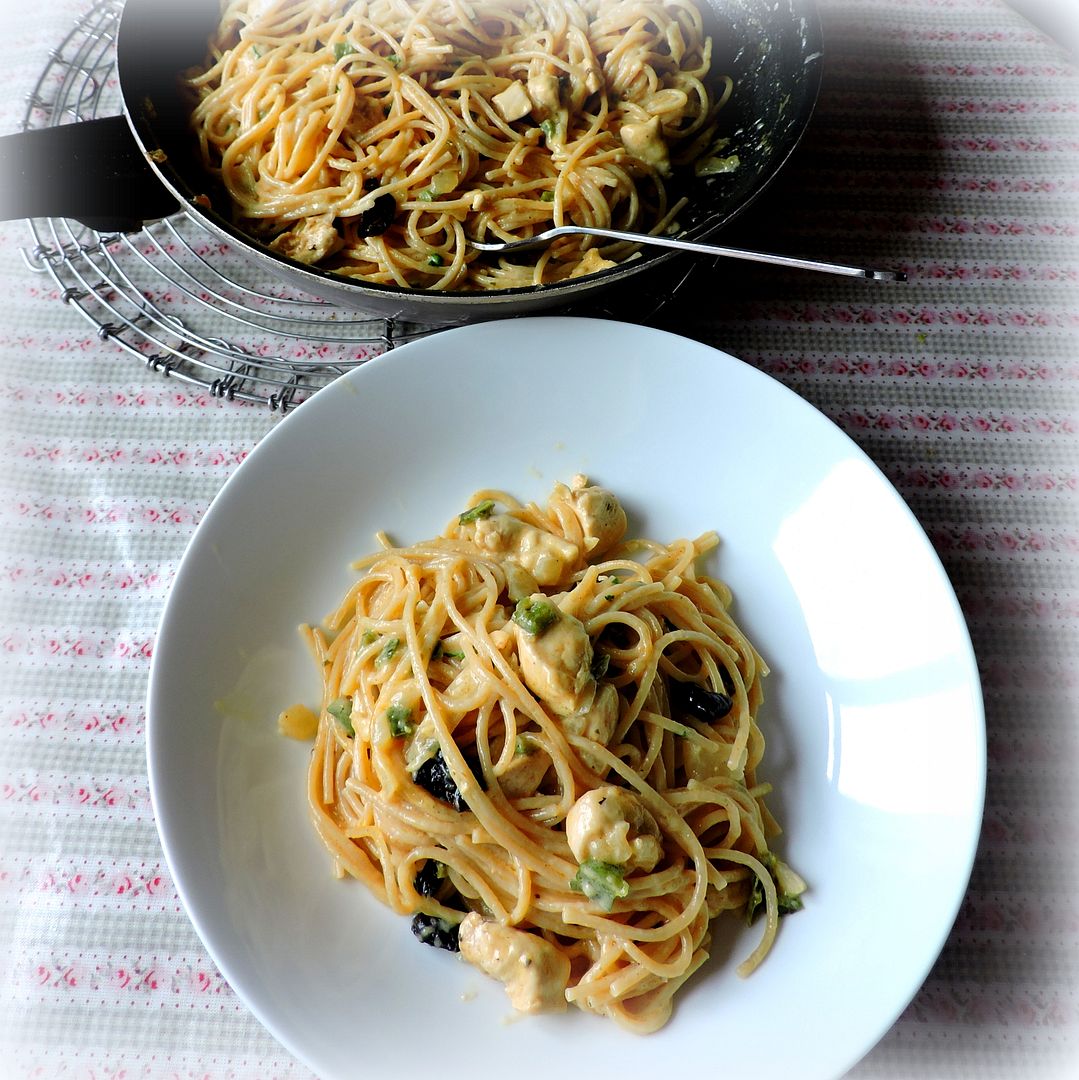 Altogether it was quite, QUITE delicious. Todd isn't fond of pasta as you know, but even he didn't mind this overly much, and I can vouch for the leftovers, which were very tasty indeed!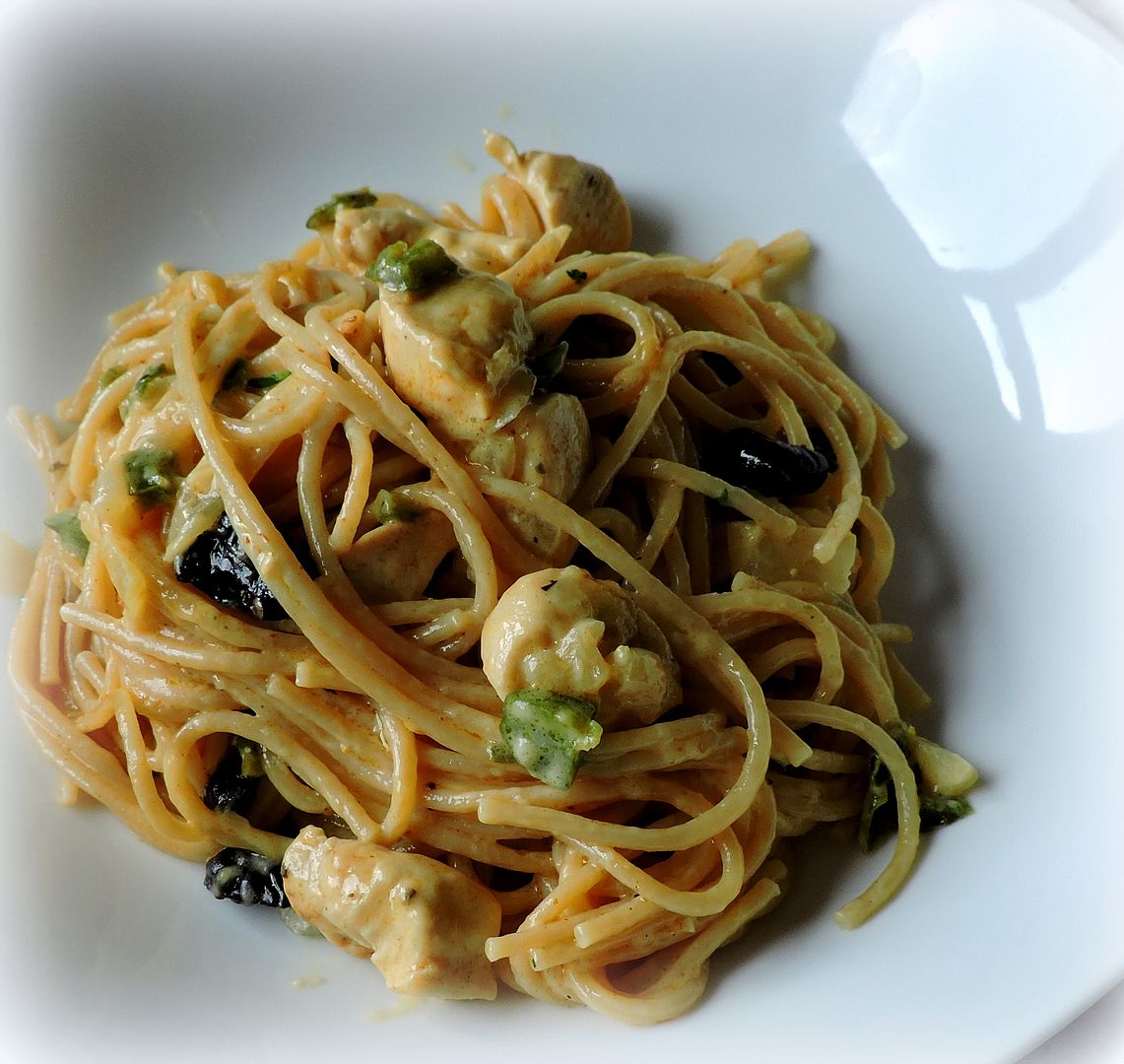 And I forgot the extra cheese on top. In truth it didn't need it. It was very tasty without it!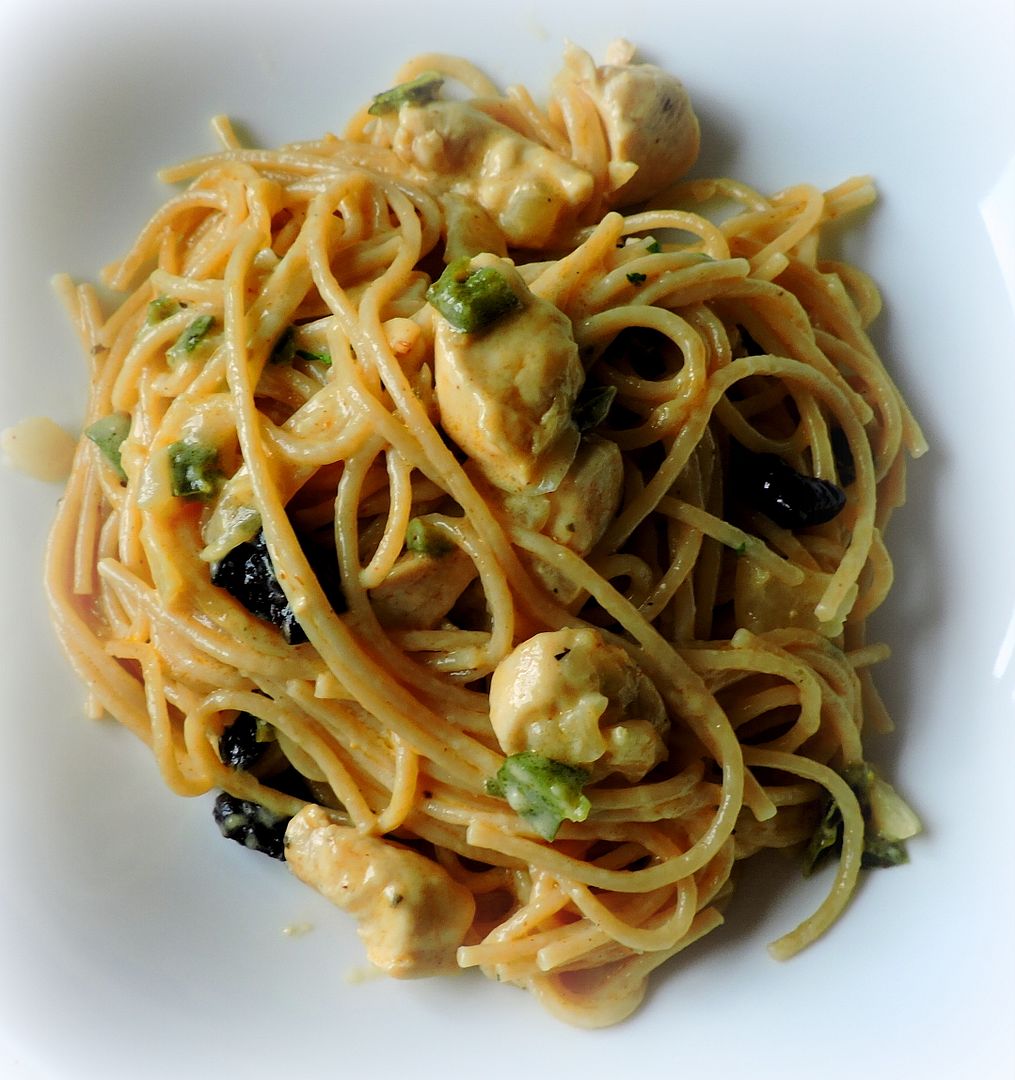 A recipe I adapted from Julies Eats and Treats to what I have available here in the UK to use. I also tried to cut down the fat. It was delicious!
1/2 pound whole wheat spaghetti, uncooked
1/2 TBS olive oil
1 TBS butter
1 medium onion, peeled and coarsely chopped
2 jalapeno peppers, deseeded and chopped
1 tsp creole seasoning (I made my own mix. See side bar)
8 ounces chicken broth
3 small chicken breasts, cut into 1 inch pieces
50g of low far sour cream (1/4 cup)
90g low fat strong cheddar cheese grated (3/4 cup)
Chopped black olives and fresh coriander to garnish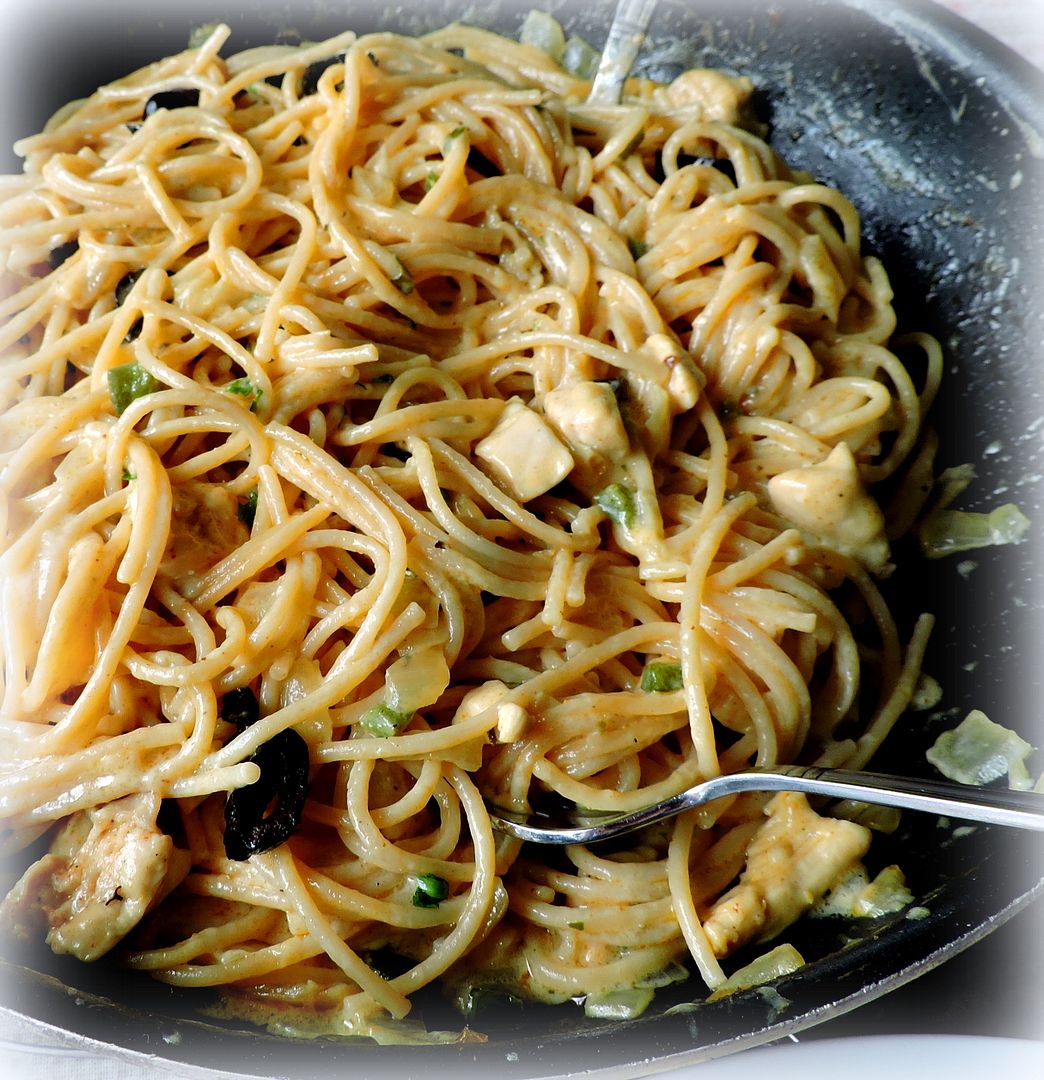 Heat the olive oil and butter in a large skillet. Add the onion and jalapeno peppers. Cook, stirring, over medium heat, until they begin to soften. Add the chicken breast pieces and the creole seasoning. Cook, stirring, until the chicken begins to brown. Add the chicken broth. Bring to the boil, then reduce to a slow simmer. (You can add more hot chicken stock if you see it evaporating. You will need some broth for the sauce, about 1 cup)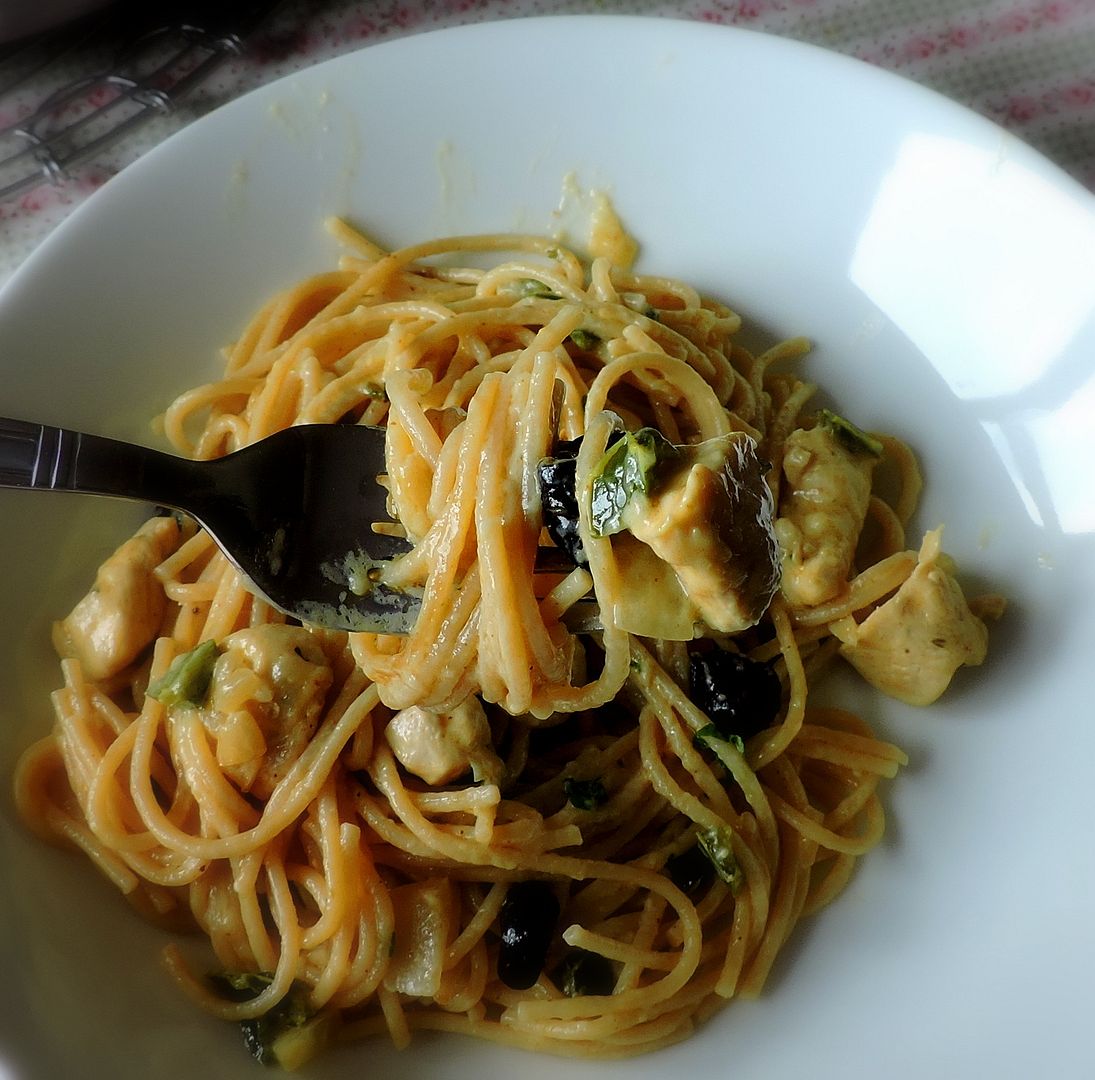 Cook the pasta according to the package directions. Drain well and rinse with hot water. Drain again.
Whisk the sour cream and cheese into the chicken and broth. Let simmer for five minutes for flavours to infuse. Stir in the cooked pasta, tossing to coat. Serve hot with the chopped black olives and coriander sprinkled over top.
Note - you can sprinkle with a bit of additional cheese if you desire. I found that it didn't need it. It was pretty tasty without it!
Bon Appetit!