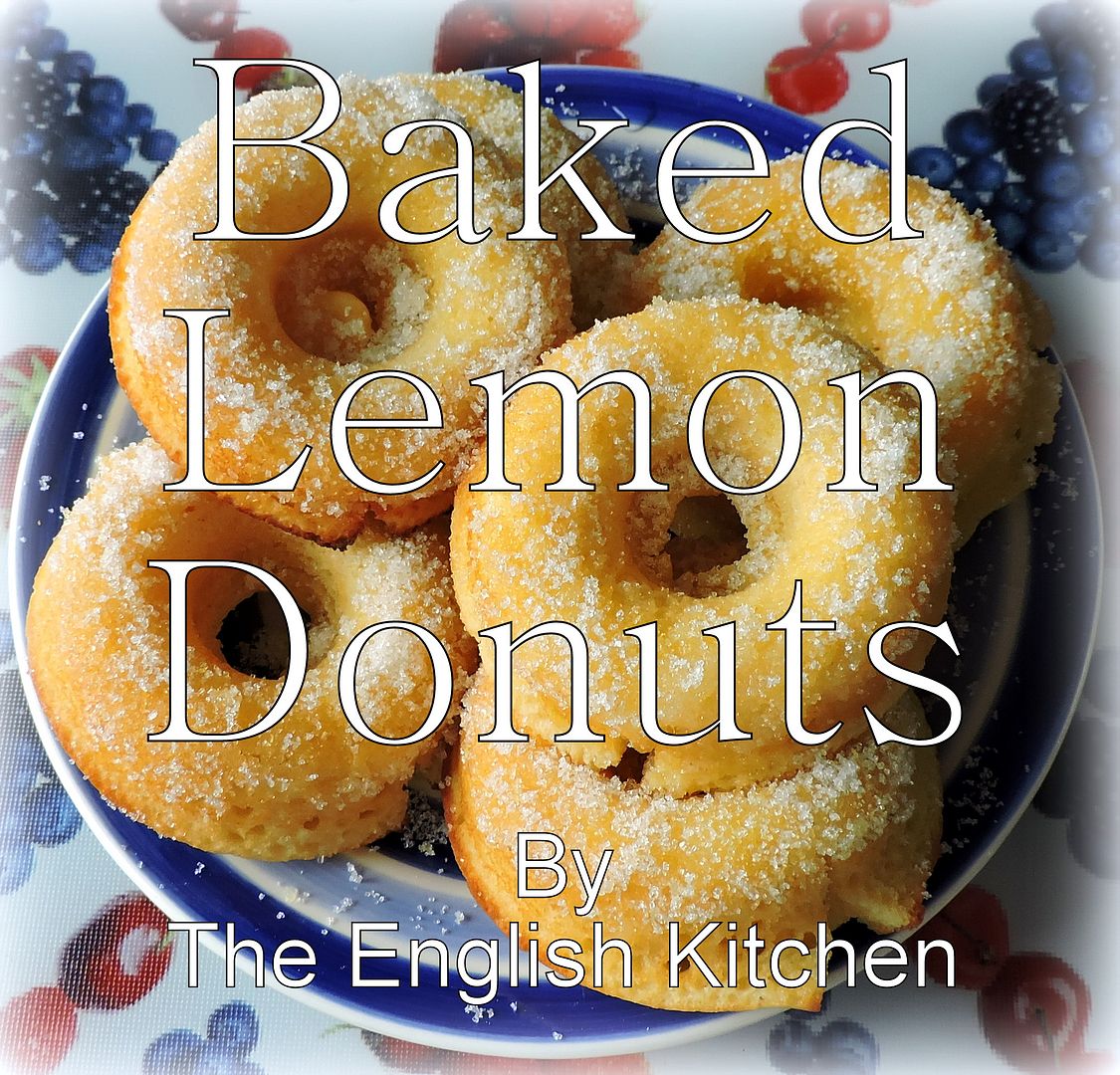 I profess to having a certain fondness for donuts, especially the cake type. I like those ones much more than the yeast once, although they are also certainly very good and have their place. But give me a chocolate sour cream or plain sour cream donut over a crueller any day of the week! Love, Love, LOVE!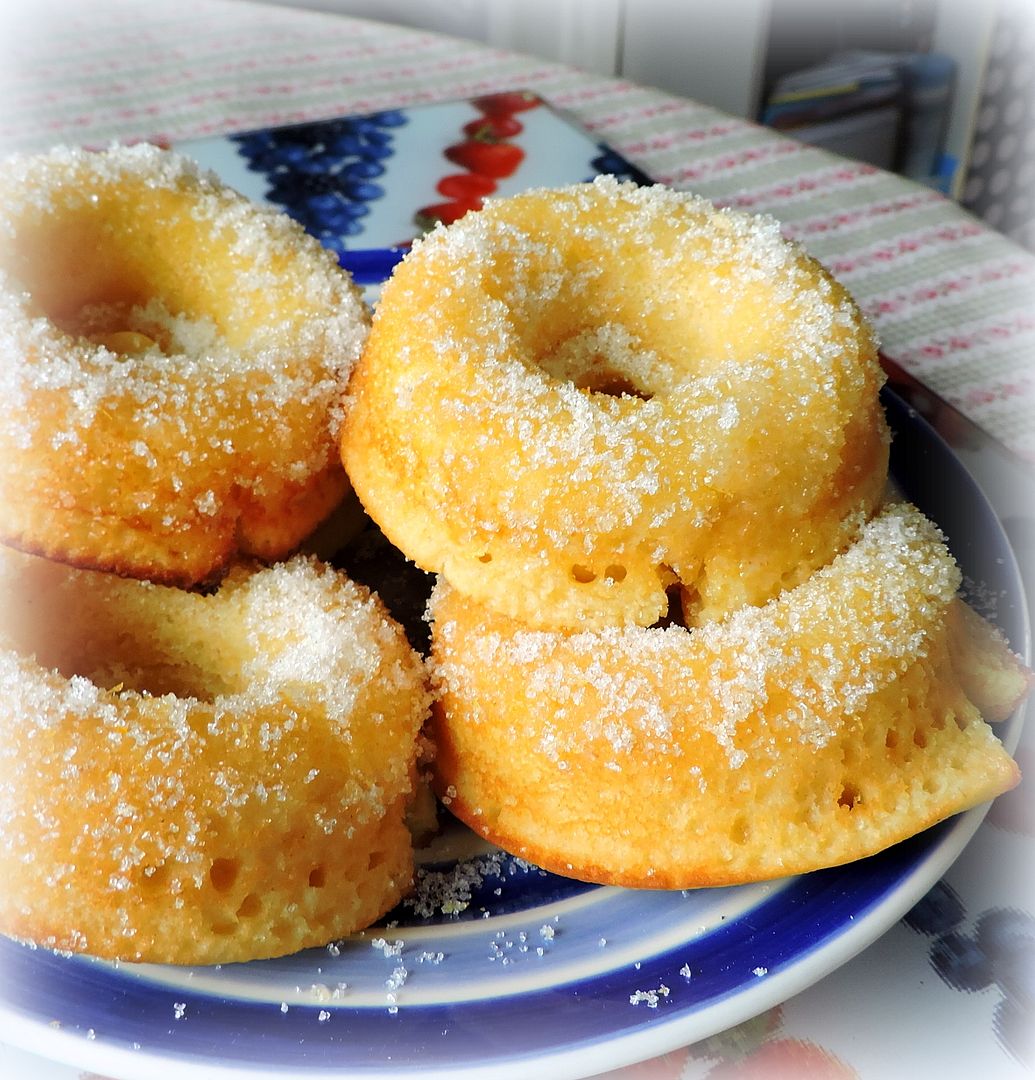 As a diabetic, sugary things are off my menu sadly . . . except for a very rare occasional treat, but I don't like to punish Todd for my having had a misspent and overindulgent youth and bad genes. He, thankfully has no problems with any type of food and is a very healthy person for his age and so now and again I bake him a treat, but still somewhat healthy if I can. Baked donuts are not quite as unhealthy as fried.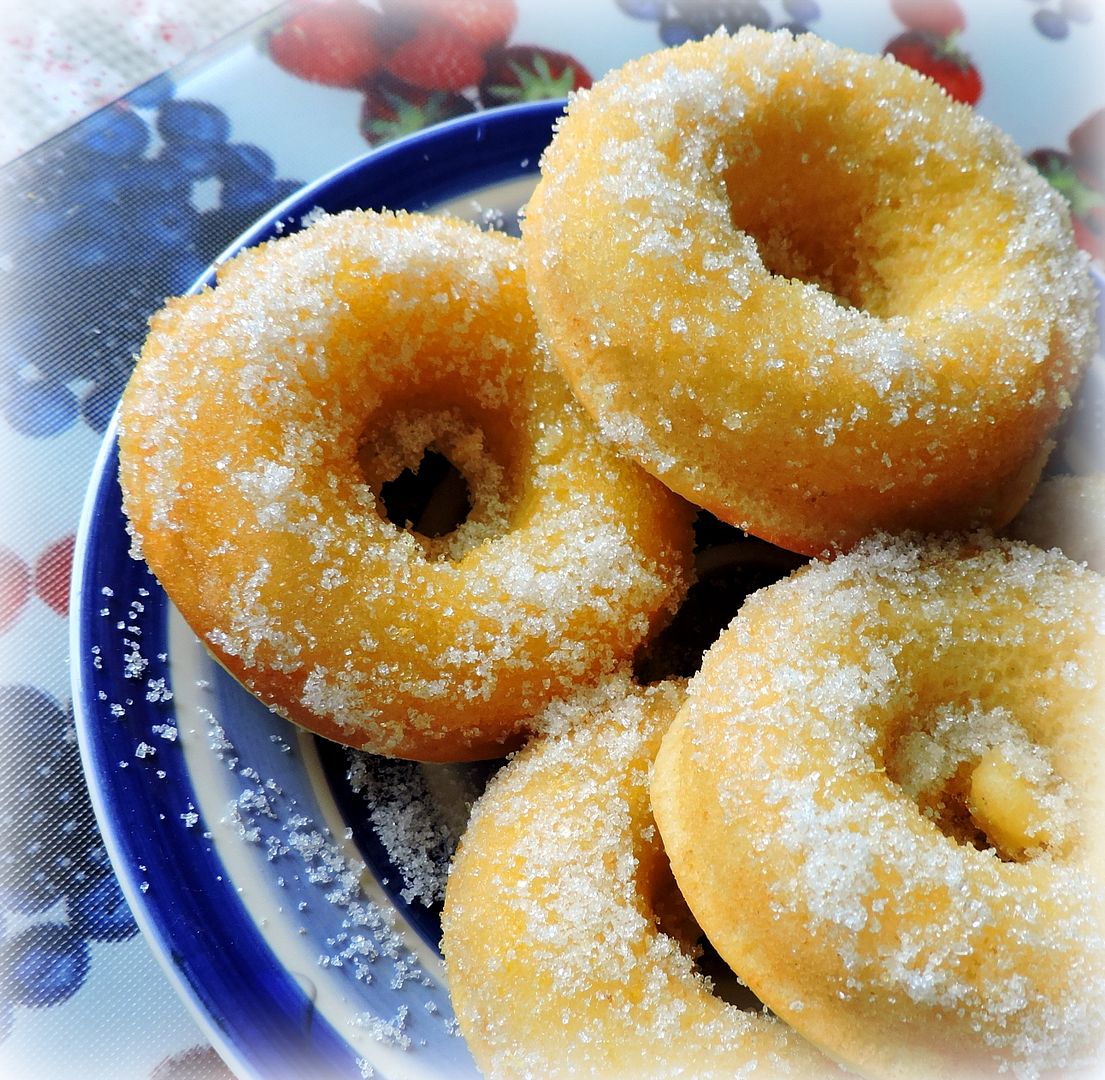 Really, all they are for the most part is small muffin types of cakes, baked in donut shaped pans, but shhh . . . we won't tell anyone.
These are delicious with lovely lemon flavour from that wonderfully moist buttermilk batter . . . to that luciously lemony crunchy sugar coating.
Easy to make and easy to eat. Break out the teapots because you are going to want to enjoy these tender little cakes with a lovely hot drink . . . but I suppose an ice cold glass of milk would also serve you very well. The Toddster enjoyed very much, and the leftovers were shared with some very grateful young lads.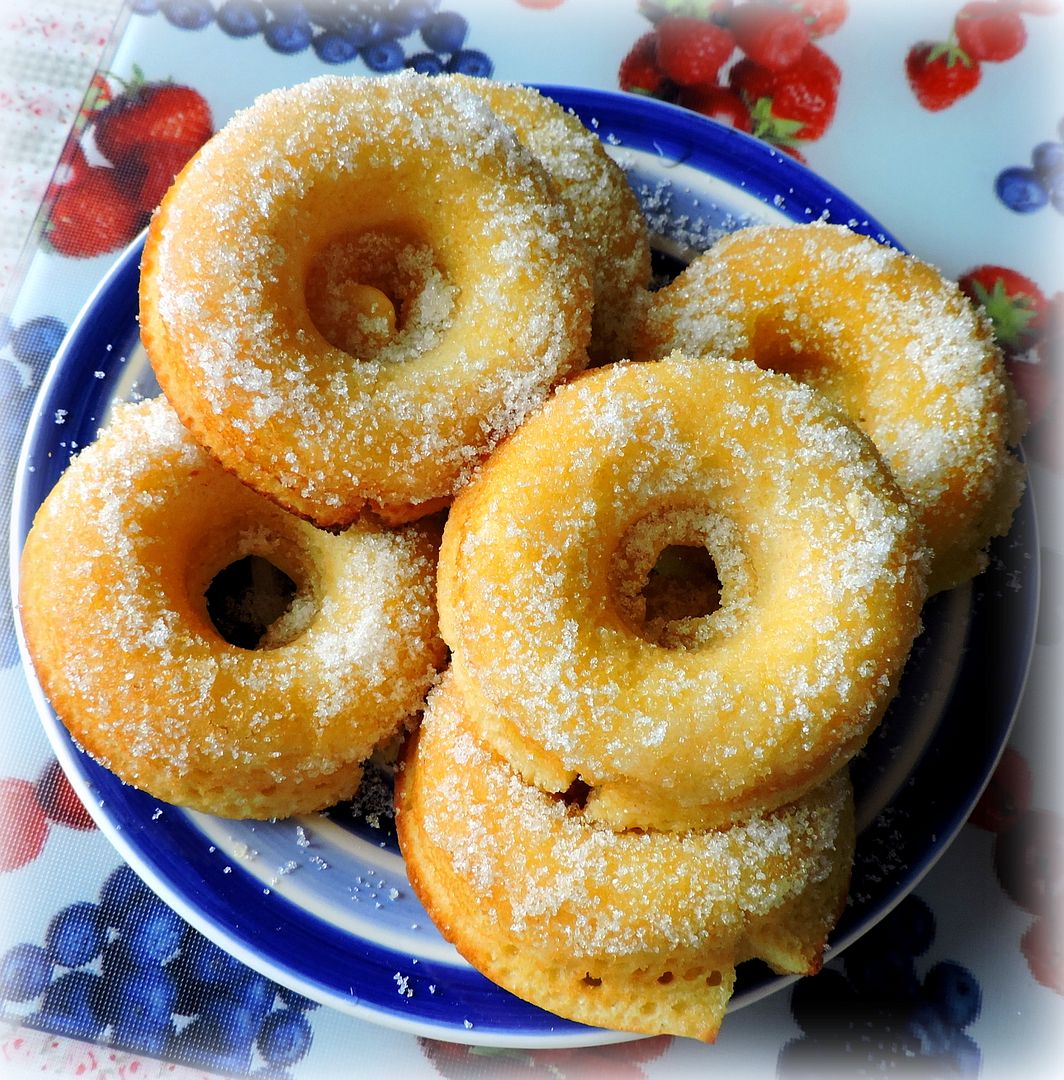 *Baked Lemon Donuts*
Makes one dozen
Lemony and tender and lemon sugar coated. Break out the tea cups!
245g of plain flour (1 3/4 cup)
38g cornflour (1/4 cup cornstarch)
150g caster sugar (3/4 cup)
2 tsp baking powder
1 tsp salt
6 fluid ounces buttermilk (3/4 cup)
2 large free range eggs
2 TBS butter, melted
1 TBS lemon juice, fresh
1/2 tsp vanilla extract
2 tsp freshly grated lemon zest
For the sugar coating:
50g of granulated sugar
4 tsp grated lemon zest (fine)
4 to 5 TBS melted butter
Preheat the oven to 220*C/425*F/ gas mark 7. Spray two nonstick donut pans with non stick low fat cooking spray. Set aide.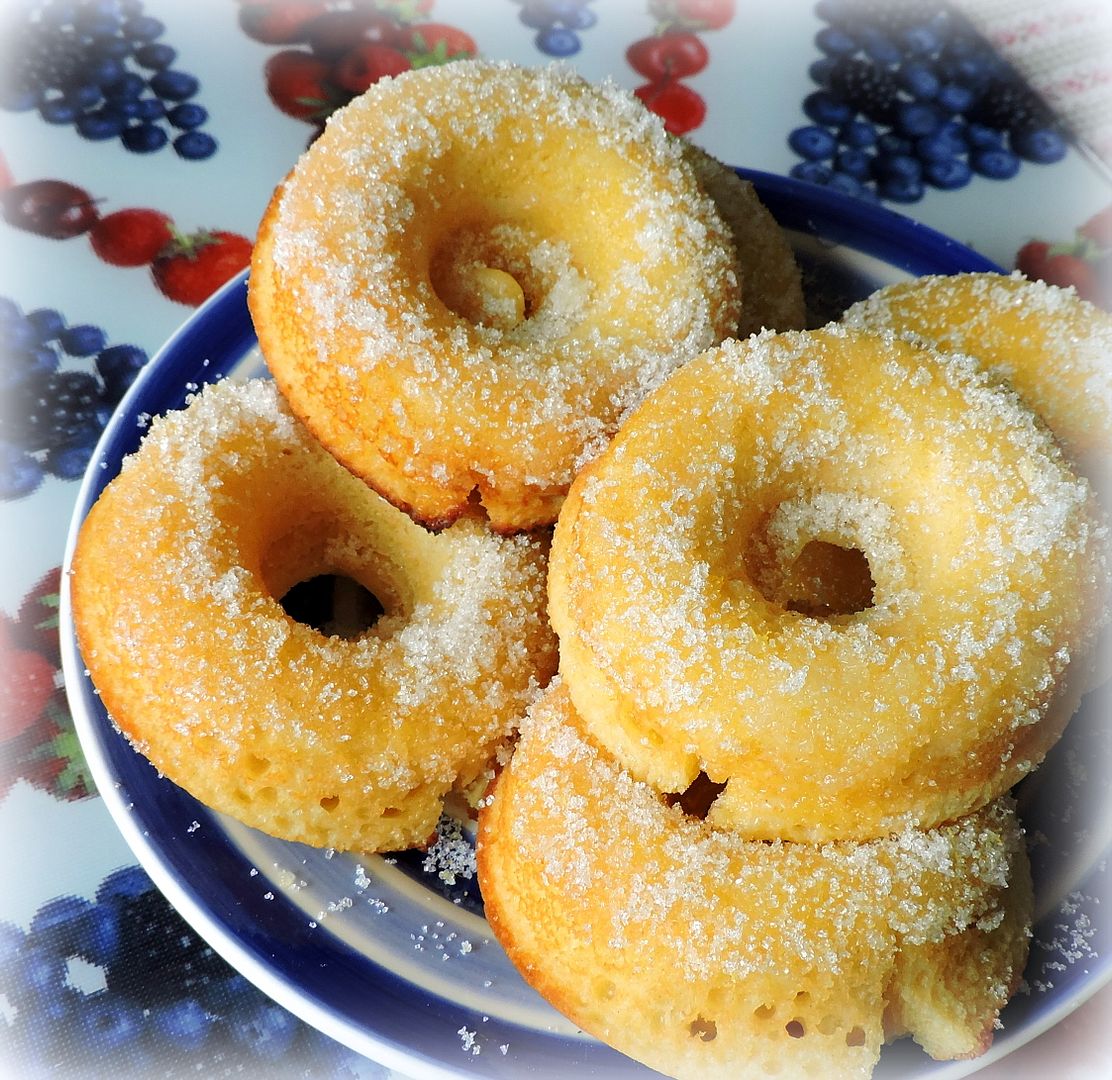 Whisk together the flour, cornflour, sugar, baking powder, and salt in a bowl. Whisk together the buttermilk, eggs, butter, lemon juice, vanilla and lemon zest. Add all at once to the flour mixture and stir just to combine. Divide the batter evenly between the donut pans. Bake for 7 to 9 minutes until well risen and donuts spring back when lightly touched.
Allow to cool in the pans for 5 minutes before removing.



Rub the sugar and lemon zest for the coating together well. Brush the tops of the still warm donuts with melted butter, and then press them into the lemon sugar to coat. Serve warm or at room temperature.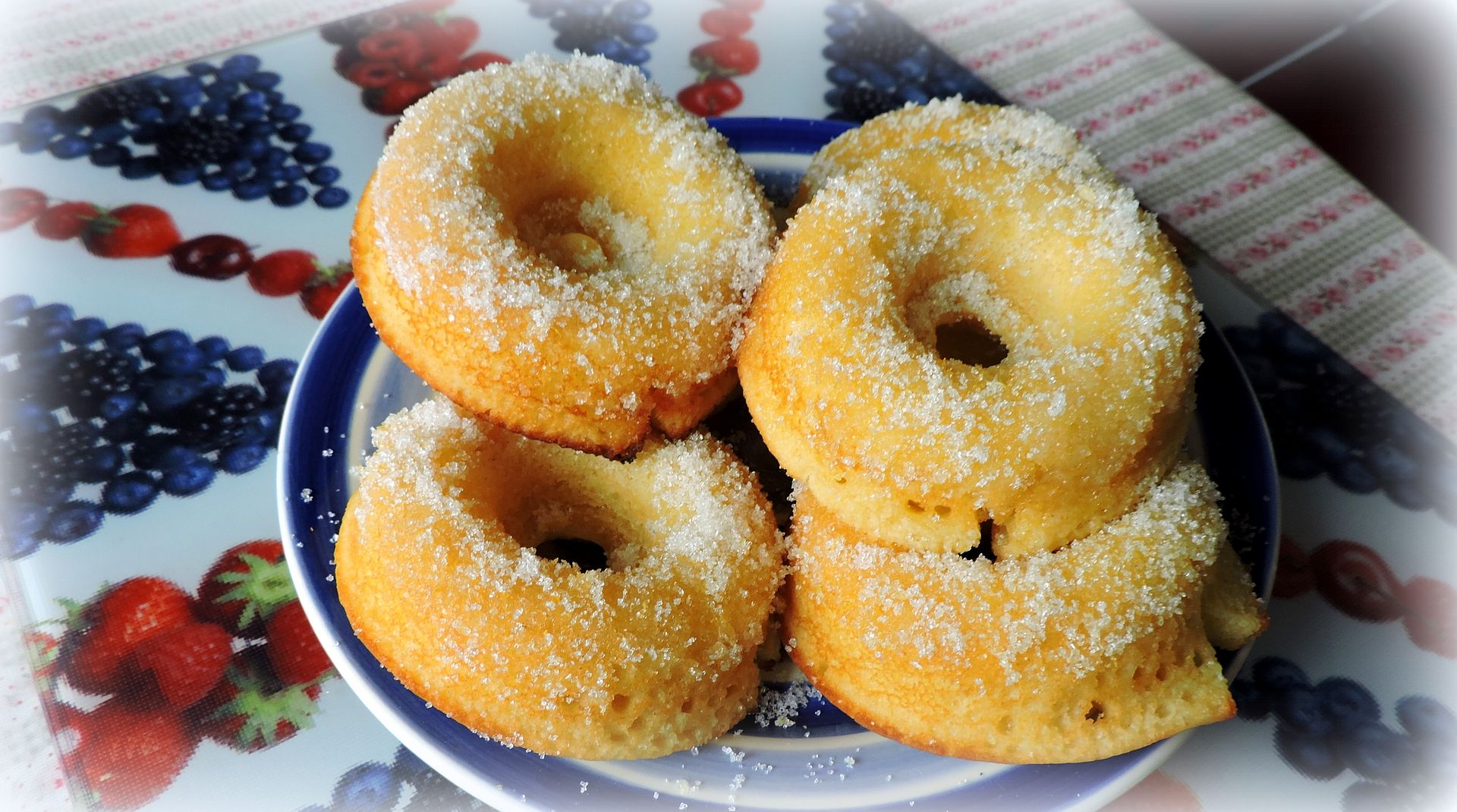 Note - This recipe works very well divided in half. I did so as I only had Todd and the Lads to feed. I think when you weigh your ingredients, halving recipe works much easier. I also think that you could freeze these without the sugar coating without any problem.
Bon Appetit!