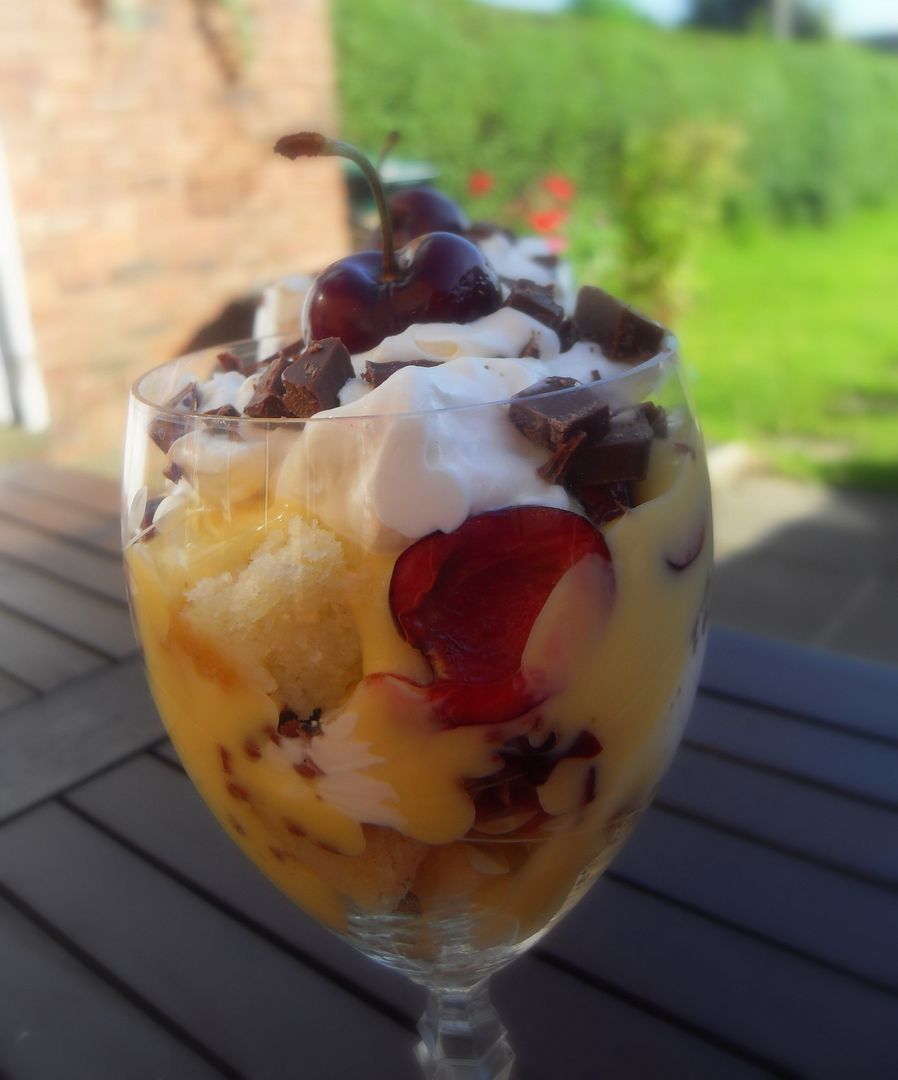 One of my favourite late spring/early summer fruits is cherries. When we lived down in Kent at this time of year you could find lots of cherry sellers set up on the many laybys in the area, their tables just laden with glorious cherries, of several different varieties.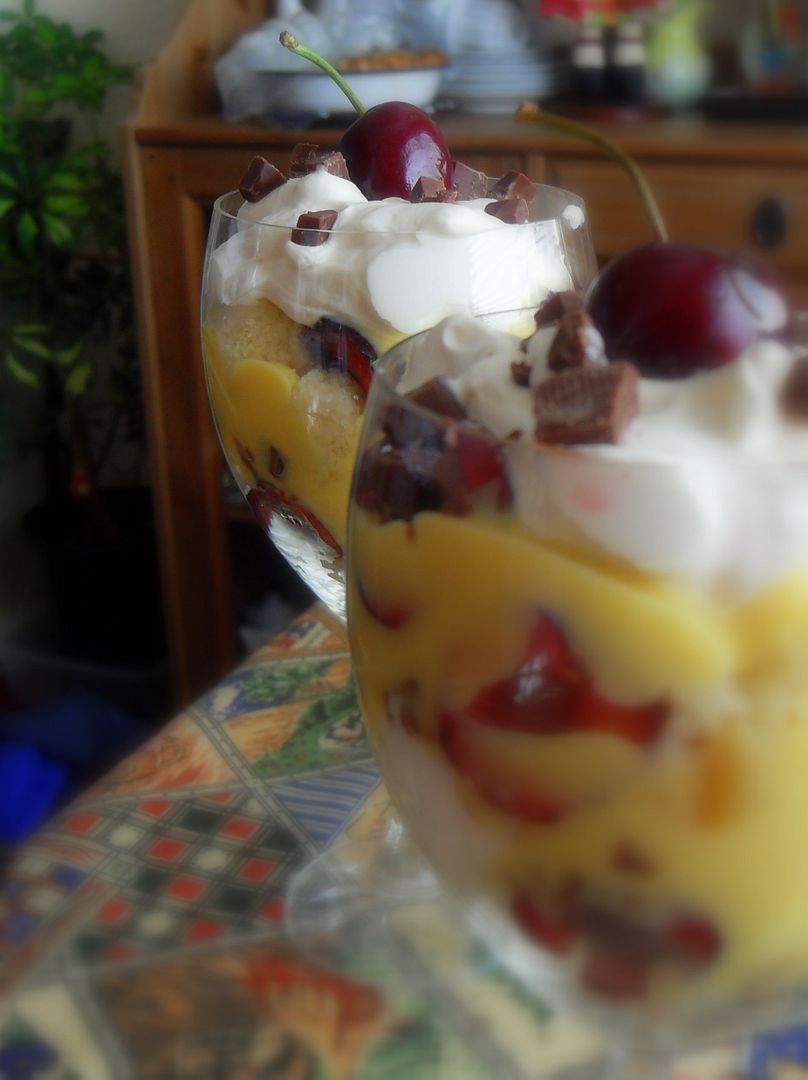 It was so easy to stop and purchase a paper bag filled with them . . . I know I should have taken them home to wash before eating, but I always stuffed my face with them right in the car . . . still warm from the sun. Oh my . . . but they were so sweet and soooo delicious . . . I'm afraid I made a pig of myself with them each and every year!! ☺
I am not in cherry growing country anymore . . . no cherries in the laybys up here, alas . . . *sniff *sniff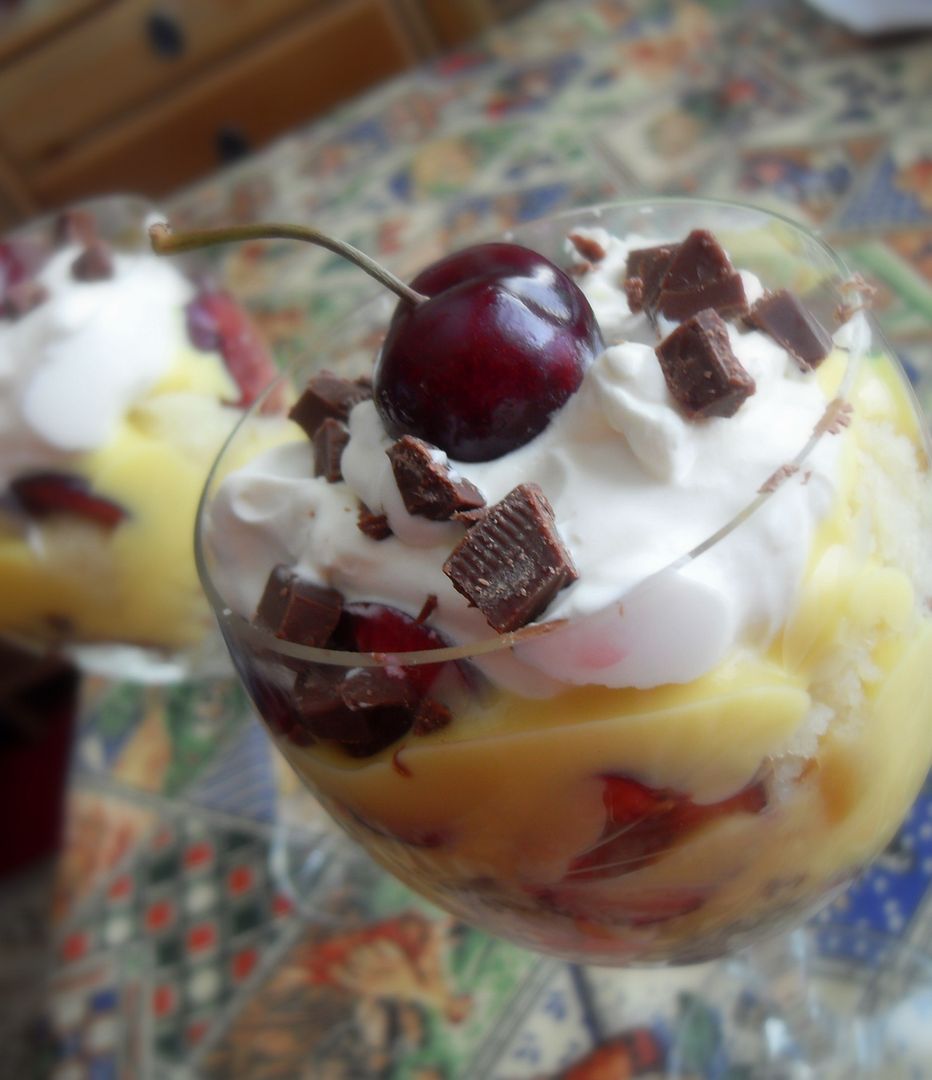 I did find some on offer at my local shops though, and so I just had to buy a few punnets for us as a lovely treat!! One to eat out of hand and the other . . .
The other to make this delicious summer trifle with.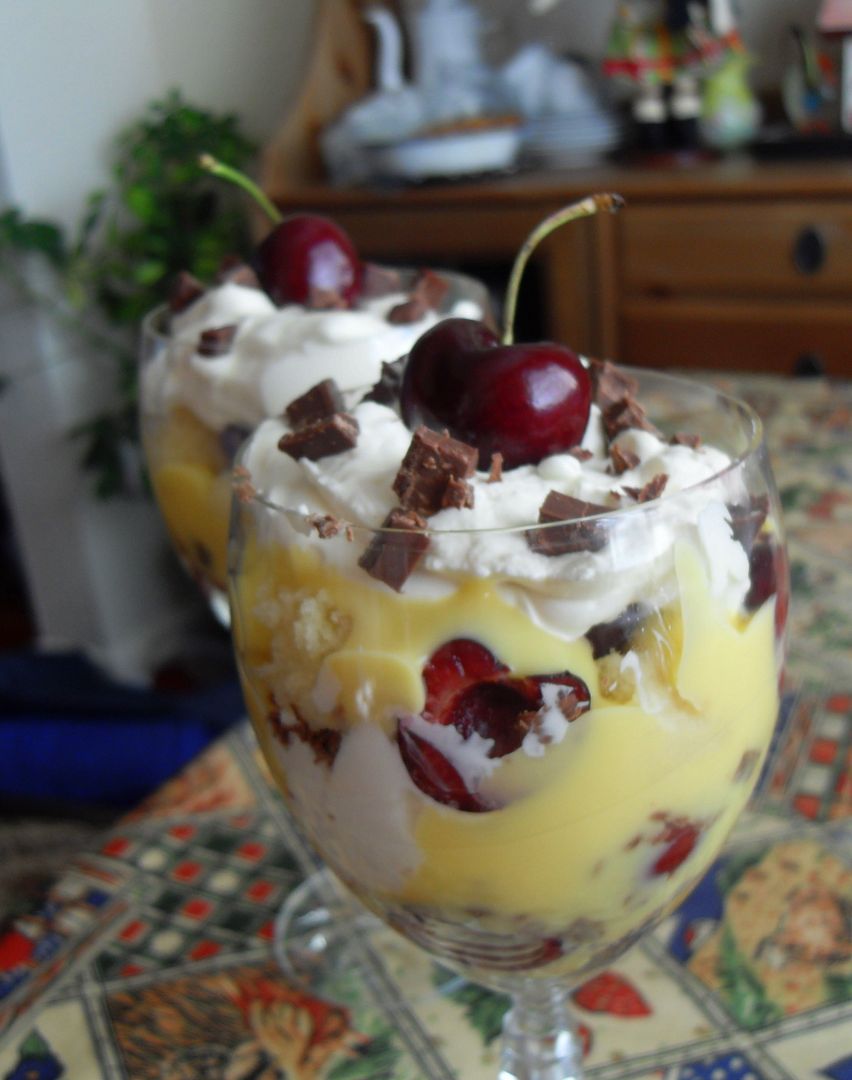 Imagine it . . . layers of softened cake, rich custard, softly whipped cream, grated chocolate and lucious sweet cherries . . . all together in one scrummy glass. Each spoonful so very delicious and delightful!
mmm . . . I can't get enough of this. I think I'll be at th shops again in the morning to pick up some more. Not quite the same as the sun warmed ones in the paper bag . . . but needs must do what needs must do . . .
*Summer Fresh Cherry Trifle
*
Serves 6
Printable Recipe
This delicious fruity trifle makes the best of sweet cherries during their short growing season. Cherries and chocolate. Fantabulous!
450g fresh cherries
(1 pound)
300g of trifle sponges or light sponge cake, cut into cubes
(about 3 cups, cubed)
3 TBS Frangelico, or Chocolate Schnaaps
(can use fruit juice)
200ml double cream
(1 cup)
1 TBS caster sugar
seeds scraped from 1/2 a vanilla pod
400ml ready made custard or vanilla pudding
(3 cups)
grated or chopped chocolate
(I used green and black organic milk chocolate)
Set aside 6 perfect cherries to top the trifles with. Put the remaining cherries and cut in half. Chop the trifle sponges into cubes and put into a bowl. Sprinkle with the liqueur or the fruit juice. Whip the couble cream until softly whipped, stir in the sugar and vanilla seeds.
Arrange layers of the cake, custard, fruit, cream ad chocolate in individual serving glasses, layering them twice and ending with whipped cream and chocolate on top. Garnish each trifle with one whole cherry. Serve immediately, or cover and chill for up to 6 hours before serving.
Yes, I know this is a repeat, taken from my pre-diabetic days . . . the memory of it is delicious. Sadly not on my diet anymore, but some things are just so tasty I just want to share them with
you
again! I do hope that you will make it.
Bon Appetit!