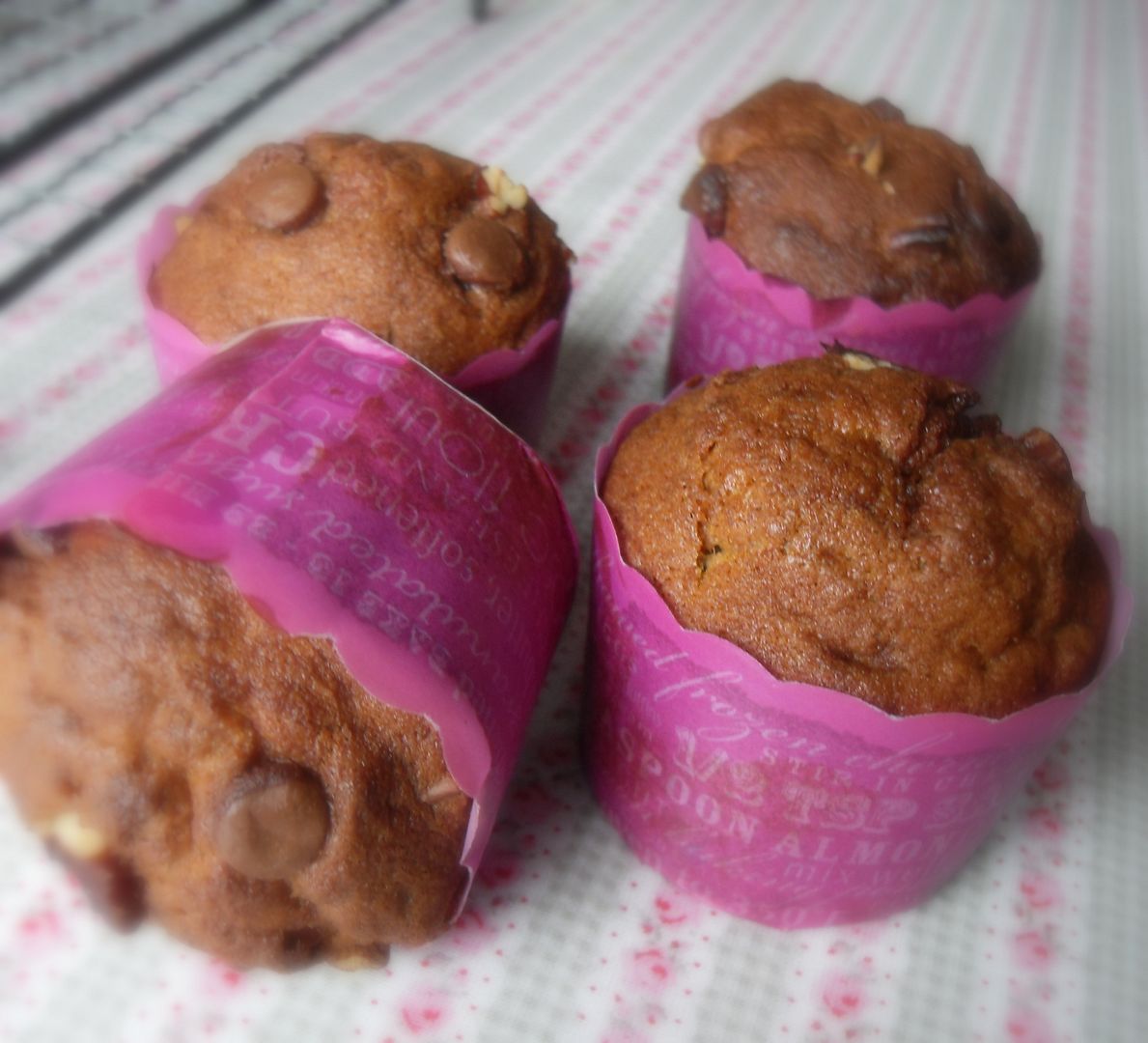 I had some bananas here in the house that were just about to the point where they needed to be tossed . . . I hate wasting good, ripe banana . . . it's such a necessity when it comes to making banana cakes and such . . . in fact I always purposely hide a few . . . just so I can have some to bake with.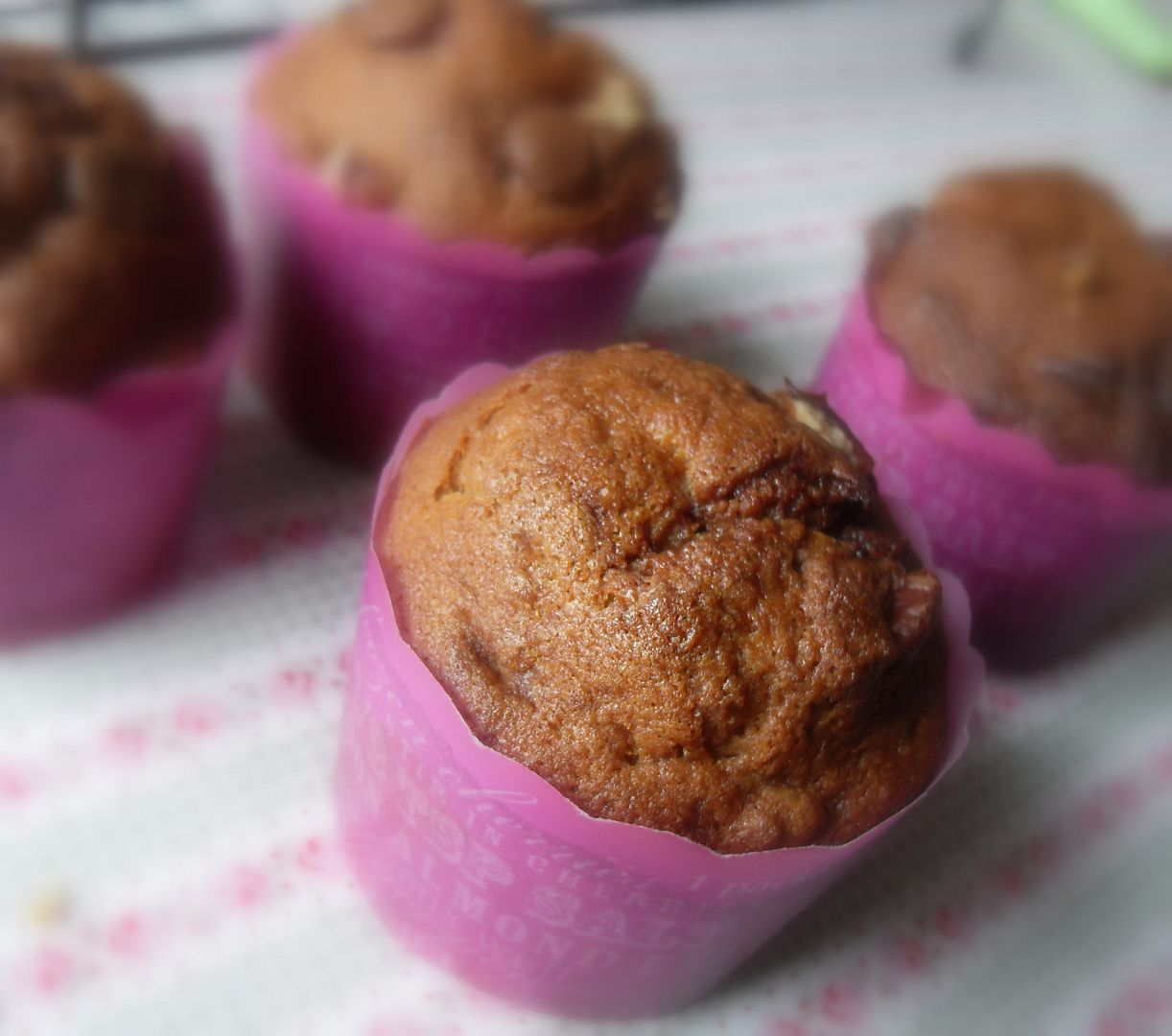 The Toddster is a banana nut . . . if I didn't hide some of the bananas . . . we'd never get banana baked anything, as he eats them up as fast as I get them in . . .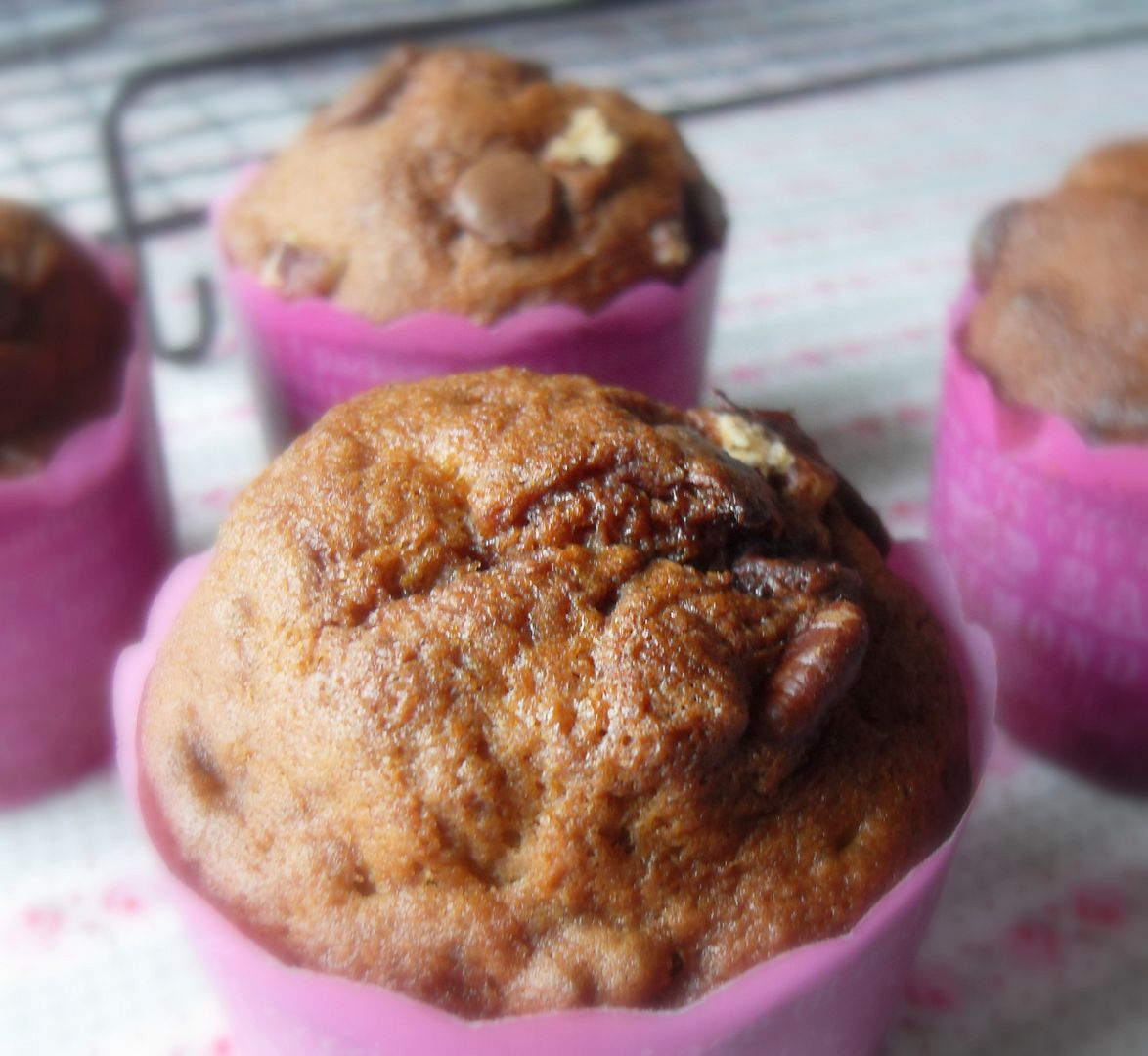 So I have to be a bit devious . . . you know. It's
not
really a bad thing . . . as he just as equally enjoys what I have made with them! (I am sure we all have our little secrets that we keep from the old man . . . ahem . . .)
Like these scrummy Banana Chocolate Chip Muffins! They're soooo delish . . . the addition of yogurt helps to make them so moreishly moist . . .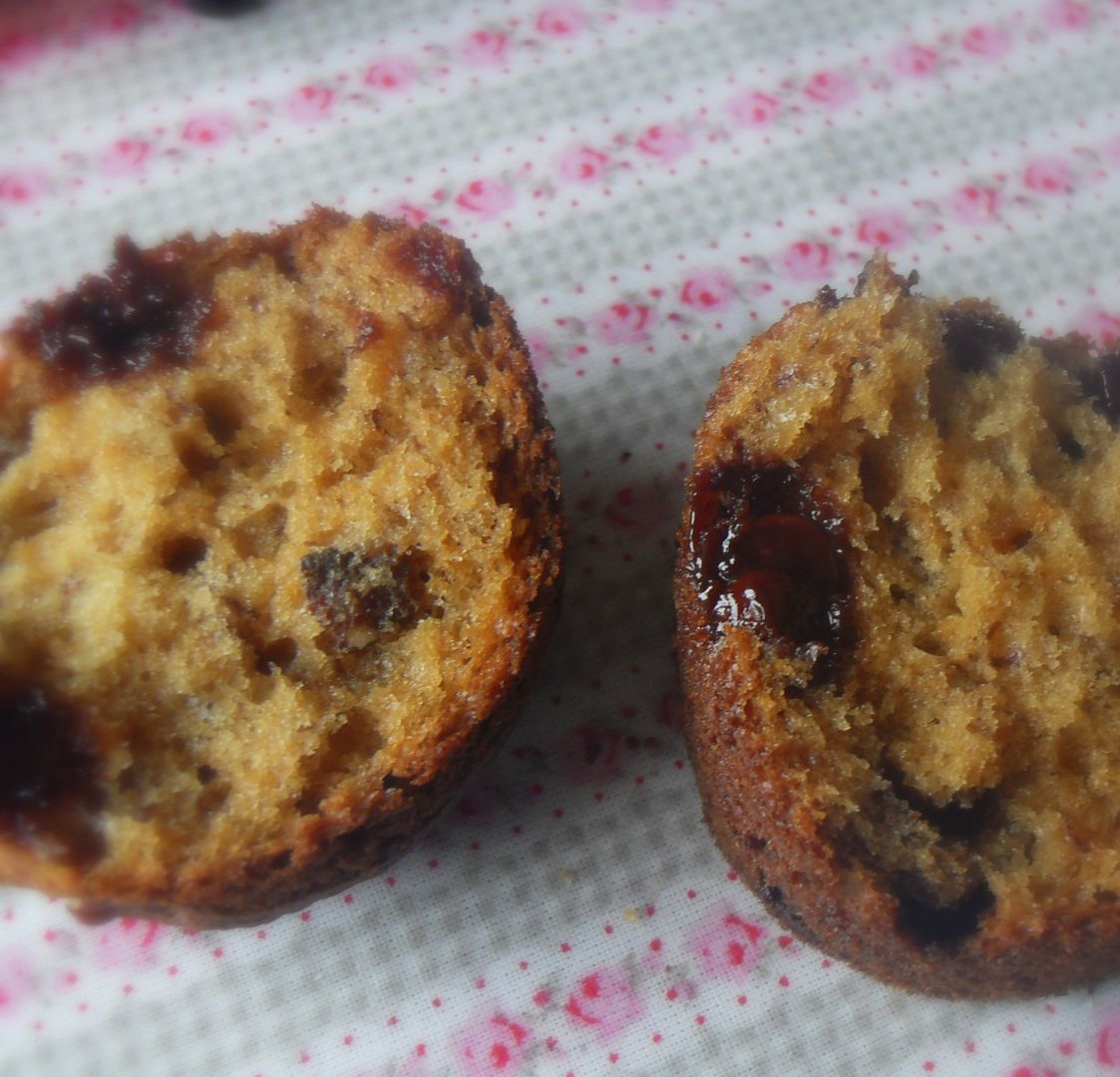 Then there are the milk chocolate chips . . . and lets not forget the toasted pecans! (I couldn't resist breaking one open while it was still very warm . . . just look at all that goooey scrumminess!!)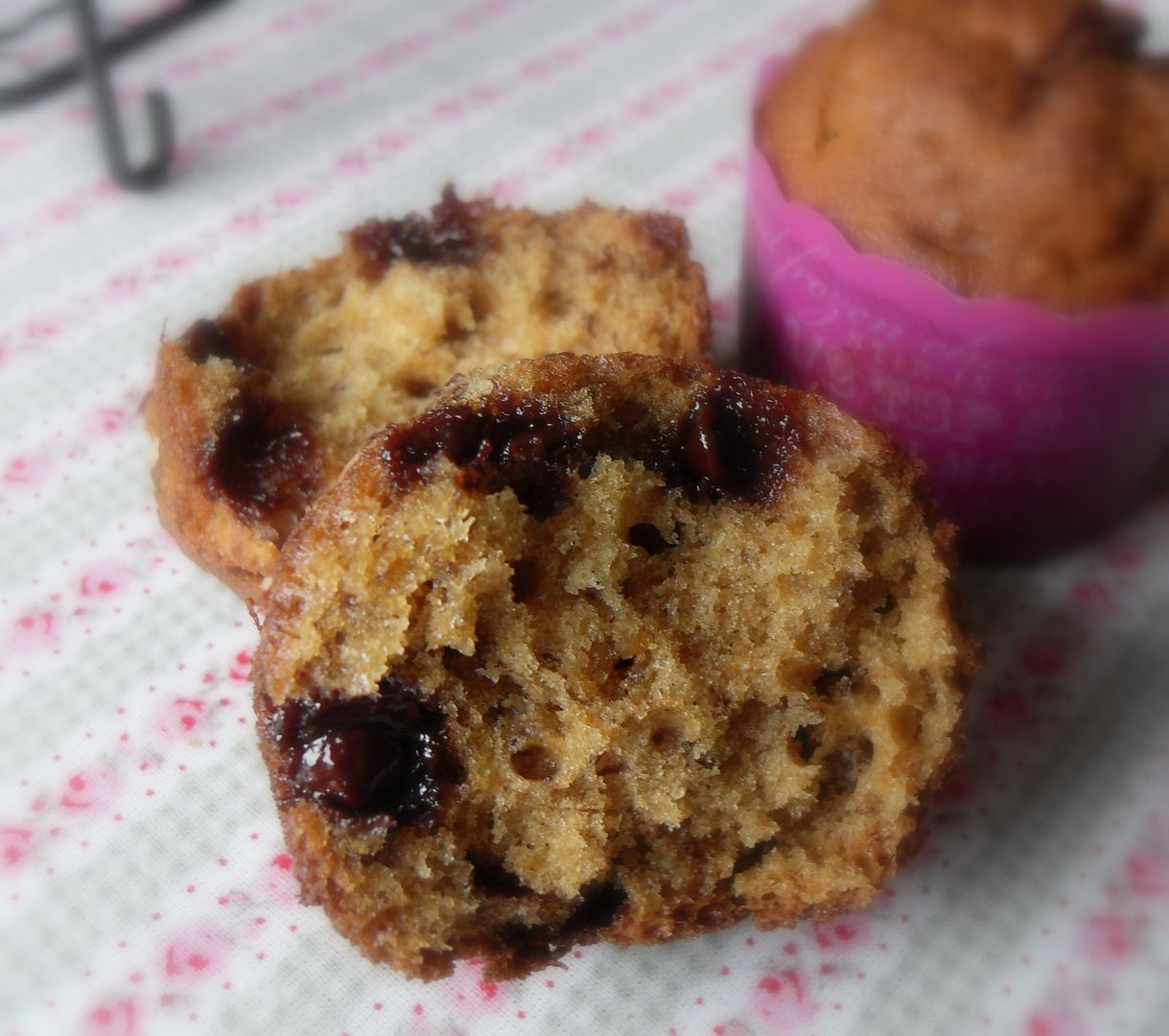 Altogether . . . a winning banana muffin. Great for breakfast, brunch . . . elevensies and . . . dare I say it . . . a midnight snack!!! Bet you can't eat just one!!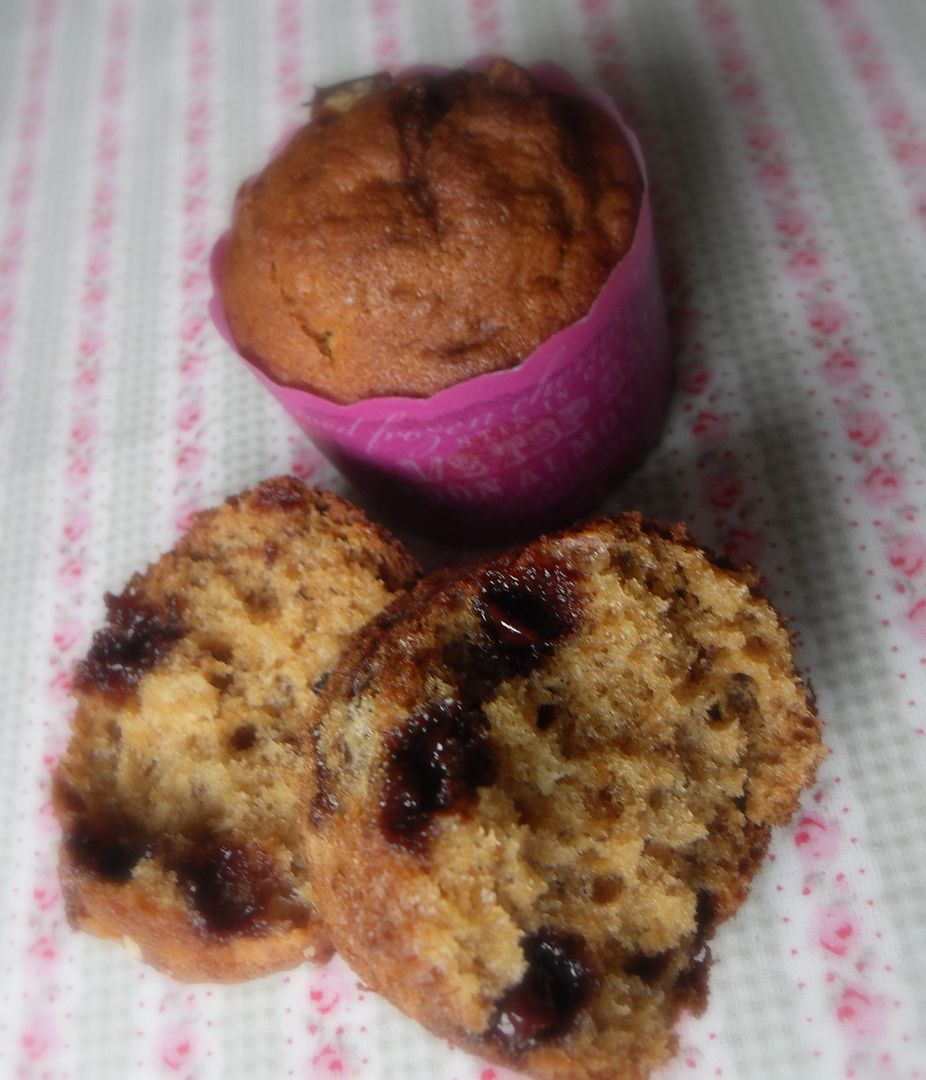 Oh and if you want an extra special treat . . . slice one in half and grill it under the grill until it is golden brown and crisp on the edges . . . then spread it with cold butter. Sooooo hard to resist . . .
Just sayin' is all . . . (Ohhh . . . I am soooo bad . . . but in a very good way, don't you agree???)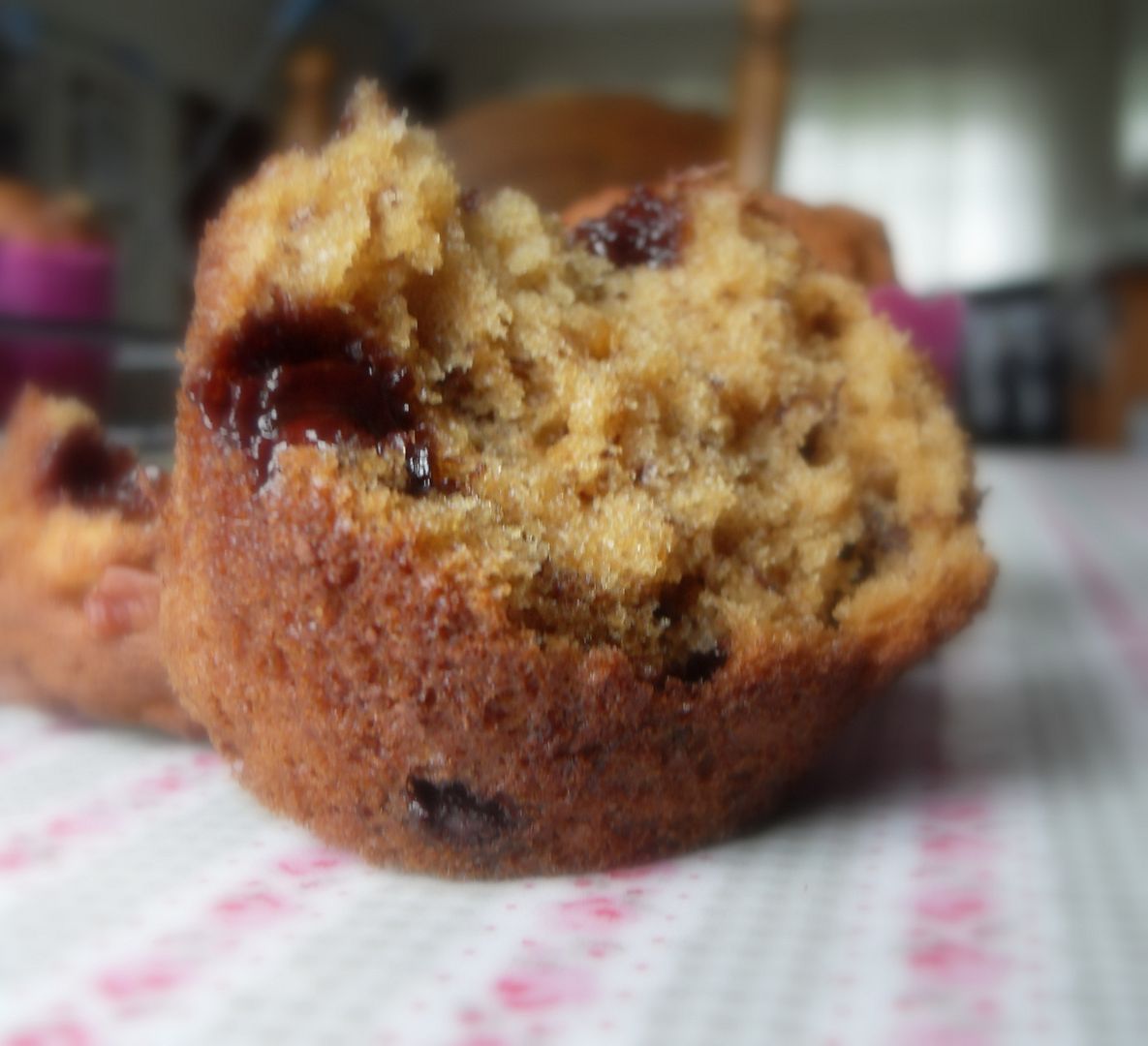 *Banana Chocolate Chip Muffins*
Makes 12
Printable Recipe
Fabulous muffins. Moist and chock full of banana flavour, milk chocolate chips and toasted pecans!
115g of butter, softened (1/2 cup)
190g of caster sugar (1 cup)
2 large free range eggs
1 tsp vanilla extract
1 tsp bicarbonate of soda
1/2 tsp salt
210g of plain flour (1 1/2 cups)
3 medium over-ripe bananas, peeled and mashed
110g plain yogurt (scant 1/2 cup)
60g of chopped toasted pecans (1/2 cup)
180g of milk chocolate chips (1 cup)
Pre-heat the oven to 190*C/375*F/ gas mark 5. Line a 12 cup muffin tin with paper liners.
Cream together the butter and sugar until light and fluffy. Beat in the eggs and vanilla. Sift together the flour, soda and salt. Stir this into the creamed mixture. Fold in the banana and yogurt, along with the nuts and chocolate chips, only until combined. Spoon into the muffin cases.
Bake for 20 to 25 minutes until well risen and they spring back when lightly touched. Remove from the tins to cool completely before storing or eating.
Bon Appetit! Enjoy!