I was recently sent a jar of Yutaka Korean Kimchi to try and I decided to put it to good use in a recipe for Kimchi Mac and Cheese that I had saved some time back. It sounded delicious at the time and I thought it would be a great way to showcase this great product. I was not wrong!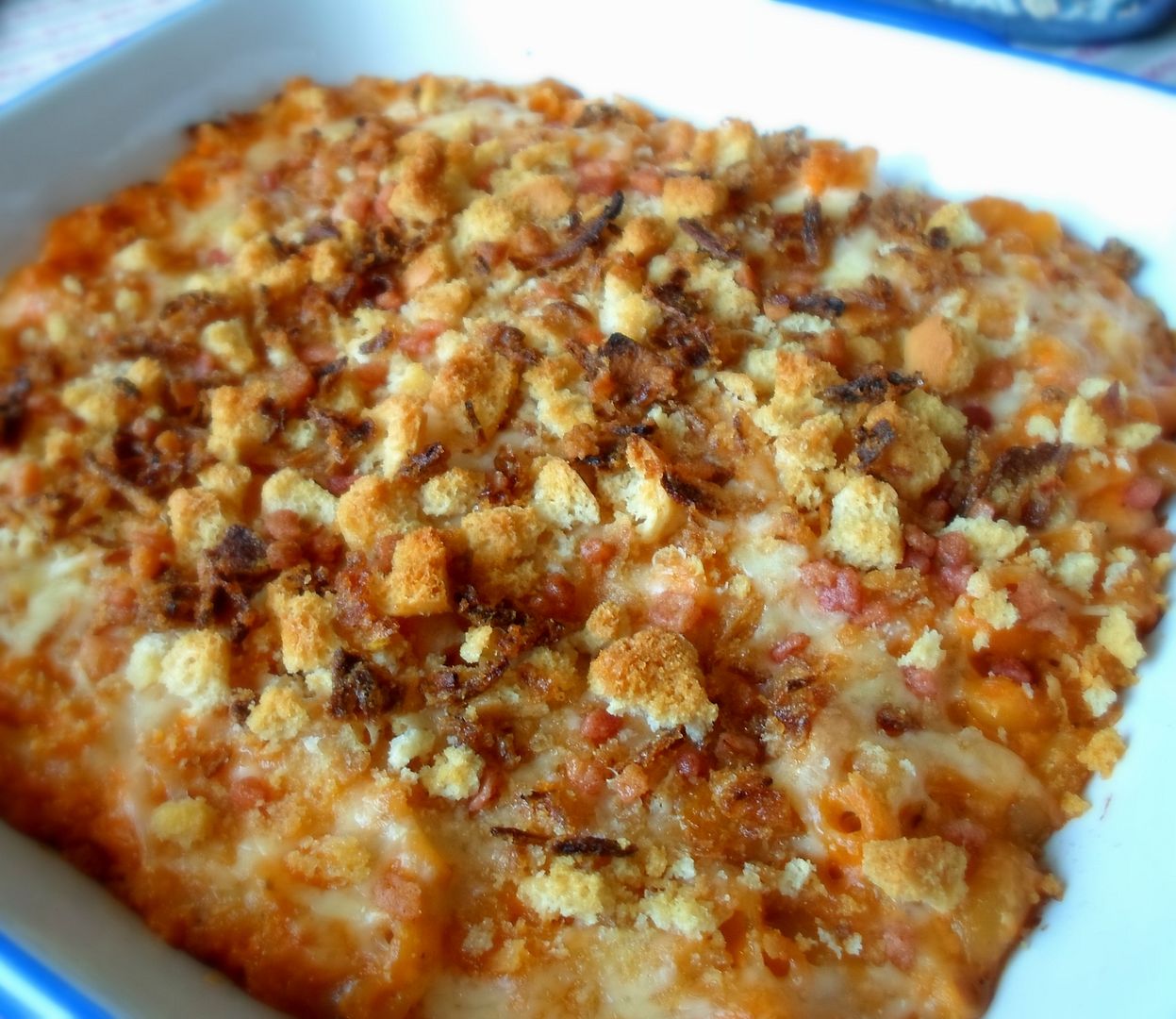 I just adore mac and cheese. I don't think I have ever met a mac and cheese that I didn't like and that includes this version!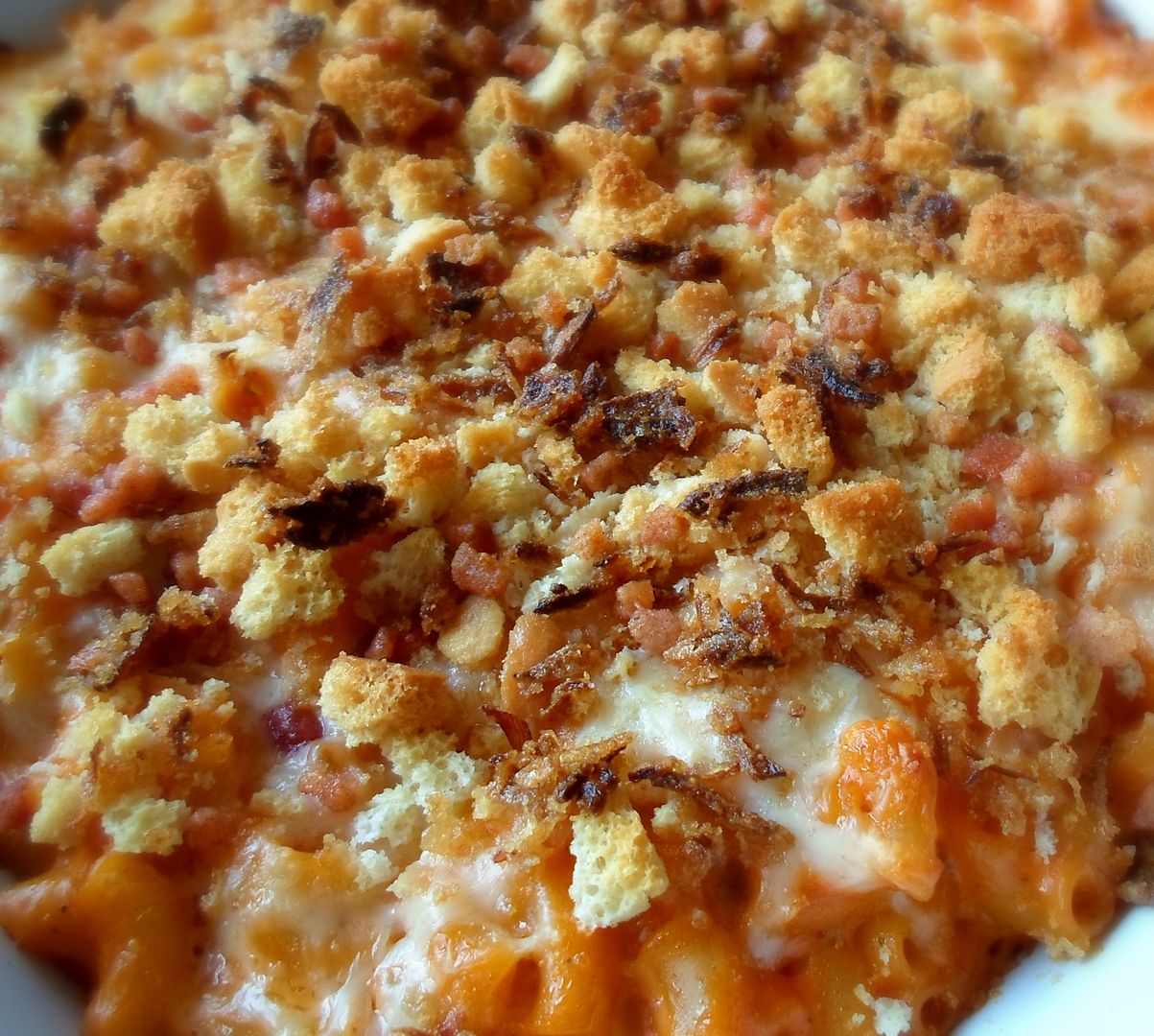 Its rich and indulgent . . . and has a most delicious snap to it! Its not your Mother's Mac and Cheese for sure!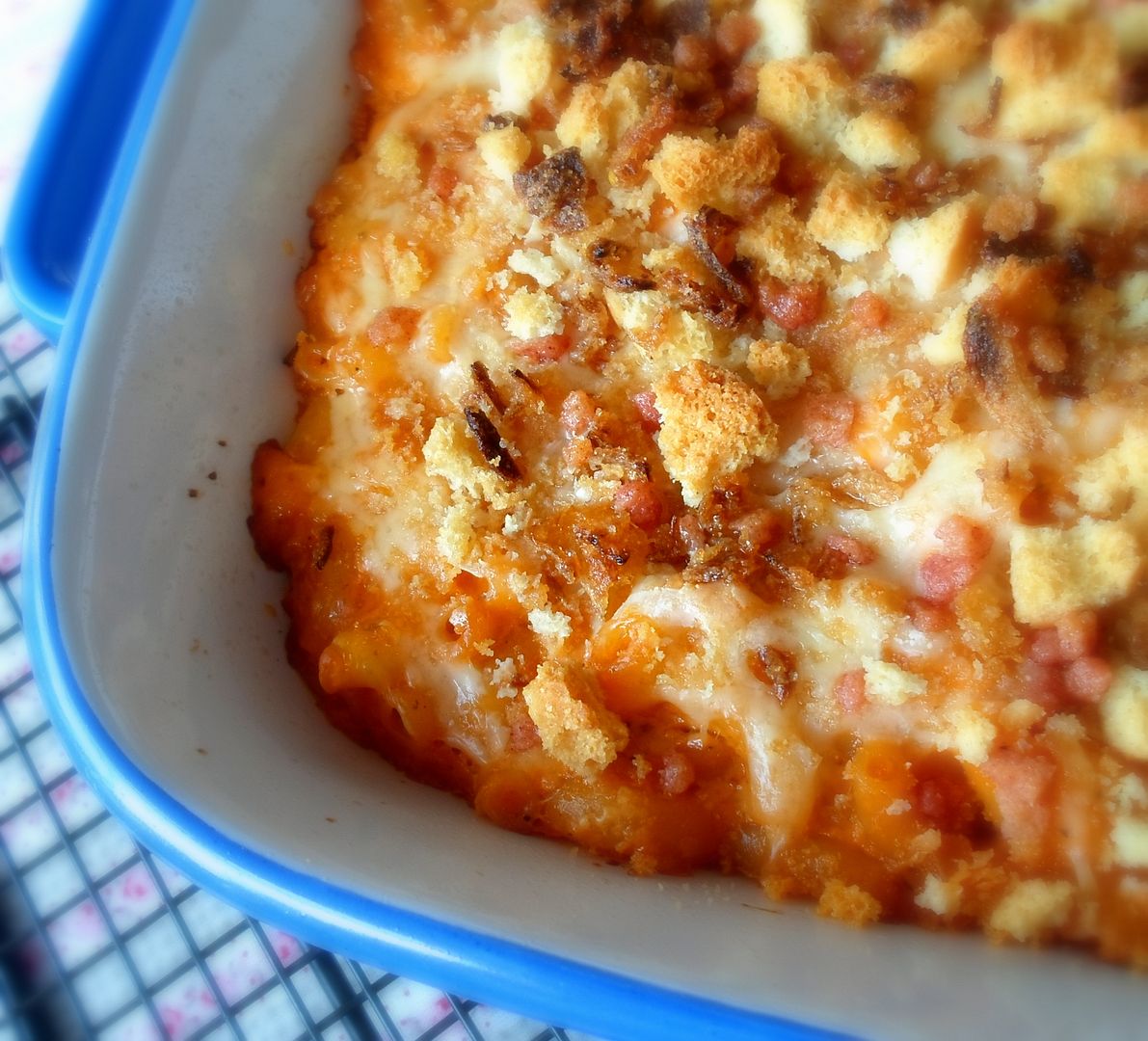 We both really enjoyed it and its something that I would make again, and again, and again.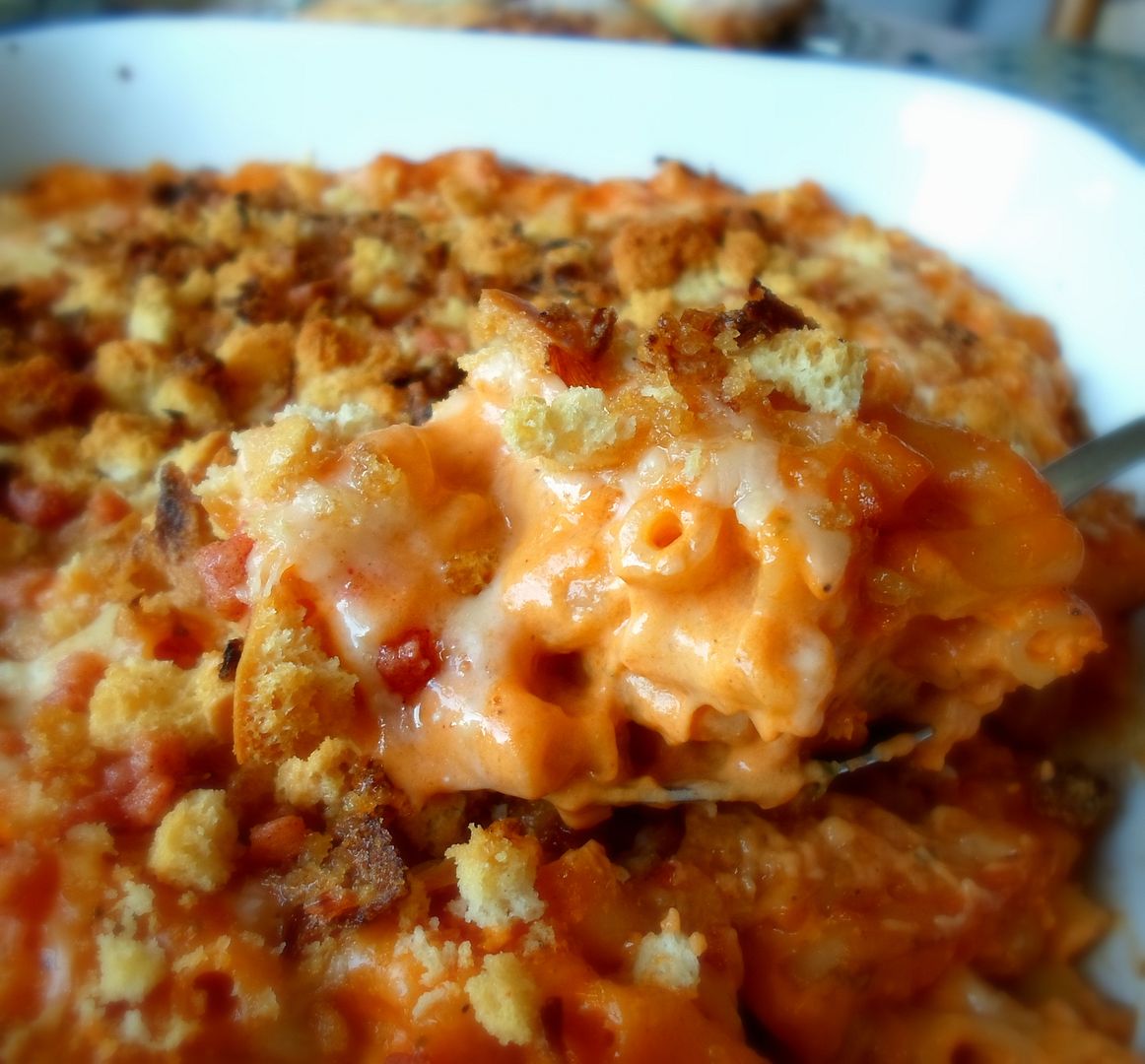 I have discovered that if its spicy, Todd loves it . . . pasta or no. Its only taken me sixteen years to figure this out. ♥ Who knew?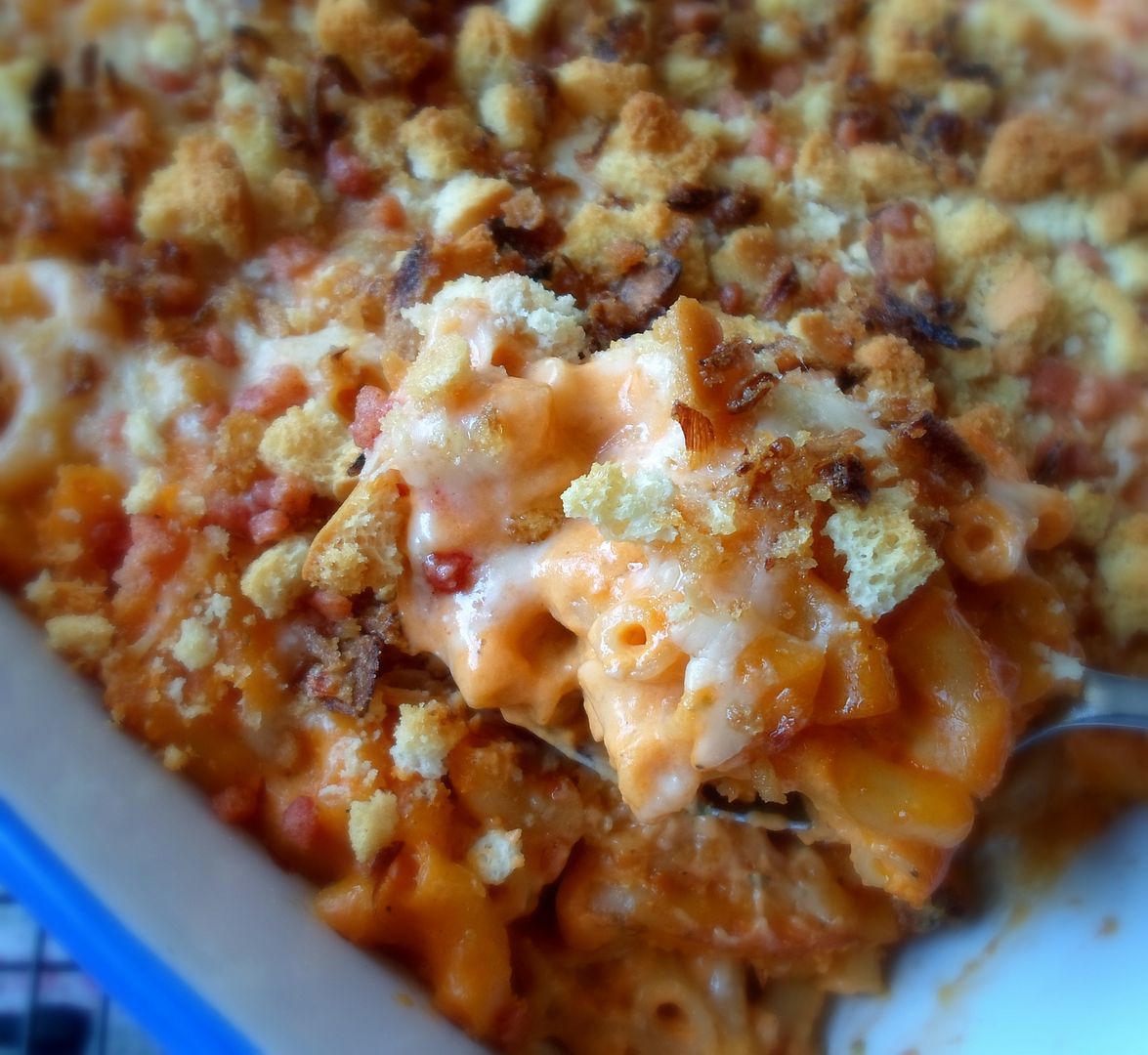 *Kimchi Mac and Cheese*
Serves 4
This ain't your mama's mac and cheese! Decadent and filled with flavour and snap! Give it a go! You'll love it!
225g dried tubular pasta ( 8 ounces) (Penne, Macaroni, etc.)
115g grated gruyere cheese (1 cup)
115g grated strong cheddar cheese (1 cup)
2 TBS butter
2 TBS flour
salt and black pepper to taste
410ml of warmed whole milk (1 3/4 cups)
1 tsp dried mustard powder
120ml of liquid drained from the Kimchi (1/2 cup)
75g of finely chopped Kimchi (1/4 cup)
Buttered cracker crumbs to top
Cook your pasta according to the package directions. Drain well, rinse and then drain again. Set aside.
Melt the butter in a saucepan until it begins to foam. Whisk in the flour and dry mustard and cook for one minute. Slowly whisk in the warm milk and drained kimchi liquid. Cook, stirring constantly, over medium heat until the mixture comes to the boil and thickens. Stir in both cheeses, stirring until the cheeses have melted and completely been incorporated. Stir in the chopped Kimchi. Fold in the cooked pasta.
Butter a 2 litre/quart baking casserole. Pour the pasta mixture into the dish and smooth over the top. Sprinkle with the buttered cracker crumbs.
Preheat the oven to 190*C/375*F/ gas mark 5. Bake the casserole in the heated oven for 25 minutes, uncovered, until bubbling and golden brown. Allow to stand for 10 minutes prior to eating. Serve warm.
The Kimchi I used for this dish was
Yutaka Korean Kimchi
. Kimchi is cabbage fermented with spices and has been a staple food in Korea since the 7th century. Until now, it has only been available in the UK via specialist shops. Japanese food company Yutaka, who create authentic and wholesome Asian ingredients, have now launched it nationwide.
Kimchi has long been recognised as a super food in the Far East and was recently ranked as one of the world's five healthiest foods. Packed with fibre, vitamins and minerals it contains a wealth of anti-oxidants and is bursting with flavonoids and probiotics, which help to slow down aging, maintain healthy levels of cholesterol and strengthen the immune system. Low in calories and with barely a trace of fat, what's not to like!
The Yutaka Kimchi is 100% natural and is made from fermented cabbage with chilli, garlic, radish, carrot, salt and ginger. It makes a great side dish and can be eaten with salads and barbecue food as well as alongside traditional rice and noodle dishes. And as you can see here today, you can also cook with it. Its a very versatile ingredient and very tasty!
It is available nationwide at Sainsbury's from the month of June with an RRP of between £3 and £4.
Many thanks to the people at Yutaka for providing me with a jar of this product to try out.
Note - although I was provided with free product for testing, I was not required to write a positive review. Any and all opinions are entirely my own.
Bon Appetit!