This is a delicious chicken recipe that I made for our tea the other night. I had some partially boned chicken breasts that I wanted to use. I adapted the recipe from one that I found in a Diana Henry cookery book entitled A Bird in the Hand, chicken recipes for every day and every mood. It's a great book. I have a number of Diane's cookerybooks and I have to say I really like her recipes. They are
very
good.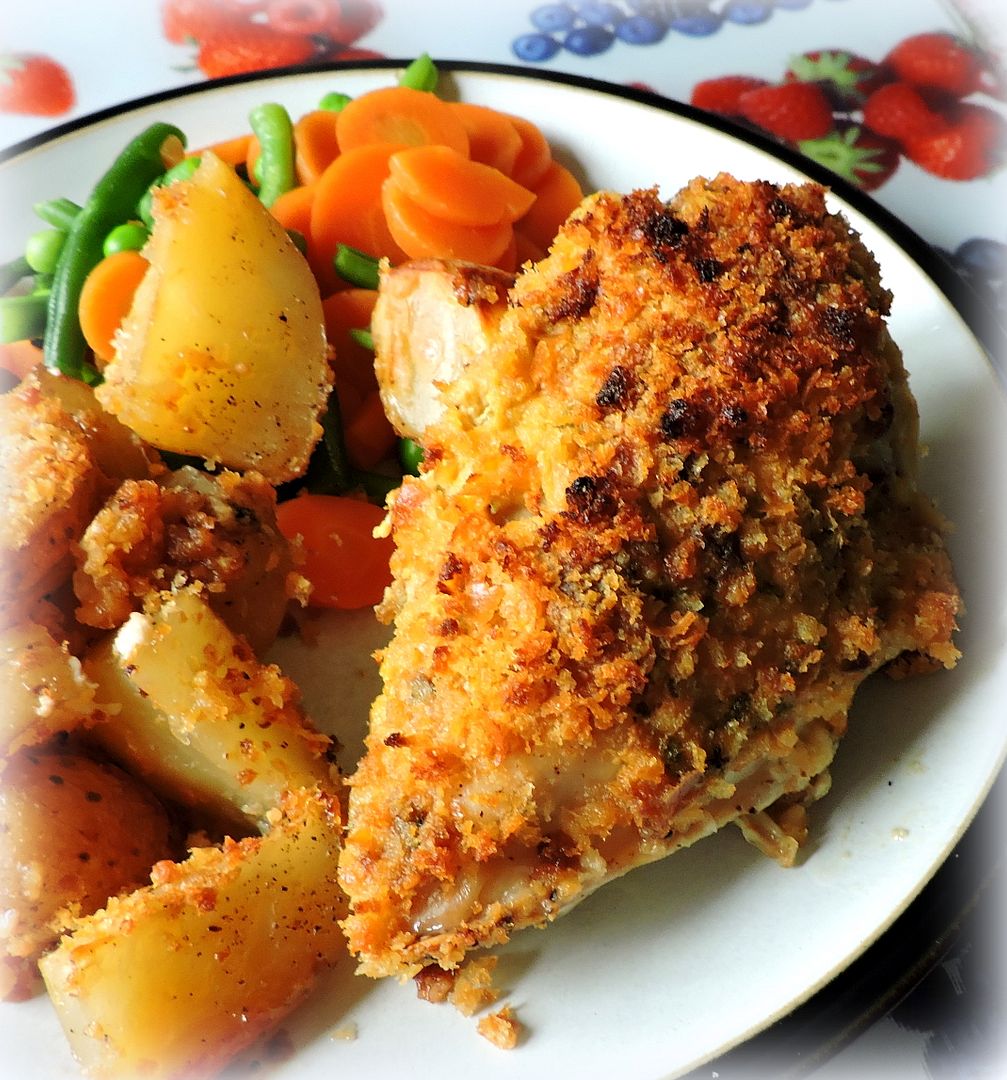 The original recipe called for skinless chicken, any cut . . . I had partially boned breasts with the skin on and so I just left them the way they were.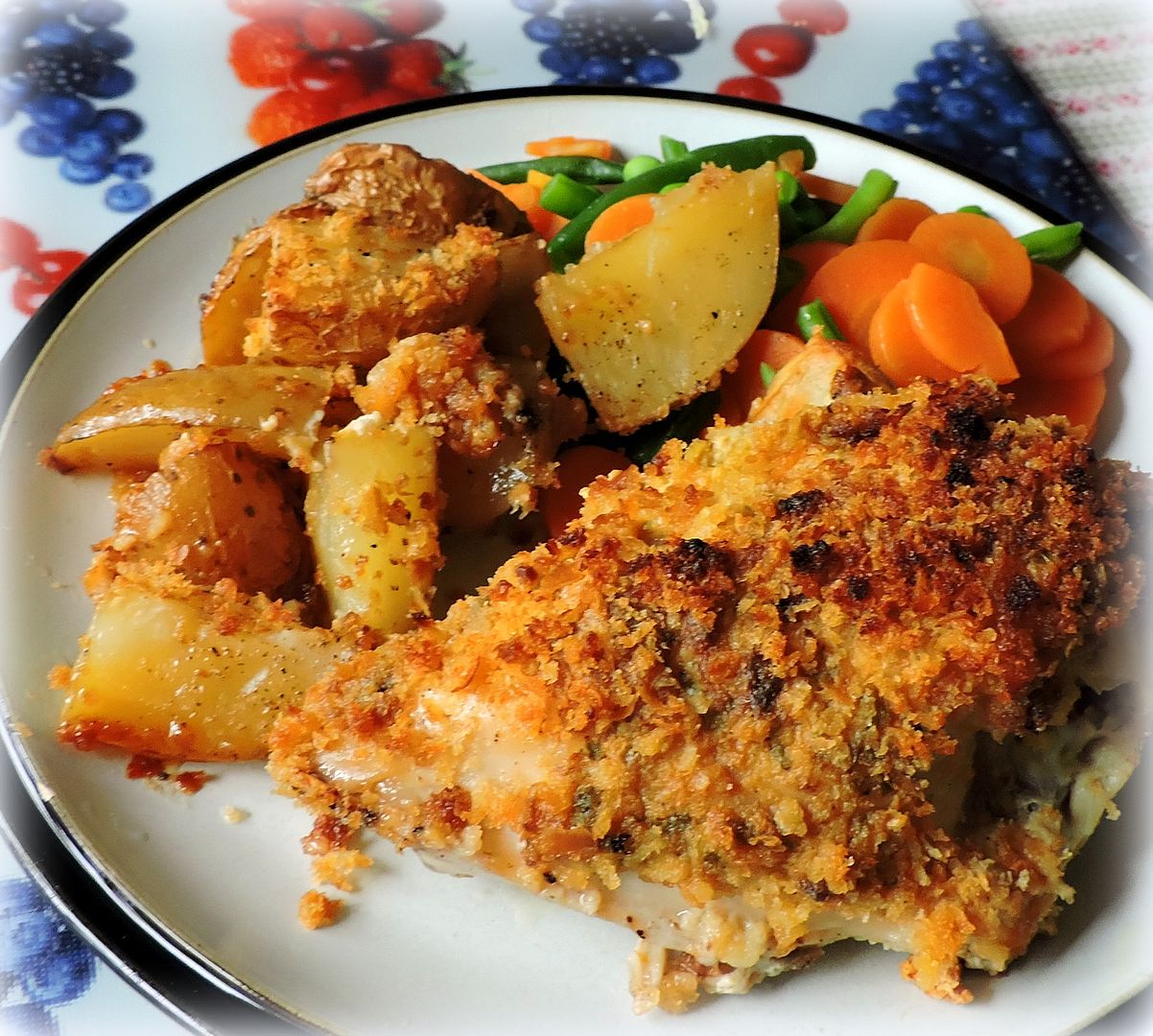 I also didn't have any fresh tarragon, but I figured that it wouldn't make much of a difference to use dried, and so I adjusted the amount to reflect that. If you are using fresh, you will have to roughly double the amount used. I also added some potatoes to the roasting tin and sprinkled any extra crumbs on them. SCRUMMO!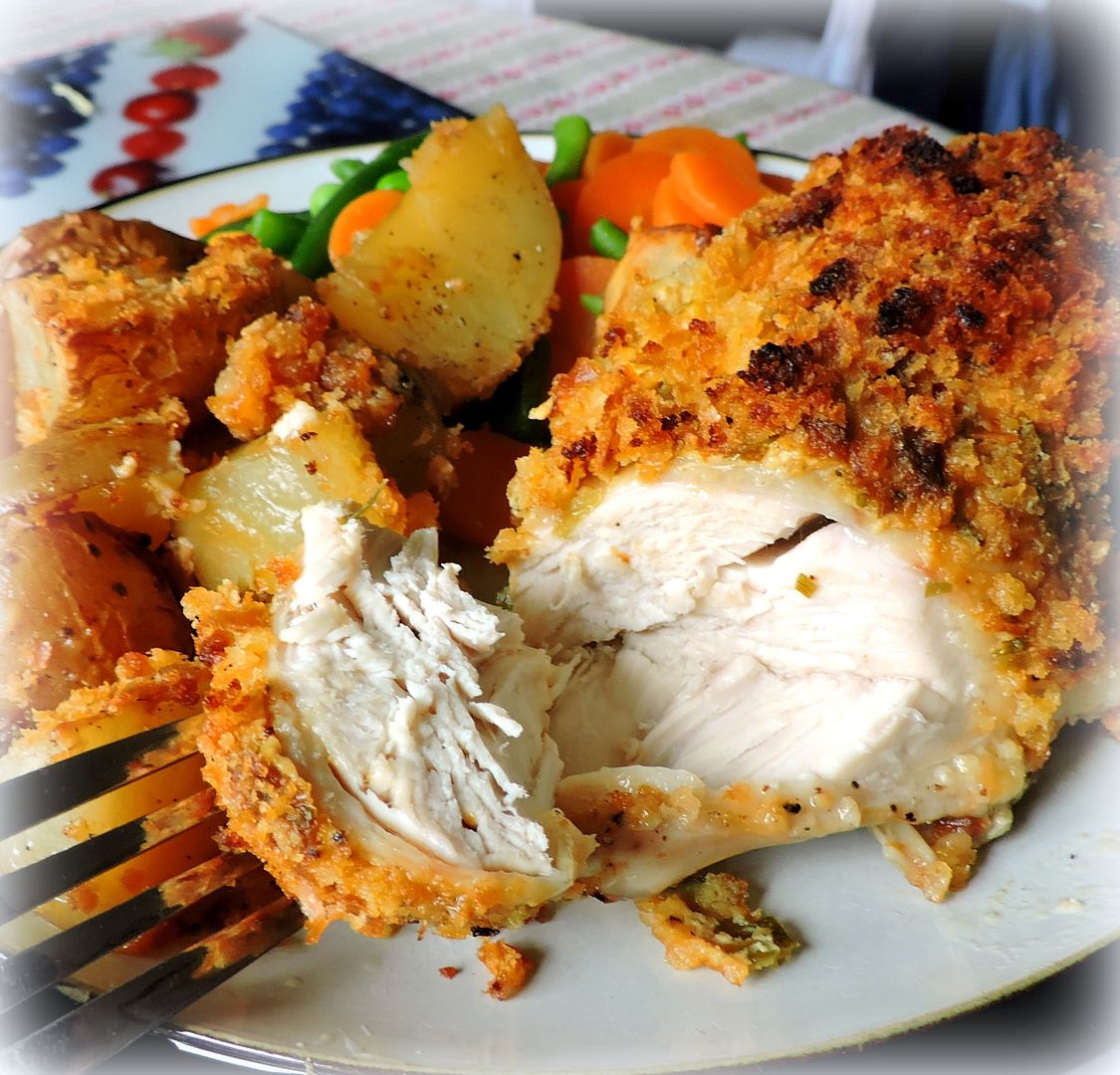 The end result was deliciously succulent chicken and potatoes which were slightly sticky and wonderfully flavoured with the juices of the chicken and crumb mixture. It goes without saying you want a good Dijon mustard here as it is an integral part of the dish. All round I would call this a winner/winner chicken dinner!
*Baked Chicken with Tarragon and Dijon Mustard*
Serves 4 to 6
A great midweek supper. Simple to make and soooo delicious! No faffing about, and hassle free, this tastes gourmet, but is actually quite easy to make.
8 TBS Dijon mustard
4 TBS butter, softened
1 TBS dried chopped Tarragon
salt and black pepper to taste
2 slices of stale bread made into crumbs
8 chicken pieces (I like partially boned, skin on chicken breasts)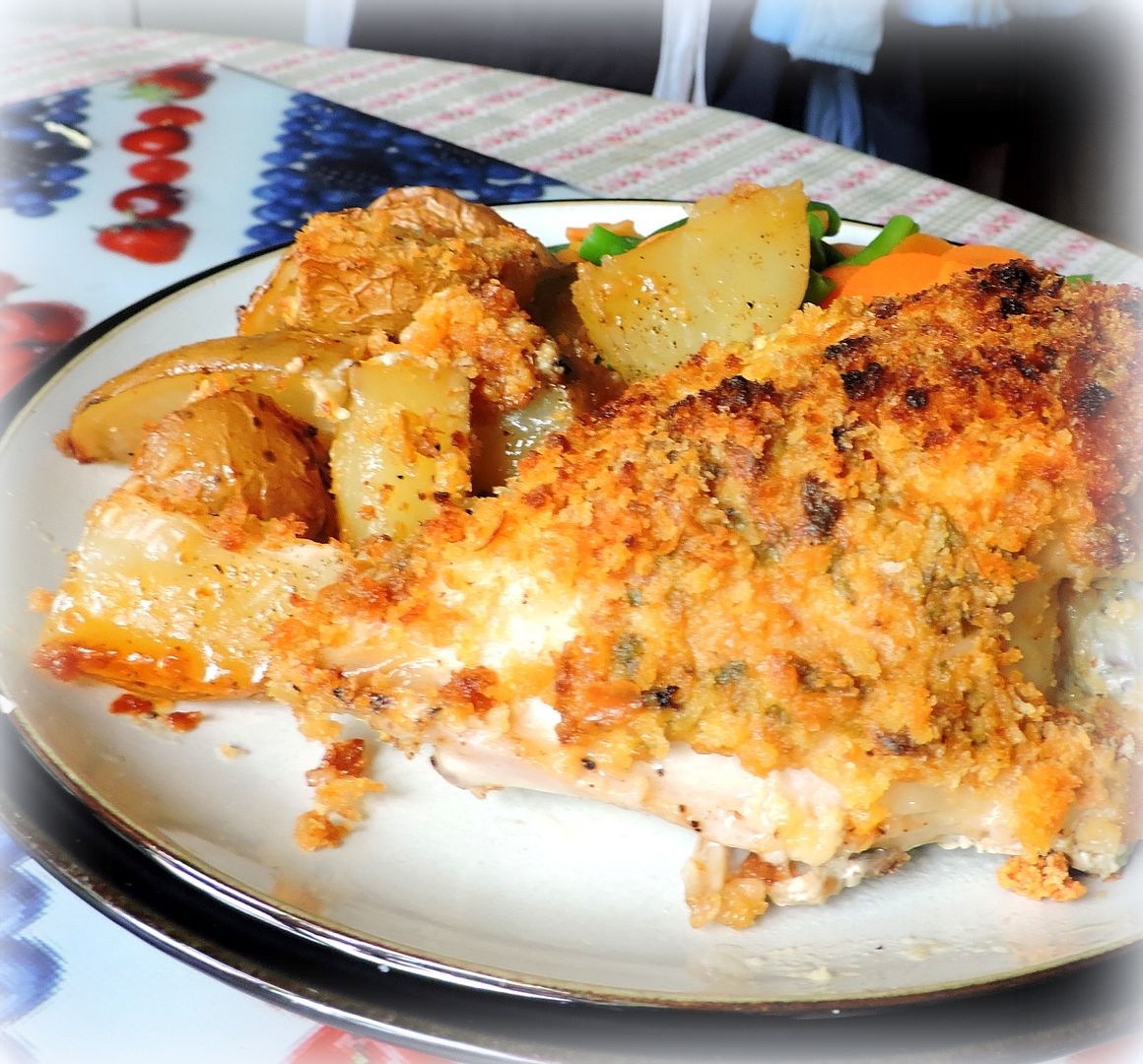 Preheat the oven to 220*C/425*F/ gas mark 7. Butter a baking dish large enough to hold the chicken in one layer.
Place the chicken into the dish in one layer. Season all over with salt and black pepper. Cream together the butter, mustard and tarragon. Spread this evenly over your chicken pieces. Sprinkle with the bread crumbs, pressing lightly to adhere.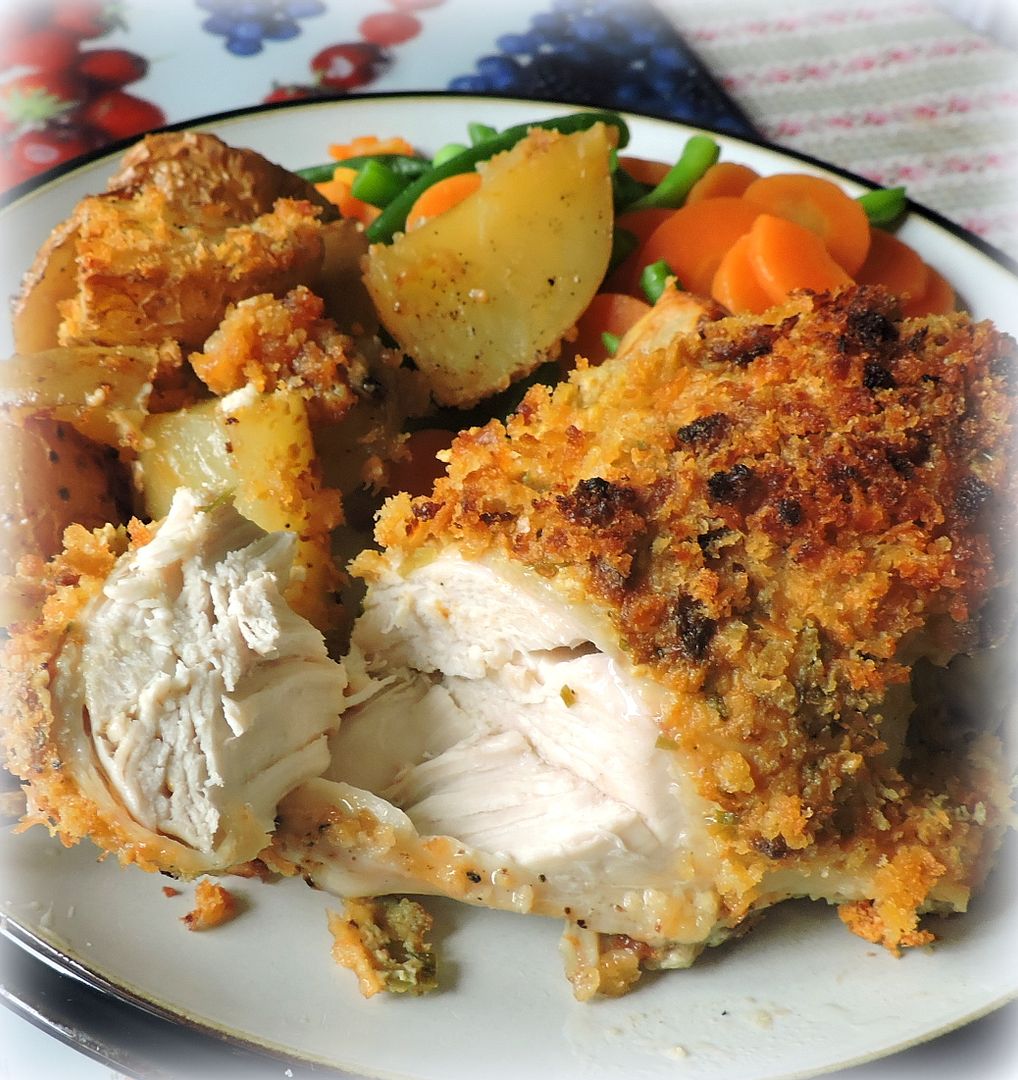 Bake for 35 to 40 minutes, until golden and the chicken juices run clear when you pierce the flesh with a fork or skewer close to the bone. If they are not clear, return to the oven for a few minutes longer. If your crumbs are browning to quickly lightly cover with a sheet of foil, removing it during the last few minutes of roasting to crisp them up lightly.
Serve hot, wih any pan juices. Potatoes and a green vegetable go well with this.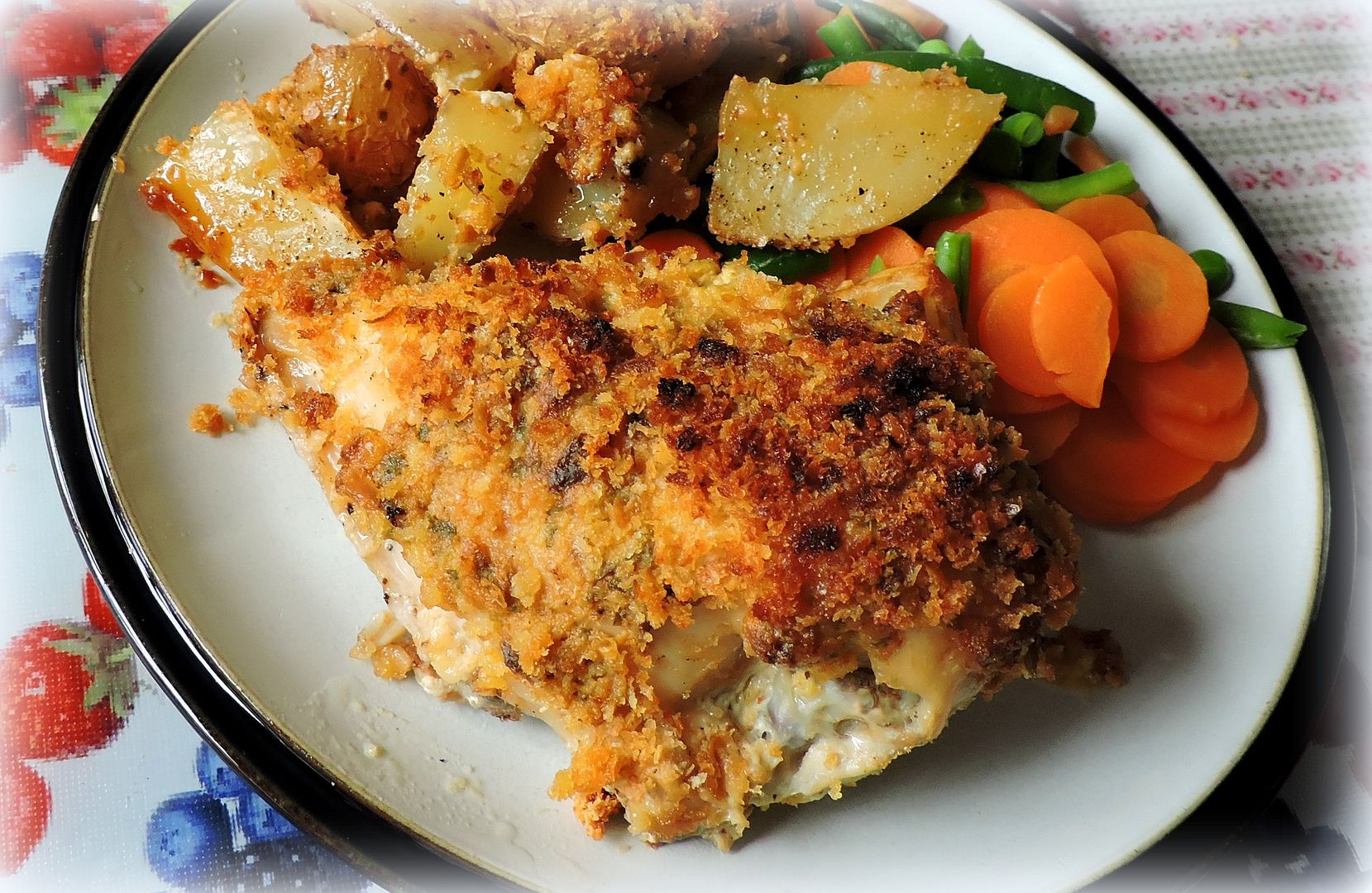 Note: To cook the potatoes with the chicken, just quarter some medium potatoes, peeled or not as you want, toss them with a smidgen of olive oil and some seasoning and place them around the chicken in the dish. Sprinkle any extra crumbs on top, and bake as above.
Bon Appetit!