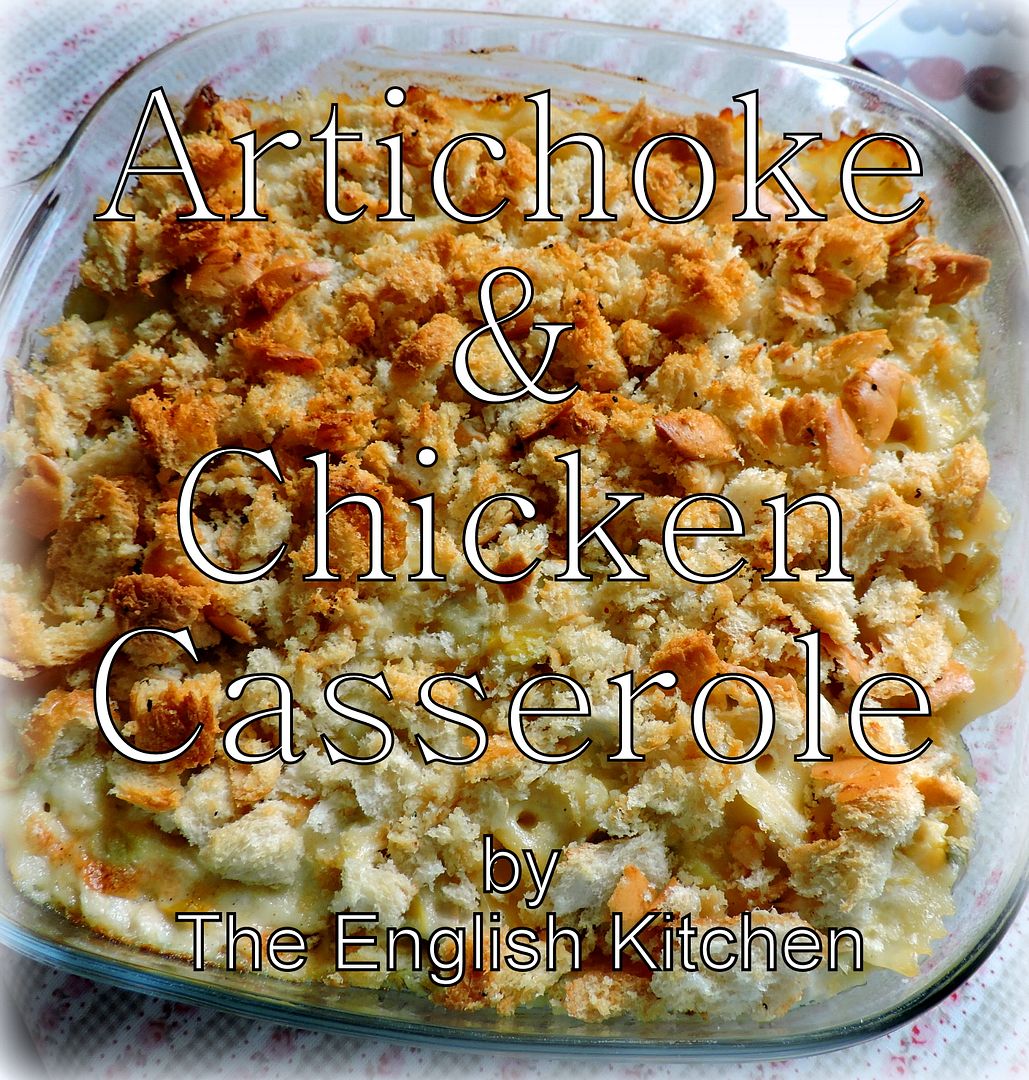 When I worked at the Manor one of the appetizers that was quite popular for the Dinner Parties was a Hot Artichoke Dip. It was cheesy and garlicky and went down a real treat.
I also used to do a baked chicken dish slathered in artichokes that the Mr was gaga over. This week, I created a casserole which incorporates the best of those two things into one delicious dish!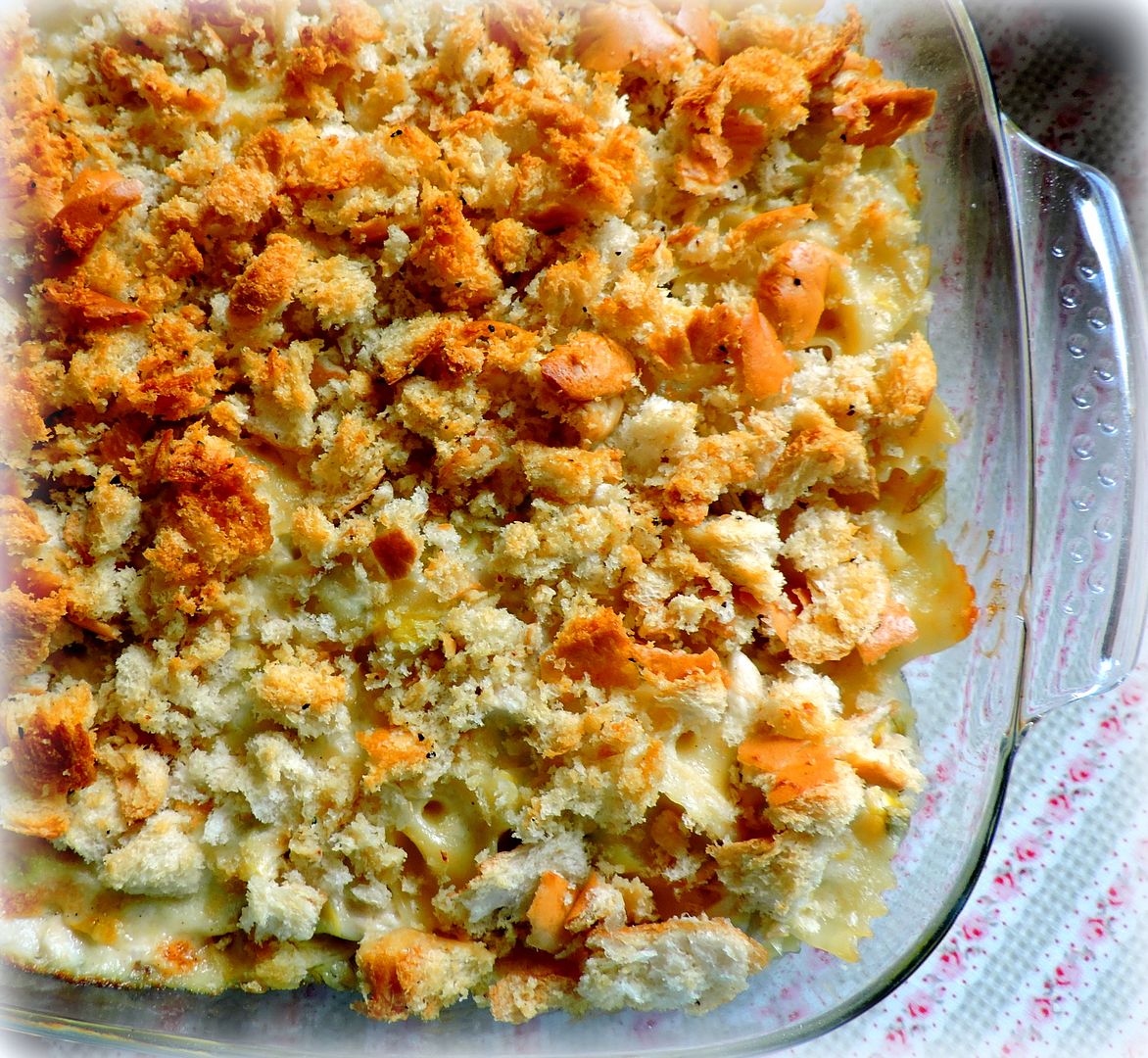 It's creamy and rich . . . just like the dip . . . cheesy, without being overly so . . .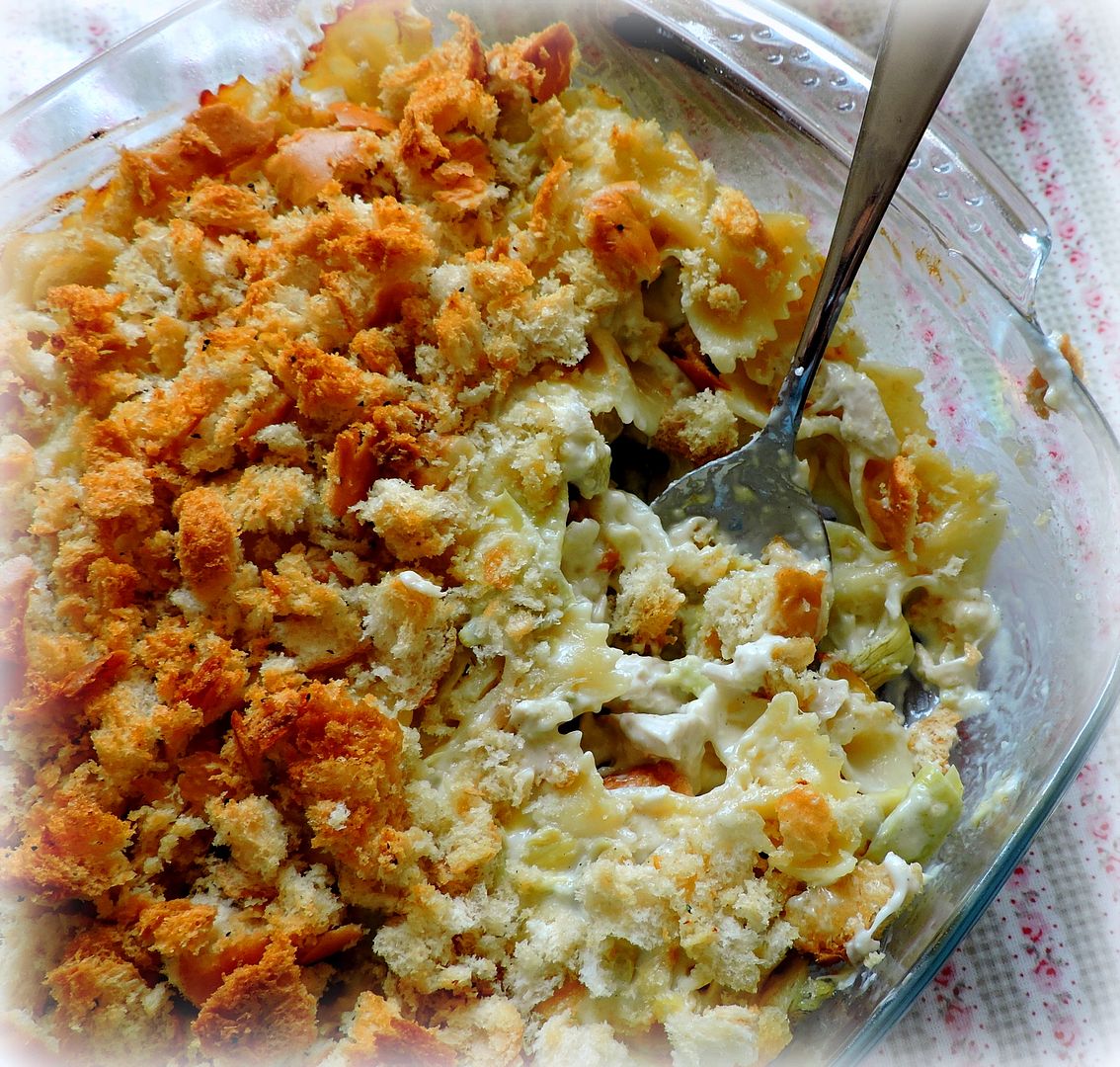 Makes good use of cooked chicken, leftover or otherwise . . . . and store cupboard ingredients.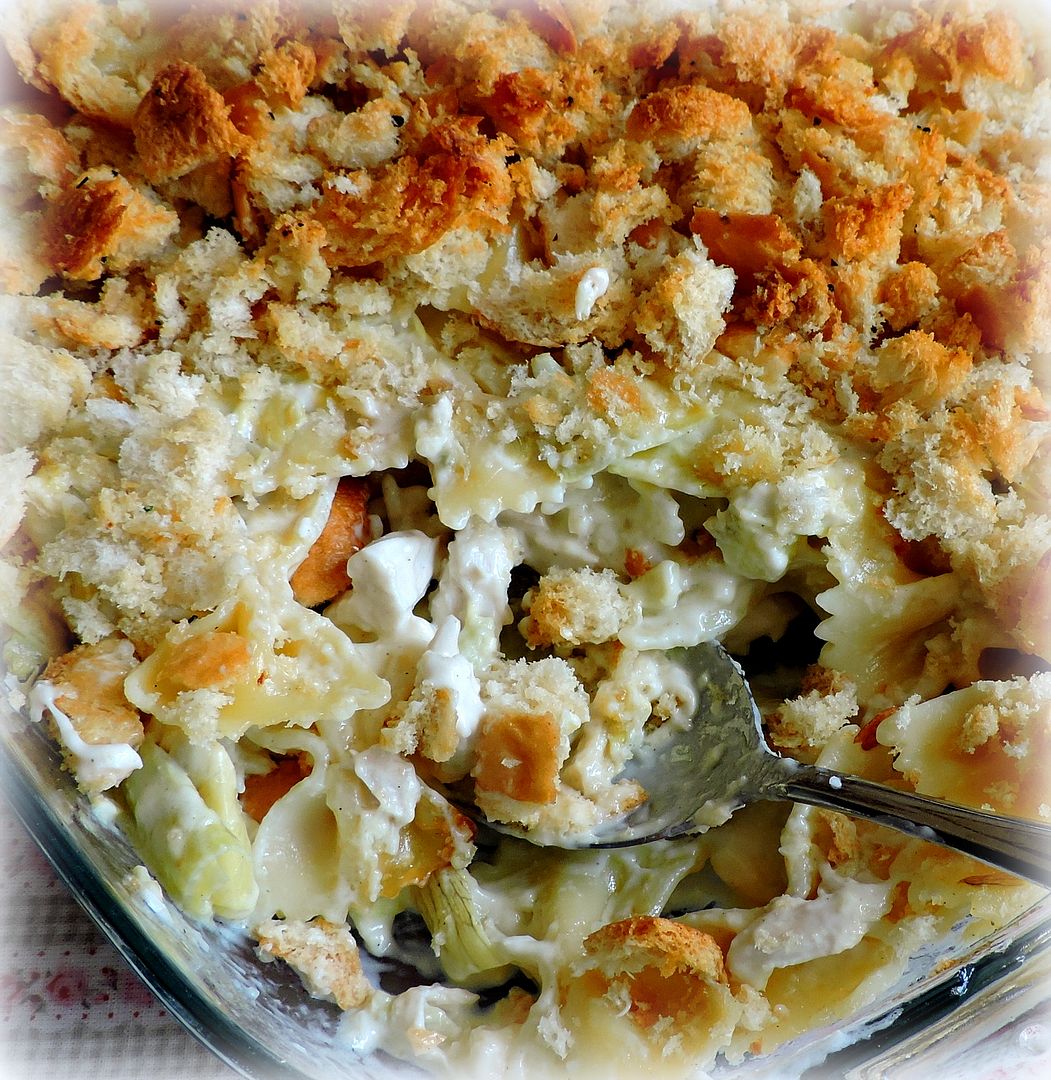 Pasta, cream cheese, cheddar, tinned artichokes, mayonnaise, sour cream and yes tinned cream of chicken soup. I am not a tinned soup snob like some people.
It has its uses, and I am not ashamed to admit it.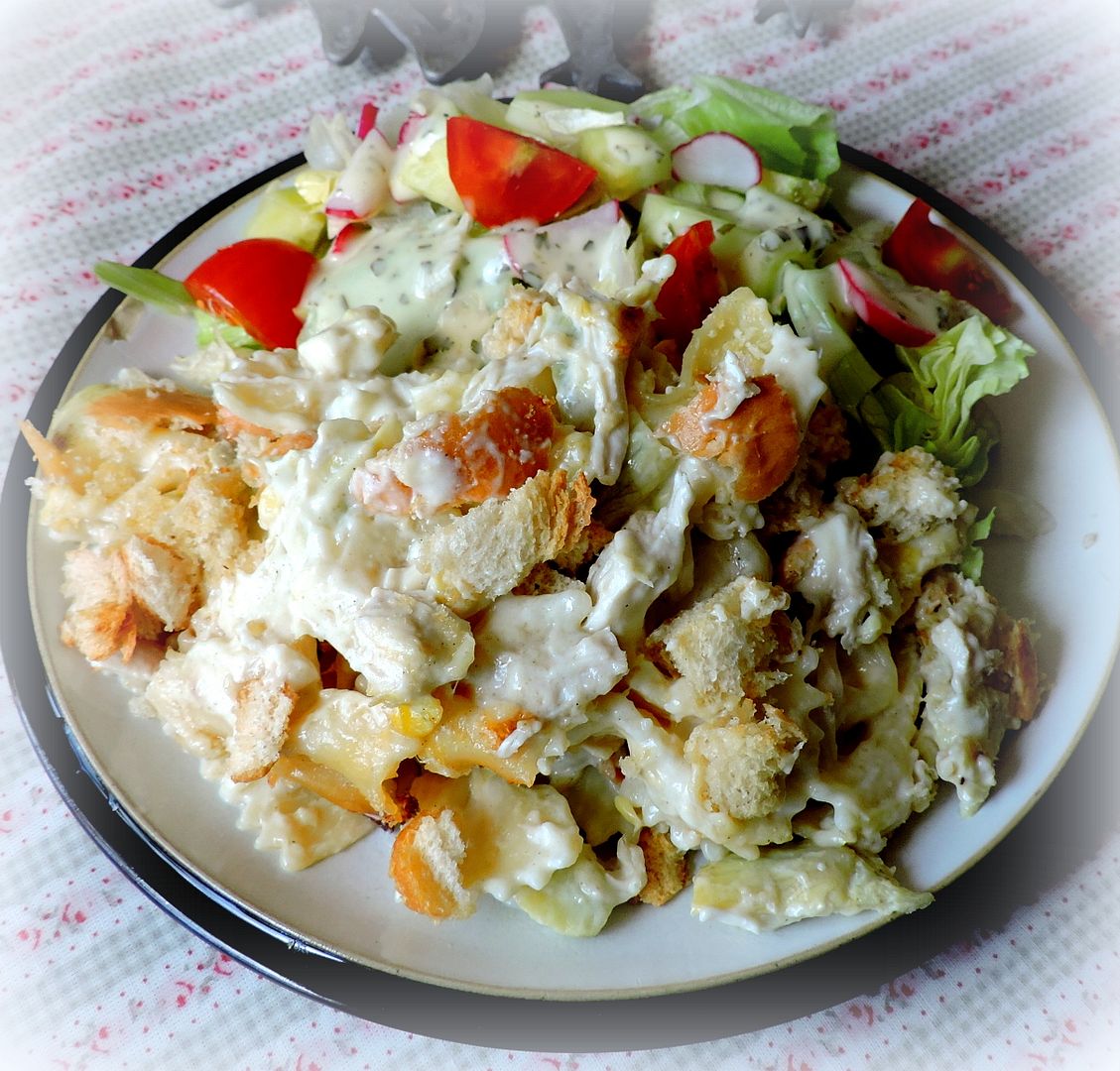 I grew up on it and it didn't kill me. In fact, we thought it was delicious, and there are certain recipes and dishes that just wouldn't be the same without it, so there!
You could call me a lot of things, but I don't think you could ever call me pretentious, that's for sure!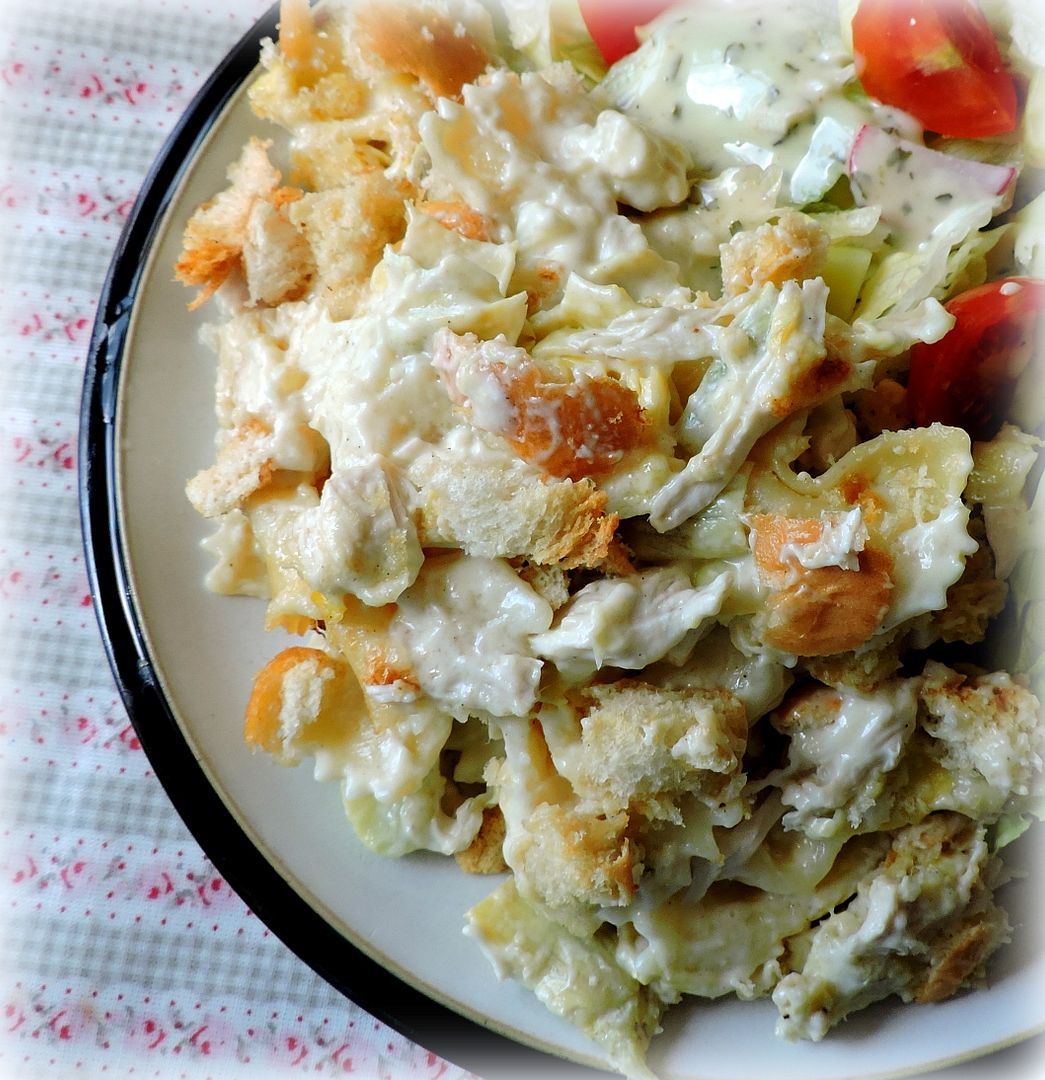 You could just crush garlic croutons on top, but I like to make fresh bread crumbs. I leave them a bit chunky and then toss them with some melted butter and garlic.
These get scattered on top prior to baking and get all nice and crispy, like garlic bread. Altogether this is quite, quite delicious! I like to serve a salad on the side.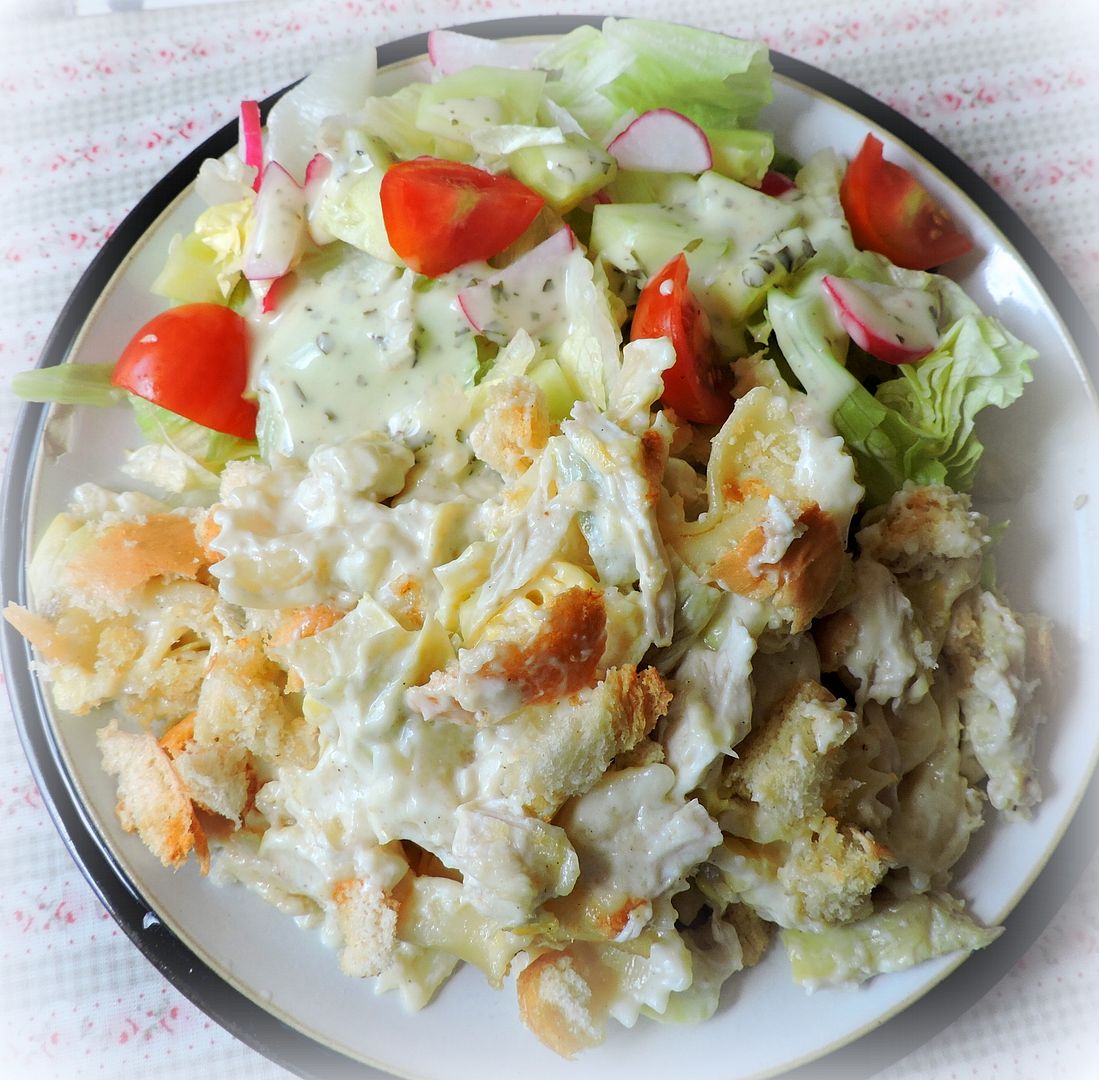 *Chicken and Artichoke Casserole*
Serves 6
This is delicious. Full stop. Reminiscent of Artichoke Dip. Chicken and artichokes are perfect partners. A great store cupboard meal.
230g of farfalle ( 2 cups bow tie pasta)
450g cubed cooked chicken (2 cups)
400g tin of artichoke hearts, drained and quartered (14-oz tin)
295g tin of condensed cream of chicken soup, undiluted (10 3/4 oz tin)
90g of finely grated Parmesan cheese (1/2 cup)
60g of grated strong Cheddar cheese (1/2 cup)
220g mayonnaise (1 cup)
80ml milk (1/3 cup)
1 clove of garlic, peeled and minced
1/2 tsp onion powder
1/2 tsp ground black pepper
60g of fresh bread crumbs, tossed with 1 TBS melted butter, a pinch of garlic powder and a pinch of onion powder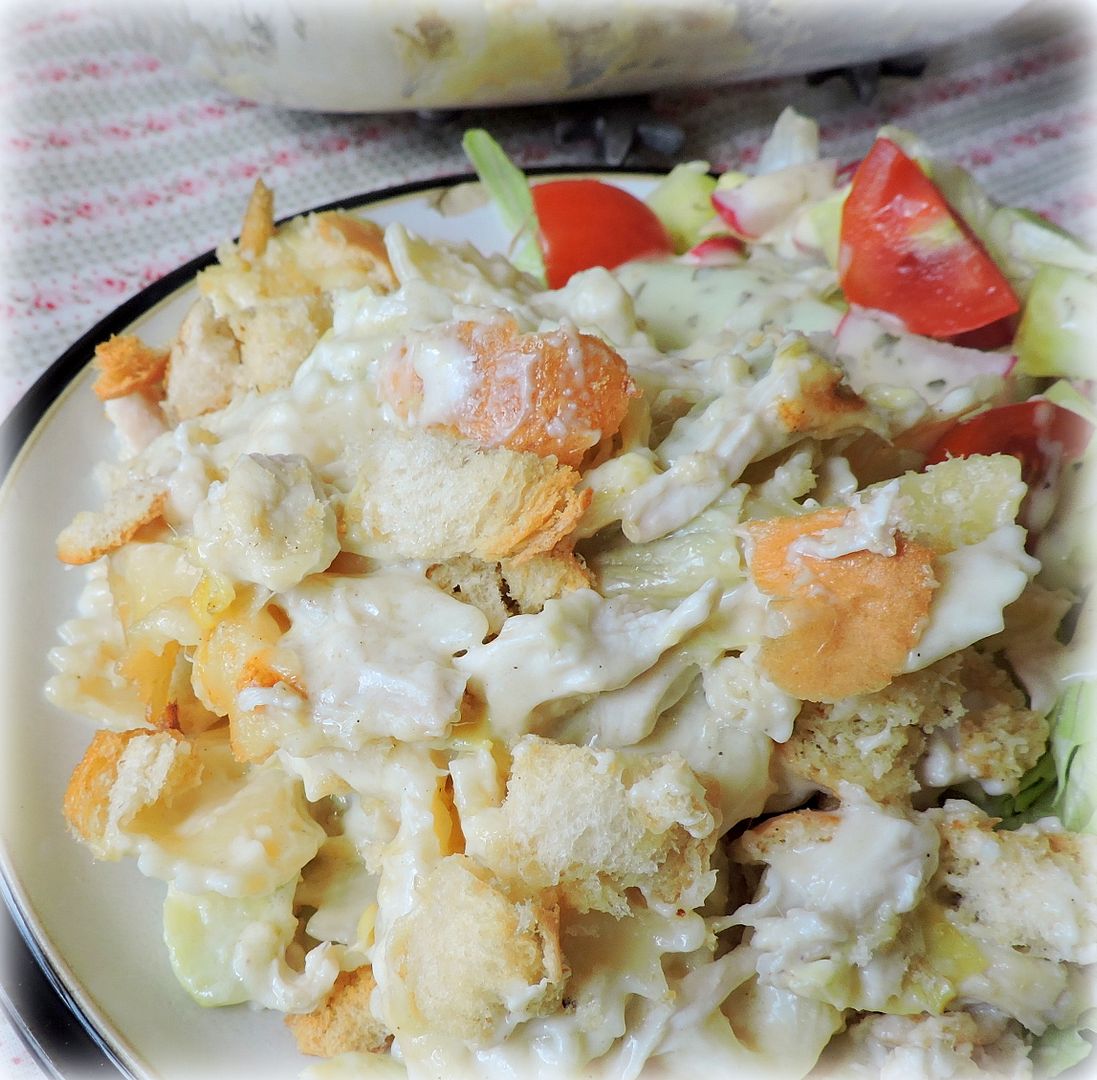 Preheat the oven to 180*C/350*F/ gas mark 4. Butter a 2 litre casserole dish. Set aside.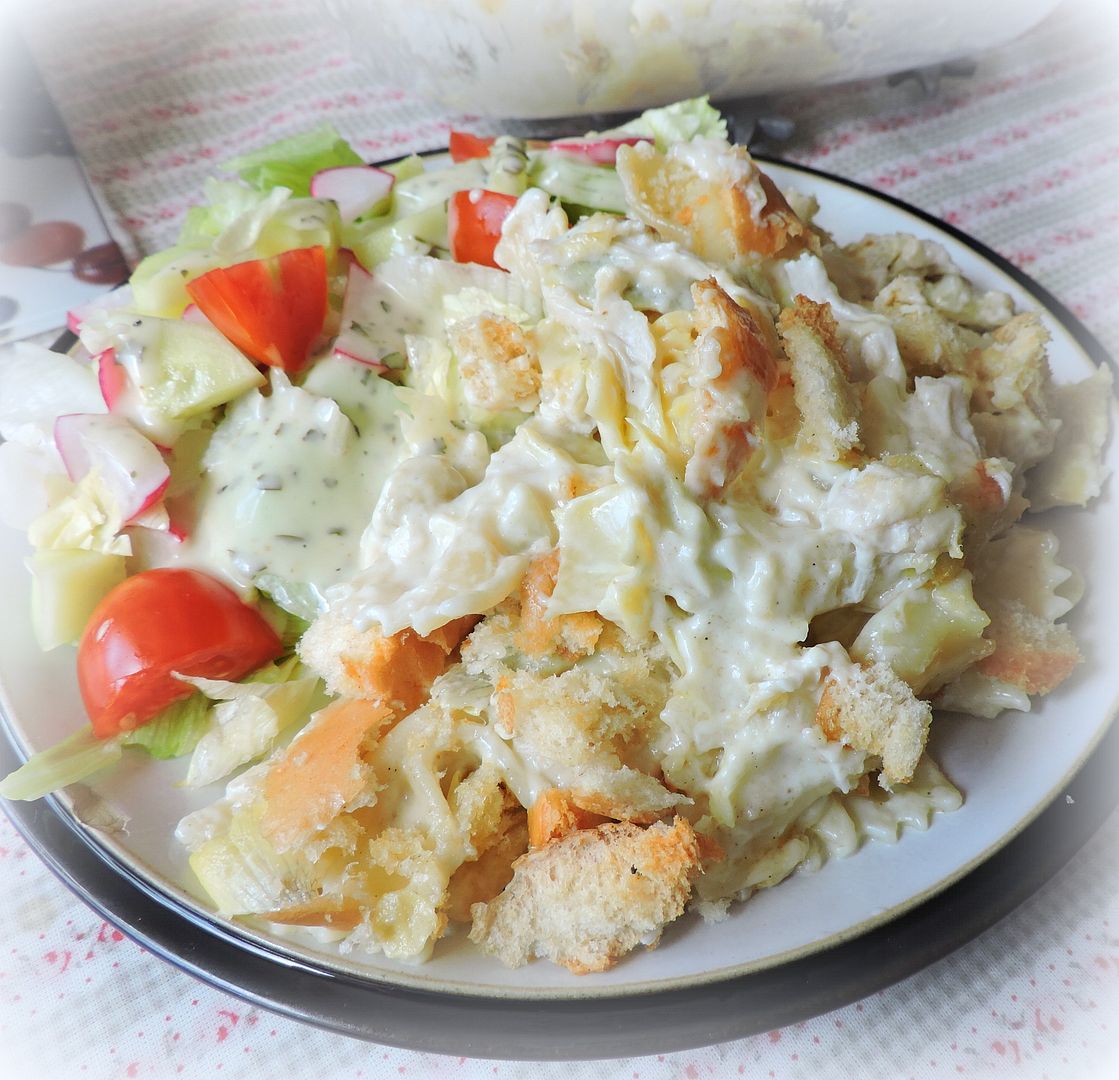 Cook the pasta according to the package directions. Drain well. Rinse and drain again. While the pasta is cooking whisk together the soup, cheeses, mayonnaise, milk, garlic, onion powder and black pepper. fold in the cooked chicken, artichoke hearts and pasta.
Mix well to combine. Pour into the prepared baking dish. Sprinkle with the seasoned bread crumbs.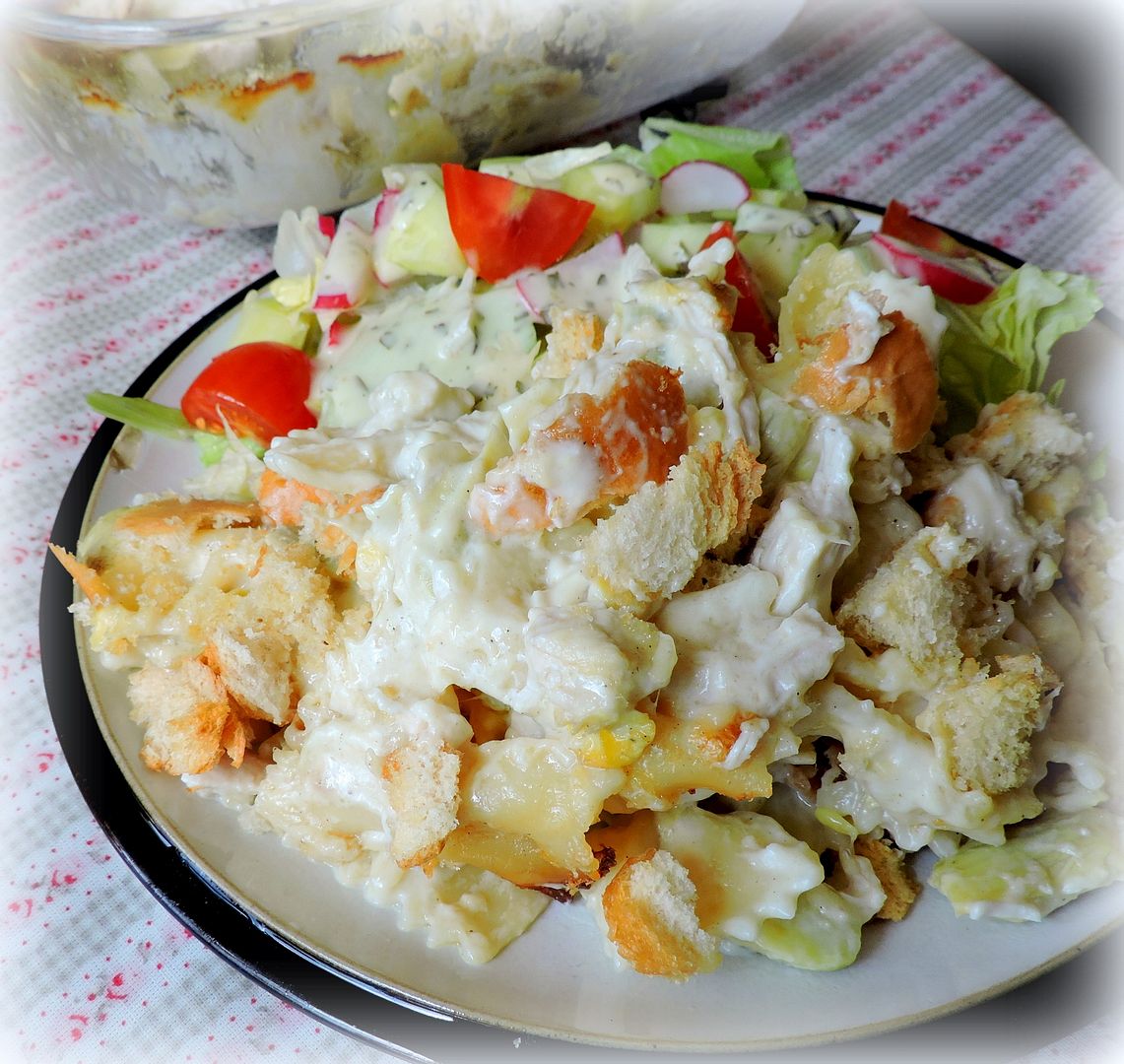 Bake for 25 to 30 minutes until bubbling and golden brown. Serve hot.
DEEEEE-licious!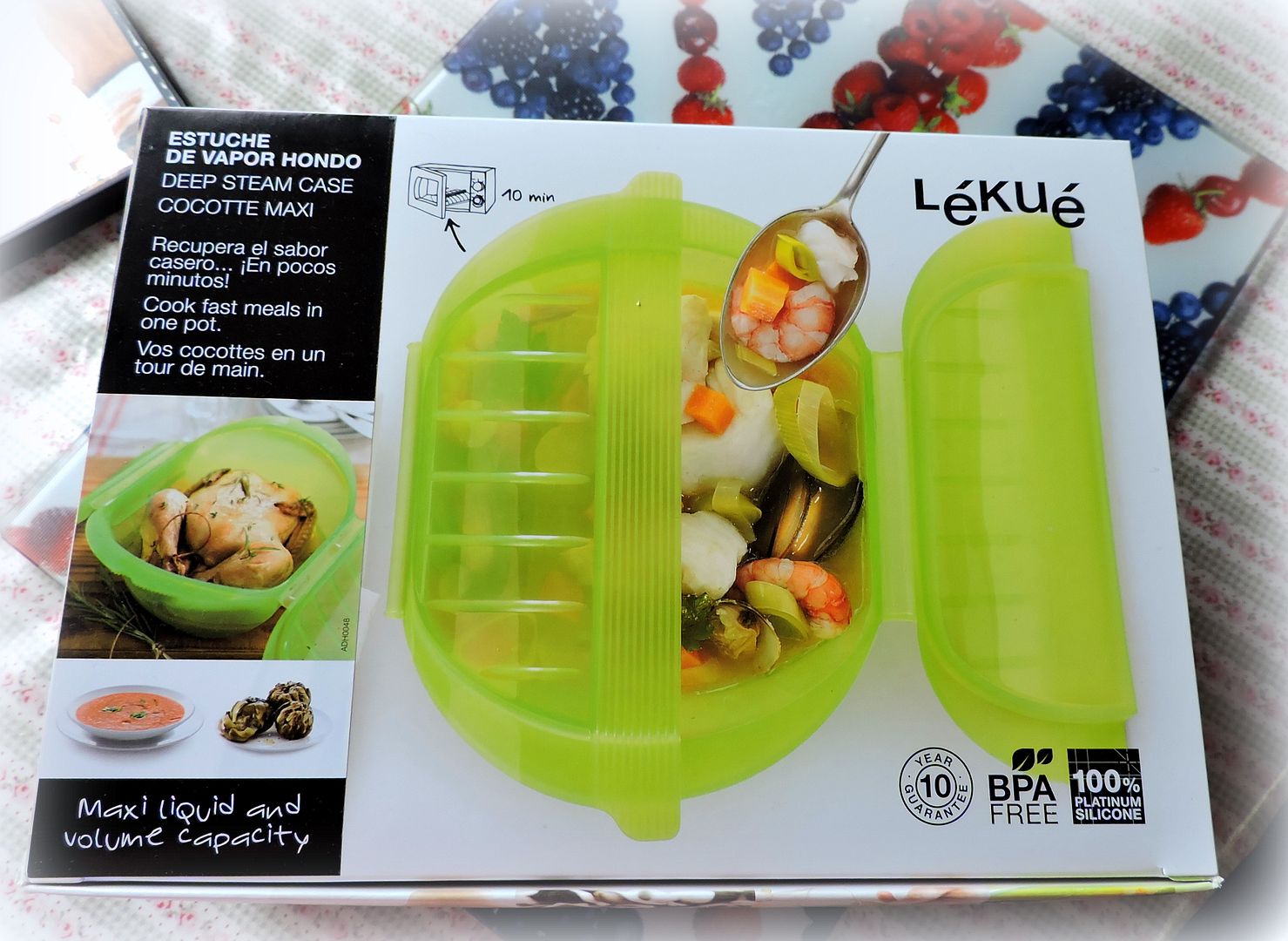 I cooked the chicken that I used in this dish in a Lékué Deep Steam Case! This is one of the nicest kitchen tools I have recently gotten.
Steam cook your way to a healthier lifestyle
For use in the microwave
Faster and more convenient way to cook
Retains more nutrients and flavour
100% Platinum Silicone
BPA Free
10 year guarantee
Dishwasher safe
I was a little bit dubious at first about cooking a whole chicken in it, I have to admit. Complete instructions are included in a little booklet that comes with it, for steaming meats, fish, vegetables etc.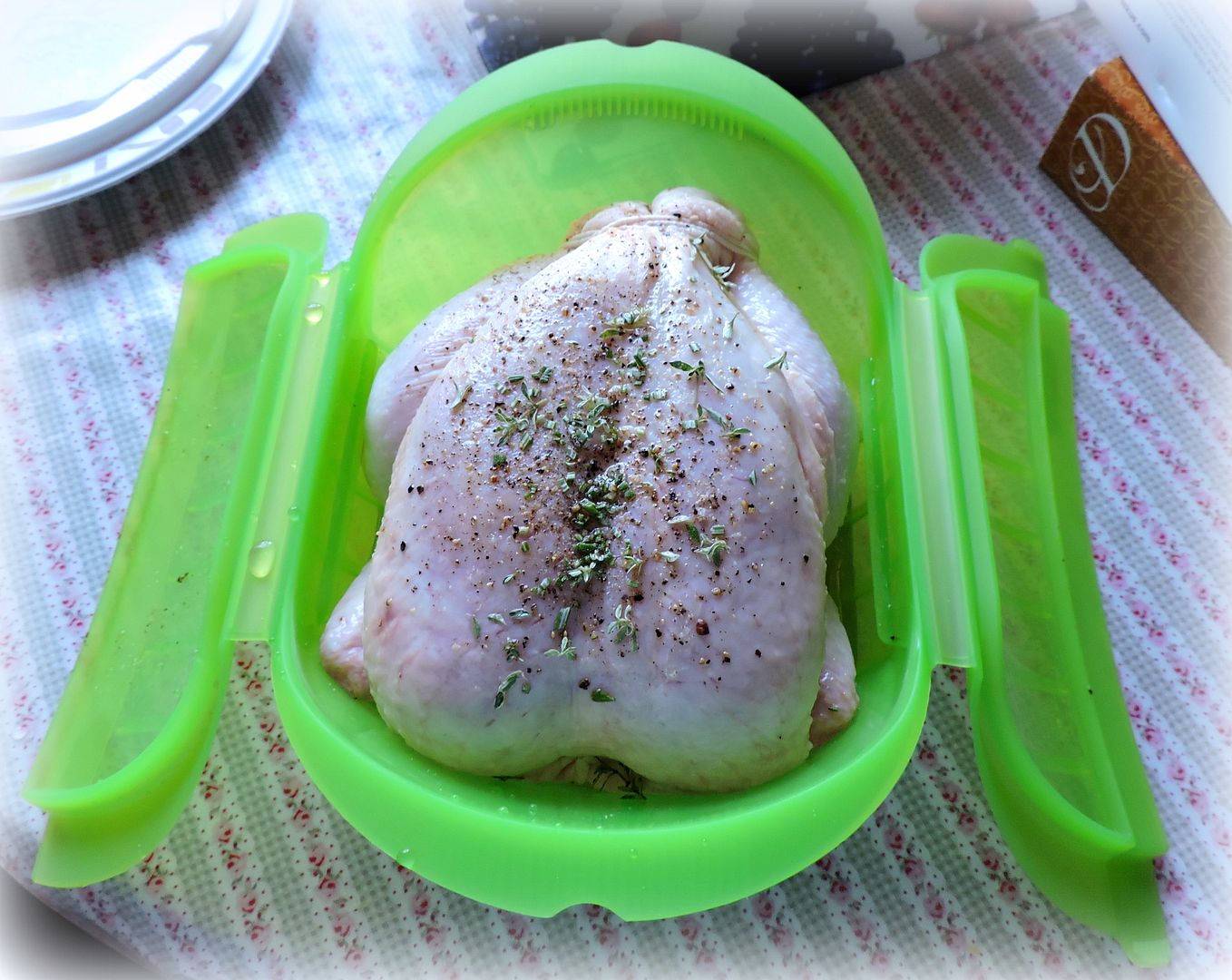 I had a small chicken, about 2 pounds. I followed the instructions in the booklet, crossed my fingers and went with it!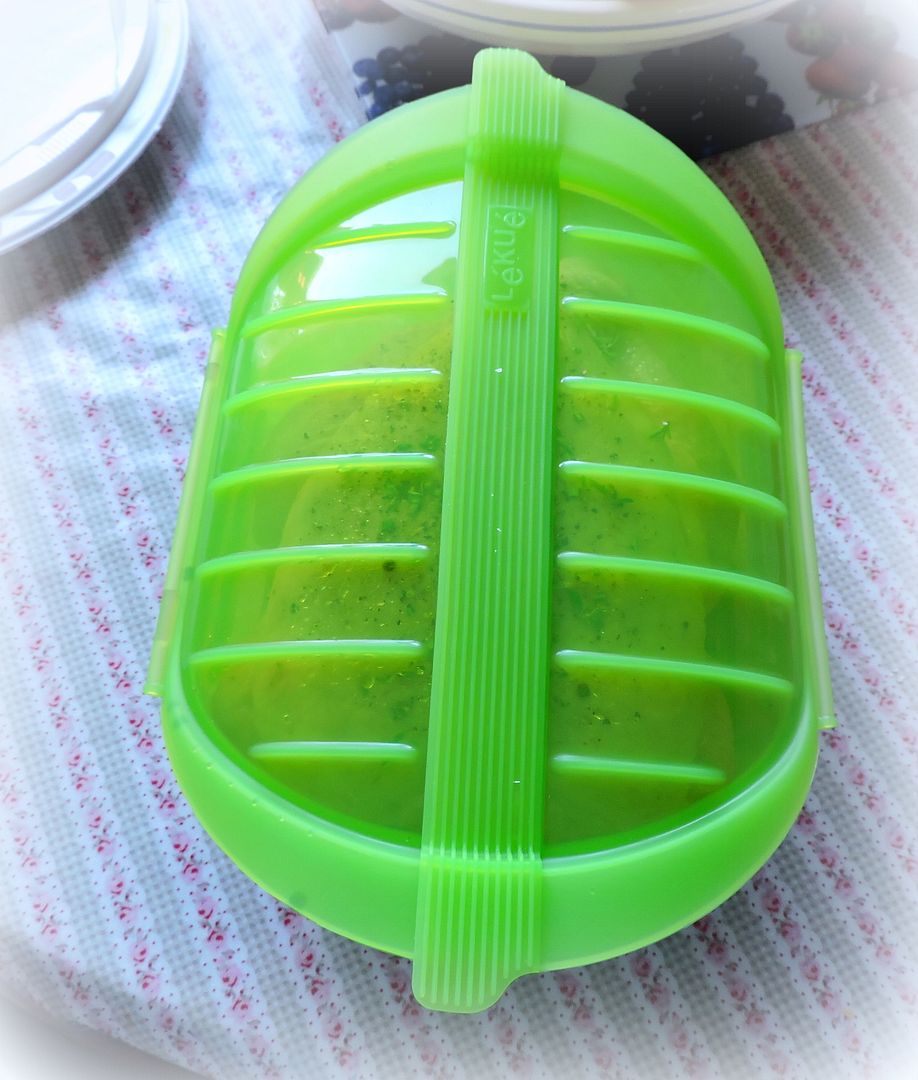 You cook it first one one side for 10 minutes (with some herbs and a bit of white wine, I used apple juice). Then you flip it over and do the other side for 10 minutes.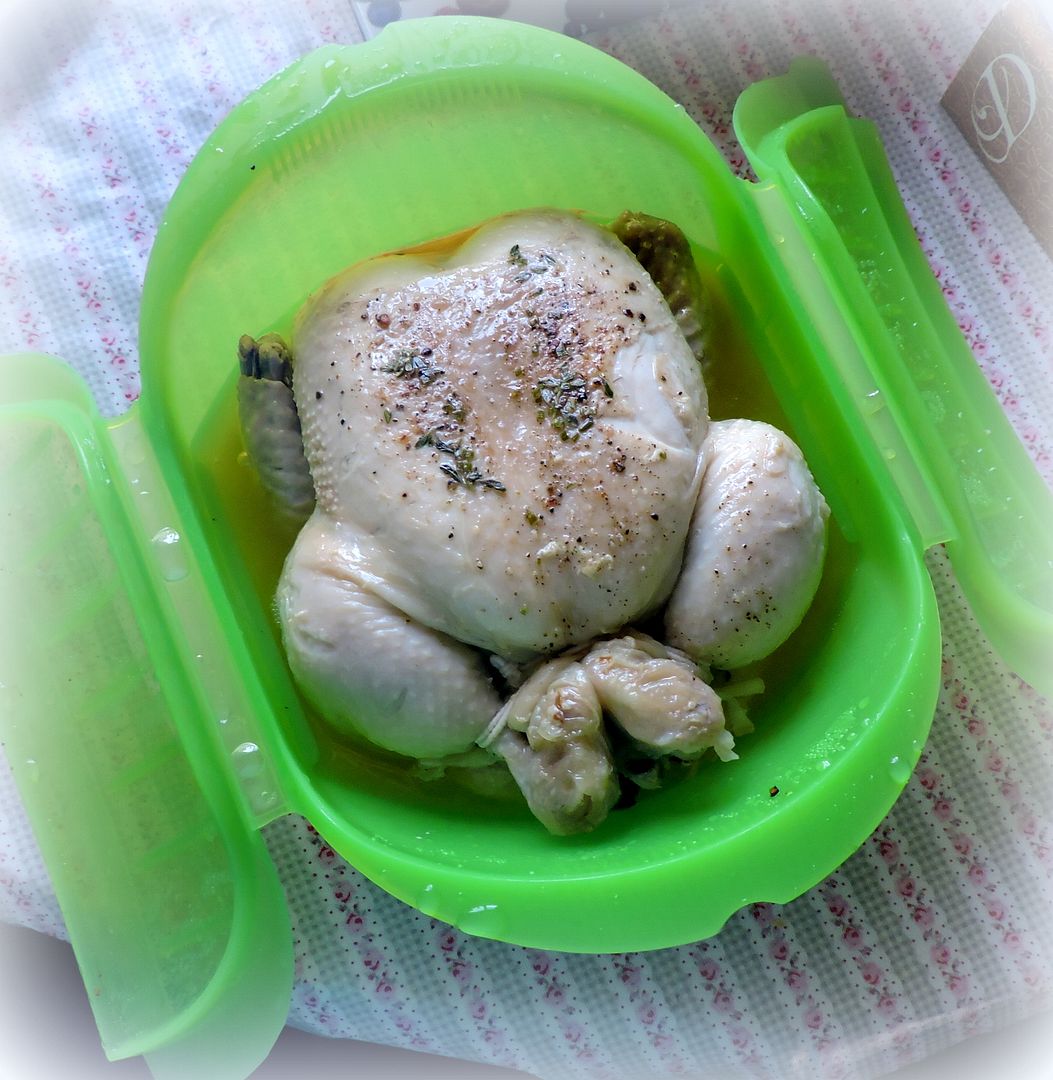 With a standing time of about 5 minutes, you are rewarded 25 minutes later with a perfectly cooked chicken.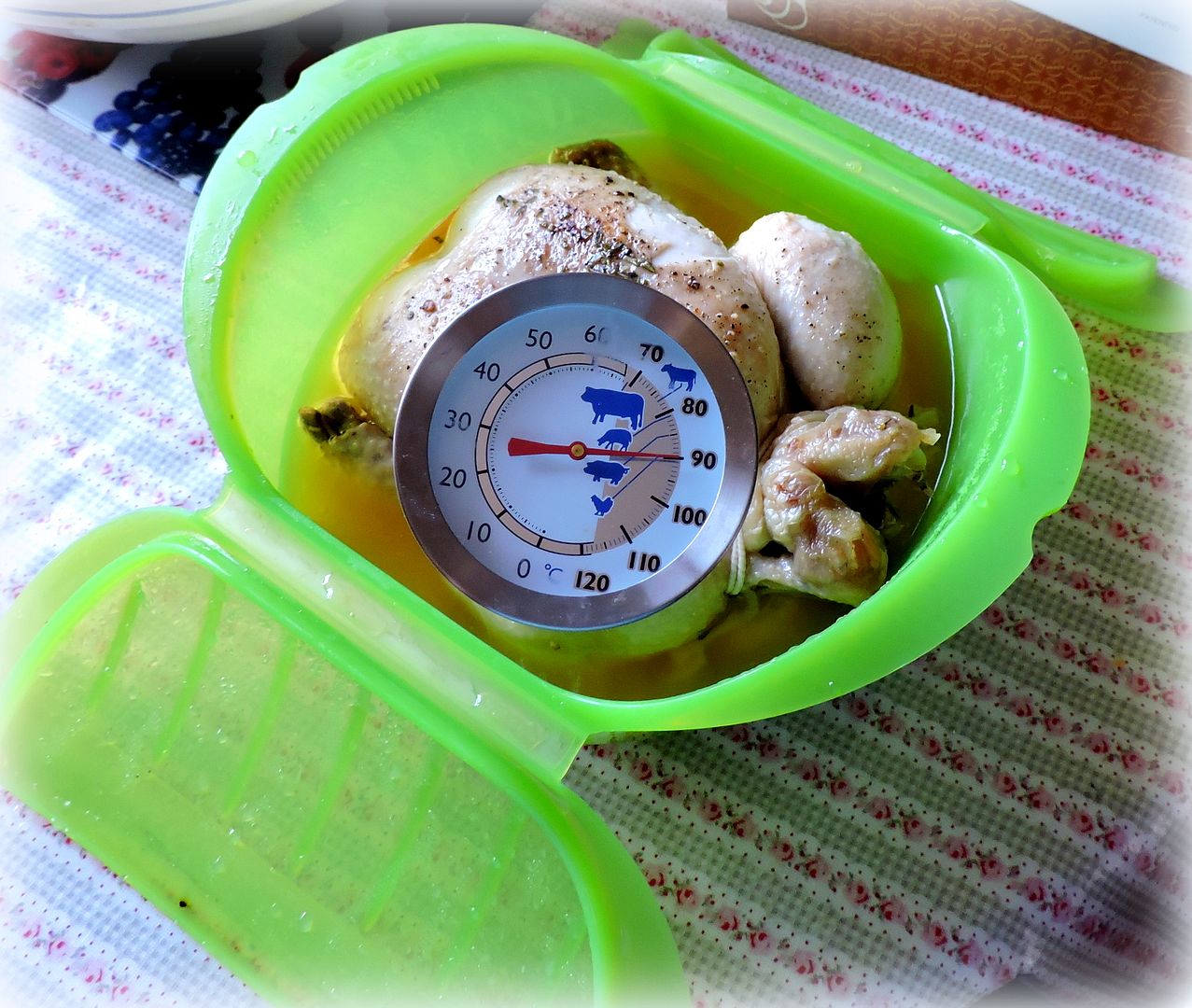 I checked the temperature with my met thermometer to be sure. (Like I said I was a bit dubious.) It was spot on, and not only that, but the chicken meat was deliciously moist and I had some lovely juices in the cooker to use for gravy if I wanted to.
Perfectly cooked whole chicken, moist and delicious, in less than half an hour. Way to go Lekue! I love this!
And
they come in a variety of sizes.


Why not make more of your microwave and use one of these silicone containers from Lékué to steam cook your way to a healthier lifestyle. Offering a faster, more convenient way to cook your food than traditional pots and pans, microwave steam cooking retains nutrients and flavour, so not only will your food be ready quicker but it cooks in its own juices and will taste much better too. Ideal for cooking rice, pasta, stews, soups, meat, fish and vegetables, they're easy to use


Note - Although I was sent a steam case for free to try out, I was not required to write a positive review. Any opinions are entirely my own. I really am impressed with this piece of kitchen kit!